Living in Portugal: All You Need To Know
Portugal, a mosaic of natural landscapes and vibrant cultures, has become a magnet for expats from all corners of the world. From the laid-back coastal towns to its happening cities, it offers a blend of warm weather, affordable living, and rich history that draws British, American, French, and many other international residents.
A growing number of members from our community have already embraced Portugal as their new home. If you're considering making the leap to live in Portugal, our comprehensive guide will pave the way for your journey, covering the essentials and offering expert insights. Dive in and discover what living in Portugal truly entails.
Where To Live in Portugal
First things first. Deciding on where you're going to live in is one of the most essential points in whichever country you're moving to. It's no different with Portugal. If you've never been to the country before, it can be a challenge. That's why our first advice would be to visit the country a few times before you commit yourself to a city.  
Still, let's have a look at some options.
Lisbon
Lisbon, the capital of Portugal, is a cosmopolitan destination with vibrant nightlife, museums, theaters, and different activities. Lisbon has good air connections with Europe. But note that it's the most expensive city in Portugal. If you're looking for job opportunities, choose Lisbon. The city is home to many international companies' headquarters and it's easier to find a job in Lisbon when compared to other Portuguese cities.
Porto
Porto is the second most populous and economically important city in Portugal. It offers a high-quality life, less traffic, and rich culture. Like Lisbon, Porto is a popular tourist destination. So, be prepared to witness huge crowds in the city, especially in summer. The main difference between Lisbon and Porto is that Porto gets much more rain in winter. Apart from that, it's a perfect city to live in where you're going to have a relaxed life.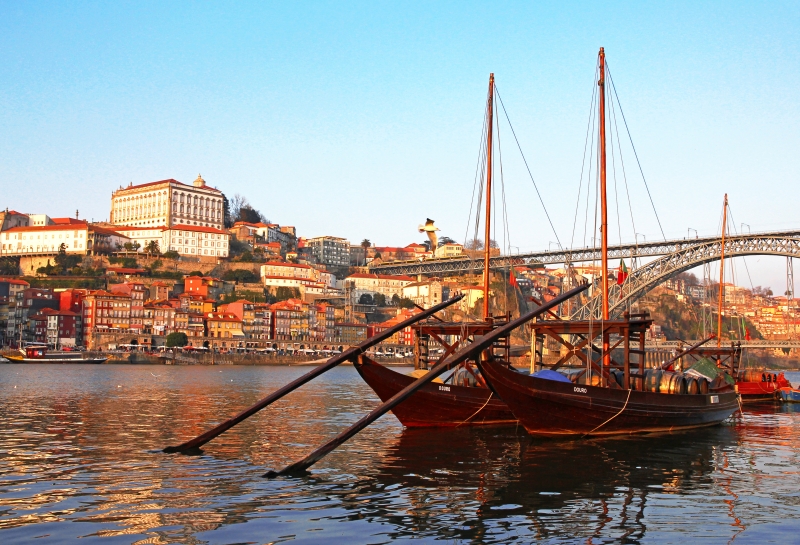 Douro River, Porto
Can't decide between Lisbon or Porto? Check out our Lisbon or Porto article to have a better insight.
Coimbra
Famous for its university and abundance of green spaces, Coimbra is a popular city among. It's a small city but connected to the rest of the country with a good infrastructure. Coimbra is located between Lisbon and Porto which makes it an ideal location. If you want to be close to nature and have a quiet life, you can live in Braga and visit the big cities easily.
The Algarve
The Algarve is the most famous tourist region in Portugal. With perfect beaches, small towns, and nature, it's a perfect place if you're looking to live in a sunny place all year around. The job opportunities in this region are limited however if you're more into a relaxed lifestyle, a city in the Algarve region might be the perfect fit for you. Most popular cities in the Algarve  are Faro, Lagos, Portimao, and Tavira.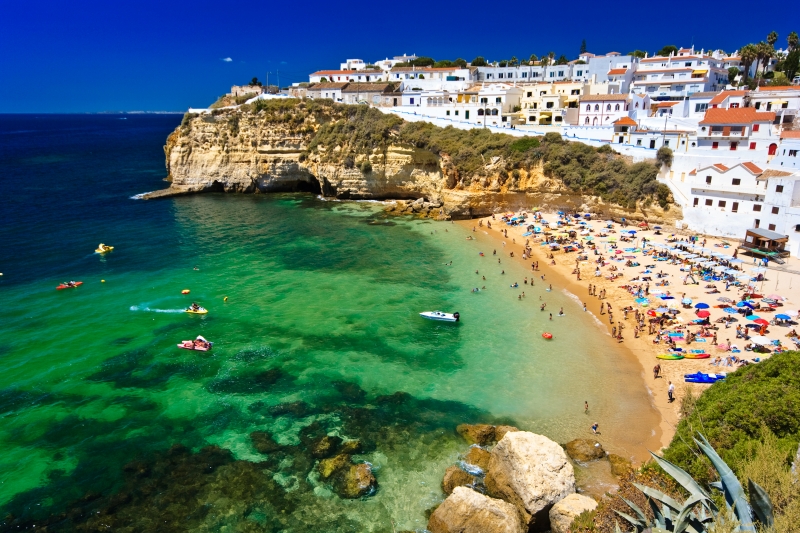 One of the beaches in the Algarve
Cost Of Living in Portugal
Cost of living is an important point to consider when you're planning to move to a new country. Although the cost of living might change depending on your lifestyle, it's good to be familiar with some basic costs.
Lisbon and Porto are the most expensive cities in the country. However, as there are more job opportunities with better salaries, it might be worth it.
With the help of Numbeo, we've brought together some expenses for you to compare. Check the figures below.
Lisbon VS Porto
You'll need around €3,039.91 in Lisbon to maintain the same standard of life that you can have with €2,700 in Porto (assuming you rent in both cities).
Consumer prices in Lisbon are 5.11% higher than in Porto (without rent).
Consumer prices including rent in Lisbon are 12.59% higher than in Porto.
Rent prices in Lisbon are 30.30% higher than in Porto.
Restaurant prices in Lisbon are 10.37% higher than in Porto.
Grocery prices in Lisbon are 5.41% higher than in Porto.
Local purchasing power in Lisbon is 8.47% higher than in Porto.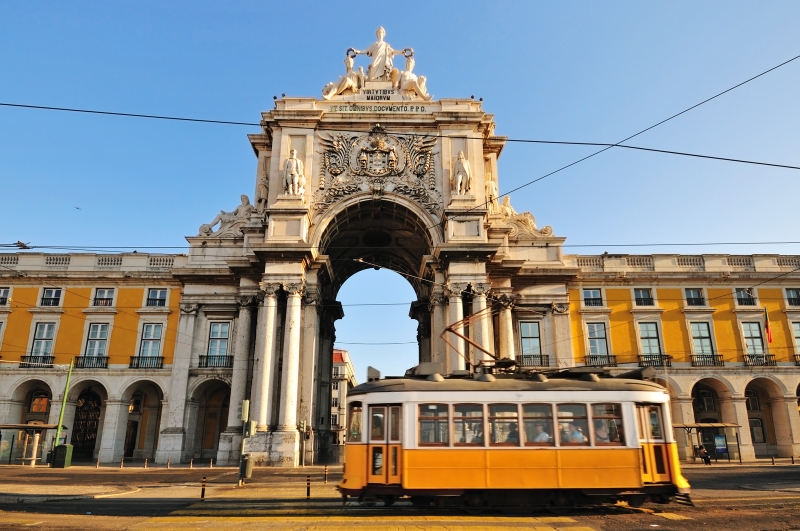 The Famous Yellow Tram of Lisbon
Faro VS Porto
You'll need around €2,728.24 in Faro to maintain the same standard of life that you can have with €2,700 in Porto (assuming you rent in both cities). 
Consumer prices in Faro are 4.45% higher than in Porto (without rent).
Consumer prices including rent in Faro are 1.05% higher than in Porto.
Rent prices in Faro are 7.02% lower than in Porto.
Restaurant prices in Faro are 18.35% higher than in Porto.
Grocery prices in Faro are 3.86% higher than in Porto.
Local purchasing power in Faro is 5.04% lower than in Porto.
Coimbra VS Faro
You would need around €2,317.12 in Coimbra to maintain the same standard of life that you can have with €2,700 in Faro (assuming you rent in both cities).
Consumer prices in Coimbra are 9.28% lower than in Faro (without rent).
Consumer prices including rent in Coimbra are 14.18% lower than in Faro.
Rent prices in Coimbra are 27.21% lower than in Faro.
Restaurant prices in Coimbra are 23.30% lower than in Faro.
Grocery prices in Coimbra are 6.38% lower than in Faro.
Local purchasing power in Coimbra is 25.34% higher than in Faro.
Rents in Portugal
Due to the rising expat community in the country, the rents in Portugal have seen an increase in recent years. Especially in Lisbon and Porto, rents are increasing. See the below table for a quick insight.
 

Lisbon

Porto

Coimbra

Faro

1-bedroom apt.(city center)

€868.17

€675.36

 

€450

 

€608.75

 

1-bedroom apt.(outside city center)

€663.04

€500.36

€305.00

 

€488.57

 

3-bedroom apt.(city center)

€1,559.65

€1,170.57

€811.11

 

€1,057.14

 

3-bedroom apt.(outside city center)

€1,079.34

€849.49

€600

 

€821.43

 
Buying Property in Portugal
If you want to buy a house instead of renting one, note that the process is quite straightforward as long as you follow the right steps. You can find the ins and out of the process in our guide on buying property in Portugal. 
We always recommend to the members of our community to speak with professionals before committing large sums of money. 
Below, you may find the average m2 real estate prices in Portugal.
 

Lisbon

Porto

Coimbra

Faro

Price per m² in the center

€4,682

 

€2,700

 

€2,328

 

€2,170

 

Price per m² outside the center

€2,729

 

€1,651

 

€1,300

 

€1,580

 
Visas and Residence Permits in Portugal
Well, in order to start living in Portugal as a non-EU resident or citizen, you will need some sort of a visa or a residence permit. As a basic rule, you first need a valid passport.
Here are some of the most common visa types you can get to live in Portugal:
Travel Visa (a Schengen Visa)
Digital Nomad Visa (Entrepreneur or Remote Work Visa)
Startup Visa or a Work Permit
Passive Income Visa (D7 Visa)
Portuguese Golden Visa
If you have European citizenship, you're good to go. You won't need a visa as Portugal is an EU member.
For more details, make sure to check out our article on Portugal Visa Types.
How To Send Money to Portugal
At some point during your stay in Portugal, you might need to transfer a large amount of money to the country. 
Banks are the most traditional way to send money to Portugal. However, they're also the most expensive ones. You can check the online money transfer platforms to avoid huge costs. 
These platforms are safe, fees are lower, and delivery time is short. One popular platform is Wise. Wise helps you to transfer huge amounts without bureaucracy. Check out the full review on Wise for more information.
Employment In Portugal
If you're coming to Portugal to find a job, good luck! If you're not a tech professional, it might take around three to four months to find a job. That's why it's a good idea to look for jobs and send your resume to companies before you arrive in the country. Plus, most companies in Portugal conduct a lot of interviews before they hire you. Be prepared!
If you're self-employed, make sure you're familiar with Recibo Verde in Portugal.
Make sure to check out our articles on working in Portugal as a foreigner and remote working in Portugal.
The Climate in Portugal
Portugal is a relatively small country, so it is generally expected to have similar weather all across the country. That's not the case, though. The Mediterranean climate prevails in the mainland, while you might witness some snow in the Serra da Estrela.
In summer, the temperatures can reach 40ºC, especially in the south. For the northern part, it's around 30ºC. In Lisbon, which is located in the central area, the summers are hot and dry.
In the winter, temperatures vary between 3ºC and 16ºC. Especially in the north, expect rainy days.
Health System in Portugal
Portugal has a good public health system. There are many well-equipped hospitals and you usually don't need to wait a lot to see a doctor. Once you become a legal resident of Portugal, you're eligible to access the Portuguese healthcare system. First, register with the Portuguese Social Security and get your social security number. If you're employed, your employee can get it for you. If you're self-employed, you'll need to do it yourself. 
After getting your social security number, you can go to the health center and register yourself.
The service is mainly free, however, there might be some small costs depending on the situation. A consultation with a general practitioner will cost around €5. For an emergency consultation at the hospital, expect to pay around €20.
Check out our article on healthcare in Portugal.
Conclusion
For those seeking the nomadic life, Portugal stands out as a unique blend of tradition, modernity, and natural beauty. It offers a lifestyle that many expats find both enriching and affordable.
I moved to Portugal as an expat a couple of years ago because of these reasons. Since then, one thing became clear to me: living in Portugal is not just about relocation—it's about embracing a new way of life.
Whether you're seeking a serene retirement, a dynamic cultural experience, or a new adventure, Portugal welcomes you.
As with any move, challenges will arise, but armed with the right information and advice, you're well on your way.
Make sure and read our article on Being an Expat in Portugal, written by one of our community members.
Frequently Asked Questions
Is Portugal a good place to live for foreigners?
Yes, Portugal is generally considered a good place for expatriates. It's a country known for its welcoming attitude towards foreigners, and the residents are known for their friendliness. Many expats have expressed satisfaction with their decision to live in Portugal. In many areas, especially urban centers, you'll find that a large portion of the population speaks English, which can make settling in easier.
Is Portugal safe?
Yes, Portugal is one of the safest countries to visit in the world. It has low crime rates and violent crimes are almost non-existent. Sure, main cities like Lisbon and Porto do have neighborhoods that are less safe, but even those are not dangerous, particularly during the day.
Check our article on 'Is Portugal Safe?' and our article on the safest countries in the world.
Is it expensive to live in Portugal?
Although the average cost of living is lower than other European countries, living expenses in Portugal vary depending on where you choose to reside. Cities like Lisbon, Porto, and Cascais are among the pricier places to live due to their many attractions and amenities. On the other hand, areas like the Algarve or Sintra tend to be more affordable. If you're looking for budget-friendly options, places such as Aveiro, Braganza, Evora, and Portimao might be ideal.
To learn more, check out our article on the cost of living in Portugal.
Can I live and work in Portugal if I only speak English?
While it's possible to live and work in Portugal speaking only English, especially in sectors like tourism and hospitality, it would be beneficial to learn the basic Portuguese language. Cities like Lisbon and Cascais often have more English speakers, especially in the business sectors.
How to start relocating to Portugal?
To relocate to Portugal, one must first secure a residence permit. These permits are typically issued for reasons like employment, education, marrying a Portuguese citizen, or rendering significant services to the state. Portugal also offers a residence permit through investment options. Notably, the real estate option for the Golden Visa program was removed in 2023. Instead, potential investors can consider investments in cultural heritage, local businesses, research, or investment funds. Other pathways include the D7 Visa for those with a steady passive income, the Digital Nomad Visa for remote workers, and the Startup Visa for budding entrepreneurs. Once you obtain a Portuguese residence permit, you have the freedom to live, work, and study in the country. Furthermore, after five years, you can consider applying for permanent residency or even citizenship. 
How to move to Portugal?
For those outside the European Union aiming to move to Portugal, popular options include the Portugal Golden Visa and the D7 Visa. While the Golden Visa focuses on economic investments in the country, the D7 Visa is for individuals who can prove they have sufficient funds to support themselves during their stay. It's also worth researching the recently introduced Digital Nomad Visa and the steps for its application.
How much money do you need to live comfortably in Portugal?
The cost of living in Portugal can vary. For instance, a student or single individual might spend approximately €533.91 per month, excluding rent, in Lisbon. In contrast, a family of four might need around €1,872 per month. Housing remains a significant expense, especially when combined with utilities like water, electricity, and gas.
Is it worth moving to Portugal?
For many, moving to Portugal is a rewarding decision. The country offers a pleasant climate, affordable living costs, high standards in healthcare and education, a diverse culture, safety, and an appealing tax scheme for expatriates. Many people in Portugal speak English, it is particularly widely spoken in main cities. The warm climate, affordable cost, and the rich Portuguese cuisine make Portugal an attractive EU country to relocate to. Many young families choose Portugal for the good education system and the strong healthcare. Portuguese universities also attract a young group of expats into the country.
Is Portugal friendly to foreigners?
Yes, Portuguese people are known for their friendliness and openness towards foreigners, especially compared to many other European countries in Western Europe. Many Portuguese residents are conversant in English, facilitating easier communication. According to surveys, Portugal ranks highly among European nations for its welcoming attitude.
What are the downsides of living in Portugal?
Like any country, Portugal has its challenges. For foreigners, it might be essential to pick up some Portuguese, especially when dealing with governmental offices. Additionally, certain establishments may not accept credit cards, requiring cash payments. Another adjustment might be the lack of central heating in many homes, making winters a bit chillier indoors.
What are the dangers of living in Portugal?
Generally, Portugal is known for its safety and ranks as one of the world's most peaceful countries. However, just like in many popular tourist destinations, it's advisable to remain vigilant against minor crimes like pickpocketing in larger cities.
What is the downside of retiring to Portugal?
Retiring in Portugal offers many advantages, but there are challenges too. Some retirees find the slower pace of life and bureaucracy a bit tedious. There can be complications in understanding the tax implications, and winter months can feel cold, especially in homes without central heating. Additionally, the influx of tourists in certain areas might not be everyone's preference. This is also a downside in many other European countries in Western Europe.
Along with the downsides, there are many more advantages to retirement in Portugal. If you're interested in finding out more about both the pros and cons, check out our article on Retiring in Portugal.
Are there any specific cultural customs or etiquette to be aware of in Portugal?
Certainly, when in Portugal, it's essential to be aware of cultural norms. For example, maintaining personal space during conversations is valued. Handshakes are common greetings, but close friends might opt for hugs or cheek kisses. It's considered courteous to arrive slightly early for appointments, and during meals, it's customary to wait for the host to begin eating. A little effort in learning basic Portuguese phrases can go a long
Is Portugal good for digital nomads?
Yes, Portugal is indeed great for digital nomads. It offers a warm climate with lots of activities to do, great coworking and coliving spaces, and particularly a great digital nomad community. The Portuguese government offers a Portugal Digital Nomad Visa for remote workers and entrepreneurs wishing to get residency status in the country.