Retiring in Portugal: The Definitive Guide
You've worked hard all your life, paid your debts, and achieved financial independence. Now comes the sweet time to reap the benefits of your hard work: Retirement.
When people dream of retirement, they usually want to retire abroad. They look for a country that can offer them a high quality of life. They want somewhere with nice weather, perfect beaches, and the best healthcare quality. Sounds familiar?
As a prospective retiree, this is most probably your dream, too. So you go online, and search for "best places to retire," and you find out that Portugal is always on top of the lists. In this guide, we will go through all the details you need to know about retiring to Portugal, including costs, best places to retire, taxes, and much more. Ready to explore?
Why Do Many Expats Choose to Retire in Portugal?
Portugal offers precisely what every retiree is looking for: Amazing beaches, friendly locals, excellent cuisine, and that old world charm mixed with the modern amenities of Western Europe. The bonus is that life in Portugal is slow and relaxed, which is simply excellent for retirement.
When expats choose to retire in Portugal, they often flock to the Algarve, also known as "The Golden Coast." Both CNN and Forbes have published articles, praising The Algarve as the ideal location for retirement. Portugal is also the winner of the 2020 Annual Global Retirement Index.
What About The Cost of Living in Portugal?
You probably think such a high-quality life is expensive. The good news is it's not in Portugal. Luckily, a couple can comfortably live in a small town in Portugal on €1,500-1,700 a month. If you prefer to live in larger cities, like Lisbon or Porto, this amount will go up to €1,700-1,900 a month.
Who Can Retire in Portugal: Residence Permits and Visas
The Portuguese government makes retiring in Portugal relatively easy. The Algarve region alone is home to over 100,000 retirees as of 2020. Quite a large number of those retirees are UK citizens.
When moving to Portugal, you're going to need a visa and a residence permit. The requirements differ depending on your country of origin. Keep in mind that you're also required to have a clean criminal record, as the Portuguese government runs a criminal background check during registration.
EU Citizens
If you're from an EU country, it's relatively easy for you to retire to Portugal. All you need to do is apply for residency in Portugal, and you're going to have the same benefits a Portuguese citizen has.
All you need to do is go to a Servico de Estrangeiros e Fronteiras (SEF) office in Portugal and apply for residency. SEF is the official immigration service office of the Portuguese government.
US Citizens
US citizens can apply for a 120-day stay visa in Portugal. They're required to provide proof of income, showing at least $1,070 monthly for the duration of their stay.
When you get to Portugal, you can apply for a one-year residence permit. SEF might require some extra documents such as proof of residence. After this one-year permit, you can renew your permit for a period of two years successively.
After five years of residence in Portugal, you become eligible to apply for permanent residency.
Sephardic Jews
If you have Jewish ancestry and prove it by documentation, Portugal grants you citizenship.
Portugal allows dual citizenship. This means that you can keep your original citizenship and receive Portuguese citizenship. This of course also depends on your country of origin's regulations. So make sure to check the law before you apply for Portuguese citizenship.
Non-EU Citizens
For non-EU citizens, the process for a Portugal visa consists of some more steps. Before moving to Portugal, you'll need to apply for a residence permit at the Portuguese consular office in your country of residence. For this, you'll need the following documents:
Valid passport
Proof of health insurance which provides coverage in Portugal
Criminal record
Proof of income
You'll receive a temporary permit after submitting the proper documents, which is typically valid for five years. After that, you'll need to apply for permanent residence.
Another popular way to gain residence in Portugal is through The Portugal Golden Visa.
The Portugal Golden Visa
The Portugal Golden Visa is a residency by investment scheme, which can eventually lead to citizenship. The Portuguese government introduced this program in 2012 to draw foreign investors into Portugal. This program has been an astounding success, bringing over €5.5 billion worth of investment since  2012, and granted more than 15,500 residency visas.
To qualify for this program, you can choose one of the following investment routes:
Acquire real estate with a minimum value of €500,000
The minimum investment amount becomes €400,000 if the real estate property is in a low-density area
Acquire real estate with a minimum value of €350,000 provided that the property is at least 30 years old and you renovate the property
The minimum investment amount becomes €280,000 if the real estate property is in a low-density area
Make a minimum capital transfer of €1 million into Portugal
Create a minimum of 10 full-time jobs for Portuguese citizens
Make a minimum capital investment of €350,000 towards a qualifying research and development activity
Donate a minimum capital investment of €250,000 to arts, culture, or national heritage
Invest a minimum of €350,000 in a qualifying investment fund
The Golden Visa gives you a residence permit for two years, which you can renew provided that you spend at least seven days in Portugal per year. After five years, you become eligible to apply for Portuguese citizenship. This is why this option is very popular among expat retirees. Also note that when you get Portugal Golden Visa, you're going to have the right to visa-free travel around EU countries.
For a comprehensive understanding of the program, you can read our Portugal Golden Visa guide. This guide has been written by a community member who has experienced the program herself.
Taxes In Portugal
The Portuguese government changed many of the country's retirement laws in 2009. The purpose of those changes is to make the country more attractive to foreign retirees.
Expats who retire in Portugal can enjoy the benefits of the Non-Habitual Resident Regime (NHR). The NHR allows non-residents to benefit from a discounted income tax rate instead of the standard Portuguese rate, which can go up to 48 percent.
You can become an NHR resident if you haven't been a tax resident in Portugal for the last five years before your application. The NHR status exempts you from taxes for ten years on your following international incomes:
Salary
Business earnings
Investment yields
Rental income
Capital gains
Pensions
Furthermore, you're also exempt from taxes on your wealth during this period. Any income earned in Portugal will be taxed at a flat 20 percent rate, instead of the regular income tax, which can be as high as 48 percent.
Moreover, tax residents in Portugal pay taxes on their worldwide income. You become a tax resident in Portugal if you live there for more than 183 days in any tax year. Additionally, all tax residents need to fill out their annual tax return to declare their income.
Portugal has Double Taxation Agreements (DTA) with all EU countries and many non-EU countries. The DTA prevents an individual from being taxed on their income in two countries. Check out the FAQs section for a list of countries that have a DTA with Portugal.
Inheritance Tax
Luckily, there is no inheritance tax on any real estate in Portugal. However, there is a stamp duty, which is at a flat rate of 10 percent. Unless otherwise specified, descendants and spouses are exempt from this payment.
Additionally, you might need to pay some small administrative fees while completing the inheritance process. The Portuguese civic code also states that "Any inheritance process shall be governed by the laws of the home country of the deceased."
Inheritance laws can get a bit complicated. For example, if both spouses are from the same country, then the laws of that country will apply. Yet, if the spouses are from different countries, then Portuguese law may apply if the remaining spouse has a permanent residence in Portugal. This can be avoided by specifying so in the will.
Therefore, it's advisable to hire a professional to help you with your will. They can ensure that you and your family will get the best treatment according to the tax law.
Retirement Funds, Pensions, and Social Security
The retirement age in Portugal is 66 years and five months as of 2020. If you're a resident there and have at least 15 years of social security contribution under Portuguese employment, you may claim a pension in Portugal. Private pensions in Portugal are also common.
If they choose to retire in Portugal, EU citizens can transfer their contribution to Portugal from any EU country with ease. Their transferred contribution will count towards their Portuguese state pension.
On the other hand, citizens from non-EU countries need to check with their local state pension service for the process of transferring their pension. Many non-EU countries have tax and social security agreements with Portugal, which can ease this process.
As stated above, residents in Portugal are taxed on their worldwide income. This means that your internationally paid pension might be subject to taxation in Portugal. However, this taxation might be avoided, or reduced, under the NHR regime.
Cost Of Living In Portugal
Here comes the big question, "How much money do you need to retire in Portugal?"
Well, despite the high-quality living standards, Portugal shines as one of the most affordable European countries. As mentioned at the beginning of the article, the cost of living in Portugal in the countryside is cheaper than of big cities.
Rental Prices in Portugal
Rental prices vary depending on location. Lisbon is the most expensive city. Here's a table with the average rental prices in Lisbon:
| | | |
| --- | --- | --- |
| Apartment Size | Location | Average price |
| One-Bedroom | City Center | €400-1,000 |
| Three-Bedroom | City Center | €700-2,000 |
| One-Bedroom | Outside City Center | €300-800 |
| Three-Bedroom | Outside City Center | €500-1,500 |
Keep in mind that in some neighborhoods in Lisbon, such as Avenida da Liberdade, Lapa, and Baixa Chiado, the prices are much higher than in other places due to high demand.
Food and Groceries
Food is very affordable in Portugal, especially fruits, vegetables, fish, and meat. This takes some pressure off of the cost of living, as groceries are a common cost everywhere.
A budget of €200-300 will usually suffice for groceries. Here's a table depicting the prices of various grocery items, according to Numbeo:
| | |
| --- | --- |
| Groceries | Price |
| Apple (one kg) | €1,50 |
| Banana (one kg) | €1,10 |
| Chicken (one kg) | €5,20 |
| A dozen eggs | €170 |
| A loaf of bread (500 g) | €1,10 |
| Local Cheese (one kg) | €7,10 |
| Milk (one liter) | €0,60 |
| Onions (one kg) | €0,95 |
| Potatoes (one kg) | €0,85 |
| Rice (one kg) | €0,95 |
| Water bottle (1.5 liters) | €0,50 |
A good bottle of wine in Portugal will cost around €10. You might also find some extremely rare wines costing several thousand euros if you're a wine collector.
Eating Out
If you enjoy a meal at a decent restaurant, the good news is that eating out in Portugal is quite affordable. Here's a table showing the average prices of eating out:
| | |
| --- | --- |
| Meal/Item | Price |
| Meal at an inexpensive restaurant | €8 |
| Meal for two at a mid-range restaurant | €30 |
| Meal at a fast-food chain | €6 |
| Beer | €1,50 |
| Water bottle | €1 |
Utilities
Utilities in Portugal also tend to be reasonably cheap. On average, expect to pay about €100-150 a month for utilities. Keep in mind, of course, that this depends on the size of your house, the season, and your usage.
As for the internet, then a 60 Mbps connection will cost you around €35.
Transportation
Portugal has an impressive network of public transportation modes. The most common one being the busses. The cost of a single bus ticket is €1,40. There are many intercity buses available as well.
In Lisbon and Porto, you can find metro lines. These networks connect city centers to various neighborhoods and municipalities. There is also a famous tram line in these two cities. Most metro tickets cost around €1, and you can get a weekly or monthly pass for €20-40.
Finally, Portugal's taxi fees are quite cheap, starting at €3 and increasing at a rate of €0,50 per km.
Owning a Car
If you retire to Portugal and live in a big city like Lisbon, Cascais, or Porto, then you probably won't need a personal car. Actually, finding parking in Lisbon is tough if you own a car.
However, if you're living somewhere outside of these large cities, it's recommended that you have a car. There are some requirements from car drivers in Portugal, such as:
Valid driver's license
Vehicle registration
Reflective jacket (for the driver and each passenger)
Vehicle inspection certificate
Headlight converters
Spare set of glasses or contact lenses if the driver has a prescription
First aid kit
Spare bulbs
If the police stop you, they can ask to see any of the above items. You'll be fined if one or more of the above items is missing.
Gas costs around €1,50 per liter, which is around  €5,5 per gallon. LPG and diesel are less expensive.
Finally, you may also choose to rent a car, which costs around €30 a day. Keep in mind that highway tolls in Portugal are not cheap. For example, driving between Porto and Lisbon costs about €30.
Health Care In Portugal for Retirees
Public health care in Portugal only covers foreigners if they have permanent residence. This means that until you get your permanent residence, you'll need private health care.
Additionally, public healthcare is free for those over 65 or under 18. So if you're going to retire in Portugal, you'll probably be covered by their public health insurance, which is a plus. However, if you don't qualify for public healthcare, you need private healthcare.
Private Health Care
Fortunately, private insurance in Portugal is fairly cheap. A basic insurance package can cost between €19-45 per month, while a more comprehensive insurance package can cost about €75-95 a month. It's important to note here that it's easier to find English-speaking staff in private health institutions than in public ones. Keep in mind that it's sometimes possible to extend your insurance in your home country to cover you in Portugal.
Public Healthcare
The public healthcare system in Portugal is called Serviço Nacional de Saúde (SNS). This system provides healthcare for free or at a minimal cost. There's a collection of publicly funded hospitals and health centers under this system.
Banking in Portugal
Portugal has an excellent banking system, boasting over 150 banks in the country. There are private and public banks in Portugal, most of them belong to the Portuguese Banking Association.
We recommend that you open a bank account in Portugal if you're planning your retirement there. Having a Portuguese bank account will make day-to-day activities, such as paying the bills, much easier. Additionally, if you work with international banking for everyday activities, you'll spend a lot of money on transfer fees and currency exchange. This can be a lot of money wasted depending on the exchange rate between Portugal and your home country.
Before you open a bank account, you'll need a NIF number.
Número de Identificação Fiscal (NIF)
The NIF number is basically a tax number that you need for any fiscal activities in Portugal. It will come in handy when opening utility bills, getting a phone number, buying properties, or any other official activities.
It's actually quite simple to get a NIF number. All you need to do is go to the nearest tax office (Finanças) and provide them with the following documents:
Passport or any valid identification
Proof of address (the last utility bill would work)
Opening a Bank Account
After you obtain your NIF number, you can head to your preferred bank and give them the following documentation:
Passport or valid identification
Proof of address (the last utility bill would work)
Portuguese NIF number
Keep in mind that some banks might ask for different documents, so it's always a good idea to check on their website.
Banks in Portugal
Some popular private banks in Portugal are:
Novobanco
Millennium BCP
BancoBIC
Santander Totta
Banco Best
Banco BPI
Best Places for Retirement in Portugal
Portugal boasts a variety of regions and cities, each with its unique style and allure. Let's take a deep dive into some popular retirement destinations in Portugal.
The Algarve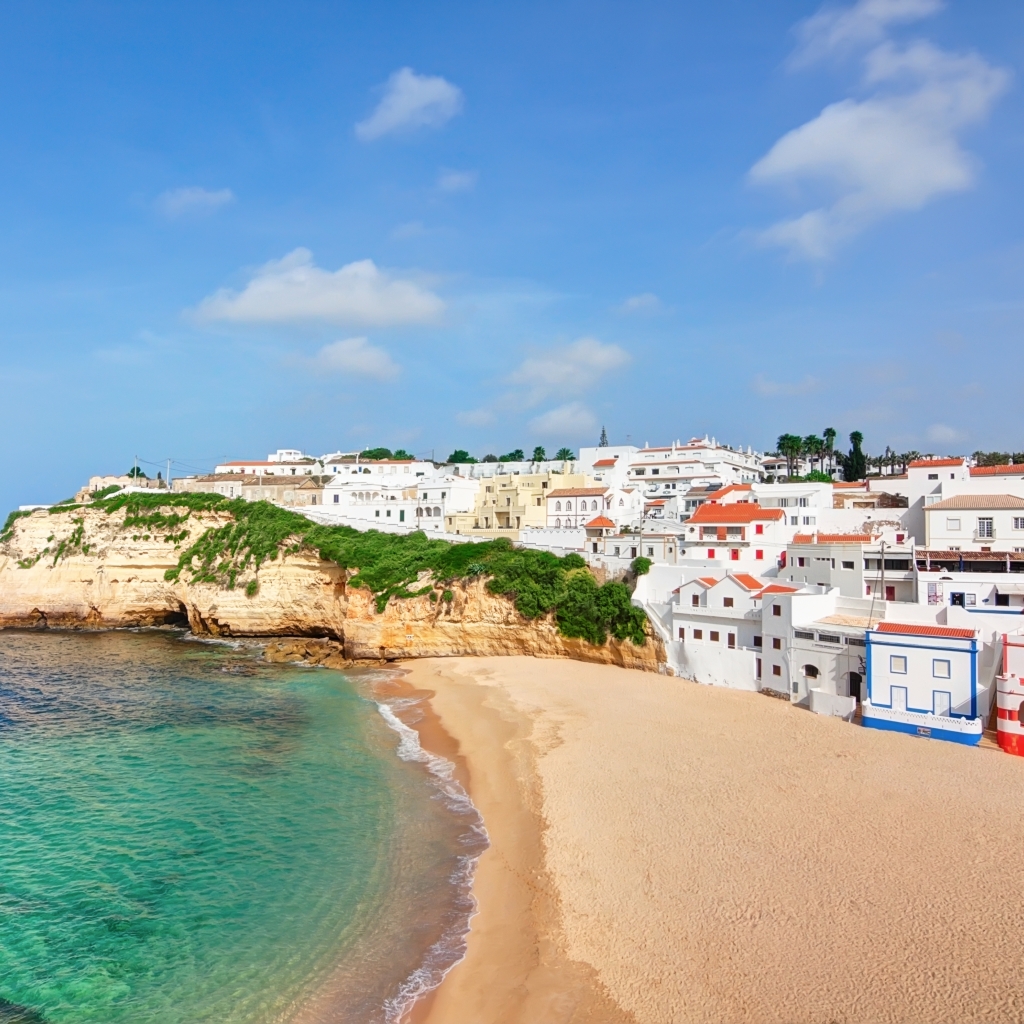 You simply can't find a list of "best places to retire" that doesn't mention The Algarve. The Algarve region is situated in southern Portugal, and it boasts more than a dozen towns and villages. The most popular amongst these villages are Lagoa, Faro, Albufeira, and Tavira. If you move further inland, Silves and Alvor will welcome you with open arms.
Forbes magazine rated The Algarve as one of the top places to retire in Europe in 2020, and why not? This region has pristine beaches, crystal clear waters, sunny weather all year round, and as a bonus, a massive collection of golf courses.
There are many expats in the region, and most locals have adapted to this, so you can easily get by on English alone. All of the above makes the Algarve amongst the top places to live in Portugal as an expat.
Porto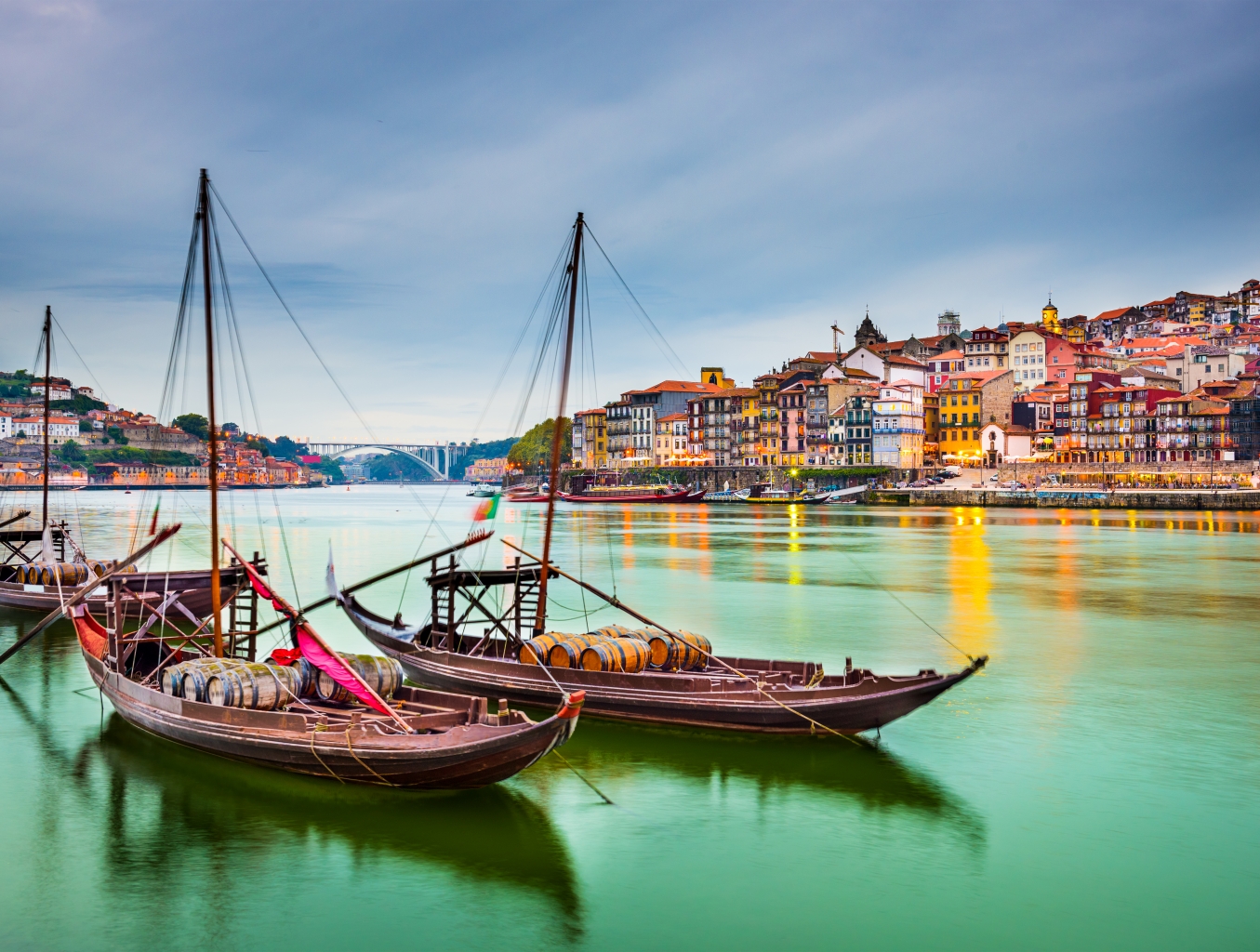 Americans moving to Portugal often choose Porto as their destination. Porto is the second-largest city in Portugal, and it's unique in its traditional charm. Being a fishing town, Porto has excellent seafood cuisine, which provides you with a healthy and balanced diet. Additionally, Porto has that free old-world charm, making it an excellent choice for retirement.
Furthermore, Porto has a large number of expats, which means English is widely spoken. It's also easy to make friends and establish social connections in the city. Porto's only downside is that the winters can get a bit gloomy with lots of rain.
Lisbon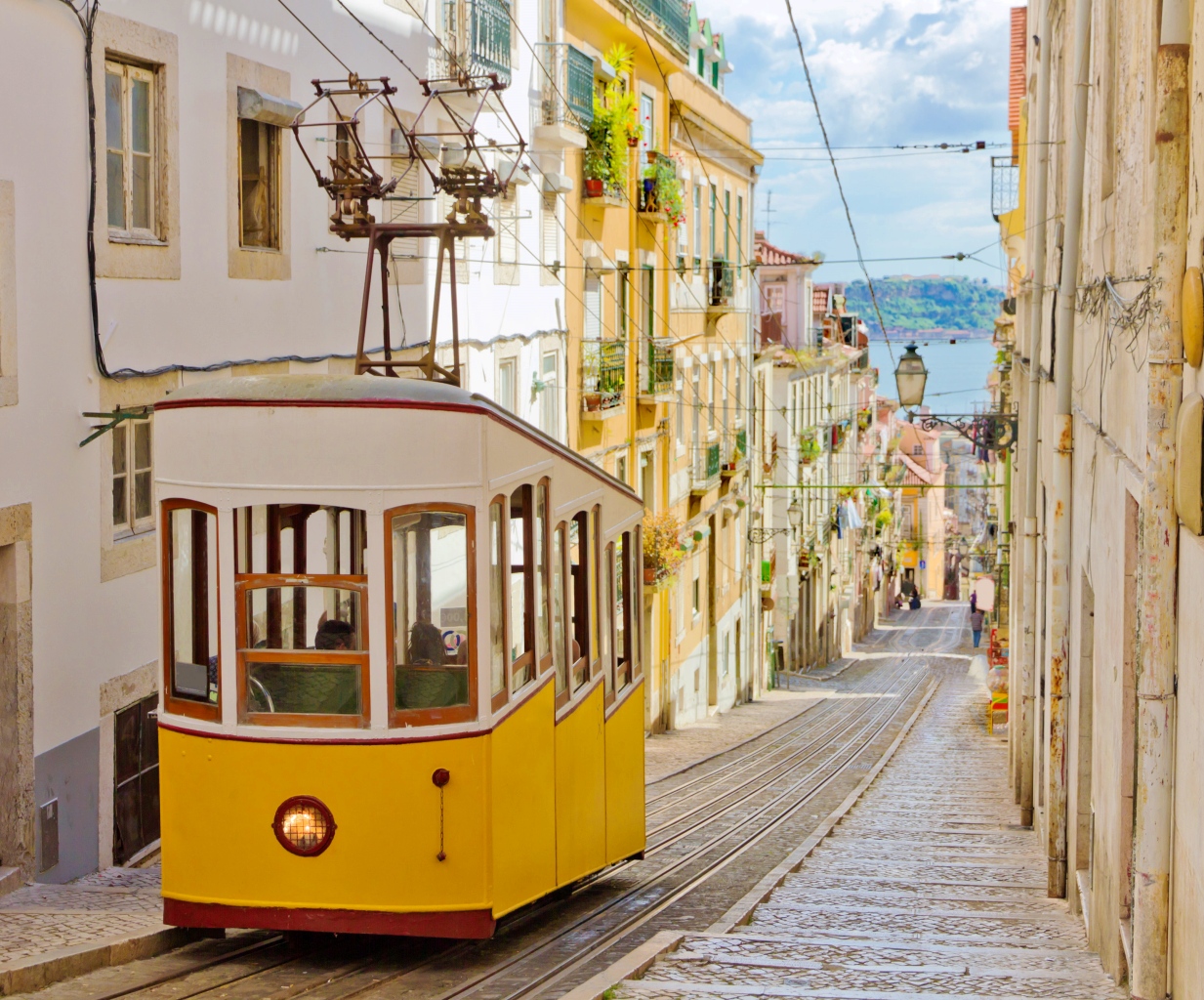 Most expats who move to Portugal turn their gaze to Lisbon. Lisbon is the beating heart of Portugal. This metropolitan city mixes all sorts of cultures seamlessly, like nowhere else in the world. Visitors, tourists, and expats flood into this city to live, work, study, or retire.
If you're after the bustling life of a big city, then Lisbon is one of the best cities for that. It welcomes thrill-seekers in its lively neighborhoods boasting many bars and clubs. The quieter residential neighborhoods offer you a nice place to retire with your family.
The number of Lisbon neighborhoods is endless, and you can always discover new charming little places to visit.
Finally, you can definitely get by in Lisbon with English alone, as it's basically the New York of Portugal. Some popular neighborhoods in Lisbon are Baixa, Chiado, Principe Real, Bairro Alto, and Campo de Ourique.
Cascais or Estoril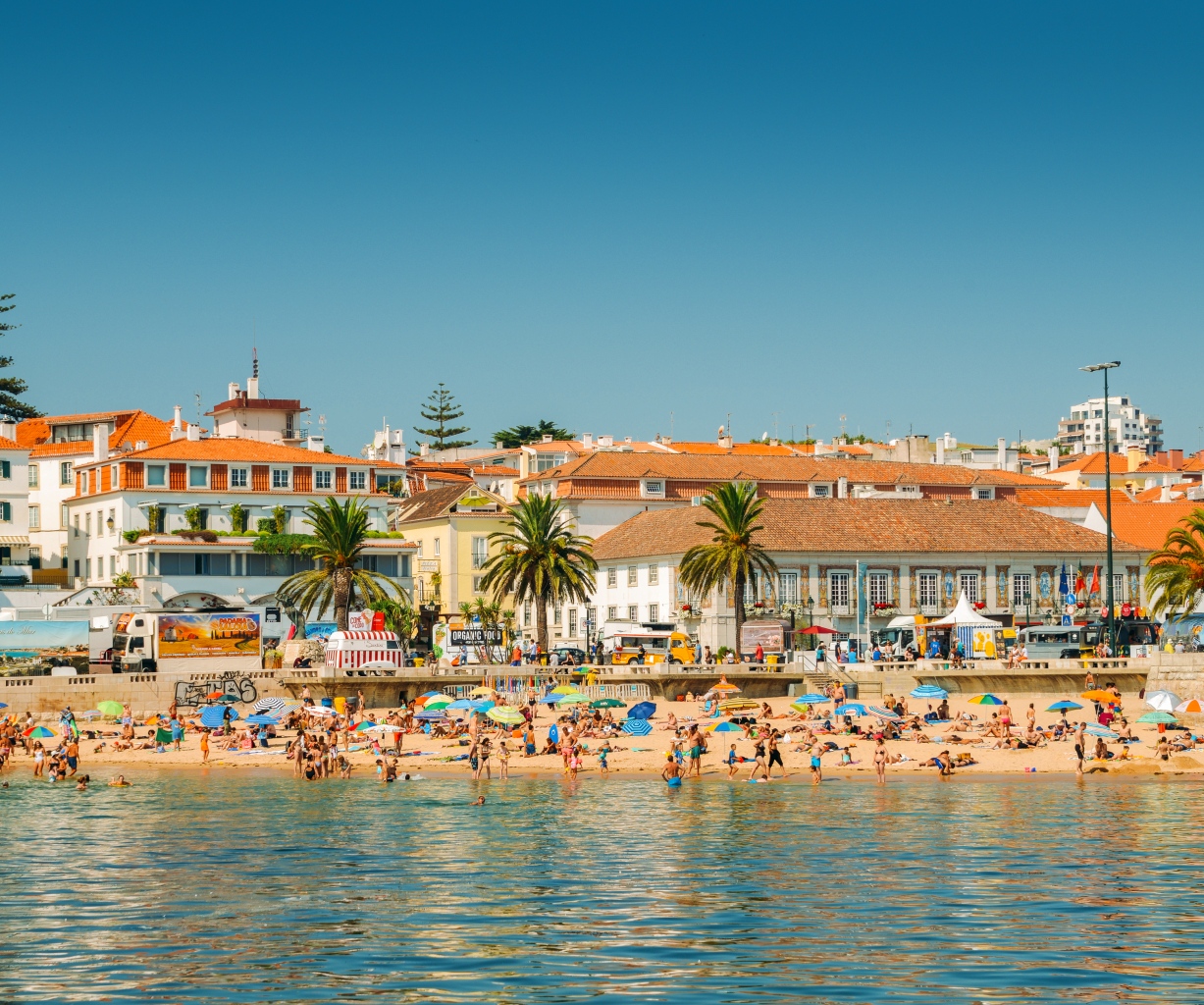 Cascais and Estoril are both coastal towns about half an hour's drive from Lisbon. They're just close enough to the big city to have modern amenities and just far enough to be peaceful and quiet. They can offer magnificent natural scenery and serene quiet beaches away from the hustle of the modern world.
As they're close to the capital, more importantly to Lisbon's airport, they are very well equipped with the best public services. It's important to mention here that the property prices in these two towns have been climbing at a steady rate. This is why if you're retiring in Portugal, you might want to grab your opportunity there sooner rather than later.
The Pros and Cons of Retiring To Portugal
You know the old adage, "Every rose has its thorns." Portugal is definitely a rose when it comes to retiring, but it doesn't come without a few thorns. Here're the pros and cons of retiring in Portugal:
Pros
Friendly local people and an open-minded culture
Fantastic cuisine which is renowned for its variety and deliciousness
Warm year-round weather in the coastal region
Portugal cost of living is low compared to other European countries
Highly beneficial taxing regimes for expats
Life in Portugal is slow and breezy
Portugal has one of the highest standards of living amongst European countries
Cons
Public healthcare is only available for permanent residents
The main language is Portuguese and not English
Some public services and goods might be difficult to acquire in rural areas
A complicated bureaucratic system that might take a while to understand
Summary
Portugal is an excellent country with one of the best standards of living at a low price. You can find whatever you're looking for there, thanks to its variety of cultures, cuisine, and natural beauty. So, if you're looking to retire somewhere abroad, you might want to choose to retire in Portugal.
FAQ
Countries That Have a DTA with Portugal
Algeria
Austria
Andorra
Bahrain
Barbados
Brazil
Bulgaria
Canada
Cape Verde
Chile
China
Colombia
Croatia
Cuba
Cyprus
Czech Republic
Denmark
East-Timor
Estonia
Ethiopia
Finland
France
Germany
Georgia
Greece
Guinea-Bissau
Hong Kong
Hungary
Iceland
India
Indonesia
Ireland
Israel
Italy
Ivory Coast
Japan
Kuwait
Latvia
Lithuania
Luxembourg
Macau
Malta
Mexico
Moldova
Montenegro
Morocco
Mozambique
Netherlands
Norway
Oman
Pakistan
Panama
Peru
Poland
Romania
Russia
San Marino
São Tomé and Principe
Saudi Arabia
Senegal
Singapore
Slovakia
Slovenia
South Africa
South Korea
Spain
Qatar
Sweden
Switzerland
Tunisia
Turkey
United Arab Emirates
United States of America
United Kingdom
Ukraine
Uruguay
Venezuela
Vietnam