Wise Review 2023: An In-Depth Look (TransferWise)
If you frequently need to make money transfers to a foreign country, look no further. 
Sending money internationally can be painful.  It is time-consuming, expensive, bureaucratic, and inefficient. That's about to change with Wise (formerly known as Transferwise). 
Wise is an online platform for sending and receiving money internationally. It's easy, transparent, and cheap.
In this article, you will find a comprehensive review of Wise.  
As a bonus, I also checked out the Wise reviews across different authority review platforms and summarized each of their takes toward the end of the article.
Without further ado, let's Wise it up!
What Is Wise, Formerly TransferWise?
Wise, formerly TransferWise, is an international money transfer service
It's easy to set up an account, log in, and make a transfer
It has very competitive exchange rates with no rate markups
It has low transfer fees
Wise cost calculator makes it easy and transparent to see rates and fees
You can send money to over 80 countries
Well-organized FAW page and good support – Phone support is limited to regular business hours
Delivery of the funds may be slow or quick depending on service preference

Quick transfer is possible, using a debit or a credit card
Transfer funded with bank accounts can take a few days
Is Wise Good for Transfer Money Abroad?
In short, yes. Wise is an excellent choice for sending money internationally.
International money transfers make up a big part of the bank user complaints. Banks and intermediaries never miss a chance to charge high fees when sending and receiving money from other countries.
Pros and Cons of Wise, formerly TransferWise: A Quick Glance
Pros
Various money transfer options
No exchange markup rates
Fast money transfers
Cons
High transfer fees when compared to some competitors
No options for cash delivery
Customer support is limited
Wise Move: Formerly TransferWise Renamed to Reflect Broader Services
TransferWise recently made a major rebranding move, changing its name to Wise: a name that embodies its vision to go beyond international transfers and offer a range of financial services. The name change followed a series of moves by the company, including the launch of its borderless multi-currency account and debit card, as well as its integration with popular money apps such as Venmo and Google Pay. 
The decision to rebrand is not only strategic but also reflects the company's evolution and commitment to making financial services more accessible, transparent, and affordable for everyone. While the name will be different, Wise will remain steadfast in its promise to deliver top-notch services to millions of customers worldwide.
Wise, formerly known as TransferWise, allows the transfer procedures to be carried out without bureaucracy.  Furthermore, you can transparently get the most competitive currency exchange rates, and it is very affordable and easy to carry out the transfer.
How Does Wise Work? 
Wise is simple and intuitive, not much of a secret behind how it works.
It was created in 2011 in the UK. The platform functions as a financial institution for sending money internationally. 
Once you create an account and log in, Wise lets you simulate the transfer.  You simply choose the currency and the amount you want to send, as well as the currency you would like to convert to, and it will provide you with the best available currency exchange rate, as well as the transfer fee.
The use is safe, easy and transparent. Unlike traditional banks, the fintech allows you to have very competitive rates with very low transfer fees.
How To Open a Wise Account
You simply go to Wise website and register for free.  It will ask you for an email address and a password, and voila, your account is open!
| | |
| --- | --- |
| Region | Countries |
| Europe | Andorra, Austria, Belgium, Bulgaria, Croatia, Cyprus, Czech Republic, Denmark, Estonia, Finland, Georgia, Greece, Hungary, Ireland, Italy, Latvia, Liechtenstein, Lithuania, Luxembourg, Malta, Monaco, Norway, Poland, Portugal, Romania, San Marino, Slovakia, Slovenia, Spain, Sweden, Switzerland, Turkey, The Netherlands, The United Kingdom, Vatican City, Ukraine |
| Americas | Argentina, Brazil, Canada, Chile, Colombia, Costa Rica, Mexico, United States, Uruguay |
| East Asia | Bangladesh, China, India, Japan, Nepal, Pakistan, South Korea, Sri Lanka |
| Oceania | Australia, Fiji, New Zealand |
| Southeast Asia | Hong Kong, Indonesia, Malaysia, Philippines, Singapore, Thailand, Vietnam |
| Middle East | Israel, UAE |
| Africa | Botswana, Egypt, Ghana, Kenya, Morocco, Nigeria, South Africa, Tanzania, Uganda, Zambia |
What Features Does Wise Offer?
Wise offers a range of financial services that cater to the needs of businesses and individuals alike. The following list explores the top features of Wise that have made it a trusted name in the industry:
Features of Wise
Low fees
Transparent exchange rates 
Borderless account
Debit card
Multicurrency transfers
Integration with popular money apps
Fast transfers
Trustworthy
Regulated
Dedicated customer support
Wise offers its customers some of the lowest fees in the industry, making it an affordable option for those looking to transfer money internationally.
Transparent exchange rates 
Wise offers its customers the mid-market exchange rate, which is the real exchange rate at which currencies trade in the global marketplace, without any hidden fees or markups.
With a Wise borderless account, customers can hold and manage money in up to 50 currencies, allowing them to easily send, receive, and spend money in different currencies.
Wise offers a debit card that is linked to its borderless account, allowing customers to withdraw money from ATMs and spend money in different currencies without incurring any hidden fees or unfavorable exchange rates.
Wise allows customers to transfer money in over 70 currencies, making it an ideal platform for businesses and individuals who need to transfer money internationally.
Integration with popular money apps
Wise has integrated with popular money apps such as Venmo and Google Pay, allowing customers to easily send and receive money across borders.
Wise offers customers fast transfers, with most transfers taking just a few hours to complete.
Wise is a trusted name in the industry, with over 10 million customers worldwide and a proven track record of offering reliable and secure services.
Wise is regulated by the Financial Conduct Authority in the UK and licensed in several other jurisdictions, ensuring that customers' money is safe and protected.
Dedicated customer support
Wise offers dedicated customer support to its customers, with support available in multiple languages and through multiple channels, including email, phone, and chat.
How Does Wise Compare to Its Competitions
| Feature | PayPal | Wise | Revolut | Bunq |
| --- | --- | --- | --- | --- |
| Plans | Personal account: Free / Business account: 3.4% + fixed fee | Free | Free / Premium plans: 2.99 / 6.99 / 13.99 per month | Free / Premium plans: 7.99 / 10.99 / 16.99 / 19.99 per month |
| Physical card | Yes | Yes | Yes (excluded free plan) | Yes |
| Free withdrawals | Not available | 200 EUR | 200 / 400 / 800 per month | 0 / 4 / 10 / 20 per month |
| Fees | Varies depending on the transaction | Transparent fees and exchange rates, varies depending on the currency and transfer amount | Transparent fees and exchange rates, varies depending on the currency | Transparent fees and exchange rates, varies depending on the currency and plan type |
| Peer to peer transfer | Free | 0,37 EUR / 0,39 USD / 0,32 GBP | Free | Free |
| Pros | Wide acceptance, easy to use | Transparent fees and exchange rates, multicurrency account, physical card, free withdrawals | Multicurrency account, physical card, free withdrawals | Multicurrency account, physical card, free withdrawals, social and green initiatives |
| Cons | High fees and exchange rates, limited international support | No cash deposits or withdrawals, limited currency support, bank transfer may take several days to clear | Limited currency support, basic customer support, limited features | Limited currency support, basic customer support, limited features |
| Who it's best for | Individuals and businesses who prioritize wide acceptance | Individuals and businesses who prioritize transparent fees and exchange rates, multicurrency support | Individuals who travel frequently or make international transfers | Individuals who need a multicurrency account and free withdrawals |
Advantages of Wise
Wise makes it easy and fast to send money abroad to friends, family, or even to make international purchases. Here are the advantages of the platform in a quick look:
Pros of Wise
Safe to use
No bureaucracy
Low Currency Exchange Rates
Low fees
Easy to use
Wide coverage
Let's delve into some of these advantages.
Safe to Use: 100% secure
Sometimes, our community members ask "Is Wise (TransferWise) Safe to Use?" Our answer is yes. Wise is a licensed electronic financial institution regulated by the Financial Conduct Authority (FCA) and His Majesty's Revenue and Customs (HMRC) in the UK.  Both entities provide institutional-level security and encryption (256-bit SSL data w/ 2048-bit key).
Additionally, consumer account funds are kept separate from those of corporate accounts.  In the event of financial difficulties or bankruptcy, the consumer funds are protected. 
The transfer process is notified via email or the Wise app in order to ensure transparency and security. Receiving money through Wise is also possible even if the recipient doesn't have a Wise account.
Low Currency Exchange Rates
The actual market rate for currency exchanges is the average of sell-side and buy-side rates of a given currency.  The actual rate fluctuates all the time.
Although banks do not advertise the actual rate, it can be found on the internet. This is the fairest rate to be passed on to the consumer. 
Wise provides you with a chart of the actual rate transparently. It clearly shows what this fair value is and what fees you should expect for the exchange and the transfer.
Low Fees: Cheaper Than The Bank
Most traditional banks, financial institutions, and exchange offices charge up to 5% in hidden fees when you are making a currency exchange and an international money transfer.  Additionally, both the sender and the recipient pay an additional fee for the transfer.
Wise fees are much cheaper than the above traditional alternatives. Furthermore, it's all transparent.
Wide Coverage
Few platforms offer as wide a coverage as Wise does. You can send money to 80 different countries in more than 50 currencies. 
Disadvantages of Wise
It's not all roses and butterflies. Wise also has its shortcomings, here are some:
Cons of Wise
Transfers can be slow
Phone support is limited
Slow Transfers
Well, let's be fair. Wise money transfers can either be quite fast or slow, depending on how the transfer is funded.  If the transfer is funded through bank accounts (as opposed to debit cards or credit cards), the journey can take a few days, or even over a week at times.  Why? Because it takes time for Wise to receive, convert, and then deliver your money abroad.  
We have tested it for the United Kingdom, Germany, and Portugal. The average money transfer took three days when funded from a bank account.
Limited Phone Support
You can only reach customer service by phone during the weekdays, within regular work hours.  This is also standard for most financial institutions, but nevertheless, it's worth pointing out.
Transfer Options of Wise
1# Bank transfers: Wise allows customers to transfer money from their bank account to another bank account in a different country.
2# Debit or credit card transfers: Wise allows customers to use their debit or credit card to transfer money internationally.
3# Apple Pay or Google Pay: Wise has integrated with Apple Pay and Google Pay, making it easy for customers to send and receive money using their mobile devices.
4# Local bank transfers: In some countries, Wise offers local bank transfers, which allows customers to receive money in their local currency without having to pay conversion fees.
5# SWIFT transfers: Wise supports SWIFT transfers, which allows customers to send money to over 200 countries using the SWIFT network.
6# ACH transfers: Wise supports ACH transfers in the United States, which allows customers to send money to US bank accounts.
7# Direct debit: Wise allows customers to set up direct debit payments to pay bills or make regular payments to other accounts.
How Wise Keeps It Safe  
Ensuring the safety of customer funds and personal information is one of  Wise's top priorities. The company is licensed and regulated by financial authorities in all the countries where it operates, including the UK's Financial Conduct Authority (FCA). 
Wise uses two-factor authentication to secure user accounts and has put measures in place to prevent unauthorized access to its systems. Encryption is also used to protect sensitive data, and regular security audits are conducted to identify and address potential vulnerabilities. With these robust safety measures, Wise provides a secure and trustworthy platform for international money transfers.
Wise Rates & Fees
Before using Wise to send money abroad, it's best for you to understand how currency conversion works and what fees are involved.
Fees
Wise uses the real exchange rate for the transfer, as opposed to the tourist exchange rate, which is more expensive. TransferWise costs between 1% to 2.5% for the transfer.
Hidden Fees
There are no hidden fees at Wise.  
However, there are fees that add up to the real exchange rate.  The difference is, Wise transparently informs the users of what fees are involved line by line, as opposed to other financial institutions that keep all these fees hidden.
How Much Does Wise Really Save?
The amount that one can save by choosing Wise varies based on several factors such as the currencies involved and the destination country. For instance, when sending money online from a USD account to a friend in the UK, different transfer values and specialist services can influence the savings. To illustrate, let's examine a few scenarios to provide insight into the potential savings one could receive by using Wise.
| | |
| --- | --- |
| Send amount in USD | With Wise your recipient gets |
| $1,000 | 826.68 GBP |
| $5,000 | 4,135.88 GBP |
| $10,000 | 8,271.68 GBP |
Who Is Wise Right For?
It's right for individuals and institutions that transfer money internationally.  As far as individuals go, Wise is ideal for:
Sending money to family and friends abroad
Sending money between your bank accounts in different countries
Wise (TransferWise) Reviews
We went through different trustworthy review platforms to see what they thought of Wise.  Here it goes;
Trustpilot Wise (formerly TransferWise) Review
Trustpilot is an international platform for evaluating companies and services.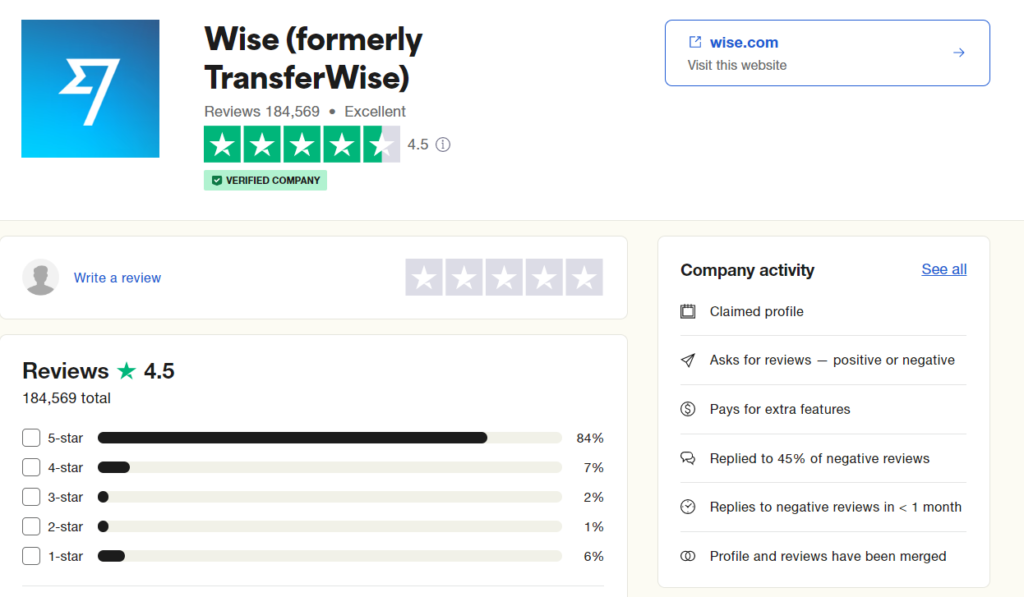 Wise received 185,000 reviews on Trustpilot and got an overall score of 4.5 out of 5, as of January 2023. 84% of the reviews marked the service as "excellent", while 6% marked it "bad". 
Most of the positive reviews focused on the ease of use of the website, as well as the app.  Secondly, the low fees and affordability of the platform were also praised by users. The lack of hidden fees and the lack of bureaucracy were often mentioned. Contrary to our review, there were quite a few users, who pointed out that they found the transfer speed to be very good. 
Monito Wise (formerly TransferWise) Review
Monito is a user review platform of digital transfer services.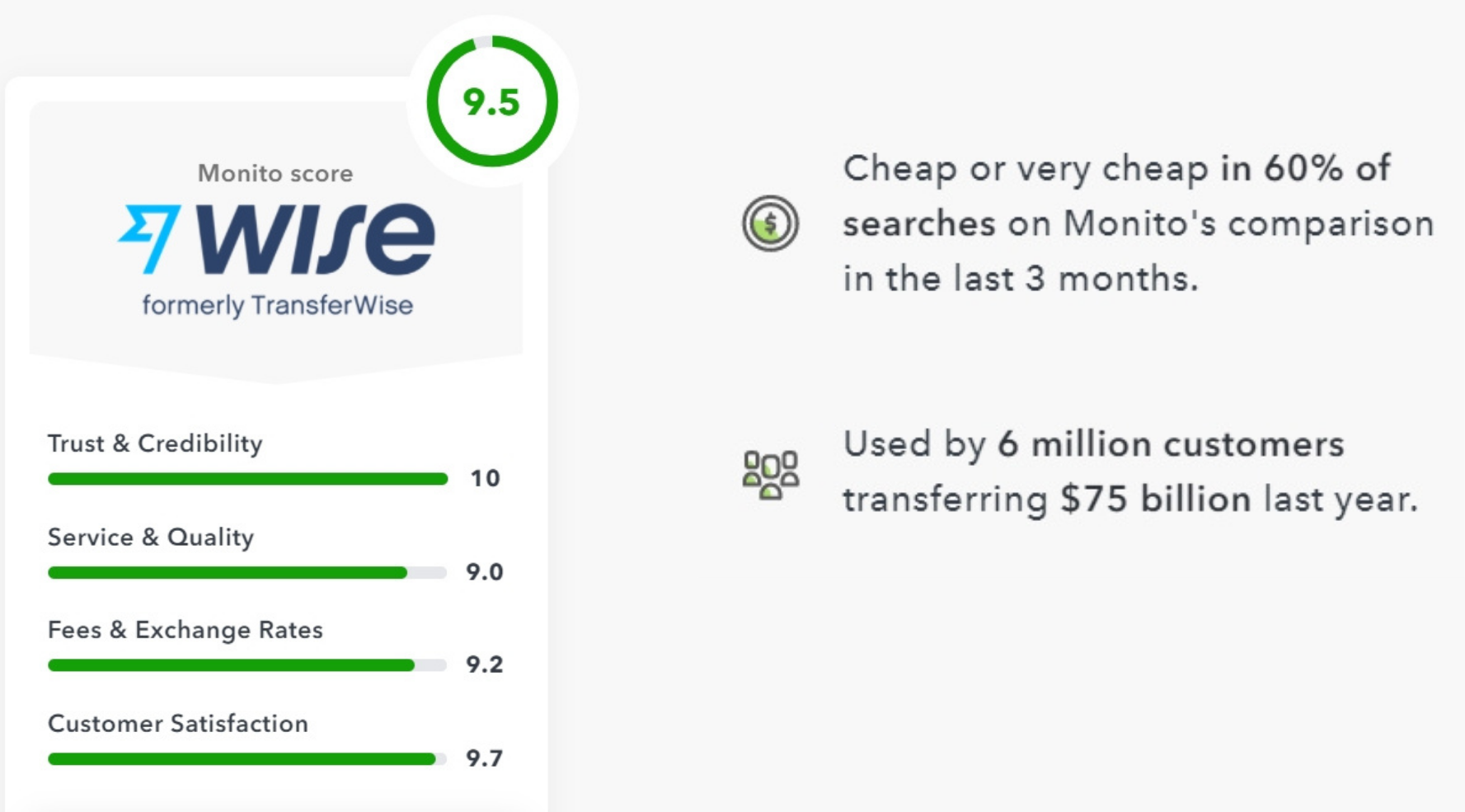 Wise received a 9.5 out of 10 in Monito. It is considered as one of the most accessible and easy-to-use options in the market for transfer money through online services.
Fees & Exchange Rates received 9.2/10
Credibility & Security received 10/10
Services & Coverage received 9/10
Customer Satisfaction received 9.7/10
Customer Support received 9.5/10
Transparency received 10/10
Users pointed out that the downside of the platform is the need to have actual bank accounts in order to be able to proceed with the transfer.
Wise Business Account
The Wise business account and debit card are a convenient solution for businesses that frequently make international transfers and need a multi-currency account. With no monthly fees or minimum balance requirements, the Wise Business account offers a range of features designed to meet the unique needs of businesses. These features offer the following to the users:
Benefitting from full account functionality for a one-time fee of $31
Competitive mid-market exchange rates and low, transparent fees for international payments
Receiving payments using local account details in 10 currencies and withdrawing money from PSPs and marketplaces like Amazon and Stripe
Ordering international debit and expense cards for all employees
Adding team members and managing user permissions
Making batch payments to up to 1,000 recipients in multiple currencies by uploading a single file
Compatibility with cloud-based accounting services like Xero and Quickbooks for easy reconciliation
API integration for workflow automation
Wise Business is suitable for businesses of all sizes, from start-ups to large corporations with employees, customers, or suppliers abroad.
The Verdict: Is It Worth Opening an Account at Wise?
If you regularly make international money transfers, then the answer is yes. It definitely is worth it.
Wise is a great choice for international money transfers. Advantages of Wise include ease-of-use, transparency, low fees, and great customer service. From an easy sign-up process to efficient transfers, Wise provides an excellent user experience.  It is a true disruptor of the traditional money transfer model.
If you'd like to learn more about the platform and open an account, click here.
We hope you enjoy our Wise Review 2023 article. Thank you for reading.
Note: The information in this table is based on publicly available information as of the current date and may be subject to change. It is provided for informational purposes only and should not be considered as financial advice.
Frequently Asked Questions