How To Open a Wise Account: A Guide on Wise Money Transfer
The money transfer platform Wise, formerly TransferWise, offers an easy, cheap, and transparent way to send money abroad.
Below, you will find how you can open an account and send money using Wise.
This Wise bank account guide covers:
…and a lot more!
What Do You Need To Start?
In the next section, I'll delve into a step-by-step process of opening a Wise account. But before that, let us give you a quick overview of Wise, formerly Transferwise.
Wise Is Best for:
Looking to get the most favorable exchange rates? Then, check out Wise. The transfer is both cheap, simple, and quick.
Pros of Wise
Safe: In the UK, His Majesty's Revenue and Customs (HMRC) and the Financial Conduct Authority (FCA) both have regulatory authority over Wise 
Zero bureaucracy: It's easy to open a Wise account online
Low Currency Exchange Rates: Wise transparently displays a chart of the current rate. It clearly shows the fair value and the fees associated with the exchange and transfer.
Low fees: Wise fees are much cheaper than traditional banks
Easy to use: The Wise website and app's navigation are easy to use and free of bugs.
Extensive coverage: More than 50 different currencies can be used to send money to 80 different countries.
Cons of Wise
Limited customer support: Customer service is only reachable by phone on weekdays during regular business hours.
Slow transfers: If the transfer is funded through bank accounts rather than debit or credit cards, the journey may take several days. According to Wise money transfer reviews, it sometimes takes a week.
What Is Wise a.k.a TransferWise?
Wise was known as TransferWise until March 2021. The company decided to change its name in order to broaden its appeal and encompass the full scope of services it provides.
While the name has changed, it is important to note that the service has not. Users can still use the service as usual with the same login information they used on TransferWise money transfer.
Opening a Wise Account: Step By Step Guide
Step #2
Select "Register"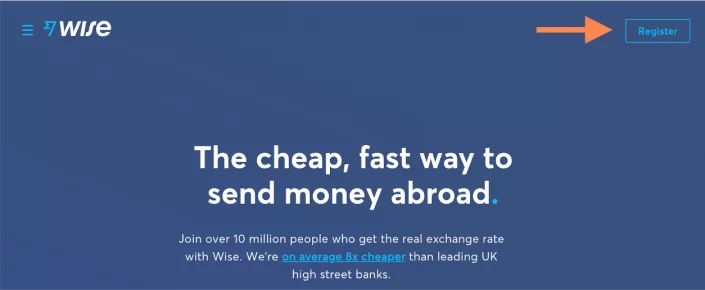 Step #3
Enter your email address, create a password, and select your country of residence
Step #4
Fill out the required personal information, and voila!
The system will send you an email with a security code or link in order to verify your contact information.
Congratulations, you are part of the Wise family. Now what?
Wise Money Transfer: How To Send Money With Wise?
Once you registered with Wise, access the website and log in.
Choose the amount you want to send abroad
At this stage, you'll know the currency exchange rate and what fee you will pay when the transfer is complete.
Add the beneficiary information and bank account details
Make sure that you've put the correct details.
Verify your identity
The Wise platform will send an SMS with a security code to your mobile phone.
At some cases, Wise may request a copy of your identification document; all good, this is for the safety of your funds.
Pay the transfer amount and the fee
Track the status of your transfer
The beneficiary party will receive a notice that the money is being transferred.
The transfer can take anything from 1 to 2 business days to reach its destination, depending on the date of deposit and the type of transfer you used. 
Documents To Open and Verify a Wise Account
A valid ID — Below documents are acceptable
Passport (photo page)
National ID card
Driving license
A valid proof of address — Below documents are acceptable
Utility bills (gas, electric, or landline phone)
Bank or credit card statements
A council tax bill — HMRC notification is also accepted
Vehicle registration or tax
Your driving license that shows your address and expiry date
Any document from the government or a financial institution
Everything on the shared document should correspond to the information on your Wise account.
Make sure the photo isn't blurry or obscured. Wise also needs to see any information on the back of your document.
Wise doesn't have the resources to support documents written in Arabic, Aramaic, Azerbaijani, Hebrew, or Urdu.
What Are the Fees for Wise Money Transfer?
Wise provides its users with the commercial exchange rate, not the tourist exchange rate, which is higher. So, the transfer rate can be almost 10 times lower than that of traditional banks.
The fees that are charged vary, depending on the amount you are sending, the currencies you're using, and the payment method you choose.
The good thing is, you will always transparently see the fees and what they refer to on the simulation page, when you are sending out money.
Wise Transfer Limit
There are limits to how much you can send with Wise. The limits depend on the currencies you send to and from, as well as the method you use to pay.  The platform will notify you if you try and send above the limit.
You can check out the limits for each currency in the Wise Currencies pages. 
Wise Multi Currency Account
If you are living abroad or moving abroad, the Wise Multi Currency account may be right for you.
The account lets you obtain international bank details and thus receive money worldwide, send money to more than 80 countries, and convert your currency to more than 50 currencies. The bank details you obtain may belong to the United Kingdom, Europe, the United States, Australia, or New Zealand.
You can either register for this account at your initial registration or opt in for it later. Wise will ask you to submit some documents for verification.
Find out more about this in our article on Wise Borderless Account.
Wise Transfer Money: Multi Currency Account Fees
There is no monthly fee for the multi currency account.  Fees are built into the features.
The currency conversion is performed with the exchange rate of the day.  The tariff is typically between 0.35% and 2% depending on the currency.  You can withdraw up to €200 every month for free from ATMs all around the world. There is a fixed fee of €0.60 to transfer money from your account to another account with the same currency.
Wise Debit Card
Wise also offers a MasterCard debit card, which is currently only available to the users that live in the European Economic Area (EEA). You can use the card to make withdrawals or payments.
Find out more about the Wise debit Mastercard.
Is It Worth Using Wise To Transfer Money Internationally?
Opening Wise, formerly Transferwise account, and sending money is worth it. Here's why:
Why use Wise Transfer Money:
Opening a Wise account is easy and fast, it's completely online
The platform is easy-to-use
The currency rates and fees are all transparent
Wise offers the cheapest rates and fees
Wise has a wide reach of countries and currencies
The transfer limits are generally high
It's secure: registered financial institution under FCA in the UK
Read our complete Wise review. where we elaborate on the benefits of using Wise, Wise money transfer reviews, how to open Wise account, and a lot more!