Portugal Golden Visa Statistics – Updated in January 2023
Portugal Golden Visa is a highly favored residency by investment program in our community. Thanks to its multiple investment options, low stay requirements, and profitable nature, it's very popular among digital nomads, frequent travelers, and families.
Portugal Immigration and Borders Service (SEF) releases the monthly and cumulative data for Golden Visa. Here are Portugal Golden Visa statistics as of January 2023.
Portugal Golden Visa Statistics for December 2022
According to the latest data released by SEF at the end of December 2022,
151 main applicants received their Golden Visa,
192 family members accompanied the main applicants as their dependents.
Below is the breakdown of the nationalities for December:
25 China
24 USA
21 UK
14 South Africa
10 Brazil
In terms of investment type, here is the breakdown for December:
105 applicants opted to proceed with real estate acquisition

65 applicants for €500,000+ properties
40 applicants for €350,000 renovated properties

46 applicants opted to go for capital transfer

41 applicants for Portuguese Golden Visa funds
4 for capital transfer
1 donation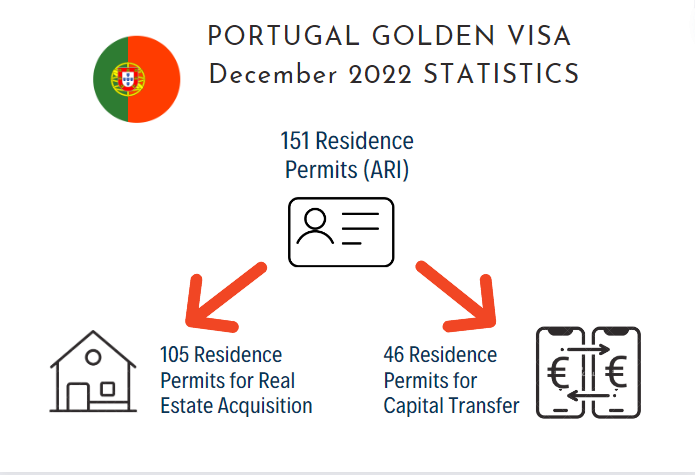 Portugal Golden Visa attracted €79,164,626.20 to Portugal in December.
All Time Portugal Golden Visa Statistics: 2012-2022
Nationalities That Have Applied for Portugal Golden Visa (2012-2022)
Since the start of the Golden Visa program in Portugal, the Chinese have continuously been the main source of applications. Brazil is second in terms of nationalities, followed by Turkey.
Since October 2012, 11,535 investors have received their Golden Visas and 18,809 family members have accompanied them. €6,754,091,807.50 has been invested in Portugal Golden Visa since then.
Investment in Real Estate: 10,593 residence permits
Real Estate / €500,000: 9,108 residence permits
Real Estate / €350,000 Urban Rehabilitation: 1,485 residence permits
Capital Transfer: 920 residence permits
Capital Transfer in a Portuguese Bank: 535 residence permits
Donation to research activities: 1 residence permit
Investment Fund: 371 residence permits
Capital Transfer + Creation of Jobs: 7 residence permits
Donation to cultural heritage in Portugal: 6 residence permits
Creation of 10 Full Time Jobs: 22 residence permits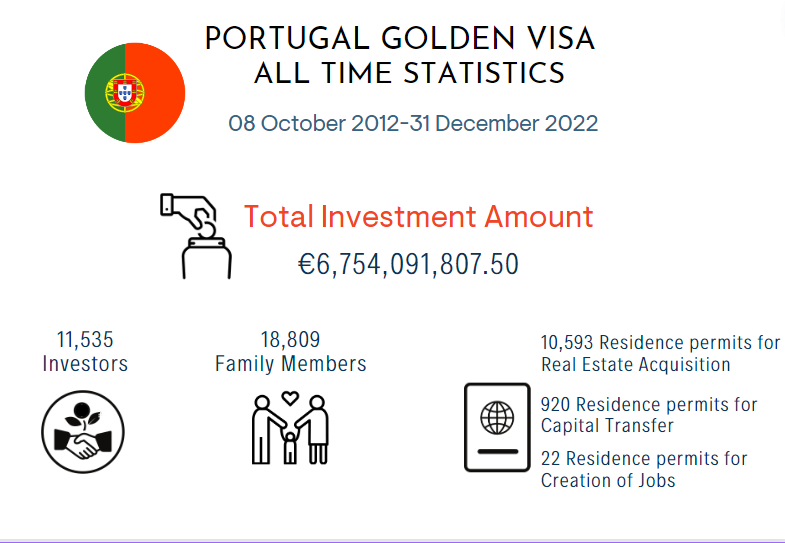 Changes to Portugal Golden Visa (effective as of January 2022)
In February 2020, the Portuguese Parliament passed a budget proposal that aims to modify the Portuguese Golden Visa program. The parliament's goal is to encourage investment in low-density areas, urban rehabilitation, employment creation, and cultural heritage preservation.
According to this;
The minimum investment amount for the Investment Fund option increased to €500,000 from €350,000.
The minimum investment amount for the Capital Transfer option increased to €1.5 million from €1 million.
Only property investments made in low-density areas of Portugal are going to qualify for a Golden Visa. This means that purchasing residential property in Lisbon or Porto no longer qualifies. However, commercial properties still do.
The changes to the Portugal Golden Visa took effect on January 1, 2022.
What Else You Need To Know
As we've briefly mentioned in the introduction, Portugal Golden Visa is highly popular in our community, especially among the ones from the US. Even one of them, Barbara was so kind to share her journey with us and our readers. Make sure you check out her Portugal Golden Visa journey for the first-hand experience. If you have any questions for her, please feel free to drop us an email and we'll be more than happy to introduce you to each other.