Portugal Golden Visa Changes 2022
After a year (2021) of ambiguity, speculation, and unofficial announcements, the Portuguese Government published the updates to the Golden Visa law on February 12, 2021. The Golden Visa Portugal changes came into effect on January 1st, 2022.
Just as we all said 'At last!' the Portuguese Government found a way to stir things up again. In 2023, the program is changing again. In this article, we will cover the changes that were implemented in 2022, however, you can check the below box to get a grasp of what changed in 2023.
What Are the Portugal Golden Visa Changes 2022?
There are two main changes you should be aware of regarding the Golden visa Portugal 2022:
Where you can buy a property in Portugal to qualify for a Golden Visa

How much you need to invest to qualify for a Golden Visa
1. Portugal Golden Visa 2022: You can no longer invest in Lisbon, Porto, or the Coast
In order to qualify for a

Portugal Golden Visa

through real estate acquisition, the property needs to be in certain designated areas. The minimum investment amounts will not change.

You can only make a property acquisition in the interior mainland of Portugal

, or the autonomous regions of Madeira and Azores.  You can find a list of qualifying areas

here

.

Properties purchased in Lisbon, Porto, or anywhere on the coast of the mainland are

 not be eligible

for a Golden Visa application. Yes, that includes Cascais, Sintra, the Algarve, and the Silver Coast.

Mind you, not all real estate property types are created equal.  The geographical restrictions only apply to residential properties in Portugal.  The changes to Portugal Golden Visa don't not affect any other type of property, they can still be purchased anywhere in Portugal to qualify for a Golden Visa.
2. Portugal Golden Visa New Rules: Minimum Investment Amount Increased to €500,000 for Funds
The real estate changes were well expected for over a year.  I was thinking the €350,000 investment in Portuguese investment funds would be the savior option.  Perhaps I was wrong.

The minimum investment amount for the funds

increased from €350,000 to €500,000

.
3. Portugal Golden Visa New Rules: Other Minimum Investment Requirements Also Increased
Some other, although less popular, investment methods also went through changes.
Minimum capital transfer requirement increased from €1 million to €1,5 million

The minimum R&D investment amount increased from €350,000 to €500,000
If you are generous enough to donate €250,000 to Arts and Culture in Portugal, that option did not change. Neither did the requirement to create 10 new jobs through a company.
When Did the Portugal Golden Visa Changes Come Into Effect?
The changes came into effect on January 1st, 2022.
The changes will not apply retroactively.  This means that if you applied for a Golden Visa before December 31st, 2021, you won't be affected by the above changes.
The below chart outlines the changes to investment amounts for Golden Visa Portugal 2022.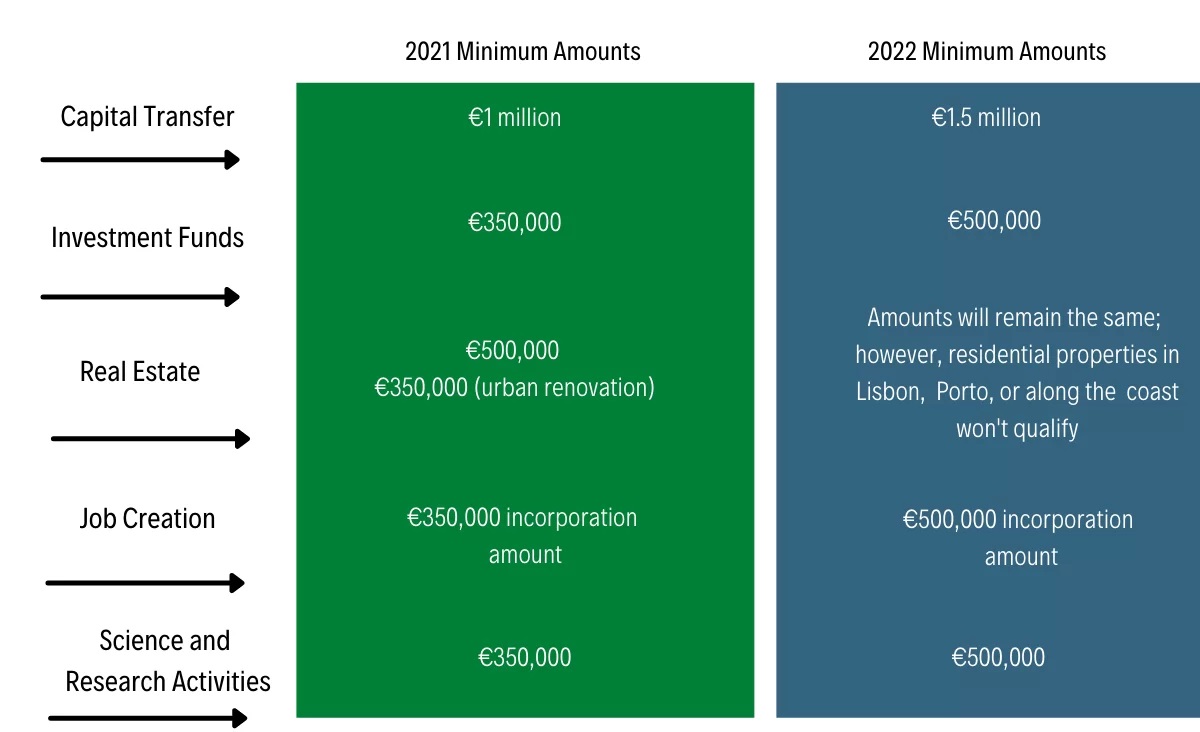 I highly recommend that you work with a local investment advisory company in order to decide on your investment and with a local law firm in order to submit your GV application after Golden Visa Portugal changes.
I like to stay as an independent third party at an equal distance to all firms.  But, I am human too.  I have formed some favorites after my extensive research on the program.  Feel free to contact us to get an opinion and an introduction to the right person on the right team.
Frequently Asked Questions
1.  When did the Portugal Golden Visa changes come into effect?
Portugal Golden Visa changes became effective as of January 1st, 2022. 
2. Is Golden Visa Portugal suspended?
No, the program is still available. However, some changes were made on the 1st of January, 2022, as we've explained.
3. Can I buy commercial property in Lisbon to get a Golden Visa?
Yes, buying commercial property in Lisbon can make you eligible for Portugal Golden Visa, even after Portugal Golden visa rule changes.
4. Can I buy a house in Porto after the changes to Portugal Golden Visa?
A house in Porto won't qualify you for a Portugal Golden Visa. However, Portugal Golden Visa new rules 2022 allows you to buy a commercial property in Porto and make a Golden Visa application, same as Lisbon.