The Best Digital Nomad Programs in 2023
Do you want to work independently but don't know where to start? Do you want to travel the world while working remotely but don't want to do it alone? Are you already a remote worker but getting bored and want to meet fellow digital nomads and remote workers? If your answer is yes, you're in the right place.
In this article, we're going to introduce you to some of the best digital nomad and travel programs that will help you in your journey. Before we dive in, let's start with some basics!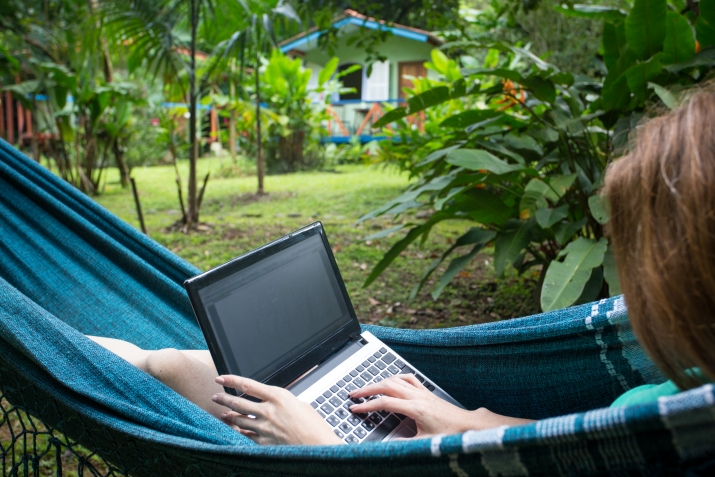 What Is a Digital Nomad Program?
Digital nomad programs are designed to bring digital nomads, entrepreneurs, remote workers, and anyone who wants to enjoy a location-independent lifestyle. Digital nomad programs are great chances to start and continue your digital nomad journey.
These programs can be divided into three categories:
1. Long-stay work and travel programs:  This format is ideal for those who want to stay longer in a location while still communicating with a group of digital nomads on a regular basis. These programs typically include co working spaces, professional seminars, and networking opportunities.
2. Learn and travel programs: These programs are for digital nomads who want to travel from place to place while they work remotely. They provide local experiences and day trips, and travel plans typically include accommodation, courses, co working spaces, and other amenities.
3. Retreats: These often last one week to a month at a single place with a fixed group of individuals. The goal here is to be productive while pursuing a good work-life balance with like minded people.
🌴  Digital nomad programs don't help you find jobs but they help you to expand your network which can then turn into business opportunities.
Why Join a Digital Nomad Program
Working as remote professionals work has numerous benefits, such as allowing digital nomads and remote workers to expand their network, travel the world with people who have similar interests, and enjoy a location-independent lifestyle. Here are some of the benefits of joining a program for digital nomads:

Travel Becomes Hassle-Free
Traveling is fun but when it comes to planning accommodation, airport transfers, day trips, and so on, it's easy to become anxious. However, when you sign up for a digital nomad program, all you have to do is book your flights and go! Simple.
Internet Is More Reliable
The internet is critical for digital nomads and remote workers, but it might be difficult to get a decent connection in some countries. When you travel with digital nomad programs, the organizers make certain that you always have a reasonably solid internet connection so that you can work effectively.
You'll Expand Your Global Network
When you join a digital nomad program, you'll meet fellow digital nomads who share your interests. This gives you a chance to create synergies by learning from other fellow nomads. 
You will meet a lot of people who share your interests and create synergies by learning from other location-independent workers.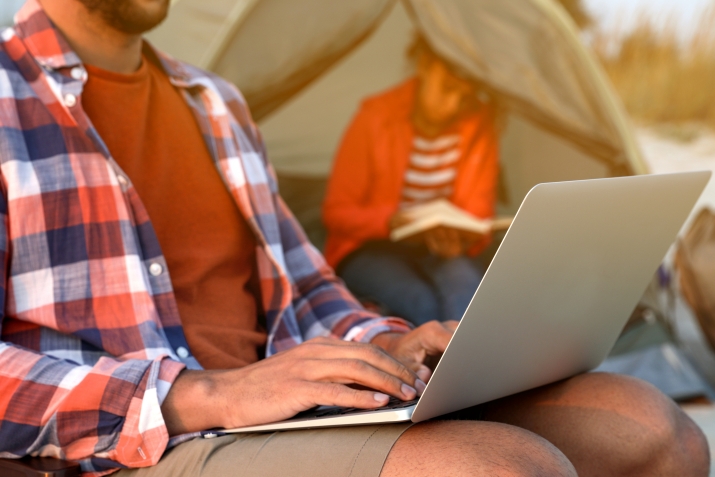 How About the Cons of Digital Nomad Programs?
It's true that digital nomad programs have many advantages but there are of course some cons you need to be aware of before you sign up for one. Here are some of them:
They're Expensive
Some digital nomad programs are rather pricey. You may even be required to pay for the application procedure, with no assurance of acceptance. Quite often, you may make the same journey for less money.
You're Dependent on the Program
Even if you dislike the city in which you are located, you must remain until the next planned change of location. If you like the city and want to stay longer, you must leave when the group departs. 
Popular Digital Nomad Programs
1. Remote Year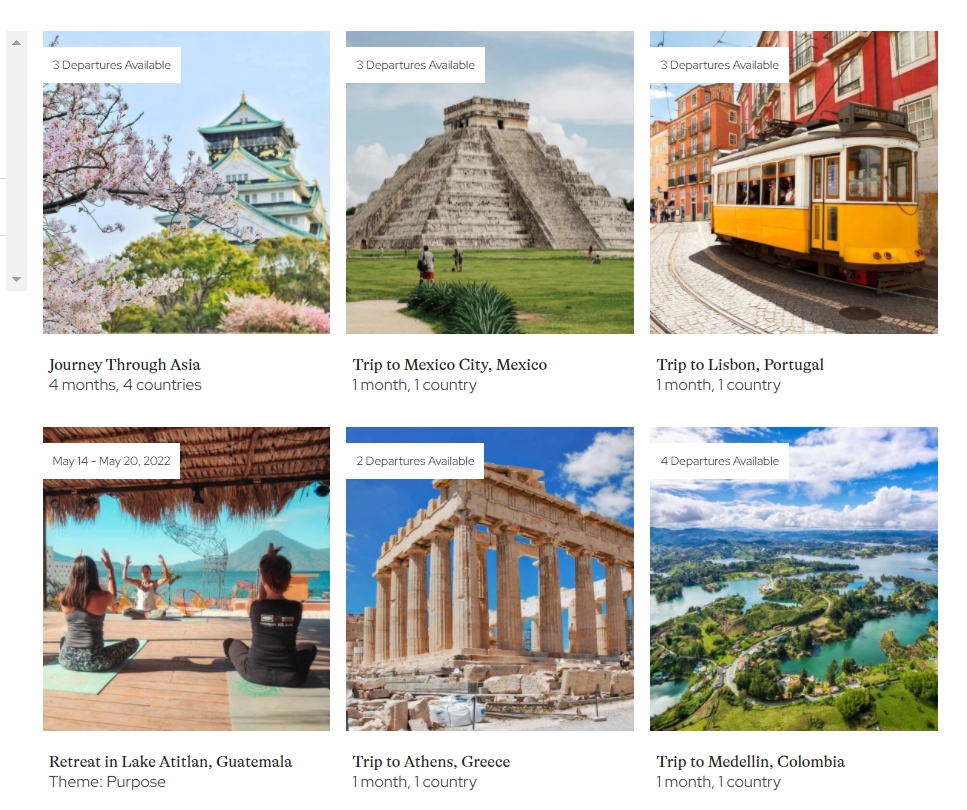 One of the most well-known digital nomad programs is
Remote Year
. The group of 50 to 80 nomads, foreign entrepreneurs, and freelancers travels around Asia, Europe, Latin America, and Africa.
Remote Year offers digital nomads different types of packages, such as retreats for one week, trips for one month, and journeys for four or 12 months.
Pricing
The fees for a 4-month journey are around $12,000

The fees for a 12-month journey start from $30,000

A 1-month trip costs around $3,000

A retreat of one week will cost around $2,000
What's Included?
The journeys of four to 12 months usually include:
Accommodation

Ground and air transportation

24/7 access to workspace

Community events
2. Venture with Impact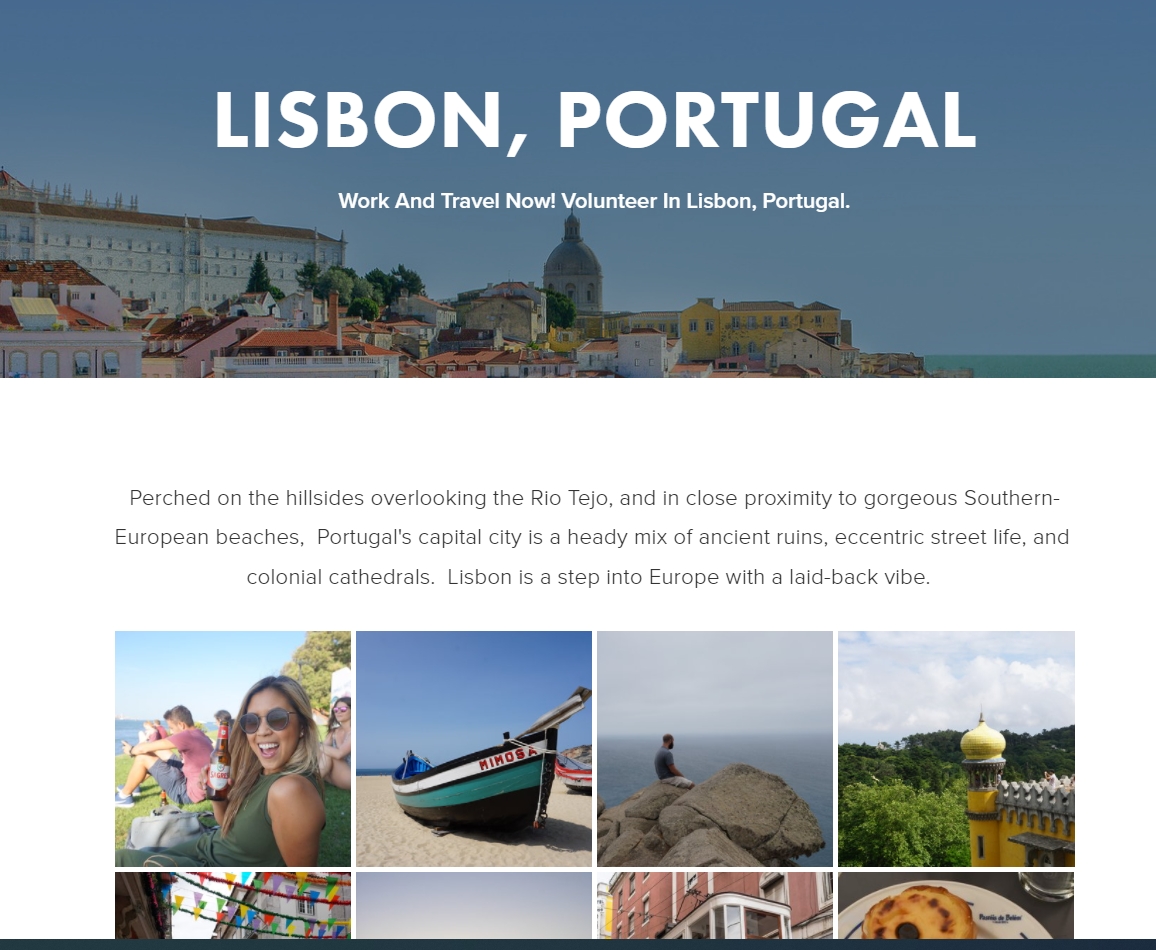 Venture with Impact
is an excellent program if you're a digital nomad that seeks an environment will like minded people and professional development. Every month, you can join a nomad group in a different country, such as Thailand, Portugal, or Colombia.
Aside from working on your business, you can work with local organizations on topics such as education or human rights. 
Each retreat lasts for four months but you have the option of staying less.
Pricing
The program fees start at $2,000 (depending on the length of stay and location)
What's Included?
Accommodation

Workspace

Internet
3. CoWork Paradise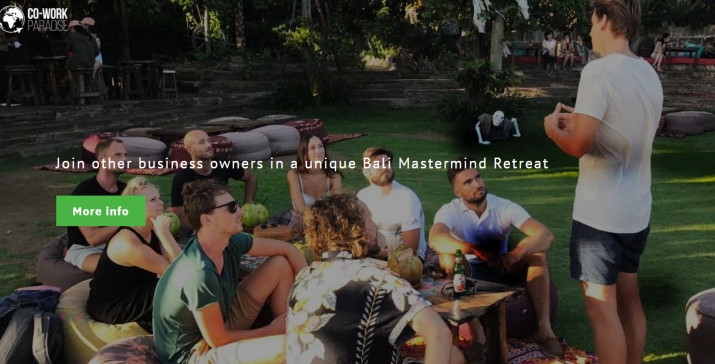 CoWork Paradise is located in Bali and brings a group of like minded people together to network, learn, and build their businesses.
CoWork Paradise
helps leaders in discovering new terrain and making connections that spark new views. When you participate in one of their retreats, you will spend time in high-end co working spaces, surrounded by a motivated international and local community.
Pricing
The average price for a three-week retreat is €4,995
What's Included?
Private accommodation

Excursions

Food

24/7 access to coworking
4. Hacker Paradise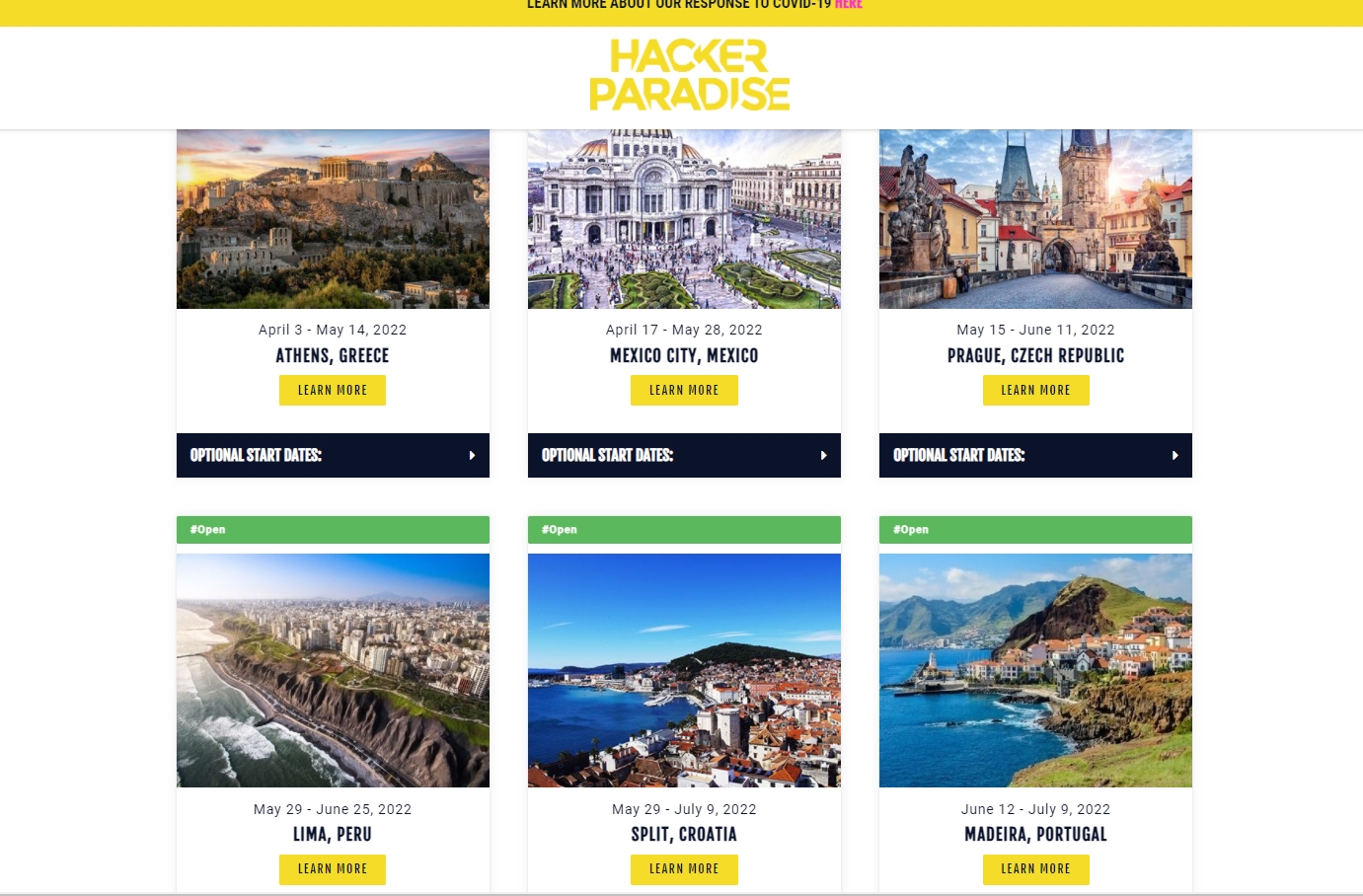 Hacker Paradise
selects incredible locations with dynamic co working spaces and excellent housing, making it simple for you to leave the cubicle/couch life behind and build your career while you work remotely as a digital nomad.
It's available in 13 different locations throughout Europe, South America, and Asia.
Pricing
Two weeks from $1,650

One month from $2,290

Three to 12 months from $2,190-$1890 (per month)
What's Included?
Accommodation

Coworking spaces

Community events
5. Nomad Train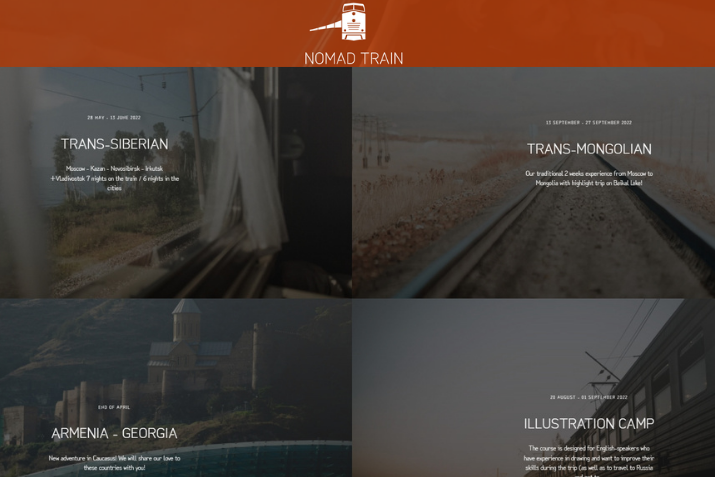 Nomad Train
is one of the most popular programs for a digital nomad. You join a group of like-minded remote workers on an adventurous journey through Russia and Mongolia on the Trans-Siberian Railway. You have plenty of time on the train to network and trade experiences and skills. Aside from that, you can work on the train and gain access to coworking spaces while staying in cities along the way.
Pricing
Starts from around €1,850
What's Included?
All train tickets 

Food on all trains

Accommodation in stopover cities

Breakfasts in stopover cities

Community

Visa invitation letter to Russia
6. Project Gateway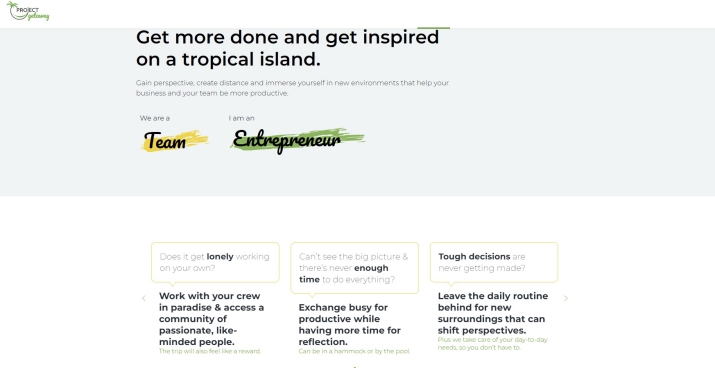 Project Gateway is another program in Bali that brings entrepreneurs together. With
Project Gateway
you attend brainstorming sessions and business talks and focus on developing your business. The unique aspect is that you can join the digital nomad program as a team too.
Pricing
Starts from $2,975 (for individuals)

Starts from $425 (for teams)
What's Included
Accommodation

Food

Airport pickup 

Unlimited coworking
7. Refuga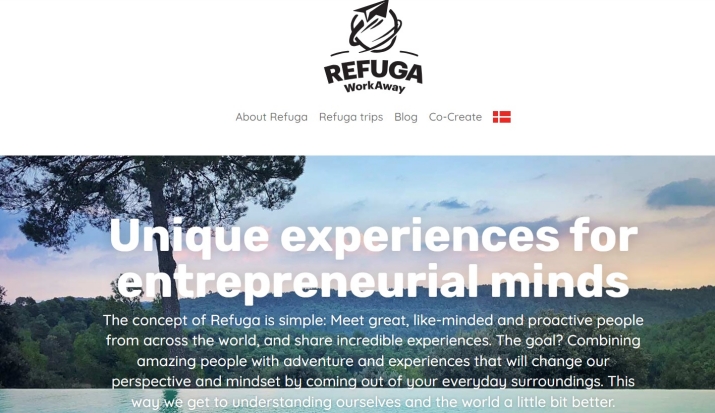 The purpose of
Refuga
is to bring together like minded people, whether they are aspiring entrepreneurs or CEOs of large corporations, and to provide them with adventure and experiences that will change their attitudes and perspectives.
Their tours last between 5 and 15 days and take you to different places around the world.
Pricing
What's Included
Accommodation

Food

Activities
8. Unsettled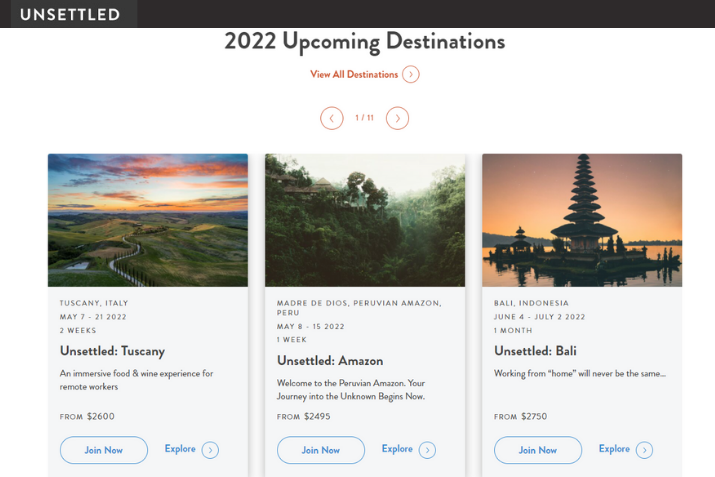 Unsettled's mission is to bring together entrepreneurs, artists, designers, CEOs, and digital nomads. With
Unsettled
, you spend time with other nomads for a week, two weeks, or a month to get away from your typical daily routines and to gain fresh ideas.
There are other programs scheduled throughout the year in locations all over the world, including Lima, Tuscany, and Bali. 
Pricing
What's Included
Accommodation

WiFi

Activities

Airport transfers
9. Work Wanderers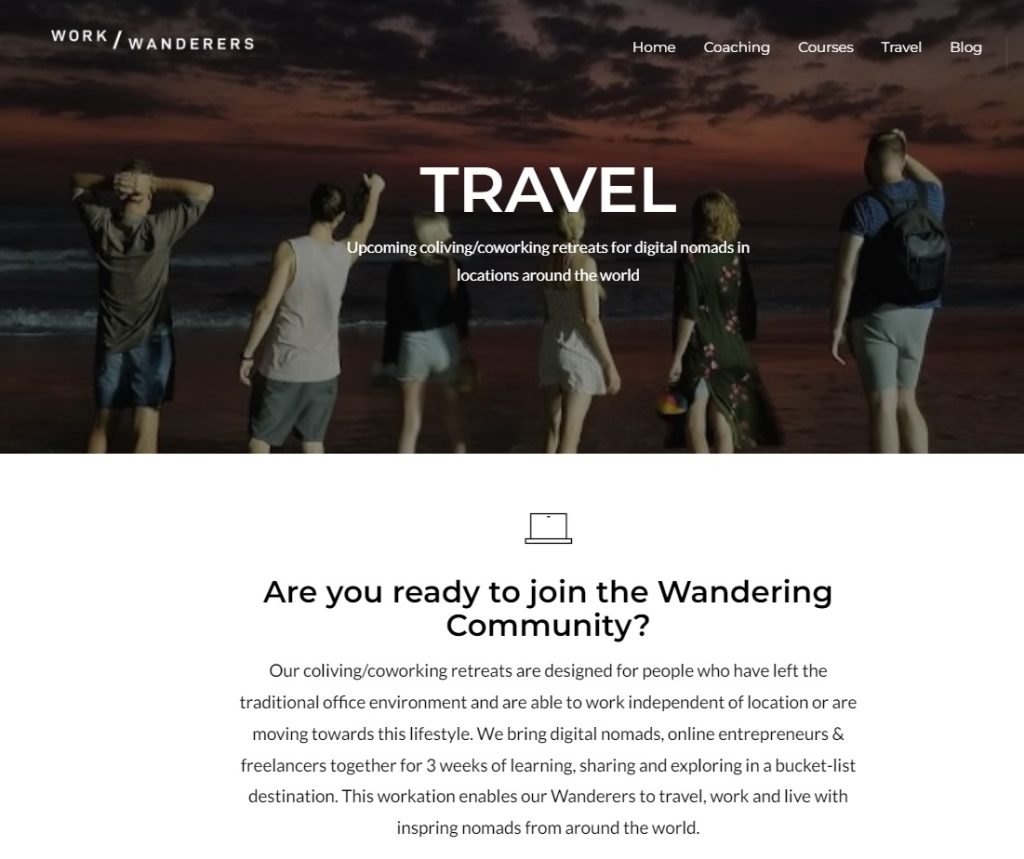 Work Wanderers
brings together digital nomads, online businesses, and freelancers in a bucket-list destination for three weeks of learning, sharing, and experiencing.
With Work Wanderers, you get the chance to learn from masterminds and skillshares to foster collaboration, learning, and networking in order to help you expand your skill in a remote working community.
Pricing
Starts from around $2,450
What's Included
Accommodation 

Workspace

Masterminds & Skillshares 

Fast WiFi
10. Behere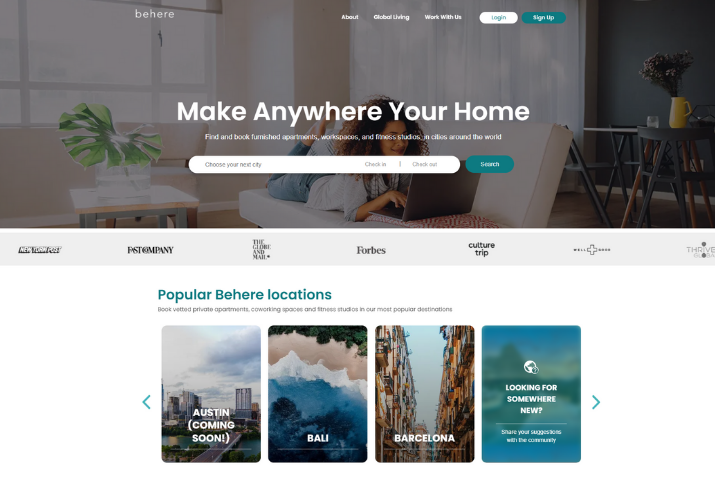 Behere, unlike other digital nomad programs, is a network that connects travelers with accommodation alternatives, coworking spaces, and even gyms all around the world.
It's similar to Airbnb, but for digital nomads and with far more support. This distinguishes it from other programs that place a greater emphasis on social interactions.  As a digital nomad, you can choose your favorite location from Barcelona to Bali to Prague. It's a great opportunity if you want to work your way across the world but don't want the constraints of a fixed itinerary or group of people.
Pricing
One year membership: $990
What's Included?
Month to month flexibility for all Behere locations 
11. WiFi Tribe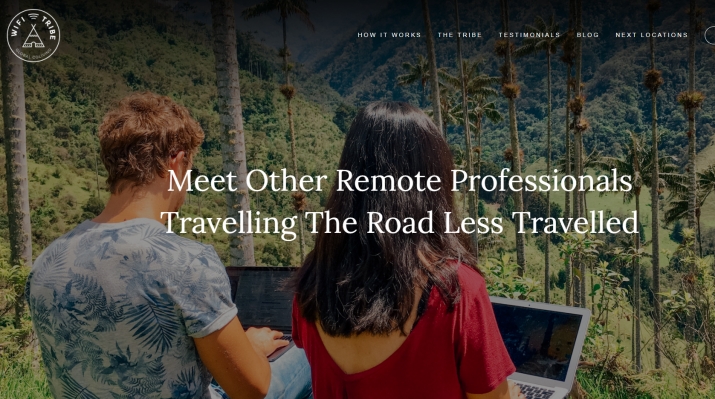 WiFi Tribe
 is one of the most established programs for digital nomads. It brings together people from all around the world to discover a different way of life. This is one of the best programs for having fun while meeting new people and learning about different cultures.
With WiFi Tribe, you can choose between four, six, and eight weeks of chapters according to your availability as a digital nomad.
Pricing
Annual membership: $500

Chapter costs: $1,200 – $2,800 per chapter
What's Included
Accommodation

Co working spaces 

Activities
12. WiFly Nomads (discontinued in 2023)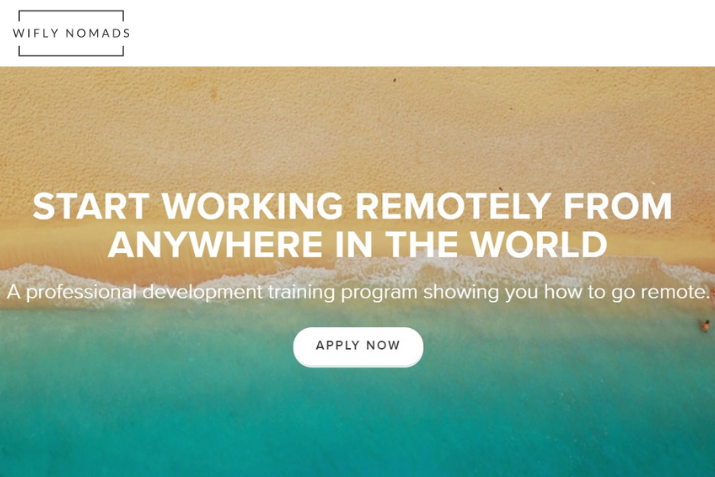 WiFly Nomads is a 5-day intensive program in Bali that will equip you with the information, expertise, and tools you need to successfully begin working remotely, giving you the freedom and fulfillment to work from anywhere in the globe as a digital nomad.
Remote professionals will be completely immersed in the digital nomad lifestyle in their stay with
WiFly Nomads
. You'll be meeting local digital nomads, working where they work, having conversations with them, and living the ideal digital nomad lifestyle. 
This program is discontinued in 2023.
Pricing
What's Included
Accommodation

Training

Meals

Activities
More on Remote Work Travel Programs
There you have it. We've given you a list of popular digital nomad programs that will help you on your journey. As a digital nomad, you can choose the one that fits your expectations, needs, and budget. There are many programs for digital nomads and you'll surely find what's best for you!
Are you a digital nomad? Have you ever joined a program for digital nomads? How was your experience? Let us know…
Frequently Asked Questions
Is it easy to join a digital nomad travel program?
Yes, it is. But note that most of these programs have limited spaces available. This is why you'll need to be quick to sign up when you find one that is suitable for you.
Can I meet other remote workers in a remote work travel program?
These programs offer you a great chance to meet other remote professionals.
Can I still continue my remote work while traveling as a digital nomad with these remote work travel programs?
Yes, you can because these travel programs make sure you have a good internet connection wherever you go.
Do I have to get a digital nomad visa before I join these travel programs?
This depends on your passport and the countries you'll be visiting. Some travel programs offer assistance for visa applications.
Is a remote work program worth the price?
This depends on your expectations. If you're looking for professional development and to become a successful digital nomad, it can be worth the price. Still, make sure you check out all options closely.
Is remote work suitable for everyone?
Remote work can be suitable for everyone as long as they're self-motivated and want to pursue a location-independent lifestyle.
Can I find remote jobs if I sign up for these travel programs?
These programs don't offer jobs but as you'll be expanding your network, you can create new opportunities for yourself and find new jobs.