International Visa Gift Cards: The Ultimate Guide
Visa gift cards are great! They are perfect to make your loved ones happy, without worrying if they'll like the sweater, perfume, or book that you've bought for them as a gift. With a gift card, they can buy whatever they want. Win-win! However, it's not that easy to find international gift cards. Sounds weird? We'll explain.
When it comes to purchasing Visa gift cards, you're only able to use them in the country in which you buy them. No stores in the United States sell international Visa gift cards. However, there are some loopholes.
In this article you will find:
Why use a Visa Gift Card?
How to use a Visa Gift Card online?
Where to Buy International Visa Gift Cards?
Alternatives to Visa Gift Cards

Why use a Visa Gift Card?
There are several compelling reasons to opt for a Visa gift card. Let's break it down to five main motives.
Easy to Use: Using a Visa gift card is a breeze. Just pick one up at a store, load it with the desired amount of money, and you're ready to shop! No paperwork, no fees, and no need to wait in line at the bank.
Secure Option: Depending on where you purchase the Visa gift card, it may come with the same protections as regular debit and credit cards. Before buying, inquire about replacement fees and fraud protection.
Versatile Gift: Unlike traditional gift cards for specific stores or restaurants, a Visa gift card can be used wherever Visa cards are accepted. The recipient can spend the gifted funds any way they like.
Ideal for Bank Account Alternatives: If you're new to banking or currently without a bank account, a Visa gift card provides freedom and flexibility. No need to rely solely on cash; these cards work anywhere a Visa debit card is accepted. Originally designed for those who lacked credit, had bad credit, or faced other eligibility restrictions, these "non-reloadable prepaid cards" offer a solution.
Safe Learning Tool for Managing Finances: For teaching financial responsibility, Visa gift cards are fantastic options for teenagers and even pre-teens. They provide access to a limited amount of money, helping young individuals practice fiscal responsibility. You can set a budget, teach them to track expenses, and discuss the importance of savings. The best part is, once the money is used up, they can't spend beyond the card's balance.
By considering these advantages, a Visa gift card proves to be a smart and versatile choice for various situations, making it a convenient and secure option for many.
How to use a Visa Gift Card online
Paying with a Visa gift card online is easy, and it only involves two straightforward steps:
Step 1: Activate – If you bought your Visa gift card from a store, it should be ready to use right away. However, for online purchases, you'll need to activate it upon receipt. This can usually be done online or by calling the toll-free number provided on the card.
Step 2: Register – To use the gift card online, you'll need to register it so that retailers can link it to a billing address. Don't worry; the card will come with clear instructions on how to do this. The registration process typically involves providing the card information, your name, billing address, and phone number. This step allows you to use a billing address during online checkout, giving the vendor a chance to verify the transaction.
Where to Buy International Visa Gift Cards?
You can buy an international prepaid Visa gift card online at various registered entities.  Some of these will allow you to use the cards internationally, whereas some will limit you to only spend them in the country where you purchased them.
🎁  You can also purchase gift cards from online or physical retailers such as Amazon, JCPenney, or Walmart for example.
Buying International Visa Gift Cards Online
Amazon or websites like GiftCards.com don't sell internationally redeemable gift cards. However, some online retailers sell international gift cards, with some restrictions. Here is a list of online retailers that allow the sale of international Visa gift cards.
Rybbon
Rybbon offers international gift card services, however, they are only available to businesses and organizations exclusively. To create an account with Rybbon, you'll have to use a work email address. Here are some details regarding Rybbon:
They offer VISA gift cards in both USD and CAD. If you're looking to get Mastercard gift cards then they also offer options in both EUR and GBP.
They will provide you with the delivery of your gift card through email and digital wallet outlets.
You can purchase gift cards by using a credit card, bank transfers, and even checks.
They charge a 10% fee relative to the gift card's value.
GiftCardStore
GiftCardStore exclusively offers Mastercard and VISA gift cards for delivery in New Zealand and Australia. You won't be able to get these delivered to any other country. Here are some of the details regarding GiftCardStore and its policies:
GiftCardStore offers VISA cards up to AUD 500.
They will deliver your gift cards by postal service.
You can pay for your gift cards through Mastercard, Visa, or American Express. However, all purchases are converted to Australian dollars, this is important as you'll need to ensure that your card allows for foreign payments.
You can purchase a card from outside of New Zealand or Australia, but you'll need the delivery address of the card to be within those two countries. Plus, the card needs to be activated within three months.
They charge 2.5% of the card amount as a processing fee and may also charge shipping fees based on what method of delivery you choose.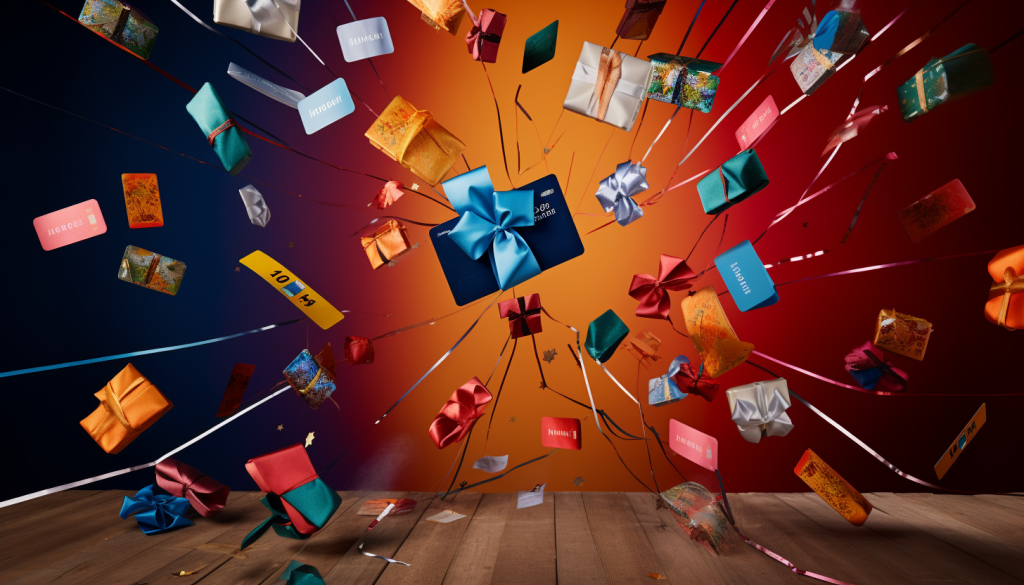 Alternative to Gift Cards: International Prepaid Debit Cards
As you can see international Visa gift cards come with restrictions. As an alternative, you can consider getting Visa Prepaid debit cars which are valid everywhere. They're reloadable, can be used at ATMs, and are easily replaceable if you lose them. But, note that if you get a prepaid debit card for someone else, it's going to be under your name, which isn't very practical as a gift.
Visa Prepaid cards also charge a monthly fee and international transaction fees.
Still, we've put together a list of international Visa debit cards that might be useful for you.
AAA MemberPay Visa Prepaid Card
ACE Elite Visa Prepaid Debit Card
BB&T MoneyAccount Prepaid Debit Card
BBVA Compass ClearSpend Visa Prepaid Card
Commerce Bank mySpending Card
Green Dot Prepaid Visa Card
Kroger REWARDS Prepaid Visa Card
Money Network Prepaid Debit Card
MOVO Digital Prepaid Visa Card
MyVanilla Prepaid Visa Card
Conclusion
A Visa gift card is a versatile tool that can be used to give thoughtful gifts, teach kids about money management, or simplify your own spending. With easy purchasing, user-friendly activation, and no hidden fees or credit checks, it's a convenient option for various situations.
We have now listed some ways in which international Visa cards work and can be bought. Have you ever used a Visa gift card? Have you ever bought a gift card for someone else? Let us know about your experience in our forum…
For more insights, you can also refer to our article on International Gift Cards.
Frequently Asked Questions
Can you use a Visa Gift Card online?
Yes, you can use a Visa gift card for online shopping, just like a regular credit card. It works anywhere that accepts Visa, so you'll have no trouble making purchases on the internet. However, before using the card, you might need to register it online or by phone. The best part is that you don't even need a bank account to get a Visa gift card!
How do I pay with a Visa gift card online?
To make online purchases, simply provide the card number, expiry date, and the 3-digit code (CVV) found on the back of your card. This information will be required at the checkout to complete your transaction.
Can Visa Gift Cards be used internationally?
The Visa Gift card works just like a regular Visa card and can be used worldwide at places that accept Visa, including ATMs. People who receive this card can pick their own gift from any store that takes Visa cards. It's a great solution to avoid getting unwanted gifts and the hassle of exchanging them for something else.
Can I use a Visa gift card online internationally?
The Visa Gift card is widely accepted worldwide, just like regular Visa cards. You can use it at various places, including ATMs, wherever Visa is accepted.
Can you use a Visa Gift Card on Amazon?
Yes, you can use a Visa Gift Card on Amazon.

Here's a step-by-step guide on using a Visa gift card on Amazon:
1- Log in to your Amazon account.
2- Choose the items you want to buy and add them to your cart.
3- Proceed to checkout when you're ready to make the purchase.
4- In the Payment Method section, select "Add a payment method."
5- Enter the necessary information from your Visa gift card, such as the card number, expiration date, and security code.
6- Click on "Add your card" to add the gift card to your account as a payment option.
7- Remember, Amazon won't automatically check the remaining balance on your gift card, so you'll have to enter it manually.
8- If the gift card balance is not enough to cover the total purchase cost, you'll need to add a second payment method to cover the remaining amount.
By following these steps, you can successfully use your Visa gift card to shop on Amazon.
Where can I get a prepaid Visa card for international use?
You'll find numerous prepaid card choices offered by banks and online providers. To ensure wider acceptance outside of the US, many travel cards are issued on networks like Visa and MasterCard since these are widely recognized around the world.