Xoom vs Wise | Costs, Limits, Speed
There are many ways of making international transfers nowadays. When they promise different benefits, it's natural to get confused. We'll compare two prominent platforms in this article, show you if they're safe, and explain which one offers the best rate and is faster: Wise vs Xoom.
Xoom vs Wise
When transferring money abroad, it's vital to consider several factors, including the cost, security, and speed of transfer, among others. Many individuals choose to send money to other countries through the bank since it is a more conventional technique, although it is one of the more expensive options. So, before deciding between Wise and Xoom, think about what's most important to you and which platform gives the greatest benefits.
What Is Wise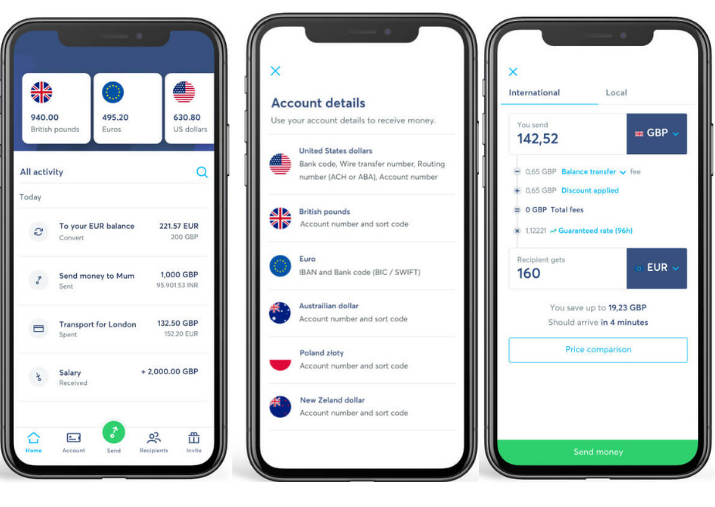 Wise is a fintech that allows users to send money to people in other countries. The Financial Conduct Authority (FCA) in the United Kingdom has approved it.
Wise, formerly TransferWise, was founded in London in 2011 and expanded quickly. The firm was founded by entrepreneurs who needed to make international transfers but didn't want to spend a lot of money on the exchange, so they devised a fresh, rapid, and dependable service with cheap and transparent prices.
With Wise, you enter the amount to be sent and the country of the intended recipient. The beneficiary receives the funds in their foreign bank account once you complete the payment. You can see the rates and how much will arrive in the target country before transferring the money. Transparent.
What Is Xoom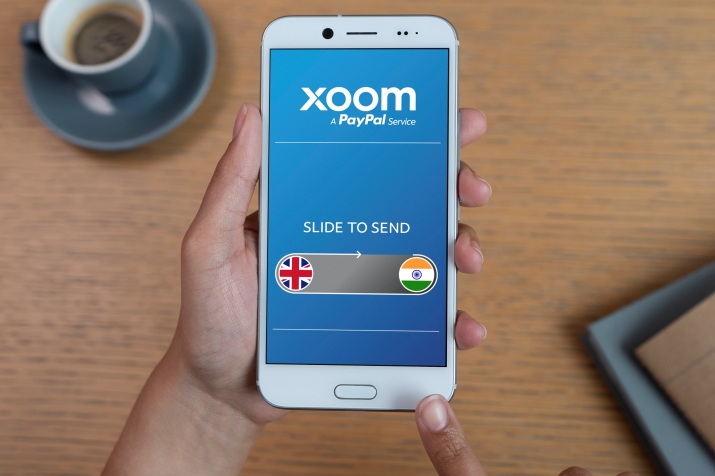 PayPal-owned Xoom, founded in 2001, completes most transfers in minutes. Depending on the country, you can send money to more than 160 countries with a variety of delivery options, including deposits into bank accounts and cash for pickup at places. 
Xoom vs Transferwise: Comparison
Costs
When it comes to the cost of international money transfers, Wise is very open about its commitment to openness.
Their fees depend on the following factors:
The sum you're sending 

Your method of payment

From where are you transferring the funds
Here's a calculation we have made for illustrative purposes in February 2022. Note that the fees will be higher if sent through a credit card or debit card.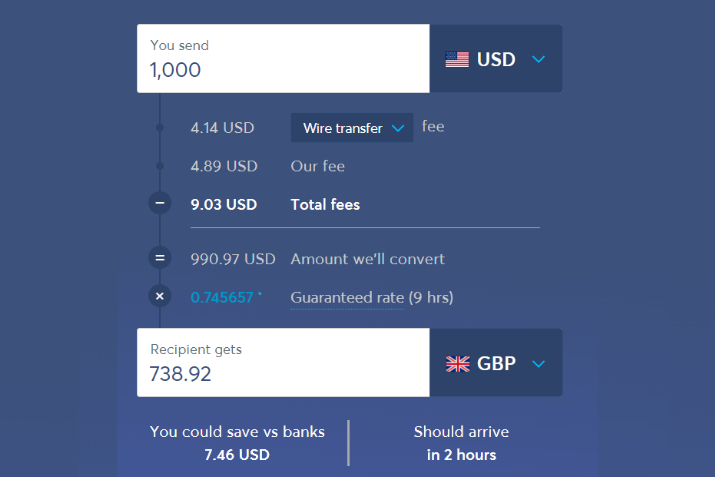 Xoom, on the other hand, charges a flat cost plus a markup on the exchange rate for your transfer, similar to many other money transfer companies.
The actual amount will vary depending on the following factors:
The type of transaction

Your payment method and the currency you'll use to make your payment

The transaction's total value

Which nation the transaction will be sent to and which currency your recipient will receive
Here's the calculation we have made on the Xoom website for illustrative purposes too.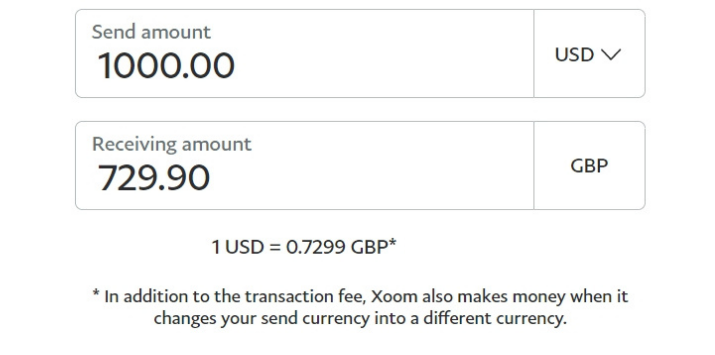 Verdict: If we were to compare Wise and Xoom only based on their fees, Xoom would win. However, while Wise does not charge a markup on the exchange rate, Xoom charges a markup on the exchange rate on top of their fees.
Xoom vs Wise: Exchange Rates
Wise's major selling point as a money transfer method is that they provide international transfers at the mid-market rate, which is the cost you'd see if you looked it up on Google on any given day.
Often, you won't be able to get a better exchange rate from another supplier or your bank, which adds a markup of four or five percent on top of the mid-market rate.
On the other hand, Xoom applies a margin to the mid-market pricing. These margins have no precise methodology (at least that has been published), and they fluctuate based on the currency you are converting your transfer to. The typical markup is one to three percent to the mid-market rate.
Verdict: Wise has one of the most competitive exchange rates available. Its straightforward policy of always offering transfers at the mid-market rate makes Wiseau a considerably more cost-effective option than competitors like Xoom.
Xoom vs Transferwise: Speed
Wise allows you to choose between 'rapid' and 'low-cost' transfers, but it states that you will pay more for a faster transfer. You can anticipate your transfer to be received by your recipient the same day if you choose a quick transfer. Other transactions should take no more than 2 business days to be transferred to the recipient's bank account.
With Xoom, most money transfers arrive in minutes for your receiver, but some can take up to a few days. Again, it depends on the region you're sending to, your payment method (a bank account is often slower than a credit card), and your delivery method.
Verdict: The quickest way to transfer money will vary depending on a lot of the parameters given above, but Xoom appears to offer faster transfer speeds than Wise in general.
Reviews
Wise received over 145,000 reviews on Trustpilot and its score is 4.6 over 5. However, there is a small group of users who have rated the service as poor or bad.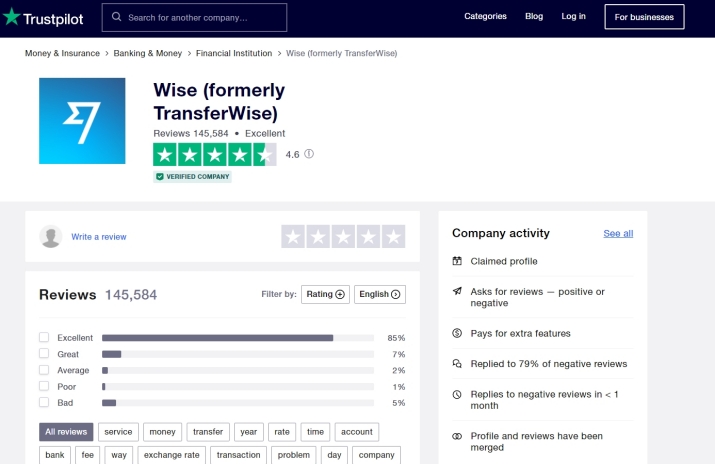 Xoom's Trustpilot score is 3.7 which translates as average. Still, there is a huge group of people who love the service it provides.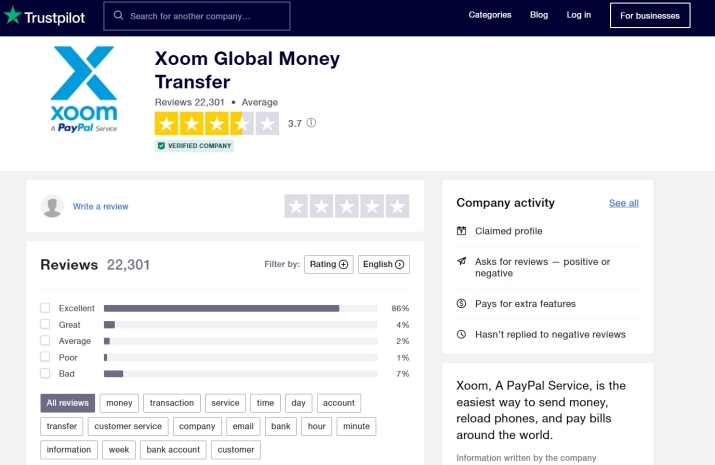 Verdict: Wise seems to get more positive reviews from the user's end.
Payouts and Payment alternatives
Wise accepts credit and debit cards, online bank transfers, Apple and Google Pay, POLi, and direct bank debits as payment methods. Note that Wise doesn't accept cash or checks in any currency.
Credit or debit card, bank account, or PayPal balance are the four basic ways you can pay for your transfer using Xoom. Cash delivery, bank deposits, and air-time top-ups are among the payout alternatives available, depending on where you are sending your funds.
Verdict: When comparing Wise vs. Xoom, both companies make it simple and convenient to pay for your transfer, but Xoom stands out with cash pickups as a payout option. Only Xoom offers this service out of the two if paying your recipient in cash is a priority for you.
Ease of Use
The Wise website and app are incredibly user-friendly and this is one of the most commonly mentioned features in customer reviews. In terms of customer service, the platform offers live chat, email, and phone support.
Xoom features a user-friendly website too and a free app for both iOS and Android. Xoom receives positive feedback for its exceptional customer service, which includes the ability to contact customer service through email or phone, as well as a help center.
Verdict: Both Wise and Xoom are user-friendly.
Safety
Wise provides bank-level security and has its fraud and support teams. They ensure that your money and information are safe from unauthorized access or logins. To protect your purchases, Wise uses HTTPS encryption and 2FA, or two-factor authentication. Wise will also ask you to authenticate your identity every time you make a transfer.
Xoom is also known for its online security and privacy protection. It uses 128-bit data security encryption to keep any information exchanged between your web browser and their website secure, as well as SMS notifications and 2-factor authentication.
Verdict: Both Wise and Xoom are known to be safe and secure money transfer services.
Wise vs Xoom: Advantages
There you have it. Now that we've compared the two platforms, let's quickly go over their benefits.
Wise
Transparency about the fees
Good reviews from the customers
Safety
Xoom
Covering over 150 different countries
Various delivery options
Usable to pay bills
Xoom vs Transferwise: Disadvantages
Wise
No cash payouts
No physical agencies
Limited to 59 countries
Xoom
Money transfer available only from USD, EUR, CAD, and GBP
Exchange rate markup
High costs
Conclusion: Wise vs Xoom | Which Is Better?
Wise charges exceptionally low fees, with transfers priced at the mid-market rate with no markups. This, combined with the platform's good usability and average transfer times of two days, makes it a fantastic choice.
Xoom, on the other hand, is still a popular and reliable money transfer service, but when it comes to costs and exchange rate margins it offers fewer benefits than Wise.
Have you ever used Wise or Xoom? Let us know how your experience was…