Xoom Review
Xoom is an e-money transfer service that allows you to send and receive money, and pay bills, and top up your prepaid mobile phone with over 150 supported sending countries. Since July 1, 2015, Xoom has been a part of PayPal. In this article, we'll examine all facets of Xoom money transfer, from the costs and exchange rate markups to the sorts of transfers it enables and consumer reviews.
What Is Xoom?
One of the major money transfer companies, Xoom has a vast network of financial delivery methods available in over 150 countries globally. With Xoom, you can transfer money from the US, Canada, UK, and Europe to over 150 through:
Credit card or debit cards

Bank account

PayPal balance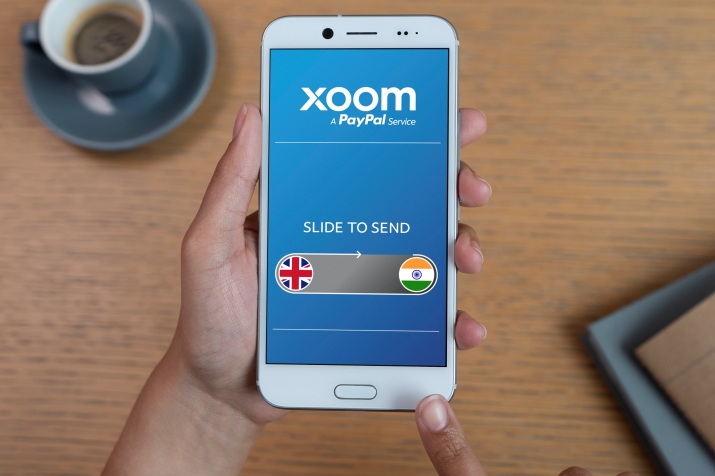 Is Xoom Good for Transferring Money Abroad?
Xoom is a company that offers an easy way to send money without having to go through the hassle of visiting your local bank or being present at another location. It is a great way to send money overseas. The company offers low fees and secure payment delivery. They also provide the option for customers to send funds online using the Xoom app or using a website. 
How To Get Started With Your Xoom Account?
Transmitting money to family and friends on the Xoom network is a rapid and straightforward process.
If you already have a PayPal account, log in using it; if not, create one. All you require is your name and email address. Select the country you want to send money to from the My Account Tab.
Fill in the amount of money you wish to send.
The choice of payout method is up to you. You may select between cash pickup, direct bank deposit, and home delivery, depending on the destination of your money transfer.
Select how you would want to pay for your exchange. Xoom accepts PayPal, bank account, debit card, and credit card as four main transfer payment options.
Fill in the recipient information and make your payment.
You can send money to friends and family using a mobile phone, tablet, or computer after you've created a Xoom account. Your receiver may receive money either in local currency or US dollars.
You can always receive assistance from the customer service staff in any problems with Xoom transfer.
The Pros and Cons of Xoom Transfer
Here's a list of the most significant merits and drawbacks of Xoom.
Pros of Xoom
It supports sending money to over 150 different countries.
Many nations are eligible for same-day delivery, allowing you to send money to your recipient sooner.
There are numerous transport and delivery choices accessible.
Customer support is dependable.
The website and Xoom app are basic to use.
You can use it to pay your bills.
Cons of Xoom
There's no schedule for how Xoom charges its foreign exchange markups, which is a problem.
Xoom charges higher fees when you transfer money online. You may pay up to $10 for a transaction. If you want lower costs, use your bank account or PayPal account instead to do the transfer.
Xoom Fees and Rates 
Xoom fee differs based on where you send funds and how much money you want to send. It also depends on how you're funding your transaction. If you're going to pay a bill with Xoom, the charge is $2.99. For most money transfers, you should anticipate paying a fee ranging from $4.99 to $9.99. Xoom is not, however, the most affordable alternative in the market.
Here is a calculation we made for illustrative purposes in January 2022, for the fees to send money from the US to the UK: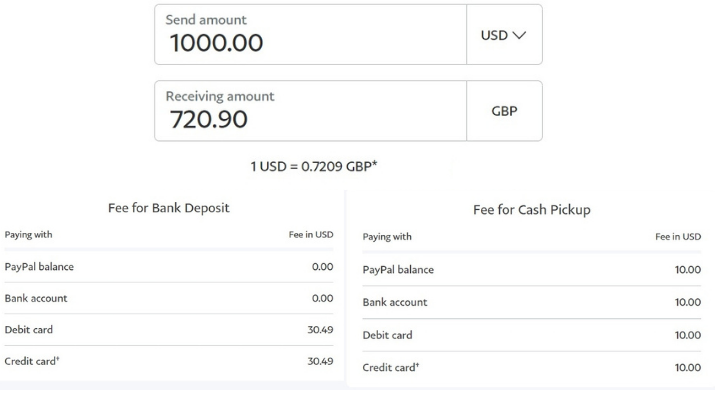 Xoom also states that your credit card company may charge a fee too.
A Better Alternative to Xoom
Wise is a good alternative to Xoom if you're seeking better exchange rates. It's one of the most common methods of money transfer, especially among digital nomads.
Money Receiving Options With Xoom
If you're sending money using Xoom, you may send three distinct sorts of payments:
Direct-to-bank Transfers:

The money is transferred to the recipient's bank account.

Cash Pickups:

The funds are transmitted to the recipient through Xoom pickup locations near their homes. To make the pickup function easier, the firm has collaborated with several providers.

Door-to-door Delivery:

Cash may be delivered to your home in countries like Vietnam and the Philippines.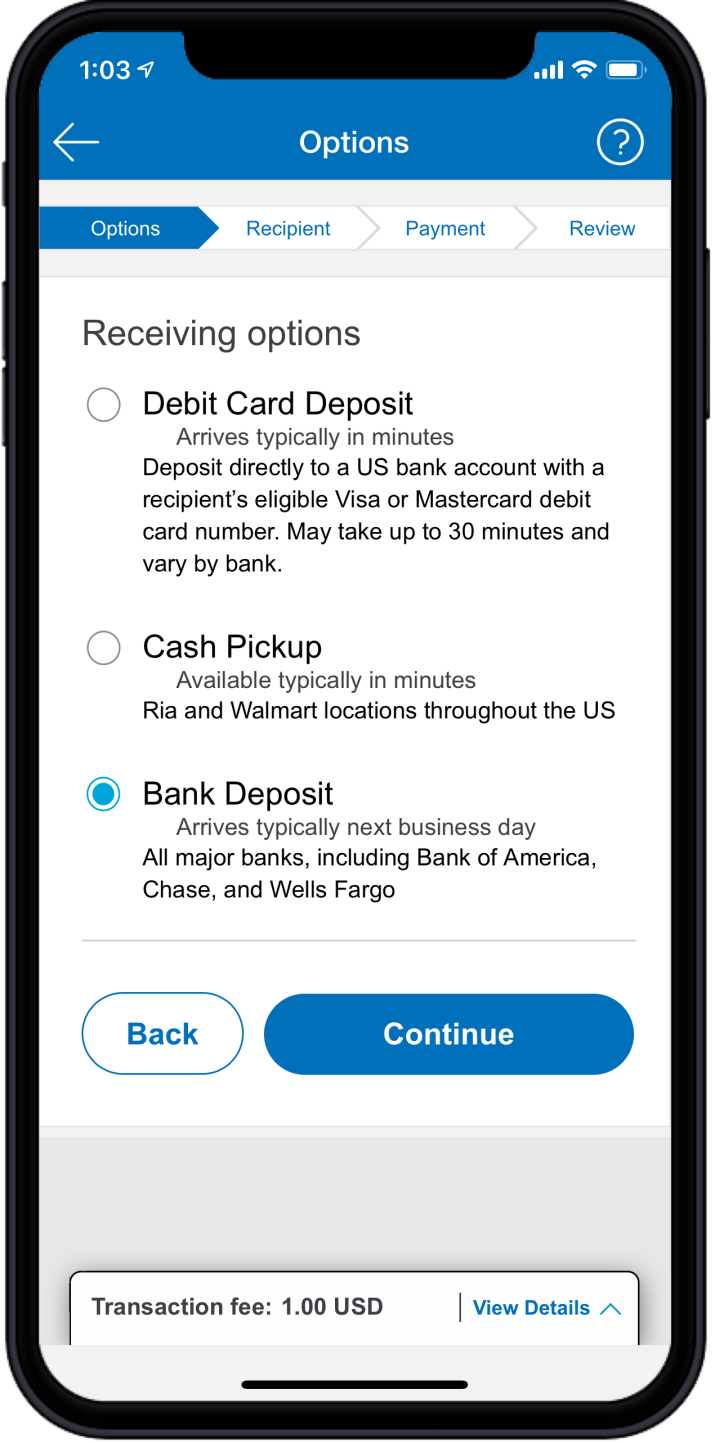 Xoom Money Transfer Limits
When sending money through Xoom, there are three tiers, each with a maximum amount that can be transmitted in a given amount of time. The following factors are used to set sending limits:
Where you live

How the funds will be received

Partner limits, which vary by country
Bank deposit maximums if you live in the US
Level

24-hour limit

30-day limit

180-day limit

1 

$2,999 

$6,000

$9,999

2

$10,000

$20,000

$30,000

3

$50,000

$60,000

$100,000
Cash pickups maximums if you live in the US
Level

24-hour limit

30-day limit

180-day limit

1 

$2,999 

$6,000

$9,999

2

$10,000

$20,000

$30,000

3

$10,000

$20,000

$50,000
Bank deposit maximums if you live in Canada
Level

24-hour limit

30-day limit

180-day limit

1 

CAD999 

CAD5,000

CAD9,999

2

CAD12,500

CAD25,000

CAD40,000

3

CAD75,000

CAD90,000

CAD130,000
Cash pickups maximums if you live in Canada
Level

24-hour limit

30-day limit

180-day limit

1 

CAD999 

CAD5,000

CAD9,999

2

CAD12,500

CAD25,000

CAD40,000

3

CAD15,000

CAD25,000

CAD65,000
Note that we've figured this data from Xoom and it may be subject to change from time to time. Before making a transfer or opening an account, make sure you check the most updated information.
Xoom App
Xoom is available on mobile devices. You can use it by installing the Xoom money transfer app through Google Play or the App Store. Xoom app offers international transactions to more than 150 countries. It also provides a range of services, including money transfers to bank accounts, pick-up locations, and other PayPal customers.
Xoom app has a variety of features, including:
Money transfer available 24 hours a day, seven days a week

Keeping track of transactions

Fees and exchange rates can be checked using the built-in Fees and Exchange Rates feature.

Calculator for Rates

Without necessary to re-enter the information, you can use the 'fast send' tool to transfer to your current receivers.

Getting in touch with customer service directly from the app
Who Is Xoom Right for as a Service? 
Xoom is a fantastic app to send money abroad quickly and easily. Xoom app offers multiple delivery options, allowing you to choose the best one for your needs; it also supports sending funds to 160 countries worldwide. There are, however, costs associated with transferring funds through Xoom. Xoom money transfer is a secure and trustworthy service that does exactly what you want.
What Do Reviews Say About Xoom?
Xoom has earned a 3.7 out of 5-star rating on Trustpilot with many positive reviews from satisfied customers. Many of Xoom's users highlight the speed of their transactions and how smoothly they went through.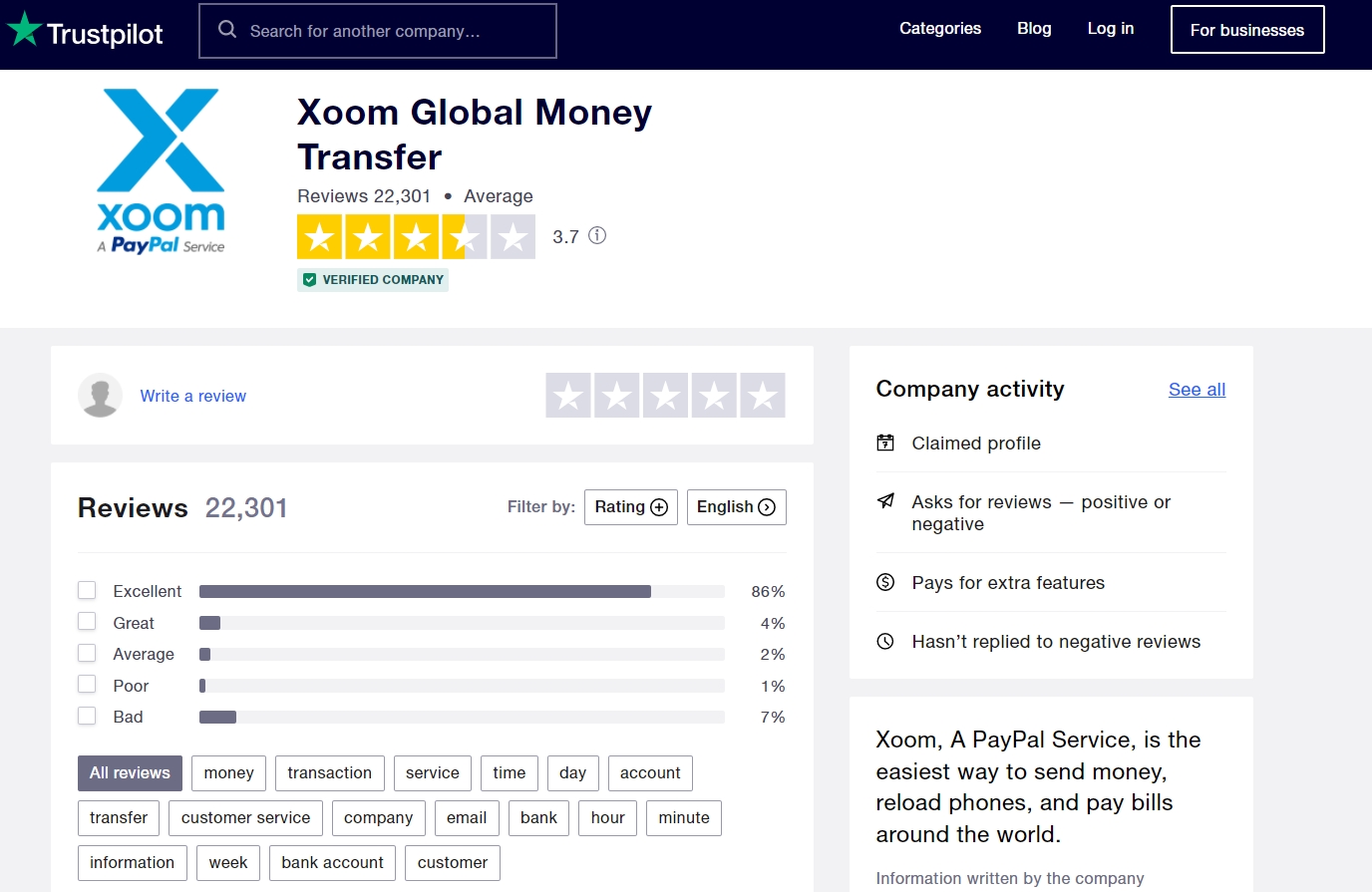 Is Xoom Safe?
PayPal acquired Xoom, one of the most popular and well-known names in online money transfer. As a result, the Xoom app is trusted as being extremely safe and secure when it comes to transferring money.
The Verdict: Is It Worth Opening an Account With Xoom?
Xoom is an excellent choice for individuals or businesses looking to transfer money internationally. Xoom money transfer is also a perfect option if you need to send funds quickly, as the average turnaround time on transfers can be 1-3 days or less, depending on your needs. If all these benefits sound interesting to you, we recommend you open a Xoom account today.