Wise vs. MoneyGram | Costs, Limits, Speed
There are numerous ways of making international transfers nowadays. When they promise different benefits, it's natural to be perplexed. We'll compare two prominent platforms in this article, show you if they're trustworthy, and explain which one offers the best rate and is faster: Wise VS MoneyGram.
Let's quickly compare these popular money transfer methods and find out how they work.
Wise VS MoneyGram
Both are platforms for sending and receiving money from abroad. Both are safe, but they have different characteristics. Let's find out what they are.
What Is Wise
Wise is an online service for sending money abroad is a secure intermediary for international transfers. Wise is available in more than 55 countries. Wise offers a fast, reliable service with low and transparent rates. Wise was founded in 2011. To send money, you go to its website, choose the currencies you want to exchange, and enter the amount you want to send. Money is taken from your bank account after you review your rate and fee.
What Is MoneyGram
MoneyGram was founded in 1940. It's is the world's second-largest money transfer company and it operates in 200 countries. You go to MoneyGram's website, enter the amount you're sending, and confirm the method of sending and receiving it. You can also go to an agent's office or call them. MoneyGram converts and delivers your money to your recipient's bank account or for cash pickups at places across the world once you've authorized the exchange rate and fees you'll pay.
Wise VS MoneyGram: Comparison
Costs
Wise's fees are transparent and it uses the real exchange rate fo the conversion. It also charges a low commission, which is between 1.4 percent and 2.5 percent of the amount you send.
MoneyGram's fees depend on the transaction type, location, and amount. You can also see the fees on its website before you send the money. The costs with MoneyGram are usually higher than of Wise's.
We've calculated the cost of sending $1,000 to Europe. Check the results below.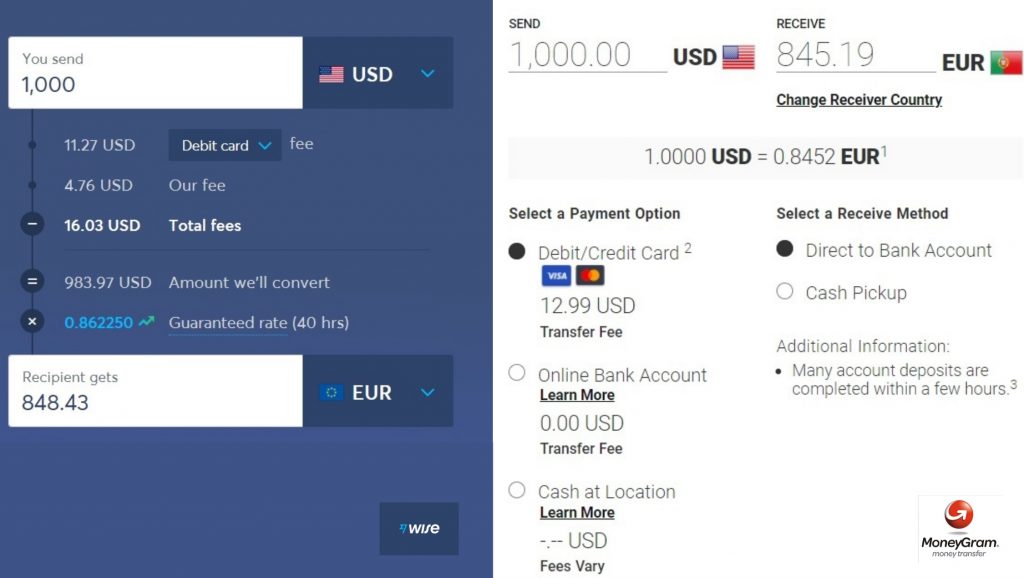 Verdict: Wise stands out with its lower costs.
Safety
The FCA (Financial Conduct Authority) in the United Kingdom is authorizing and checking Wise. With Wise, the funds are held in Barclays Bank in Europe. It's the Wells Fargo Bank in the United States.
MoneyGram is a safe institution too. It has licenses in all states of the US. MoneyGram is a licensed Authorized Payment Institution in the UK, too.
Verdict: Both Wise and MoneyGram are equally safe.
Transfer Time
With Wise, the transfer time depends on the currencies and the payment method. It might take up to four days for the recipient to get the amount.

With MoneyGram, again the transfer method defines the delivery speed. If you're making the transfer at an agent location or by phone, the transfer can reach the recipient in minutes. However, note that this fast delivery will cost higher fees. On average, the transfer time is between two and four days.
Verdict: Both services' delivery times are almost the same.
Exchange Rate
Wise offers a mid-market rate, which is the exchange rate that banks and transfer services use when they trade among themselves. Depending on the recipient's location, MoneyGram's exchange rate might be 5 percent above the mid-market rate.
Here's another image to show you the exchange rate used when sending USD to the United Kingdom.
Verdict: Both platforms have good user reviews, however, Wise stands out with more positive comments.
Advantages of Wise and MoneyGram
There you have it. Now, let's quickly summarize the advantages of Wise and MoneyGram.
Wise
The fees are low and transparent
Good user reviews
It's safe to use
The recipient doesn't a Wise account to receive the money
MoneyGram
Allows money transfer in 200 countries
Money transfers can be received in cash at any MoneyGram branch, bank accounts and mobile wallets
Most transactions are completed immediately
The second-largest network of local agents in the world
Disadvantages of Wise and MoneyGram
Let's quickly look at the disadvantages too.
Wise
Limited number of countries
Long transfer time depending on country and lack of physical agencies
MoneyGram
Currently, the online service and mobile app are only available in the US, UK and Germany
Money transfer is more expensive than online services
Conclusion: Wise VS MoneyGram | Which Is Better?
If you're in doubt about which platform to choose, note that both are safe and reliable, but as you've seen, both have advantages and disadvantages. In our community of digital nomads,  Wise is more popular, thanks to its low fees, and digital focus. But if you want them to reach the recipient urgently, MoneyGram might be a better option.
What is your experience? Have you ever used Wise or MoneyGram? Let us know…Before leaving, make sure you read our Wise Review for more insights.