N26 France: The Complete Guide
The world of banking is changing every day. As time passes, we find that more and more aspects of our everyday lives are becoming easily transmissible to our smart devices. In this article, we will be going over how this is made possible through banking companies such as N26 and how you can benefit from N26 in France.
N26, the pioneer of digital banking, has been operating in France since 2017. As of October 2021, they have over 2 million users in the country. The bank aims to reach 5 million users by 2024. Now, let's quickly go through how N26 operates and how you can open an N26 account in France.
What Is N26
N26 is a digital bank. Founded in 2013 by Valentin Stalf and Max Tayenthal, it has gradually become one of the most trusted and efficient digital banks used by millions across the globe. It's now a global phenomenon, with servers all over Europe. Since 2019, it has been operating in the US too. If you're looking for a company that will provide efficient and excellent online banking services with a variety of different options to choose from, then N26 is the one to go with.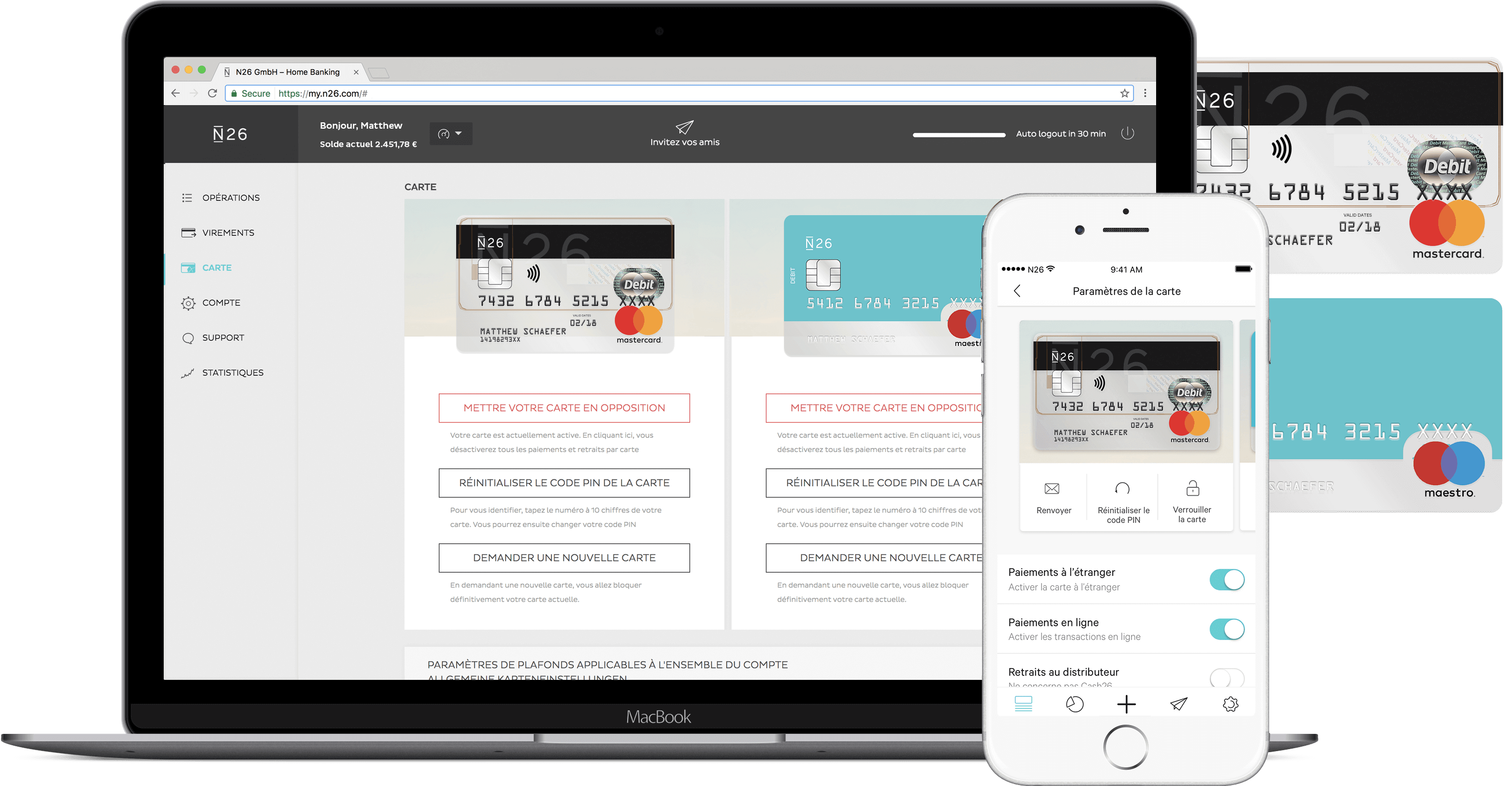 How To Open A N26 Account In France: Step By Step Guide

Step #1
Enter the N26 website. If you are not creating your account through a browser then download their app from the Appstore through your mobile device. 
Step #2
Once you have finished installing the app or accessing N26's website, you will then be guided to clicking where it says Open bank account.
Step #3
Submit your details:
Name / Email / Date of Birth / Address
Passport Number or Residency Card Number
Nationality / Country of Birth
Step #4
Confirm your identity through a short video call. If this is not an option for you then you'll also be able to submit documentation or photo ID to confirm that you are actually in a location in which N26 is available.
Step #5
Choose the type of account that best fits your needs. These different account types will be discussed in detail later in this article.
Step #6
Confirm your choices through a four-digit code you will receive through SMS on your mobile device. 
Step #7
Your N26 account setup should be finished and ready to go. You should then expect to receive your bank card at the address you provided within a few weeks.
Does N26 Provide Service In French?
Yes, it does. N26 is an international company, so their supplies when it comes to accommodating international languages are top of the range. N26 provides language options through its app, website, and customer service. The languages that are available to access in these mediums are the following: 
English
French
German
Spanish
Italian
N26 Account Types Available in France
As mentioned earlier in this article, N26 offers a variety of different choices when it comes to choosing what level of account you will go with. Below we have listed and gone over in detail the different forms of accounts you can choose from to help you make the best decision fitted to your needs, these include four options such as the N26 Standard Account, the N26 You Account, the N26 Metal Account and the N26 Business Account.
N26 Standard Account
Monthly Fee: None
This simple account allows you to have a maximum of five withdrawals with your MasterCard debit card through ATMs. If you are to withdraw traditionally, you will be charged a fee of €2 per withdrawal. However, if you're doing payments through your card there is no fee involved.
N26 You Account
Monthly Fee: €9.90
N26 You is perfect for people who travel often. This account allows for completely unlimited withdrawals. You'll also find yourself with the additional benefits of shopping, travel, and winter sports insurance included in this package. You'll be charged €9.90 per month for this card option and you'll be able to choose from five different color options too. 
N26 Metal Account
Monthly Fee: €16.90
The Metal Account grants you all the previously mentioned benefits, even more. If you choose this option you'll find that your account has rent car and smartphone insurance included too. As well as this, you'll also receive exclusive bonuses and offers exclusive to Metal Account holders. This account costs a monthly fee of €16.90 per month.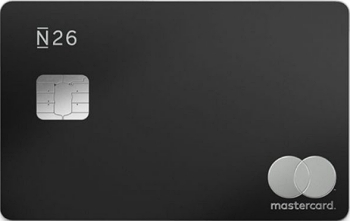 N26 Business Account
There is a fourth and final option when it comes to different forms of account, that being the N26 Business Account. This account essentially grants access to business bank accounts. It aims freelancers and independent workers who are aiming to keep both their personal and business bank accounts separated from one and another. 
We've prepared the below chart to summarize the plans. Before you open an N26 account, check the official website for the latest information and fees.
N26 Account Comparison Chart
| N26 Standard Account | N26 You Account  | N26 Metal Account |
| --- | --- | --- |
| A transparent debit card | A colorful debit card | An 18-gram metal card |
| Chatbot Support | Chatbot Support | Chatbot Support |
| – | Exclusive Partner Offers | Exclusive Partner Offers |
| In-App Livechat | In-App Livechat | In-App Livechat |
| – | Lifestyle Insurance Covering: Mobility + Winder Sport | Lifestyle Insurance Covering: Mobility + Winder Sport + Car Rental + SmartPhone |
| – | Shared sub-accounts | Shared sub-accounts |
| – | Travel Insurance Covering: Medical + Trip + Flight + Luggage | Travel Insurance Covering: Medical + Trip + Flight + Luggage |
| – | Unlimited Free Withdrawals | Unlimited Free Withdrawals |
| Up to 2 sub-accounts | Up to 10 sub-accounts | Up to 10 sub-accounts |
| Up to 3 free ATM Withdrawals in Eurozone | Up to 5 free ATM Withdrawals in Eurozone | Up to 8 free ATM Withdrawals in Eurozone |
| – | – | Unique Experiences |
| – | – | Dedicated N26 Metal Line |
| € 0.00 / month | € 9.90 / month | € 16.90 / month |
Benefits of Bank N26 in France
Open an N26 account in France freely
No bureaucracy or paperwork load
No need to visit a bank branch
Low exchange rates
Hassle-free application
Safe and reliable
Deposits up to €100,000 are protected
User-friendly interface
Disadvantages of Bank N26 in France
Limited services (no mortgage, or investment methods like traditional banks)
Might be difficult to reach call center agents
Bank N26 In France and Its Growth
In January 2017, N26 started in France with the objective of becoming the first bank that the French like to use. At the time, 30,000 people had signed up for the waiting list to be among the first to learn about a revolutionary banking experience that didn't involve any paperwork or hidden fees. Now there are over two million customers in France.
According to the statements made by N26 France, 94% of French people say that they want autonomy when they manage their bank account. Every day, more than 2,000 users join N26.
N26 Alternatives in France
N26 is not the only 'Neobank' available in France. Have a look below for the other digital banking options that might be an alternative to N26.
Wise
Wise Multicurrency account, formerly TransferWise Borderless account, is a multi-currency account that allows you to trade in multiple currencies. Money can be sent and received from anywhere in the world, and in any currency. With a Wise multicurrency account, you can access more than 40 different currencies and convert it as needed. Wise also has a debit card that may be used to make withdrawals and payments.
bunq
The bunq's motto is "Bank of the Free," and it is situated in Amsterdam, the Netherlands. The Netherlands Deposit Guarantee System covers all bunq accounts up to €100,000 in deposits. Easy Bank, Easy Money, and Easy Green are the three types of current accounts offered by the bunq, all of which include a monthly fee. You can sign up for a bunq account on the website or through the bunq app.
Revolut
You may open an online checking account with Revolut. You can send and receive money for free, as well as make purchases and payments online. You can also request a debit card, which you can use to make actual purchases and withdraw money from ATMs all around the world.

Monese
Monese allows you to have a mobile account with which you can transfer money, make purchases, draw money and receive your salary.

Is It Worth Opening an N26 Account in France?
N26 is a fantastic service that allows you to have a seamless and modern online banking experience. The digital bank offers a free account that can be opened in less than 10 minutes.
Cash withdrawals at ATMs all around the world, international money transfers at highly competitive exchange rates, purchases, payments, and salary receipts are all possible with a N26 bank account.
For freelancers, self-employed individuals, frequent travelers, digital nomads, and expats in France, it is an excellent alternative. The app and the website are both highly user-friendly.
N26 is equipped with all of the necessary safety measures.
So yes, it is worth having an N26 bank account in France. Do you need more information? Go ahead and check out our complete Bank N26 Review for further insights.