TransferWise Borderless Account: The Complete Review
May 2021 Update: The Transferwise Borderless account is now called the Wise Multi-Currency account.
TransferWise, now renamed Wise, is one of the most used platforms for sending money abroad. Its multi-currency and borderless account is ideal for expats, digital nomads, frequent travelers, and freelancers.  
The account allows you to send and receive money in many currencies without having to open bank accounts in those countries. If you open a TransferWise account and upgrade it to a Borderless account, you get a virtual credit card with which to spend your money.
Below is a comprehensive guide on Transferwise's Borderless Account; how it works, where it can be used, and who can open one.
What Is TransferWise?
If you are in this article, chances are, you know a thing or two about TransferWise already.  So, feel free to skip this section if that's the case.  For everyone else:
TransferWise is a UK-based company that was founded in 2010.  The fintech firm is a revolutionary platform to send money overseas with very low fees and super fast transfer times.  It does so by eliminating SWIFT as the middlemen.  Instead, TransferWise has bank accounts in each country it operates in.
Simulation:
You are based in the US and you want to send money to Germany,

Through the Wise website, you transfer the funds in USD to the US bank account that is controlled by the firm,

Wise receives the funds and sends instructions to their bank in Germany,

The German bank goes ahead with the local transfer to the receiver's bank account in Germany

This way, the transfer of funds is very cost-effective, instant, and efficient, almost as if it is a local transfer
Mind you, as we'll later cover in the FAQs, Wise is not a bank.  It is, however, authorized as an Electronic Money Institution by the UK's Financial Conduct Authority (FCA).  The company has 2,200 employees in offices across 15 different locations, serving over eight million users globally.
You can find out more about all Wise services here.
What Is Wise Borderless Account?
The borderless account is a virtual multi-currency account.  It allows you to keep and exchange more than 50 currencies and switch between them in merely seconds.  Most importantly, it allows you to convert them at the real mid-market exchange rate to whatever currency you need, whenever you need it, and wherever you need it.
This means you pay little to no fees and the whole process is completely transparent.
The borderless account can be linked to your Wise debit card. You can then get personal account numbers in GBP, EUR, USD, AUD, and NZD, PLN, SGD, HUF, and RON.  With your account number and bank details, you can receive transfers from other accounts all around the world.

Some of the benefits of having a Wise Debit MasterCard are:
Free ATM withdrawals for up to £ 200 or $ 250 every month

No fees for payments made within your account currencies

Competitive conversion fees between 0.35% to 3%

Wide usage in all the locations where MasterCard is accepted
Wise Borderless Account Pros and Cons
Pros
Clear sign-up process and easy to navigate site and app
No account maintenance fees
Multi-currency account covering more than 50 currencies
Very low and transparent exchange rates: roughly eight times lower than banks
Easy and fast online transfer process with no bureaucracy
Perform direct debit in EUR and GBP
Make very fast international transfers
Receive international transfers without paying a dime in fees
Manage your account easily through the Wise app
Track transfers in real-time
Perform safe transactions
Get service in 12 languages: English, French, German, Hungarian, Italian, Japanese, Polish, Portuguese, Spanish, Romanian, Russian, and Turkish
You can be almost anywhere in the world and have a virtual local bank account number in five currencies
Either a Personal or a Business account
Cons
Does not accept cash or cheque payments
No interest payment
No access to a broad range of services, as you would in a traditional bank; no savings accounts, no credit facilities: overdraft, loan, nor mortgages
Not possible to pay bills
Debit card only available in a limited number of countries, including the UK, the US, Europe, Australia, and New Zealand
No credit card available
2% withdrawal fee if you exceed £200 or $250 in a month
No instant transaction notifications
No budget and savings goals, unlike its competitors Monzo or Revolut
Limits and Restrictions
You may be asking if these very low to no fees come with a string attached.  Interestingly, TransferWise applies no fees to hold and receive payments in your borderless account. The only exception is if your account is in USD.  There are certain limitations.
Even then, the USD money that you add to your account or convert from another currency is exempt from the restrictions and limitations.  They only apply to payments you receive from third parties.  So, what are these limitations on USD:
Personal USD accounts have a:

Daily transaction limit of $ 250,000, and 
Annual transaction limit of $ 1,000,000.
Business USD accounts have a:

Daily transaction limit of $ 3,000,000, and 
Annual transaction limit of $5,000,000.
Transfer Fees
TransferWise charges you two fees for sending money from your borderless account to a bank account in another currency.  
A fixed fee for sending money:

GBP: 0.32 GBP (dropped from 0.60 GBP)
EUR: 0.35 EUR (dropped from 0.63 EUR)
USD: 1.05 USD (dropped from 1.40 USD)
AUD: 0.57 AUD (dropped from 1.05 AUD)
CAD: 1.05 CAD
INR: 55 INR

Currency exchange fee depending on what currency you convert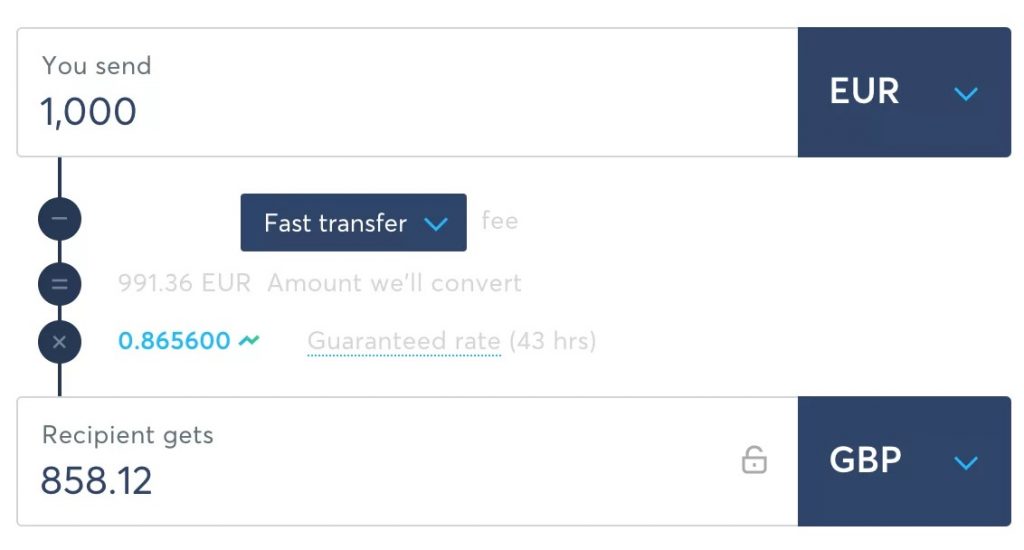 Currency Exchange Fees
TransferWise charges a currency exchange fee that ranges between 0.35-3.00% for international transfers.
Deposit & Top-Up Fees
If you want to add money to your account through direct debit, TransferWise charges a top-up fee of 0.2%. 
2020 and 2021 TransferWise Fee Update
As of October 19th, 2020, sending money from your balance to any currency will cost you less, with same-currency transfers dropping up to 45%. Converting money between balances will be cheaper for 85% of their currency routes.
However as of December 19th, 2020, it will cost $ 7.50 to receive USD wires to your USD bank details. TransferWise is also adding a 0.4% fee to hold more than € 15,000 in EUR as a personal customer, or € 70,000 as a business customer.
Available Currencies
TransferWise allows you to use more than 50 currencies at once and have them converted in seconds.  For a complete list of currencies that are available, check out the 'What Currencies does TransferWise Support?' question in the Frequently Asked Questions section below.
TransferWise Safety And Security
TransferWise is relatively a new financial service with a disruptive approach to the traditional finance sector. Particularly for this reason, many people are suspicious about their low fees and "too good to be true" value proposition. It is natural to be on the safe side when assessing a non-traditional institution to hold your money.
TransferWise is not a bank, so it cannot provide you with the same deposit protection schemes that traditional banks do.
It is important to point out that TransferWise is regulated by the FCA in the UK and ASIC in Australia. The fintech company uses reputable local banks in order to store the client funds.
This regulation means that the company does not hold your money and you have certain assurances to get your money back in case of insolvency. Mind you, this is not a certainty, but a partial assurance.
How To Open a TransferWise Borderless Account
If you've survived until this point in the review, then you have probably made up your mind on whether or not the TransferWise borderless account is right for you.  If you're interested in opening an account, below you can find a step-by-step process.
Step #1
Open a TransferWise Account
You simply need to enter your details:
-Name
-Home Address
-Nationality
-Date of Birth 
-Contact Details
-A password
Step #2
Verify your identity
TransferWise complies with AML (anti-money laundering).  Accordingly, once you open your account, you will be asked to verify your identity.  You will need to:
-Upload a scan of your government-issued ID (ie: passport)
-Proof of address (ie: utility bill)
-Photo of you holding your government-issued ID next to your face
It may then take TransferWise up to two days to verify what you send.
Step #3
Log into your TransferWise Account
Once you are a verified TransferWise user, log into your account. Click the Balances Tab in the Left-hand Menu and then click 'Add a Balance'. Then select the Currency and click 'Open Your (currency) Balance'
Step #4
You will get a local account number and bank details in your currency of choice
You can now deposit funds to your TransferWise borderless account through a bank transfer. The easiest way to do so is through a local transfer.
This is a personal account and it is available to users from almost all countries around the world.
Step #5
Optional Step- Order & Activate your MasterCard Debit Card
If you would like to receive a debit card from TransferWise, you will need to request it manually. It can typically take a few days to arrive, however, there is no charge to order the card. You may be asked to deposit some funds from your balance onto your debit card.
Once your debit card arrives in the mail, you will then need to activate it. The letter will contain the instructions on how to do that.
How To Use Your TransferWise Borderless Account
Once you activate your borderless account and receive your account and bank details, you can start to receive and send local and international money transfers in the designated currencies.
It is important to understand that a TransferWise borderless account is not an actual bank account. It is a virtual account that has some of the features that a bank account has.
You can send and receive money in different currencies in a cheap and easy way. You cannot accept cash or checks, receive interest, get insurance coverage, or get covered by federal deposit assurance programs.
Debit MasterCard
Every TransferWise borderless account holder will have the option to apply for a prepaid debit card. You need to apply for it manually, however, it only takes a couple of minutes to do so. You can then link the debit card to your borderless account.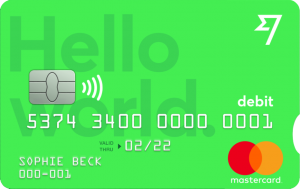 You will have a four-digit pin code to be able to use the card in person.
The debit card is a MasterCard and allows you to:
Withdraw cash from most of the ATMs internationally
Make online purchases everywhere that accepts a MasterCard
Make in-person purchases everywhere that accepts a MasterCard
You can find more details on the Transferwise Debit Card here.
Top-Up Methods
In order to add money to your TransferWise borderless account, you need to:
Go to the currency balance you want to add funds to
Click Add
Choose the amount you want to add and the currency you'd like to pay with
Click Continue
Depending on how you want to pay, you will be guided for the next steps
 You can top-up through:
Bank transfer
Credit or debit cards
Apple Pay

Customer Support at TransferWise
In our experience, one area where digital banks and fintech institutions excel in comparison to traditional banks is customer service.
If you need to get in contact with the TransferWise customer support team, you have a number of channels available to you.  These include:
Telephone support
Live Chat
Email
The support is not available 24/7, however, we generally had a positive experience with the customer service.
Alternatives to TransferWise Borderless Account
There are many services that have overlapping features to TransferWise.  Though the fintech startup is quite ahead of the game in terms of sending money from one bank account owner to another bank account owner in another country, potentially in another currency.  TransferWise is always the fastest, cheapest, and most straightforward to use.
Nevertheless, below are some of its main alternatives:
Monese
Monese is a UK-based fintech company that offers checking accounts and money transfer services. The mobile-only service provides accounts in GBP, EUR, and Romanian leu. It is available in 31 countries across Europe. It has over two million users.

Revolut
Revolut is a British fintech company based in the UK. It offers banking services to its clients digitally through a website and an app.

N26
N26 is a neobank based in Germany.  Unlike TransferWise, it is legally a bank and offers deposit protection to users.  It currently services 23 countries, including most countries in Europe and the United States.  N26 recently partnered up with TransferWise for currency exchange and multi-currency transfers. Check out our in-depth N26 Bank Review.

The Verdict: Is TransferWise Borderless Account Worth It?
The Transferwise Borderless Account provides a convenient solution to most of the multi-currency account issues.  It is:
Easy to use, 
Few fees overall: no maintenance fees and no hidden costs
Provides its users with almost an unbeatable exchange rate
Can be used across many currencies
Will provide an IBAN and SWIFT code
If you are an expat, a frequent traveler, a digital nomad, an international student, or a seller on a marketplace, then this account is ideal for you.
On the other hand, it is not a real bank and it does not provide the users with the fancier services that a traditional bank does.
You can use TransferWise for currency transfers, even if you do not have a Borderless Account.  Just sign up and start enjoying the services offered by this disruptive fintech startup.
Frequently Asked Questions
What are the main benefits of using a TransferWise Borderless Account?
Its main benefits are:
50+ currencies
Local bank account numbers with more than seven currencies
Provides an IBAN and a SWIFT, making it easy to send and receive payments
Transparent fees, no maintenance fee, and no hidden fees
Who is TransferWise Borderless Account made for?
The account is particularly useful for travelers, nomads, expatriates, and international students. It can also come in handy for the merchants in e-commerce marketplaces, serving internationally.
How to Direct Debit My TransferWise Borderless Account?
In order to set a Direct Debit, provide the sender with your TransferWise bank details. It will then take a day or two to set it up.
How to Send Money to TransferWise Borderless Account?
Create a balance in whichever currency you want to receive funds in.  Click on 'get bank details'; complete the requirements that are being asked for. You will be given your bank details including an IBAN and a SWIFT or a BIC. You can then provide these details to whoever will send you the money. 
How to Withdraw Money fromTransferWise Borderless Account?
Use your TransferWise card to withdraw money at ATMs all around the world. Just like you would with any bank card, really. Depending on where your card was issued, up to a certain amount of withdrawal is free every month: £200 or $250.
Who Can Open a TransferWise Borderless Account?
The borderless account is primarily for travelers, expats, and freelancers. You may, however, open the account, as long as you are from one of the many countries TransferWise provides service in.
How to Pay Rent from a TransferWise Borderless Account?
By setting up a direct debit.
How Fast is TransferWise Borderless Account Transfer Speed?
It is very fast. Well, converting your money can take a maximum of 2 working days. But, in our experience, that is extremely rare. The speed of your transfer depends on how quickly your recipient's bank can process your money.
Is TransferWise a Bank?
No, TransferWise is not a bank.
What Are the TransferWise Account Types?
TransferWise only offers one account type to its users. So, you don't need to choose between different plan types and prices.  The same pricing structure is applied to your account, based on your primary currency. 
What Currencies does TransferWise Support?
(1)You can send money to and receive money from these currencies:
AED Emirati Dirham within the UAE
AUD Australian Dollar within Australia
BGN Bulgarian Lev within Bulgaria
BRL Brazilian Real within Brazil (only personal accounts, no business accounts)
CAD Canadian Dollar within Canada
CHF Swiss Franc within Switzerland and Liechtenstein
CZK Czech Koruna within the Czech Republic
DKK Danish Krone within Denmark
EUR Euro
GBP British Pounds
HKD Hong Kong Dollar within Hong Kong
HRK Croatian Kuna within Croatia
HUF Hungarian Forint within Hungary
INR Indian Rupee 
JPY Japanese Yen within Japan
MYR Malaysian Ringgit within Malaysia
NOK Norwegian Krone within Norway
NZD New Zealand Dollar within New Zealand
PLN Polish Złoty within Poland
RON Romanian Leu within Romania
TRY Turkish Lira
SEK Swedish Krona within Sweden
SGD Singapore Dollar within Singapore
USD US Dollar
(2) You can only send money via local transfer to these currencies:
ARS Argentine Peso within Argentina
BDT Bangladeshi Taka within Bangladesh
BWP Botswana Pula within Botswana
CLP Chilean Peso within Chile
CNY Chinese Yuan within China, from a limited list of countries.
COP Colombian Peso within Colombia 
CRC Costa Rica Colón within Costa Rica
EGP Egyptian Pound within Egypt
GEL Georgian Lari within Georgia
GHS Ghana Cedi within Ghana
IDR Indonesian Rupiah within Indonesia
ILS Israeli Shekels within Israel
KES Kenyan Shillings within Kenya
KRW South Korean Won within South Korea
LKR Sri Lankan Rupee within Sri Lanka
MAD Moroccan Dirham within Morocco
MXN Mexican Peso within Mexico
NGN Nigerian Naira within Nigeria
NPR Nepalese Rupee within Nepal
PEN Peruvian Sol within Peru
PHP Philippine Peso within the Philippines
PKR Pakistani Rupee
RUB Russian Ruble within Russia (except Sevastopol and Crimea due to EU sanctions)
THB Thai Baht within Thailand
UAH Ukrainian Hryvna within Ukraine
UYU Uruguayan Pesos within Uruguay
VND Vietnamese Dong within Vietnam (only personal accounts, no business accounts)
XOF West African CFA Franc within Benin, Burkina Faso, Ivory Coast, Guinea-Bissau, Mali, Niger, Senegal, and Togo
ZAR South African Rand within South Africa
ZMW Zambian Kwacha within Zambia
Can I use the debit card internationally?
Yes. It is possible to pay with the TransferWise debit card, called a borderless card, anywhere that accepts a Mastercard.
The card does not work in the following countries: Afghanistan, Burundi, Chad, Congo and Democratic Republic of Congo, North Korea, Cuba, Eritrea, Yemen, Iran, Iraq, Libya, Central African Republic, Somalia, Sudan and South Sudan, Syria, Palestinian Territories, and Venezuela.
Do I get access to European bank details?
Yes. When you register for TransferWise's Borderless account, you will have access to European bank details.
This means that you can already send money to this account, through a bank transfer or by debit/credit card payment. You can also enjoy your purchases with a debit card almost internationally.
Are there any fees for using the TransferWise Borderless Account?
Yes, you can find a list of these fees in our above 'Fees' section. Although there are some fees, all of them are transparent.  So, there are no hidden fees or abusive prices.