Best Countries to Live in 2023
Are you looking to relocate and want to know where the good life is? According to the US News & World Report, the ranking is based on a survey of 17,000 people worldwide, evaluating 85 countries based on 76 indicators.
From education to healthcare and safety, there are many factors to consider when measuring quality of life. So, if you're ready to discover the best places to live, work, and play, keep reading.
In this article, we'll dive into the countries that earned top spots on the list.
Best Quality of Life: Top 10 Countries
US News & World Report conducts a country survey to verify education, health, GDP, and other aspects, including determining the countries' quality of life every year.
Find out which countries offer the best quality of life based on indicators such as purchasing power, average life expectancy, education, gender equality, security, and financial quality.
Ready to explore the top 10 countries on the list? Let's dive in!
10. New Zealand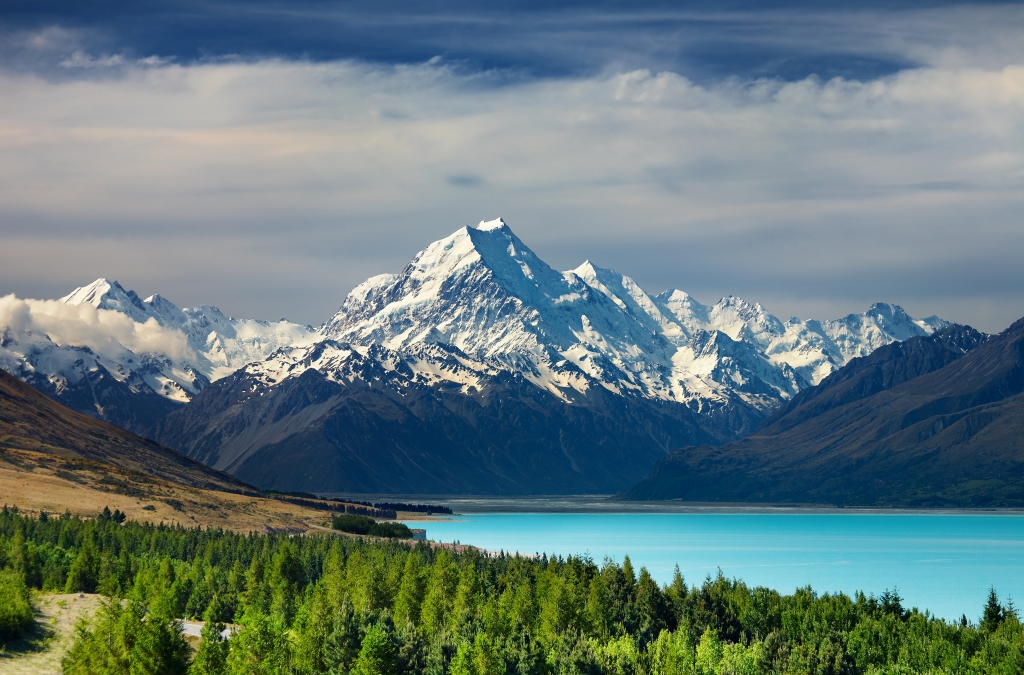 New Zealand is known around the world for its high quality of living and slow pace of life.
New Zealanders are known for their hard work ethic, but they also value a healthy work-life balance. Even in the largest cities, a beach, bike route, or national park is never far away. If you are a citizen, or resident, or have a work visa valid for at least two years, public healthcare in New Zealand is free or low-cost. Even if you have a temporary visa, you may be able to obtain a variety of services under certain circumstances.
New Zealand – Quality of Life Attributes and Scores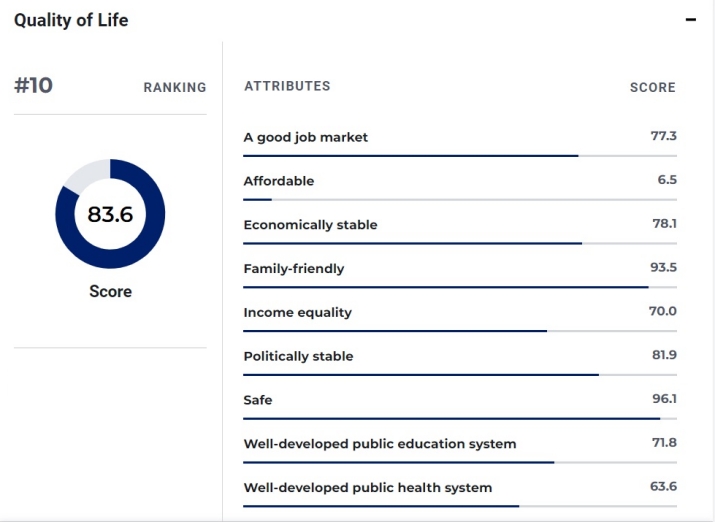 9. Australia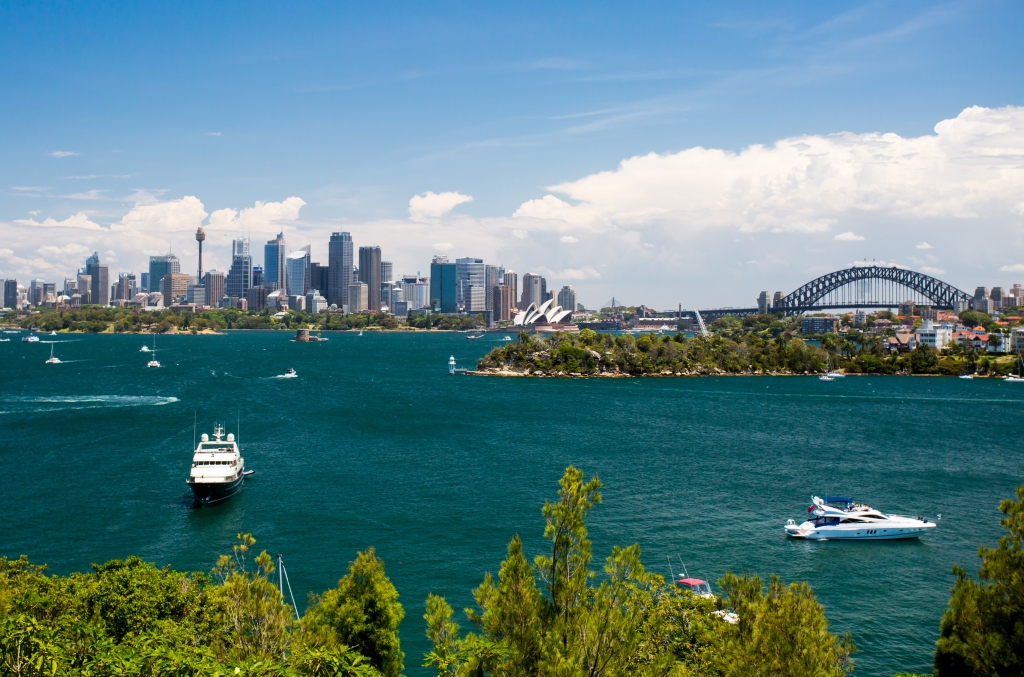 Australia is a prosperous country with a market-based economy.  . The residents of Australia love to be involved in sports and the life expectancy is long both for males and females. Cities in Australia usually rank high in livability assessments. Late in 2017, voters overwhelmingly approved same-sex marriage legalization.
The high quality of Australian education is also well-known around the world.
Australia – Quality of Life Attributes and Scores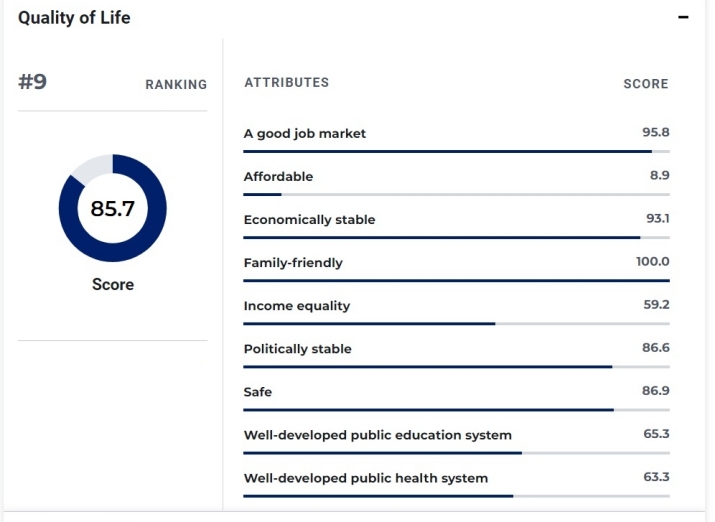 8. Netherlands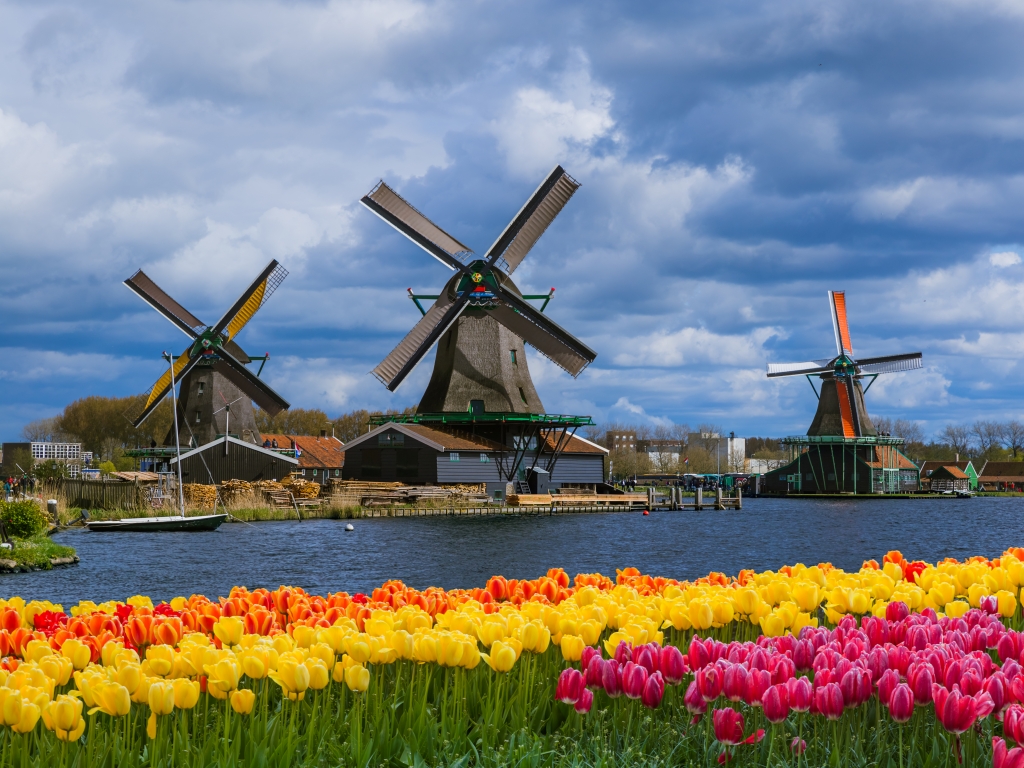 In the survey of 2022, the Netherlands came in eighth overall. Political stability and well-developed public health and education systems distinguish the country in the rankings. It was the first country to legalize same-sex marriage and is known for its tolerant society. It has the world's highest concentration of museums and 32 thousand kilometers of cycle paths, encouraging people to be more active.
The Dutch pay 52% tax on their wages. However, they don't complain as their country offers them a quality life. Public transport is very efficient, wages are good, the country is safe, and the education is excellent.
Netherlands – Quality of Life Attributes and Scores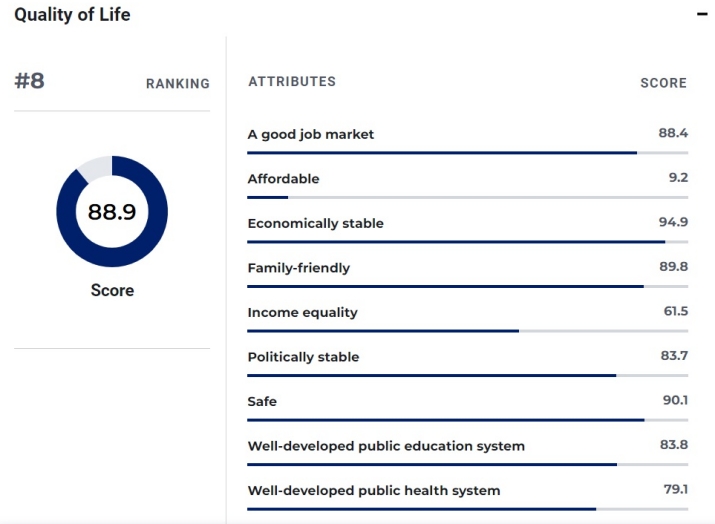 7. Germany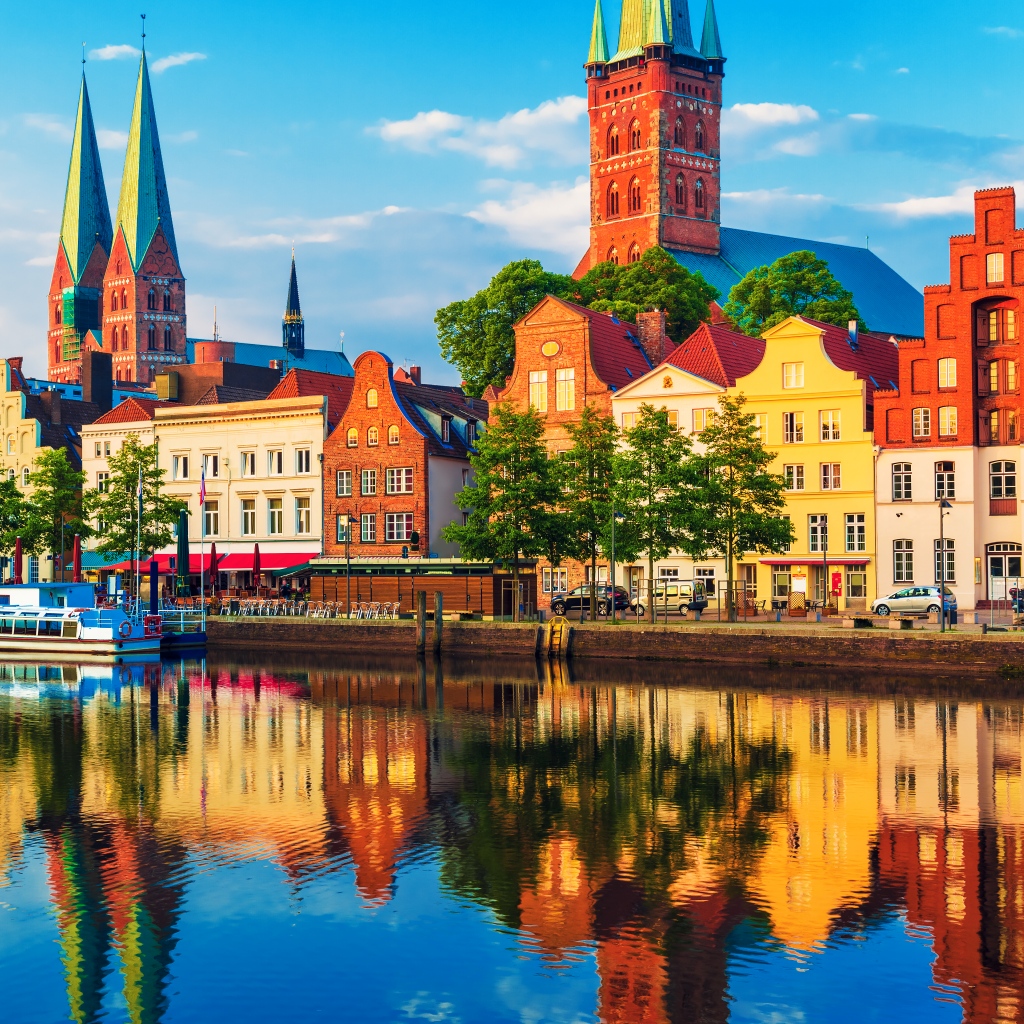 Germany is without a doubt one of the world's most powerful economic powers, ranking seventh overall in the list. The country boasts a strong economy, as well as well-developed public education and health systems. Other advantages include a trained and diverse workforce, as well as booming telecommunications, health, and tourist sectors.
Germany is also a global leader in imports and exports, as well as the birthplace of numerous historical cultural icons.
Germany – Quality of Life Attributes and Scores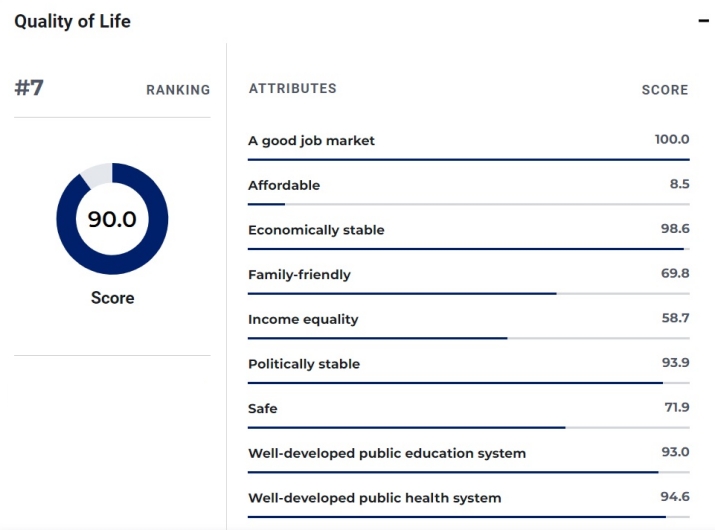 6. Finland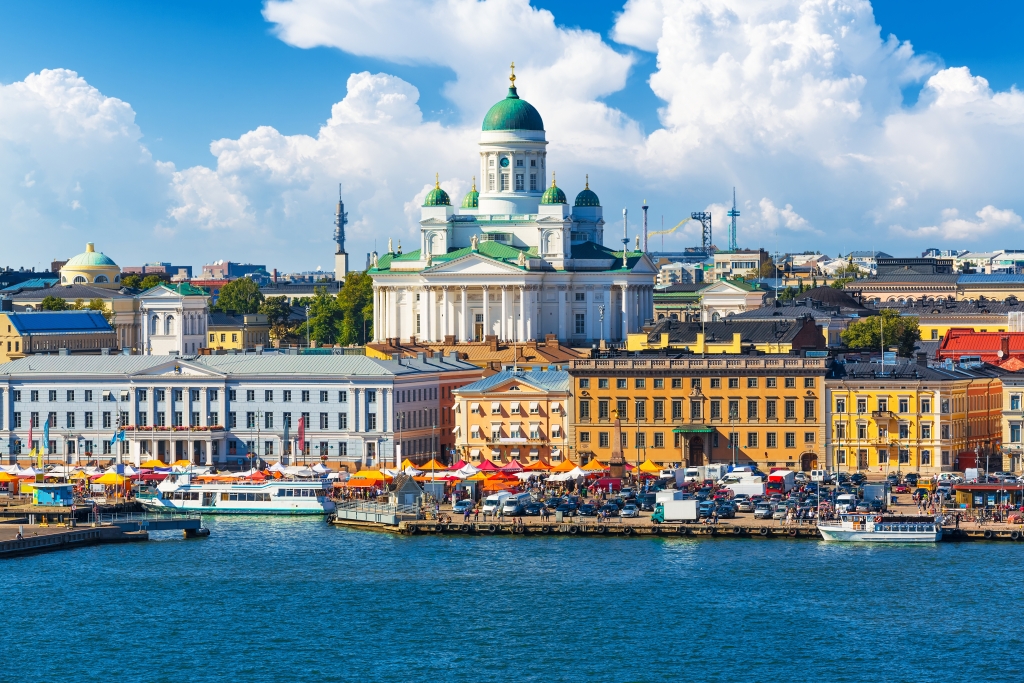 Finland stands out in the rankings for its safety, well-developed public education system, and attractiveness to families.
The country is a global leader in education. Finland also ranks highly for performance in civil rights, quality of life, and press freedom. Finland was also one of the first countries in the world to give women the right to vote.
Finland's economy is free-market oriented, and the country, like its Nordic neighbors, invests heavily in social safety nets and public services. 
Finland – Quality of Life Attributes and Scores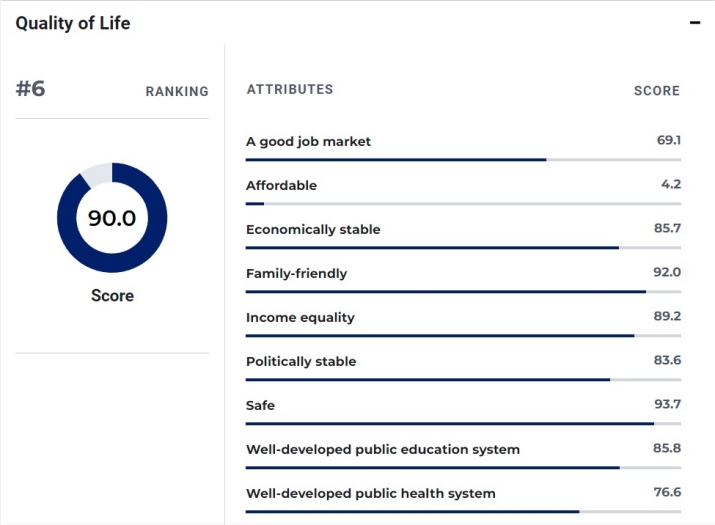 5. Norway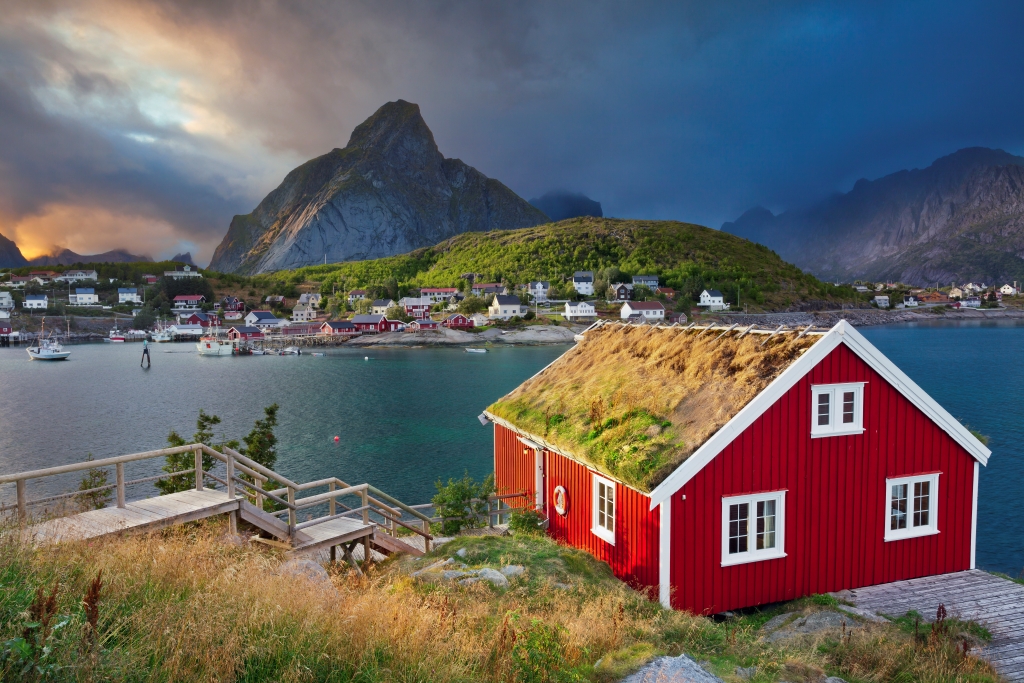 Norway comes fifth place overall in the survey. Norway's security, stable policy, and well-developed public education system stand out in the rankings. The country is prosperous, with one of the world's largest oil exporters, free higher education, and a long literary tradition.
The country is one of the most developed in the world, with a high standard of living and a reputation for being one of the best places to live.
Norway is also regarded as an excellent country in which to work in Europe, with policies such as maternity leave and gender equality standing out. The unemployment rate is low, and wages are competitive, particularly for those with advanced degrees.
Norway – Quality of Life Attributes and Scores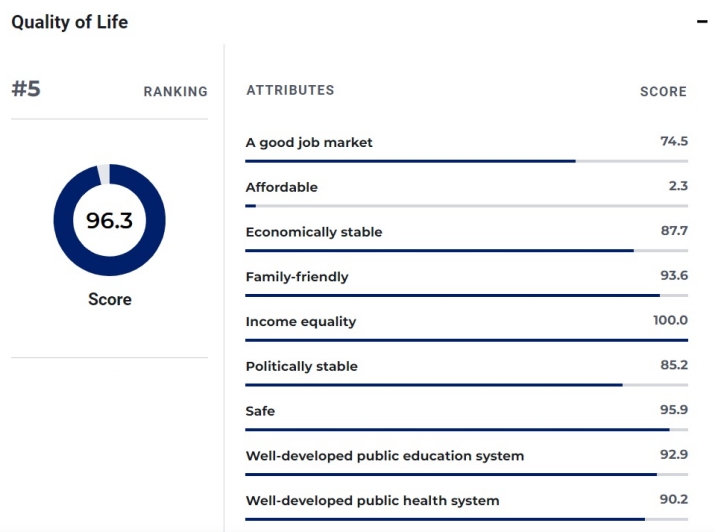 4. Switzerland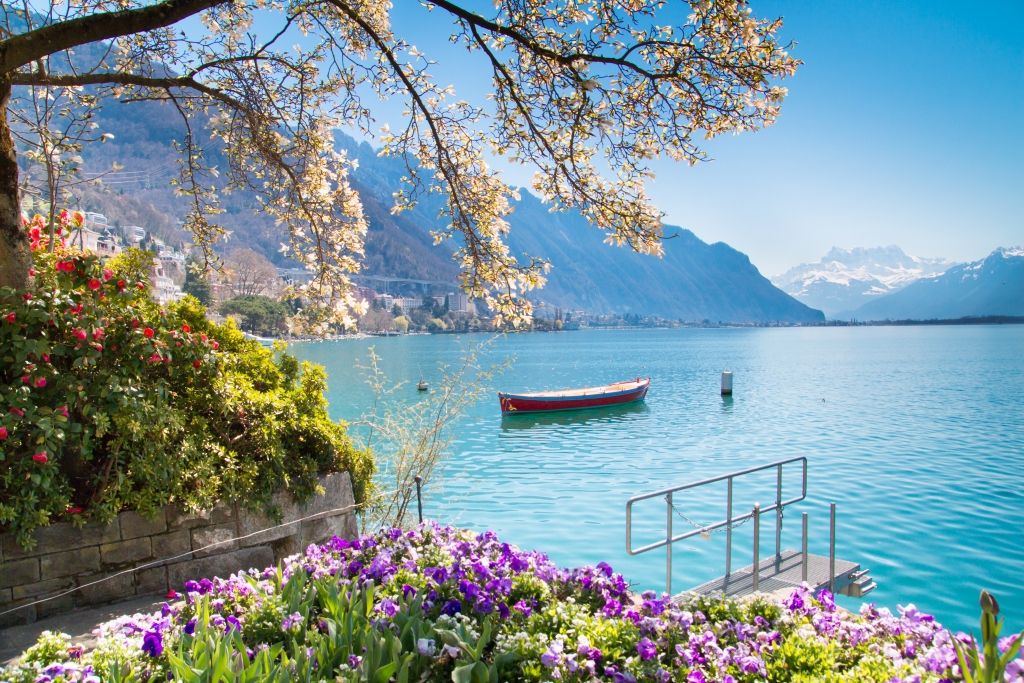 Switzerland's ranking is assured by factors such as the economy, stable policy, and a well-developed public education system.
The country has a low unemployment rate and a well-educated workforce. The economy is fueled by low corporate tax rates, a highly developed service sector with excellence in financial sectors, and a strong high-tech manufacturing industry. As a result, living in Switzerland becomes very appealing to those considering a move to Europe.
Also, note that Switzerland ranks first in the Best Places To Retire survey.
Switzerland – Quality of Life Attributes and Scores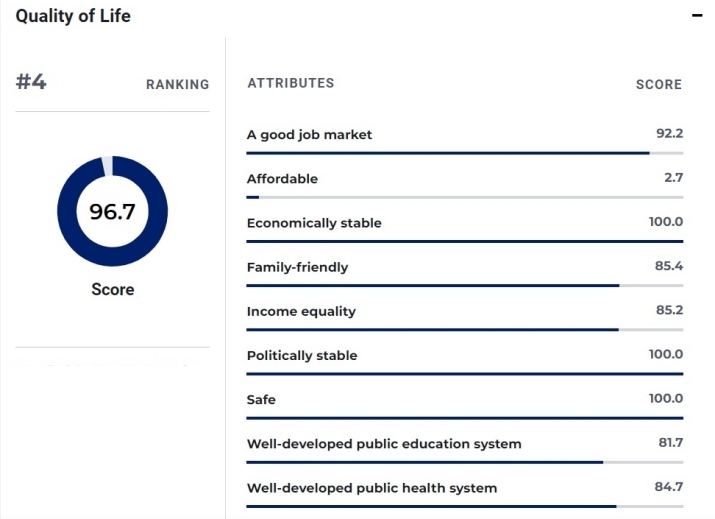 3. Canada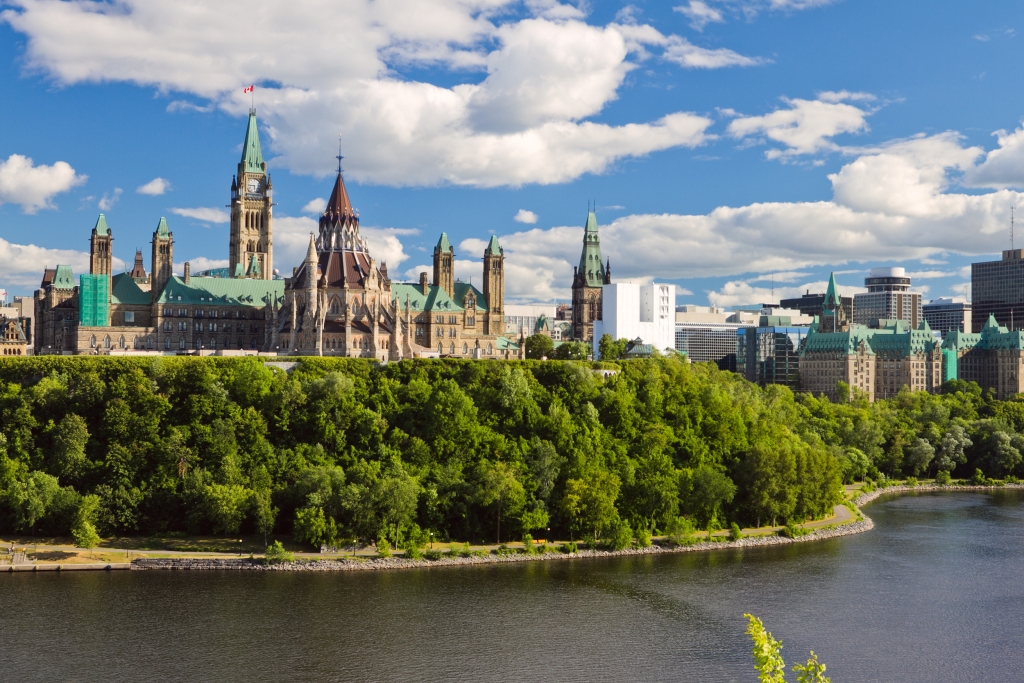 Canada is one of the safest countries. While the standard of living in any country varies greatly from individual to person, a look at several social indices reveals the many things for which Canadians can be grateful. Canadians are typically healthy people who don't suffer from any hazardous or infectious diseases in large numbers.
Canada is a high-tech industrial society. While the service industry is the most important economic driver in Canada, the country also exports a lot of energy, food, and minerals. Canada is the world's third-largest oil producer. It also has the third-largest proven oil reserves. Because of the strength of the Canadian economy, Canadians have a very high quality of living.
Regarding most environmental quality criteria, Canada is in the top tier of nations. The Canadian constitution declares men and women to be legally equal, and provincial and federal human rights legislation protects them from gender discrimination by government and private sector businesses. Marriage, divorce, and military service are all formally gender-neutral under federal law.
Canada – Quality of Life Attributes and Scores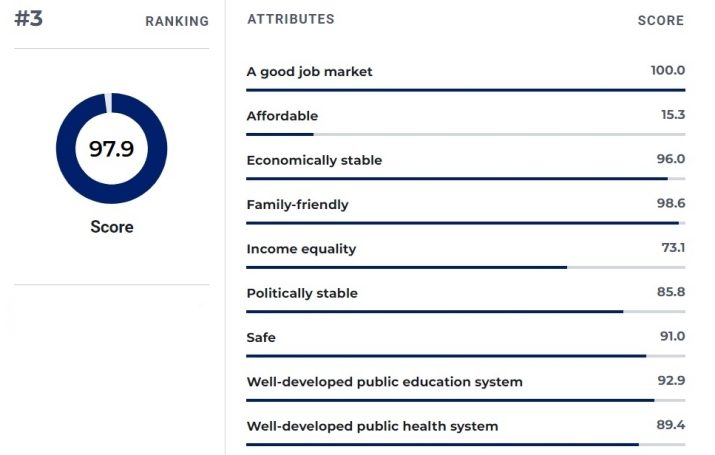 2. Denmark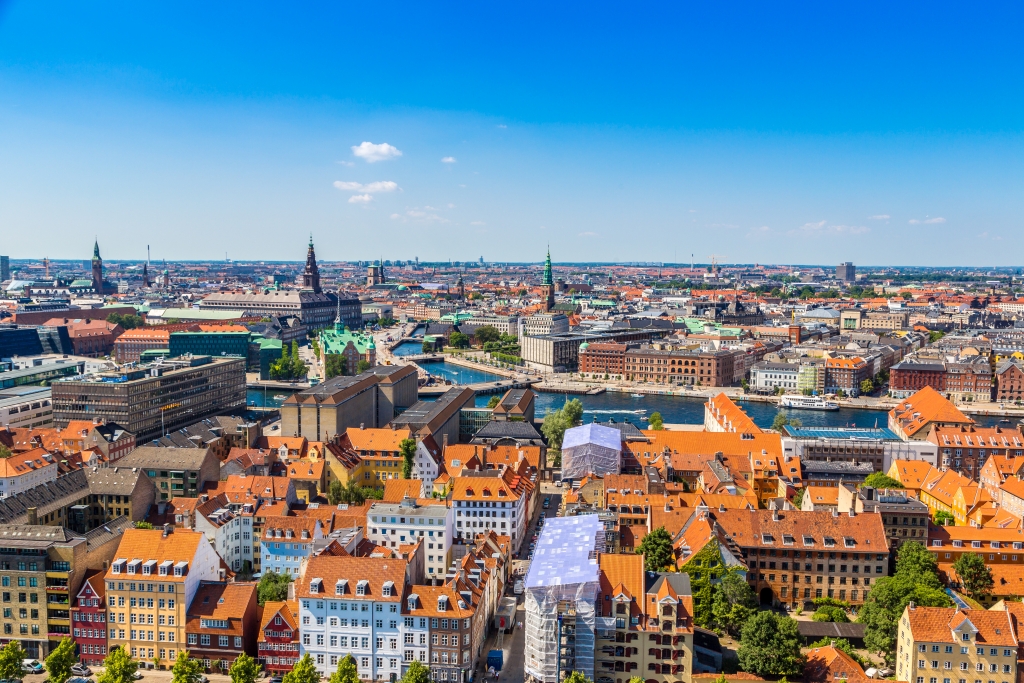 Denmark is the second in the world in terms of quality of life. Factors such as income equality, stable politics, security, and good public education and health systems affect Denmark's ranking.
The Danish government is known as a very stable and transparent entity. The country operates under the constitutional monarchy and members of Denmark's highest legislative body, Folketing, are elected by the people. The Danish government is progressive, and the country's social structure has admirable social mobility.
Through progressive taxation, the country has a universal health system, in which citizens receive free medical care. Higher education is also free.
Denmark has several leading industrial sectors such as food processing, iron, steel and machinery production, and tourism. Agricultural and industrial machinery, pharmaceuticals, processed foods, and furniture are the main exports.
Denmark – Quality of Life Attributes and Scores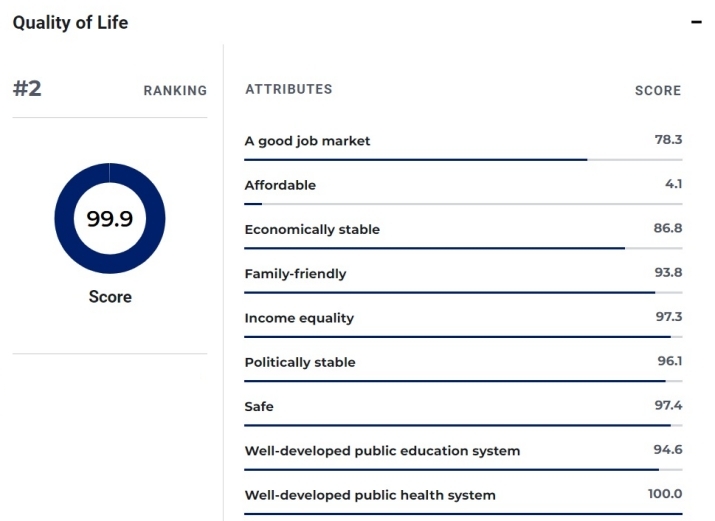 1. Sweden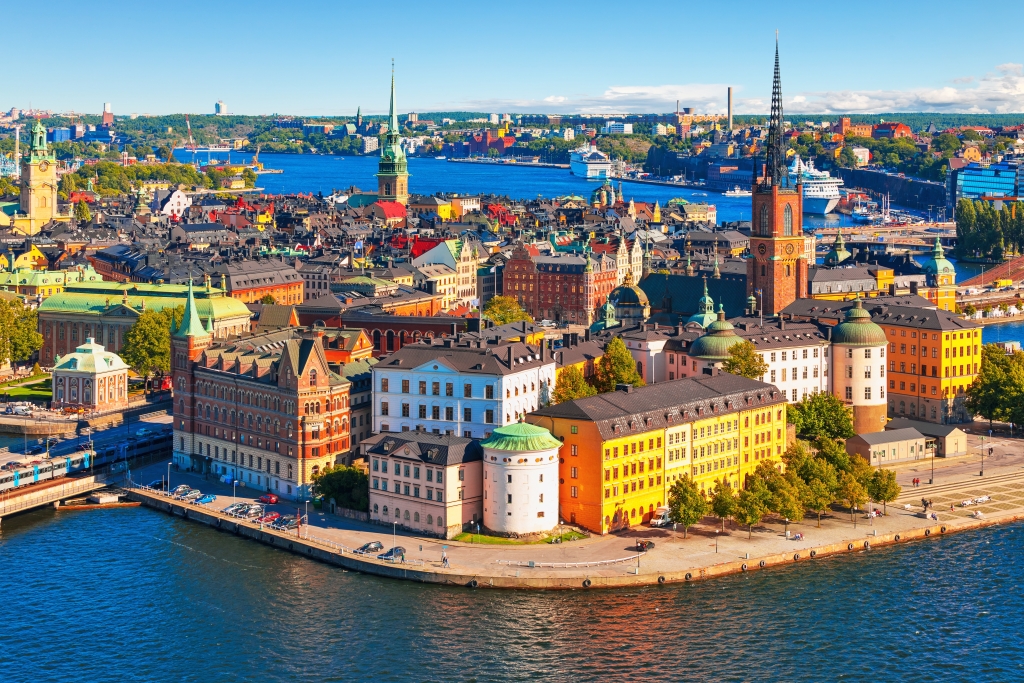 Sweden is the top country in 2022 best quality of life rankings. The country stands out in the ranking of quality of life for health systems and well-developed public education, security, economic stability, and politics.
Furthermore, Sweden is committed to sustainability, human rights, wealth distribution, and university education. It is a beautiful country, with breathtaking landscapes, amazing cities, and an extremely educated population.
Sweden – Quality of Life Attributes and Scores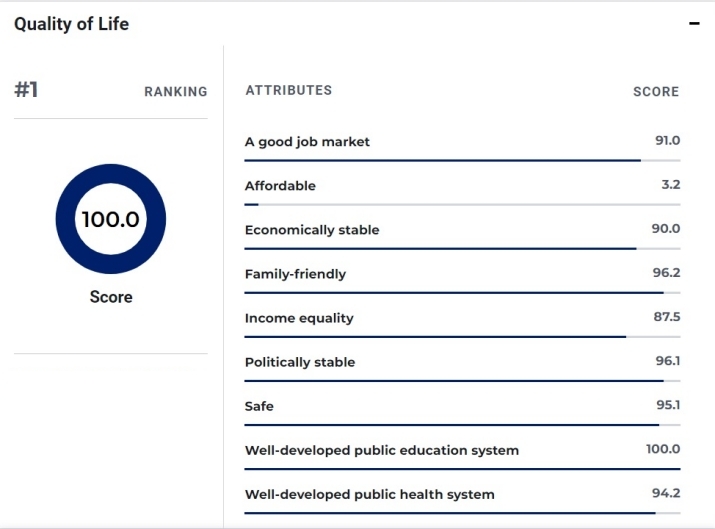 Source: US News & World
Contributing Factors
Below are some of the critical factors that contribute to the methodology in defining the best countries to live in. 
Quality of Life: In the top-ranking countries, you'll find affordability, a good job market, economic stability, and family-friendly environments. A sense of income equality plays a huge role, alongside a well-developed public education system that secures the future of the next generation.
Health: Robust healthcare systems and easy access to medical care are essential. Besides providing excellent healthcare, a country should also focus on preventive measures and wellness initiatives.
Education: A strong educational system is a game-changer. Innovation in teaching and opportunities for lifelong learning are compelling indicators.
Entrepreneurship: Connections to the world, an educated population, innovation, transparent business practices, and legal framework development foster an environment that boosts entrepreneurial success.
Agility: The dynamism, adaptability, cultural modernity, and progressivism of a country determines how quickly it responds to global changes. Agility often translates into a vibrant, responsive community where individuals thrive.
Social Purpose: Factors like environmental quality, human rights focus, gender and racial equality, religious freedom, respect of property rights, and climate goals are important to assess.
Income: Income stability and growth opportunities are pivotal. Countries with diverse job markets and favorable economic conditions offer lucrative prospects.
Open for Business: The costs of manufacturing, bureaucracy, favorable tax environment, corruption, and government transparency are important.
Adventure: Countries that are good for tourism with warm climates, stunning scenery, and fun activities are ahead of the curve. 
Heritage: The cultural richness of a place adds to its charm. Cultural accessibility, rich history, geographical attractions, and great quality food weave the fabric of a fulfilling life.
Source
Our data draws from the Human Development Index, an influential report published annually by the United Nations Development Programme (UNDP), as well as findings from US News and World Report, a respected authority in global rankings. This multi-dimensional approach allows us to provide you with a comprehensive understanding of the best countries to live in. The key dimensions used in assessing the best country to live in are: health, education, and income. Covering 189 countries, the report utilizes data from various national and international sources, granting a comprehensive perspective.
The Verdict
Whether you're planning to move or just curious, these rankings offer insight into what makes a great place to live.
We hope you found this article helpful and informative. If you have any experience living in one of the countries on the list, we'd love to hear from you.
And if you're interested in exploring other surveys, be sure to check out our articles on the Safest Countries and Digital Quality of Life Index 2023.
Frequently Asked Questions
What makes these countries the best countries to live in the world in 2023?
The best countries to move to in 2023 are determined by a combination of factors like housing, education quality, healthcare, job opportunities, and overall quality of life. We consider earnings, job stability, political steadiness, personal freedoms, and environmental care. 
The "best" country can be subjective and vary from person to person. It might hinge on happiness, financial stability, climate preferences, or other individual criteria. However, we rely on the above listed sources to determine our list.
Which is the best country in the world to live in and why?
Sweden stands out as the best place to live in, owing to its top position in global indices like the Human Development Index, Social Progress Index, and Quality of Life Index. These indexes look at factors like economic growth, innovation, progressiveness, and geographical allure.
There are many other countries that can be viewed as the best countries to live in based on a series of factors such as universal healthcare, quality education, job security, cultural diversity, low air pollution, average income, affordable housing, active lifestyle, among others. European countries dominate the list. More specifically, Northern Europe, followed by Western Europe and the rest of the European Union are quite strong contenders for the best country to live in the world.
Which country is best to start a life?
The best country to start a life really depends on your own definition of 'the best life'. However, Sweden, Denmark, and Canada with their impressive rankings on various global reports such as the Human Development Index, Social Progress Index, and Quality-of-Life Index, can be considered the best place to start a new life.
What is the nicest country in the world?
The "nicest" country depends on what you value most. If you love natural beauty, New Zealand or Iceland might be for you. If education, family life, and happiness are key, Finland could be the choice. For excellent social care and public services, Finland, Norway, Switzerland, Portugal, or Ireland might be the nicest, especially for global entrepreneurs.
What is the safest country in North America?
Canada takes the crown as the safest country, as well as the best country in North America, ranking 12th in the Global Peace Index with a score of 1.389. The country is known for political stability, low crime rates, and amicable relations with neighbors.
Are the best countries to live in the happiest countries in the world?
Happiness in a country is a complex measurement. The United Nations and World Economic Forum have been surveying global happiness for many years. Studies such as the World Happiness Report take in to account many factors, such as gender equality, religious freedom, and income equality, in assessing the overall happiness and quality of life in a country. Generally speaking, the countries topping the list tend to have a friendly and welcoming environment for both expatriates and tourists alike.
What is Human Development Index?
The Human Development Index (HDI) is a summary measure of human development based on health, education, and living standards. It calculates the geometric mean of normalized indices for these three dimensions.
What is the best country to live in in Europe?
Spain holds the distinguished title of being the best country for expats in Europe in 2023, and it is ranked as the second best globally. Since the initiation of the InterNations survey in 2014, Spain has steadfastly remained in the top ten for its commendable quality of life. When we talk about leisure, Spain reigns supreme worldwide. A remarkable 88% of expatriates express contentment with Spain's rich culture and vibrant nightlife, a sentiment that stands well above the global average of 68%.
Which is the best place to settle in the world?
The world offers a wide range of captivating cities that deserve to be called home. As per a recent report, here's a list of cities that have carved a niche for themselves as the best places to live:
Geneva, Switzerland (tied with Calgary)
Calgary, Canada (tied with Geneva)
Zurich, Switzerland
Vancouver, Canada
Sydney, Australia
Melbourne, Australia
Copenhagen, Denmark
Vienna, Austria
Each city on this list presents its own unique blend of culture, amenities, and opportunities, making them ideal for settling down.
What country has the best future?
Peering into the future of nations and judging them based on macroeconomic growth indicators and their focus on citizens, the 2022 Frost Radar™ for Economic Development has highlighted the United States, Norway, and the United Kingdom as frontrunners. These three nations exhibit immense growth potential, pointing towards a promising future for their residents.
Which country to move to start over?
Starting anew is a deeply personal journey, and the ideal destination can vary based on individual aspirations. If business prospects are at the forefront of your considerations, Luxembourg stands out as a prime choice. However, for those highly qualified professionals seeking unparalleled income opportunities, Switzerland emerges as the beacon of financial prosperity.