Digital Quality of Life Index
The 2021 edition of Surfshark's annual Digital Quality of Life (DQL) Index is now out. This year's survey covers 90 percent of the worldwide population and indexes 110 countries throughout the world. The research, now in its third edition, ranks countries based on five pillars: internet quality, internet affordability, e-infrastructure, e-government, and e-security.
The new overall top ten has changed significantly since Denmark took the top spot in the index for the second year in a row. South Korea, a newcomer to the index, is in second place, just ahead of Finland and Israel. At the same time, with significant improvements in internet quality and e-infrastructure, the United States has moved up to the fifth place (from 22nd last year).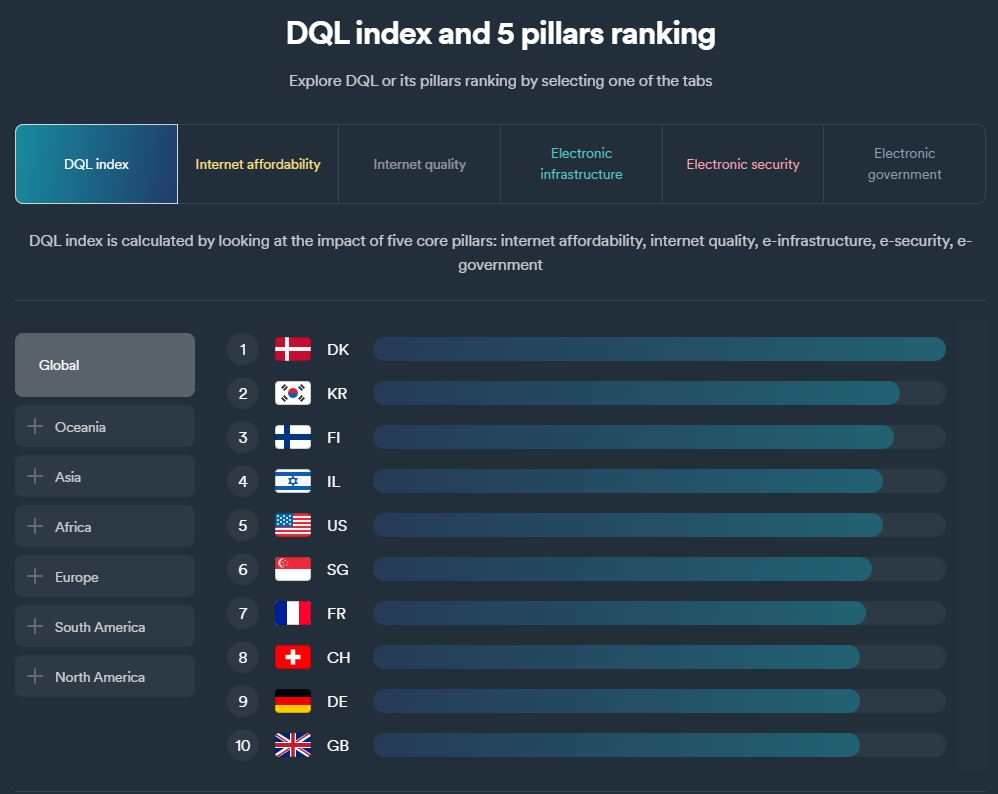 Europe Dominates the Top Ten
Six European countries dominate the top ten countries in the DQL Index for 2021. Apart from the United States, which leads in the Americas, and South Korea, which leads in Asia, people in South Africa and Australia have the highest quality digital lives on their respective continents.
In the Americas, the United States stands out as the country with the highest digital quality of life, while in Asia, South Korea takes the lead. People in South Africa have the highest satisfaction with their digital lives in Africa, while Australia leads Oceania, outperforming New Zealand in various digital areas.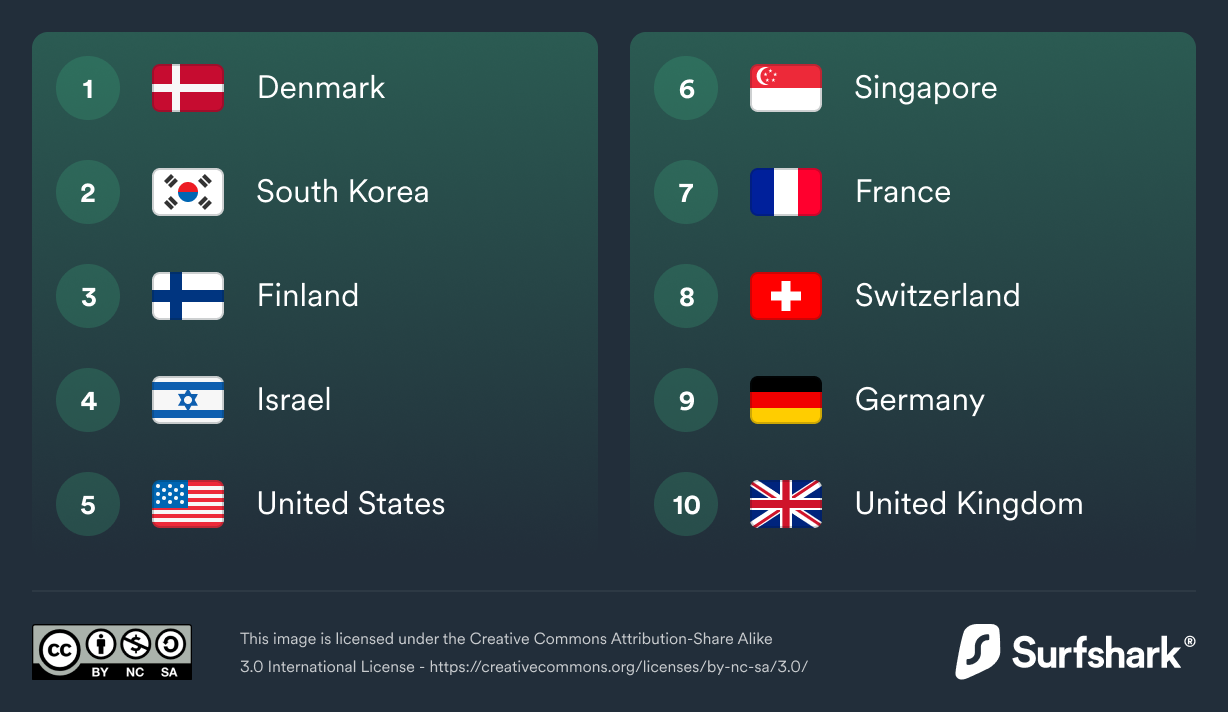 Broadband Is Getting More Expensive
According to the report's findings, people have to work 11 percent longer (25 minutes more) in 2021 to afford broadband internet. However, they have to work 29% less (28 minutes less) to be able to afford mobile internet.
The world's worst internet is also the most expensive. In some countries, such as Nigeria, Côte d'Ivoire, and Mali, a week's worth of labor is required to afford the internet.
The most effective way to improve people's digital well-being is to invest in electronic infrastructure and electronic government.
The Five Pillars of the Digital Quality of Life Index
Internet quality
Measuring the stability, speed, and YoY growth of online connections
Internet affordability
Working hours required to pay for broadband and mobile internet
E-infrastructure
Percentage of internet users per country and network readiness
E-security
Ability to tackle cybercrime and status of data protection laws
E-government
Roll out of online government services, plus AI readiness

The DQL research for 2021 looked at a total population of more than 6.9 billion people using five core pillars and 14 supporting indicators to create a comprehensive assessment. The report is based on open-source data from the UN, the World Bank, Freedom House, the International Communications Union, and other organizations.
Reference: Surfshark
Conclusion
Before you start your journey as a digital nomad, checking the country's ranking is going to be very practical for you, as digital quality is an important part of a digital nomad's life. What else is important? Make sure you check out our Digital Nomad Guide before you begin your adventure.