Visa E Gift Card: The Ultimate Guide
Ever heard of Visa e-Gift Cards? They're like traditional gift cards, but digital. So, they are convenient to send and receive. Now, if you were lucky enough to receive one or are thinking gifting one to a friend, you might be wondering how this whole e-Gift Card thing actually works, and where you can put it to good use.
In this guide, we'll walk you through everything you need to know about buying and using a Visa e-Gift Card. Let's go!
What Is a Visa e-Gift Card?
Welcome to the world of e-Gift Cards. These are digital versions of traditional gift cards that are emailed to the recipient. The email includes a unique code, which the recipient can use to shop for their desired items.
The sender too gets a confirmation email when the e-gift card is dispatched, making the whole process incredibly transparent and convenient. Just like the regular gift cards, the sender decides the amount to be loaded onto the e-gift card, which then the recipient can spend at the associated retailers.
A Visa e-Gift Card is basically the e-Gift cards that are generated by the global digital payment technology company Visa. As it is one of the two major card companies in the world, it makes Visa e-Gift Cards widely accepted in most merchants online.
🎁  You can purchase Visa e-gift cards online from retailers such as Amazon, Walmart or many others.
How Do You Use a Visa e-Gift Card?
Using a Visa e-Gift card is super easy! When you receive one, it comes with a unique code and a PIN. These two are your gateway to some exciting shopping.
To make sure that you always have the details handy, save the e-gift card email and jot down the code somewhere safe. This way, you won't risk losing track of it.
How Do Visa e-Gift Cards Work?
The workings of a Visa e-Gift card is a straightforward process. Decide on the type of Visa e-Gift card you want and the amount you wish to load on it.
Fill in your payment details and the recipient's email address, and voila! The e-gift card is on its way.
But before the recipient shops away, reviewing the terms and conditions of the e-gift card is essential, as different stores have different policies.
When you're shopping, use the "gift card" option for payment at checkout, enter the e-Gift card code and PIN, and you're good to go.
Plus, you'll see the remaining balance on your card after every purchase, so you always know how much more you can spend.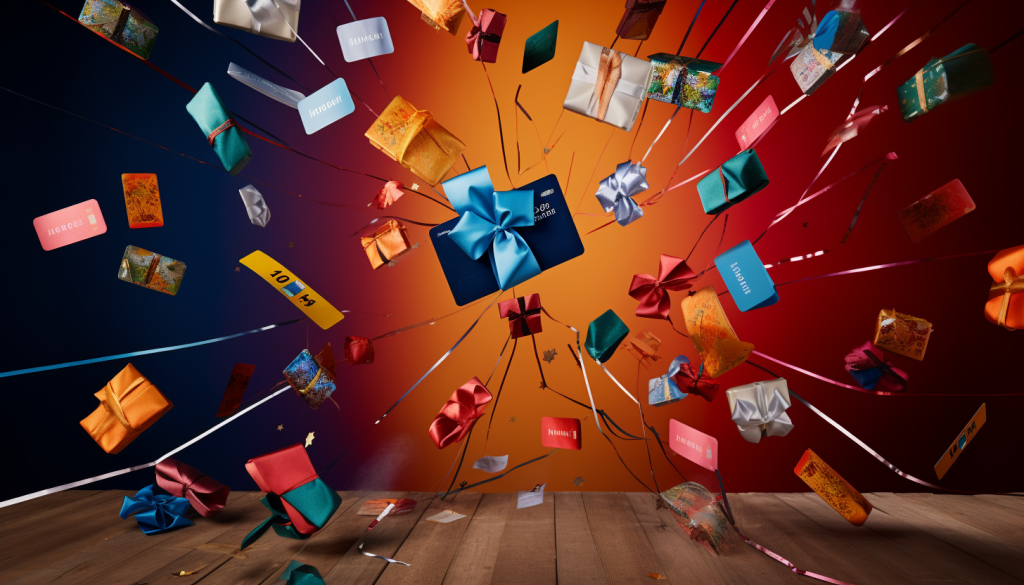 What's the Difference Between an e-Gift Card and a Gift Card?
The difference between an e-Gift Card (or an eCard) and a Gift card lies in their existence – while a gift card is a physical card, an e-gift card lives in your email. Besides their form, both are almost identical.
However, an e-gift card offers the added convenience of not having to keep track of a physical card.
When choosing between the two, do consider the retailer's gift card policies. While many stores accept e-Gift cards both in-person and virtually, some restrict their use to online purchases only.
How Do You Buy and Send a Visa e-Gift Card?
The process of buying and sending a Visa e-Gift card is as smooth as silk. For instance, if you're purchasing an Amazon e-Gift card, visit the Amazon gift card site to start the process.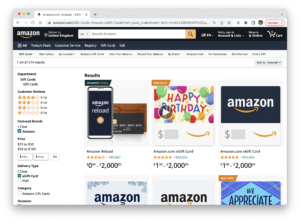 Then choose a type and image for the e-gift card, pick a value, fill in the sender's and recipient's details, and add a warm note. You can even schedule the delivery for a specific date – say a birthday or holiday. Once all details are filled in, proceed to payment and voila! Your e-gift card is ready to be dispatched.
How To Use a Visa e-Gift Card at a Restaurant or at a Store
There are a few ways to use an e-Gift card at a restaurant or a store.
You can print out the e-gift card email, write down the code and PIN, or simply show the information on your smartphone.
Easy, isn't it? Well, it's always a good practice not to assume and ask the restaurant or the store if they accept e-Gift cards. Although most will welcome them, some don't.
Benefits of e-Gift Cards
The convenience of e-Gift cards makes them a perfect gift for online shoppers. They streamline the checkout process and eliminate the risk of losing a physical card.
Visa e-gift cards, as they are associated with the credit card company Visa, can be used universally. This is a great option when you want to gift someone cash that they can spend while shopping online internationally.
Are e-Gift Cards Safe?
Visa e-Gift cards are as safe as any other digital transaction. It's crucial to only deal with trusted websites that have good consumer protection reviews. Buying from shady websites or unfamiliar companies can lead to fraudulent activities, so it's always better to be safe than sorry.
Does a Visa e-Gift Card Expire?
Before buying an e-Gift card, check the company's expiration policies. Some e-gift cards are like the evergreen tree – they never expire. However, others may come with a one-year validity. So, it's good to know the rules of the game beforehand.
Can You Forward a Visa e-Gift Card?
Yes, you can forward Visa e-gift card emails. This can be handy when you want to share the gift card code with a family member or make the gift-giving experience more personalized.
The Wrap Up
A Visa e-Gift Card is the perfect mix of convenience and thoughtfulness. With minimum effort required to buy and send one, it's the perfect gift for any occasion. Happy gifting!
For more insights, you can also refer to our article on International Gift Cards.
Frequently Asked Questions
Can you use a Visa e-Gift Card online?
Yes, you can use a Visa e-gift card for online shopping, just like a regular credit card. It works anywhere that accepts Visa.