Portugal for Digital Nomads: The Definitive Guide 2023
Capital: Lisbon
Population: 10.3 million 
Language: Portuguese
Climate: Mediterranean
Currency: Euro
EU membership: Yes
There is something magical in this European country. A vast diversity of landscapes, sandy beaches, lush mountains, and vibrant cities are all the eyes from a distance range. Imagine how pleasant it would be to call Portugal your second home! Well, many digital nomads throughout the EU and across the globe have already chosen this country as their workplace.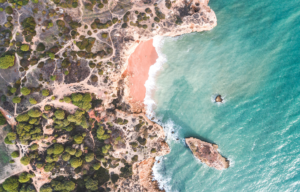 So, if you are a digital nomad too, who still can't figure out which is the ideal country to work from, 'Portugal' is your answer.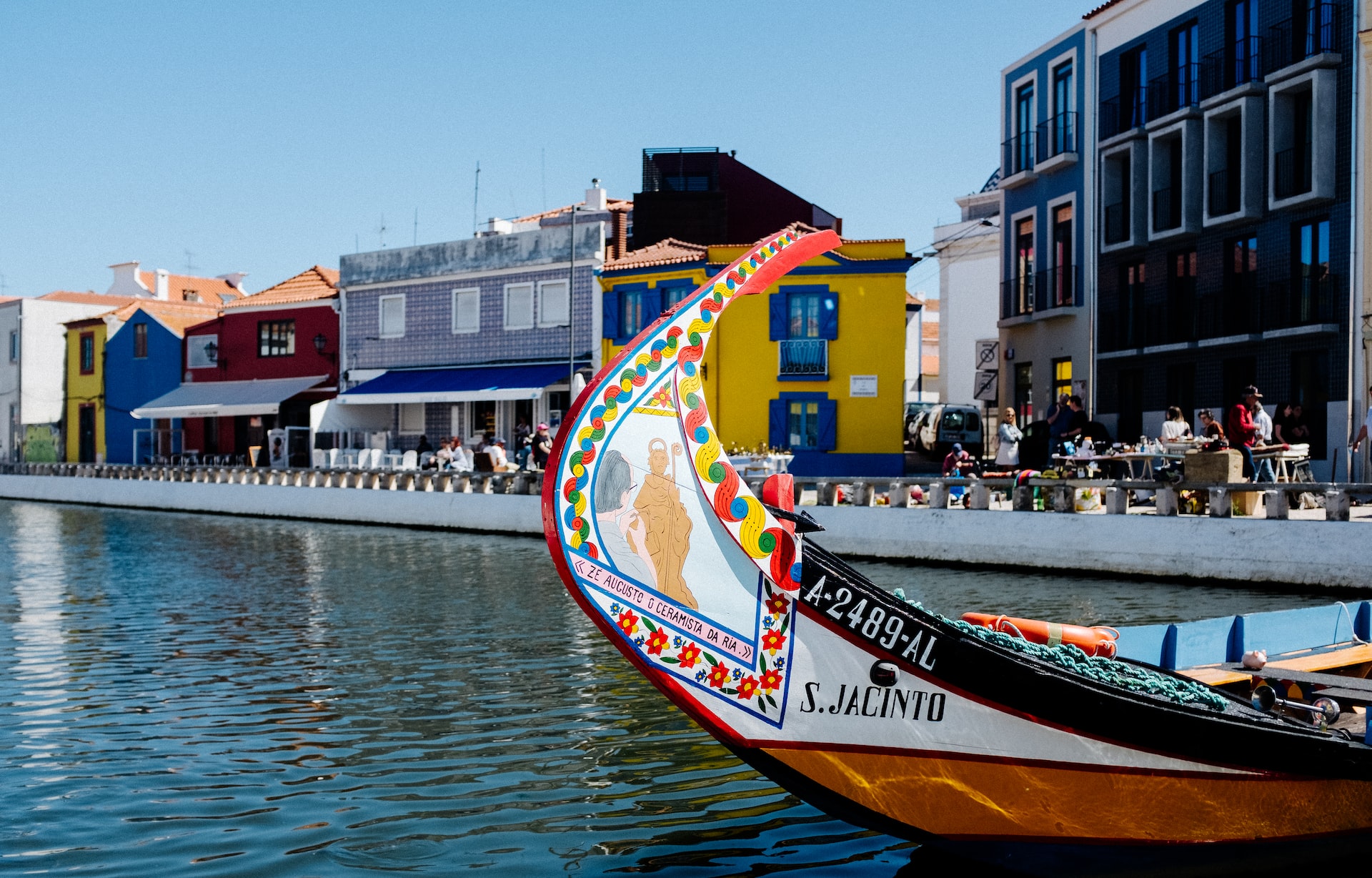 Portugal is a safe and expat-friendly nation and has become one of the most preferred destinations for digital nomads. It offers everything that a person seeks while working in a foreign country. Good internet connection, close to nature, curious and delicious food, lovely weather, exciting culture, and cheap rent! 
Therefore, we've prepared this definitive guide where you will know everything you need before moving abroad. For instance, places to live and work, how are the banking and transportation system, and every other query you have.
This article includes:
…and a lot more! So, without any delay, let's dive into the details.
Places To Live: Accommodation in Portugal
Undoubtedly, finding accommodation is the greatest challenge that digital nomads face. To find a place in Portugal, you need to decide whether you require a villa, one-room set, two-room set, or Airbnb. Besides, the type of accommodation you choose further depends on whether you are moving alone or with your family. In addition, you must consider one more factor: the location you choose and the availability of a house.
Since you are a digital nomad, the two best types of accommodation are Airbnb and DigitalNomads.pt. Let's have a look at them in detail.
Airbnb
With Portugal becoming one of the significant startup hubs of Europe, Airbnb has come across as the most relevant for remote workers. These are available as modern flats with all amenities that most digital nomads look for.
Tips
Book for one month at a time to ensure that you can adjust there for your entire stay in Portugal.

Do not just agree on the rate quoted by the owner. Negotiate and check whether you can knock down the cost a little. 

Lastly, book early. Since Airbnb's the most preferred choice of digital nomads, they get booked instantly after someone has vacated or during the summer months.
DigitalNomads.pt
DigitalNomads.pt is an online portal that has been created by digital nomads only. They are available in a vast variety ranging from beach-view flats to inner-city apartments in the capital. Since these are made explicitly for remote workers, all needs like fast internet, attractive neighborhoods, comfy beds are well taken care of. 
Apart from these, you have options like villas, apartments, beach houses, etc. 
Coliving Spaces
Coliving spaces are ideal if you're ready to share your space with others who share your interests. The benefit of coliving spaces is that the total cost is shared by all parties, allowing for relatively low accommodation costs. Having said that, there are numerous coliving space options available in Portugal. 
You can expect to pay more if you choose to live in more luxurious accommodations.
Serviced Apartments
A serviced apartment is a fully furnished apartment in which you can stay for either a short or long period of time. You can have all kinds of accommodation amenities and feel like you're staying at your place simply by paying the rent.
All of the included amenities, such as a kitchen and furniture, as well as the fact that it has more square meters than standard hotel rooms, will make you feel as if you are living there rather than traveling. Depending on your preferred package, you may also be able to use a housekeeping service in a serviced apartment.
It is advised that the expats moving to Portugal must start researching for accommodation before they arrive in the country.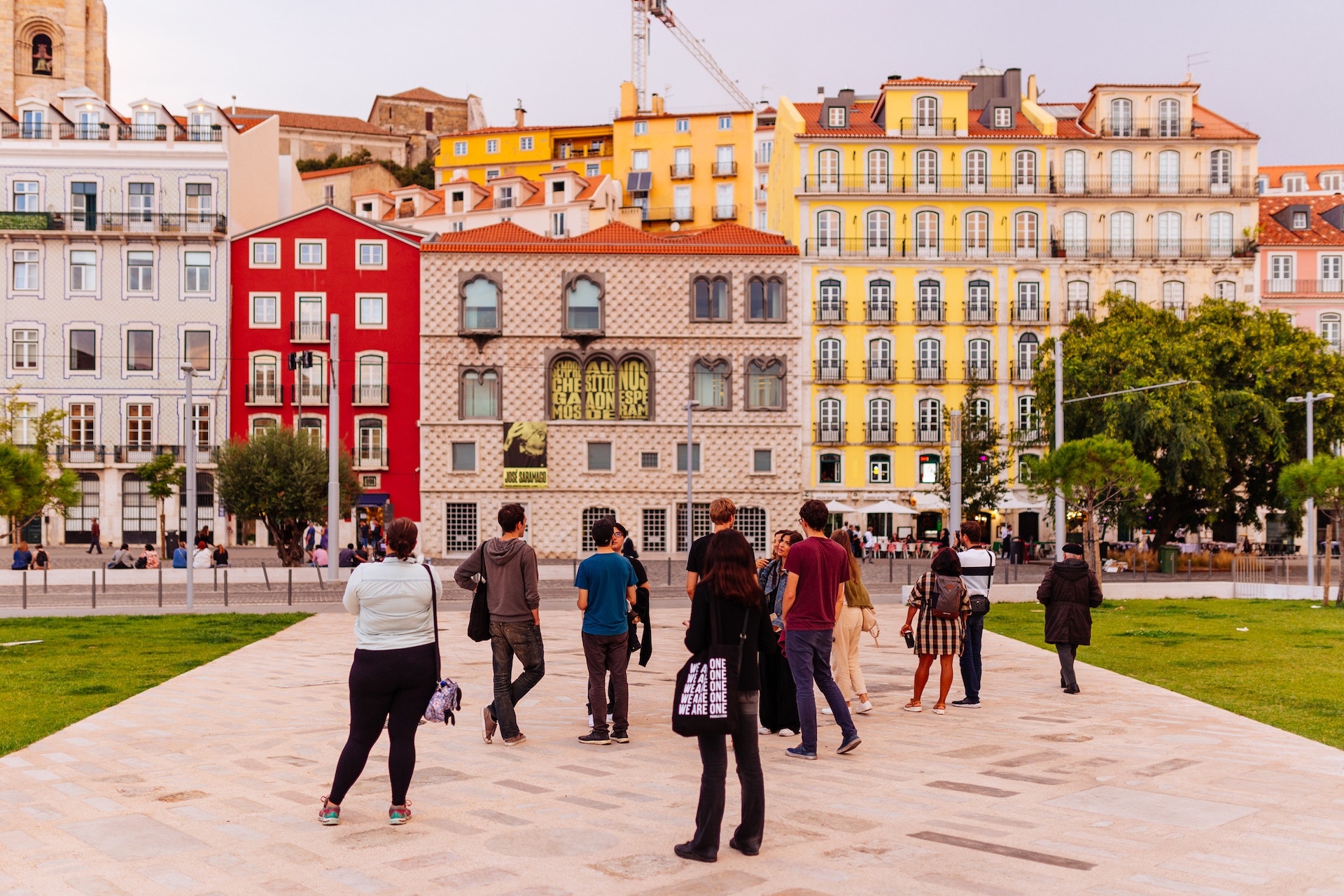 Places To Work: Coworking in Portugal
Portugal has become an attractive destination for remote workers, with its thriving business scene and growing number of co-working spaces. The cities of Porto, Lisbon, and Peniche, among others, offer a wide range of co-working options for those who are seeking a change of pace from their home office. Portugal's pleasant climate, stunning landscapes, and friendly local culture also make it an appealing destination for remote workers. Whether you're looking for a dedicated work environment, a vibrant community of like-minded individuals, or just a comfortable place to get some work done, you're sure to find what you need in one of Portugal's many co-working spaces. With its favorable conditions and supportive community, working in Portugal is truly a rewarding experience.
Here are some of the best coworking offices in the country.
Porto i/o
Porto i/o in Porto is a great way to meet and socialize with other digital nomads in the north of the city. The offices are situated at four locations: Douro Riverside, downtown, Santa Catarina, and the last one on the seaside. Being a creative coworking spot, they organize regular lectures, workshops, and talks.
Liberdade229
This one is a significant coworking spot in central Lisbon. Besides, the offices are spacious and reflect plenty of natural light. These also feature a communal kitchen along with posh and hygienic bathrooms.
Largo
Largo is located in a quiet area of the Peniche and is the only co-work hub in the district. The office is friendly, affordable, and provides all necessities for working.
Ocupa Cowork
If you wish to work from a place near the river channels, adequate sunlight, and coffee, Ocupa can be your office. This place also allows you to form networks and grow your business from a professional space.
Factory Braga
Factory Braga is a modern and functional coworking space. You can work sitting in work pods, communal workspaces, or casually in their lounge area. In addition, you get access to amenities like free use of meeting rooms, Nintendo Wii, ping pong, and other perks.
Apart from these, there are other coworking offices spread all across the country. To list a few more, there is Avila Spaces in Lisbon, Base Cowork in Leiria, Typographia in Porto, and many more.
Research a little more about them and get an idea of what your new office will look like.
Places To Meet: Networking in Portugal
There are many networking groups, centers, and professional associations dedicated to digital nomads. You can find out more about it if you refer to Portuguese business magazines and journals. Besides, some influential business groups like the Business Association of Portugal and the Confederation of Portuguese Business are great for expats to meet each other and form networks. 
Moreover, several meet-ups and events are organized for digital nomads to network in a particular industry. Besides, there are various community lunches and drinks hosted where the members connect through Facebook groups. 
Digital Banking in Portugal
Digital nomads planning to move to Portugal are advised to register with one of the country's international banks. It has an advanced banking system that includes one of the most advanced interbank networks globally through Multibanco. Considering the requirements of an expat, there are now mobile banks in Portugal too. One can open his bank account using his mobile or laptop. The important digital banks are bunq, N26, and Revolut. One significant benefit of using these accounts is instant updates to your banking data and access to your funds, 24 hours a day. 
How can you access mobile banking in Portugal?
If you already have a physical bank account in one of the Portuguese banks, then all you have to do is download the mobile app. Provided that your bank offers this facility, just register on the app, and you can have digital access to your account.
You require only the standard details for digital banking like the full name, date of birth, address, mobile number, and email address. Also, you will be asked for quick identity verification. In some cases, the banks may even video call you to authenticate your passport or identification card.
Transportation in Portugal
Portugal boasts a highly efficient transportation system, making it easy for travelers to navigate the country. The various towns and cities within Portugal are well connected, allowing for seamless and cost-effective transportation options. Whether you prefer to take a train, bus, or even ride-share, getting around Portugal has never been easier or more convenient. Additionally, the affordability of transportation options ensures that you can enjoy all that Portugal has to offer without breaking the bank. With its well-developed transportation infrastructure, Portugal is a great choice for those who want to make the most of their travels.
Airports
The three major international airports in Portugal are situated in Lisbon, Porto, and Faro. Moreover, the New Lisbon Airport will make it even easier to get to Portugal from anywhere in the world. Apart from this, many cities also have domestic airports, which make traveling from one town to another easy.
Bus services
Bus services in Portugal include both regional and local buses. These buses run frequently and provide services between Portuguese cities covering all main towns and local destinations. You will get other bus-related information if you contact the service providers and companies.
Trains
There is a big train network covering the whole of the country with regional, inter-regional, and suburban trains. 
Taxi Services
It is reasonably easy to get a taxi in Portugal. The charges in the cities are usually calculated by the taximeter. However, for longer distances, they charge on a per-kilometer basis. Also, note that after 10 pm and until 6 am, charges increase by approximately 20%. It is common to tip about 10% of the fare.
Food and Groceries in Portugal
You can buy all the essential groceries, including dairy products, fruits, vegetables, fish, and meat, without creating a hole in your pocket.  While shopping from the supermarkets you are likely to find many discount offers, sometimes even up to 50% off. Almost all supermarket chains give discount cards to loyal customers. Pingo Doce, SPAR, Continente are some of the preferred supermarket chains that operate on regular hours and weekends as well.
In addition, Portuguese food is worth dying for and the cherry on the cake, is affordable. Whether you are dining out or getting it delivered, you can munch on your favorite delicacies at cheap rates. Moreover, the seafood and the street food are mouthwatering!
Not just the Portuguese food, but considering the number of digital nomads in the country from all across the globe, there are chains of restaurants offering continental food. 
If you plan a dinner for two people at an Italian restaurant that includes appetizers, a main course, wine, and dessert, it will cost you around €41.
Laundry in Portugal
The best way to do your laundry is to opt for Airbnb which already has a washing machine. It's not necessary that you stay in an Airbnb for the whole trip, but it would help if you booked it for two days/nights every week. Moreover, you are required to buy your detergent.

Choose hotels that offer laundry services to the guests. However, it can be ridiculously expensive.

There are several self-service launderettes all across the country. You can search for the nearest ones by simply googling on your phone. 
Charges for 30 minutes self launderettes are: 
Light wash at 20°C- €3 

Wash at 30°C- €4 

Wash at 45°C- €4.50 

Wash at 60°C- €5 

The cheapest option is to wash the clothes in the sink. You can buy laundry soap from any supermarket and easily wash them. (Note that they may take a bit longer to dry).
Leisure and Lifestyle in Portugal
Of course, one cannot just keep working and studying for the entire duration while in Portugal. This vibrant country has a lot more to offer to people who love to spend time with family and friends. Since the country is not so expensive, you can easily plan your outings, short trips, and club parties. 
Nightlife in Portugal
While in Portugal, do not forget to make the most of the country's fantastic nightlife. The Algarve and Lisbon are known for their upscale nightlife and luxury hotels. There is something for all in the country, ranging from romantic bars to stag-themed party venues and beach clubs. 
The Algarve is also famous for its vibrant student-themed nightlife. Many bars in Lisbon remain open till 3 a.m., and many discs are open till 6 a.m. You can experience the bohemian Portugal nightlife in Porto.
Outdoors Activities
For adventure lovers who usually seek outdoor activities can go hiking, rock climbing, bouldering, kayaking, trail running, camping, and more. This way, you can discover the country's real beauty that lies amidst the landscapes, deep waters, and cozy towns. Moreover, people into sports can opt for golf, tennis, and even horseback riding.
Indoors Activities
If you are looking for a casual outdoor hangout, you can head to the country's marvelous museums, like the Tile Museum in Lisbon. Or, maybe go shopping on the pedestrian walkway, Rua Catarina, in Porto. Moreover, there are many zoos and aquariums to explore. 
And yes! Do take a beverage break at the Belle Époque Café Majestic.
Moreover, the cost of two tickets to the theater (best available seats) is €40.
Internet Connection: Wifi Speed in Portugal
Portugal ranks seventeenth in the list of countries that have the fastest internet connection in the world. The access speed of the internet is 34.5 megabits per second. Some of the well-known internet service providers are NOS, Meo, ARTelecom, and NOWO. 
To be able to subscribe to the internet package, the person has to be a resident first. It is also advised that you open a bank account to avoid high fees in some deals. Moreover, these services are provided on a minimum-term contract basis. 
High-speed broadband packages are available in Lisbon or Porto.
Apart from the internet connection, there is an extensive network of wifi hotspots spread across the country. You can find these at hotels, football stadiums, green public spaces, and airports. Besides, if you have just moved to the country and do not intend to subscribe to a connection, mobile internet is a great alternative.
Cost of Living in Portugal
The affordable cost of living in Portugal is one of the biggest draws for digital nomads looking to work remotely in this beautiful country. With the lowest cost of living in all of Western Europe, Portugal is a highly attractive destination for those looking to live comfortably while keeping their expenses low. Whether you choose to live in one of the country's charming interior towns or in a bustling city like Porto or Lisbon, you can expect to pay about $1,700 per month for all your basic needs, including accommodation and groceries. Additionally, bills are typically paid only once every two months, making budgeting and financial planning a breeze. Whether you are looking to save money or simply enjoy a high quality of life, Portugal is an excellent choice for remote workers.
The average monthly cost of living for a family of four is estimated at €2,833
The average monthly cost of living for a single person is estimated at €1,423
Cost of Accommodation in Portugal
Average monthly rent for 85 m2 (900 sqft) furnished accommodation
| | |
| --- | --- |
| In an expensive area | €1,136 |
| In a normal area | €741 |
| Utilities (electricity, gas etc.) | €118 |
Average monthly rent for a 45 m2 (480 sq ft) furnished studio
| | |
| --- | --- |
| In an expensive area | €743 |
| In a normal area | €501 |
| Utilities (electricity, gas etc.) | €87 |
Cost of Transportation in Portugal
Since Portugal has a developed transportation system, it is fairly easy to travel from one place to another. Almost all the cities and towns are well-connected.
| | |
| --- | --- |
| One-way Ticket by a Local Transport | €1.60  |
| Monthly pass | €40 |
| Taxi 1km (Normal Tariff) | €0.50  |
| Taxi 1 hour (Normal Tariff) | €15  |
| Volkswagen golf 1.4 tsi 150 cv (or equivalent), with no extras, new | €25,997  |
So, say, a four-hour bus from Lisbon to the Algarve will cost you around €18. 
Digital Nomad Portugal: Best Cities
Another critical question that arises in the mind of a digital nomad is which is the perfect city in the country to work from. So, here's a list of a few cities you can count on.
1.Lisbon
2.Porto
3.Braga
4.Madeira
5. Aveiro
Lisbon
Considering a range of factors, Lisbon ranks first in the list of digital nomads migrating to Portugal. Besides, after the coronavirus pandemic that compelled all of us to work remotely, Lisbon has been filled with co-working hubs. This means it offers good internet facilities and tons of job opportunities. 
The city is also known for its creative atmosphere, and its rich history and culture offer plenty of opportunities for inspiration and relaxation. Additionally, Lisbon is well-connected with a reliable public transportation system, making it easy to get around and explore the city. With its beautiful beaches and stunning coastal views, you'll never run out of opportunities to take a break from work and enjoy the city's natural beauty.
Compared to other European capitals, Lisbon is cheap for accommodation, food, and other leisure activities.
The average rent of a one-bedroom apartment ranges between €638.41  and €829.44.
The average rent of a three-bedroom apartment ranges between €1,028.20 € and €1,515.36.
Other essential utilities may cost around €140.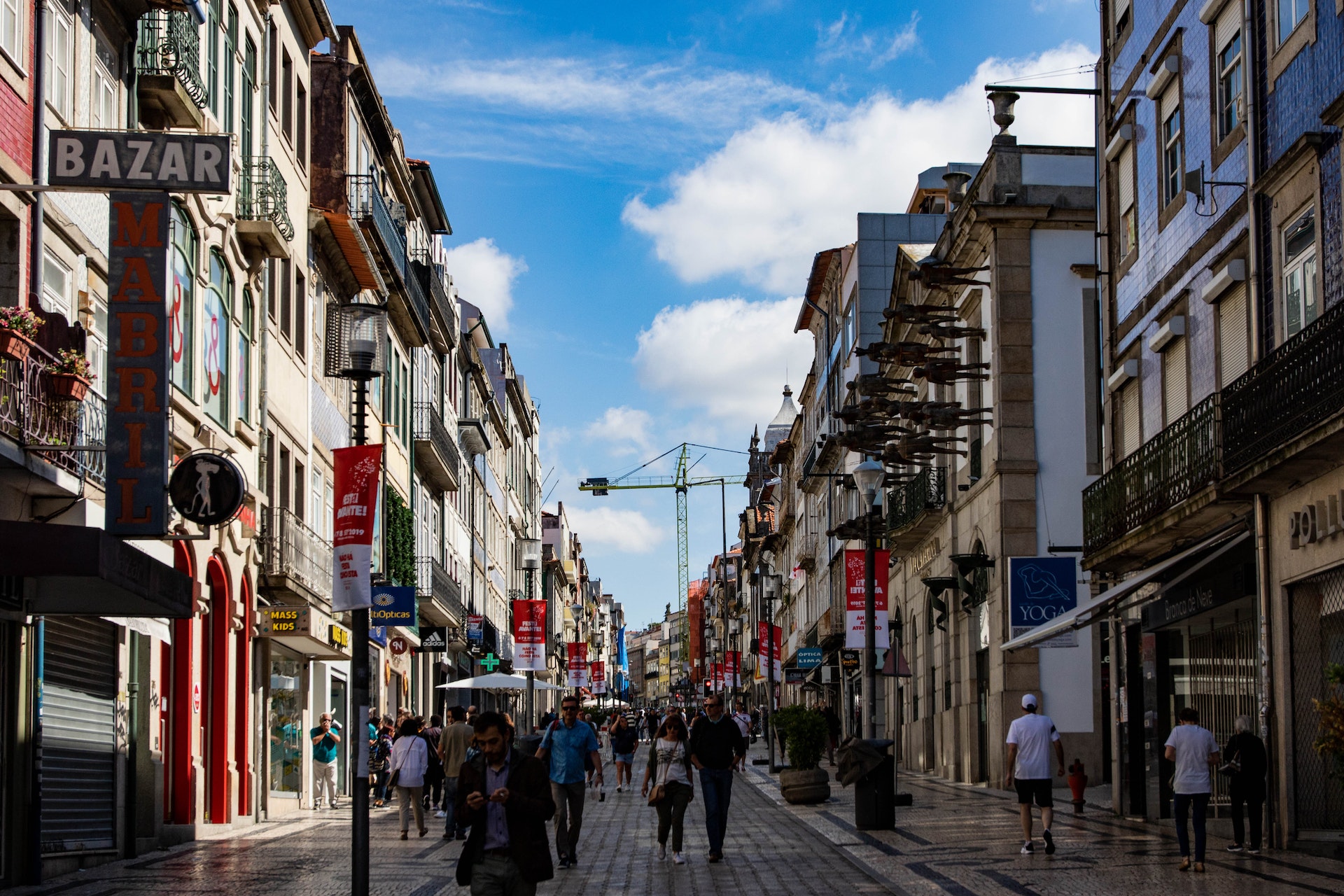 Porto
The second-largest city in Portugal, Porto, has often been overlooked by digital and tech nomads until the last couple of years when it started to become popular among entrepreneurs and remote workers. The town lies on the banks of the river Douro and has ranked as the second preference of immigrants after Lisbon.
Porto is known for its stunning architecture, including the iconic Ribeira district and the famous Porto wine cellars. Its location on the coast means that digital nomads can enjoy mesmerizing views of the Atlantic Ocean while working and take advantage of the city's many beaches and outdoor activities in their downtime. The low cost of living in Porto is another major draw for digital nomads, as it allows them to enjoy the city's many cultural attractions and delicious food without breaking the bank.
Moreover, you will love the famous port wine, local gastronomy, and colorful streets. It also has an excellent healthcare system, which is a great advantage.
The average rent of a one-bedroom apartment ranges between

€

517.00 and €693.87.
The average rent of a three-bedroom apartment ranges between €870.00 and €1,200.69.
Other essential utilities may cost around €140 to €150.
Braga
After Lisbon and Porto, Braga is an excellent option for those seeking a cheaper After Lisbon and Porto, Braga is an excellent option for those seeking a cheaper and smaller city to live in. It blends its prosperous history with vivid nightlife. It's also home to the oldest cathedrals in Portugal, which appeals to those who have nostalgic souls. Moreover, with its proximity to the Atlantic coast and the Serra do Gerês National Park, Braga is an ideal destination for outdoor lovers as well. 
The cost of living in Braga is relatively low compared to other European and major Portuguese cities, making it an accessible destination for digital nomads on a budget.
To sum it up clearly: only a thirty-minute drive to the beach, fifteen minutes to the mountains, and forty minutes from Spain: what's there not to like about Braga?
The average rent for a one-bedroom apartment ranges between €487 and €604 

The average rent for a three-bedroom apartment ranges between €725 and €1,000

Other essential utilities may cost around €120 to €130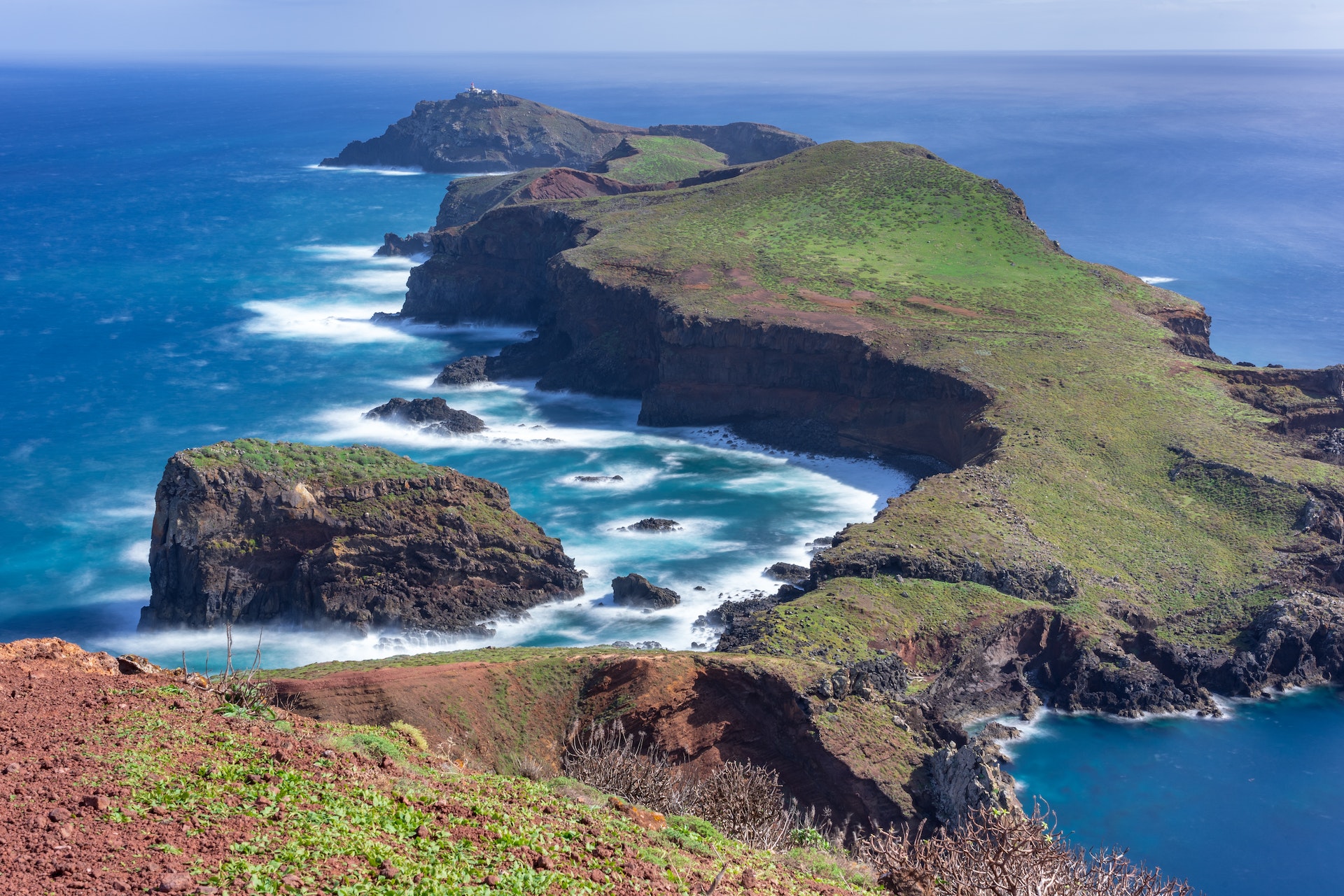 Madeira
This autonomous Portuguese island is becoming increasingly popular among the digital nomads in Portugal. Especially for those who wanted to experience island life in the country. With its warm and sunny climate, stunning natural beauty, and laid-back lifestyle, Madeira is an ideal destination for those looking for a change of pace. The island swarms with greenery–including the famous Madeira Botanical Garden–and its dramatic coastline, with cliffs and hidden beaches that bestow breathtaking views. Madeira is also an excellent destination for outdoor enthusiasts with its many hiking trails and crystal clear waters.
Funchal is one of the significant cities on the island, which has warm-cozy weather all year round. If you're a digital nomad in Madeira, you will find a large community of people speaking English.
The average rent for a one-bedroom apartment in Funchal ranges between €616 and €835

The average rent for a three-bedroom apartment in Funchal ranges between €1,000 and €1,241

Other essential utilities in Funchal may cost around €100 to €110
Aveiro
Aveiro, a city in central Portugal, is a hidden gem for digital nomads. With its charming canals and unique architecture, the city is often referred to as the Venice of Portugal. If you wish to live near Porto, Aveiro can be your ideal destination. It is an authentic Portuguese city famous for its rich history, culture, and charm. 
Aveiro offers a high quality of life. The students and pensioners especially love this place due to its relaxed lifestyle. A downside of Aveiro is that there aren't many English speakers. However, since it's a non-touristy place, you can enjoy the serene silence of nature. 
The average rent of a one-bedroom apartment ranges between €391.67 and €498.21.

The average rent of a three-bedroom apartment ranges between €566.67 and €777.78.

Other essential utilities may cost around €110 to €120.
Top Attractions in Portugal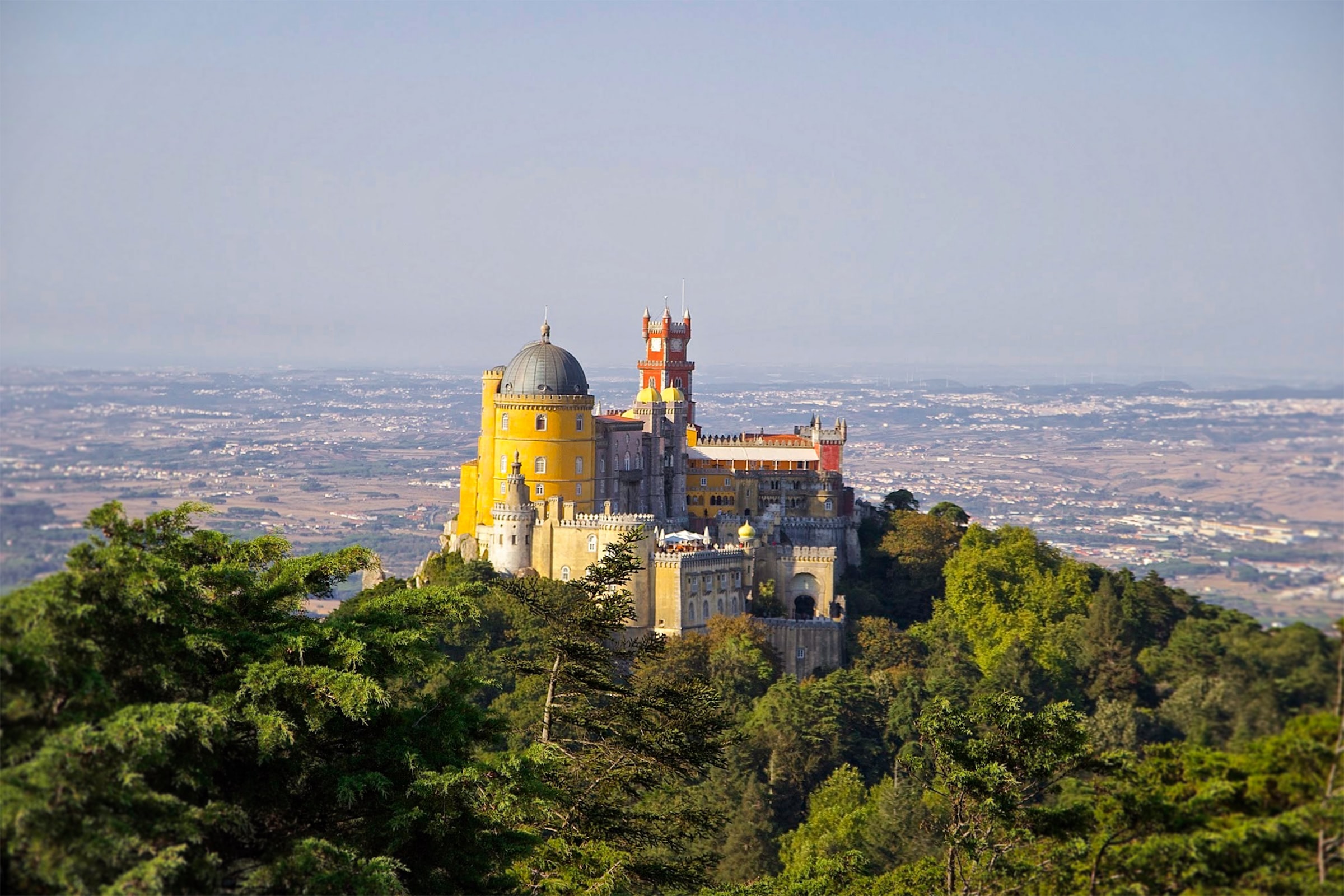 Pena Palace
The abandoned monastery located near Sintra was restored in the 16th century and is now a picturesque castle in the mountain region. It is characterized by its vibrant colors.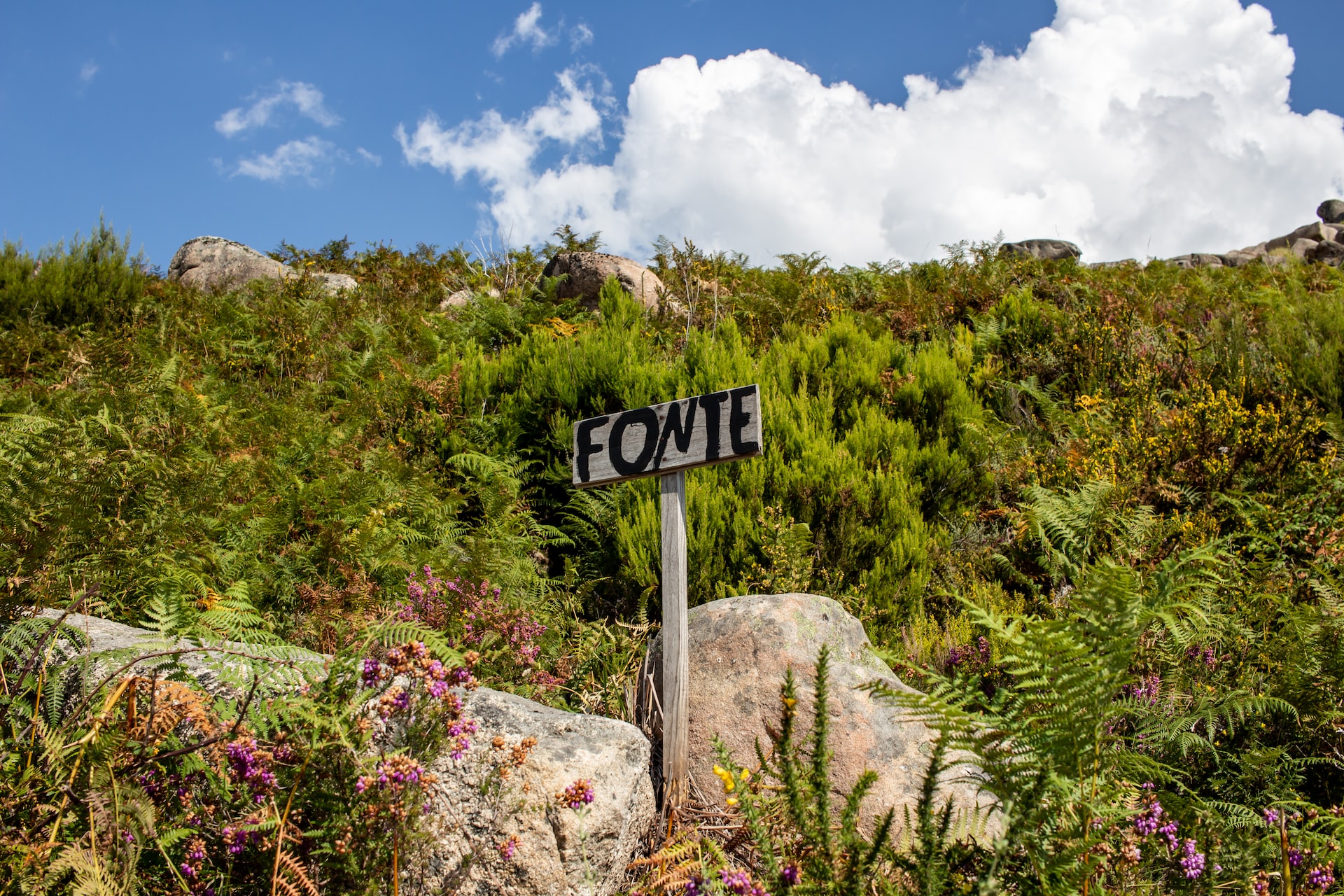 Peneda Jeres National Park
Nestled amidst lush green mountains are pristine lakes and rivers that are home to abundant wildlife including deer and Iberian wolves. This serene location provides the perfect setting for outdoor adventures such as hiking and swimming in cascading waterfalls.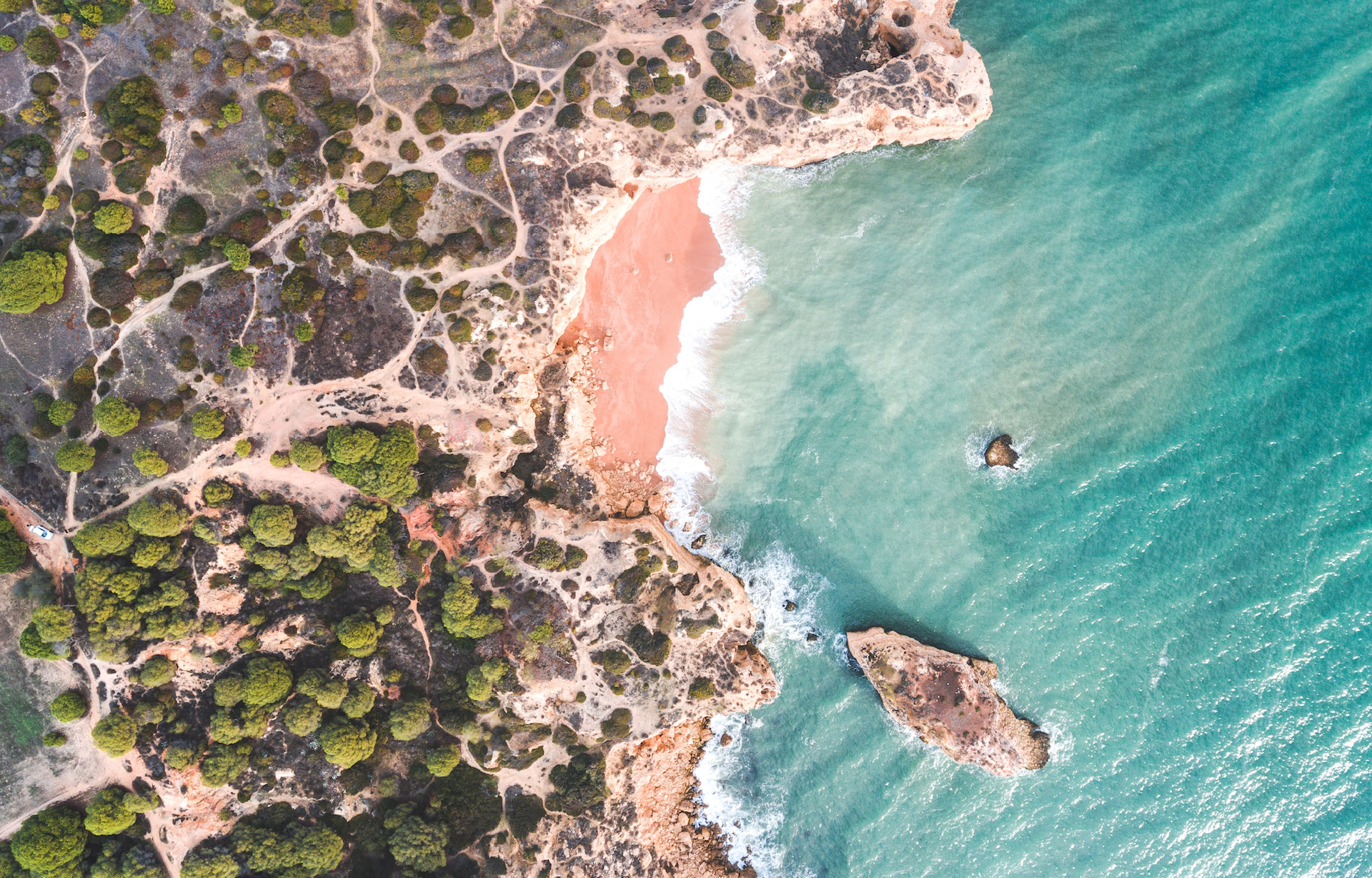 Beaches in Faro
Faro Beach is a must-visit destination for beach-goers, offering pristine sand, turquoise waters, and a variety of water sports and outdoor activities.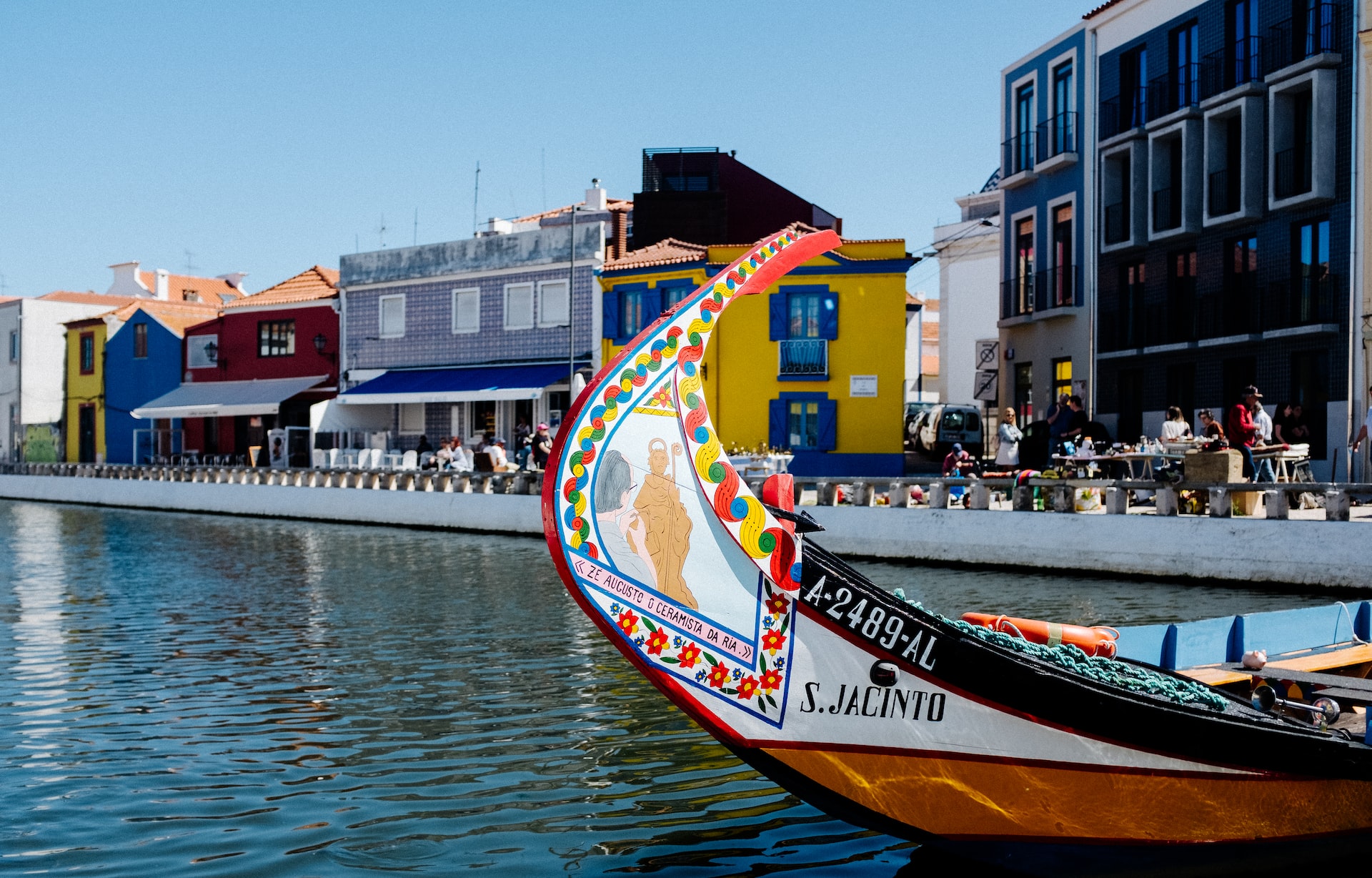 Aveiro
This Portuguese city is reminiscent of Venice, featuring numerous waterways that flow through its streets.
Perks of Working in Portugal as a Digital Nomad
Portugal is the perfect destination for those seeking a balance of work, relaxation, and adventure. Find below the most significant of the numerous  benefits of working in Portugal as a digital nomad:
Affordable Cost of Living
Another major attraction for digital nomads is the affordable cost of living in Portugal, which allows living in the country on a relatively modest budget compared to other European destinations. Furthermore, Portugal's strong and growing economy provides many freelance work and entrepreneurship opportunities. The combination of affordable living costs and a high-quality lifestyle makes Portugal an increasingly popular destination for digital nomads.
High-Speed Internet
Affordable and reliable high-speed internet is a key factor for digital nomads when choosing their next destination: and Portugal has it. The country provides fast and affordable internet access with its well-developed infrastructure. Hence, it's an ideal destination for remote workers. Digital nomads can also effortlessly find coworking spaces and cafes offering fast Wi-Fi. Whether working from a beachfront café or a cozy coworking space, digital nomads in Portugal can enjoy a productive and enjoyable work experience with high-speed internet at their fingertips.
Scenic Landscapes
With its diverse topography of rolling hills, stunning coastlines, breathtaking greenery, and historic cities, Portugal offers a breathtaking environment for remote work. In Portugal, digital nomads can enjoy scenic views that inspire creativity and boost productivity. Moreover, the combination of natural beauty with the mild climate creates a perfect environment for outdoor activities and relaxation: digital nomads in Portugal can easily find opportunities to rejuvenate and connect with nature. 
Friendly Locals
The friendly and welcoming nature of the locals in Portugal is yet another perk of working in the country as a digital nomad. The Portuguese are known for their hospitality, and open-mindedness towards different cultures, which makes Portugal an excellent place for digital nomads to meet new people and establish lasting connections. Digital nomads can easily find support and community in this inclusive atmosphere: both professionally and personally, helping them to feel at home and thrive in their new surroundings. Hence, Portugal proves to be an ideal destination for those seeking a supportive and enjoyable work environment.
Tax Incentives
Another major appeal of working in Portugal as a digital nomad is the tax incentives. The country's Non-Habitual Residence (NHR) regime provides tax benefits for individuals who are not tax residents in Portugal but earn income from sources within the country. This favorable tax regime--combined with Portugal's affordable cost of living and high-quality lifestyle--makes the country the perfect destination for digital nomads. Digital nomads in Portugal can enjoy a high-quality lifestyle while keeping more of their hard-earned income, while the strong and growing economy of the country keeps providing them with new entrepreneurship and freelance work opportunities. 
Productive Environment
Portugal's mild climate, low cost of living, high standard of living, and beautiful landscapes all add up to create a productive environment. With its temperate weather and sunny skies, digital nomads can work comfortably in a relaxed and inspired atmosphere. The affordable cost of living and high standard of life allow digital nomads in Portugal to enjoy a pleasant lifestyle while keeping more of their hard-earned income, paving the way for a healthily balanced work and life experience. 
Access to Co-Working Spaces
Portugal has seen a surge in the number of coworking spaces in recent years, which has created a variety of options for remote workers and entrepreneurs looking for a flexible and productive work environment. These coworking spaces in Portugal offer modern facilities, fast internet, and a supportive community for digital nomads who look to live and work in a beautiful and affordable location.
Cultural Diversity
Another factor that makes Portugal such an attractive digital nomad destination is its rich cultural diversity. The country has a rich history, dating back to the Roman Empire, and carries traces of various cultures it's been influenced by over the centuries, including Moorish, African, and Brazilian. This diversity is reflected in the country's cuisine, architecture, music, and art, making Portugal a culturally prosperous destination that offers countless incredible experiences.
The blend of traditional and modern elements in Portugal creates a unique atmosphere that appeals to remote workers and entrepreneurs: so whether you're looking for vibrant nightlife, a historic city center, or a relaxed beach town, Portugal hands it over to you.
Access to European Markets
Portugal's strategic location and access to European markets make the country a hot spot for business and hence, is a chief attraction to digital nomads. 
Portugal is a member of the European Union and is well-connected to other major European cities. These connections make the country an ideal base for remote workers and entrepreneurs looking to expand their reach in the region. Portugal's modern infrastructure, which provides fast internet and efficient transport links, makes it easy for digital nomads to stay connected and collaborate with clients and partners across the continent. The favorable business environment, supportive government, low tax rates, and growing startup ecosystem in Portugal pave the way for digital nomads to launch or grow their businesses in Europe.
The Not-So-Great Parts of Living in Portugal
Despite the low cost and all the perks of living in Portugal, there are some negatives too. Therefore, if you have decided to move here, you need to be very cautious about certain things. 
1.Crime: Pickpocketing and Bag Snatching
Pickpocketing and bag snatching is one of the most reported crimes in the country. The thieves often use little kids to distract people. Public transportation, airports, and hotel lobbies are the most targeted hotspots as they are crowded and usually full of tourists.
Moreover, anyone carrying a bag must keep it away from public sight if possible, or keep it very close to you. Therefore, make sure that your valuables are appropriately concealed whenever you are in a crowded place.
2. Language Barrier
Portuguese is the official language in Portugal, and although many people do speak English, it may still be difficult for some to communicate in some rural areas.
3.Limited Career Opportunities
Although Portugal has a thriving remote work community, there may be limited career opportunities for those who wish to work in a traditional office setting.
4.Summer Heat
Portugal experiences hot temperatures during the summer months, and while some may find this to be a benefit, others may find it to be too much to handle.
5. Adapting to the Lifestyle

 Portugal has a slower pace of life compared to many other countries, and some may find it difficult to adapt to this laid-back lifestyle.
Overall, while Portugal is a great destination for digital nomads, it is important to consider both the benefits and drawbacks before making a decision to work there.
Quick Tips for Portugal Digital Nomads
Get a SIM card for your phone as soon as you arrive.

Make sure you have multiple options for making payments, including a credit/debit card and cash.

Benefit from the free Wi-Fi hotspots at cafes and restaurants to save on data costs.

Research and familiarize yourself with the local customs and culture.

Learn some basic Portuguese phrases for better communication with the locals.

Rent a co-working space for a change of scenery; network with other digital nomads.

Learn about the Portuguese public transportation options and purchase a rechargeable transportation card.

Use a VPN to protect your online privacy and security while working remotely.

Take advantage of Portugal's sunny weather and explore the beaches and outdoor activities.

Research and book your accommodation in advance to avoid last-minute stress.

Purchase travel insurance for peace of mind during your travels: it's always better to be safe than sorry.

Familiarize yourself with Portuguese currency and exchange rates.

Invest in a good-quality laptop and a portable charger for seamless work while on the move.

Use cloud storage to access your files and documents from anywhere.

Join local social media groups and forums to connect with other digital nomads and locals. Also, check for events and meetups for digital nomads in the local area.

Stay active and healthy by exploring local fitness options such as yoga studios and gyms.
Portugal for Digital Nomads: How to Save Money
Do not spend on imported products: When in Portugal you must avoid buying your favorite brand of food and drinks. (Unless you want to surprise yourself with a huge bill).
Avoid fancy bars: While it's okay to enjoy a cocktail or two in the swanky bars, do not go there every weekend. These plush restaurants can make you lose a ransom amount from your savings.
Explore country markets and stalls: Do not just barge into the supermarkets to purchase everything. You will get the same things even in the local markets and stalls. This way, you will access the food and other things that are not readily available elsewhere.
Portugal Digital Nomad Tax 
Portugal's Digital Nomad Tax is a tax incentive aimed at attracting remote workers to the country. It offers eligible digital nomads a tax rate of just 20% on their foreign-sourced income for a period of up to 10 years. To qualify for this tax, individuals must spend at least 183 days in Portugal and demonstrate that their work is location-independent. Portugal's mild climate, affordable cost of living, and high-speed internet have already made it a popular destination for digital nomads. The tax is part of Portugal's further efforts to become a hub for innovation and technology and to create a supportive environment for remote workers.
Visas & Entry Requirements: What Type of Visa Do I Need to Live in Portugal?
You may require a Schengen visa to enter Portugal. However, if you are already a citizen of one of the EU countries, you don't need that. As there is no specific remote work visa yet, many people opt for Golden Visa or the Non-Habitual Residency schemes. 
Well, you don't need to get disheartened if you do not belong to the EU because Portugal has made agreements with countries like the USA, Canada, Australia, and New Zealand. It has been agreed that citizens of these countries can stay in Portugal for 90 days in six months without any additional visa.
Furthermore, citizens of other countries who want to stay in Portugal like digital nomads have to consider extending their stay in Portugal.
Portugal Visa Types for Digital Nomads
There are two types of visas, namely, Temporary Stay Visa and Residency Visa.
Temporary Stay Visa
This is for the digital nomads who want to stay in the country for one year. To be eligible for this, the applicant has to prove that he earns or will earn a minimum of €2,800 per month during his stay. The only motive for this requirement is to ensure that the person can afford his accommodation and other necessities. 
This visa is issued for one year and can be renewed for two more years. Moreover, a temporary stay visa is perfect for digital nomads who are not seeking permanent residency.
Documents required
Official form

Passport and travel documents

Clean criminal record

Valid travel insurance

Proof of means of subsistence
Residency Visa
If you plan to stay there for more than one year working as a digital nomad, this visa can be an excellent option for you. The visa's validity is four months, and during this time, you need to apply for a residency permit with the Immigration and Border Services (SEF). The residency permit will be further valid for two years.
Again, there are two types of this visa:
Portugal D2 Visa: This is for the nomads who wish to set up a business presence or carry out business activities in the country.
Portugal D7 Visa: This is for those who do not want to indulge in any business or investment activities and instead live on a passive income. To acquire this, you need to show that your income is at least €8,460 per year.
Tourist Visa
For those who are frequent travelers, a regular tourist visa may be suitable to stay in Portugal as a digital nomad.
If you're a citizen or resident of the US, Australia, Japan, Canada, New Zealand, the UAE, or Brazil, you can stay in Portugal for 90 days by obtaining a short-stay tourist visa without prior application.
If you're from a country other than those mentioned, you'll likely need a Schengen Visa, which typically allows you to stay in Portugal for up to 90 days within a six-month period.
However, there's also a Schengen visa option valid for 5 years, allowing holders to stay for 90 days every 180 days, which is more suitable for frequent travelers.
If you want to bring family members, you'll need to apply for a separate visa for each individual.
To apply for a Schengen Visa, the following items are needed:
Accurately filled-out visa application form
Valid passport
Two passport-style photos
Evidence of accommodation
Evidence of itinerary
Travel health insurance with a minimum coverage of €30,000
Documents showing financial support during your stay
Receipt of visa fee payment.
Portugal Visa Types: Other Options
Qualified Worker Visa (D3)
For highly skilled individuals with specialized technical skills or exceptional qualifications.
Tech Visa
For tech companies with headquarters or permanent offices in Portugal to grant visas to qualified workers from outside the EU.
Golden Visa
For investors who make a qualifying investment in Portugal and receive a residence permit, with eligibility for citizenship after 5 years.
E-Residency
A program for digital nomads, freelancers, and international entrepreneurs to set up virtual companies and use government services in Portugal.
Family Member of a Portuguese Residen
For non-EU/EEA citizens with a family member who has a residence permit in Portugal.
What Visa Type in Portugal Is Best for Digital Nomads?
The Portugal D7 Visa is the best visa for Digital Nomads looking to live in Portugal. This visa type allows you to stay in Portugal for an extended period of time and the income requirement is less than the digital nomad visa.
However, note that there is a stay requirement for D7 Visa, which is around 16 months in Portugal for the first two years. This is usually seen as a big commitment and it can be a deterrent.
If you're considering a shorter stay in Portugal, then the Temporary Stay Visa, also known as the Portugal Digital Nomad Visa, is a great option for you.
The Difference Between the Portugal Digital Nomad Visa and the Tourist Visa 
The Portugal Digital Nomad Visa and the Tourist Visa are two distinct visas aimed at different groups of travelers. The Digital Nomad Visa is specifically designed for remote workers and allows them to live and work in Portugal for up to one year. On the other hand, the Tourist Visa aims at travelers who visit the country for leisure or business purposes, and it typically allows them to stay up to 90 days. The key difference between the two visas is that the Digital Nomad Visa provides greater flexibility and a longer stay for remote workers, whereas the Tourist Visa is more suitable for short-term visitors. It's important to note that the Digital Nomad Visa is subject to different eligibility criteria and tax obligations than the Tourist Visa.
Digital Nomad Portugal: FAQ
Does Portugal have a digital nomad visa?
Portugal has a visa specifically designed for remote workers, which allows 'digital nomads' to live and work in the country for up to one year.
Is Portugal good for digital nomads?
Thanks to its growing digital nomad and expat community, the thriving startup scene, and the relatively cost of living, Portugal is a good choice for digital nomads who want to enjoy a high-quality life in a slow-paced environment.
Can I work remotely in Portugal?
Yes, you can. Working from many countries around the world is legal, even if you are not a resident of that country. However, in order to stay legally in Portugal, you must meet the visa and tax requirements.
Why is Lisbon good for digital nomads?
With a sunny climate and 300 days of sunshine per year, it's no surprise that Lisbon attracts those in search of the good life. As a result, there's a buzzing digital nomad community and an impressive coworking scene, with new venues opening up every day to meet demand. There's a lot to get involved within the community for both new and current expats living in Lisbon, and from workshops and skill-sharing events to stand-up comedy nights and socials, integrating yourself into city life couldn't be easier, and you'll quickly start to feel at home.
Can you get a job in Portugal if you only speak English?
No, you do not have to be fluent in Portuguese to work in Portugal. There are numerous job opportunities for non-Portuguese speakers, particularly in hospitality and tourism, especially in the Algarve region.
What is the digital nomad Portugal tax?
Portugal offers a tax incentive called the Non-Habitual Residence (NHR) regime for Portugal digital nomads. This regime allows digital nomads to pay a flat tax rate of 20% on their foreign-sourced income, which is a tax advantage compared to the standard tax rates in Portugal.
To qualify for the digital nomad Portugal tax, an individual must become a tax resident in Portugal. Furthermore, the individual's income must be derived from eligible activities such as freelance work, consulting, or online services. By taking advantage of this tax incentive, Portugal nomads can benefit from Portugal's favorable tax climate while still enjoying all the other benefits of living and working in the country. 
What are the benefits of being a digital nomad in Portugal?
Being a digital nomad in Portugal offers several benefits, including a low cost of living, a relaxed lifestyle, a warm climate, a favorable tax regime, and a growing tech community. Portugal digital nomads can also take advantage of the country's excellent public transportation system and well-developed infrastructure. With its diverse culture, vivid lifestyle, and beautiful landscapes, Portugal is an ideal destination for digital nomads looking for a balance of work and leisure in a vibrant and welcoming environment.
How good is living in Porto for digital nomads?
As the second largest city, Porto is a perfect place in Portugal for digital nomads, offering a high quality of life, a low cost of living, and a vibrant cultural scene. Digital nomad Porto is well-connected, with excellent WiFi and co-working spaces available, making it an attractive destination for remote workers. 
What are the top coworking spaces in Lisbon for digital nomads?
Some of the top coworking spaces in Lisbon for digital nomads include Second Home, Impact Hub, and The Startup Lisboa.
What are the top coworking spaces in Porto for digital nomads?
The Space Porto and Maia Cowork are two of the top coworking spaces in Porto for digital nomads.
How does Portugal support the nomad Portugal community?
Portugal supports the ever-growing Portugal nomad community through initiatives such as the Non-Habitual Residence (NHR) tax regime and the creation of coworking spaces.
What type of digital nomad is Portugal For?
Portugal is indeed a great place for a digital nomad who wants to work remotely. Especially with all the amenities it provides, the country is gaining popularity. 
Anyone seeking a place with perfect economic conditions, good food, safety, fast internet, etc., must not overlook this unique European country.