Madeira for Digital Nomads: The Ultimate Guide
If you've ever dreamt of staying on an island where you can live quietly but reach Europe when you wish? If you have, maybe you should check out Madeira, the rising digital nomad hub.
Madeira is the largest island of the Madeira archipelago, the autonomous region of Portugal. The Regional Government of Madeira launched a pilot project called Digital Nomads Madeira Islands in 2021, to attract digital nomads to the island by offering a unique experience in a Digital Nomad Village. The idea is to offer digital nomads on the island a place to live, work, and hang out. After this initiative, the island has started to get more attention.
In this article, we're going to give you the information you need and have a closer look at what Madeira has to offer to digital nomads. Let's begin.
Where Is Madeira
Madeira is around 1,000 kilometers from the European coast and only 520 kilometers from the African coast.
Madeira shares the same time zone as Portugal's mainland and the United Kingdom.
Places To Live in Madeira
Madeira isn't a big island but it offers different alternatives for different lifestyles. Most digital nomads prefer to stay in Funchal however if you're looking for more local life, you can opt for a village too.
Funchal
Funchal, the island's largest city, is located in the south of the island and features Old Portuguese colonial architecture, a lively downtown, and a variety of activities. The city boasts a historic district with the 16th-century Gothic Cathedral and other attractions. This is the place to go if you want to learn about Madeira's history and culture.
Santa Cruz
From the 15th century, Santa Cruz was a tiny coastal community with its harbor. It is located approximately northeast of Funchal, close to the international airport, and is popular with European visitors, particularly families because the town is child-friendly. From historic churches to a day at the aqua park, there is plenty to do in the neighborhood.
Machico
This is one of the most popular places on the island because it features some of the nicest beaches. The Machico River is close by, and the area is surrounded by rich foliage and lovely woodlands. There are numerous bars and restaurants in the area as well as a lovely waterfront promenade. This is an excellent location for those who want to be a little outside of the city yet still close to a variety of amenities.
Jardim do Mar
This is a surfer's paradise that translates as "Garden of the Sea" in English. Jardim do Mar is the ideal place to stay if you're visiting Madeira for the watersports. This charming seaside town is located on Madeira's southwest coast.
Caniçal
This is Madeira's oldest municipality, and it began as a small rural fishing community on the island's east coast. If you enjoy hiking and being in a more rural setting, this is the place to go.
Ponta do Sol
This is the location to go if you like the beach, and it's in the south of the island. The area is made up of gorgeous palm palms that adorn the promenades and picturesque seafronts with pebble beaches. Anjos, Lugar de Baixo, Madalena do Mar, and Ponta do Sol are four of the area's most popular beaches for resting. It also houses the world's first Digital Nomad Village, which was developed and tested in 2021.
Camara de Lobos
This district is located just a few kilometers from Funchal. It's a perfect place if you enjoy more of a relaxed vibe but like to be within a good distance to the city for occasional visits.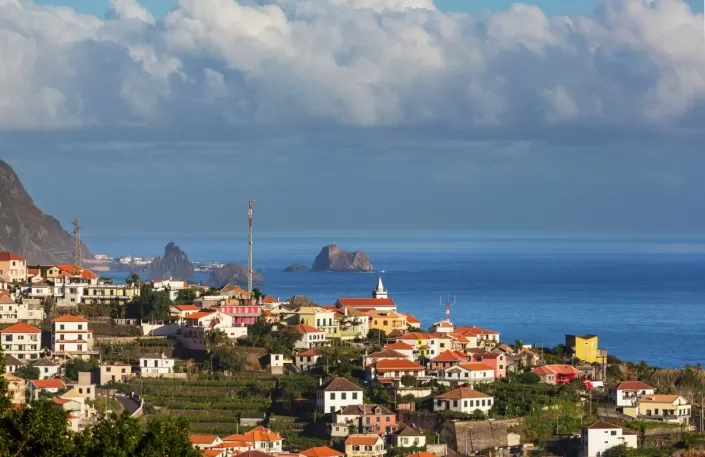 Coliving in Madeira
Coliving might be one of the most cost-effective housing solutions because it often includes coworking, lowering your overall expenses. They also have more flexible alternatives, including shared housing in some cases. HubRemotely runs a coliving space in Santa Cruz and offers a variety of rental bedrooms. The prices start from €600.
Coworking in Madeira
As a digital nomad hub, Madeira offers nice coworking spaces where you can work and meet fellow nomads. The prices vary between €10-16 per day.
Coworking Spaces in Funchal
Funchal is home to many coworking spaces: Cowork Funchal and Design Centre Nini Andrade Silva are some of the most popular ones.
Cowork Funchal is a great coworking space thanks to its facilities. It offers 24h access for members, virtual offices, a lounge area, and many other amenities you'd expect from a coworking space.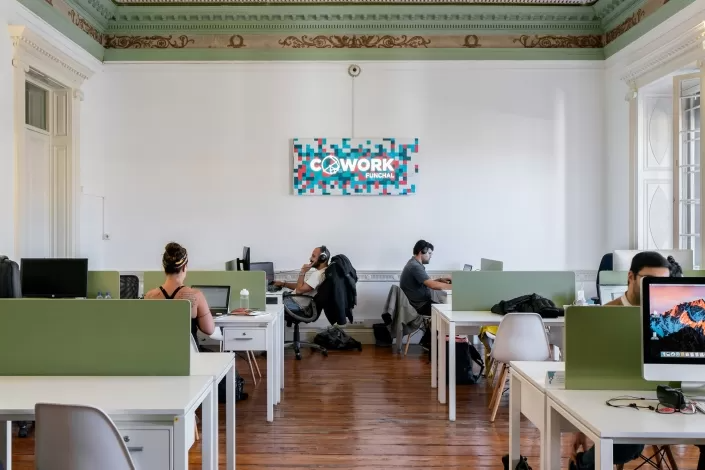 ©CoWork Funchal
Design Centre Nini Andrade Silva is a working cafe space where you can work and enjoy the view of Funchal and the Atlantic.
Coworking Spaces in Ponta de Sol
Ponta do Sol is located on the south coast and is regarded as Madeira's hottest spot. It has an estimated population of 8,200 people. This charming village with history and culture hosts Europe's first digital nomad village.
In Ponta do Sol, you can use the Working Space @ Ponta do Sol. It's a place where you can work and network with the community.
Coworking Spaces in Santa Cruz
Santa Cruz is the city of the airport and has a population of 7220 people. It's known for its beaches, pools, and Aquaparque water park. You can use the lengthy coastline walkway to do your everyday sporting activities, such as running, cycling, hiking, etc. It's also one of the best spots to go if you enjoy diving and other water activities.
HubRemotely hosts two working spaces in Santa Cruz, one in the city center and one in Caniço.
Transportation
Getting to Madeira
There are two ways to get to Madeira:
By plane via Madeira Airport a.k.a Cristiano Ronaldo Airport
By boat via Port of Funchal.
Getting Around in Madeira
Horários do Funchal is a bus service that runs both within and outside of the city of Funchal. The bus service offers a variety of ticket options, such as single-journey tickets and prepaid cards.
Bicycling is another popular way of getting around in Madeira. There are numerous rental locations throughout the island, but mostly in Funchal.
Taxis are available in all of Madeira's major cities and tourist regions. Their blue stripes and yellow tint help to identify them. Getting a taxi is usually simple. There are many drivers on the busier streets who will stop when pedestrians signal. Getting a taxi at the airport is never a problem, but it is considerably cheaper to pre-book your airport transfers. The city's fares are determined by the government and are based on either destinations or time (a list of which can be found on the back seats).
Food
Madeira is a mash-up of cultures and traditions, with Portuguese and North African influences dominating. As a result, the island's cuisine has been changed and affected, resulting in unique Madeira delicacies. In Madeira, you'll find a wide range of foods, from fresh grilled fish to classic stews, to satisfy any appetite. Each region of the island, as well as each municipality, will have its specialties. Taking a day trip to another spot to experience something new and different in the area can be a lot of fun.
Fresh seafood can be found all over the island, and one of the best ways to find a decent restaurant is to look for fishing communities and visit the restaurants in the area. This is an excellent approach to assure that fresh, locally fished vegetables will be available to serve.
If you're craving a burger or pizza, there are a few options on the island besides the standard McDonald's or Burger King.
Leisure and Lifestyle
Activities
Madeira is a beautiful island with many attractions, including great hiking paths and stunning views. It also boasts an interesting history, great street art, and a variety of excursions and outdoor activities to choose from. During your stay in Madeira, don't miss out on these attractions:
Explore the Levadas: Make sure you bring your trekking shoes because Madeira is a hiker's heaven. It is known for its levadas, which are little water channels that were designed to transfer water from the highlands and are now used as beautiful hiking paths.
Visit botanical gardens: Monte Palace Tropical Gardens and Madeira Botanical Garden are two of the most well-known botanical gardens worth seeing. Both are lovely, both are unique, and both provide a spectacular perspective of Funchal. Municipal Garden and Santa Catarina Park are also open to the public in the city center.
Go to museums: The Universo de Memorias has an incredible collection of exquisite exhibits from all around the world, as well as a stunning view of Funchal Bay. Madeira Optics Museum is a must-see place too.
Try surfing: Known as the "Atlantic's Hawaii, Madeira offers perfect waves and clear point breaks.
Beaches
It's true that Madeira lacks gorgeous, snow-white, natural sandy beaches. On the island, there are a few sandy beaches, although those with white sand are man-made beaches constructed from imported sand from Africa. Still, if you really need a day off, head to Calheta, Machico, or Prainha Beaches to relax.
Nightlife
Madeira has some wonderful nightlife alternatives, and it's a terrific opportunity to meet new people. Funchal boasts the best nightlife, with pubs, restaurants, and clubs open every night of the week. On the island, these are some of the top spots to visit and things to do at night. In Funchal, there are a number of late-night bars and nightclubs, but as you travel further away from the city, the number decreases. The nightlife in more rural regions is usually more understated.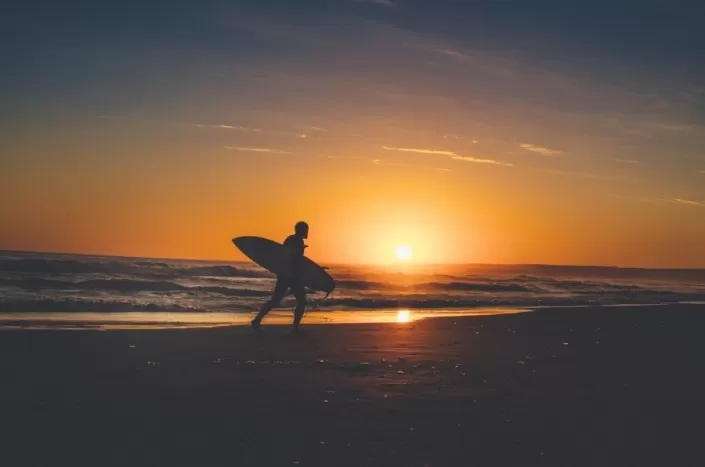 Cost of Living in Madeira
Depending on your lifestyle and budgeting, the projected cost of living can vary substantially. If you are ready to live like a local by eating locally and avoiding high-end tourist activities, you can live on a smaller budget in Madeira. However, if you want to go on endless boat cruises and eat out at high-end restaurants daily, you can spend a lot of money while on the island.
Still, we've brought together a list with figures from Numbeo to give you an idea about the monthly cost of living on the island.
Accommodation: €600
Food: €500
Transportation: €100
Leisure: €100
So, you'll need an income of around €1,500-2,000 for your stay in Madeira.
Also, check out the below comparison between Madeira and Lisbon, the capital city of Portugal:
Consumer prices including rent in Funchal are 15.71% lower than in Lisbon
Rent prices in Funchal are 33.80% lower than in Lisbon
Restaurant prices in Funchal are 21.76% lower than in Lisbon
Groceries Prices in Funchal are 3.72% lower than in Lisbon
Visa and Entry Requirements
As Madeira is a part of Portugal, the same rules apply: If you're from an EU country, you don't have to get a visa to enter Madeira. If you're going to live on the island for more than three months, just make sure you register yourself with the immigration office.
If your stay period is shorter than 90 days, and you're a citizen of Canada, the United States, or the United Kingdom, you don't need a visa to visit Madeira either. However, if long-term, you'll need a residence permit
Portugal Golden Visa
A profitable alternative is Portugal Golden Visa, which grants you residency in exchange for qualifying investment in Portugal. If you get a Golden Visa, you can stay in Portugal as long as you wish and be eligible for citizenship at the end of five years.
Portugal Digital Nomad Visa
Although it hasn't been launched yet, Portugal Digital Nomad Visa is expected to make life easier for digital nomads and freelancers. Before you plan your relocation to Madeira, check out if the scheme has been launched.
Internet Connection
With nearly 100 percent broadband Internet coverage on the island and a relatively high and constant download speed, Internet difficulties are unlikely. According to research made by NET.mede in 2020, Madeira boasts the best internet in Portugal.
Almost all cafes, restaurants, and hotels will provide free WiFi, and the entire historic district of Funchal will provide free WiFi.
On the island, there are also Internet cafés. The hourly fee is around €5.
Climate
Madeira offers unexpectedly nice weather, with low humidity and comfortable average temperatures of 25°C in the summer and 17°C in the winter, thanks to its outstanding geographical location and mountainous relief.
The sea temperature is also exceptionally pleasant, averaging 22°C in the summer and 18°C in the winter, thanks to the warm Gulf Stream.
Quick Tips for Digital Nomads in Madeira
The electric current is 220 AC in Madeira. If you're from the US, you'll require a voltage converter. If you are from the UK, you'll need a plug adapter.
Madeira's drinking water is among the best in Europe. Because of the high mountains, drinking tap water comes from underground springs in the highlands and is constantly available.
ATMs can be found all over the island. In Madeira, you may also use most VISA/MasterCard/Credit cards.
Madeira has a large number of English-speaking doctors and dentists. The local pharmacists (farmácia) will have just about whatever you need, and there is always one open after hours in each region.
Conclusion
There you have it. We've given you an introduction to Madeira. Have you ever been to Madeira? Have you ever thought of living there? Share your experience with us…We'd be happy to know.