Bank N26 Review: The Complete Guide
Thanks to the internet, it is now possible to open a bank account in Europe without ever leaving the comfort of your couch at home.  Bank N26 makes this process as simple as possible.  You can open an account online, in as little as eight minutes.
In the below guide, we clarify the following:
…and a lot more!
N26 Card Review: Key Takeaways
N26 is the Most Modern Digital Bank that Europe and the US has to offer
It offers Free Standard Account, which is enough for most clients
It offers Free ATM Withdrawals & No Fees on international purchases or currency conversions
Premium Plans offer useful benefits: various insurance coverage, shared sub-accounts, and exclusive partner offers
N26 is ideal for expats, frequent travelers, remote workers, and digital nomads
Customer experience is very smooth and transparent
Customer service is friendly, helpful, and efficient
All services, including support, are available in: English, Spanish, German, French, and Italian.
What Is N26?
Bank N26 is a digital bank. It's a fintech startup based out of Germany, started in 2013, and launched as a bank in 2015.  The financial institution has no physical branches, all transactions are exclusively carried out over the internet.  It now serves across 23 countries, still growing in number. 
You can open an account in N26 for free. It only takes eight minutes. Furthermore, N26 account holders can make up to five ATM withdrawals for free in any European Union (EU) country.
How To Open an Account at Bank N26
Opening a digital bank account in Bank 26 only takes eight minutes.  Below, you can find the conditions and the step-by-step guide to open an N26 account.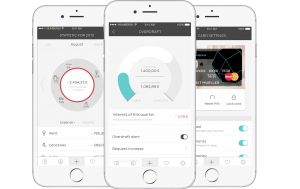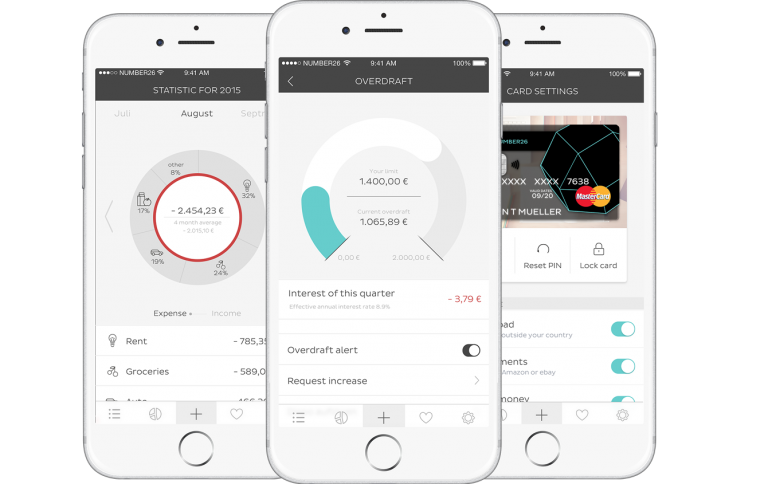 Conditions for opening an account at Bank N26
The conditions to qualify for opening a bank account at N26 are:
Being over the age of 18 and
Having an address in one of the 23 countries, where the bank operates
In Europe, the bank operates in Austria, Belgium, Denmark, Estonia, Finland, France, Germany, Greece, Iceland, Ireland, Italy, Liechtenstein, Luxembourg, the Netherlands, Norway, Poland, Portugal, Slovakia, Slovenia, Spain, Sweden, Switzerland.
In 2019, the N26 Bank expanded its operations to the United States. 
The N26 Bank operated in the United Kingdom until January 2020. However, due to Brexit, the German bank stopped operating in this jurisdiction.
Note: Unlike many banks, it is not necessary to prove any monthly income to open an N26 account. It is only necessary to have proof of address in one of the above countries and a valid passport.  If you are not a European citizen or an American, but you are located in Europe or the US, you also need a residence card (EU or US) with at least one-year validity.
European Citizens
Those who have European citizenship do not need to prove their address in Europe.  They just need to present their European passport as proof of identity.
Step #1
Access the N26 website or download the N26 Bank's application through the Apple Store or Google Play.  Click "Open Bank Account"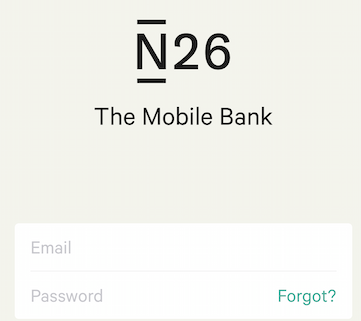 Step #2
Enter your personal data: Full Name, Address, Passport Number, One-year Valid European/American Residence Card, Email Address, Phone Number, Date of Birth, Nationality and Country of Birth; and complete your online registration.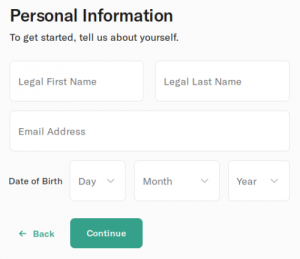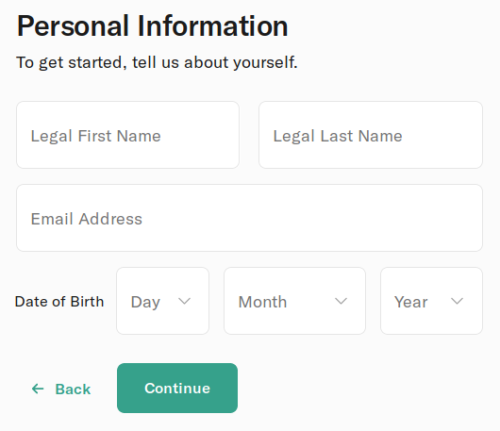 Step #3
Confirm your identity via a video call or photo/ document verification.
Verifying the document using the European or American residence card is faster than using the passport. If you choose a non-European or non-US passport, you will have to take a passport photo, a selfie and share the location of the device in order to verify that you are located in a country where the bank operates.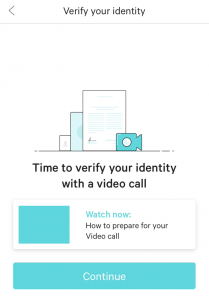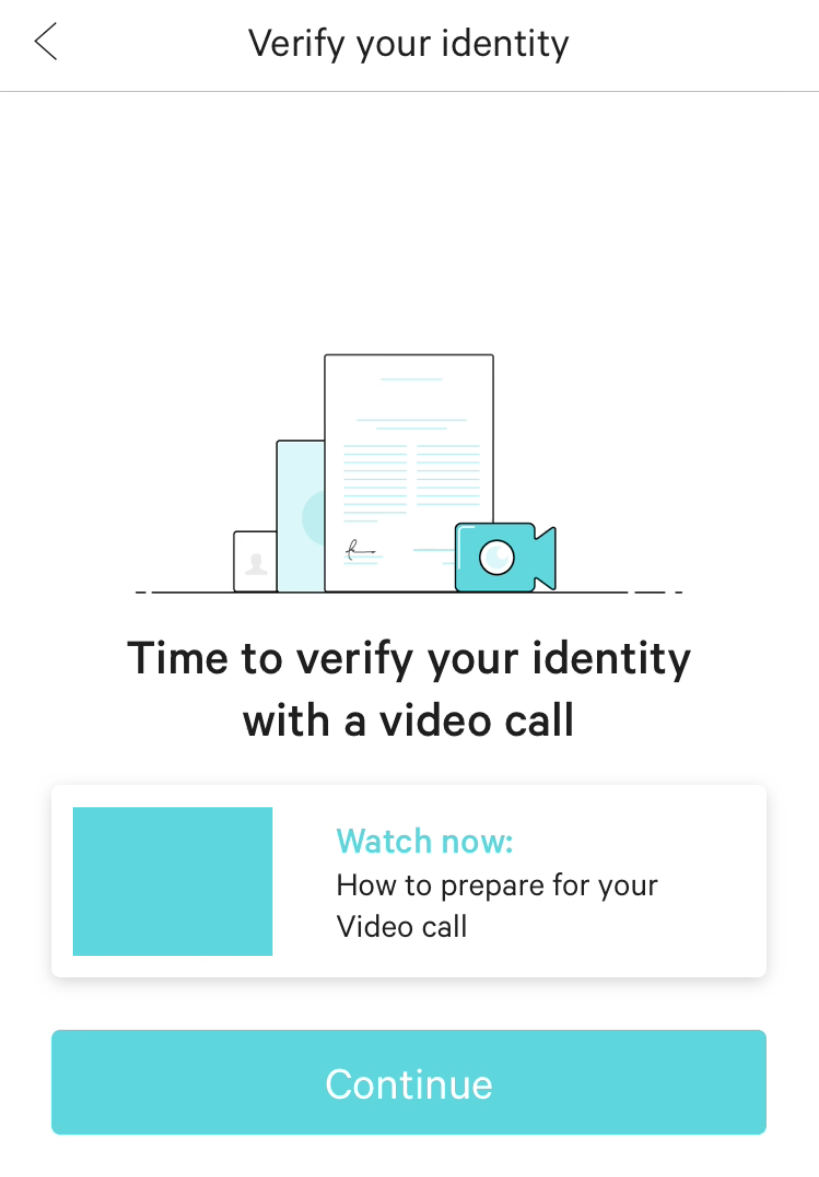 Step #4
Select the type of account you want to open.  Your options include: 
N26 (free of charge)
N26 You (includes Allianz travel insurance and costs € 9.90 per month)
N26 Metal (€ 16.90 per month)
N26 Business
We will cover these account types in more detail later on in the article.


Step #5
It's time to pair your phone. You will receive a 4-digit activation code through an SMS message.  This code needs to be entered in the website or the application to pair.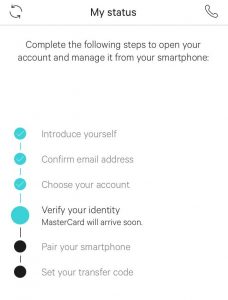 Step #6
Voila! Your N26 Bank account is created. You will now be able to carry out your bank transactions. If you applied for a card, your card will be issued and sent via the delivery of your choice.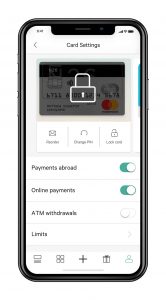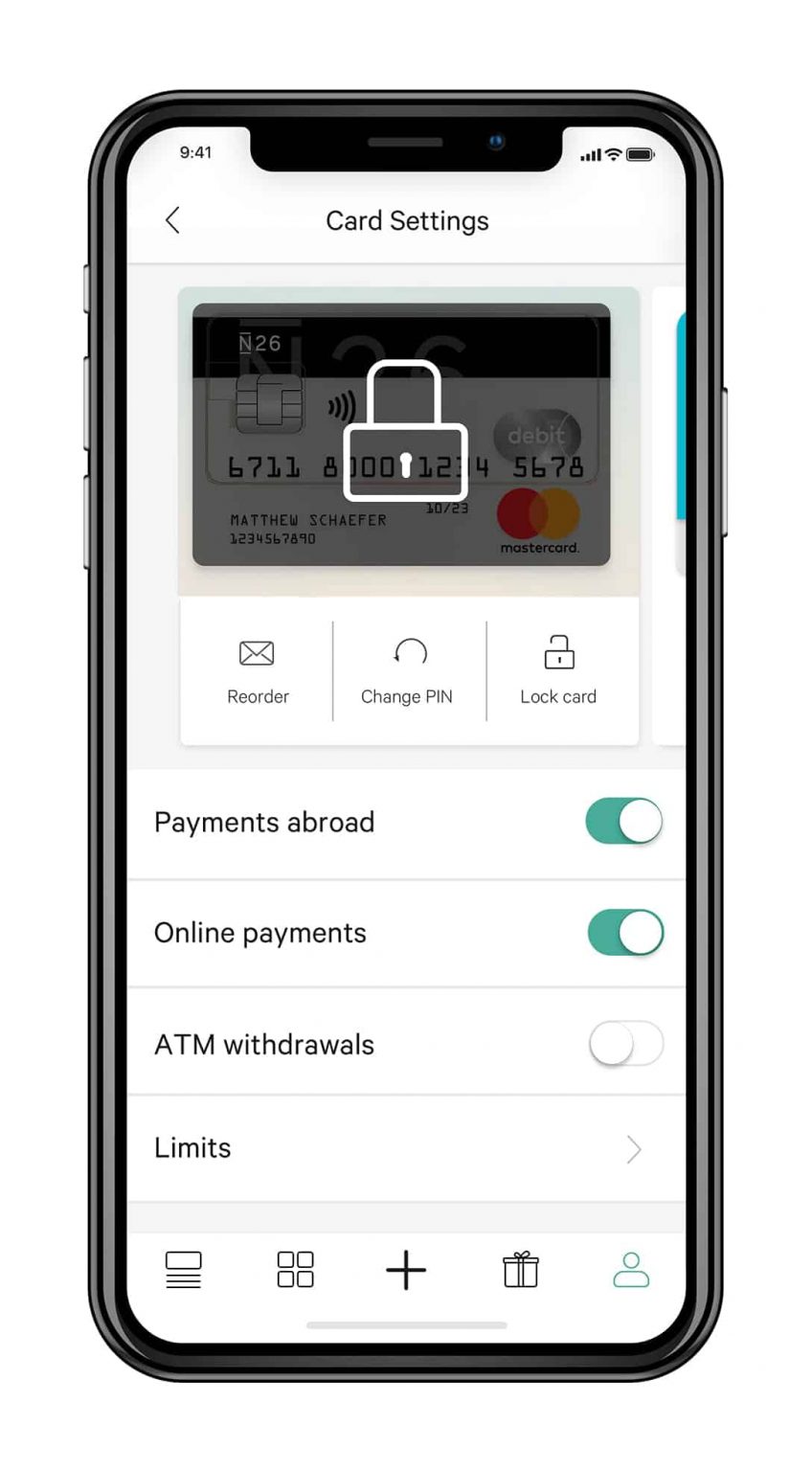 What if my pairing code doesn't arrive?
We saw that some customers reported not receiving a pairing code as a problem they encountered. If you face this issue, you need to contact the N26 support team.  The easiest way to contact them is through the online chat option in the application.  That way, it is easier to verify that you are using your own mobile phone.
N26 Account Types
N26 has four account types: Standard, You, Metal, and Business. Below, you can check out the different types of N26 bank accounts and their details, in order to see which one fits your needs.
Make sure and check out what the cards look like and the comparison tables below.
The Free N26 Account
This is naturally the most common account.  It is also best to try out the N26 digital services before you commit to a more advanced, paid account.  The simple and free account is called N26.  It allows for five free ATM withdrawals with the N26 Mastercard in any EU country. For any additional withdrawal, you will be charged a fee of €2 per transaction.
Pros
Free for all banking services
3 free withdrawals per month in Eurozone
Technical support through chat and chatbot
Cons
No extra card
Withdrawal fee outside the Eurozone
No insurance
No additional subaccounts
N26 You Account
Another option is the N26 You account.  It is ideal for frequent travelers. It offers benefits like the Allianz shopping and travel insurance, as well as international withdrawals with no extra fees, and unlimited international payments.  The fee of N26 You is €9.90 per month.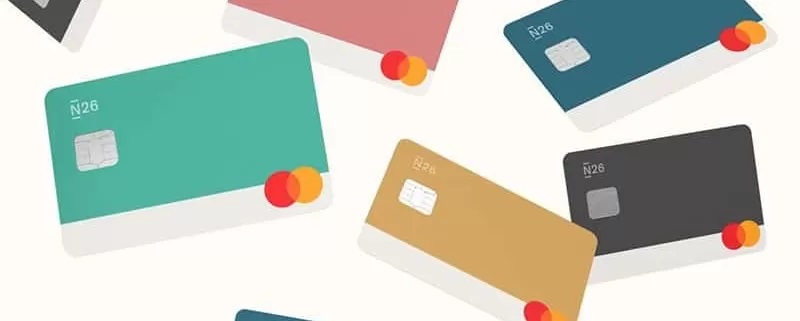 Pros
Physical N26 Mastercard for free
10 additional subaccounts
Free ATM withdrawals worldwide
N26 Metal Account
In addition to all the benefits of N26 You, an N26 Metal account will provide you with a VIP customer support and additional exclusive offers.  The fee of N26 Metal is €16.90 per month.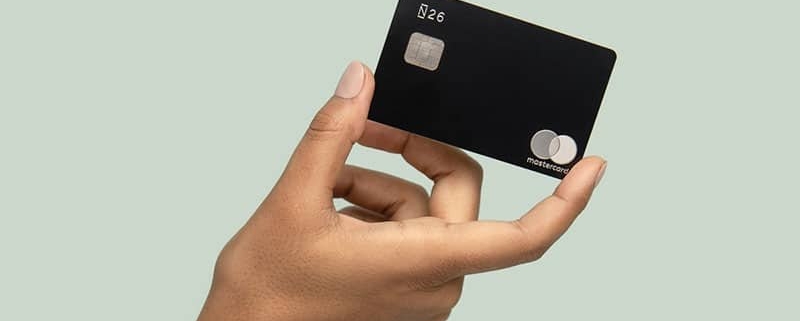 Pros
Mastercard debit crafted in 18 grams of steel
10 additional subaccounts
Free ATM withdrawals worldwide
Mobile phone insurance
N26 Business Account
Besides these three individual accounts, the digital bank also came up with the N26 Business account.  As the name suggests, it is a business account.  It's ideal for independent workers that want to separate their personal and business accounts.  There is a free and a paid option for this account.
Pros
Virtual card
Physical N26 Mastercard
Business cashback
Cons
Limited cash withdrawals
No in-person service
N26 Fees
Account Opening and Maintenance
Account opening and maintenance at N26 are free, and if you select the Standard plan, there are no maintenance fees.
Card
You will be given a free virtual card if you have N26 Standard. For €10, you can purchase a tangible one.
ATM 
Generally speaking, all ATM withdrawals in the currency of your N26 account are cost-free. For the standard account in the EU, you are entitled to three complimentary ATM withdrawals each month.
N26 Transfer Fee 
It costs nothing to send money in the same currency as your N26 account. N26 and Wise have a partnership for international transfers, so you only have to pay Wise's reasonable foreign exchange fee.
Currency Exchange 
There is no additional fee and the card issuer's (Mastercard in the case of EU users) foreign exchange rates will be used if you use your card to make purchases in a different currency than your account.
Top-up 
When you top off your N26 account with another bank card, no fees are assessed.
N26 Account Comparison Chart
| N26 Standard Account | N26 You Account | N26 Metal Account |
| --- | --- | --- |
| € 0.00 / month | € 9.90 / month | € 16.90 / month |
| A transparent debit card | A colorful debit card | An 18-gram metal card |
| Up to 3 free ATM Withdrawals in Eurozone | Up to 5 free ATM Withdrawals in Eurozone | Up to 8 free ATM Withdrawals in Eurozone |
| – | Unlimited Free Withdrawals | Unlimited Free Withdrawals |
| – | Travel Insurance Covering: Medical + Trip + Flight + Luggage | Travel Insurance Covering: Medical + Trip + Flight + Luggage |
| – | Lifestyle Insurance Covering: Mobility + Winder Sport | Lifestyle Insurance Covering: Mobility + Winder Sport + Car Rental + SmartPhone |
| Up to 2 sub-accounts | Up to 10 sub-accounts | Up to 10 sub-accounts |
| – | Shared sub-accounts | Shared sub-accounts |
| – | Exclusive Partner Offers | Exclusive Partner Offers |
| – | – | Unique Experiences |
| Chatbot Support | Chatbot Support | Chatbot Support |
| In-App Livechat | In-App Livechat | In-App Livechat |
| – | – | Dedicated N26 Metal Line |
Advantages of Bank N26: Pros
Bank N26 offers a lot of benefits and advantages to its account holders.  Some of the main ones include:
Ability to open a bank account over the internet no matter where you are in the world
No need to provide proof of income
Exemption from fees for opening an account
The option of a free account with no maintenance fees
Integration with TransferWise to transfer money at affordable and competitive rates
Receiving instant notifications of transactions made in the app
MasterCard debit card and Maestro debit card at no charge
Free to make up to five withdrawals per month in the free account
The security control of the app, allowing: to block the card, restrict international use, limit expenses, to double verify internet transactions, through the MasterCard Secure Code
Identifies the closest ATMs to the account holder
It is secure and safe, in compliance with German and European banking regulations
Disadvantages of Bank N26: Cons
Bank N26 also has its shortcomings. Check out some of the main ones we came across our use, as well as the customer complaints online:
Depositing Cash may get Expensive: N26 allows you to withdraw cash for free, but depositing cash will cost you 1.5%
Can only hold one currency
Chat support can be slow at times
Opening the bank account is quick unless video verification is not an option: For some passports and residence cards, video verification is not allowed; in those cases, the customer needs to print out a verification document and go to the nearest post office with their ID. Although still simple, it can be a hassle for some.
No bank branches
No standing orders
No overdraft facility
N26 Bank Review: What Can N26 Do for Me?
Bank N26 offers its clients to perform a number of transactions including:
Payments,
Transfers,
Deposits,
Banking card services,
ATM Withdrawals,
Currency exchange services.
Let's dig a little deeper:
Free ATM withdrawals up to five times a month

The N26 Mastercard allows you to withdraw Euros from any ATM globally.

N26 Bank enables transfers into 19 different currencies through their app. They partnered with TransferWise for currency transfers; so, you can make transfers at very competitive rates.
Free international payments.  Better yet, you do not need to notify the bank ahead of time, the transfer is just a click away.
Contactless payments.  So, you don't need to swipe your card physically. You just save your payment details in the app and make payments through the app.
How Is N26 Different?
So what makes N26 Bank different from other banking options in general?  Well, below we focus on exactly that.
8-Minutes to Create a Bank Account

If all goes well, you can create an N26 bank account from anywhere in the world in under 10 minutes.  This is very convenient, compared to any other bank.

No Monthly Account Fees

In simpler terms, it's free.  Other banks typically have a certain monthly fee, no matter what type of account you open with them.
While most people are fine with the free plan, they also have premium plans at very affordable rates, compared with their alternatives.

Free MasterCard and Maestro Debit Cards

The standard is a MasterCard.  If you are interested, you can also apply for a Maestro card.

No Foreign Currency Exchange Fees

You can use your debit card abroad for any purchase and you will not be charged a fee from the bank for foreign currency exchange.

Smooth User Experience

The app use is straightforward and user-friendly.  Even the tedious paperwork and fine print look simple and understandable.

Excellent Customer Support in Five Languages

We will elaborate on the customer support towards the end of the article.  Do not miss it, as it is one of the biggest differentiators of N26.
Is N26 Safe and Reliable?
N26 makes saving, spending, and managing your money quite easy.  More importantly, it does so in a very secure way. 
Bank N26 is regulated by the German financial authorities and authorized by the European Central Bank.  It is licensed with all safety standards and competencies required by regulators. 
As of 2021, it has over 5 million users. Overall, it appears to be reputable and trusted among its clients.
Here are some technical data on how secure N26 is:
N26 is a licensed bank in Germany and any deposit up to € 100,000 is guaranteed under the German Deposit Protection Scheme, 
N26 abides by SSL protocol; all bank details and user details are encrypted, and the data is protected,
N26 website abides HTTPS protocol, which ensures secure browsing and protecting users from online risks,
N26 app sends a push notification with each purchase, deposit, or withdrawal made in your account, to ensure you are aware of all activities,
For online purchases, you take advantage of the Mastercard Secure Code, which allows a Two-Factor Authentication,
3D Secure online payments,
Bank N26 is backed by Peter Thiel and it is valued at over $ 3.5 billion as of 2021.
N26 vs. Wise
| | | |
| --- | --- | --- |
|   | N26 | Wise |
| Maintenance | €0 | €0/£0 |
| Foreign Withdrawals | 1.70% | 0.00% on the first €200/m, 2% thereafter |
| Foreign Payments | 0% | 0.35%-2.85% depending on the currency |
| International Transfers | 0.35%-2.85% depending on the currency  | 0.35%-2.85% |
| Card Delivery | €0 | €0/£0 |
| Delivery Speed | Up to 10 working days | 2 to 4 weeks |
Is N26 Bank Good? See User Reviews
Well, good is a relative term.  Like everything, Bank N26 has its pros and cons that we stated above in the article. The best way to get exposed to the real picture is to analyze the reviews across multiple platforms:
The Official Bank N26 Website Reviews
Well, it would be naive to imagine the official N26 review page would be objective in the reviews they post on the website.  Naturally, all the reviews they chose to share are with flying high colors.
Nevertheless, some of the reviews point out the unique value propositions of the digital bank:
"N26 is a well-designed native app—it's like drinking a glass of ice water in hell." Romain Dillet, TechCrunch (2015)
"This kind of seamless experience is exactly what N26 co-founder and CEO Valentin Stalf set out to achieve when he started the company three years ago." Oscar Lopez, Mashable (2016)
"Today N26 is the role model for the best user experience in mobile banking in Europe." Tomasz Grynkiewicz, NetGuru (2019)
"You can do transfers from anywhere, and get a complete overview on your phone" Kim
"I could even convince my parents to use it" Lucas
N26 App Reviews
In the Apple App Store, the N26 app is rated 4.6 out of 5 across 5,200 ratings.
In the Google Play store, the N26 app is rated 4.6 out of 5 across 84,253 ratings.
Most of the users left positive reviews for the app, while some are complaining in regards to the customer service and the delays in transfers.
N26 on Trustpilot
As of November 2020, Bank N26 has 12,968 reviews on Trustpilot and the average rating is 4.1 out of 5 stars.  66% of the people rate the service as excellent, while 13% say it is Great, and 18% label it as bad.
Negative Reviews: When N26 Just Does NOT Work
In our comprehensive guides, we make sure that we dig deep to find out the not-so-good, negative aspects of the products.  After all, it cannot be all rosy, right?
We analyzed the negative reviews and clustered them into three recurring categories:
1. Sign Up Troubles
As with any licensed bank, N26 has to cater to a bunch of regulations.  Part of these regulations requires ID checks and verifications. There are some prospective clients, who for one reason or another, cannot pass this stage. Their applications get declined. Their frustration is understandable, but to be fair, there is little a regulated bank can do on this.
2. Locked Out
Some reviews point out that after signing up and receiving an initial approval, their funds were frozen.  This wait can cause a lot of inconvenience and distress.  Nevertheless, the funds are expected to be returned, despite the inconvenient wait.
3. Customer Service Troubles
Many negative reviews are complaining about customer service.  The typical complaining points are slow card dispatch and ineffective service on resolving blocked accounts.
Growth of Bank N26
The N26 fintech startup started in 2013 and the bank got officially formed in 2015. Initially, it was only available in Germany, quickly spreading to many other countries across the European Union. Currently, it provides services in 22 European countries.
In 2019, N26 entered the American market, where it experienced exponential growth.
Today, the fintech startup serves over 5 million customers, which helped its valuation of over 3.5 billion US Dollars.  In 2019 alone, the bank multiplied more than four times in size.  Besides the customer base tripling, the cash movement exceeded 2 billion Euros.
Customer Support
N26 takes a lot of pride in its customer support.  Unlike the archaic bank support centers, the fintech startup pays great attention to being attentive, available, and solution-oriented in their customer support solutions.
If you need help to clarify any questions, just access the N26 website or the app and a team will be available to guide you or answer any questions. The support is available by email, phone, or chat, depending on your choice.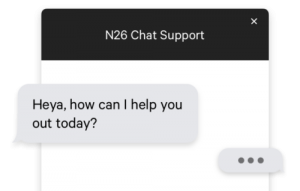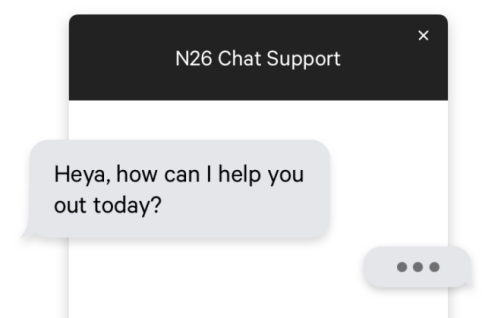 One of the most common struggles expats encounter when arriving in a new country is the language barrier. Although some banks have branch managers that may try and help out, English is not an officially supported language in many European destinations.  This also means that legal documentation and contracts will also be supported by the native language of whatever country you may be settled in.
Customer support is available in five languages: English, German, Spanish, French, and Italian.  We have already used customer support and found the service to be efficient and useful.
As per the "Cons" section above, however, there are negative reviews on the internet regarding the N26 Customer Service.  They generally point out the inefficiency and delay of the service.  So, the experience may not have been as smooth as it was for us for everyone else.
The Verdict: Is It Worth Having an Online Account at Bank N26?
The short answer is: yes. It is worth it.
It is a safe bank that does not charge fees, provides easy account opening and transaction services online with little to no bureaucracy.
It is available almost all across Europe and the United States.
The support is available easily by phone, email, chat, or social media in five languages: English, French, German, Spanish, and Italian.
Are you an expat, a long-term traveler, a globally-minded resident, or a frequent traveler?  Then N26 is particularly convenient for you. The N26 You and N26 Metal accounts include many premium features catering to this crowd.  These include the lack of international fees and foreign currency conversion fees, as well as medical, travel, and liability insurance.
If you are none of the above, but still enjoy modern banking features, transparency, helpful and effective customer service, smooth customer experience, then N26 is again the way to go.  The N26 Bank disrupted the archaic banking industry and the inefficient dogmas that came with it.
Don't just take our word for it, go to the N26 website and see for yourself.  
Thank you for reading!
N26 Bank Review: FAQ
What is N26 and which Bank is behind N26?
There is no bank behind it.  N26 is a "neobank", a type of online-only financial institution that does not have any physical branches.  N26 received a banking license from Germany's supervisory authority BaFin in 2016.  Before that, it was called Number 26 with a back-end built on Wirecard.
Was N26 Affected By the Wirecard Scandal?
No, it was not. N26 terminated its services from Wirecard in 2016, so the Wirecard scandal in June 2020 did not affect N26, like it affected some other digital banks.  N26 has its own banking license from BaFin.
Is N26 a 'Real' Bank and What bank is n26?
Absolutely, N26 is a fully licensed bank. It is licensed through BaFin, the Federal Financial Supervisory Authority of Germany.  BaFin insures all deposits up to € 100,000 held in the member states of the European Union (EU).
Is N26 Secure?
Yes, you can refer to our section above, named 'Is Bank N26 safe and reliable?' Bank N26 is as safe as any other bank in Germany.
What bank does N26 use?

Is N26 a Reliable Bank?
Yes, it is.  It is an officially licensed bank in Germany. Any deposit held in N26 is guaranteed up to € 100,000 under the German Deposit Protection Scheme.
How Do I Put Money into My N26 Bank Account?
If you are transferring Euros, simply add in your banking details such as your name and your IBAN and enter the amount you want to send.  It is the same process as any other bank.
If you would like to deposit/transfer a foreign currency into your N26 bank account, you can use TransferWise.  It is the safest and cheapest way to transfer foreign currency to any bank.
Can I Receive Salary in My N26 Account?
Yes, you can. Your N26 account will even send you a push notification, letting you know that your 'Salary' is transferred to your account.
Is N26 Really Free?
Yes, the standard account called N26 is absolutely free.  No wonder, it is also the most popular account of the bank. The premium plans such as N26 You and N26 Metal, on the other hand, are paid.  They also offer exceptional value for the monthly price they charge. The N26 transfer fee between N26 users is zero.
Does N26 Allow for Overdraft?
Yes, N26 allows for an overdraft. You need to activate an overdraft from your N26 account.  They perform a quick credit check.  Then they will let you know how much you can overdraw.  You can then customize the amount in accordance with your need.
Can N26 Be Used Internationally?
Yes, N26 was born to be used abroad.  It is one of the best cards available for travel.  It has no international or currency conversion fees.  The premium plans also offer travel, medical and liability insurance for the duration of your travel.  N26 Metal even provides smartphone insurance.
What Languages is N26 Available in?
The N26 website and N26 app are available in five languages: English, German, French, Italian, and Spanish.  Customer service is also available in all of these languages.  The experience is largely the same across most of Europe and the US.
What Currency Do N26 Bank Accounts use?
N26 accounts are in Euro currency for European users and in USD for American users.  The account is only managed in the set currency. However, it is possible to make bank transfers to several other foreign currencies.
Do I get a card with N26?
Yes, absolutely. Bank N26 sends a debit card to your home, at the address provided in the register.  The address needs to either be in Europe or the US. The N26 card usually arrives in up to two weeks.  The standard is a MasterCard debit card, but you can also request a Maestro debit card.  Both come at no charge to the user.
Is it possible to open an account in Europe while outside of the continent?
If you have a passport or a residence card from any of the 23 countries that N26 operates in, or any European Union country, you can open an account from anywhere you are located in the world.  In any case, your debit card will only arrive at your European or American address.
But is it possible to use the Mastercard debit card outside of Europe?
Yes, it sure is. It is possible to use the MasterCard debit card outside of Europe.  You can also make withdrawals from any ATM 24/7.
Does N26 have a credit card?
No, it does not. Bank N26 currently only provides its clients with a debit card and no credit cards.
Bank N26 in Portugal: Is It Active?
Bank N26 or Banco N26 as the Portuguese refer to it, is in full operation in Portugal.  It already has active clients in six-digit numbers. Referred to as a millennial bank, globally, the largest group of clients falls between 18 and 25 years old. In Portugal, however, almost half the number of clients is 35 years and older.
Although N26 in Portugal is growing, Revolut is still the digital bank of choice with close to half a million users in the country.  TranferWise is also a strong alternative for those who are mostly dealing with multiple currencies. 
Can I open an N26 account in France?
Yes, N26 France is active and is very popular among French people.
Bank N26 in the US: Is It Active?
Yes, Bank N26 is active in the US. It has been operating in the country since August 2020. For more information, please check out our N26 US article.
Does N26 provide insurance service?
Yes, it does. Check out our N26 Insurance article for further reading.
Is there any other services of N26?
N26 card offers payments both with Apple and Google Pay. You can check out our N26 Apple Pay articles for further reading.