Wise vs. Revolut | Costs, Limits, Speed
In our community, saving money is the first priority when making money transfers and currency exchange. In this article, we'll discuss the two popular platforms and see which stands out with its qualities:  Wise VS Revolut.
Wise VS Revolut
When transferring money to another country, consider a number of factors, including the cost, security, and speed with which the money will be sent. Traditional methods like sending money through a bank are preferred by many individuals, even if this is the most expensive alternative. So, before deciding between Wise and Revolution, evaluate what's most important to you and which offers you more benefits.
What Is Wise
Wise, formerly known as Transferwise, has been operating for over a decade. They're known as one the fastest and most affordable cross-border money transfer platforms.
Thanks to their mid-market rates and transparency, Wise is highly favored among frequent travelers, expats, and digital nomads. Wise provides outstanding exchange rates for a lot of currencies and serves over 10 million clients.
What Is Revolut
Founded in 2015 in London, Revolut is a fintech, initially created as a digital banking alternative that would stand out from traditional financial institutions. Currently, the institution has more than 10 million customers, has carried out more than 350 million transactions and 40 billion pounds. 
Revolut also offers prepaid debit cards, currency exchanges, as well as peer-to-peer payments and international transfer services.
Wise VS Revolut: Comparison
Costs and Exchange Rates
With Wise,  international transfers come with mid-market rates. There is a low fee, which is around 0.35% – 1.65% of the transfer amount. If the transfer is domestic, there are some small fees, but don't worry as these will be shown before the transfer is completed. But note that the fees might be higher depending on your payment method; for example, when you pay with a credit card, the fee is %3.
With Wise, you can also lock in a rate for 24 – 96 hours to avoid currency fluctuations.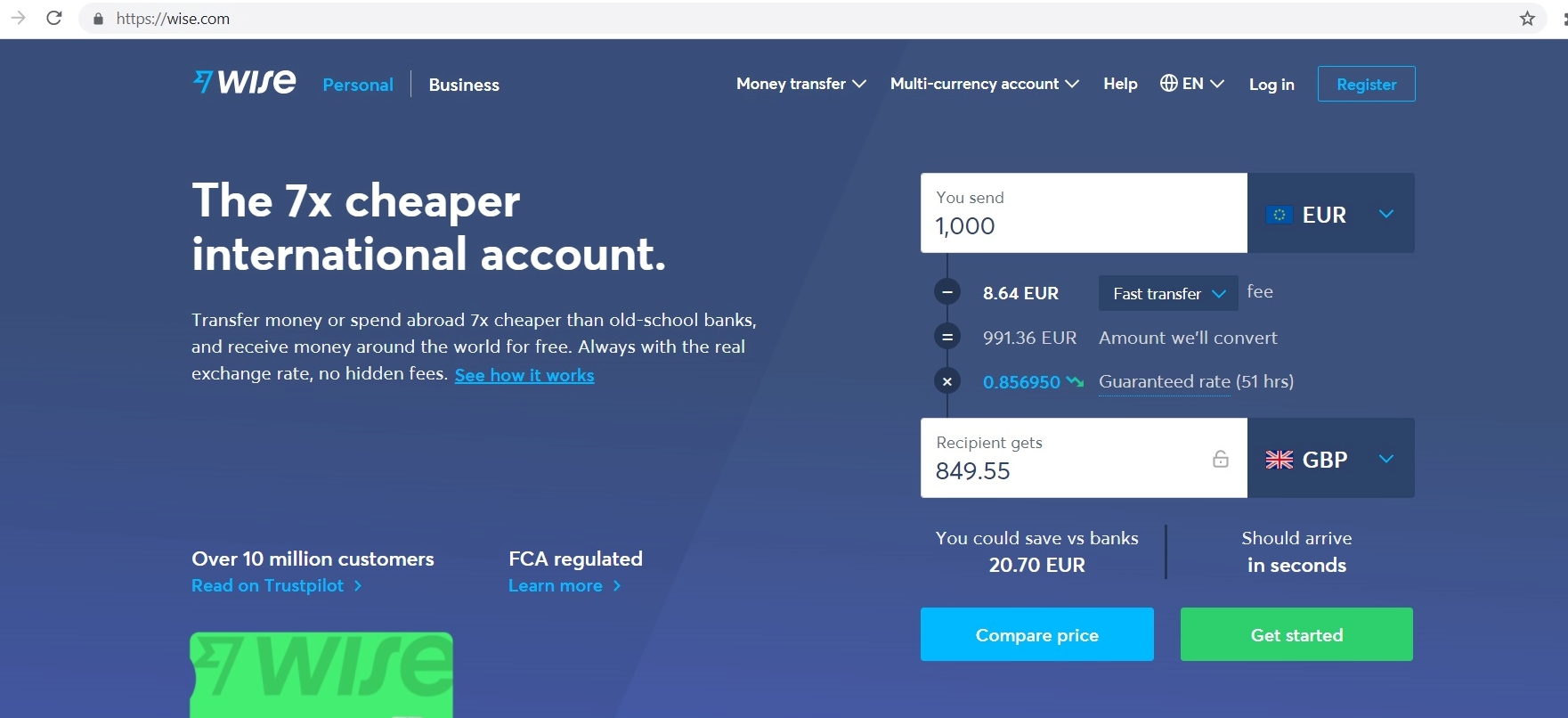 Revolut states that it doesn't charge for money transfers. However, if you make a transfer with currency conversion, a 0.5% fee will be applied on any amount that exceeds the amount for free foreign exchange transactions. Revolut also warns that the beneficiary bank might charge extra fees.
Premium and Metal customers have the ability to send more money abroad each month, with no exchange fees or hidden fees.
Revolut does not add any markup to the mid-market rate on weekdays while the market is open. On the other hand, Revolut charges a 1 percent weekend surcharge on all currencies. When you send money on Saturday, the exchange rate that you received on Thursday may have changed.
Before making any transactions, make sure you check the currency conversion rate.
Verdict: Wise's fees are lower, which are usually a small percentage of the transfer amount. Wise also guarantees the same mid-market rates every day, either during the week or weekend.
Speed
Transferring money with Wise might take up to three working days. If you make the transfer with a debit or credit card, it's going to be quicker.
With Revolut, the transfer usually reaches the recipient on the same day. With international transfers, such as from the EU to the USA, it might take 3 working days. Revolut also offers monthly subscriptions that offer faster transfer speeds.
Note that you can see the estimated arrival time of the transfer both on Wise and Revolut before completing the transfer.
Verdict: Wise offers more currencies, but Revolut might transfer currencies faster when authorizing international money transfers. 
User Reviews
On Trustpilot, Wise has a rating of 4.7 over 5.
As of September 2021, more than 127,000 users have reviewed Wise and 93 percent of these users have rated its service as excellent or great. Users like Wise as it's easy to use, it offers low fees and is transparent.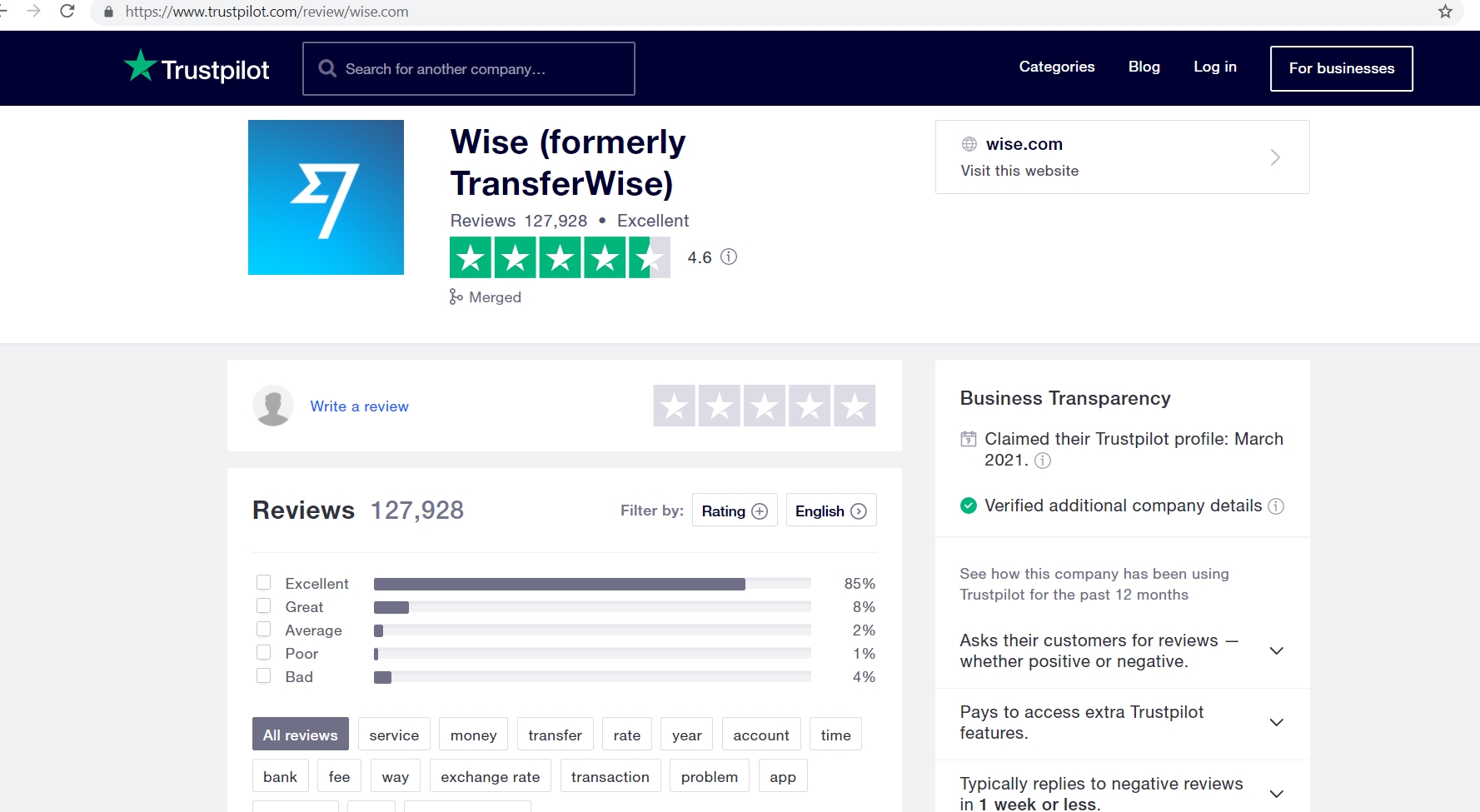 Revolut's rating on Trustpilot is 4.4 over 5.
As of September 2021, more than 90,000 users have reviewed Revolut and 76 percent of these users rate the platform excellent. What users like about Revolut is that it's quick, cheap, and has good customer support.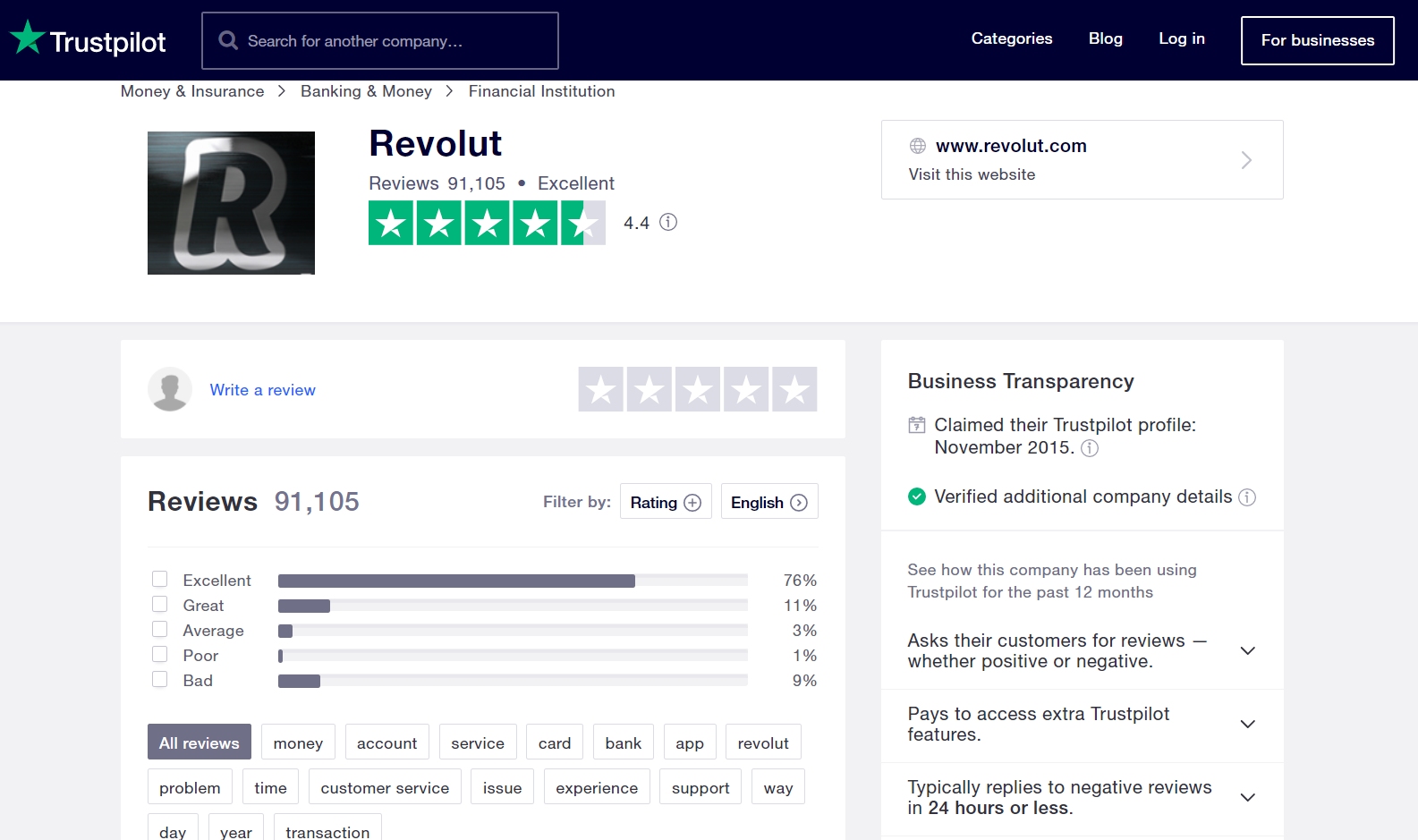 Verdict: Both platforms are highly praised by the users. However, Wise seems to get better reviews than Revolut.
Advantages of Wise: Pros
Offers one of the lowest rates on the market for sending money abroad
Sends money completely online
It's transparent, you can see the amount you will pay for the transfer
It's not necessary to have a Wise account to receive the money
There is no need to travel with cash to the exchange office or bank
Advantages of Revolut: Pros
It's quick and easy to open an account and create a virtual card
Convert the account balance into one of the supported currencies to apply a real exchange rate
Make payments without paying fees and commissions
The exchange rate is the real
Possibility to use your card anywhere
Disadvantages of Wise: Cons
Impossibility to send cash, only cash on account
It has no physical agency
The recipient receives the funds within 2 business days
Disadvantages of Revolut: Cons
Charges on weekends: during weekends, small transaction fees (from 0.5% to 1.5%) are applied due to exchange variation
In case of bank transfer loading, the money is only available after 3 days, and international transfer fees may also be charged
Verdict: Wise VS Revolut
The answer to this question on the service you want and the point you are going to analyze. Both offer similar and quality services, with money transfers into account and in many different currencies, helping their customers to save money by exchanging currencies. Furthermore, both are well supported in Europe. However, it's going to be useful to check the pros and cons closely.

The coverage of Wise is greater than that of Revolut, which makes Wise generally more popular. Furthermore, Wise can be used in many Asian countries while Revolut is absent in these countries. However, Revolut offers greater currency coverage, ideal for those traveling to many countries. Wise has a strong focus on the unique low-cost money transfer service between bank accounts or between Wise accounts.
Have you ever used Wise or Revolut? Let us know about your experience. If you need further information, head over to our Wise review for further reading.