PayPal Review
In the modern world, the world of online money-use continues to grow. PayPal is a leader in this domain, and even with the growing competition across the world, is one of the main money-use apps and websites today. Today, PayPal is being used by over 350 million active users.

In this Paypal review article, we'll be going over PayPal in detail, how it works, how to set it up, how much PayPal fees, along with some advantages and disadvantages of the company. Without further ado, we'll begin with a short explanation of what PayPal is.
What Is PayPal? 
PayPal is a company that has founded itself upon providing a money-transferring and holding service for its users. For many, PayPal is the main tool used to complete international or domestic money transfers. As well as this, PayPal is renowned for its premium security, easy-to-use service.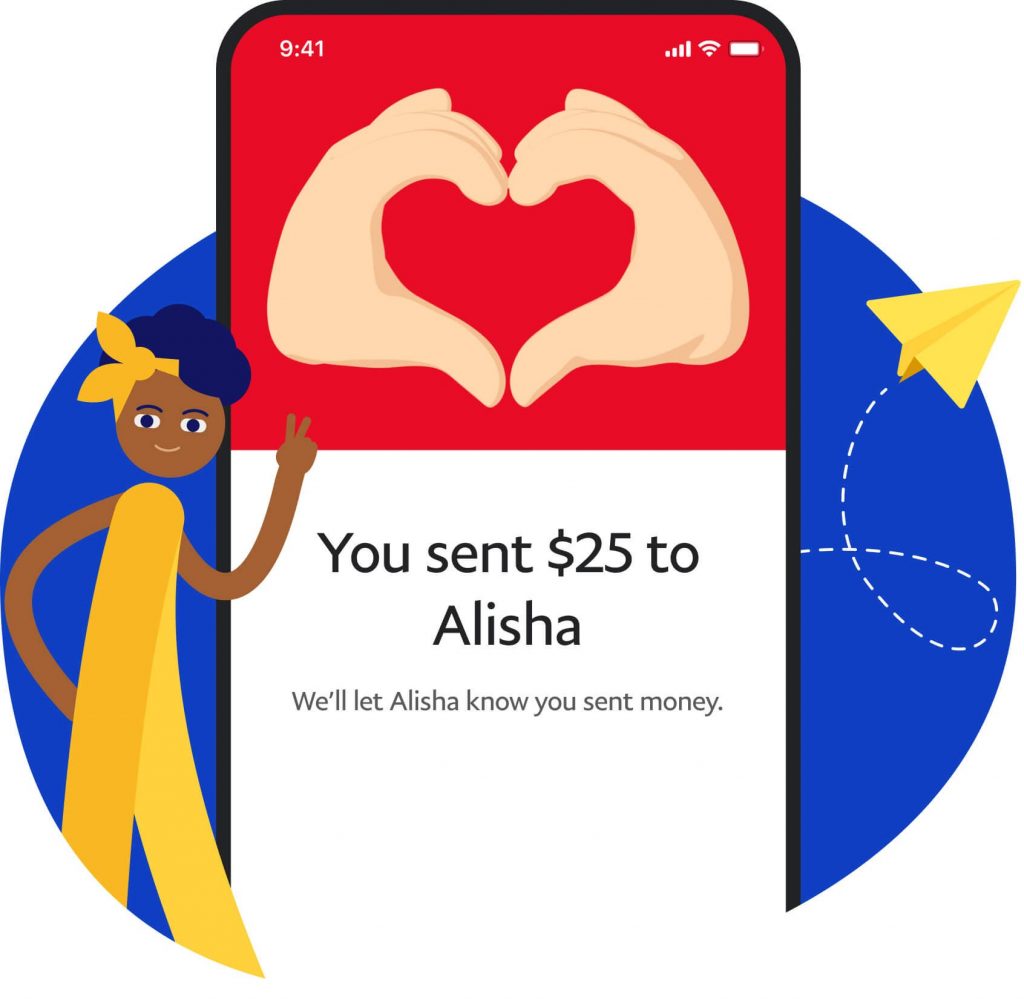 Is PayPal Good for Transfer Money Abroad? 
The defining characteristic of PayPal is international money transfer. This is where it earns its bread and butter. So, is PayPal any good when it comes to money transfers? Short answer, yes. PayPal is almost always instant when transferring between PayPal accounts. However, when transferring to a bank account, or from a bank account, it may take some time for the funds to appear in your or the recipient's account. This is pretty standard for most online money transfer services, though.  
How Does PayPal Work?  
PayPal is incredibly simple. Once again, at its core, it is a money transferring service. Setting up a PayPal account is incredibly easy (we will be going over this in the following section) and once you have set up your PayPal account, and verified your bank, then you can easily lodge, transfer and withdraw funds at a moment's notice. All of these actions are incredibly easy to use thanks to PayPal's easy and smooth user interface which is convenient to navigate. You can also use the PayPal app on your phone to make your transactions anywhere and anytime. 
How To Open A PayPal Account 
To begin, go to PayPal's website and you should see an optional button that says 'register'. Press this.
Once you've pressed register, you will be required to fill out the basics of the information that PayPal requires for you to create an account.
Once you've entered your details, you'll be required to verify your email address through an email that PayPal should send you.
All that remains in the area of identification is to confirm your identity through the customer identification program that PayPal provides.
Lastly, once your identity is confirmed by PayPal, simply connect your bank account to PayPal, which they will then verify in their own time, and before you know it, you're all set to start using PayPal!
Pros and Cons of PayPal  
Everything has pros and cons, we aren't all perfect, and PayPal money transfer is no different. Below we have managed to list just some of the positives and negatives associated with PayPal as a service to further assist you in your decision making of whether it is the right service for you. 
Advantages of PayPal
One of the main positives associated with PayPal is the level of trust and security it provides its users. PayPal is one of the most secure money transfer businesses on the planet. If you do ever have any issues surrounding the security of your account and funds, then they also provide excellent customer service at all times to aid you in sorting your issues out.
As well as trusted security, PayPal is an incredibly swift service. As mentioned earlier, if you're transferring involving banks there is an obvious waiting time, but when transferring between PayPal accounts, the waiting times are almost completely erased from the picture.
PayPal money transfer is now available in over 200 countries across the globe. As well as this, they support dozens of different currencies. Thus, the chances of you being in a nation where PayPal is not supported are incredibly unlikely in the modern-day. The same cannot be said about any other money transferring service provider.
Disadvantages of PayPal
In comparison to some other businesses, PayPal could be seen as more expensive when it comes to international money transfers. There are no fees involved in domestic transfers, but once again, if you're looking to transfer abroad, it will cost you. This can become a hindrance if you consistently use PayPal to transfer abroad.
As well as the loss of money involved in inconsistent international transfers, PayPal also has high currency conversion rates. This is something that you will notice in terms of how much it is costing you on your transfers over time.
PayPal is incredibly efficient domestically, but once again there are issues involved when it comes to international transfers. Even if the recipient you are sending funds to receives the money in their PayPal instantly, there are further steps they'll need to take and further time they'll need to wait for them to complete a transfer from their PayPal to their bank.
Fees for Personal Transactions Through PayPal
Most of PayPal's exchange rates are fairly consistent with the general going off the market at any given time. Rates involving payments are higher, but you could say that that's the price you pay for making use of a more transparent and trustworthy service.

Along with the exchange rates involved with PayPal, there are also the transfer fees that PayPal charges its users for each international money transfer they make. Paypal fees are usually depending on the currency of which you are transferring. You can check the below tables for further understanding. 
Domestic Transactions
Payment method

Fees

PayPal balance/Bank account
Cards 
Amex Send™ Account 

-
2.90% + fixed fee*
-
International Personal Transactions
Payment Method

Fees

PayPal balance/Bank account

5%
-A minimum international fee of $0.99
-A maximum international fee of $4.99

Cards

5%
-A minimum international fee of $0.99
-A maximum international fee of $4.99

Amex Send™ Account

5%
-A minimum international fee of $0.99
-A maximum international fee of $4.99
*Fixed Fee for Personal Transactions (based on the received currency)
Currency

Fee

Australian dollar
Brazilian real
Canadian dollar
Euro
US dollar
UK pounds sterling
Russian ruble
Japanese yen
Swiss franc
New Zealand dollar

 

0.30 AUD
0.60 BRL
0.30 CAD
0.35 EUR
0.30 USD
0.20 GBP
10.00 RUB
40.00 JPY
0.55 CHF
0.45 NZD
Note that we've collected the above figures from PayPal's website. Before sending/receiving money through PayPal, make sure to check the latest fees.
Who Is PayPal Right For? 
PayPal as a whole is right for absolutely everyone. But it works especially for people who may need to be consistently transferring funds abroad for serious matters. That being said, PayPal is incredibly useful for little things too, such as paying a friend back for a favor or anything of that sort. Ultimately PayPal is simple and easy to use, so there are no barriers for people. It makes money transferring incredibly simple, and thus, is right for absolutely everyone who can make use of its services.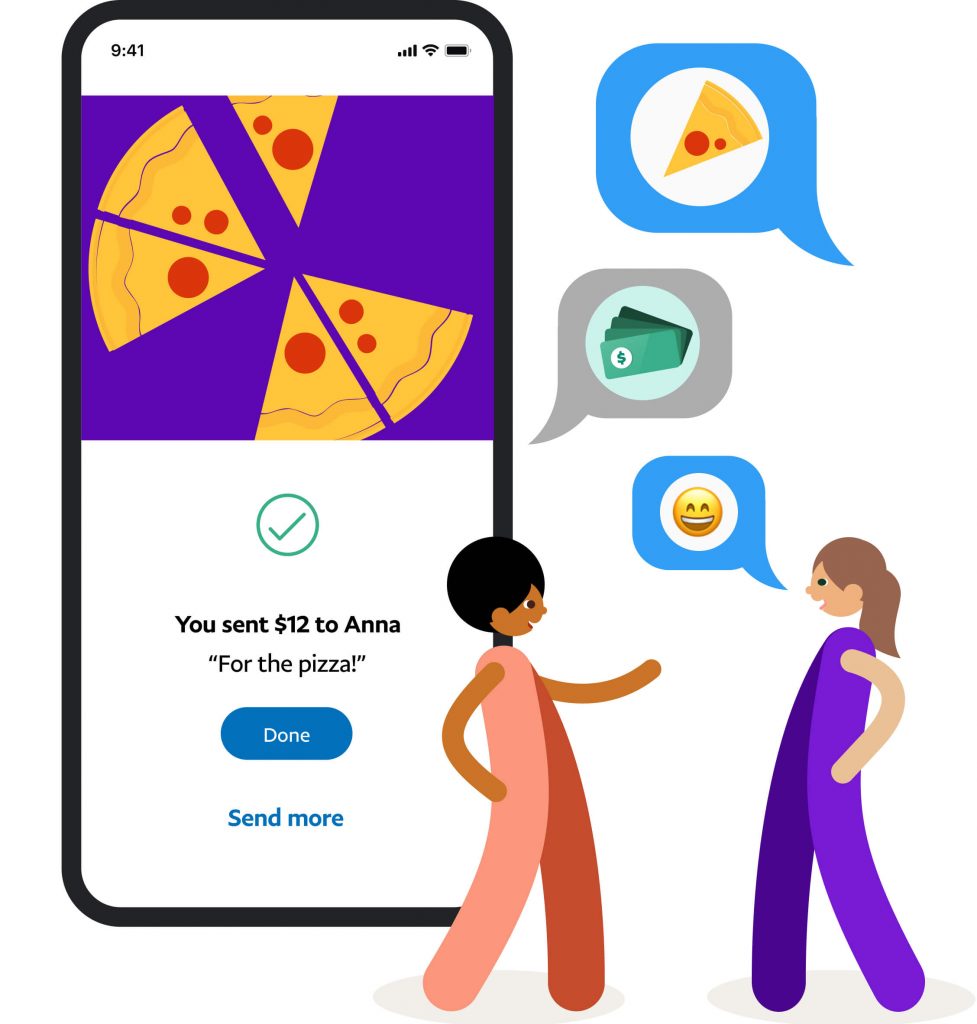 PayPal Reviews 
Despite all the positives that PayPal has going for it, what do the reviews for the company say on websites such as TrustPilot? Well, PayPal review is not so good, to say the least. PayPal has a total review score of 1.2/5 stars on TrustPilot, which is labeled as 'bad' on its website. 
PayPal users who review the business on TrustPilot report having numerous issues regarding scammers and getting problems resolved with PayPal's customer service. The total breakdown of PayPal's review scores has a largely negative response with 86% of users giving it a 'bad' rating, 9% giving it an 'excellent' rating, and the remaining percentages are just everything else left in-between raging from great, average and poor.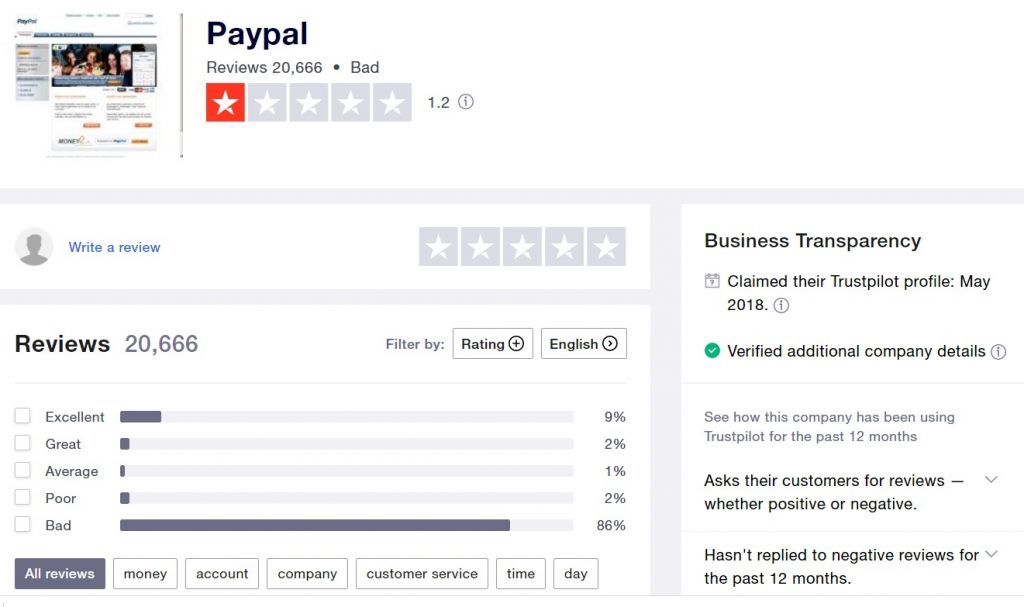 Despite the negative response in terms of reviews on TrustPilot, it is recommended that you still make the call to decide whether PayPal is good for you, as you could potentially miss out on a positive experience if you base your decisions purely on the negative experience of others. 
Is PayPal Safe? 
Overall, PayPal is a safe service to use if you use it correctly. This is mainly because PayPal is a secure platform for its users and doesn't show banking or card information to other users from your details.  
Whether you are a buyer or seller, PayPal is expected to be a safe avenue for you. All details that are sent between devices and PayPal's online servers are secure, mainly due to the information being encrypted, along with the many steps PayPal themselves have incorporated into a transaction process through their service. This depends on whether or not the internet connection you're using at any given time is secure, though. The PayPal app is also referred to as a secure app to use. So, you can download it on your phone to make your transactions easily. 
Despite negative review scores, it is said that PayPal only has a fraud rate of 0.32%. Ultimately, for the most part, it seems PayPal is a safe service to make use of whether you are a buyer, seller, or just a regular user. That being said, once again, there are steps you should ensure you take to maintain the security and privacy of your account and personal information.
The Verdict: Is It Worth Opening an Account at PayPal? 
Now that we have all the information regarding how PayPal works out of the way, ultimately, is it worth opening a PayPal account for you? That decision is down to you and your circumstances. But, with that being said, PayPal is an incredibly useful service, and it is highly unlikely that many of your friends and associates don't already make use of PayPal themselves too. There is no harm in having a PayPal account on hand in case you need to pay a friend or family member back. It is also useful for more serious matters such as business situations and transferring sums of money abroad or domestically. However, as we mentioned, it is ultimately your own decision to decipher whether or not you think PayPal is the right service for you and your own specific needs. 
PayPal money transfer is known as one of the most secure transferring methods in the world. You can also use the PayPal app to make your transactions on your mobile. We hope that you've found all the answers by reading our PayPal review and guide.