Wise vs PayPal | Costs, Limits, Speed
Nowadays, there are many options to make international transfers. It's normal to be confused when they offer different benefits. In this article, we'll compare two popular platforms, show you if they're reliable, and explain which one offers the best rate and is faster: Wise vs. PayPal. 
Wise vs PayPal
When sending money abroad, it is important to analyze several points, such as cost, security, speed in sending money, among others. Many people choose to send money to other countries through the bank, as it is a more traditional method, even though this option is among the most costly. So, before analyzing which platform to choose, Wise or PayPal, you should consider what's essential for you and which offers the most benefits.
What Is Wise
Wise is a fintech offering the service to send money to other countries. It's authorized by the Financial Conduct Authority (FCA) in the United Kingdom.
The Wise, formerly TransferWise, was established in 2011 in London and grew rapidly. The company was created by two people who needed to carry out international transfers, did not want to spend a lot of money with the exchange and, therefore, they invented a new, fast, reliable service that offered low and transparent fees.
Wise allows users to transfer money without technically sending the amount to another country, thus reducing the transfer fees.
With Wise, you put the amount to be sent and inform the country of the beneficiary of the money. Then, you make the payment and the beneficiary receives the amounts in their bank account abroad. Before sending the money, you can view the rates and how much will arrive in the destination country. Transparent.
What Is PayPal
PayPal was founded in 1998 in California and had accelerated growth. Its growth was visible in the fact that the company became the preferred payment method on eBay.
The institution works as a digital wallet, allowing you to make purchases with a credit card, without needing a physical card to complete the transaction. Today, PayPal payments are accepted in over 200 countries.
With PayPal, you pay the transfer with the balance of your bank account, debit card, credit card, or using the PayPal balance and send the amounts to the PaylPal account of the recipient of the money.
Wise vs Paypal: Comparison
Costs
Wise offers mid-market rates in international transfers. It also charges a low fee. It's around 0.35% – 1.65% of the amount you're sending. For the national transfers, there are some small fees but you know this fee before completing the payment.
With Wise, the fees depend on your transfer method, the currency, and the amount. If you prefer to pay with a credit card, the cash advance fee is %3. 
As you can see on the below image, the fee scheme is very transparent.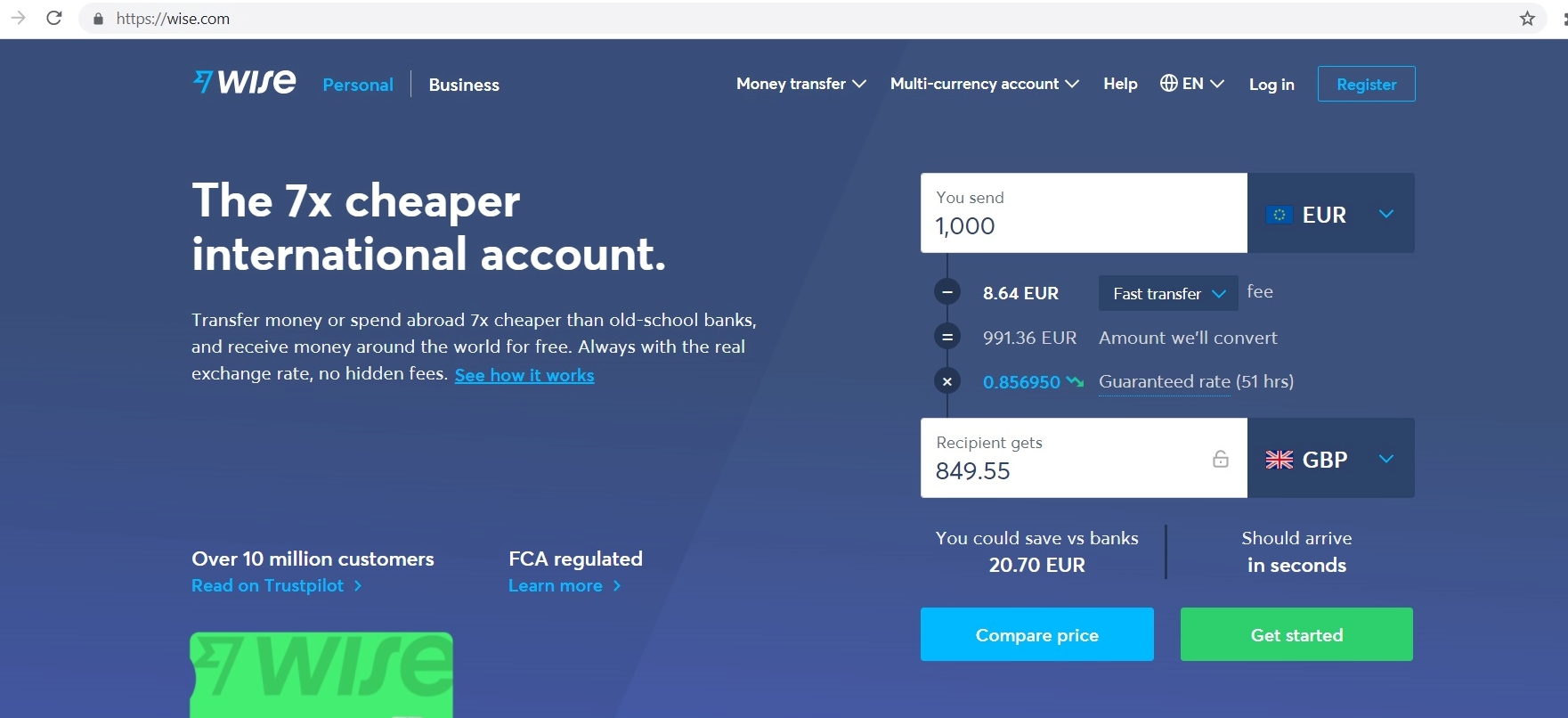 With PayPal, costs for international transfers depend on the countries, also on if it's for personal or business. PayPal international fees include a fixed fee and a fee built into the exchange rate. The difference between the mid-market rate and exchange rate PayPal offers is between 2.5 percent and 4.5 percent. 
Domestic transfers with PayPayl are free between family and friends, on the condition that the transfer's funded by your PayPal balance or bank account.
Verdict: If you're making a lot of international money transfers, Wise is the most affordable choice for you, thanks to its lower rates and transparency. If your priority is local transfers, PayPayl might be better as it's free. Domestic transfers with Wise come with some small charges.
Safety
A common question in our community is "Is Wise Safe?" or "Is PayPal reliable?" Let's quickly analyze.
Wise renews its registration with the Financial Crimes Enforcement Network annually. It's also regulated in the other countries they operate in. Wise holds your money separate from its operating funds. For example, in the United States Wise holds your money with institutions like JP Morgan, Chase, and Barclays. Wise keeps your funds and data secure with "industry-leading encryption" on their website and mobile apps.
FTC regulates PayPal in the US. For the UK, it's FCA in the UK. PayPal also keeps your money safe and it doesn't share your financial information thanks to the encryption technology they use. But note that sometimes PayPal becomes the target of money scammers,  which is however not a fault of their service.
Verdict: Both Wise and PayPal claim good security and both are highly regulated.
Customer Reviews
On Trustpilot, Wise's rating is 4.7 rating over 5.
As of September 2021, there are more than 127,000 users reviews. 93% of Wise users rate Wise's service as excellent or great. What users like most about Wise are that it's simple to use, the fees are low and transparent, and transactions are fast.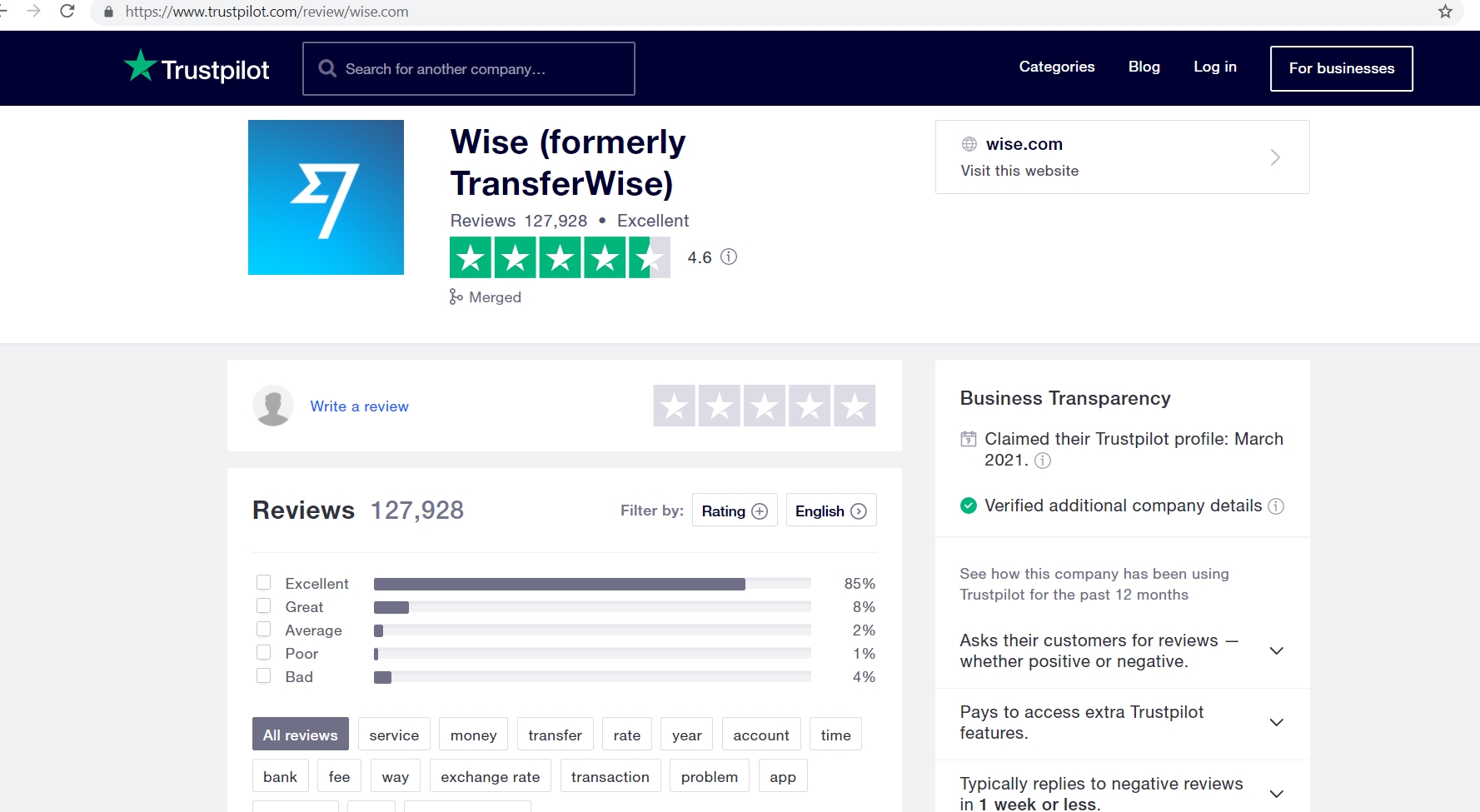 PayPal is also safe. However, in customer reviews on complaint portals, it is not doing so well.
PayPal's reputation on Trustpilot is bad (1.2 / 5). Only 9% of users rated the company as excellent or very good.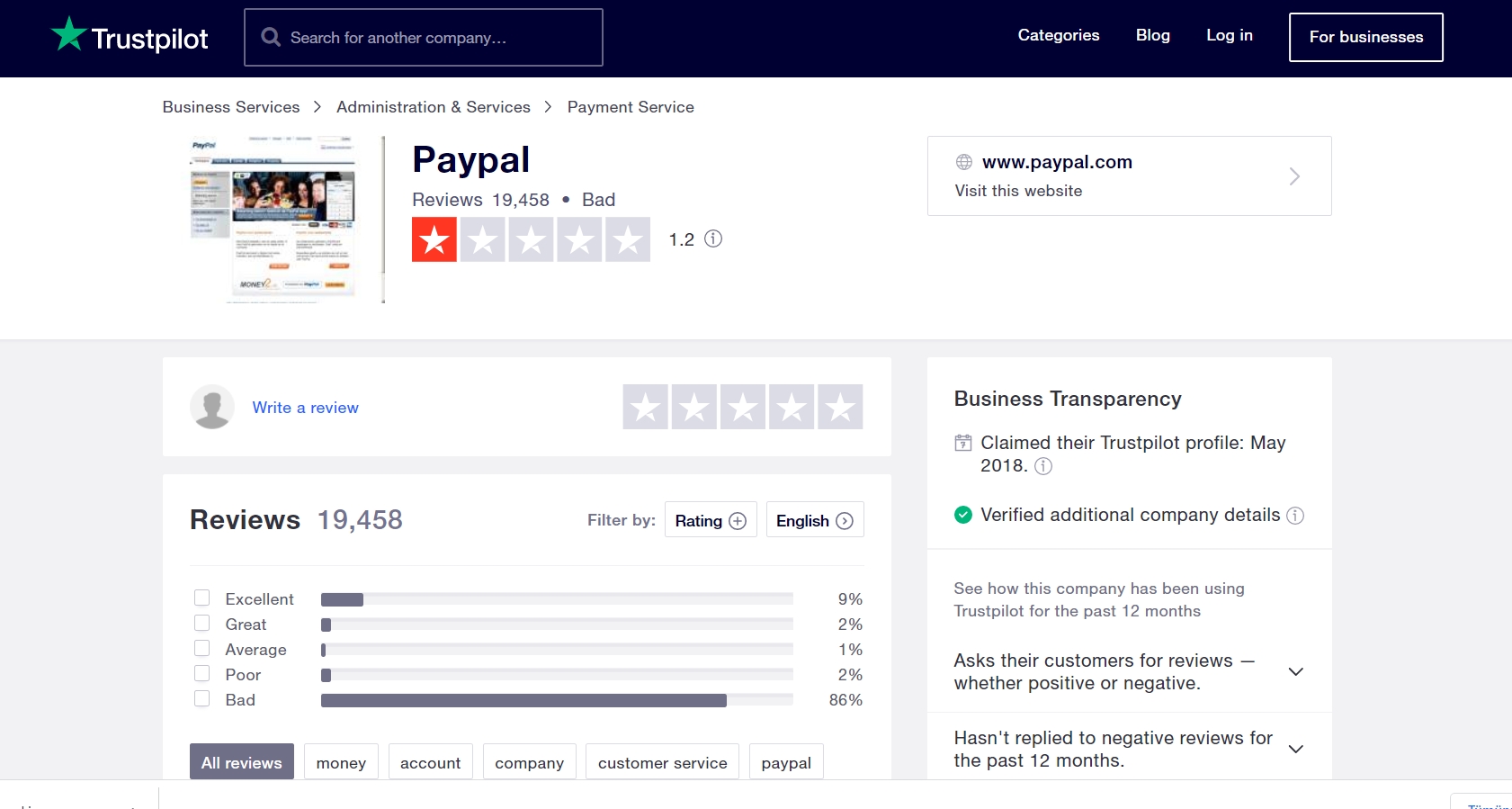 Verdict: Wise has a better customer base compared to PayPal, which translates as a much better experience.
Speed
With Wise, the transfer speed depends on the amount, the currency, transfer method, and if the payment is done during weekdays or weekends. If it's a weekday, the funds will reach your recipient in one or two days. But if the transfer is done during the weekend, it might take 3 to 5 days. If you choose to transfer from your card, it's going to be faster but note that it'll be more expensive.
If you're making a PayPal to PayPal transfer funded by your PayPal balance, the funds will reach the recipient instantly. If it's an international transfer, it might take some hours. If it's a PayPal to the bank account through Xoom, PayPal's international money transfer service, the recipient takes the money in 3 to 5 days.
Verdict: Both Wise and PayPal's transfer speeds are similar if done as a bank-to-bank transfer.
Advantages of Wise and PayPal
There you have it. We've given you a comparison of both platforms. Now, let's quickly go through their advantages to summarize.
Wise
Low and transparent fees
Excellent reputation on all complaints portals
Safety
Your recipient is not required to have a Wise account to receive the money
PayPal
Possibility of receiving the money instantly
Receive in your PayPal account and transfer to your bank account
Safety
Free system for the user who will send the same currency, without having to convert the money
Disadvantages of Wise and PayPal
It's going to be fair to talk about the disadvantages too.
Wise
Average term for transferring (up to 2 business days)
It is not possible to send cash
There are no physical agencies
PayPal
High fees and no transparency
The beneficiary pays to receive the money
It doesn't have a positive rating on every review site
Conclusion: Wise vs PayPal | Which Is Better?
Wise stands out as a better alternative if you want to save on international transfers. It costs less than PayPal. PayPal is more like a payment method rather than a money transfer. But if you're just making online payments and domestic transfers, PayPal might be a better choice.
What is your experience? Have you ever used Wise or Paypal? If not, check out our Wise Review before leaving.