Remitly Review: The Ultimate Guide
When it comes to companies surrounding digital remittance, there are none more reputable than Remitly. As a company, they are based in Seattle and aim to serve over 2 million customers every year. In this article, we will be taking a comprehensive look into Remitly as a company, and looking at how they can relate to you as a user.
What Is Remitly?
So, before we can go any further discussing the finer details of the company, what exactly is Remitly? Remitly is a company founded in the year 2011 in the US. Its sole goal was to assist expats with having a more efficient and cheaper way of transferring funds from their new home, back to their families in their origin nation. They allow their users to transfer funds using a variety of methods, such as:
Debit and credit cards

Bank transfers
Originally Remitly only allowed transfers from the US but has since expanded to allow money transfers from Canada, the UK, France, Australia, and twelve other nations.
From Where To Send Money With Remitly?
Australia
Austria
Belgium
Canada
Denmark
Finland
France
Germany
Ireland
Italy
Netherlands
Norway
Singapore
Spain
Sweden
United Kingdom
United States
How Does Remitly Money Transfer Work?
Remitly is a licensed partner and as such is a regulated money transferring service that is in combination and partnership with a variety of financial institutions across the globe. At its core, Remitly keeps your money safe and ensures it gets to its destination through a simple and secure money payment system with its up-to-date and efficient technology. If you're concerned about transferring funds through Remitly money transfer you can track your funds every step of the way until it reaches the intended recipient. As well as this, you'll have access to comprehensive 24/7 customer support.
Is Remitly Good For Transferring Money Abroad?
In many reviews of Remitly, the consensus of the service is that they are fast and reliable money transfer services. With their two plans to send money, express, and economy, whilst being able to keep constant track of your funds, you can rest assured that your recipient will receive their funds in an efficient and timely manner. That being said, it is worth noting that the fees involved in transferring through Remitly are deemed to be higher than other similar companies that provide similar services. 
How To Get Started With Your Remitly Account
There are several steps you should follow if you're looking to sign up for Remitly. Below we have listed a complete guide to getting you started with your Remitly account.
Make your way to the Remitly website or you can download Remitly app for both Ios and Android. Ensure that when you are signing up you keep an eye out on any potential offers that Remitly may be offering for new customers as they can be quite helpful most of the time.
Once you have made your way to the website or Remitly App, enter your email address and password for your Remitly account, if you have not already made one, the process is simple, just enter your details.
To ensure that there are no hold-ups when initiating a transfer, you'll be required to verify your identity through Remitly. Once you've done this, choose a plan (Economy or Express).
Once you've completed all these steps you should be able to fund your transfer and get your funds sent to wherever they need to be sent.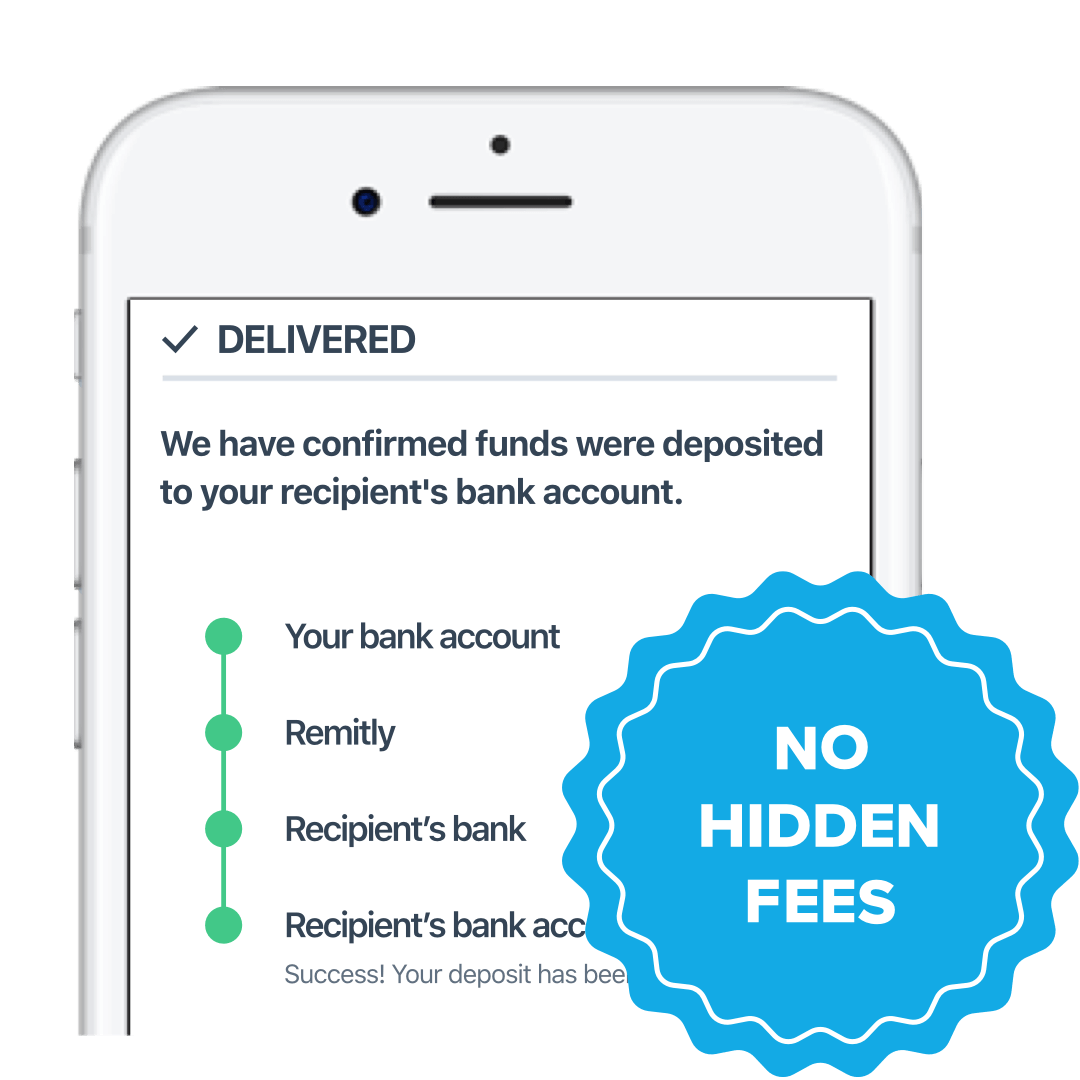 The Pros and Cons of Remitly Transfer
Every service has its pros and cons, and Remitly money transfer is no different. Below we have managed to list some of the most prominent advantages and disadvantages of Remitly so you can make a more informed decision. 
Pros of Remitly
Efficient Delivery: Remitly is an incredibly swift service. If you're using a debit card, you should find that funds will be transferred within ten minutes of sending to the recipient. However, this does vary from payment method to payment method. For example, many details can vary just from switching between credit card and debit card, such as the fees and time frames involved in the transfer of the funds.
Pricing: Remitly's economy options that they offer their users allow you to transfer funds for $3.99. In some countries, you're able to send amounts of over $1000 with a $0 fee charge on the funds. This is decently priced and is in line with the pricing of Remitly's competitors in the same market field.
Promotions: With Remitly, you'll often find that there is a large number of promotional rates that allow you to get limited offers. These are usually accessible to first-time users. It is important to keep note that if you do gain access to one of these promotions, that Remitly can change their expiration dates at any given moment.
Excellent 24/7 Customer Service: With Remitly you'll never have to worry about being left in the dark. They have robust customer service, with their phone service being available for contact 24/7 in both Spanish and English. On top of this, Remitly also has a live chat service that is accessible 24/7 in Spanish, English, and French to their users. If you are looking to solve a simple issue, there is also an FAQ section on their website that lines out how to solve several issues in up to eleven languages.
Cons of Remitly
Sending Limits: Unfortunately with Remitly, the daily sending limits are capped between $2,999 and $10,000 at a maximum, depending on how much information you provide when having your identity confirmed. Many other money transferring apps do not have a cap on the amount of money you can transfer.
Fees Surrounding Credit Cards: When you are transferring funds through a credit card, there is usually a charge that comes to a total of 3% of the total transfer amount. This is similar to what their competitors charge but still quite high regardless.
Delivery Times Through Economy: If you are using Remitly's economy option, you may find that when you are transferring funds through your bank account it can take anywhere between three to five business takes for the funds to transfer across to your recipient.
The Fees and Rates Associated With Using Remitly 
When it comes to Remitly's exchange rates, it typically varies from customer to customer depending on the services they are using, where they are located, where they are sending to. That being said, if you are a Remitly user you can expect competitive exchange rate margins between 1 percent and 3.7 percent.
As well as the margin on the exchange rate, there are also the charges that Remitly places upon customers for making transfers. Depending on how much you are transferring and the delivery method you go with, these fees may change. If you choose express, you will get your funds transferred quicker but at a higher rate than the economy option. It all is a game of circumstances and scenarios when transferring funds through Remitly, with no set or fixed ranges or fees. 
Money Receiving Options With Remitly
Bank Deposit
A bank deposit will be an ideal solution if your recipients have a bank account and want to save money or withdraw cash when they need it.
Cash Pickup
This is an excellent choice if your recipients don't have a bank account. They can choose a convenient collection place, and then receive the cash with a photo ID and a reference number.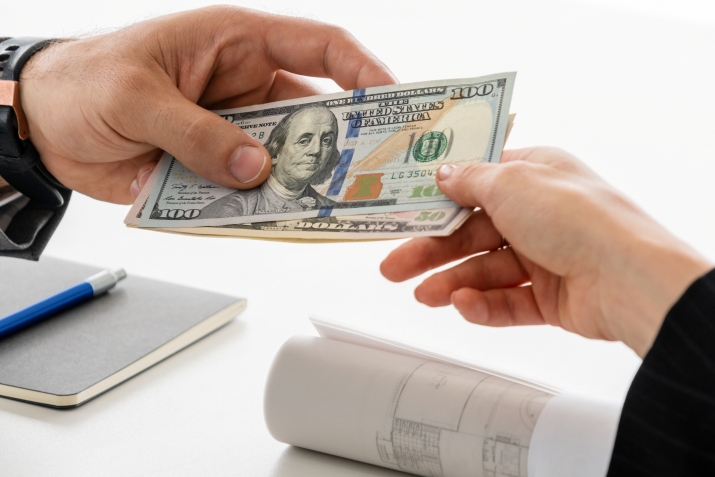 Mobile Money
Receiving money straight in the Remitly App may be the most convenient alternative if your recipients use an app on their phone.
Home Delivery
Cash can be delivered straight to your recipients by courier they live in the Dominican Republic, the Philippines, or Vietnam. This option is ideal if they reside in a rural area or if getting to a nearby cash collection site is difficult.
Alternatives to Remitly
If you're already familiar with Remitly and looking for other alternatives, check out Wise. It's one of the most popular money transfer alternatives and is highly favored among digital nomads. Here is our full Wise review.
Who Is Remitly Right for as a Service? 
Remitly as a service is solely focused on completing their goal of simple and swift transferring of funds internationally, mainly for immigrants who are aiming to send funds back to their home nation. Remitly is made for people who are looking to get funds sent back to their recipients as fast as possible, as well as potentially consistently. It is perfect for those sending money internationally through the bank, as they have partnered with many distributors across the world in nations such as the United Kingdom, The United States of America, Canada, Ireland, Spain, the Netherlands, and many, many more. However, that being said, at the end of the day, it is solely down to you to decide whether or not Remitly is the right service to fit your needs and circumstances.
What Do Reviews Say About Remitly?
On Trustpilot, which is a website that rates the trustworthiness of services, Remitly scores an impressive 4.2/5. This is even more impressive when you consider it has over 30,000 reviews from its users. The consensus through the users of Remitly is that the swift service provided is the ultimate swinger. As well as this, inexpensive and competitive rates combined with the transparent and constant ability to track the funds you have sent is a real home run for the company. Overall, 82% of Remitly reviews state that they have had an 'excellent experience' with only 6% taking the step down to classify it as 'good'. That being said, there is still a minority of users who do experience issues and have made it known in the reviews of the service.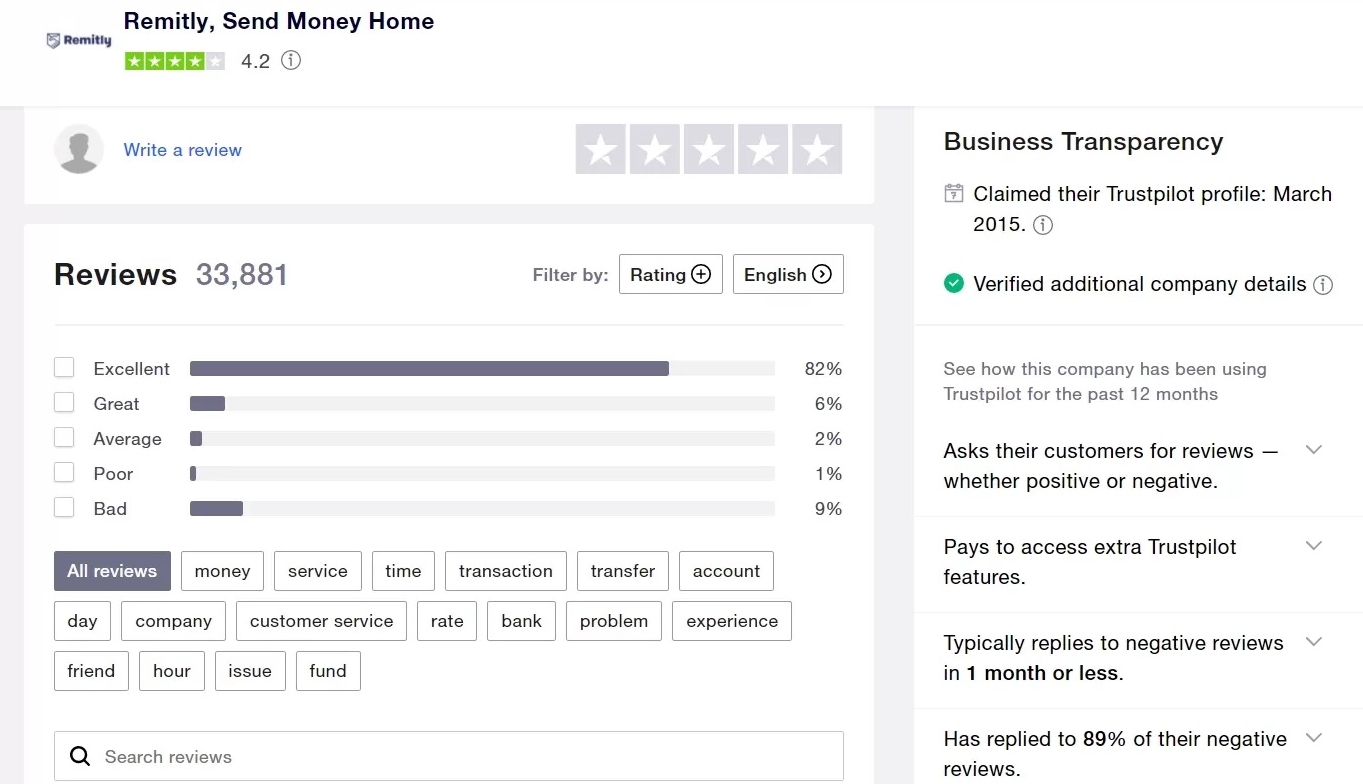 Is Remitly Safe?
As a service, is Remitly safe to use? Well, given that they have over a million users who make a collective total of transactions amassing to over $6 billion annually, one could say yes. As well as this, they are a licensed service provider who is continuously regulated in nations such as the United States of America, Canada, the United Kingdom, Ireland, and Australia. 
However, if that is not enough. Remitly also has a 100% customer satisfaction policy. If something isn't up to standard, you are entitled to receive a complete refund if you cancel the transfer you are attempting to make. If you're unhappy with the general service they provided, they'll even refund the transfer fee even if your funds were still transferred and received. 
Plus:
All transfers of funds made through Remitly are verified individually to prevent any potential fraud, whilst protecting your data with 256-bit SSL encryption and an optional two-factor authentication that you can set up on your account if you wish to feel that extra bit safe.

Remitly boasts their use of absolute peak manual and automatic verification techniques which they use to identify suspicious activity on their websites and apps.
In conclusion, everything points toward Remitly being a completely safe and trustworthy service for you to transfer funds through. However, once again, the final call will always be on you as the user and whether it meets your criteria for what you deem safe as a service. 
The Verdict: Is It Worth Opening an Account With Remitly?
Overall, Remitly is a company that offers complete state-of-the-art services that can allow you to transfer funds to a multitude of nations across the globe. Among these, there are sixteen available countries you can send funds from (Among these are: United Kingdom, United States, Ireland, Germany, Canada, Spain, Austria, Belgium, Singapore, Netherlands, and many more). In tandem with this, Remitly provides transfer services to over 50 countries across the world at a moment's notice.
However, even with all that being said, Remitly may not be the correct choice for you on a personal note if you are aiming to send large amounts of funds for business expenses for example. 
Ultimately, Remitly is a reliable and useful service with excellent passion and care put into the service that they provide for their users, that being said, it is solely on a person by person basis on whether or not you deem it right for your specific circumstances. This article has aimed to provide an insight into how Remitly works, what it is, and clarify the service to help you as the reader (and potential Remitly user) make a more informed and personal decision before heading into the world of international money transfers.