OFX Review
The OFX company, based in Sydney, has grown exponentially since its founding in 1998. The company operates offices across 8 locations worldwide: Australia, Canada, Hong Kong, Ireland, New Zealand, the US, and the UK. Since its founding, the company has facilitated £80 billion in transfers with one million users worldwide. 
OFX promises fee-free transactions and money sending capabilities for its customers that are available anywhere around the world at any point in time. In this OFX review, we'll discuss how they operate so you can make an informed decision when choosing them as a financial service provider to best meet your needs.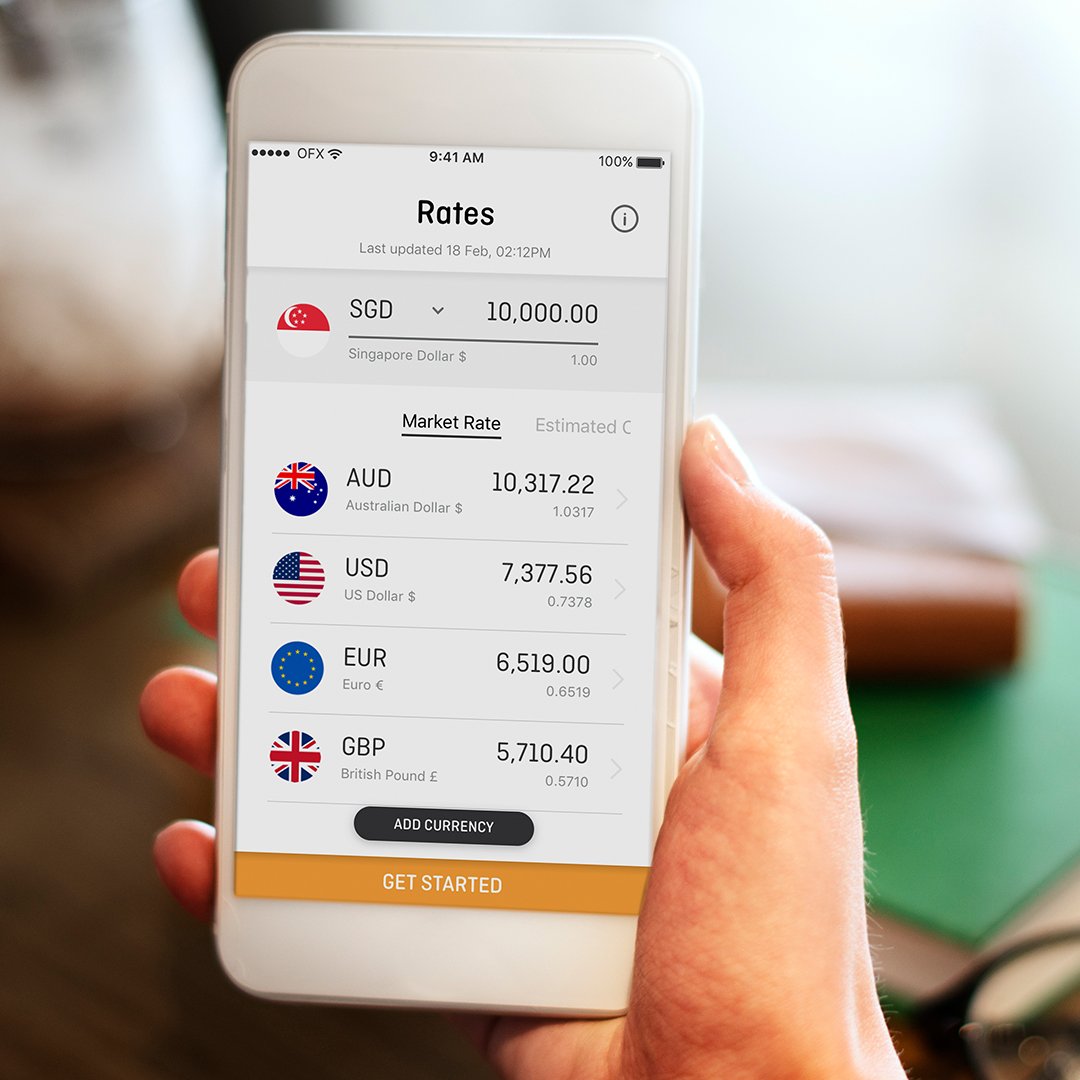 What Is OFX?
OFX is a licensed money transfer company with low, medium, and high-value transferring options. They offer dedicated services for individuals or businesses that need them, including an online seller account that can handle transactions from $1,000 and over $7,000. The OFX staff will help you choose the right service based on your needs. Besides, OFX offers 24/7 support over the phone for all large transfers. 
How Does OFX Money Transfer Work?
The money transfer on OFX is simple. You just have to register, get verified, and log in to transfer money. After this, find a live exchange rate quote and enter the recipient's bank account information. You may choose from the single transfer, recurring transfer, forward contract, or FX option to transfer the funds.
OFX will transfer your money in two to five days. You may find some spot deals for popular currency pairs to transfer the funds in two-four days. However, the time taken to complete a transaction may also depend on the choice of currency. 
Popular currency can be transferred in two days. On the other hand, any exotic currency may take five-seven days. Besides, try to do the transactions during the work hours for them to get through quicker. On bank holidays and weekends, the transaction will obviously take longer.
How To Get Started With Your OFX Account?
Here is how you can get started to send and receive money using the OFX website or app in less than five minutes.
Sign up for creating an OFX account online

OFX customer support will call you for account verification and further setup

Submit the required informative

Login to your account and go through the live exchange rates 

Provide recipient details for the transaction, and your funds will be transferred. 
The Pros and Cons of OFX Transfer
Here are the most notable pros and cons of OFX:
Pros of OFX
Fee-free transfers and a low exchange rate between 0.4 to 1.5% offer low-cost transfers.
The platform has a wide range of exotic currencies.
Users can choose from different transfer options such as recurring transfers and forward contracts.
Locked-in rates give the chosen exchange rate for up to 24 hours.
24/7 customer services are easy to reach and resolve issues.
There are daily updates on training data for customers to stay informed.
Cons of OFX
It may get expensive for smaller transfer amounts.
Customers have to maintain a $1,000 minimum transfer threshold (per year).
There is no cash pickup.
The Fees and Rates Associated With Using OFX
The markup foreign exchange rate ranges from 0.4% to 1.5%. In comparison to other banks charging higher, this is an affordable option. Note that this makeup rate varies depending upon the amount. The margin on the exchange rate decreases with an increase in the transfer amount. There are no transfer fees if you maintain the amount over the minimum threshold as OFX transfers funds without any deductions. 
Money Receiving Options With OFX
As the money transfer industry continues to evolve, OFX has remained committed by offering only one way of sending and receiving funds. You can use OFX for sending money across 195 countries in 55 different currencies. 
Moreover, you can use the services to set recurring payments such as tuition fees and mortgages. You'll get the best rate for transactions over $7,000/€4,500. Apart from this, the company also allows you to integrate with business tools like Xero. 
You can benefit from their multi-currency account to receive money from different sources. Overall, OFX has a single dashboard for all domestic transactions and automates international payments without paying hefty bank fees. 
Who Is OFX Right for as a Service? 
OFX account is ideal to use for domestic and international fund transfers for personal as well as business use. The platform works great for business as well as personal transfers. 
You may use it for the following services;
Paying staff, contractors, and international suppliers
Make transfers in different currencies for business or personal use
Send money to relatives, children, and family
Paying mortgages and loans
OFX makes it easy to send money internationally without breaking the bank. Their low-cost transfers are best for small and medium-sized businesses that transfer up to $1 million (or equivalent globally).
What Do Reviews Say About OFX?
Overall, OFX has a strong rating of 4.5 out of 5 stars on Trustpilot. Their features and services make it an ideal choice for both individuals and business customers. Moreover, their 24/7 support, minimal transfer cost, and convenient exchange rates attract more users. Many find their interface to be easy to use for domestic and international transfers. It is a reliable choice for the users while being affordable.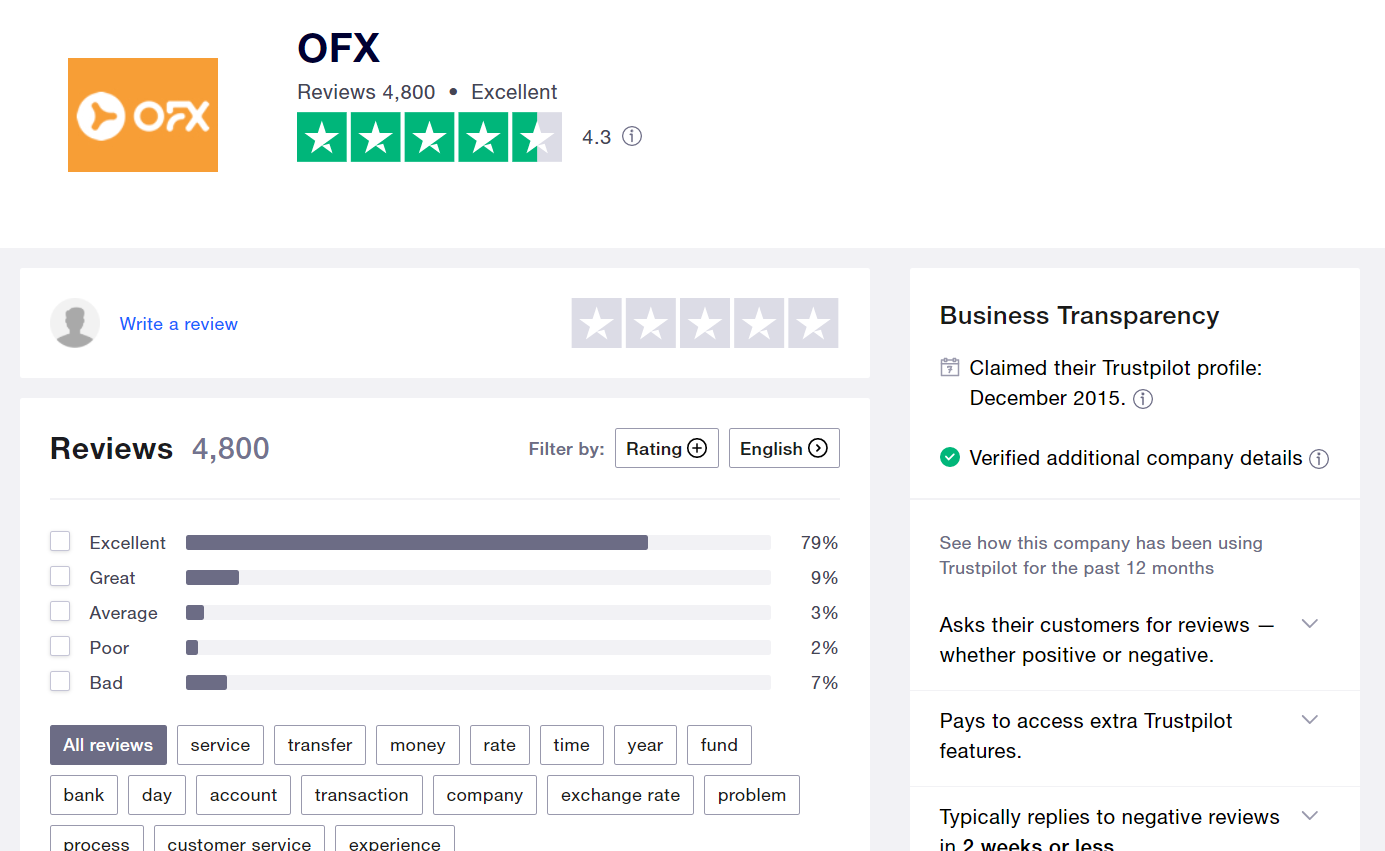 Is OFX Safe?
OFX has been operating since 1988 and also has physical branches all over the world. They have crossed over $100 billion in the past years. OFX is licensed and regulated for transferring money. Moreover, they have an SSL certificate, ensuring the users that all their shared data is safe. There is a minimal chance of theft from the website and the app with automatic time-outs and passwords. 
The Verdict: Is It Worth Opening an Account With OFX?
OFX is a multi-currency transaction platform that is an excellent choice for amounts over $7,000. They make transfers affordable and transparent. You can transfer the most exotic currencies using OFX. With its 24/7 support and easy user interface, it is safe and worth using.