Venmo Review
Venmo is one of the most reputable and trusted names for mobile payment services in the US. Based in New York, Venmo money transfer app has over 75 million users using the platform.
In this comprehensive Venmo review, we will take a closer look at what it is, how to use it, and what it might mean for you as a user.
What Is Venmo?
Venmo is a peer-to-peer (P2P) payment app that allows you to make quick and easy exchanges with friends. The cool thing about it? It's available on both iPhones and Androids. With it, you can send money via: 
Credit and debit cards

Bank balance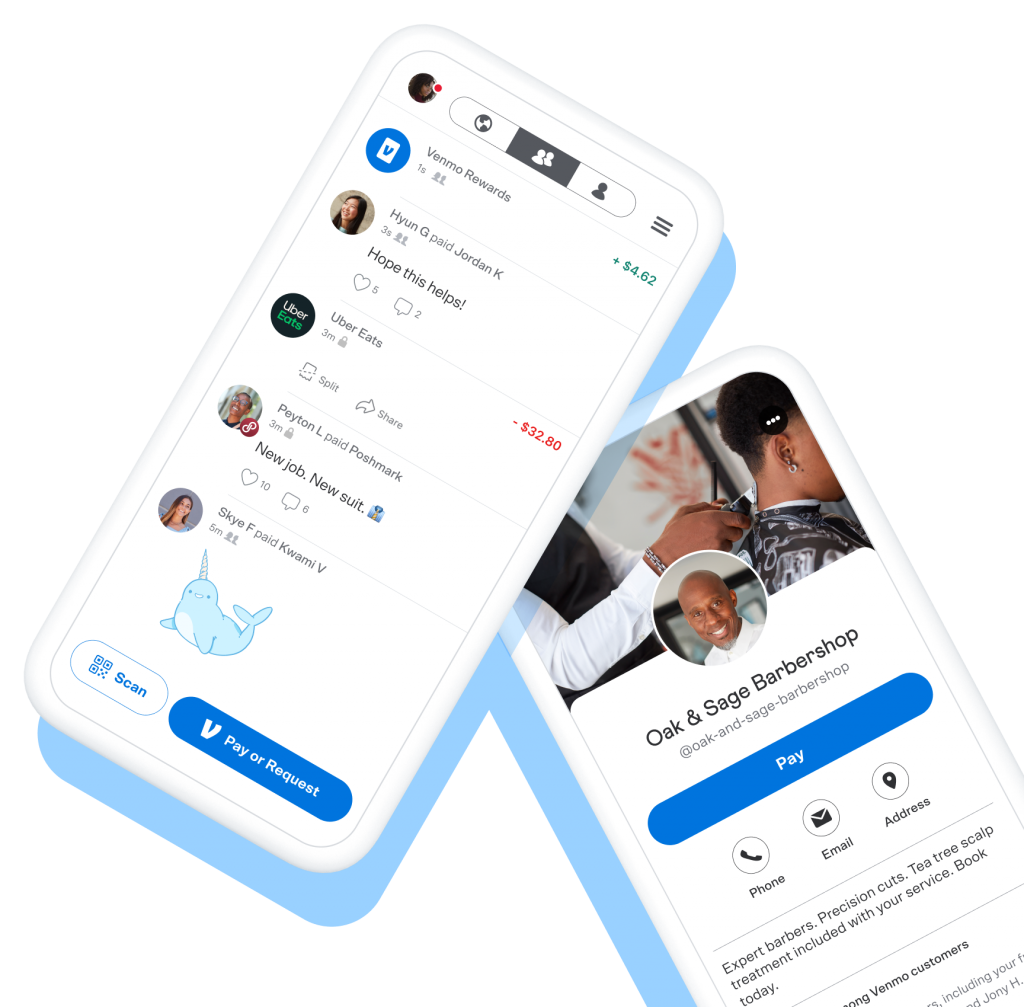 How Does Venmo Money Transfer Work?
With Venmo money transfer, you can send money to your friends and family quickly without having them contact a third-party financial institution. Just install the app on their phones along with linking it up against any accounts they might have—this way, instant peer-to-peer transaction swapping begins. You can add friends, create payment feeds with different types of notes or stickers for each transaction—even if you haven't sent someone money yet.
Venmo has privacy settings that allow you to share your payments with only certain people or keep them hidden from everyone.
Is Venmo Good For Transferring Money Abroad?
International payments aren't an option with Venmo. To open your account, you must be living in the United States with a local cell phone number. You can only transfer balances from America-based accounts into Venmo ones. However, if you want to send funds abroad, look elsewhere for better options such as PayPal. 
In the next section, you can find answers to get started with your Venmo account.
How To Use Venmo
You can use the steps below to start using the Venmo app.
Download Venmo app from the Play Store or the App Store. The mobile app is readily available only for iOS or Android. 

Open the app

Select your sign-up method. Add your personal information and secure them with a unique password (8 to 32 characters strong)

Confirm your email address and phone number

Confirm your bank account.
Once done, you can start receiving and sending money. 
If you're interested in learning more about these steps, check out article about how to use Venmo.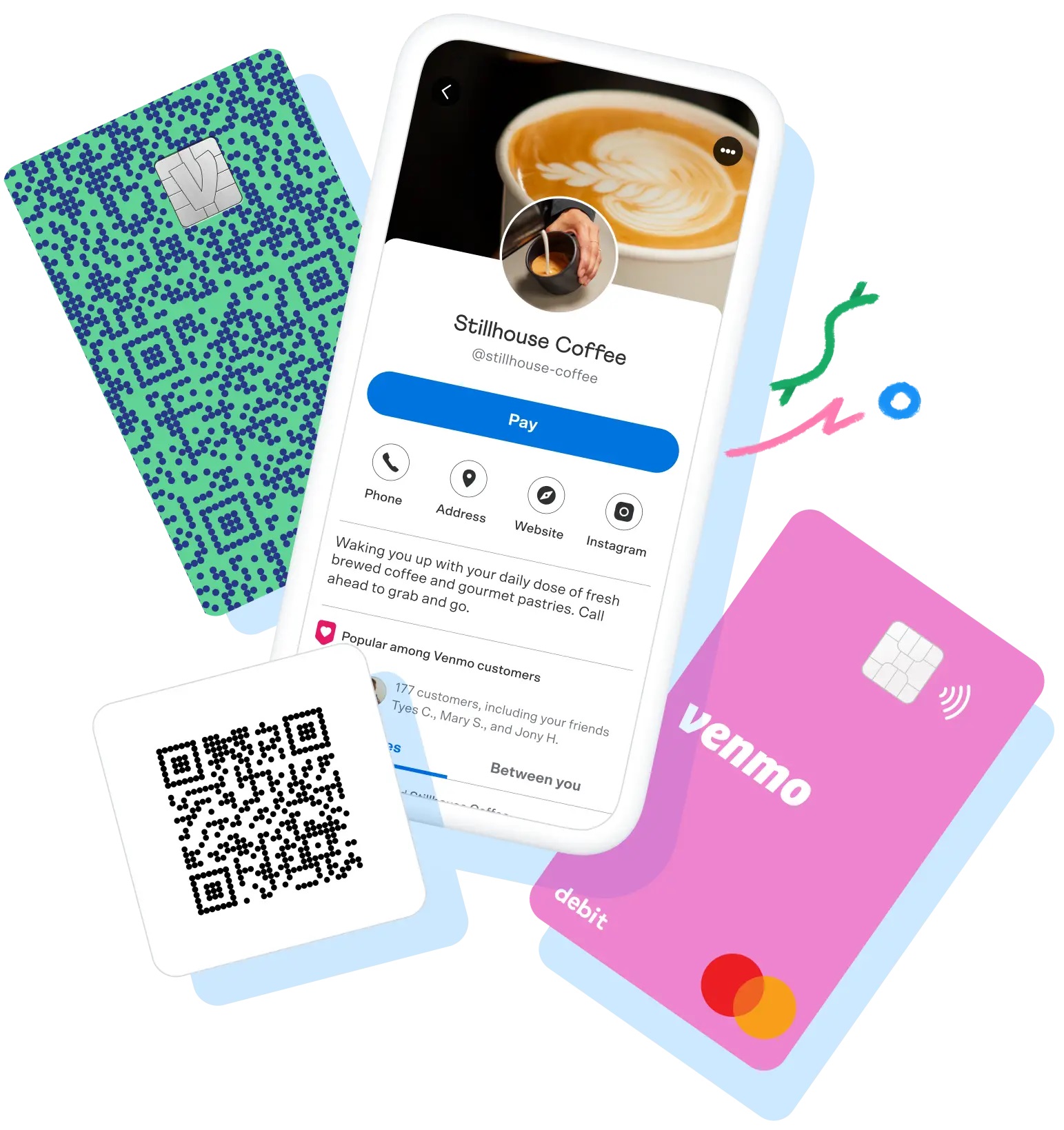 The Pros and Cons of Venmo Transfer
Venmo money transfer has its own set of advantages and disadvantages. 
Pros of Venmo
Download the app and start using it. It makes splitting expenses simpler. Also, there is an onscreen calculator whenever you request or send money.
No fees for sending money from a bank account, debit card, or Venmo balance.
Pay directly at some businesses: Venmo is the payment of choice at some apps and websites such as Uber.
Cons of Venmo
Venmo has some privacy flaws. Your payment history is always public, including your username and the recipient of funds. No amount displayed, though.
The recipient gets your money instantly, and there's no way to cancel the transaction.
The Venmo balances aren't insured by the Federal Deposit Insurance Corp., unlike traditional banks.
The Venmo Fees
With Venmo app, you can send money to friends without any fees. There's no charge if the cash comes from your bank account or Venmo balance, but there's a 3% charge for credit card transactions.
As for the flat fee for instant Venmo transfers, it is 1.5% of the transferred amount.
Transfer Limits
The overall combined sending limit is $6,999.99. You can see the transfer limits below with Venmo. Note that if you've not verified your identity yet, these limits will be lower.
Person-to-Person Payments 

Authorized Merchant Payments 

Venmo Mastercard Debit Card Purchases

Maximum Weekly Spending

$4,999.99

$6,999.99

$6,999.99

Per Transaction Limit

$4,999.99

$2,999.99

$2,999.99
Money Receiving Options with Venmo
The primary receiving option is Venmo account. You have to initiate a bank transfer to receive it in your bank account. After transfer, the money immediately appears in the recipient's account.
When adding money to your Venmo account from a debit card, credit card, or bank account, it can take up to 1-3 days for the transfer and vice versa.
Who Is Venmo Right for as a Service?
Venmo is an app designed to make transactions between friends and consumers in the US. Also, a few selected small businesses may also use Venmo to receive payments.
What Do Reviews Say About Venmo?
On GetApp, a website that rates the trustworthiness of apps, it shows an impressive rating of 4.8/5 for Venmo. Add to it the 8,000 reviews, and you know you're up for a good thing. The consensus drawn from the reviews is that the simple interface is the biggest perk one receives with using the app. The user-friendly features for both lenders and borrowers are the real game-changers for the app.
However, on Trustpilot, ConsumerAffairs, and Sitejabber, Venmo reviews seem to be mixed. The rating does not seem to be stellar.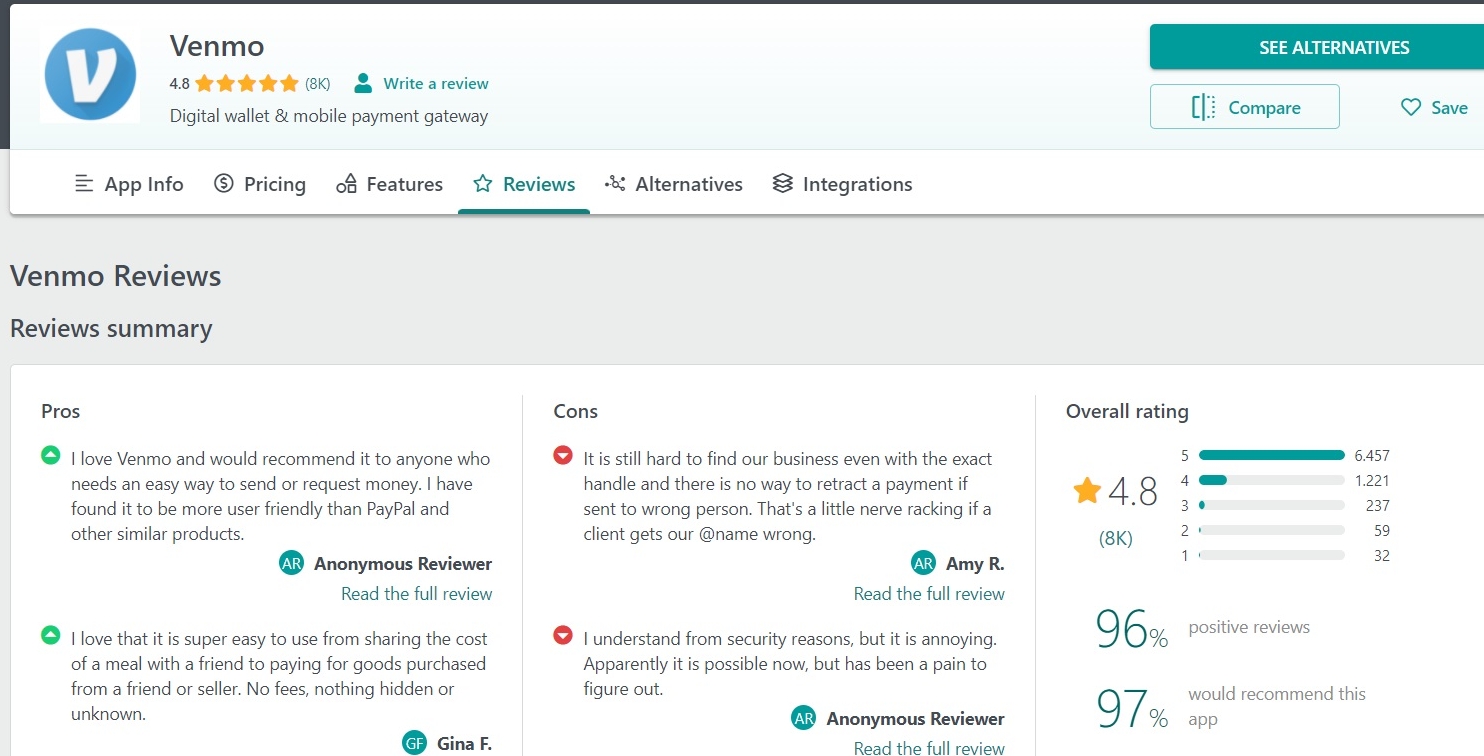 Is Venmo Safe?
Vulnerabilities exist in all Internet-connected applications, and this can lead to security breaches. Venmo, like any other application linked to your bank account, should be held accountable for its security measures which may give hackers an attractive target if not improved quickly enough.
Indeed, Venmo has an encrypted service that stores all personal information on its secure servers. You can log out of your lost or stolen phone and set up PIN codes for applications on this app. However, scanners and hackers have found a loophole. After gaining access, they can transfer your Venmo balance over email by changing the user's linked email address. Hence, the latter never receive any transaction notifications until the bank informs about the money deduction.
The Verdict: Is It Worth Opening an Account With Venmo?
Venmo provides an excellent model to send and receive money in the United States. Backed by PayPal with encrypted data, it can be an easy option for users who want quick transactions. Though it may be easy to get caught up in the hype of Venmoing and think that everything is going smoothly, before you start sending your cash around town, make sure to know what could happen. Understanding these limitations will be easier for both parties involved when asking or receiving payment through the Venmo app. We hope that you've found answers to "What is Venmo?" and "How to use Venmo" questions in our article.
Frequently Asked Questions
How does Venmo make money?
Venmo makes money by charging a small fee for each transaction. For example, if you send $10 to a friend using Venmo, the company will charge you a $0.25 fee. This may not seem like much, but it'll add up over time. In addition to making money from transaction fees, Venmo also earns interest on the money that users have in their accounts. For example, if you have $100 in your Venmo account, the company will earn interest on that money. Venmo has been incredibly successful since it was launched in 2009. The company has millions of users and processed billions of dollars in payments last year and so they made fees from each Venmo payments or Venmo transactions.
What are the risks of using Venmo?
There might be some risks associated with Venmo. The first is that Venmo is a peer-to-peer payments platform, which means that it relies on users to keep track of their own transactions. This can lead to confusion and errors if users aren't careful. Secondly, because Venmo is a payment platform, there is always the potential for fraud or scams. Finally, Venmo may not be available in all countries, so users should check before using the service.
Can you buy cryptocurrencies on Venmo?
Yes, you can buy cryptocurrencies on Venmo. However, while Venmo is one of the few places where you may buy cryptocurrency, it isn't the only option. Before deciding to utilize this service, compare its features, choice, and pricing with those of other exchanges.
Do I have to add money to my Venmo balance to make transfers?
Yes and no, here it goes:
You don't need to have a Venmo balance in order to make transfers. You can either use your bank account, debit card, or credit card to fund your transactions.
To withdraw funds, Venmo users must first open a bank account. If you want to deposit funds via Venmo and then cash them out, your Venmo account must be linked to a bank account.
Do Venmo users need to have a Bank Account?
No, a Venmo user does not need a bank account in order to start using Venmo and request money. However, if the user wants to start sending money and making an instant transfer or a Venmo payment, then there needs to be a linked bank account.
Is PayPal safer than Venmo?
This is a difficult question to answer because it depends on several factors. However, in general, PayPal may be considered slightly safer than Venmo simply because it has been around longer and is better established. That said, both platforms are generally considered to be quite safe for most users to send and receive money.
How to know if someone received my Venmo account payment?
If you've sent a payment through Venmo and want to know if the recipient has received it, you can check the status of your payment in the app. To do this, open Venmo and tap the "Transaction History" tab. Then, find the payment in question and look next to it for the "Pending" or "Completed" status. If the payment is still pending, it means that the recipient hasn't accepted it yet. If the payment is completed, it means that the recipient has accepted the payment and the funds have been transferred to their account.
If you're still not sure whether or not your payment went through, you can contact Venmo's customer support team for help.
Can I access Venmo from my desktop?
Unfortunately, there is no way to access Venmo from your desktop. The only way to use Venmo is through the mobile app. However, you may be able to find a third-party app that will allow you to access Venmo from your desktop.
How fast does Venmo transfer money?
Venmo transfers are typically instant but may take up to one business day in rare instances. You can check the status of your transfer in the app. If it says "completed," the money has been deposited into the recipient's account. If it says "pending," the money is being processed and will be deposited soon.
What is the Venmo Debit Card? 
The Mastercard Debit Card is a debit card that works with the Mastercard network. It is linked to your Venmo account and allows you to spend your Venmo balance funds at any place Mastercard is accepted in the United States and American territories.
What is the Venmo Credit Card?
Synchrony Bank's Venmo Credit Card is a Visa credit card. You may split up transactions on Venmo and make payments from your Venmo account to pay off your balance. Each card has its own unique rewards program.