SafetyWing Nomad Insurance: The Ultimate Review 2023
SafetyWing is an innovative travel medical insurance designed exclusively for nomads. It covers you worldwide while you are outside your homeland and offers excellent benefits. If you're an international traveler and don't want to worry about getting sick or injured while abroad, consider SafetyWing.
In this SafetyWing review, you'll find out all about SafetyWing long-term travel insurance and see if it suits your needs. We'll focus on "Nomad Insurance", the most popular plan offered by the company but have also added a section where you can check the other products. But first, let's start with what SafetyWing is. 
What Is SafetyWing
SafetyWing is a Norwegian start-up situated in California. It specializes in long-term travel and coverage for digital nomads. The people behind the SafetyWing are nomads themselves, and they understand the customer's needs very well. It's true that they are less comprehensive than most travel insurance companies, but their prices are significantly lower which makes them very appealing.
SafetyWing's policies are provided through Tokio Marine HCC, an international specialty insurance group.  
SafetyWing Nomad Insurance
SafetyWing Nomad Insurance is global medical travel insurance and it is the most popular insurance package the company offers. It can be bought while traveling, covers housebound trips, and operates just like a monthly subscription. It is explicitly designed to offer travel and medical benefits.
SafetyWing Nomad Insurance focuses on emergency medical coverage, rather than full insurance plans.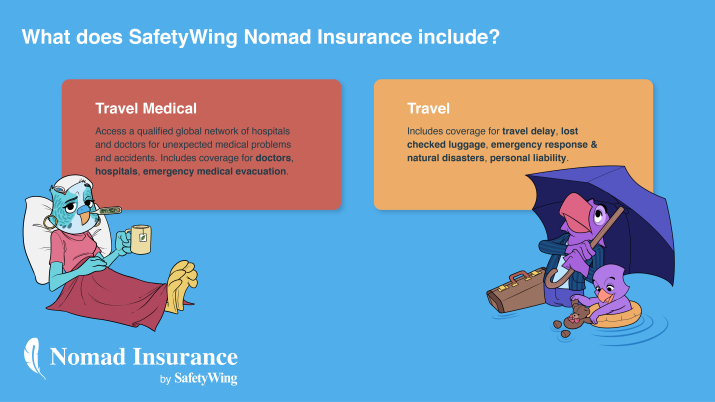 Benefits of SafetyWing Nomad Insurance
SafetyWing Nomad Insurance comes with many benefits, such as:
You can buy it after you've left your home country.
It charges you every four weeks. You don't have to buy coverage for the whole year.
It allows you to sign up even if you don't have a return ticket.
It covers adventure activities.
Riding scooter or motorbike is covered too.
You don't have to choose a specific location, its coverage is worldwide.
The fee structure is transparent.
Your children under the age of 10 might be eligible to be covered for free.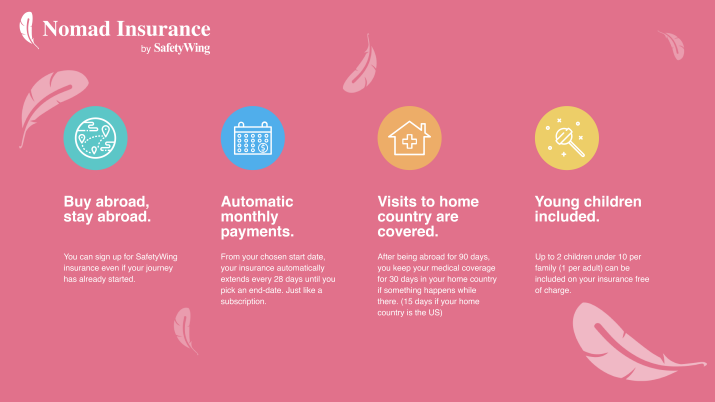 Why Get SafetyWing Nomad Insurance
If you have plans to travel abroad, it's essential that your health insurance covers emergency medical expenses. If something goes wrong with an unexpected sickness or injury while on vacation, it is crucial to protect yourself.
This is why we recommend SafetyWing Nomad Healthcare Services for those looking into protection against costly bills while away from home. Expenses like doctor and hospital fees, ambulances, or prescription drugs are all considered eligible for nomad insurance.
SafetyWing Nomad Insurance Costs
The cost for a 4-week SafetyWing Nomad Insurance is $42 (as of January 2022). If you add the US to the plan, the price will go up to $76.72. 
SafetyWing has a simple and straightforward pricing structure. You only need to worry about two things: your age, which determines how much it costs, plus whether or not you want travel insurance coverage while in the US (which adds an additional $34 per 4 weeks). 
Here's a breakdown of the fees charged to each age group every four weeks:
| | | |
| --- | --- | --- |
| Age | Excluding US | Including US |
| 10 – 39 years | $42 | $76.72 |
| 40 – 49 years | $68.04 | $126.56 |
| 50 – 59 years | $106.68 | $208.04 |
| 60 – 69 years | $144.76 | $284.20 |
SafetyWing has a simple and straightforward pricing structure. You only need to worry about two things: your age, which determines how much it costs, plus whether or not you want travel insurance coverage while in the US (which adds an additional $34 per 4 weeks). 
The standard policy costs $42 per month (4 weeks) and is automatically charged until canceled with no hidden fees; this applies to everyone 10 years old up until 39. You'll be charged a monthly fee every 28 days until you cancel or after 364 days have passed when they need renewing.
As you get older, Nomad Insurance costs go up significantly. 
You may also select dates for your trip (from 5 days to 364 days) and pay a one-time fee, which might be helpful if you're going to travel for less than 28 days or prefer to pay in advance for a more extended excursion.
SafetyWing calculator shows you the cost depending on different scenarios, such as your location, age, and travel dates.
SafetyWing offers safety and security for everyone, but it doesn't cover people over 70.
What Does SafetyWing Nomad Insurance Cover
The SafetyWing gives you the protection that's needed for any type of trip. Below we'll go over each coverage in detail, so there are no surprises!
Who Is Eligible for SafetyWing Nomad Insurance?
SafetyWing offers a wide range of travel insurance plans to suit every need. They will give insurance to anyone from any home country globally, except for individuals whose home country is Iran, Syria, and North Korea; and Cuba if that's their citizenship.

Countries Covered
SafetyWing travel insurance provides coverage for almost every country globally, making it easy and affordable. They only deny their services to three countries: Iran, Syria, Cuba, and North Korea. However, If you're a US citizen and have received permission from the US government, Cuba is open to you. 
You don't have to list the countries you'll be visiting in advance, as with other travel insurances. The only question is if you want to include the United States, which adds substantially to the cost. It also does not apply to kidnappings or explicit kidnappings initiated in Iraq, Syria, Venezuela, Afghanistan, Nigeria, Pakistan, Somalia, or countries where transactions are restricted by US Treasury Department Assets Control (OFAC) sanctions.
Activities Covered
It's important to check out SafetyWing's Nomad Insurance policy before you engage in any sports or activities because they cover many standard ones.
Some of the sports they include
Camel riding
Hiking up to 4,500 meters
Bungee jumping
Horse riding
Sailing
Skiing (not off-piste)
Hot air ballooning as a passenger
Kayaking
Snowboarding (not off-piste)
Waterskiing
Scuba diving (if you have certification)
Ziplining, etc.
Some of the sports they exclude
Kitesurfing
Base Jumping
Mountaineering at elevations of 4,500 meters and higher
Snowmobile
All-Terrain Vehicles
Martial Arts
Whitewater Rafting
Parasailing/Parachuting
Spelunking
Heli-skiing
Racing
It will cover motorcycle and scooter accidents, on the condition that it's not done for racing purposes.  
It's also worth noting that they extend to skiing and snowboarding, which are popular winter sports that tend to be more expensive with other travel insurance providers.
Note that SafetyWing travel insurance doesn't cover organized sports or professional sports activities.
Maximum Payout and Deductible
The maximum payout for SafetyWing is $250,000 ($100,000 for those 65 years and above). A $250 deductible or excess is required; this is the charge you'll have to pay if you submit a claim.
If, for instance, you suffer an accident and your medical costs total $500, you'll be responsible for the first $250 while SafetyWing will reimburse you for the remaining $250. 
SafetyWing will cover you fully if you have another accident or illness within a year of beginning your policy, as you've already 
If it's not subject to deductible, they will pay out the total amount as long as it has been paid in advance. Some items such as emergency medical evacuation and emergency dental care are exceptions; they don't have deductibles. 
Medical
If you're looking for peace of mind when it comes to your health care, then SafetyWing Nomad Insurance is exactly what you need. This policy will cover emergency medical expenses like doctor and hospital fees, medications as well as ambulances if required – all without breaking the bank!
With SafetyWing travel insurance, you can be prepared for just about any emergency that may arise on your trip. In addition to providing coverage up to $1,000 in dental treatment and medical evacuation costs with no deductibles, they also have a maximum lifetime benefit amounting to $100,000, which is not taxed when received by an insured person.
 You may not be covered for routine checkups, preventative care, or cancer treatment. But you do have confined coverage for the acute onset of pre-existing conditions as long they don't qualify as chronic or congenital disorders.
Baggage
The SafetyWing policy does not cover lost or stolen luggage or electronics.  However, they'll cover your lost checked luggage up to $3,000 per certificate period and even pay you $500 for any items that get damaged or destroyed with no deductibles.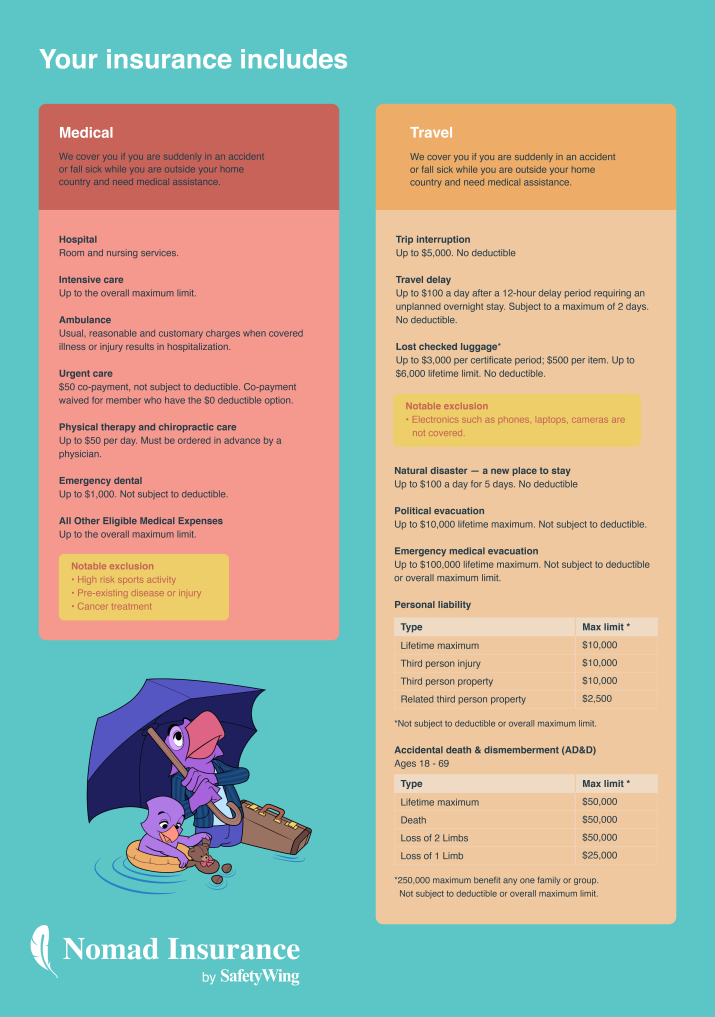 SafetyWing travel insurance also provides the following add-on insurance coverage:
Travel delay: If your flight is postponed for more than 12 hours, you may be reimbursed up to $100 each day (maximum of two days) in case of an unexpected overnight stay
Personal liability: Up to $25,000
Trip interruption: Up to $5,000. This includes a flight back home if you have to terminate your trip because of the death of a close family member, loss of your main dwelling, or an emergency medical evacuation
Natural disaster: covers $100 per day for 5 nights in a new spot
Accidental death & dismemberment: $12,500 to $25,000
Emergency reunion: Up to $50,000 for transport, lodging, and meals for one close relative to visit you after an emergency medical evacuation (maximum 15 days)
Political evacuation: If the United States Department of State has issued a level 3 or level 4 travel warning after you arrive in the destination country, you may be able to receive up to $10,000 in lifetime transportation assistance.
SafetyWing Travel Insurance COVID 19 Coverage
You must be wondering if SafetyWing covers COVID 19? Then, let us clear your doubt; yes, it does provide coverage for coronavirus (COVID 19).
SafetyWing states: "Coverage is similar to any other sickness, as long as it was not acquired before your coverage start date and did not fall under any additional policy exclusion or restriction. COVID 19 testing isn't covered unless a physician determines it is medically necessary. The antibody test is not covered since it is not considered essential by a doctor." 
 If you find yourself in an unfamiliar country with fever and COVID 19 tests are pending, SafetyWing will cover the cost of quarantine for up to 10 days for $50 per day, on the condition that you're outside your home country, an authority mandates your quarantine and your Nomad Insurance coverage is for a minimum of 28 days.
Signing Up For SafetyWing Nomad Insurance
It's simple to get SafetyWing travel insurance.
Step #1
Create a SafetyWing account on their website by selecting an email address and password or logging in with Facebook first. Then type in your home country, date of birth, and address details. To activate your policy, select the date you want to begin coverage and whether you'll be visiting the United States or not. You might also add family members or pals to your plan.
Step #2
You can spend through debit or credit card and be charged every four weeks unless you choose exact travel dates and pay in advance.
Step #3
It's simple to cancel at any time with only one click, and you'll be insured until the last day you pay.
Making a Claim with SafetyWing
On the website of SafetyWing, click on "Make a Claim" under My Profile in the dropdown menu, and it will guide you through the process. Fill out the claims form (this can be done digitally) and then submit it with pictures of receipts to Tokio Marine's online portal.
Claims must be raised within 60 days following the expiration date of your insurance. If your claim is approved, you'll receive the cash into your bank account by a wire transfer in less than 45 days.
Downsides of SafetyWing Travel Insurance
The following are some of the areas where SafetyWing may be enhanced:
No stolen baggage coverage (unless checked)
Low maximum payout
Some outdoor activities are not covered
Does not apply to individuals age 70 and over
Exclusion of pre-existing conditions
The older you get, you pay more
It does not cover Cuba, Iran, Syria, or North Korea
No cancellation cover
Electronics aren't covered
SafetyWing Reviews
On TrustPilot, SafetyWing's score is 4.3%5 which translates as excellent, as of January 2022. What users like most about the service is the customer service and its efficiency.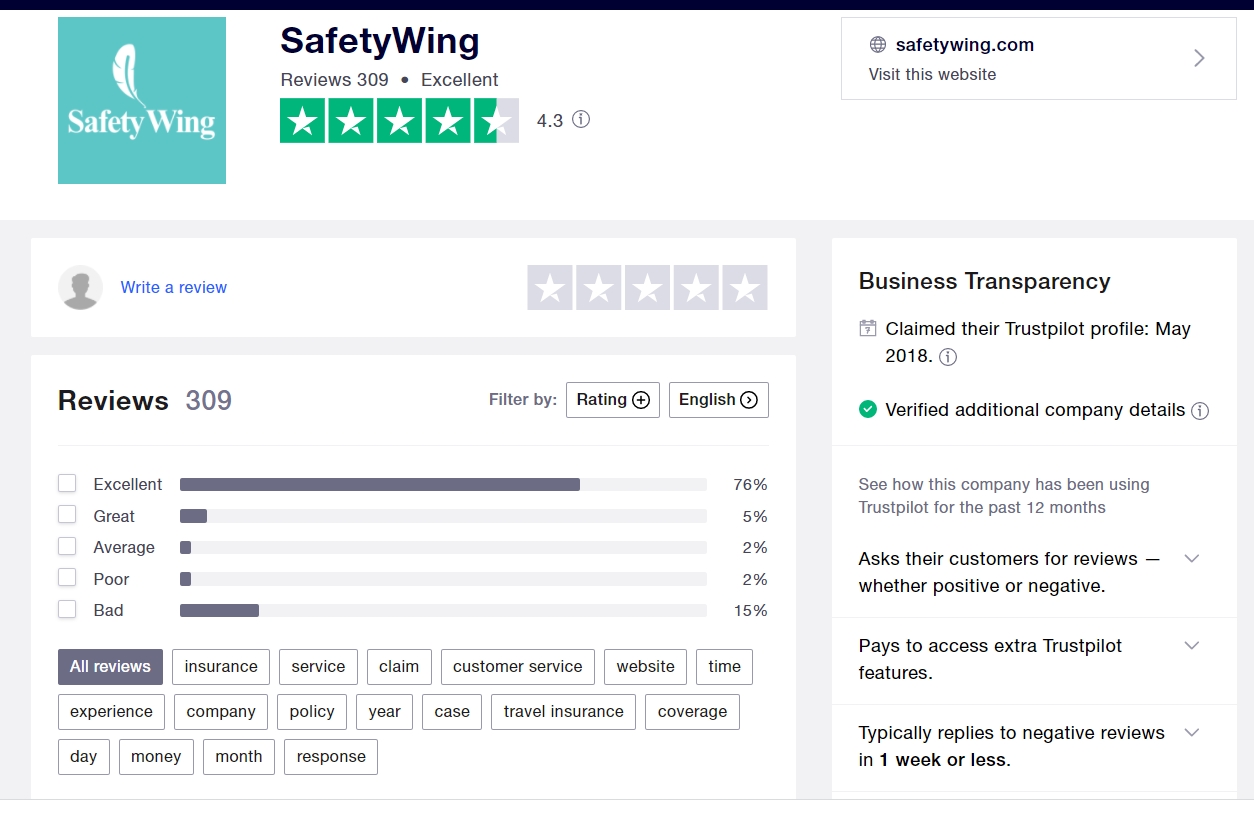 Other Products SafetyWing Offers
Remote Health – For Remote Teams: This is a good package for remote teams and entrepreneurs. It offers remote companies an easy, flexible solution that no other insurance company has offered before. The best part? You'll be able to buy it across the globe, even if you move countries.
Remote Health – For Individuals: If you're looking for full health insurance, which also covers you in your home country, you can check this plan. The monthly fees start from $206.
Is SafetyWing Travel Insurance Worth It?
Innovation is a word that SafetyWing likes to use when describing its products. The company's goal has always been something different – an adaptable software-based system designed for everyone in the world! The company's products are developed and produced by an entirely remote team of nomads. We find it truly valuable as they're aware of what a digital nomad needs.
So the answer to that question is: Yes, it's definitely worth it. SafetyWing travel medical insurance is available to individuals from most countries and is particularly suited for digital nomads and long-term travelers. It's flexible, cheap to get started on, and quick to join up for.
Frequently Asked Questions
Does SafetyWing offer deals for digital nomads?
Yes, SafetyWing has plans that are suited for digital nomads and professional travelers who travel frequently.
Does SafetyWing travel insurance make up for full health insurance?
You can check the Remote Health plan the company offers if you're looking for a full insurance package.
Is SafetyWing travel insurance a comprehensive health insurance?
Tre travel insurance provided by SafetyWing is mostly for emergency situations so it's not full health insurance.
Does SafetyWing travel insurance cover a pre-existing condition?
In general no, but you can check with the customer service if you have a special condition.
Does SafetyWing travel insurance cover lost luggage?
Yes, if it is checked baggage.
Is SafetyWing insurance suitable for remote workers?
SafetyWing has a special plan named for remote workers.
Does it cover trip interruption?
Yes, it does in some circumstances.
Do I have to pay upfront?
No, they'll charge you monthly.
Is there an age limit?
People over 70 are not eligible.
Does it cover adventure activities?
It does cover some of them, such as bungee jumping. Make sure to check the policy if you're planning to do a specific activity.
What is the eligible age group?
Everyone can be eligible, except those over 70 years old. However, the fees go up for those above 39 years old.
Is emergency dental treatment subject to deductibles?
Can I sign up while I'm on the road?
Yes you can sign up even if you're already traveling. This is a rare benefit a travel insurance company offers.