Wise Business | Benefits, Costs, and Services
If you're setting up a business, choosing a business bank account is an important step. Wise Business is a great option for this.
Wise offers a service that helps you expand your business and function worldwide – without the expensive fees, time-consuming administration, or headaches that come with dealing with a local bank. Here is what you need to know about Wise Business.
How Does Wise Business Work
Wise for companies is a solution for businesses that need to have a global account without having to deal with the bureaucracy and high fees of traditional banks.
The account is already used by more than 400,000 companies worldwide. That's because Wise is a free online account through which you can make international transfers between more than 50 countries at cheaper rates than traditional banks. Not to mention that the process is much more practical and faster.
In addition, this is an excellent option for companies of any size that want to expand their business abroad.
Those who can send and receive money from abroad through Wise for companies are:
Freelancers and self-employed professionals;
Public and private companies;
Business companies;
Charitable trusts located in Canada, USA, European Economic Area (EEA), New Zealand, UK, and Switzerland.
Difference Between Wise Personal and Wise Business Account
The main difference between Wise's personal and business accounts is that Wise Business account was designed and developed especially for companies. Therefore, it has exclusive solutions that are not available for a personal account.
With the Wise account for companies you:
Have account details such as IBAN, classification code, routing number, and others;
May receive payments from third parties;
May get bulk payments;
Can add more people to manage the business account;
Can withdraw money from platforms like Shopify, Stripe, etc.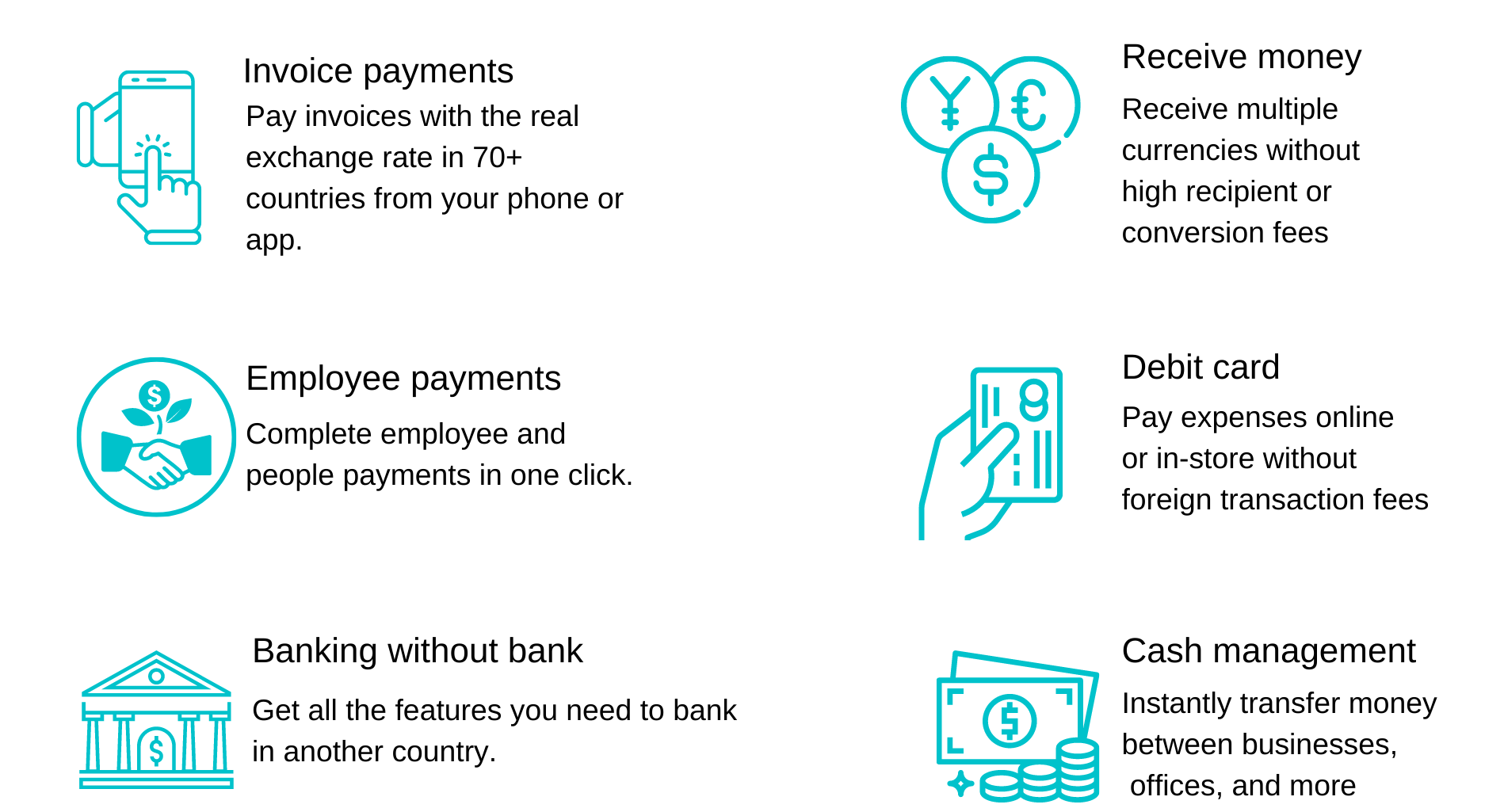 How To Open Wise Business Account
Registering with Wise for companies is simple and practical. The entire process takes a few minutes and is done on the company's website. So, follow the below steps:
Visit Wise website ;
Go to "Create account" and select the "business";
Provide necessary information
After you complete the registration, Wise will review your company's data. This might take around six or seven business days;
Once approved, go to the platform and start using Wise for Business.
Transactions In Wise Business
Wise Business can be used for several common transactions in the day-to-day of a business:
Payment of invoices at the commercial exchange rate in over 70 countries
Employee Payments
Payments in batches
Great customer support: accessible in different languages via phone and email
Debit cards for business expenses that can be used in multiple currencies
Transfer money instantly between companies and people
Payment and cash flow management
Receipt of payments from customers and investors
Wise Account Fees for Businesses
Creating a Wise account is 100% free. Also, the fees are lower than in traditional banks.
At Wise Business, there is no fixed transfer fee. The fee for carrying out the operations varies according to a number of factors such as:
Amount sent,
Origin and destination of shipments,
Sending and receiving currencies,
Payment method.
Another important factor is that at Wise Business, currency conversion is based on the commercial exchange rate, without adding a profit margin. Additionally, if you wish to obtain international bank details to receive coins, you will be charged a one-time flat fee of £16 and it is free to receive money using your bank details.
And if you spend with your Mastercard business debit card in a currency that is not active in your account, the conversion is automatically done at the lowest price. It is also possible to receive free money depending on the currency.
If you want to retain more than 50 currency balances on your account, you pay nothing for amounts in Euro, as long as the amount is up to €70,000. For larger values, the rate is 0.40 percent per year. See the below table for more details.
| | | |
| --- | --- | --- |
| | International money transfers | International banking services |
| Setup fee (one-time) | Free | £16 |
| Send money / make payments | ✓ | ✓ |
| Batch payments tool | ✓ | ✓ |
| Add/ hold /convert money | ✓ | ✓ |
| Accounting integrations | ✓ | ✓ |
| Add team members to account | ✓ | ✓ |
| Get first card for free | ✓ | ✓ |
| Direct debits | X | ✓ |
| IBAN, sort code, and more | X | ✓ |
| Receive payments from third party | X | ✓ |
| Withdraw money from Shopify, Stripe, etc | X | ✓ |
Source: Wise 
Note that Wise can change these features from time to time.
Transaction Limit for Wise Business
At Wise for Business, there is no transaction limit. That is, you can perform an unlimited number of debit card transactions and account transfers every month, with no extra fees. However, there is a limit that will depend on the source and destination currencies.
Is Wise Safe?
"Is Wise Safe?" This is a common question from prospective Wise users. Wise is regulated by the Financial Conduct Authority (FCA) of the UK, meeting all stringent financial security standards. To ensure the safety of users' money, the company has a Financial Services Compensation Scheme (FSCS) compensation plan.
Conclusion
There you have it. We've given you the basics of Wise business and how it works. Have you ever heard of Wise or used any of its services? Let us know about your experience. Before leaving, make sure you check out our Wise Review for more insights.