Is Wise Safe? All You Need To Know About the Platform's Safety
Nowadays, there are different ways to send money abroad. In this article, you're going to find out if making international transfers through Wise is safe. Plus, we'll show you the platform's ratings on different websites and explain how it works and how to use Wise.
Is Transferring Money Via Wise Secure?
Many people have been wondering whether using Wise is safe because of the recent change in branding. The TransferWise is Wise now, but you can rest assured because Wise is still safe.
Authorized by the Financial Conduct Authority (FCA) in the UK, Wise (formerly TransferWise) is legalized in all countries where it operates and is regulated by central banks and regulatory bodies.
Wise Website Is 100% Secure
Security remains the same. Within the platform's website, it is guaranteed that the level of security is comparable to that of a banking system and that Wise will never sell your data.
You can check the security of the website by noting that they follow the HTTPS (Hyper Text Transfer Protocol Secure) protocol and also have the padlock symbol in the page address, which indicates that browsing is secure.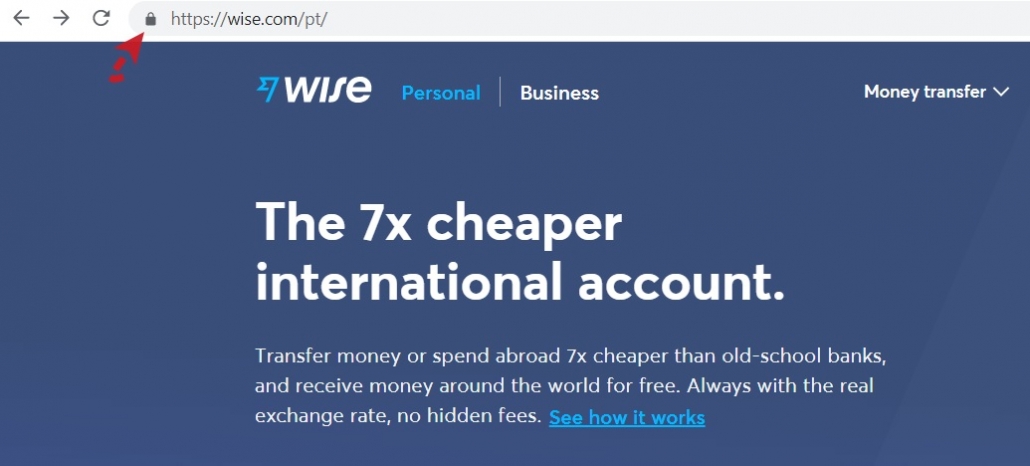 Is Wise Reliable: See User Reviews
Wise is safe and reliable. Check out the platform's reviews on Trustpilot, the Monito website, and Facebook below.
Wise Is Safe: Reviews on Trustpilot
On Trustpilot, Wise has 4.6 rating over 5.
As of  February 2022, there are more than 145,000 reviews of the company, and 92% of customers rate Wise's service as excellent or great. The company's top compliments are related to the application's simplicity, low and transparent fees, and speed of transactions.
Wise Is Trustable: Reviews Monito Portal
As of February 2022, Wise has an excellent rating on the Monito website (9.5 / 10).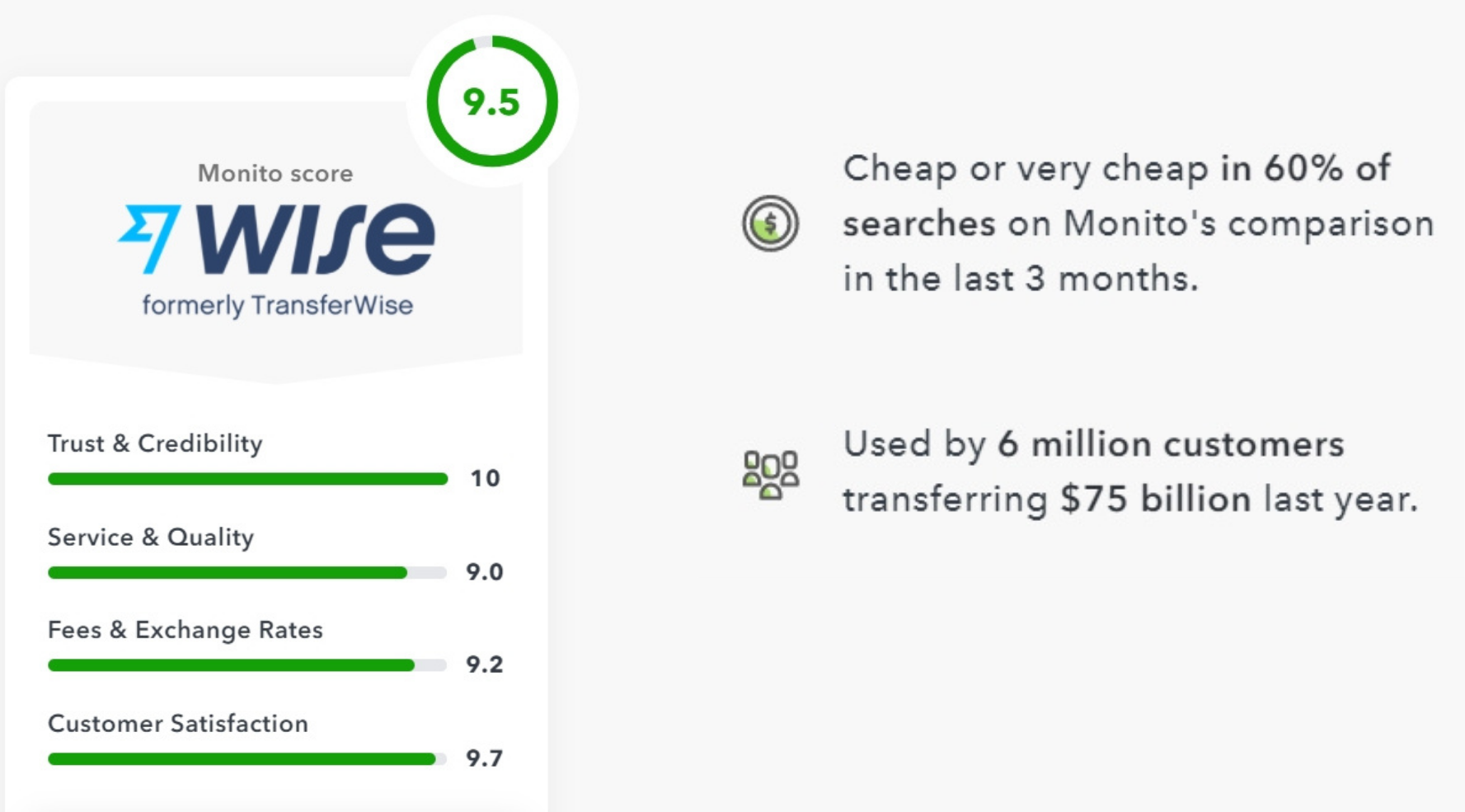 Wise App Is Safe
The technology has made sending and receiving international money transfers much easier. With the Wise application, you can do all financial transactions, such as sending money, managing your Wise account.
Wise's app is secure, as is the website. To access it, it is necessary to enter a password or perform digital recognition.
Wise's app is available on both Android and iPhone.
Android – Google Play
If your telephone is Android, you can download Wise. As of February 2022, Wise's app is rated 4.5/5 on Google Play, based on 165,000 reviews.
iPhone – App Store
If you have an iPhone, you can download the Wise app from the App Store . Wise has a 4.6/5 rating in this app, based on over 23,000 ratings. 
How Does Wise Work
It's very simple to use the platform to send and receive money around the world, with low rates, speed, and security. With the platform, you don't need to go to a bank branch or speak to someone to make an international transfer.
Just open a Wise account (in just 5 minutes), follow the step-by-step instructions shown below to send money abroad, and complete your transfer. Easy.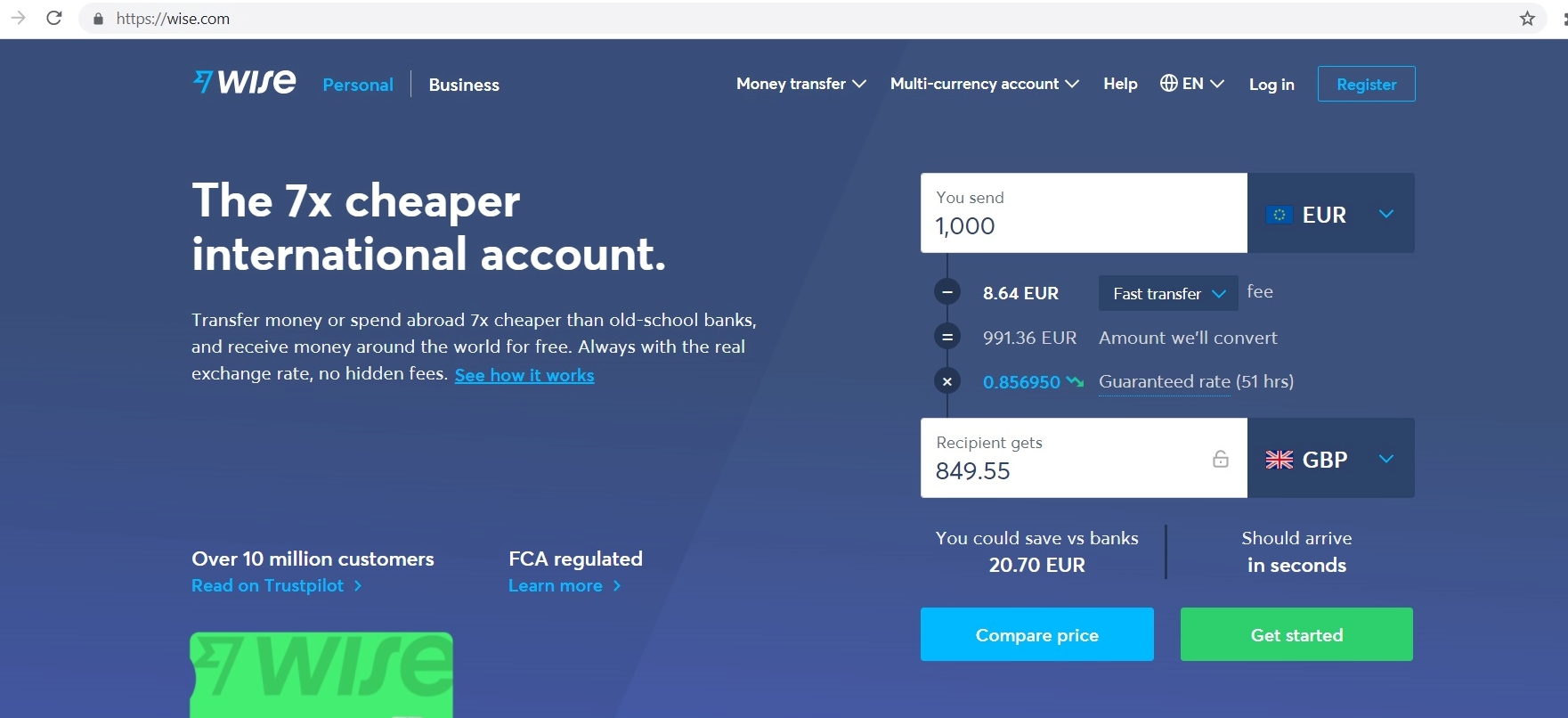 Simulate the Amount To Be Sent
Even before registering on the Wise platform, you can perform a currency exchange simulation on the platform's home page and see the currency rate and the Wise rate charged, in a transparent manner.  Wise charges the commercial exchange, without a profit margin.
Sign Up for Free
Create your account for free on the Wise website or app to start sending money. You just need to provide an email address or an account with Google or Facebook.
Choose the Amount You Want To Send
Now is the time to put the amount you want to send. It will appear, right at the beginning, how much you will pay in fares and when your transfer will reach the recipient.
Fill in the Recipient's Details
Fill in the details of the recipient's bank account abroad and don't forget to check everything.
Verify Your Identity
Now, you will need to send a copy of your identity document. This is a part of Wise safety policy.
Complete the Transfer
Once everything is completed, complete the transfer. You can track the status of your transfer in your account. Wise will also inform your recipient that the money is being sent.
What Else You Need To Know
You've now seen that Wise's service is secure. That's why we believe it's worth using it. Here are other reasons why it is worth using Wise:
Wise offers low rates, about 8 times lower than those charged by traditional banks;
The method of sending money is transparent, and before sending the money, you already know all the fees that will be charged and how much the recipient will receive;
The transfer period is short, it varies between 1 and 2 business days for the amount to be transferred to the destination account;
It's easy to use and the entire process is done online,
You can contact Wise support for questions if you need;
The company has the credibility of investors and has many users around the world;
Most people who use it give positive feedback and recommend the platform;
The exchange rate charged by Wise is the commercial one, that is, there is no profit margin for the company, among others.
Conclusion
Now that you know that using Wise is safe, you can make a transfer and test the service. If you need more information, check out our Wise Review to make a more informed decision.
Have you ever used Wise? Let us know about your experience. Please also feel free to review it on our growing forum.