Living in France: A Guide for Beginners
It's everyone's dream to have a glance at France's mesmerizing landscapes, a taste of its culinary wonders, and experience the well-reputed French life. But how about actually living it?
It's not easy to decide to change your way of life altogether by moving to another country. But I've got you covered. If you're contemplating whether or not to move to France, proceed to read the rest of this article and decide whether you'll live in the land of "joie de vivre" or not!
Why Move to France 
France is a favorable destination for expats because it has a lot to offer. The French way of life is relatively slower and tranquil. Labor laws make work very tolerable, limiting the working hours per week to a total of 35 hours. This provides you with a considerable amount of free time, where you can enjoy countless perks of living in France and savor the "joie de vivre" if you will.
But is this all? Definitely not…Let's dig deeper.
Pros and Cons of Living in France
One of the most efficient ways to make a healthy and easily made decision is making a pros and cons list. Here's one to get you started: 
Pros of Living in France
One of the best cuisines in the world
Great wine
Beautiful landscapes
A good work/life balance
Many long and paid holidays
Variety of options in housing
A relaxed life
Sophisticated public transportation
Excellent healthcare
Job security
Superb heritage of arts and culture
A fascinating history
Brilliant architecture
Splendid weather
Cons of Living in France
High living costs
Old houses
High taxes
Complicated bureaucracy
Language barrier
Shortcoming of jobs
High housing tax
Too many strikes
Everything is closed on Sundays (except for the museums)
"The dog poo situation"
Best Places To Live in France
To decide where the best place to live for you in France is, it's crucial to know what you expect from your new life. If you want to fill your free time with cultural activities and art events, major cities are a better fit for you. If you desire to enjoy beautiful landscapes accompanied by a good glass of wine and tranquility when the work hours are done, you may want to consider living in smaller towns. 
Paris
We wouldn't be exaggerating if we say Paris is the most romantic city in the world. With its nostalgic and marvelous architecture, cheap good wine, and its lights never going out, Paris will touch your soul.
Being romantic is not Paris' only perk, though. Paris, with its proximity to the major cities of other European countries, is an excellent location to travel from. 
Another advantage of living in Paris is that the capital offers the widest range of job opportunities and the best education.
Moreover, you'll never run out of things to do in your free time. The city is the embodiment of culture itself; not a minute goes by in Paris without a cultural event. Paris isn't just about the Eiffel Tower. There are many ballets, operas, concerts, plays and exhibitions you can see whenever you crave such activity.
The cost of living in Paris is not very low, it's one of the most expensive cities in the world, to be honest. Your estimated monthly expenses would be around €2,200 including the rent for a single-bedroom apartment if you lived in Paris. It may naturally seem a bit much, but your quality of life will be over the top. 
You would probably think living in Paris is worth the cost as you sip your drink, enjoying the view of a Parisian street at a "terrasse" after a workday.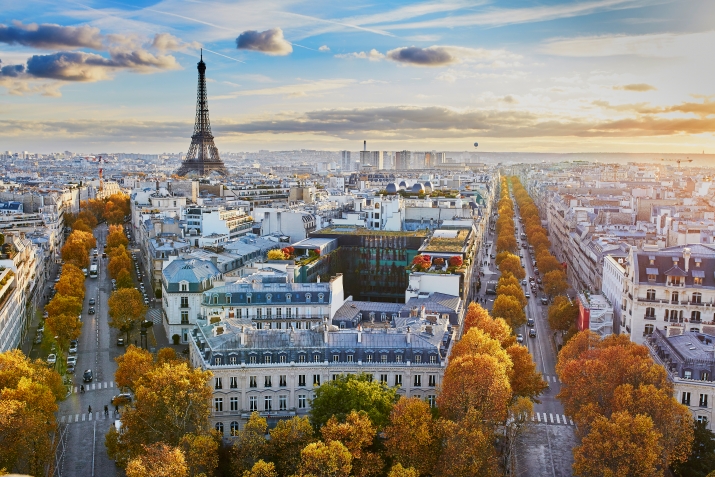 Marseille
Being the oldest and the second-largest city in France, Marseille is another favorite destination for expats from all around the world. The port city is the capital of the Provence-Alps-French Riviera region and has a multicultural texture and a developed economy. Hence, it offers a variety of job opportunities when compared to neighboring cities. 
The airport in Marseille, from where you can take flights to various destinations, is only 27 kilometers from the city center and it's the third-largest in the country. Therefore, transportation by airway from Marseille is a good option for traveling. 
With its historical texture and natural beauties such as the Parc National des Calanques, Marseille offers the residents a good taste of Southern France.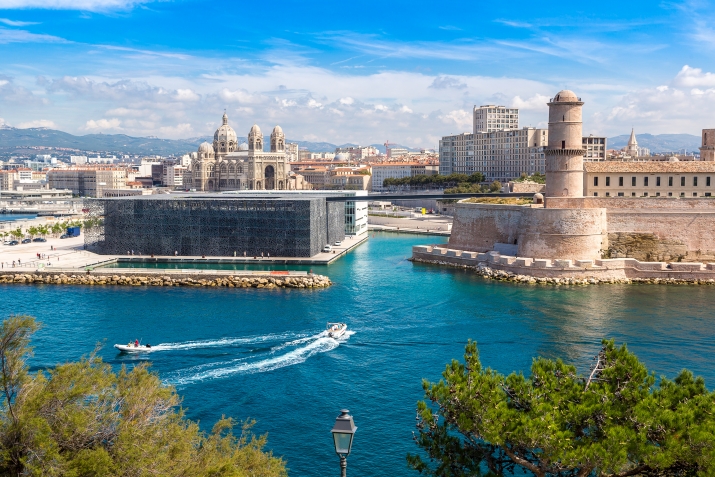 Lyon
We praised Paris enough earlier in this article, now it's time to talk about Lyon, which is a much cheaper but equally appealing city. 
First and foremost, Lyon is the right city to live in for the gourmet palates, as it is the gastronomy capital of France. It is also a great destination for those who have a taste for history because it was the capital of the French Resistance during the Second World War.
In Lyon, living expenses are considerably lower compared to Paris which makes it a better alternative because it won't make you struggle as much while you set the building stones of your new life in France. On top of it, Lyon has wonderful nature with its large parks, beautiful countryside, lakes, and rivers. To put it in a nutshell, it is a city to eat well, travel well, and rest well.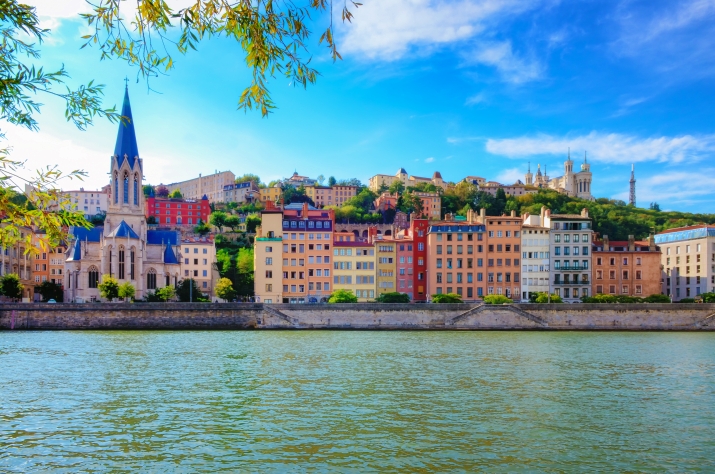 Small Towns 
If you're looking for a more budget-friendly alternative, you may want to prefer small towns instead of the major cities we mentioned above. 
Juan-les-Pins of the French Riviera, for example, is a great destination for a beach person. If you're into jazz, you'll like it even better there, because there's a great jazz festival that's held annually.
Annecy, on the other hand, is a more suitable place to relocate for people who prefer mountains to the beach. Neighbor to Switzerland and decorated with the scenery of the Alps, Annecy is a beautiful place for those who like to maintain an active life. 
Living in France: Transportation 
In France, it's effortless to get around using public transportation. The country has a very comprehensive railway system and using the bus is another equally convenient option, as well.
There are many apps to help you select your public transportation of choice among many options. These apps allow you to plan your journeys and avoid being stranded. 
The bus system in France is very developed. Traveling by bus is your best and cheapest option when it comes to local and regional journeys. A plus side of bus rides is that you get to know your surroundings better. 
Accommodation
There are three main types of accommodation in France: apartments, cottages, and chateaux. Apartments are the most common housing in the city center, whereas cottages are more popular in rural areas. Chateaux, on the other hand, is a whole different and fancy concept for expats that have a much more flexible budget. If you desire to dwell in the heart of history, one of these renovated relics of the Middle Ages might just be the home for you.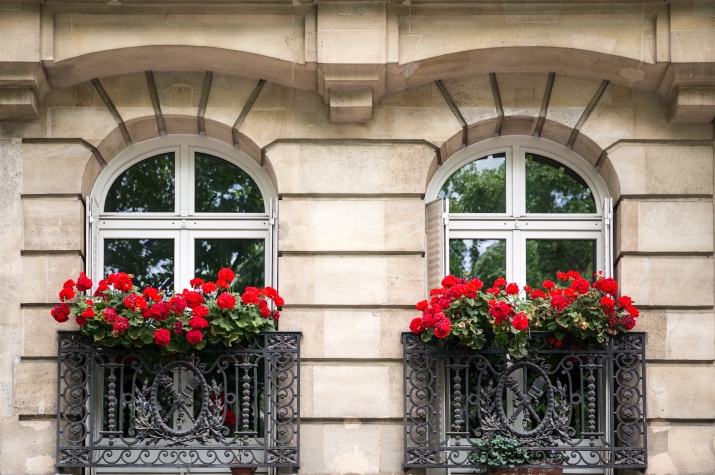 Once you decide the type of housing you're looking for, there are a few ways of finding it. You can check social networks and property sites online or search through online or printed adverts.
One downside of finding accommodation is that the inadequacy of available rentals creates competition among the lessees, making the process harder. If you manage to sign the lease, you're good for 12 months and the law favors the tenant in France. It's wise to read the paperwork thoroughly before signing the lease, though. It is crucial to know what's included in your rent and what is not. 
Driving
You can drive in France indefinitely if you have a driving license from an EU/EEA member state or Switzerland.
If not, you'll need to get a French driver's license within the first 12 months of your arrival. Foreign driver's licenses expire one year after the date of residency.
France has reciprocal treaties with a number of countries, including Switzerland, Australia, South Africa, the USA, and Canada. If you're from one of these countries and have lived in France for less than a year, you can exchange your existing driver's license for the French equivalent without having to take a test in France.
Exchanging Your Driver's License in France
You can apply to exchange your driver's license at your local Préfecture de Police or Mairie. Request the form "demande d'échange de permis de conduire". If you are in Paris, you can also apply at the police headquarters. Some sub-prefectures do not process license exchanges; check ahead of time to avoid any problems.
If your country does not have an agreement with France, you must obtain a French driver's license after one year of residence by taking the same driving and theory tests as French nationals. The exam consists of two parts: a theory exam and a practical test.
Gastronomy
We've come to the most appealing part of living in France, at last! It's safe to say that French cuisine is divine. 
The French take pride in their unique gastronomy, naturally. Food in France is not only for eating, it goes further to require a ceremony. You begin with the appetizer, then comes the starter, the main course that contains meat or fish, cheese, dessert and you finish with a digestive. A meal is almost like a festivity that ends with a great sense of fulfillment and joy.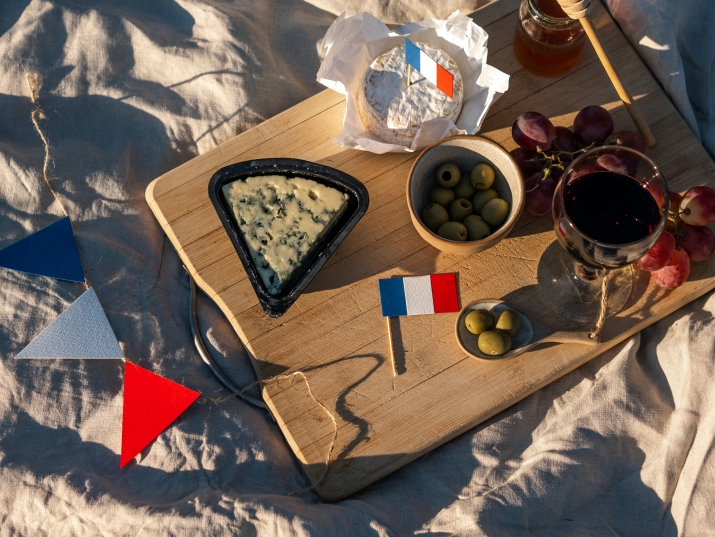 Three important keys to French cuisine are the techniques, use of herbs, and keeping it local. The French shop locally and fresh which is partly why the food is extraordinary. 
Here are some of the essentials of the traditional French cuisine that you'd be sorry if you missed:
Quiche Lorraine: Custard pie with cheese and bacon
Boeuf Bourguignon: "Beef Burgundy" with carrots, onions, wine, and bacon
Potatoes Dauphinoise: Potatoes baked with butter, cream, cheese, garlic, and thyme
Escargot: Land snails cooked with a mixture of sauces and vegetables
Croque-Monsieur: Toast with cheese and ham topped with a fried or poached egg
Terrine: A type of French meatloaf
Coq Au Vin: Rooster on hen cooked with blood and red wine
Duck Pâté En Croûte: Duck Pâté covered by a home-made dough
Meuniére: A simple fish dish sautéed with butter and garnished with green herbs
Crépes Suzette: Crépes topped with caramelized sugar, butter, citrus juices and liqueurs
Butternut Squash Boulangère: Squash braised with onions and bacon, garnished with herbs
Salmon En Papillote: Salmon and vegetables cooked inside a parchment
This mouth-watering list could go on and on but we wanted to leave space for you to discover some of the French delights yourself when you're living there…
Healthcare
The healthcare system in France is by and large funded by the government and offers almost excellent service to all residents regardless of their age or economic status. Foreigners that have completed a three-month residency can benefit from the French healthcare system through Protection Universelle Maladie. 
French health insurance covers 70 percent to 100 percent of health-related costs, depending on your income or the chronicity of your condition. 
Money and Credit Cards
France has a very sophisticated banking system consisting of many local and international banks, credit institutions, and a high-functioning mobile banking system. Banks and ATMs are very widespread and you can easily withdraw money with your Visa or Mastercard at almost any corner.
There are some customized services provided by most French banks for business starters or freelancers alongside some special offers such as cheaper transfer fees for expats.
Payments are mostly made with credit or debit cards in France. Although cash is still widely used, it's not preferred commonly for transactions that exceed €20. Using cheques as a payment method is still in fashion in France, as well, but you have to pay by using a checkbook issued by a French bank.
With the rise of the online banking system, online fraud has become widespread in France, too. Using secure payment platforms, not saving your PIN, and not sharing your confidential information are some efficient ways to protect yourself from these online crimes. 
How About Bank N26?
You can also use N26, which is a pioneering digital banking service in Europe. It'll save you a lot of time and paperwork, unlike traditional banks. 
Check how N26 in France works and see your options.
Visa Requirements
France offers different types of visas for expats but the French Tech Visa is a relatively easy-to-get visa for startup founders, investors, or employees to live and work in France. It is a residence permit that is valid for four years and can be renewed. 
To apply for the French Tech Visa as an employee, you need at least a three-month-long contract with a French company and to be earning an annual salary that doubles the minimum wage in France.
Startup founders, on the other hand, need to have a solid business project that is recognized by a public-sector branch. They also have to prove that they have an annual income of €19,237. Lastly, startup investors only need to invest. 
After meeting the basic criterion to be eligible for the visa, you're required to deliver some documents as part of the application process:
A valid passport 

Filled out and signed long-stay visa application form

A document that proves your marital status

Three photos that are taken recently

A receipt proving that you've paid the visa fee
There are some additional documents you're required to collect, varying according to your position as an employee, an investor, or a startup founder.
French Way of Life
After some practical information, time to dig in deeper…What is this famous French lifestyle about? Simply put, it's about not letting yourself be absorbed by the turmoil of everyday life and enjoying the beauties that life offers you instead. 
The French relish a relaxed lifestyle which involves long-lasting meals and coffee breaks, strolling enjoying the simple things, nurturing the intellect by reading and attending cultural events, eating well, drinking well, and such. Sitting at a cafe, doing nothing but people-watching is an extremely French activity, for example. Just put your smartphone away to watch the passersby and be surprised by how recreational this simple activity can be.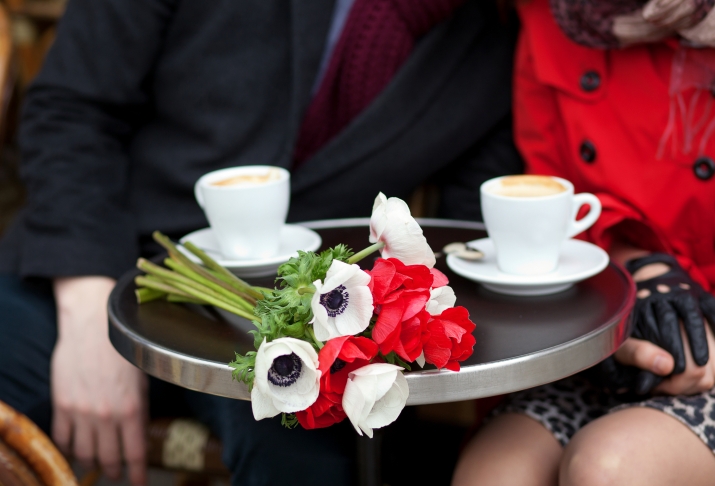 One of the main characteristics of the French way of life is the motto of "less is more". This does not mean an entirely minimalist lifestyle instead it's about choosing finer things rather than going for the quantity. This understanding is valid for your wardrobe, the food you eat, your use of energy; pretty much every part of your life, and everything you use. 
Another important aspect of the French lifestyle is managing to balance all those divine food and drinks with an attitude to stay healthy. This, of course, requires a healthy diet and keeping fit. French people walk everywhere, climbing up and down some stairs every day. Lastly, you've probably heard this one before, but there's no harm in repeating it: A glass of wine a day keeps the doctor away!
Social Life and Etiquette
People usually think that the French people are snobs, but my observation is that they are simply polite and respectful in the traditional French manner. For example, they care about getting dressed impeccably to avoid being considered rude to others. In addition, public grooming is frowned upon, therefore they never use toothpicks, nail clippers, and hairbrushes in the public.
But it's true that the French people can be exceedingly formal. Shaking hands is a frequent greeting practice among coworkers, as well as they, leave for the day. Women may greet you with a kiss on the cheek, but only among those, they know well. 
Learning French
One of the biggest drawbacks of living in France is the language barrier. You can get around speaking only English in most parts of Europe but in France, that may not be the case. French people are not always so fluent in English, therefore there's a strong chance you'll struggle to communicate. 
To blend in more smoothly and make friends more quickly, it's a good idea to learn French. There are a lot of options when it comes to learning French in France. You can choose the most suitable for you among many private language schools or French lessons sponsored by the government. 
In addition to these, there are courses given by some charities for free. If you're having trouble adjusting your budget, you can attend a free course at Croix Rouge or another local institution.
It may not be a piece of cake to learn French for it's a bit of a complex language and it takes time to get used to the pronunciation. The key to getting better at that is to never give up and not be shy.
Cost of Living in France
Let's give you an idea of how much it costs to live in France. For each of the cities mentioned above, here are the estimated monthly rents:
Paris: €900 – €1,800

Marseille: €600 – €800

Lyon: €750 – €1,250
See the below chart for average groceries expenses:
| | |
| --- | --- |
| Milk (regular), (1 liter) | €1.01 |
| Loaf of White Bread (500g) | €1.50 |
| Rice (white), (1kg)  | €1.86 |
| Eggs (regular) (12)  | €3.07  |
| Local Cheese (1kg)  | €15.58 |
| Chicken Fillets (1kg)  | €10.09  |
| Beef Round (1kg)  | €18.06 |
| Apples (1kg)  | €2.56 |
| Banana (1kg)  | €1.92  |
| Oranges (1kg)  | €2.42 |
| Tomato (1kg)  | €2.90 |
| Potato (1kg)  | €1.74 |
| Onion (1kg)  | €1.93 |
Cost of Living in France vs. the UK
Consumer prices in France are 10.01% higher than in the UK (without rent)

Consumer prices Including Rent in France are 0.83% higher than in  the UK

Rent prices in France are 18.40% lower than in  the UK

Restaurant prices in France are 2.54% higher than in  the UK

Groceries prices in France are 30.86% higher than in  the UK

Local purchasing power in France is 17.00% lower than in the UK
Cost of Living in France vs. the US
Consumer prices in France are 0.30% lower than in the US (without rent)

Consumer prices Including Rent in France are 16.25% lower than in the US

Rent prices in France are 42.32% lower than in the US

Restaurant prices in France are 2.98% higher than in the US

Groceries prices in France are 4.05% lower than in the US

Local purchasing power in France is 21.22% lower than in the US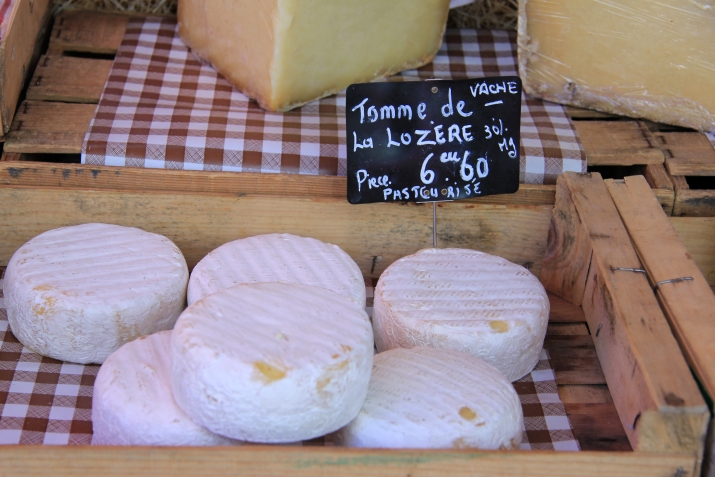 Weather
The overall climate in France is temperate, but the weather may vary per season and region. For example, the climate is the Mediterranean in the south whereas it's continental in the east.
France goes through all four seasons. It is warm in spring, hot but usually not over 35 °during summers, mostly rainy and cloudy during autumn, and bearably cold during winter. 
Is France a Safe Country?
Although violent crimes are not very common, especially not against travelers, France does not rank very highly on the safest European countries list. It's somewhere toward the end of the list. 
The most prevalent crime in France is pickpocketing which occurs very often in Paris, especially in touristic areas or busy public transportation points. It is even more common in the Mediterranean region of the country. 
Crime rates, in general, are quite high in the region where money laundering, drug traffic, robbery, and gun crimes are not very unusual. These crimes do not usually involve tourists or non-locals but still, better to be precautious than sorry.
Things To Know Before You Move to France
For starters, France is a country consisting of a variety of nations and cultures but French culture dominates all the others. There's great national pride in the culture, language, and gastronomy in France. This will probably absorb and fascinate you rather than assimilate or irritate you. 
Another thing that you should know before moving to France is that the French bureaucracy is terrible. It's better to prepare yourself for a lot of paperwork. 
Speaking of being prepared, French cuisine offers you endless varieties of pastry and sweets. It might be good to learn to be careful around those! When you're eager to get some, though, note that French people don't care much for queues, they mostly just go for whatever it is they're trying to get. 
Lastly, on April Fools' Day, people tend to stick paper fish on other people. If you fall for it, you may get laughed at. It's a fun tradition thought to date back to the reigning period of King Charles XIV.
Insider Tips for Living in France
Get a French bank account.
Learn about your taxes.
Keep your papers tidy and altogether in a drawer/box.
Join groups on Facebook or other social network sites to be part of a supportive community.
Plan your budget, travels, etc. aheadç
Blend into the society and try adopting the French way of life.
Arrange your visa before relocating.
Try to integrate into the community of expats through social media groups.
Conclusion
There you have it! We've tried to provide you with the necessary information about what living in France is like; its perks and drawbacks alongside the essentials of French culture, food, French cities, and everyday life. So what is your take? Are you moving to France? We recommend you give it a shot if you have the chance…
Is France a good place to live?
Not only is France an excellent place to work and live, but it is also an excellent place to retire. It is one of the most beautiful and refined European countries, with a perfect climate, delectable cuisine, and a culture that pulls you all in.
Unlike many other Western countries, the French believe that they should work to live rather than live to work. This concept is backed up by labor laws. So, if you want to live in a great place where you don't have to work so hard France should be a top priority.
Can a foreigner live in France?
Except for a few European and Swiss citizens, most foreign visitors to France require a visa. You may need a French residence permit if you plan to stay longer than three months.
A work permit is required if you intend to work in France. Because work permits in France are linked to residency, you may need to have a job lined up before you move there. You must register with the French government within three months of your move, regardless of nationality or type of work. Make sure you're up to date on the latest regulations if you're self-employed.
Is it expensive to live in France?
The cost of living in France is high but depends on where you live in the country.  For example, Paris is among the world's most expensive cities. Although Paris is a popular expat destination, there are other equally appealing areas of France that have plenty to offer and all have significantly lower living costs. The cost of living in major cities is invariably higher than in rural areas.
Does France have free healthcare?
France, like the other European Welfare States, has a universal healthcare system. This is primarily funded by the government through a national health insurance system. However, the structure and financing of the French healthcare system differ significantly from that of its EU counterparts. Most importantly, France spends over 11 percent of GDP on health care, which is significantly higher than the EU average.
Is French hard to learn?
Although French is a relatively simple language to learn, it does take some time and effort. French and English are so closely related and Foreign Language Institute says that French is among the easiest languages to learn for English speakers.
What is the cheapest city to live in in France?
Montpellier, in the south of France, is a popular and surprisingly affordable city. This is a city that can be densely populated by students, so young couples or singles looking for a fun and affordable place to live will thrive here. Plus, if you're looking for a city that isn't too big or overwhelming, Montpellier might be the perfect fit among other French cities.