Living in Brazil: A Guide for Beginners
Brazil, with its coasts, numerous rainforests, and massive cities, provides new experiences for digital nomads, remote workers, and anyone who wants to enjoy a new culture. Although personal tastes differ, rest assured that living in Brazil will change your life and make you wiser!
In this guide, we've outlined some of the best places to live in Brazil, the general cost of living spiced up with some insider tips. Summing up Brazil in one article is tough but we'll do our best to give you an introduction to this beautiful and diverse country.
If you're ready let's begin!
Where To Live in Brazil 
Brazil is a huge country, this is why before delving into the cities, we've thought giving information about the regions would help.
The North: The north of Brazil is home to a plethora of breathtaking sights. Acre, Amapá, Amazonas, Pará, Rondônia, Roraima, and Tocantins are the seven states that make up the region. It is Brazil's largest territory, containing the world's largest tropical rainforest, the Amazon, as well as the Amazon River Basin, the world's largest drainage basin.
The Northeast: There are various picturesque sites in Brazil's northeast. Maranho, Piau, Ceará, Rio Grande do Norte, Paraba, Pernambuco, Alagoas, Sergipe, and Bahia are the nine states that make up the region. The region has the country's longest coastline, as well as spectacular scenery and natural beauty.
The Midwest: The region is made up of three states: Mato Grosso, Mato Grosso do Sul, and Goiás, as well as the Federal District, which is home to Brazil's capital, Brasilia.
 The Southeast: Rio de Janeiro, São Paulo, Minas Gerais, and Espirito Santo are the four states that make up this region. The landscapes in the southeast of Brazil are simply breathtaking.
The South: The region, which is made up of three states: Paraná, Santa Catarina, and Rio Grande do Sul, has some wonderful places such as Iguaçu National Park.
Best Cities To Live in Brazil
If you've made up your mind about living in Brazil, you'd better become familiar with some of the best cities in the country. Brazil is a huge country and offers different places for different expectations. Let's see what the country has to offer, whether you choose to live by the coast or in a megacity!
São Paulo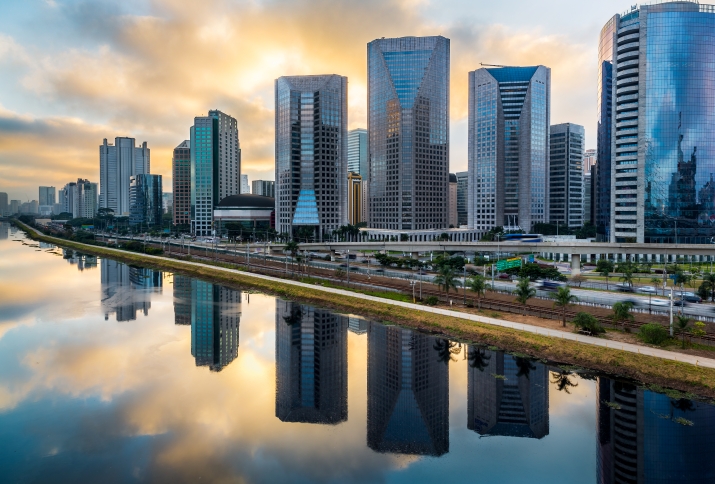 With a population of over 12 million people, São Paulo is the largest city in South America. If you imagine a calm life, you might find São Paulo a bit overwhelming but note that it's a city with a big international community that can offer you good networking opportunities.
São Paulo may not be the most beautiful city you have ever seen, but you will never be bored there.
Pros of Living in São Paulo
Amazing nightlife
Great museums
Cons of Living in São Paulo
Lack of Brazilian lifestyle
Traffic
Coworking Spaces in São Paulo
Luckily there are many coworking spaces in São Paulo where you can meet fellow digital nomads and expand your network.
The most popular coworking spaces in the city are Spaces, Club, Coworking Higienopolis, and Oficina.
Rio de Janeiro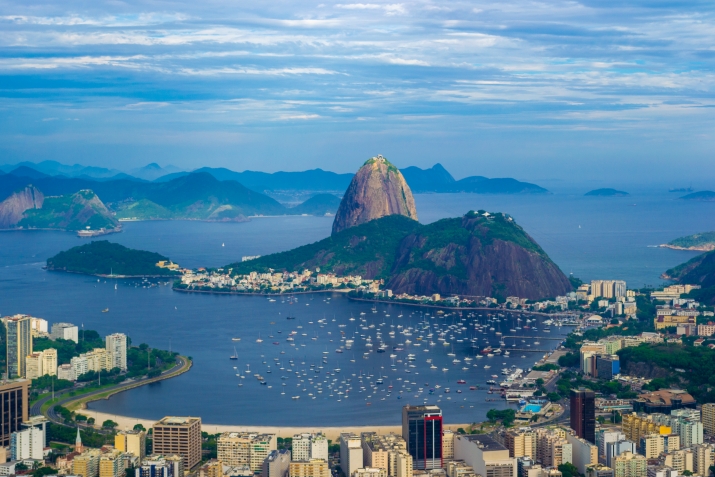 Of course, this list would be incomplete without including Rio de Janeiro, Brazil's most well-known city. It is the second-largest city in Brazil, after So Paulo, with a population of roughly 7 million people. Rio de Janeiro is usually the top destination for digital nomads who are planning to live in Brazil.
The city is known for its long, beautiful beaches and laid-back atmosphere. Rio de Janeiro is alive 24 hours a day, seven days a week, and the party scene is incredible.
Pros of Living in Rio de Janeiro
Lots of fun stuff to do
LGBTQ friendly
Beach life
Cons of Living in Rio de Janeiro
Too crowded
Language barrier
Coworking Spaces in Rio de Janeiro
Rio de Janeiro boasts a good amount of coworking spaces for digital nomads. The most popular ones are WeWork, Spaces, Habitat, Emwork, and Arpoador.
Florianopolis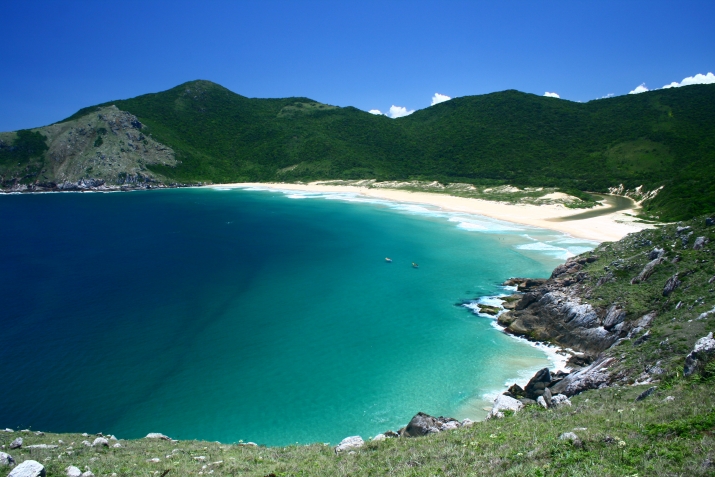 The sun-drenched city of Florianópolis is a popular hangout for surfers and digital nomads thanks to its sandy beaches, tasty Brazilian cuisine, and evolving remote working scene. It is the capital of the state of Santa Catalina in southern Brazil, and it is an island with over 40 beaches, it offers everything you'd expect to see on a tropical island. It's also referred to as Brazilian Ibiza!
Pros of Living in Florianopolis
Beautiful beaches
Good for sport
Cons of Living in Florianopolis
Slow internet
Poor transportation options
Coworking Spaces in Florianopolis
Luckily, Florianopolis offers a good variety of coworking spaces where you can get things done before you head to the beach. The most popular coworking spaces in Florianopolis are Vilaj, Lemonadde, Sandbox, S7 Rafael Bandeira, Favo, and Impact Hub.
Curitiba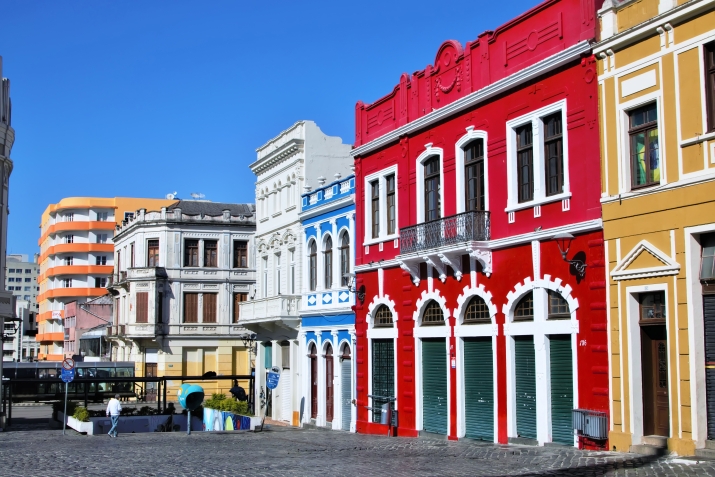 Curitiba is considered one of the best places to live in Brazil. Parks can be found practically anywhere, providing many opportunities for relaxation. The infrastructure is well-developed and contemporary, and moving around is easy because of the small size of the city.
Pros of Living in Curitiba
High quality of life
Many shopping options
Cons of Living in Curitiba
Cold winters
Can be boring after a while
Coworking Spaces in Curitiba
Lesto, Curitiba, CWBE, Aldeia, and Opera are some of the most popular coworking space options in Curitiba.
Accommodation in Brazil
You only have a few possibilities for renting an apartment unless you are a legal resident of Brazil. To rent your apartment, you must be a legal resident of Brazil, have two cosigners (fiadores) who will accept financial responsibility for you if something goes wrong, and generally make a long commitment. In theory. If you're new to Brazil and don't have any connections, you'll have to start from scratch.
That doesn't mean you won't be able to locate a place to live in, it simply means you'll have to share an apartment with someone else. 
Airbnb is a good way to find furnished flats for a few days, although it can be expensive.
Luckily, the concept of coliving is getting popular in Brazil and you can find coliving space alternatives in the country, especially in big cities. If you can't find one, you can look for hostels.
Transportation
Getting around Brazil may be both frustrating and slow at times. What you may expect after you arrive in Brazil is heavily influenced by your location.
Major cities such as Sao Paulo and Rio de Janeiro, for example, are densely packed with cabs, buses, and efficient metro systems. They are also significant airport hubs.
Smaller coastal and rural communities, on the other hand, may only have access to a public bus system that can quickly become overcrowded.
Taxis, in general, are a convenient and affordable mode of transportation. However, be wary of taxi drivers who play games with newcomers. Hiring 'radio taxis' with prepaid fares is an excellent option.
If you want to navigate throughout the country in a short amount of time, flying is a good option. You can also get an Airpass if your plans include multiple flights.
Cost of Living in Brazil
Now it's time to figure out how much money you'll need to live in Brazil. The figures in the table below were collected from Numbeo in March 2022. We've converted it to US dollars to make it easier for you to calculate.
Brazil is Latin America's most expensive country but depending on your lifestyle and your location, the expenses will differ. The monthly rent you'll pay in Rio will very much differ from a basic house in a coastal town. 
Restaurant
Meal, inexpensive restaurant
Meal in a mid-range restaurant
Cappuccino
Imported beer (0.33-liter bottle) 

Range
$5-$8
$17- $52
$0.83- $2.59
$1.86-$5.18

Markets
Milk (1 liter)
Loaf of white bread (500g)
Rice (1kg) 
Eggs (12)
Local cheese (1kg)
Chicken filets (1kg)
Beef round (1kg) 
Apples (1kg) 
Bottle of wine (Mid-Range) 


$0.66-$1.10
$0.83-$2.49
$0.83-$2.07
$0.99-$2.98
$4.56-$12.43
$2.07-$5.18
$5.39-$11.40
$0.76-$2.49
$4.14-$12.43

Transportation
One-way Ticket 
Monthly Pass 


$0.83-$1.14
$24.87-$67.14

Utilities
Basic (electricity, heating, water)
Internet 


$48.44-125.81
$16.58-$31.08
The rent you'll pay for a one-bedroom apartment in the city center should cost you between $180 and $519.
When you get outside the center, the monthly rent will range between  $125 and $360.
In Brazil, tap water has become safer to drink over time, and it is usually safe to do so. The flavor, however, may take some time to get accustomed to. The cost for a 1.5-liter bottle of water will cost around 60 cents.
Visa and Entry Requirements
Citizens from most countries don't require a visa to stay in Brazil for 90 days, including the US, the UK, and EU countries. If you're looking to stay in the country for a longer-term, you'll need to get a residence permit.
Brazil also offers a digital nomad visa which is valid for one year. To qualify, you need to have a monthly income of $1,500 savings of $18,000. 
Banking
To open a bank account in Brazil, you need to present certain documents at the bank's branch:
Permanent or temporary residence visa

Passport or foreigner identity card 

National tax ID number

Proof of address

Proof of income
It's rather difficult to open a bank account in Brazil without showing either the above-mentioned identity card or at least a document called the National Register of Migrants (RNM), which you are required to obtain after arrival. You can get it through the Federal Police. 
Note that one thing expats complain about living in Brazil is the slow bureaucracy and paperwork load. That's to say Brazil will teach you to become patient.
You can consider using Wise if you're going to live in Brazil for a time and require access to your money abroad. If you have a bank account in Brazil or know someone who does, you can use the true mid-market exchange rate to transfer money between accounts. It's a simple and quick way to acquire your cash with no hidden costs.
Leisure and Lifestyle
Nature and Outdoor Activities
Brazil is one of the top eco-tourism locations in the world, with gorgeous landscapes and abundant natural resources all around the country. You can participate in a wide range of activities, including animal and nature observation, hiking, sports fishing, horseback riding, cave tours, and much more. 
Make sure you check out Foz do Iguaçu, Jalapão State Park, Anavilhanas National Park, and Bonito if you consider yourself a nature lover who wants to enjoy outdoor activities.
Food
Brazilian food is not only rich in history, but also diverse, flavorful, and a reflection of the country's diverse ethnicities. In truth, some cuisines and recipes are exclusive to specific regions, while others are widely consumed throughout Brazil. Brazil is the ideal location for foodie digital nomads.
If you're going to live in Rio de Janeiro or São Paulo, you'll notice that it's easy to find international cuisine. Outside of the big cities, however, you may be confined to regional cuisine, which includes a variety of foods based on the location.
Rice, beans, and manioc are the primary ingredients of Brazilian cuisine. Meat, poultry, and fish are also used in staple foods.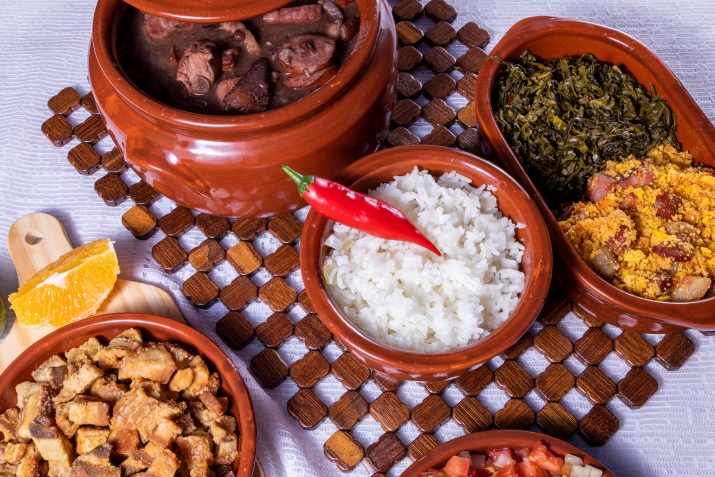 Etiquette
Greetings: Brazilians typically greet you with a kiss or an embrace, and both men and women will touch you when speaking, either stroking your shoulder or laying their hand on your hand or arm to emphasize a point. 
Dress: Brazilians, particularly Brazilian ladies, are known for their flamboyant attire. Although this is true in Rio, people are more conservative in the south and the interior regions.
Dining: Brazilians don't have the same stable meal structure as Italians, but they respect the meal and eat slowly and calmly. Having coffee after dinner is a habit.
Celebrations: Celebrations are very popular in Brazil. The most common examples are barbecues, large feasts, and parties. If you're heading to a social gathering, make sure you're tidy.
Language
The vast majority of Brazilians don't speak English, this is why learning some basic Portuguese before booking your flights will do wonders. However, depending on the context, you will be understood, since most Brazilians will go out of their way to serve and assist foreigners.
Internet in Brazil
The internet in Brazil may not be very reliable but it's improving. In big cities, you can find fast internet, but in coastal towns, it might be difficult. 
Below are the speed results we've collected from Speedtest Global Index:
Mobile
Download 23.28 Mbps
Upload 7.90 Mbps
Fixed Broadband
Download 90.16 Mbps
Upload 46.74 Mbps
Weather in Brazil
The climate of Brazil is tropical. In the north, the average annual temperature is 28°C, whereas in the south, it is 20°C. The Brazilian winter lasts from June to September, and temperatures in several places in the south and southeast of the country drop below 0°C, resulting in frost and snow. In the summer, places such as Rio de Janeiro and Salvador, for example, can reach temperatures over 40°C.
Summer: December to March
Fall: March to June
Winter: June to September
Spring: September to December
Is Brazil Safe?
Brazil has a reputation for being a dangerous place to visit, where visitors must be extra cautious and vigilant at all times. The country ranks 128 in the Safest Countries Index. 
In Brazil, petty thievery and street crime are unfortunately common. If you follow the safety tips, you'll reduce the chances of something bad happening to you!
Safety Tips for Brazil
Always walk with a purpose when you're out exploring. Pickpockets and muggers are on the lookout for insecure people.
Only carry the cash you'll need for the day.
If you have multiple credit or debit cards, keep them separate.
Don't bring valuables to the beach.
When you're out and about, dress casually to blend in. Leave your valuables or jewelry at home.
Avoid walking around flashing your camera.
If you need cash, only use ATMs located inside buildings.
Don't accept offered food or drinks from strangers.
Stay away from beaches, parks, and empty streets at night.
It's true that if you're new to digital nomadism and traveling, living in Brazil can be difficult. Even experienced nomads will need extra precautions. However, we don't say that you should avoid visiting and living in the country. All you have to do is to watch out and use common sense.
Conclusion on Living in Brazil as a Digital Nomad
Living in Brazil has a lot of unique and amazing aspects, and hundreds of digital nomads and expats are extremely happy there. The most important thing is to understand what you're getting yourself into – both the good and the terrible – before you take the plunge.
Brazil will take some time to get used to, but once you get beyond that, things will get easier.
Have you ever lived in Brazil? What surprised or challenged you the most? Let us know…