Living in Ireland: A Guide for Beginners
Ireland is well-known for its love of food and drink, as well as for its scenic landscape and vibrant towns. From the outside, Ireland may appear to be an ideal destination to call home and start a new life. Moving to a new country, on the other hand, is a major decision. It is critical to do research and consider the benefits and drawbacks of living in Ireland. The good news is we've got you covered!
We've prepared this comprehensive guide on living in Ireland and aim to answer any questions you might have prior to your move. Ready? Let's begin!
Why Move to Ireland?
Ireland doesn't need any introduction but here are some of the reasons why you should consider moving to Ireland:
Natural beauty and wildlife 

Vibrant cultural and music scene

Wonderful people

Quality life

Better work life balance
Fair enough. But let's dig deeper!
Advantages and Disadvantages of Living in Ireland
To help you understand life in Ireland, we'll present you with the main advantages and disadvantages of living in the country.
Advantages of Living in Ireland
A Good Base To Travel Within Europe
Ireland is an excellent starting place for visiting the rest of Europe; the UK is less than an hour away, and Barcelona is just a two-hour flight away. There is no better place to call home for travel-savvy digital nomads than Ireland.
One of the Safest Countries
Ireland, also known as Emerald Isle referring to the green landscape, is one of the safest countries. So if you're looking for a safe place where crime rates are low, living in Ireland can be ideal for you. 
A Lively Social Scene
The bar scene in Ireland is well-known throughout the world. Pubs are more than just places to get a meal and drink – they're like community centers where you make and keep friends, play games, and enjoy music.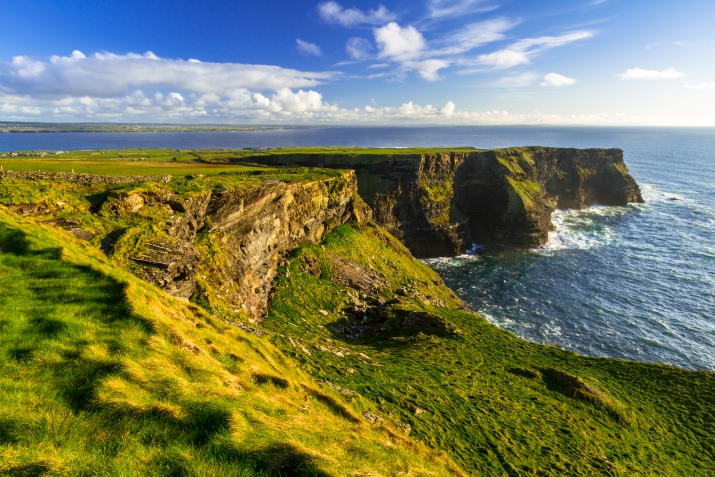 Disadvantages of Living in Ireland
Cloudy Weather Isn't for Everyone 
Ireland is well-known for being cloudy and rainy almost all year. It rarely snows in Ireland, but that doesn't mean it isn't cold for much of the year. If you're coming from a country with constant sunshine, living in Ireland may not be right for you.  
Living Costs Are High
The cost of living in Ireland's city centers can be quite high. Rents fall dramatically when you move to rural areas, yet this also means limited access to public transportation.
Social Life Evolves Around Pubs
Ireland is famous for its pubs and it's true that they're major attractions both for Irish people and expats. However, if you're not into drinking, you might get bored after a while. 
Where To Live in Ireland
1. Dublin
For many people, living in Ireland means living in Dublin. Like any capital, Dublin has one of the highest costs of living, still less expensive than other cities such as London and New York. Life in Dublin has all of the benefits of city life while maintaining a laid-back atmosphere. You won't be subjected to the rush that is frequent in other capital cities.
Dublin's nightlife is lively, full of pubs and typical parties.
Pros
Friendly people
Public transportation
Lively social life
Cons
Living costs
Lack of affordable accommodation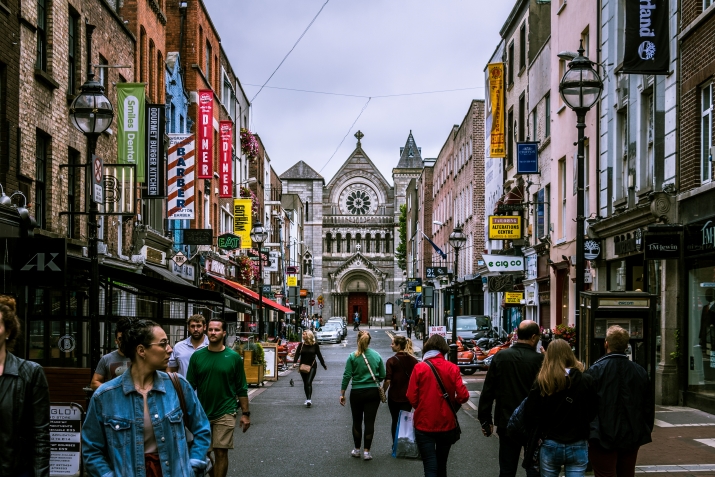 2. Cork
Perhaps Dublin is the first Irish city that comes to mind when you think about living in Ireland. However, the truth is that other Irish cities have a lot more to offer. If you're moving to Ireland, you can consider living in Cork! 
If you're a foodie, Cork can be ideal for you as it is also known as the food capital of Ireland, with its excellent cheese and fish products.
Pros
Laidback lifestyle
Welcoming people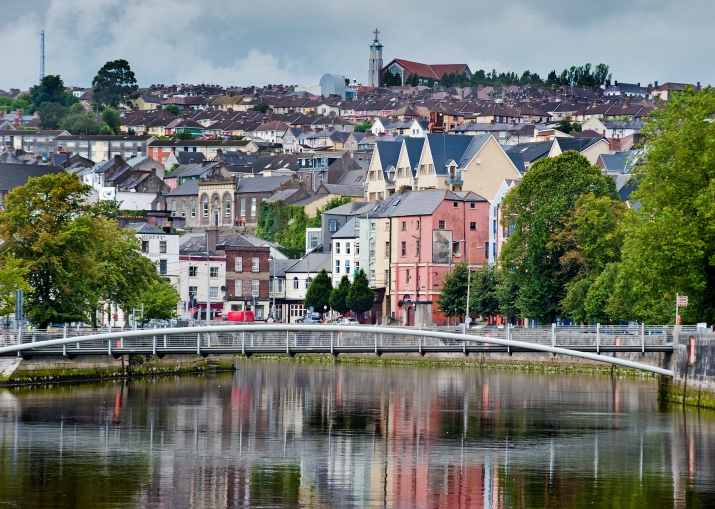 3. Limerick
Limerick is one of Ireland's youngest cities, with the majority of the population in their 30s, largely made up of exchange students. If this is your profile, Limerick is ideal for you. It's also the hub of rugby and Gaelic football.
Limerick is also well known for being home to the Irish rock band The Cranberries. 
Pros
Cheaper costs
People and culture
Cons
Can be boring after a while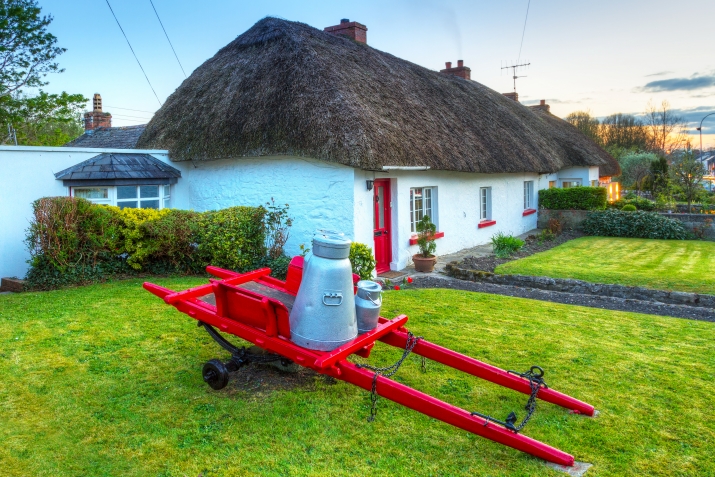 4. Galway
Galway is one of the West of Ireland's brightest and most interesting cities. It is the only city on the whole 2,500 km Wild Atlantic Way route and marks the halfway point. The city is wild and bohemian, but it is also rich in culture, artwork, amazing food, and music. 
Galway is a dynamic and cosmopolitan city as well as a popular coastal location with long sandy beaches. 
Cons
Lack of accommodation options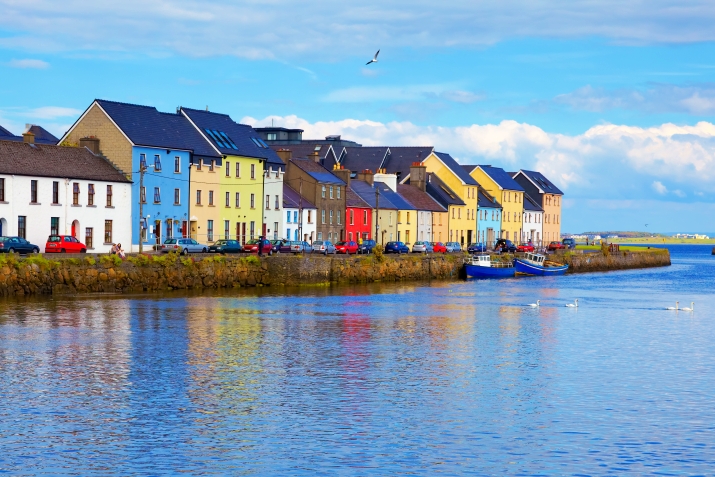 Living in Ireland: Transportation 
Public transportation is not the only option to go around Ireland – but it is unquestionably one of the best. Because all of the island's public transportation is above ground, all you have to do is look out the windows and enjoy the beautiful landscapes. 
Ireland is very compact and easy to navigate through. The bonus is that there'll be always someone to ask for assistance or directions.
Airports
Dublin Airport is Ireland's busiest airport, with around 30 million passengers each year. Other airports throughout the country are rather minor in contrast, yet flights can still be flown in and out of them on a regular basis.
Other airports in the country are as follows:
Cork Airport
Shannon Airport
Ireland West Airport
Kerry Airport
Donegal Airport
Galway also has two smaller airports, Connemara Airport and Inishmore Airport, both of which serve the Aran Islands.
Driving in Ireland
One of the finest ways to get off the main path and uncover some of Ireland's best-kept secrets is to drive. Note that driving is on the left side of the road and you'll need your international driving license with you at all times.
Bus 
If you want to venture off the usual path and experience Ireland's countryside, the bus network is often the only public transportation option.  Dedicated bus services are available in cities and certain large towns. Bus services are provided by both public and private companies, and costs are competitive, so shop around before you go to obtain the best deal.
Travel cards, such as Leap and iLink, are convenient, inexpensive, and may be used on public transportation.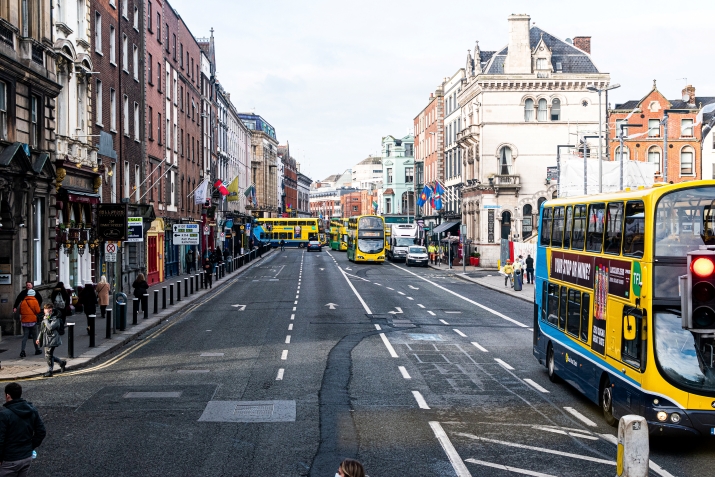 Train
The train is especially useful for intercity travel, with journeys lasting no more than 2.5 hours.
Dublin and Belfast are the main rail hubs, connecting you to cities and towns around the island.
Taxis
Taxis are available at airports, train and bus stations, and taxi ranks in cities and larger towns. Hackneys, licensed passenger-carrying vehicles, are a little different; you'll need to phone their headquarters to order one.
Taxis use meters to calculate the fee, but hackneys do not, so it's a good idea to settle on a fare with your driver before you begin your journey.
Cuisine
In Ireland, food is a vital part of contemporary culture – from vibrant farmers' markets to fantastic local foods, craft brewing and distilling, and imaginative chefs who celebrate the profound relationship between location and dish.
Farmers' markets are an excellent chance to get a close-up look at Irish cuisine. Stalls that sell artisan cheese, soda bread, grass-fed beef, and mountain lamb highlight the diversity and complexity of Irish culinary heritage. The English Market in Cork, St George's Market in Belfast, and the Temple Bar Food Market in Dublin are three famous spots you should definitely try as a beginner.
Nightlife
Ireland is well-known for its bars and Guinness dark beer, but it is also famed for its vibrant nightlife. When it comes to visiting Ireland's coziest pubs, the options are limitless. As soon as the sun goes down, the country's pubs and venues begin to beat to a different beat…
When visiting an Irish pub with a group of friends, a "rounds" system is used. Each participant will take turns offering to buy a round for everyone in their party. Those who do not make an offer to buy a round of drinks may be considered impolite.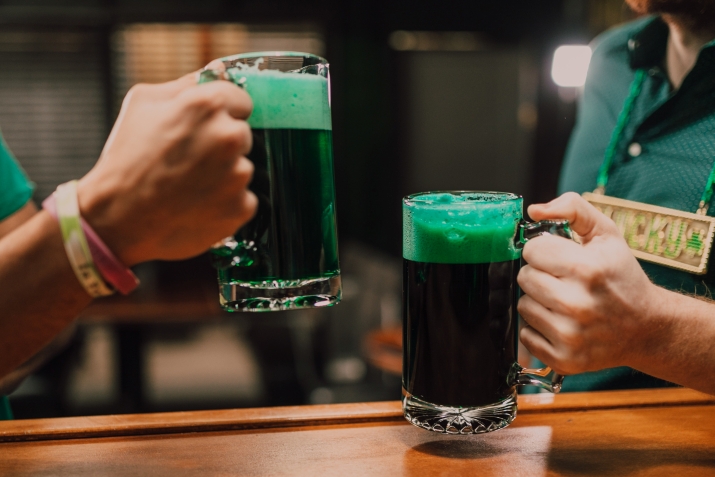 Is Living in Ireland Expensive?
Is living in Ireland expensive? Both yes and no. With local wages, it is possible to live comfortably but many items must be imported into Ireland because it is a small island nation. This raises the cost of everyday needs like groceries and gas. This makes things like going out to eat or driving more expensive than they are in other European countries.
Cost of Living in Ireland
The cost of living on the Emerald Isle varies depending on your way of life. Depending on your monthly expenses, the typical value ranges from €700 to €1,500 per person, excluding rent.
The monthly rent for a one-bedroom apartment costs around €1,500. This amount goes up to €2,500 for a three-bedroom one.
If you're currently living in the US and planning to move to Ireland, here's a quick comparison:
Consumer prices in Ireland are 3.59 percent higher than in the US (excluding rent)
Rent prices in Ireland are 3.27 percent higher than in the US
Restaurant prices in Ireland are 11.54 percent higher than in the US
Living in Ireland: Accommodation 
Whether seeking a country home, a coastal cottage, or a modern city apartment, you have a variety of housing options to select from, the specifics of which depend on lifestyle.
The majority of expats in Ireland rent rather than own. Having said that, if living in Ireland for the long term is your plan. you might consider purchasing a home.
Apartments and semi-detached row houses are the most popular types of accommodation in Irish cities such as Dublin and Cork. Older houses and flats are usually more spacious, and rental prices decrease as one moves out from the city center.
Finding Accommodation in Ireland
There are numerous websites in Ireland that advertise houses, and local newspapers are also useful sources to look for rentals. Property rentals are frequently posted on noticeboards at local supermarkets.
When looking for a home in Ireland, real estate brokers are another option. However, unlike in many other countries, rental companies in Ireland frequently bill the renter rather than the property owner. The cost is often equal to one month's rent.
Coliving in Ireland
Luckily, coliving is becoming a trend in Ireland, especially in Dublin. Node Living and Niche Living are some of the popular coliving spaces that are worth checking out.
Weather
Here comes the opening line of every conversation with Irish people: weather in Ireland.
The Irish climate is temperate, with warm summers and mild winters. But as the weather likes to keep people guessing, you'll probably get a taste of everything. The rain will clear, revealing blue skies. Freezing mornings will give way to beautiful afternoons…And just when you think you've seen it all, Ireland will offer you a sunrise.
The weather, as Irish people will tell you, can spoil even the best-laid plans. This is why you have got to learn to be adaptable! Pack for every season and simply enjoy Emerald Isle!
Money and Credit Cards
The euro is the currency of the Republic of Ireland while the official currency in Northern Ireland is the pound sterling.
Visa and Mastercard are generally accepted throughout Ireland; American Express is accepted at some locations but not very common.
"Chip and pin" system is used for credit and debit cards in Ireland. Contactless payments are available too for up to €50.
You might hear people saying "Hole in the wall" which means an ATM.
Visa Requirements for Ireland
If you want to stay in Ireland for more than 90 days and are not from Switzerland or a country from the EU and EEA, you need to get an Irish residence permit.
Irish visas and permits are typically provided in the form of permanent or short-term passes based on work, study, or family reunion. There are also special schemes for people who want to reside in Ireland as investors or retirees.
The Immigrant Investor Program (IIP) can be an option to gain Irish residency. The minimum amount for this scheme is €500,000 (donation route). If you want to make an investment, the amounts start from €1 million.
Another possibility is to seek residency in Ireland based on your family ties.
Healthcare in Ireland
Although healthcare in Ireland is universal, this does not imply that it is free for everybody. Even if you use the country's public healthcare system, which is open to both residents and non-residents, you can expect to pay a price. Only Medical Card holders are covered for healthcare costs.
In Ireland, the normal charge for a hospital visit is approximately €100. A single doctor's appointment will cost approximately €50. If you want to get private insurance, you should expect to pay between €30 and €150 per month, depending on the plan you choose.
Culture and Society in Ireland
Communication Style
One thing you'll notice when you start living in Ireland is that the Irish people are direct and to the point. Honesty is valued and expected in Ireland. Still, Irish people enjoy telling stories and it's true that they sometimes exaggerate.
In general, teasing and joking during conversation are valued in Irish society. Irish people don't like arrogant people and appreciate modesty and humility.
Irish people aren't scared to argue or speak their own views. However, some Irish people are religiously and politically sensitive so try to avoid those subjects.
Time
Being a few minutes late is acceptable in both work and social situations. If you are a person who is always on time, Irish people may think that you are strange.
Irish Language
The official languages of the Republic of Ireland are English and Irish (Gaeilge). Gaeltacht (Irish-speaking) areas are mostly found along the west coast, where Irish is frequently spoken.
You'll be introduced to Irish practically as soon as you arrive, with all street and traffic signs in both English and Irish in the Republic of Ireland.
Taboos
While it isn't exactly a taboo, some people find the separation of the Republic of Ireland and Northern Ireland to be a sensitive subject.
Dublin is the capital of the Republic of Ireland and is commonly referred to as simply Ireland. Northern Ireland is a separate country within the United Kingdom. As a result, avoid referring to Ireland as "part of the United Kingdom" or confusing Irish people with British or English people.
If you're unsure of the correct terminology, my recommendation is simply to ask a local. They won't mind if you tell them you're interested in learning about Ireland's history and culture. 
Five Things To Know Before You Move to Ireland
1. Ireland is an expensive country: Obviously, it will depend on where you live but make sure you can afford life in Ireland before you arrive.
2. Dublin is the place to be: All Irish cities have their character and charm, but it's true that Dublin is the city where the majority of actions take place.
3. Don't miss out on natural beauties: Because of the country's tiny size, it's ideal for weekend getaways, so there's no reason to miss out on Ireland's breathtaking scenery.
4. Get used to "waiting": People in Ireland have a bad tendency of being late. So, when you start your life in Ireland, you should get used to waiting.
5. Prepare yourself for serious drinking culture: Ireland has a huge selection of alcoholic beverages to try. You'll never run out of new drinks to try, with options ranging from Baileys Irish Cream to Irish cider — not to mention Guinness.
The Bottom Line
There you have it…We've given you an introduction to life in Ireland in general. Ireland is a fantastic country with friendly people and great natural wonders. We believe you're going to have an amazing time there!
Have you ever visited Ireland? Have you ever thought of living there? Let us know…
What does Ireland look like?
Ireland is an island nation located in the northwestern Atlantic Ocean. It is the third-largest island in Europe. It's also the twentieth-largest island in the world. Geographically, Ireland is divided into two distinct regions: the Republic of Ireland to the south and west, and Northern Ireland to the north. The Republic of Ireland covers about five-sixths of the island, while Northern Ireland occupies the northeastern portion of the island. Ireland has a diverse landscape that includes coastline, mountains, rivers, and lakes. The island is also home to a variety of wildlife, including Irish hares, red deer, and Atlantic salmon.
The Republic of Ireland is a parliamentary democracy with a head of state, the President of Ireland, and a head of government, the Taoiseach. Connacht, Leinster, Munster, and Ulster are the four provinces of Ireland. Each province is further divided into counties. Northern Ireland is also a parliamentary democracy with a head of state, the British monarch, and a head of government, the First Minister.
How many counties are there in Northern Ireland?
Northern Ireland is divided into six counties: Antrim, Armagh, Down, Fermanagh, Londonderry, and Tyrone.
Can you move from the US to Ireland?
Yes, it is possible to move from the US to Ireland. There are a few things that you will need to do in order to make this happen, such as obtaining a visa and a passport. You will also need to find a place to live and a job. However, it is possible to move from the US to Ireland if you are willing to put in the work.
What are the advantages of moving to Ireland?
There are many advantages to moving to Ireland. The country is renowned for its beautiful scenery, friendly people, and rich culture. Ireland also offers a great quality of life, with low crime rates and excellent healthcare and education systems. Additionally, the cost of living in Ireland is relatively low compared to other Western European countries. Finally, if you are looking for a new and exciting place to live, Ireland is definitely worth considering!
What are the disadvantages of moving to Ireland?
One potential disadvantage of moving to Ireland is the weather. The country experiences a lot of rainfall and can be quite cold, especially in the winter months. Additionally, the cost of living in Ireland is higher than in some other countries, such as Bulgaria or Romania. Finally, if you are not used to small towns and rural areas, you may find the lack of nightlife and amenities in some parts of Ireland to be a bit challenging.
Is it expensive to live in Ireland?
The cost of living in Ireland varies depending on the city you choose to live in and your lifestyle. However, overall, the cost of living in Ireland is relatively affordable when compared to other Western European countries.
For instance, according to Numbeo, the cost of living in Dublin (the capital city of Ireland) is only slightly higher than the cost of living in Amsterdam (another Western European city). And when compared to other major cities such as London and Paris, Dublin is actually quite a bit cheaper.
What is the cost of living in Ireland?
The cost of living in Ireland can vary depending on where you live and how you live. However, it is generally considered to be a relatively expensive place to live. Expats should budget for their accommodation, food, transport, and other living costs.
What are common ways of saving money while living in Ireland?
Of course, there are always ways to save money no matter where you live. If you're looking to cut down on your costs, here are a few tips:
Get a roommate: Sharing an apartment or house with someone else is a great way to reduce your living expenses. Not only will you split the cost of rent and utilities, but you can also share groceries and other household expenses.
Cook at home: Eating out can be expensive, so cooking at home is a great way to save money. Not to mention, it's usually healthier!
Use public transportation: If you live in a city with good public transportation, take advantage of it! It's often cheaper (and less stressful) than driving and parking your own car.
Take advantage of discounts: Many stores and attractions offer student discounts, so be sure to take advantage of them if you're eligible.
Shop around: Don't just buy the first thing you see – take the time to compare prices and look for deals. You'd be surprised how much money you can save by doing a little bit of research.
Overall, the cost of living in Ireland is relatively affordable. By following the tips above, you can save even more money and stretch your budget further.
How much does it cost to buy a house in Ireland?
The cost of buying a house in Ireland can vary depending on a number of factors, including the size and location of the property. However, on average, you can expect to pay between €200,000 and €300,000 for a typical three-bedroom semi-detached house in Ireland. If you're looking to purchase a more expensive property, such as a four-bedroom detached house, the average price is €400,000. Prices will also vary depending on the specific location within Ireland, with properties in Dublin and other major cities typically costing more than those in rural areas. When budgeting for your new home, be sure to factor in additional costs such as stamp duty (a tax levied on property purchases), legal fees, and the cost of any necessary renovations.
Can a foreigner live in Ireland?
Yes, a foreigner can live in Ireland. There are many foreigners who live in Ireland and they seem to enjoy it. The people are friendly and the scenery is beautiful. There are many things to do in Ireland and it is a great place to live.
What visa do I need to live in Ireland as an expat?
If you want to move to Ireland and live there as an expat, you will need a visa. There are many different types of visas that you can apply for, so make sure you research which one is right for you. You can find more information on the Irish government website.
Is healthcare free in Ireland?
No, healthcare is not free in Ireland. However, it is very affordable and of high quality. There are many hospitals and clinics throughout the country that offer excellent healthcare.
Is Ireland a good place to live?
There are pros and cons to living in Ireland. Some people find the weather to be a bit dreary, while others love the green landscape. The cost of living can also be high, depending on your lifestyle. However, there are many great things about living in Ireland as well. The people are friendly and welcoming, the food is fantastic, and there are plenty of things to see and do. So overall, it really depends on what you're looking for in a place to live. If you're after a relaxed and comfortable lifestyle with plenty of amenities, then Ireland could be the place for you.
Can I move to Ireland without a job?
It is possible to move to Ireland without a job, but it may be difficult to find employment once you are there. There are a number of ways to look for work in Ireland, including job websites, newspapers, and word-of-mouth. You may also want to consider contacting Irish organizations in your area before making the move. Once you are in Ireland, it is important to network and make contacts within the country. While it may be challenging to find work without a job beforehand, it is possible to obtain employment in Ireland.
Does Ireland get snow?
Yes, Ireland does get snow. The amount of snowfall varies from year to year, but typically there are a few snowstorms each winter. In the mountains, there is usually more snow. Snow usually starts falling in late November or early December and continues until March or April. However, it is not uncommon for there to be a few flakes of snow in May or even June! So, if you're hoping to see some snow while you're in Ireland, you have a good chance. Just be sure to pack your warm clothes!
16. How racist is Ireland?
This is a difficult question to answer definitively, as racism is often a very subjective experience. However, there are some objective indicators that can provide some insights into how racist Ireland may be. For instance, according to data from the European Union Agency for Fundamental Rights, Ireland was ranked as the fifth most racist country in the EU in 2015. In addition, a study conducted by the Irish Times in 2016 found that one in three people in Ireland said they had experienced racism in the past five years.
While these studies suggest that racism is present in Ireland, it is important to remember that racism exists in all countries and societies. It is also worth noting that Ireland has made great strides in recent years in terms of promoting diversity and inclusion. In 2015, for example, Ireland became the first country in the world to introduce same-sex marriage through a popular vote. This shows that Ireland is a country that is constantly evolving and that strives to create an inclusive society for all.