Working Remotely in Portugal: The Ultimate Guide
If you're a digital nomad, a freelancer, or if you have a startup, Portugal might be a very good option to live in with the amenities and the low cost of living. Especially in Lisbon, you will find hundreds of these types of people who are working remotely as well. Algarve and Porto are other alternatives if you prefer an area with fewer people.
This article will guide you in many aspects of remote-work in Portugal, including accommodation, legal issues, working spaces, and more.
Legal Issues for Remote Workers
First of all, Portugal does not offer a specific remote work visa yet, like many other countries. Let's look at the residency procedure then. If you stay for more than 183 days in Portugal, you will become a tax resident. In that case, you must file a tax return and pay your taxes in Portugal. In fact, many foreigners choose this way and move to Portugal. Also, after five years of residency, the country grants you citizenship as well. So, especially if you are from a non-EU country, this means you can access the EU area easily.
While there is no specific remote worker visa, there are similar visas such as D7 Visa & Residence Permit. They are intended for non-EU citizens gaining passive income. Mostly, pensioners and second-home owners use this visa. However, it will be quite practical for digital nomads like you as well. In this case, you pay taxes in Portugal. While shifting your residency to Portugal, you will be subject to some paperwork. After moving your tax residency, you can benefit from the NHR (Non-Habitual Residence) program. It allows some tax exemptions and great tax reductions on your foreign income for a duration of ten years. So, you can pay fewer taxes on the same income when you move to Portugal.
An alternative tax regime is also available: the Simplified Regime. For some people, this may be a better option than the NHR. The Simplified Regime basically taxes you on a percentage of your income instead of all of your income. To determine the best option, we'd recommend you to consult a professional accountant.
Another option is the Portugal Entrepreneur Visa (also called Portugal Startup Visa). As its name suggests, it is aimed at start-ups with a business plan. Ultimately, the country expects you to establish an enterprise in the country. You should be careful about the originality of your idea though. Otherwise, you cannot receive the visa.
If you are a self-employed individual, you can benefit from the Portugal Self Employment Visa as well. But, you must prove that you will provide services and work for Portuguese companies. It will also grant you the right to visa-free travel within Schengen countries.
So, what about the EU citizens? Well, the process is much easier for them, actually. EU citizens already have the right to live, work, and travel throughout Portugal. If they want to stay in Portugal for more than a few months, they only need to apply for a residence permit and register for tax issues.
If you have enough cash and want to invest here for the future, Portugal Golden Visa will work out as well. Various investment options are possible. You can buy a property, establish a business creating ten employment positions, make R&D investments, capital transfers, and so on. You will obtain temporary residency following the investment. It provides great benefits in return for your investment. The immediate benefits are visa-free travel to the Schengen countries and family inclusion. After five years of fulfilling the stay requirements, you can apply for permanent residency and citizenship. In this way, you can become an EU citizen and benefit from the rights EU citizens do. Visa-free travel to 186 countries is another plus.
Accommodation
If you plan to stay in Portugal for a short time, you can consider Airbnb as an option. Most people in Portugal book Airbnb for their stay. In these accommodations, you can cook if you want to, and you will find more space. Also, you can find tables to work remotely. Some of them provide desks and chairs as well. Note that you should book the place in advance in the high season between May and October. Otherwise, you may not find a place suitable for your needs. Also, it is better to check the cancellation policies in case you need to change your plan later.
An alternative for Airbnb can be NomadX. It is a start-up based in Portugal, intended mainly for digital nomads. You can arrange short and long-term accommodation through this service. It is focused more on areas like Lisbon and Porto, as well as some surf and beach towns between these cities. Also, you can find prices lower than they are on Airbnb. You can be in more direct contact with renters.
Alternatively, you may consider coliving spaces as an option. They are like hostels for digital nomads and freelancers. In these coliving spaces, you live and work together with other people like you. They may be a bit expensive, but they are an opportunity to expand your network by meeting new people.
More common options are hotels and hostels. As long as they provide the necessary equipment for work, you can choose them as well.
Coworking Spaces
Coworking spaces are basically shared offices you're paying to use. You can reserve them daily, weekly, or monthly. There are various co-working spaces especially in Lisbon, Porto, and Algarve areas. They offer quite comfortable working places, and some of them include drinks and fresh fruit included in the price. Alternatively, there are lots of cafés that will provide you with free Wifi access and a desk to work from.
There are also some apps like Croissant, making this process much easier. You can see real-time availability in the co-working space that you're looking for. Through this app, you can buy credit and use it in different co-working spaces as well.
Internet Connectivity and Mobile
In recent decades, internet services have gained much ground in Portugal. It still keeps improving and is quick enough. The mobile service area is also in quite a good shape.
WiFi
Globally, Portugal ranks 24th for average broadband speeds. Median peaks are now over 100 Mbps download and around 50 Mbps upload.
In Portugal, almost all accommodation for digital nomads has their own internet connection. The hosts even indicate the speed test of their internet connection in their listings.
4G and Mobile
Portugal's global ranking of mobile internet speeds is in a good place. The average for downloads from smartphones is at 35 Mbps with pings of just 31ms. In big cities like Lisbon and Porto, the coverage of mobile networks is very good. If you move to places like Douro Valley or the Serra da Estrela in the east, it will change to 3G or may even drop connection altogether.
For SIM cards, MEO and Vodafone are very popular in Portugal. You can even find them at large airports. For a monthly package of 3GB, you will pay around €17.
Plugs
Mains connections in Portugal perform at 230V on 50Hz. Type C and Type F plugs being both round and two-pronged can work out for wall sockets. They are compatible with the rest of Europe. So, for example, if your adapter works in Germany, it will also work in Portugal as well.
Accessibility and Security of Internet
Portugal provides freedom when it comes to internet activity. The constitution of the country clearly provides freedom of speech and freedom of the press. Also, the government does not limit some URLs or websites. It does not monitor the activities on the internet either.
Tech shops
In most tourist places, you can find shops selling plugs and adapters. However, if you need bigger tech warehouse sellers or an Apple store, you need to go to Lisbon, Porto, Coimbra, or Lagos.
Life in Portugal
The cost of living in Portugal is quite affordable compared to other Western European countries. This includes the basic costs of food and accommodation. If you head for more inland or rural areas, the cost of living becomes much cheaper.
The official language in Portugal is Portuguese. However, especially in touristy areas, you'll find that most people speak English well. Portuguese people are quite welcoming and friendly. If you need to go to a hospital, don't worry. You will find English-speaking staff easily, especially in private hospitals.
The weather in Portugal is another attraction for foreigners. Its winters are mild to cool, and summers hot. Most tourists generally visit Portugal in the summer. But, if you're not a big fan of the crowds, spring and autumn may be better for you.
Food is also diverse in Portugal. You will find excellent seafood in areas along the coastline. Salt cod, tomato stews packed with prawns and mussels, and sardines are very popular with their cooking techniques. The Portuguese Francesinha sandwiches are particularly popular. They are in fact Porto's specialty. The Cozido Stew is another dish you should try.
Let's take a look at some of the cities.
Lisbon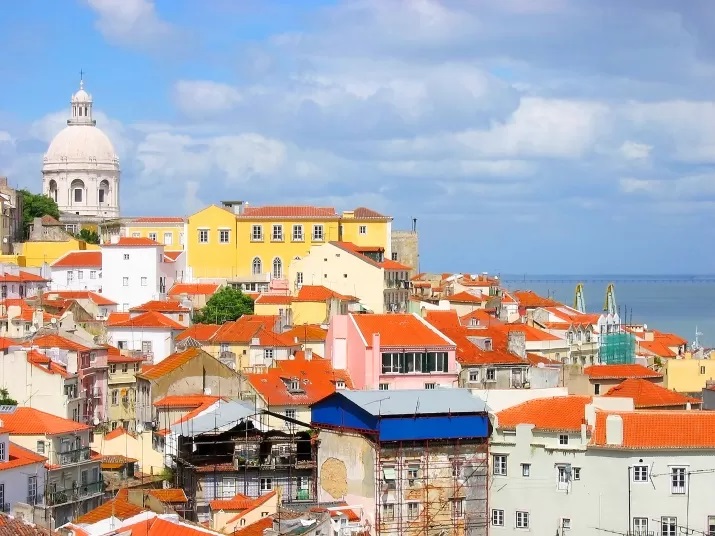 Being the capital, Lisbon provides many amenities you need as a remote worker in Portugal. Note that all main government offices are in Lisbon. So, you can deal with your visa issues and other legal stuff here.
Many quality restaurants, cafés, and bars are available in the city. You should be aware that rents can be higher in Lisbon compared to other parts of the country. If you are budget conscious, you may consider staying in less popular places such as Martim Moniz or Intendente.
Porto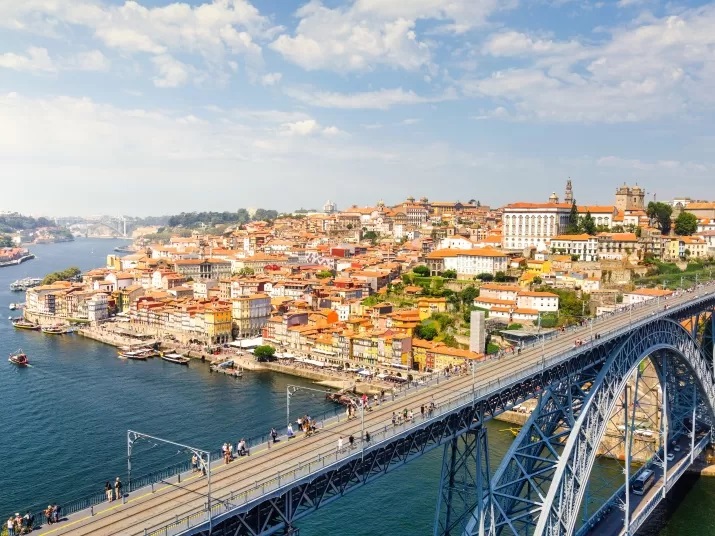 Peniche
Peniche is an ideal spot for surfers. Both beginners and professional surfers come to this town on the Atlantic. The Baleal village in the north also offers sea-view cafés and fishing taverns. For a more lively environment, think about Supertubos beach and the Peniche town though. Nightlife and coastal apartments are more available there.