Why We Moved to Portugal (and why it might be time for you to do so as well)
Editor's Note: We've been getting a lot of questions about moving to Portugal. So, we thought our community members could voice their own stories to share with us their first-hand experiences. Below you can read Delphine's story, a GoVisaFree community member. I'm sure you'll enjoy reading it. - Robin
It seems that everyone's whispering, talking, shouting, and writing about Portugal these days. It's no surprise to me, as I was lucky enough to have discovered this gem a few years ago.
My name is Delphine. We've been friends with Robin for many years and I count myself as a committed member of the GoVisaFree community. When Robin asked me to write my journey of moving to Portugal, I did not think twice. I've always wanted to share how and why I moved to Portugal, so here it is!
Who We Are
I believe giving some background will be helpful before starting with my journey. I was born in the US, with parents of Swiss and French origins. I studied Linguistics and am currently working as a freelance translator. 
My husband Mark was born and raised in the US too. He's also coming from a family with diverse roots. We both adore Europe and have always been keen to explore it further. 
Why We Chose Portugal
When we initially considered relocating to Europe, the first destination that came up was the South of France, Côte d'Azur, where my grandmother is from. When we traveled back there years ago, we had fallen in love with Nice. We liked Promenade des Anglais a lot, we enjoyed our wine and cheese moments, and loved the easy side trips to neighboring Italian towns… But when the winter came, the city became extremely quiet, and a bit boring to be honest…This is when we realized that we needed to look elsewhere.
In 2019, when we were on a gourmet tour in Spain, a friend of Mark invited us for a weekend trip to Porto, where he had already moved to. This first trip to the country was amazing! However, it was our trip to Lisbon three months later that was the total game-changer. Our two weeks in the Portuguese capital were filled with culture, music, museum visits, and great food. Mark tried surfing, I attended a Pastel de Nata workshop, and my mother went on a wine tasting medley. 
Long story short, this trip made us choose Portugal as our home outside the US. Everything felt so easy-breezy, accessible, and affordable. Dinner in a nice restaurant wouldn't burn a hole in our pocket and we wouldn't have to spend a lot to have a nice day by the beach…
Most importantly, Portugal, particularly Lisbon, isn't just a place to stay during the summer, unlike many destinations in Europe. A lot is going on all year round, which makes it exciting to explore. 
How We Planned Our Move to Portugal
After we fell in love with Portugal, the first thing we did was to look for residency options. As both Mark and I have US passports, staying in Portugal for less than 90 days is no problem. However, we knew that we would want more. 
When looking through the options, we came across the D7 visa, also known as the passive income visa. If you're going to live in Portugal on a passive income and can prove it, you're good to go. The only requirement is that you have to commit yourself to living in Portugal for a minimum of six months per year, which is what we were looking for anyway.
As we both had rental incomes from the US, the application process was easy. Well, to be honest, we left the legal red-tape and the complete application process to a company that was recommended by a GoVisaFree community member. Things went smoothly without us having to do much.
For visa application purposes, we rented a small flat in Lisbon. We're still living there, but planning to move to a bigger one, as our parents are going to come and stay with us next year.
If we could have arranged our funds, we would have applied for the Portugal Golden Visa, which another GoVisaFree member had chosen to do. The biggest difference is that the Golden Visa does not require you to live in Portugal full time, so it gives you flexibility and mobility. It's a great option, but as we weren't financially ready, we opted for the D7.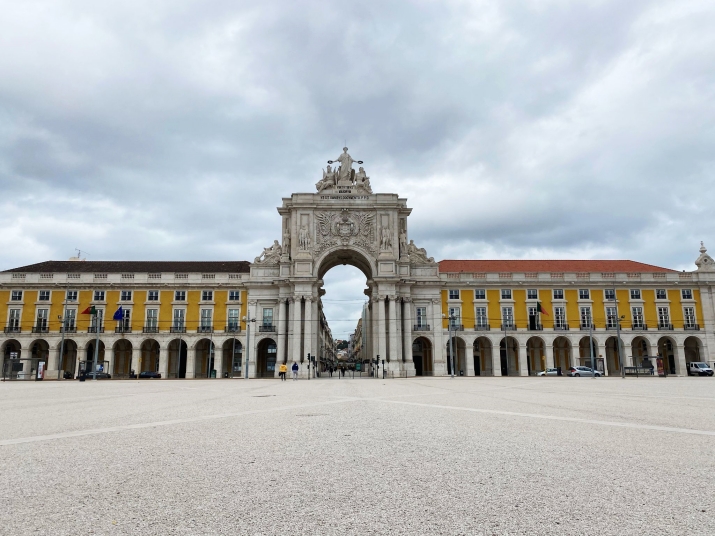 What We Love About Portugal
Portugal proved to be a perfect shelter for us when the rest of the world was dealing with strict rules and lockdowns in 2020. It was difficult to be away from our family, but we counted ourselves very lucky to be in a country where the pandemic was handled much better than many other European counterparts.
Apart from this, Portugal has offered us so many good things so far. Here are some of them…
There Is So Much To See
No matter what your interests are, Portugal offers attractions for everyone. There are many museums — The National Museum of Archeology is my favorite, and there is so much history that needs to be explored. Since the first day we moved to Portugal, we've been trying to visit every historic site, but there are still many we have not covered. I love that feeling of plentifulness.
We Adore the Weather
Portugal's temperate weather is to die for, particularly compared to the long cold winters in our hometown in the US. Better yet, when it feels too warm in Lisbon, we go and spend some time in the northern part, where it's always cooler. As the winter approaches, we visit our friends in Faro, in the south, and keep enjoying the sunshine.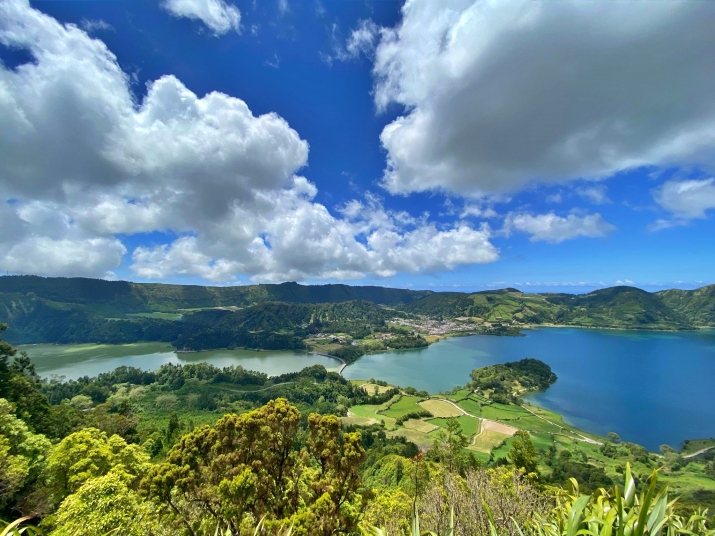 We Can Easily Travel – and for Cheap
Portugal has proved to be a great base for us since the day we moved here. We can easily arrange weekend trips to France and Spain. Marrakesh is only a two-hour flight away. The UK is easily accessible too. As a matter of fact, our cousins who live in London come and visit us almost twice a year. Traveling within the country itself is very easy. Before we moved, we were planning to buy a car, but as we become more familiar with the transportation options, we've given up on that thought.
Food Is Fresh and Abundant
We love eating and don't mind splurging on food, especially seafood. Luckily, it's always fresh and affordable in Portugal. We rarely cook as restaurants are cheap in general. Even Michelin-starred restaurants are within reach, although not a weekly splurge unless you're that sort of wealthy of course. If you're from a country where the food and restaurants are expensive, you'd never want to leave Portugal.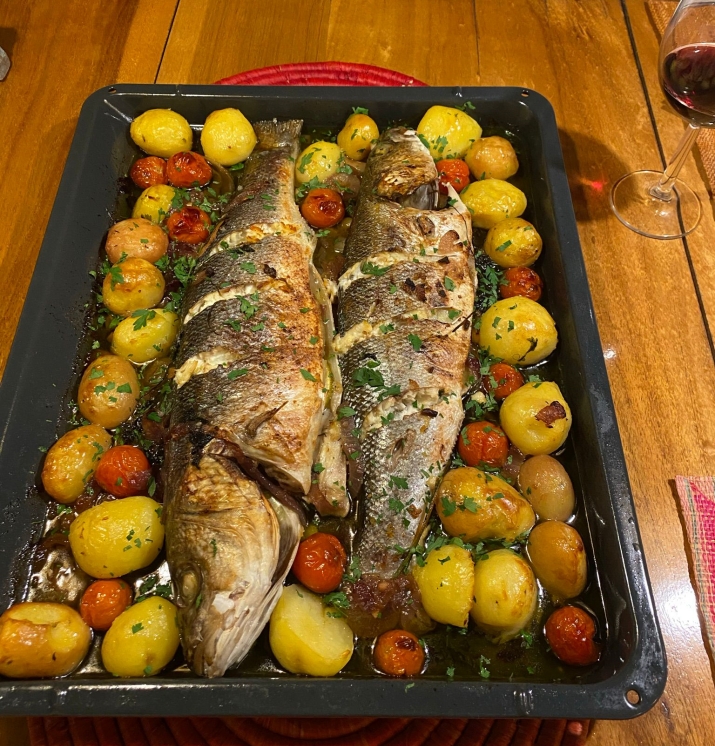 What We Don't Like 
Of course, there are moments when I feel unhappy and want to run away. These are rare but I'm going to name them to give you a more objective insight.
Handymen are always late
Online shopping might turn into a nightmare due to delayed shipping
Bureaucracy can slow things down (this is more Mark's problem than mine, as I have smartly delegated such tasks to him)
But we both know that this can happen anywhere. Many of our friends and relatives live in different parts of Europe, and there is always something that is worse off than the US. Overall, we make it a habit to view the glass half full, and so, we're happy!
Did We Regret Our Decision?
No, not for a moment. We are very glad that we chose Portugal as our home. We stayed in France for two months and although I'm a big fan of the French way of living, we didn't like the idea of staying there full-time. Portugal is now our home and we don't want to give up on it.
Will We Ever Go Back to the US?
Well, this is something we've been going back and forth on. Did we give up on our home country? Do we ever miss it? Leaving your home country permanently is never an easy decision. For the moment, we plan to possibly go back to the US when we decide to have children. I want my parents and friends to be next to me when I give birth and support us during the first two years. But, before we leave, we want to make sure we buy a house in Portugal, ideally in a coastal town, where we can come and stay for three to four months every year. I want my future children to be familiar with this country.
We're far from retirement age but we know buying a house in Portugal will also serve our retirement dream in Europe. It'll also be an income generator if we can manage to rent it out.
One idea is to switch to Portugal Golden Visa from D7, which is doable to my understanding. To be honest, all I'm focused on right now is enjoying what Portugal has to offer without worrying about bureaucracy or paperwork. 
Are We Going To Apply for Portugal Citizenship?
Well, why not?
If we manage to qualify at the end of our five-year residency in Portugal, we will consider getting Portugal citizenship. I know that being a citizen of an EU country is going to be a plus for both us and our children. However, there are some business and tax issues Mark is trying to figure out. If everything goes as planned, we can apply for citizenship.
This is all I have for the moment. I also would like to thank the GoVisaFree team for letting me share my story with my fellow nomads. If you have any questions feel free to reach out to Robin, who has my contact details.