Is Portugal Safe?
Olá from the land of explorers, cork trees, and soulful Fado melodies. 
I moved to Portugal in 2019, thinking I found the hidden gem of Southern Europe! While it once played second fiddle to Spain, nowadays there's not much hidden about it. This beauty hosted nearly 22.3 million tourists in 2022.
From the architectural wonders in Lisbon and Porto to the natural splendors of Madeira beaches and Lagos cliffs, Portugal promises a feast for the senses, topped off with world-renowned wines and the delicious pasteis de nata.
However, like any trendy spot, there's often a difference between Instagram and reality. I'll dive into the question I want to tackle in this article: is Portugal safe?
Is It Safe To Live in Portugal?
We will talk about safety in Portugal. But first things first, let me give you some context about the expat life here in Portugal.
Living in Portugal isn't just about relishing the pastries or soaking in the sun. It's about immersing in the local pace. "Portugal Time" is laid back, relaxed, where people treasure moments over minutes. It's a welcome respite from the hustle and bustle, ensuring you relish life one sip of coffee or slice of pastel de nata at a time.
One of the highlights in Portugal's score is spending on violence; it represents only 5% of GDP, one of the lowest among the countries analyzed. The country also receives good scores in terms of social support to the population, which ranges from housing to healthcare.
Is Portugal Safe Compared to Other European Countries?
In terms of security, Portugal stands out in comparison to other European countries. When comparing security in Spain and Italy, for example, countries rank 31st and 32nd in the Global Peace Index.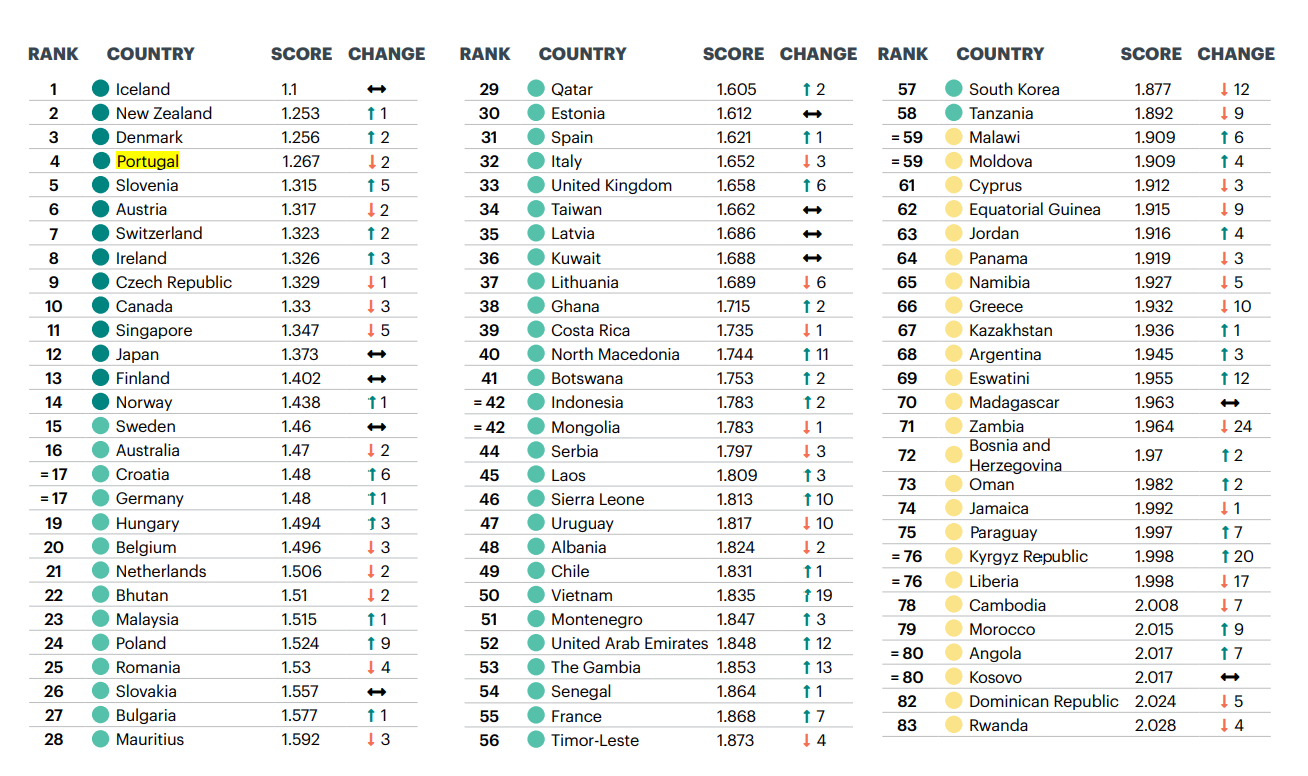 The differences can also be extended to the feeling of security. Although both are safe countries, in Italy scams are common to tourists and, Rome, in particular, has some neighborhoods that can scare during off-peak hours.
In Spain, the rates of violence in cities like Barcelona have risen significantly. Considered one of the main tourist destinations in the country, the city has suffered from an increase in violence.
Portugal: the Solo Traveler's Paradise
Portugal's mix of safety, hospitality, and great landscapes make it a magnet for solo travelers, particularly women. The country prides itself on its egalitarian values, and gender-based harassment is rare, ensuring that female travelers can explore freely.
Navigating Portugal as a solo female expat, I have seldom felt out of place or threatened. Even late-night escapades in Lisbon and Porto felt comfortable.
Crimes Against Tourists
Although Portugal is a very safe country, there are some things to consider if you're not familiar with the area. There are opportunist crimes, as in most touristy cities. Note that the crimes we've listed below are not very common, but better safe than sorry.
Pickpocketing
Pickpocketing is one of the most commonly reported crimes in Portugal. Pickpockets frequently work in groups, so it's critical to remain alert of your surroundings at all times. Crowded areas like airports and hotel lobbies are the main sites for this minor crime. You'd better also keep your valuables hidden when traveling on a tram.
Car Theft
If you're going to rent a car in Portugal, keep the car doors and windows locked at all times, whether you're driving or not. Also, you'd better remove any stickers showing that it's a rental car.
Scams
Although rare, scams happen in Portugal too, especially in tourist areas. Here are a few:
The Rosemary Scam:
In this trick, an elderly Roma woman may offer rosemary, grab your hand, and predict your fortune. She'll demand payment afterward, causing a scene if denied. Safeguard yourself by pulling your hand away and walking away confidently.
The Slip-and-fall Scam:
On trains or trams, be wary if an elderly Roma woman appears to fall into you. It could be a ploy for theft. Stay vigilant about your wallet, purse, and watch. Check your belongings immediately to thwart potential muggers.
The Petition Scam:
If someone requests you to sign a petition, decline. This ploy is used to divert your attention while another person targets your pockets. Politely refuse to engage and keep your belongings secure.
Restaurant Menus with No Prices:
One other thing to be careful about is the overpriced restaurants. Make sure you see a menu before you order to avoid astronomical charges. It's also going to be useful to check a restaurant's reviews online.
Bag Snatching
This usually happens at restaurants where you hang your bag on the back of the chairs and make it a target. You can wrap the strap around your leg or arm to avoid bag snatching. Also, don't leave your bags or luggage unattended.
Petty Theft
Petty theft is a form of theft crime linked to the theft of low-value items. A prevalent example is shoplifting, where the thief, who's legally present in the store, takes merchandise by concealing it in a pocket or purse. 
Some preventive measures include:
Front-pocketing your wallet.
Wearing your bag cross-body.
Being alert, especially when it's crowded.
Things to Pay Attention to
🚫  Drugs: Even if decriminalized, stay away from illegal substances.
🗣️  Language: Portuguese is the main language, not Spanish. It's essential to respect this difference.
⚠️  Stay Alert: Watch out for slippery sidewalks and restaurant scams.
Choosing Your Destination Within Portugal
When it comes to finding a location that perfectly marries natural beauty, safety, and family activities, Algarve tops the list. The shimmering waters, golden sands, and coastal caves of Algarve have consistently been an irresistible attraction for families. The vibe is relaxed, children can freely play on the beaches, and there's a plethora of family-oriented activities and facilities. From surf schools to fun-packed adventure parks, there's no room for monotony.
However, I am a city girl. So the question for me is not where, but more like 'Lisbon or Porto?'
Safety checks: Lisbon vs. Porto
Both Lisbon and Porto, Portugal's iconic cities, have been hard at work to ensure the safety of their residents and visitors. Lately, Lisbon has been enhancing its surveillance in tourist-heavy areas, leading to a significant reduction in petty crimes. Porto, on the other hand, maintains its reputation as one of the safest cities in Europe. While both cities are generally safe, always exercise the usual caution, especially in crowded places or during the night.
If beyond safety, you are interested in a fair comparison of Portugal's two major cities, check out our article on Lisbon vs Porto.
Communication in Portugal
The spoken language in Portugal is predominantly Portuguese. But in urban areas and popular tourist spots, English is widely spoken. It's safe to speak English and get by. People are hospitable towards foreigners in general, so there won't be any prejudice.
Even so, mastering a few local phrases, like the heartfelt "Obrigado" (Thank you) for both men and "Obrigada" for women, can add a special touch to your interactions. My top Portuguese phrases that always come in handy:
"Obrigado/Obrigada" – Thank you (based on male/female speaker)
"Por favor" – Please
"Desculpe" – Excuse me/Sorry
"Quanto custa?" – How much does it cost?
"Onde fica…?" – Where is…?
On the Move: Transportation Tips in Portugal
The trams of Portugal, especially in Lisbon, offer a journey through time and sights. But these picturesque rides come with a hint of caution – they can be prime spots for pickpockets, especially during peak tourist season. Always be vigilant, secure your belongings, and choose off-peak times for a more relaxed experience.
Uber vs. Taxis: My take on what's safer in Portugal
Both Uber and traditional taxis have their merits in Portugal. Ubers offer the convenience of cashless payment and route tracking, but taxis, with their experienced local drivers, provide a touch of authenticity. In terms of safety, both modes are comparable, though it's always wise to share your route with someone if you're traveling late at night.
Roadtripping: Driving insights and the rumors on Portuguese drivers
Taking the wheel in Portugal is a pleasure, with well-maintained roads and scenic routes. While there are whispers about the aggressive nature of Portuguese drivers, my experience has been otherwise. Like anywhere, there are outliers, but on the whole, the driving culture is courteous. As long as you adhere to local driving regulations and stay alert, you're in for a treat.
Staying on the Right Side of the Law
Drugs in Portugal
Portugal's progressive approach to drugs is noteworthy. In 2001, the country decriminalized the possession and use of small amounts of drugs. This means you won't be criminally charged for holding a personal amount. However, it's not a free pass. Possession can still lead to administrative sanctions like fines or community service.
Prostitution in Portugal
Prostitution per se in Portugal is legal, but activities surrounding it, like brothels and pimping, are illegal. It's essential to be aware of this distinction to avoid inadvertently engaging in illegal activities. Always prioritize your safety, be wary of risky situations, and remain informed about local regulations.
Embracing Safety in the Ocean
The vast coastline of Portugal offers some of Europe's most enchanting beaches. However, it's important to respect the ocean and understand the safety signals. Beach flags are there to guide:
Green Flag: Safe to swim
Yellow Flag: Swim with caution, preferably stay in shallow waters
Red Flag: Dangerous conditions, no swimming
Always choose lifeguard-patrolled beaches, especially if you're not a strong swimmer.
Praia da Marinha in the Algarve and Miramar near Porto are personal beach favorites, offering not just safety but such beauty. When at pools, make sure you keep an eye on children, even if lifeguards are present. Remember, safety first, always.
Natural Disasters in Portugal: Environment and Safety
Portugal's allure is in its pristine beaches, scenic valleys, and majestic landscapes. Better yet, all that comes with freedom from major natural disasters. While Portugal is situated in an earthquake zone, significant quakes are infrequent, with the last major one dating back to 1980. Beach bums can rejoice, too, as massive storms are absent along the Portuguese coast. So, you can truly enjoy nature's wonders without constantly glancing over your shoulder.
Tap water debate: Trust me, it's safe to drink
No need to spend on bottled water every day. Portugal's tap water is as clean as it gets. It's refreshing, safe, and free. So, hydrate without a second thought, and maybe toast with a glass of tap water at your next meal.
LGBT Safety in Portugal
LGBT expats are welcomed and accepted in the country, especially in urban areas. However, note that the tolerance might be low in some rural areas. Still, Portugal is one of the most progressive countries when it comes to LGBT rights in Europe.
Local Know-How: Areas to Approach with Caution
Lisbon, like any other major city, has areas that are better approached with caution, especially after dark. Avoid dimly lit alleyways and be particularly vigilant if you're traveling alone. Stick to well-trodden paths, especially if you're unfamiliar with the area.
Bairro Alto and Alfama neighborhoods are beautiful, historic neighborhoods. While Bairro Alto becomes a lively nightlife spot, Alfama is more laid-back. Both places are relatively safe, but the narrow streets in Bairro Alto can sometimes be crowded, so be aware of your belongings.
Conclusion
From the cobbled streets of Lisbon to the serene beaches of Algarve, Portugal's charm is undeniable. It's not just the places but the people and the culture that have embraced me, making every visit feel like a homecoming.
I've been living in Portugal since 2019 as an expat. As a person who has called over 7 cities home in my life, I can comfortably say that Lisbon is one of the safest destinations I lived in.
Yet, as with any popular tourist spot, a dash of caution and street-smart sensibility can further enhance your travel experience. Remember to respect the local culture, stay alert in crowded places, and let common sense be your compass.
If you enjoyed this article, you may enjoy our guide on living in Portugal.
Frequently Asked Questions
What's the safest area in Portugal?
The Algarve is family-friendly and notably safe. Portugal overall is safer than other countries in Western Europe. The southern region of the Algarve has normal safety precautions, yet a very low level of violent crime, and a sufficient number of tourist police stations.
Can women travel safely in Portugal?
Women can absolutely travel safely in Portugal! Just stay aware, especially in conservative rural regions. In case you find yourself in an unsafe situation, it's important to carry photo identification, exercise normal precautions, go to the nearest police station or inform the nearest local authorities.
Which is safer: Spain or Portugal?
Portugal often outranks Spain in global safety metrics, thanks to its stability. Both European Union countries are among the safest countries in Europe. However, Portugal has lower levels of violent crimes, serious injury, and use of illegal drugs compared to its neighbor Spain.
Is Portugal pocket-friendly?
Yes, Portugal is a budget-friendly Western European destination. Nevertheless, it's always smart to get travel insurance regardless of its cost to offset any potential issues in the country.
Final Verdict: Should You Visit Portugal?
Pack your bags! Portugal is not only safe but offers a blend of rich experiences. Whether it's your first time or a return visit, let us guide you through this enchanting land. Stay up to date, informed, stay alert, and enjoy everything Portugal has to offer. Safe travels!