Living in Malta: A Guide for Digital Nomads
Malta is among the best countries for foreigners to live in and attracts thousands of people looking for a pleasant place to live. Full of natural beauty, healthy food, and calm life, there is no lack of reasons to live in the country.
Many people come to the archipelago to study English, while many digital nomads prefer to stay there and enjoy island life.
In this article, we're going to take you through a quick journey to Malta and give you an overview. Let's begin!
Where Is Malta
Malta is a Mediterranean island country that consists of an archipelago south of Italy. There are three main islands that make up the Maltese archipelago. Malta is the largest of the three islands and is home to Valletta, the capital of Malta. The other two are Gozo and Comino islands.
Places To Live in Malta
Sliema and St. Julian, where the nightlife is, attract the largest number of expats and digital nomads. Coffee shops, large supermarkets, restaurants, and shops are all easily accessible by foot from anywhere in these two cities 
San Gwan, Gzira, Msida, and Swiequi, are also close to the center but they're less central and significantly less expensive. So you can consider staying in these locations too.
If you're looking for a more rural environment check out Bugibba, St. Paul Bay, or Mellieha.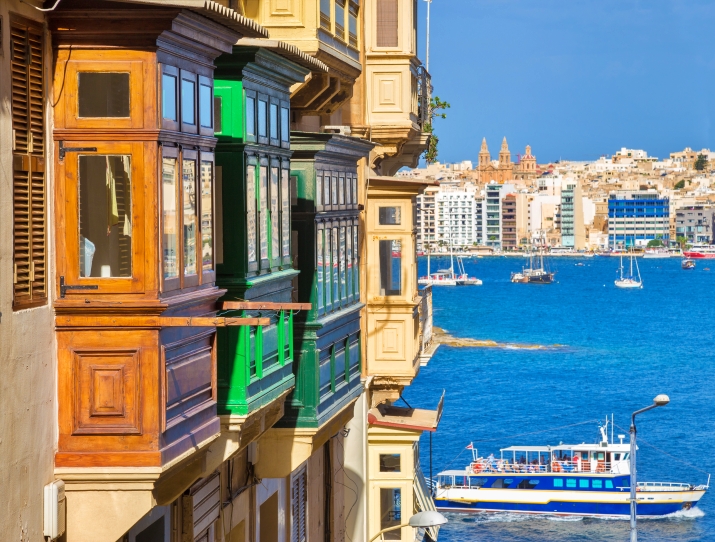 Valletta, on the other hand, is the island's capital, not only politically but also culturally. It is well-connected by bus and ferry throughout the island but is not very popular among digital nomads.
Coliving and Coworking in Malta
On the island, coliving alternatives are emerging, including luxury villas with single or double rooms, as well as coworking spaces and utilities.
Evolve Coliving and Coliving Malta are two popular options.
There are also many coworking alternatives in Malta. Soho Office Space is a popular choice and is known as Malta's largest coworking community.
You can also check out 230 Works, CocoHub Malta, Glashaus coworking spaces.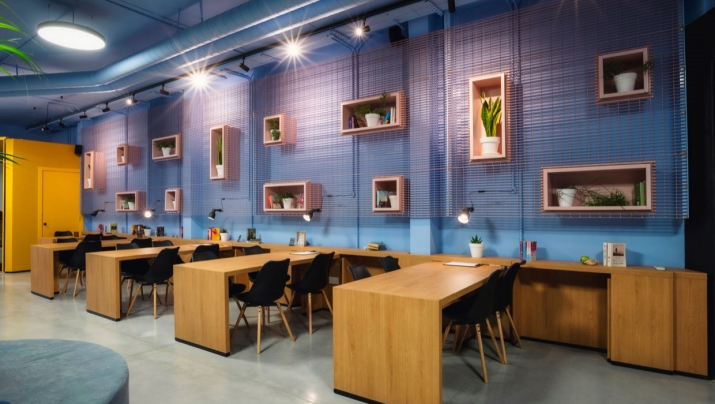 Transportation
With a land area of only 316 square kilometers, there are no vast distances to travel once you arrive. Bus travels are rarely longer than 30 minutes, thanks to the island's good road system and fast transit systems that connect all regions of the island. If you want to visit Gozo, a regularly scheduled ferry service will take you from Cirkewwa, Malta, to Marr, Gozo, in around 20 minutes.
If vehicles aren't your thing, Malta is also a great place to explore on foot, too.
Bus Service
Buses are a great way to get around in Malta because they are comfortable, inexpensive, and reliable.
You may also plan your travel with Tallinja Smartphone App, ensuring that you arrive at your destination as fast and effectively as possible.
Rent a Car
There are lots of automobile rental options if you want to get behind the wheel. While most people prefer to book online, there are car rental firms at the airport if you prefer to rent on the spot. Remember that driving in Malta is on the left, and you must be between the ages of 21 and 70 to rent a car.
To get the best bargain, check pricing, automobile types, and agency locations, and always pick a trustworthy firm.
Taxis
Taxis are a comfortable and convenient mode of transportation on the islands. Taxis are never hard to get by, with cab stands located outside the airport, bus terminal, and large hotels. If you want to reserve a taxi ahead of time, many local firms have applications that allow you to do so.
You can use the Malta Taxi App to book your trip.
Ferry
Of course, no trip to Malta would be complete without a visit to Malta's beautiful sister islands, which are only accessible by boat.
You can travel by foot or car on ferries that go from Cirkewwa in Malta to Marr in Gozo. The Gozo Fast Ferry, which runs from Valletta to Marra, is a good option if you want to go from Valletta.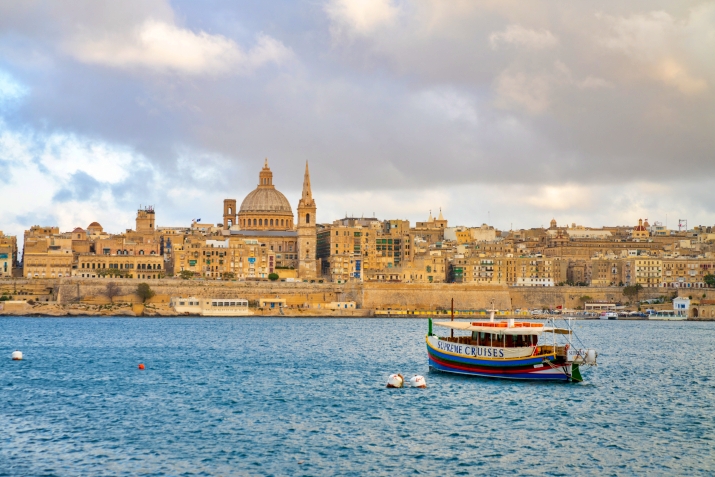 Water Taxis
Water taxis running between Sliema and Valletta are also a lovely alternative to buses. They run every quarter-hour and provide guests with spectacular views of Sliema Harbour.
From Senglea to Valletta, water taxis are also available. They leave every half hour, allowing you to enjoy the sights and sounds of the Grand Harbour.
Boats
Between each island and Comino, there are also regular boat services.
Scooters and E-Bikes
There are many e-bike and scooter stations where you may quickly hop on a bike if you prefer two wheels than four. In both Malta and Gozo, there are a number of bike rental firms.
Motorbikes are also an option for people above the age of 21 who have a valid driver's license.
Getting to Malta
Malta's beautiful central European location means it's only a few hours away from the main airports of most European countries and continents, and it has excellent international connections. Finding a suitable flight is easy, thanks to the large number of flights that operate daily from most European airports.
Air Malta, the national airline, flies to and from all of Europe's, North Africa's, and Middle East's major airports. Other legacy airlines as well as low-cost carriers fly to and from Malta on a regular basis.
Malta is only 93 kilometers from Sicily and may be reached by catamaran, as well as the ferry from a number of European ports.
Food
Food and drink are at the heart of Maltese culture, with an abundance of excellent vegetables, a sea filled with exquisite seafood, and centuries-old recipes. As a result, it's no surprise that Malta has some of the world's most exquisite cuisine. There's always something to try in Malta, whether it's a fast nibble, a culinary spectacular at a Michelin-starred restaurant, or a substantial delve into some fantastic local cuisine.
Maltese cuisine is varied, drawing on a wide range of influences from different ages. Surprisingly, rather than Italian food, most traditional Maltese recipes are heavily influenced by Provencal cuisine. The majority of the traditional meals are cooked in wine, which is a hallmark of Provencal cuisine and represents the Knights of St John's impact on Malta. The most generally available cuisine in restaurants is Italian cuisine.
You can also visit local wineries, vineyards, and craft beer breweries during your stay.
Leisure and Lifestyle
History
Malta is an ideal location for history buffs, with over 7,000 years of history. Malta hosted the Phoenicians, Romans, Knights of St. John, Napoleon, and the British Empire. The island is also home to some of the world's oldest free-standing temples. 
Activities
There are a plethora of outdoor activities that may be enjoyed all year. Stroll through the countryside or dip into the crystal clear sea, there's something for everyone in Malta.
Whatever maritime sport you'd like to do, from snorkeling and freediving to windsurfing and all in between, it's possible in Malta. Thanks to the climate in Malta, activities like sailing, surfing, paragliding, and fishing may be enjoyed all year. There will be something to fulfill your water adventure itch, whether you choose to do your marine activities near the shore or explore further out.
Beaches
Malta provides every type of swimming spot imaginable: golden sandy beaches, unusual red sands, and rocky cliffs. It also offers a number of Blue Flag Beaches, which are recognized for outstanding water quality, accessible facilities, services, and environmentally friendly operations. Thanks to Malta's extensive connectivity and pleasant environment, you may dive into the crystal-clear blue seas at any time of year. Relax in the pristine Mediterranean waters and soak in the 300 days of sunshine that Maltese sunshine provides.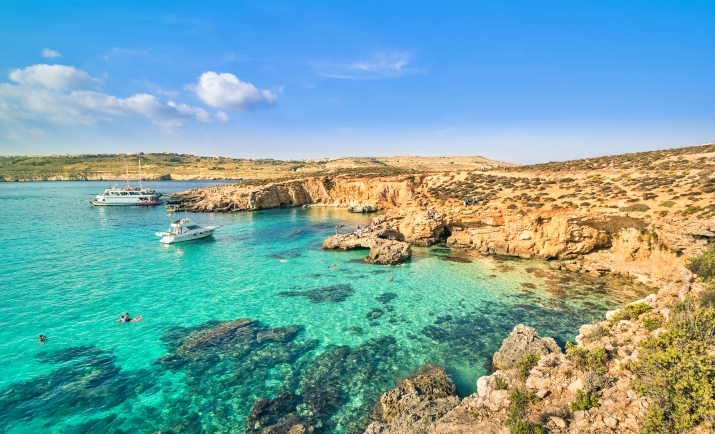 Nightlife
Malta's huge and varied nightlife caters to even the pickiest of night owls, with an endless range of pubs, clubs, casinos, theaters, and restaurants.
You can indulge your inner party animal in St Julian's array of nightclubs or enjoy a classy beverage in one of Valletta's posh wine and cocktail bars. Whatever your tastes are, a night out on the town is a must.
Cost of Living in Malta
To give you a better understanding, we've collected some figures from Numbeo. Note that these might change from time to time, so you'd better search for the latest prices before you plan your move.
These are the figures for Sliema. Prices are usually higher in Valletta.
Meal, Inexpensive Restaurant
Domestic Beer , 0.5 liter 
Imported Beer , 0.33 liter bottle
Cappuccino

€15
€3,25
€3,75
€2,40

Milk (regular), (1 liter) 
Loaf of Fresh White Bread (500g)
Rice (white), (1kg)
Eggs (regular) (12) 
Local Cheese (1kg) 
Apples (1kg) 
Banana (1kg) 

€1,05
€1,19
€2,75
€3.01
€9.50
€3,12
€2,14

One-way Ticket (Local Transport) 
Monthly Pass 

€2
€26

Rent for Apartment (1 bedroom) in City Centre 
Rent for Apartment (1 bedroom) Outside of Centre 

€850
€678
To give you better insights, we've also brought together a comparison of the cost of living in Malta VS Portugal, another digital nomad haven
Consumer prices in Malta are 46.38% higher than in Portugal (without rent)
Consumer prices including rent in Malta are 46.25% higher than in Portugal
Rent prices in Malta are 45.92% higher than in Portugal
Restaurant prices in Malta are 81.11% higher than in Portugal
Groceries prices in Malta are 59.89% higher than in Portugal
Local purchasing power in Malta is 8.20% lower than in Portugal
Visa and Entry Requirements
Visitors from the EU, EEA, and EFTA are not required to obtain a visa if their stay is less than 90 days. If you wish to stay longer, or maybe even relocate to Malta, there are some other options.
Malta Golden Visa
If you're looking to get residency in the country, you can consider getting a Malta Golden Visa. It grants you and your family residency in the country in exchange for an investment. 
Alternately, you can apply for Malta Citizenship by investment program, which is one of the quickest routes to EU citizenship. However, note that it's a costly option.
Malta Digital Nomad Visa
This residence permit is valid for one year and allows you to stay on the island without the need to worry about visa paperwork and bureaucracy.
Internet Connection
One of the downsides of life in Malta for digital nomads is internet speed. Malta ranks 40th in Digital Quality of Life Index and is notorious for its slow internet speed. Internet connectivity in Malta can be more expensive than in other European countries.
Currency and Banks
At Malta International Airport, exchange bureaus are open 24 hours a day. Bank cards from throughout the world are accepted, and foreign currency can be exchanged quickly. Banks, ATMs, and exchange bureaux are located throughout the island. 
Climate
The average annual temperature is roughly 23°C during the day and 16°C at night, one of the warmest temperature averages in Europe. The average maximum temperature during the coldest month, January, is 12 to 20°C during the day and 6 to 12°C at night. August is the hottest month, with maximum temperatures ranging from 28 to 34°C during the day and minimum temperatures ranging from 20 to 24°C at night.
Conclusion on Living in Malta as a Digital Nomad
There you have it. We've given you an overview of living in Malta. It's a highly popular digital nomad destination and seems to get increasing attention.
Have you ever been to Malta? Have you ever considered living there? Let us know…