Malta Digital Nomad Visa: All You Need To Know
Malta Rating from Citizen Remote
As a community, we're fans of digital nomad visas. It makes us happy to see that countries are keeping up with the modern world's requirements. Malta is one of these countries that recently has launched a digital nomad residency. With Malta Nomad Residence Permit, you can now move to Malta and keep working remotely.
Situated in the Mediterranean, Malta is a beautiful island. Thanks to its location, the climate is mild. It welcomes international students with its education system. The country is also home to many expats. The expat-friendly atmosphere makes the island more welcoming for digital nomads. In this article, we'll fully explore the Malta Nomad Residence Permit.
But first, let's talk a bit about Malta!
About Malta
Malta has always been famous for its expat-friendly environment. The island is home to many foreign companies thanks to its favorable tax regimes. It's a small country in size but has the soul of a cosmopolitan. There are many cafes, bars, and restaurants to spend time in…Coworking and coliving spaces make life easier for digital nomads, too. It's now one of the very few countries in the world with 5G nationwide coverage…
Along with its digital nomad-friendly environment, it also has everything an ideal island would have: Beaches, sunny days, a relaxed way of life, the best seafood, and fun! Malta has it all and is a perfect base for remote working.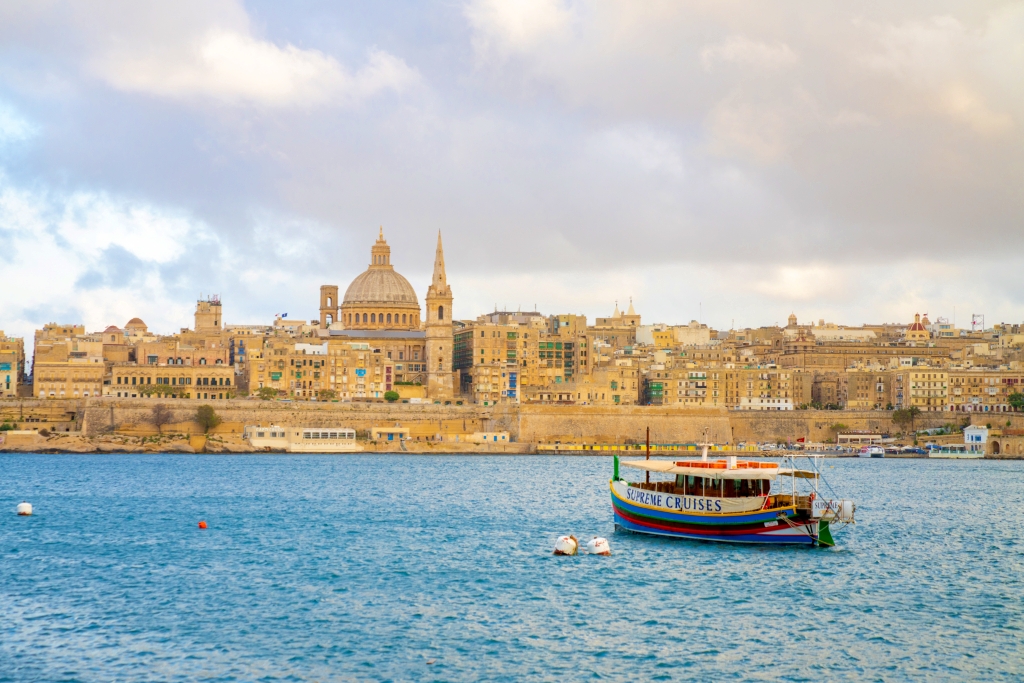 Bonus: English is the official language in the country, along with Maltese. So you'll have no language barriers.
What Is Malta Nomad Residence Permit
Malta Nomad Residence Permit is a residency permit that allows digital nomads to stay in Malta while keeping their current employment that is based in another country. If you have a work contract that allows you to work remotely, Malta Digital Nomad Visa might be the right fit for you.
If you're eligible, you'll be provided with a Maltese Nomad Residence Permit which is valid for one year. If you're interested in staying in Malta for less than a year, you'll be given a National Visa.
Eligibility Criteria for Malta Nomad Residence Permit
There is a certain set of rules for the program. Let's have a look.
You're eligible to get a nomad residence permit in Malta if you,
Are third-country national
Have a monthly income of €2,700 (gross of tax)
Have a work contract for an employer that is registered in another country other than Malta, or
Are a partner/shareholder in a company that is registered in a foreign country, or
Offer freelance services to clients, whose permanent establishments are in a foreign country, and with whom you have contracts
Have a valid travel document
Have health insurance to cover risks in Malta
Are able to present a rental or purchase agreement
Also note that as the main applicant, you'll also need to pass a background check.
The application fee is €300. If you intend to add dependent family members, you can do so by paying an extra €300 for each member.
How To Apply for Malta Nomad Residence Permit
If you're interested in the program, the first step is to submit your application to Residency Malta Agency along with all documentation. Also, specify your duration of stay and state if you're planning to stay in the country either between 91-180 days, or 181-365 days.
If you're planning to stay in Malta for up to 180 days, you'll be issued a National Visa. If your intention is to stay in the country for up to 365 days or more, you'll be provided with a Residence Permit.
Application Process for Malta Digital Nomad Visa
Malta Nomad Residence Permit application process is a quick and straightforward one. In general, it takes 30 days for the permits to be approved.
Forms
Fill in the  N1 Application Form (typewritten) and sign
Fill in the N4 General Data Protection Form and sign
Intent Letter
Write your letter of intent. Explain your motivations for moving to Malta and applying for the Nomad Residence permit
Paperwork
Copies of your passport's each page (including blank pages)
If you're employed by a company: Your employment contract and tax documentation that show your obligation to the company and prove that your duties can be performed remotely
If you have your own company: Certificate of incorporation, memorandum, and articles of association; share register; register of directors.
Your Europass CV
Statement from your bank, showing your source of income in the past three months
Lease or Purchase Agreement in Malta. If you're not residing in Malta yet, this can be done after your application has been approved
Local/international health insurance policy. If you're not residing in Malta yet, this can be done after your application has been approved, too
Sign a health declaration stating that you'll pay for the expenses which aren't covered by the health insurance policy
Marriage certificate if you're adding your spouse. Make sure that it's apostilled
If you're adding family members, add their birth certificates. Apostille and legalization are necessary
If you're adding a dependent over 18 years of age, add an affidavit of dependency
Award of custody/guardianship (if applicable)
Once your application has been approved, you're going to get an approval email from the Agency. After this stage, you're ready to go!
Family Inclusion
Malta allows the Nomad Residence Permit main applicants to include their dependent family members. You can add your spouse and minor children along with your application. If you have adult children with medical conditions or are dependent on you economically, they're eligible too.
Also, Malta recognizes same-sex unions. So if you have a same-sex partner, they can also apply for a permit to accompany you.
Taxes
As a nomad residence permit holder, you'll not be subject to personal income tax as you're already being taxed in your origin country. However, you'll be subject to consumption tax as all Malta residents are.
Useful Information About Life in Malta
If you are thinking about living in Malta on a digital nomad visa, here is some useful information for you. 
Coworking Spaces
Coworking spaces serve a diverse group of digital nomads and provide more than a desk, including networking events, social events, and business advice. If you're searching for a location with 24/7 access to work settings, an office close to public transit, or a tech hotspot, Malta has it all. 
Some of the most popular coworking spaces are;
The HUB Workspace in San Gwann
Grand Central in Valletta
Regus in Saint Julian's and Swatar
SOHO Office in Saint Julian's
BusinessLabs in Birkirkara
Getting to Malta
Malta is only a few hours distant from the major airports of most EU countries and continents. It has excellent international connections and it has a large number of aircraft departing from most European airports regularly.
Malta can also be reached by catamaran (Virtue Ferries and Ponte Ferries), as well as by ferries from several European ports.
Currency and Banks
The Euro (€/EUR) is Malta's currency. At Malta International Airport, exchange bureaus are open 24/7 per day. Bank cards from throughout the world are accepted, and foreign cash can be converted quickly. ATMs, banks, and exchange bureaux are located across the islands.
In Malta, you can pick from a variety of banks. Bank of Valletta, HSBC, APS, Lombard, and BNF Bank are the major high-street banks. Monday through Friday, banks are typically open till early afternoon, and Saturdays until lunchtime.
Accommodation
Malta has a wide selection of accommodation options, including vacation houses, all-inclusive hotels, hostels, and five-star resorts.
Internet Connection and Phone Services
Malta's fixed internet and mobile data are one of the most costly in the EU.
GO, Melita, and Epic are the three largest internet providers in Malta. Mobile data plans are also offered by the same three firms that provide fixed internet. You may pick your data and internet plans together from all three.
In Malta, public Wi-Fi hotspots are widespread, guaranteeing that you have access to the internet whenever you need it.
Emergency Services
The police, fire department, and emergency medical services are the regularly utilized emergency services in Malta. If you need to reach any of the services in an emergency, call 112. These calls can be made from any cellphone and are completely free.
Weather in Malta
The Mediterranean climate has a great impact on Malta's weather, which means warm, dry summers and mild, rainy winters. The average temp throughout the year is a delightful 18°C, while January is a somewhat cooler 12°C, and July and August reach an average of 30°C.
Activities
There are lots of activities that can be done on this lovely island. Pick the one you like from the list below:
Swimming in Malta: Malta has any type of swimming spot you can imagine. The island also includes several Blue Flag Beaches, which are recognized for their outstanding quality of water, accessibility facilities, services, and environmentally friendly activities.
Diving in Malta: It's clear to understand why Malta is routinely ranked as one of the world's greatest diving locations! Divers from all over the world travel to the Maltese Islands to experience the islands' crystal blue waters.
Historical trip in Malta: Malta is the ideal holiday location for history lovers, with over 7,000 years of history.  The Islands have hosted the Phoenicians, Romans, Knights of St. John, Napoleon, and the British Empire, and are home to many of the world's oldest temples.
Nightlife in Malta: Malta's nightlife is huge and dynamic, with an unlimited number of pubs, clubs, casinos, theaters, and restaurants.
Conclusion
There you have it…We've tried to give you an insight into Malta and its new nomad residence program. Have you ever visited Malta or considered living there? Have you ever lived in a country on a digital nomad visa? If not, check our ultimate guide on Digital Nomad Visas and decide where your next home will be… 
If you have any questions, please feel free to drop an email or join the discussion in our forum.