Georgia Digital Nomad Visa: Remotely From Georgia
Georgia Rating from Citizen Remote
Quick facts about Georgia
Do you want to enjoy Caucasus mountain views or hiking in the national parks while seeking inspiration, by sipping world-famous Georgian wine, and possibly gaining a few extra pounds as Georgian food is beyond tempting and tasty? This is all possible thanks to the Remotely from Georgia program, which offers one-year residency to entrepreneurs, business owners, remote workers, or freelancers.
Let's find out more!
What Is Remotely From Georgia: A Visa For Digital Nomads
The project Remotely from Georgia is open to all travelers from up to 95 countries, nationals, and residents who could visit Georgia visa-free. In this regard, there is no particular visa category for digital nomads who wish to work remotely from Georgia.  You will only need to fill out a particular application form and show financial verification, as well as any other information necessary. After receiving authorization, you and your family will be permitted to travel and work remotely from Georgia.
As of 2021, over 2,700 digital nomads are known to be living in Georgia.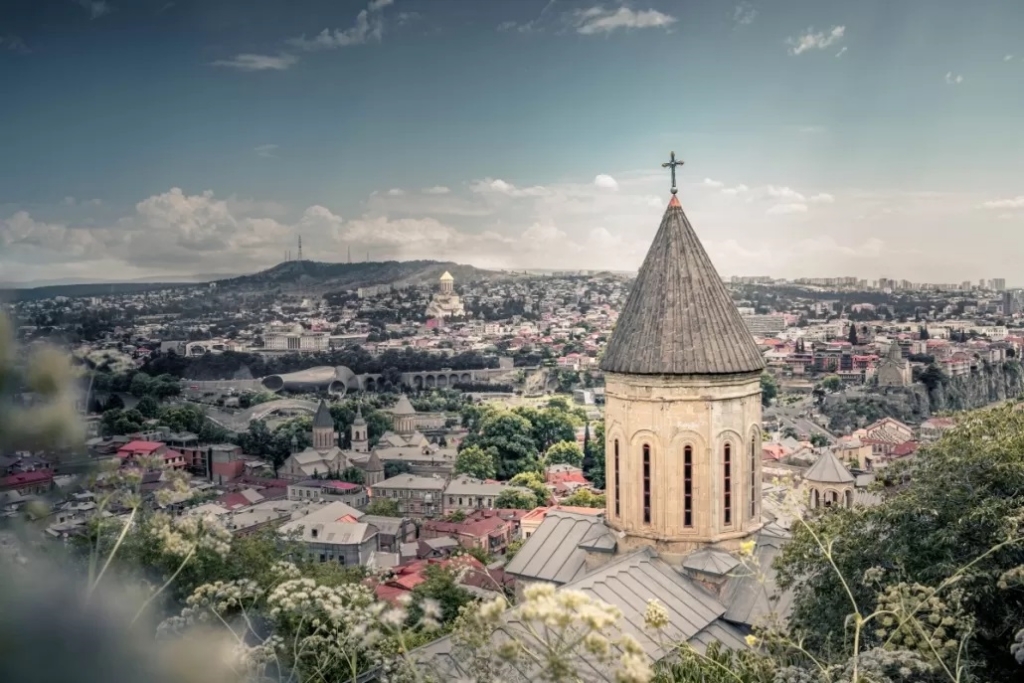 Eligibility For Remotely From Georgia For Digital Nomads/Remote Workers
You're eligible for Remotely from Georgia program if you:
Are a citizen of one of the 95 countries listed below
Have a monthly income of at least $2,000 or $24,000 in savings
Have health insurance that is valid at least for six months
Also, note that currently there is an 8-day quarantine rule.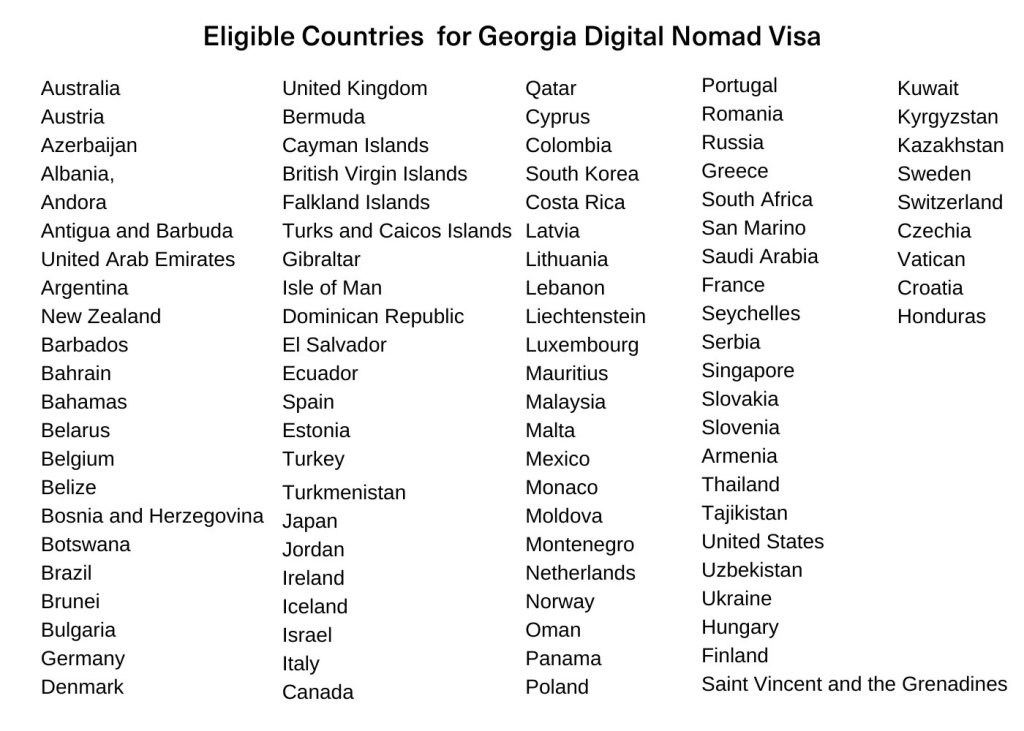 Costs For Remotely From Georgia Program
There is no specified application fee for the application to Remotely from Georgia program.
Required Documents
The required documents to apply for Georgia digital nomad visa are basic and simple to collect.
Application form
Passport copy
Medical insurance
Proof of funds:

Bank Statements
Stock Statements
Contracts with Fixed Reimbursement
Certificate of Employment
Supporting Documents for Freelancers
The contracts with clients from the last 12 months
Supporting Documents for Remote Workers
Details about your employer
Confirmation letter from your employer
Supporting Documents for Entrepreneurs
Information about your role in the company
Proof of your role in the company (ownership/partnership, etc.)
Validity for Remotely From Georgia
Georgia Digital Nomad Visa is valid for 12 months.
How To Apply For Remotely From Georgia
The application for Georgia Digital Nomad Visa is done online through the official website.
Enter your personal details
Put your personal details and choose your type of application. You'll also need to put your nationality and date of birth.
Upload supporting documentation
Upload your passport copy, enter your travel details and submit your application.
Get your approval
Simple as that. You can expect to get approval in 10 business days. Note that you might be asked to submit additional documentation.
Useful Information About Life in Georgia
So, if you've decided to live in Georgia as a digital nomad, here is some practical information that will help you plan your relocation easily.
Coliving
If you're going to stay in Tbilisi, you can find a coliving space. Lokal is a famous coliving option which offers accommodation options between $20-40 daily. It also has coworking amenities which is a great convenience.
Transportation
Georgia as a whole is quite well-linked and accessible. Tbilisi and Kutaisi have the main airports. There are numerous methods to travel around the country, but one thing to keep in mind is the road quality and driving conditions. Many Georgia highways are being resurfaced, so you may discover that driving outside of the cities is a bumpy experience. This has also had an impact on driving quality; as a result of the poor road surfaces, drivers are more likely to take risks, which can cause delays, so be mindful if you want to rent a car.
Tbilisi is quite easy to navigate; whether you want to walk, take a taxi to the other side of town, or take the subway to save time, there are many possibilities in Tbilisi.
Working Spaces
Tbilisi, the capital city, boasts many coworking spaces such as Impact Hub, Regus, and Gate. The prices start from $10 daily.
Money and ATMs
The Georgian LARI is the country's official currency. You can exchange your money at banks but look for exchange centers in the city centers as the prices are always better than at banks.
GEL is the currency code for Lari.
ATMs are widely available in large cities such as Tbilisi. You'll almost certainly discover one if you simply stroll out to the street and look around. If you're heading outside of the larger cities, though, bring enough cash with you because ATMs are scarce in small villages.
Most major credit cards from the United States, the United Kingdom, and Australia should operate in Georgia without issue, however, Visa and Mastercard will be the most generally accepted. Check the logos on an ATM before using it to make sure they match the ones on your card.
Internet Connection
Georgia is starting to build high-speed Internet infrastructure in its regional areas, making the Internet more affordable and accessible to the country's rural population.
Magti and Silknet are the two main internet service providers. They provide a variety of packages that range in price and internet speed. Magti, for example, offers a 100 Mbps internet subscription for 100 Gel per month.
There is also free internet available throughout Tbilisi. Even if the speed isn't great, you can always be online no matter where you are. Free WiFi is available in cafes, restaurants, and other public venues. Tbilisi also offers free WiFi in practically every public space: Tbilisi Loves You. Although the performance speed is not particularly pleasant, it may suffice for simple jobs.
Food
Meat plays an essential role in Georgian cuisine; however, vegetables and fruit are abundant too.
Multiple archeological findings and historical facts show that Georgia has a continuous winemaking culture dating back 8000 years. Georgia was recognized as the birthplace of wine in the modern world.
Climate
Due to Georgia's diverse topography, different sections of the country may experience distinct weather at the same time. When compared to the coastal city of Batumi, Tbilisi tends to be a little cooler in the summer. During the summer, it will be cooler in mountainous towns and areas, with some receiving more rainfall than others. Georgia offers a variety of microclimates, so check the weather forecast before traveling across the state, since it may not be the same everywhere.
Depending on when you arrive, the weather in Tbilisi will be significantly different. In the winter, expect freezing temperatures, whilst in the summer, you'll enjoy nice weather. Located between Russia and Asia, the winter months are November to March, while the summer months are April to October.
Culture
Georgia is a historic country located at the crossroads of Eastern and Western civilizations, where for thousands of years the European and Asian ways of life and traditions have merged.
The residents of Georgia, especially Tbilisi, are usually cordial to visitors and tourists. You'll notice that different generations, as well as different places, will react to you differently. Locals' reactions may differ across the country. Tbilisi is one of Georgia's most developed cities, therefore the mentality of the people here differs from that of distant areas.
Conclusion
Georgia is a growing destination for digital nomads, with infrastructure developed expressly for travelers and digital nomads, with Tbilisi being the best spot to stay in the country. This diverse country will never cease to amaze you.
Have you ever been to Georgia? Have you ever thought of living there as a digital nomad? Let us know…Please also share your experience in our growing forum. For further reading, head to our guide on Countries That Offer Digital Nomad Visas.