Is N26 Safe: All You Need To Know
Banco N26 is a growing digital bank, which has more than 7 million customers and is present in 25 European countries. Its rapid expansion and advantages raise the question for many people: is Bank N26 safe?
Is N26 Safe?
Yes. Using Bank N26 is safe. Here is some information about the bank:
It is one of the most valuable startups in Europe and one of the biggest fintech in the world, supported by recognized global investors
It has more than 5 million customers and is present in 25 countries in Europe, as well as in the United States
The bank fees are transparent
In 2016, the N26 was recognized by the European Central Bank, which means that it is licensed and meets the security requirements
The app sends a real-time notification with each purchase, transfer, deposit, or withdrawal made so that you know everything that happens in your account
Your funds are protected up to €100,000, in accordance with the German Deposit Protection Scheme
The N26 account can only be associated with one smartphone at a time
There is an extra layer of security, the Mastercard Secure Code, which helps to prevent fraud when you are making online payments
N26 has an anti-bug program, which aims to reward those who report possible vulnerabilities and bugs in the system and, so it locates and resolves possible security flaws
The bank offers the option to block and unblock your card, disable online payments, change their PIN password, set daily limits, among other customizations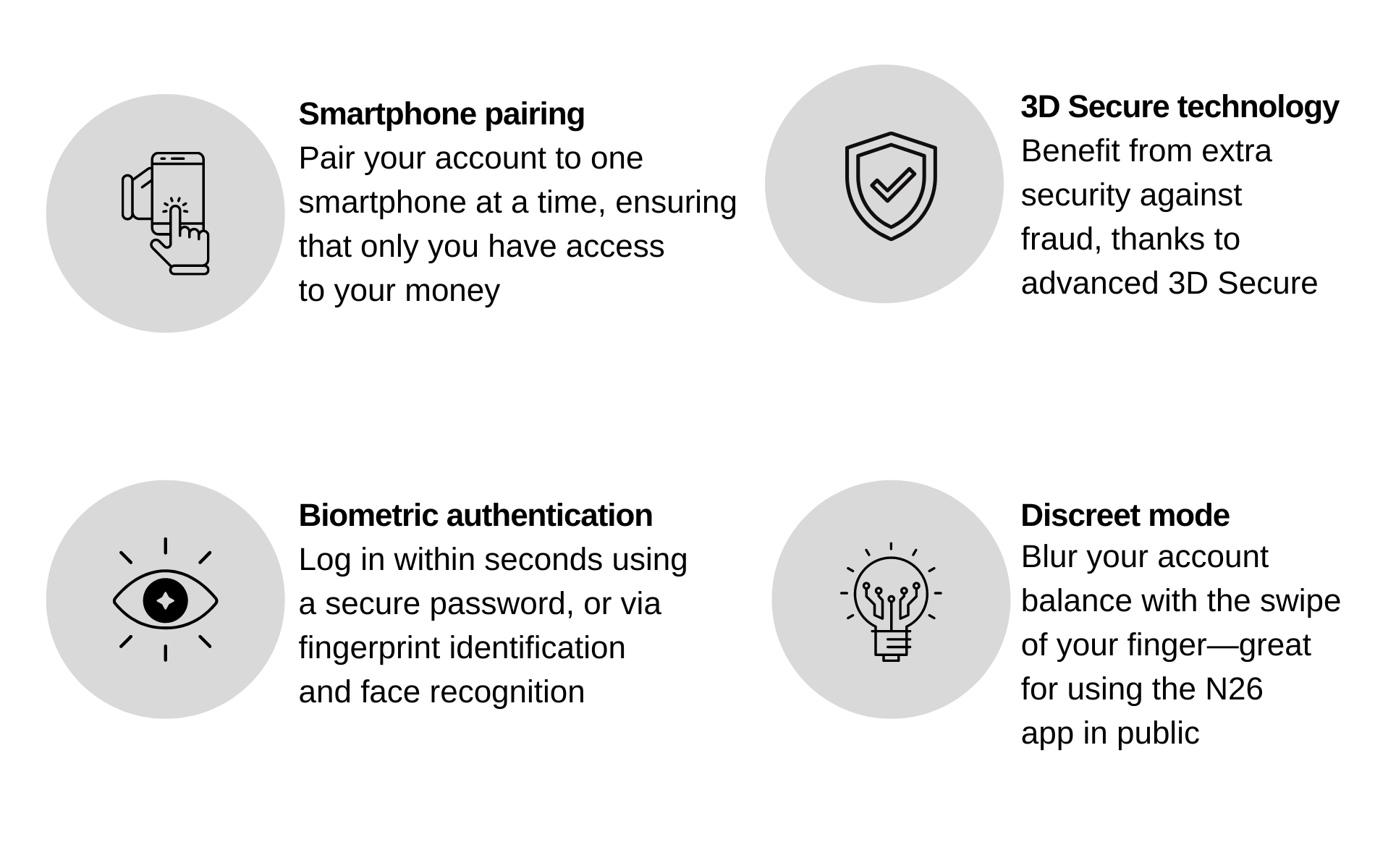 Can I Open an N26 Account Safely?
Yes. As we've tried to explain, the N26 bank offers all the security for you to have peace of mind to open and use it.
The account opening in N26 can be made online, directly by the application, without queue, no paperwork, no need to go to a bank branch.
What Is Video Conference?
The videoconference takes place at the time of opening an account so that you can confirm your identity and Bank N26 can compare it with the passport or European residence card and verify that the information is true. This is another security layer.
Does N26 Work Like a Traditional Bank?
Online, the N26 bank offers most of the services offered by a conventional bank, such as card, payments, and transfers, as well as control and management of expenses.
N26 User Reviews
Bank N26 is secure, and the opinion of people who have already used the service is also a parameter to assess the institution's credibility. See some references below.
Reviews on N26 Official Website
On N26's official website, you can check some reviews from customers around the world, who gave their feedback. See some testimonials: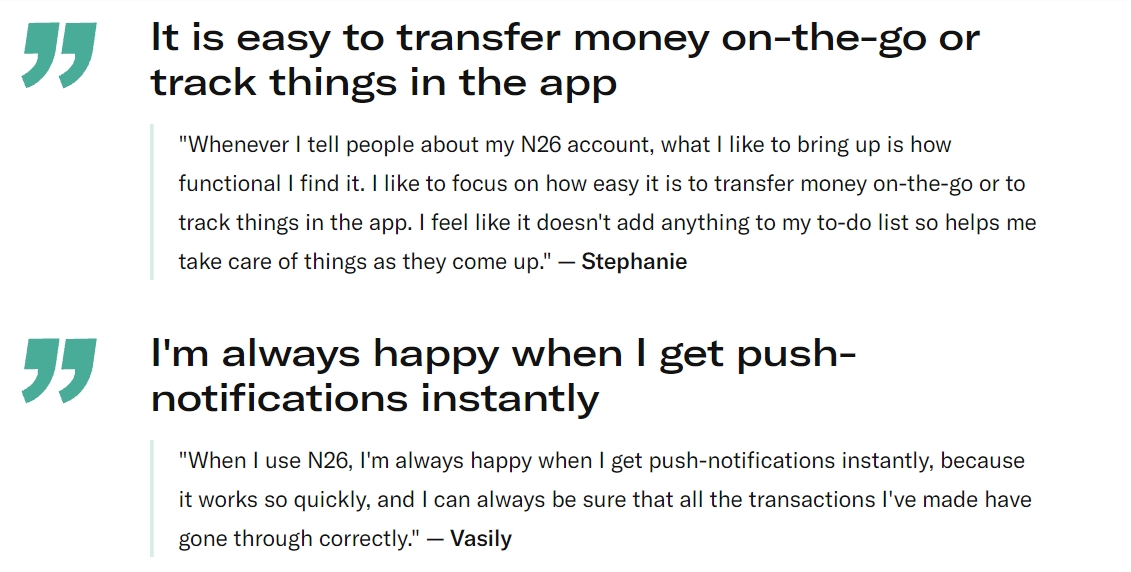 Trustpilot
As of October 2021, N26 has a rating of 3.8 on Trustpilot, with more than 18,000 reviews.
64% consider the service excellent
11%: great
2%: average
2%: bad
19%: very bad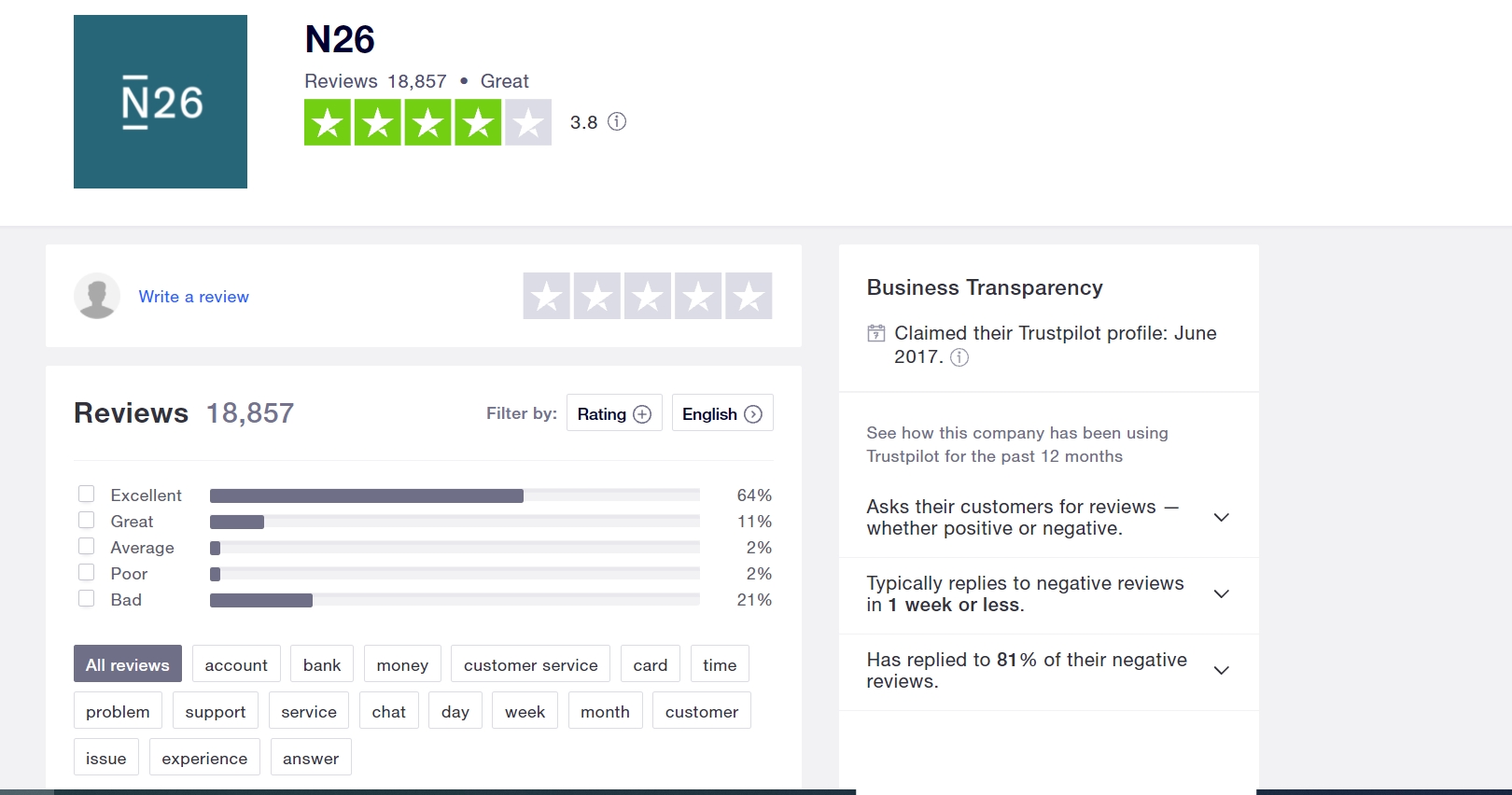 Social Media
As of October 2021, the N26 Facebook page has received more than 290,000 likes and has more than 295,000 followers.
On Twitter, it has more than 70,000 followers. This number is more than 110,000 for Instagram.
Opening An N26 Account
The procedure to open an N26 account is simple and takes only 8 minutes. See the steps below.
First, download the N26 app from Google Play or Apple Store or the website, click on "Open Bank Account" and fill in your registration on the platform
Fill in your data, such as your full name, address, passport, and European residence card
Make a video call in English with N26 to confirm your identity
Choose your preferred type of account
The bank will send you a 4-digit activation code and you will have to enter it in the app to enable you to carry out transactions
Your account at Bank N26 is already created and ready to use!
It is important to remember that the conditions for opening an n26 account are being over 18 years of age and providing proof of an address in Europe, where N26 operates, or in the United States; valid passport and, in the case of Europe, present a European residence card, valid for more than 1 year.
Conclusion
There you have it. As we've tried to outline, N26 is a safe and secure digital bank. It's a fintech pioneer and seems to grow every day. Have you ever used a digital bank? Have you ever used N26? Let us know what you think. Need more insights? Check out our N26 Review before you leave.