Living in Bali: The Definitive Guide for Digital Nomads
I must admit, I was initially a little bit nervous about moving to Bali. Going there for a honeymoon or a weekend get-away is one thing, but living in Bali! Well, that's a whole different story.
Where would I find work? Would my family be able to visit me? How would the culture shock affect me? It turns out that these fears were totally unfounded.
People often ask me: "Should I move to Bali?" This place is not your typical Southeast Asian destination, it's unique. Just like a good number of digital nomads, entrepreneurs, yogis, and families, I feel that moving to Bali has been one of the best decisions I ever made.
If you're researching whether Bali is the right place for you, read on. We've put together a comprehensive guide including Bali's best places, lifestyle, culture, food, and many other details. Let's roll…
Why Move to Bali?
The first question you might be asking yourself is: why move to Bali? 
Here are some of the reasons that make Bali an attractive destination: 
The cost of living is cheap

The weather is perfect

There's a healthy expat community

You can easily find work 
But just as any place, it's not all roses and sunshine. The longer time I spent here, the more some of the positives and negatives become. Let's delve deeper into the pros and cons of living in Bali.
Living in Bali: Advantages and Disadvantages
Some of the advantages of living in Bali include:
The Cost of Living Is Cheap: The cost of living is cheap in Bali compared to other places in the world. The average monthly salary is around Rp. 4 million (US$290), which is enough to cover your basic needs such as food, transportation, and housing.
Compared to the Caribbean, Central America, and Hawaii, your dollar will go further in Bali. The average cost of an apartment in Bali is less than 500$/month for a furnished serviced apartment. The same amount in an average US city would easily be a multiple of that. We'll look at this in more detail later on.
The Weather Is Perfect: The weather in Bali is perfect. It's warm and sunny all year round with an average temperature of 28 degrees Celsius (82°F). There are two seasons in Bali: wet and dry.
The wet season - and when I say wet, it's WET - runs from October to April, while the dry season is from May to September.
There's a Healthy Expat Community: One of the great things about living in Bali is the healthy expat community. There are plenty of opportunities to meet other like-minded people and connect with nature. There are also plenty of activities to keep you busy, from yoga and meditation to surfing and diving.


You Can Easily Find Work: If you're looking for an opportunity to work in a tropical paradise, Bali is the place for you. Although there are some challenges associated with living in Bali, it's still a great place to call home. In this article, I'll talk about some of the reasons why Bali is such a great place to live and work.


The Food Is Awesome: If you love food, then you'll definitely enjoy living in Bali! The island is home to some of the best Indonesian cuisines that you'll ever taste. From street food vendors to five-star restaurants, there's something for everyone. And since Balinese people are so hospitable, you'll always feel welcome and well-fed no matter which corner of the island you are.


It's a Surfer's Paradise: Bali is a world-famous surfing destination, and for good reason! The island offers some of the best waves in all of Indonesia. Surfing here is suitable for all levels, from beginners to experts. There are many surf schools located around Bali, so it's easy to learn how to surf or improve your skills.
Now, let's take a look at the disadvantages: 
There's Too Much Tourism: Bali is a very popular tourist destination, but the amount of tourism is having a negative impact on the local way of life. The Balinese people are very friendly and welcoming, but they are also very traditional. The influx of tourists is causing the Balinese people to lose their traditional way of life.


The Traffic Is Miserable: Traffic is one of the most frustrating things about living in Bali. The roads are always congested, and it seems like there's never a time when you can just get around without having to deal with traffic. It's even worse during the high season when the roads are absolutely packed with cars, motorcycles, scooters, and lots of honking.


The Infrastructure Is Lacking: One of the main issues that foreigners face when living in Bali is the lack of infrastructure. The roads are often poorly maintained and traffic can be a nightmare, especially during rush hour. Public transportation is also very limited, so most people have to rely on motorbikes or cars to get around. 


Pollution Is a Serious Problem: 

Bali is a beautiful country, but just like any other, it has its problems. A serious issue facing the island is pollution. The problem is two-fold: first, there is the issue of plastic pollution. Bali is a popular tourist destination, and that means a lot of plastic waste. Unfortunately, much of this plastic is not properly recycled. Secondly, there's air pollution. The heating solutions, industrial remnants, and the traffic all contribute to this.
So, these are some of the pros and cons of living in Bali. But ultimately, how much these affect your decision of moving to Bali comes down to you and your specific needs.
Where Is Bali
Bali is an island in Indonesia, that stands to the right of Java, the country's fifth-biggest island. Bali is six hours away from Sydney by plane, making it a popular hub for Aussies.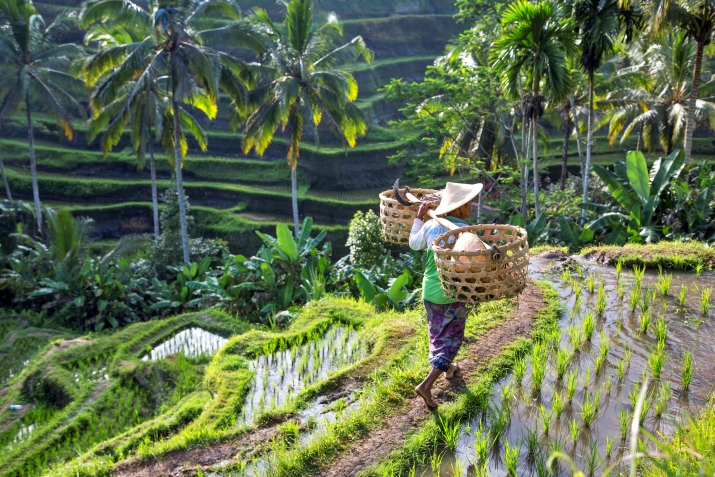 Where To Live in Bali as a Digital Nomad
From nice beaches to splendid climate and diversified culture – all of it comes in a package in Bali for digital nomads. In this section, we will be discussing phenomenal places to live in Bali as a digital nomad.
Ubud
Ubud should undoubtedly be one of your go-to places while you are touring Bali. Since it is significantly popular as the cultural center of Bali, tourists, traveling artists, and seekers who have a great love for art come to this place. Tourism boomed in Ubud exponentially after its spiffing mention in Ryan Murphy's blockbuster Eat Pray Love back in 2010.
Ubud's cooler climate and lush vegetation make it an excellent place to visit for digital nomads who want to enjoy nature. If you want to escape the heat of Bali's beaches, don't miss out on Ubud. Just a quick reminder, watch out for the monkeys that live in the trees.
Canggu
Canggu has flourished as a good number of digital nomads and remote workers started to make it their second home in Bali. Since then, this location has turned into a vibrant environment.
If digital nomads are looking forward to relaxing and chilling at the beachside cafes and restaurants and try surfing during noon, this place is just the best fit. This part of Bali will provide a digital nomad with a comforting and intimate atmosphere within a bohemian culture.
As a Bali digital nomad, you can discard all your worries and tensions by associating yourself with the best yoga classes and Balinese spas you will ever find here.
Kuta
Located near Tuban, where the Bali International Airport (DPS) is located, Kuta is well known for its long sandy beaches. Young travelers usually get off the airport and head straight to Kuta, where there are many pubs, nightclubs, and hotels.
Kuta is known to be very affordable so if you're into shopping, you can find really good deals in this lively area.
Seminyak
Seminyak is situated between Legian (north of Jalan Nakula) and Canggu (Berawa). It's the most popular tourist destination in Bali. Even Petitenget, which is considered a part of Seminyak, is becoming more and more of a stand-alone attraction. Seminyak is considered Bali's hippest beach town, attracting visitors searching for a more upmarket and sophisticated alternative to Kuta for partying, dining, and shopping. The magnificent beaches are lined with dozens of beach bars and well-known beach clubs and are noted for their breathtaking sunsets. Seminyak can be right for you if you're looking for a holiday destination.
Uluwatu
Uluwatu is located at the southernmost of Bali. Pura Luhur Uluwatu, a very sacred temple, is located in this area. If you're looking for budget accommodation, you can find plenty around the Uluwatu surf break. If you want to splurge, you can choose one of the high-end beach resorts. There are also many private villas that are available for long and short-term rental. These villas are situated on cliffs and overlook the ocean.
Luckily, Uluwatu offers affordable guest houses, surf, and yoga camps. If you are looking for a place away from the crowds, Uluwatu can be a good option for you.
Transportation
For many years, Bali has been a popular digital nomad and remote worker destination. The island is easily accessible from practically everywhere and many airlines provide direct or one-stop flights. Bali is also an ideal gateway to other locations, with numerous outstanding low-cost carriers offering low-cost flights to other locations in the region.
How To Get to Bali
If you prefer traveling by air, you must book your flight to Ngurah Rai International Airport, also known as Denpasar International Airport, which is 13 kilometers away from Denpasar, the capital of Bali. This airport connects major parts of Indonesia through regular flights. You might be someone who loves traveling by the ocean, and Bali has kept that option visibly open for you. Bali is quite popular for the significant and exquisite cruise liners that are traversing through the entire region of Southeast Asia. If you wish to travel to Bali on a cruise, you first need to take a flight to Java, Sumatra, or Singapore. Though the road is a lesser taken route, it is an alternative too. For this, boarding a bus from the capital city Jakarta is a popular option. However, you need to travel on the road for as much as 23 hours, which will be extremely tiring.
How To Get Around Bali
You might find the traffic of Bali to be extremely busy, and as a newbie, it might be an extremely complicated task to navigate through it. As a digital nomad, it can be a lot easier for you if you rent a scooter and travel around.
Note that traditional taxis in Bali are expensive, and although it's rare, there's a risk of being ripped off. "Bluebird Taxis" are known to be the best option when you want to get a taxi.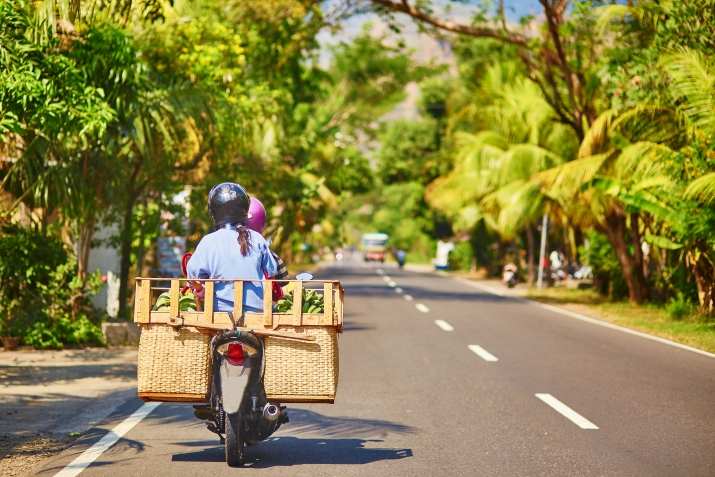 Cuisine of Bali
While in Bali, you can experience the best local cuisine at a warung. You can get to taste all the typical cuisine- of Bali in these small local restaurants. It would help if you tried out the best dishes – Nasi Goreng and Mie Goreng – noodles or fried rice served with meat and vegetables as per your choice. You will also find dishes of chicken, fish, and pork that are delightfully mixed with rice and vegetables and are seasoned with flavorsome spices.
The local food of Bali comes at affordable prices. A whole meal and a glass of drink will cost you only $3 or might be less.
Culture of Bali
Despite the fact that some parts of Bali are heavily tourist-oriented, and mass tourism has thrived in Bali for decades, the Balinese have managed to preserve their unique and beautiful culture. You can feel it everywhere you go. Hinduism and Balinese culture can be seen in every area of life on the island.
Every region of Bali is full of art masterpieces. From museums to hotel lobbies to sacred temples, Bali's culture can still be felt. Balinese people perform religious rituals based on the old Balinese calendar. You can see local people around wearing their ceremonial clothes.
Language
English is the most widely spoken "third" language in Bali (after Indonesian and Balinese). Many Balinese have English knowledge that allows them to communicate with visitors on a basic level. However, you will come across many people who have an excellent command of the English language.
Activities You Can Do in Bali
While you're in Bali, you can always look out for activities and engage yourself during your leisure time. Some of the best leisure activities a digital nomad will find in Bali are:
Water rafting
Surfing
Cruising
Diving
Hiking
Snorkeling
Cycling
Fishing​
Parasailing
Jet skiing
Scuba diving
Sea walking
Boat tours
Trip to animal parks
Horse riding
...and a lot more.
Before you head to Bali, you might consider getting a SafetyWing Nomad Insurance. Their policy covers many sports including scooter riding.
Surfing in Bali
For decades, surfing has been one of Bali's most popular activities. In Bali, you'll find a plethora of excellent surfing places. Beginner and surf lessons may be found in Kuta, Seminyak, Canggu, and Berawa. For intermediate and advanced surfers, Green Bowl, Balangan, Bingin, and Blue Point are recommended.
Uluwatu is one of Bali's most popular surf places too, with breathtaking views of the cliffs, temple, and sunset. But note that this area is only intermediate-expert surfers.
Beaches in Bali
Four coastal areas of Bali have different kinds of beaches.
When it comes to the "tropical vibe," the beaches at the southern tip of Bali's peninsular (Bukit) are undoubtedly the greatest on the island. Almost all of them have white sand beaches with excellent surfing waves. Balangan and Melasti beaches, located in the north of Uluwatu (west coast), are beautiful, with stunning views from the creation of limestone cliffs.
If you want to spend a calm day at the beach with a few other people, the west coast north of Canggu is the place to go. Black sands and moderate waves may be found on many beaches in West Bali, particularly between Canggu and Tanah Lot.
Nightlife in Bali
Bali has always been regarded as the place to be for nightlife and clubbing, with venues such as hotel bars and clubs. The island was a famous stop for hippies and surfers nearly half a century ago, and its open culture has allowed a vibrant party scene to emerge in the last decade. Bali has become a world-class party and nightlife destination due to its proximity to other Asian countries and Australia.
When it comes to partying, Bali offers excellent value for money, with reasonable drink costs for a fun night out. Most venues do not charge an entry fee, and clubs and venues have continued to improve their ambiance and services.
For the best nightlife experience in Bali, visit Kuta, Seminyak, Canggu, and Uluwatu.
Cost of Living in Bali
Living in Bali is very affordable as everything comes with affordable price tags. The approximate cost of moderate or standard living in Bali will be around $17-$20 every day. Here is a table that we've drafted with figures from Numbeo in January 2022.
Meal, Inexpensive Restaurant
Domestic Beer , 0.5 liter 
Imported Beer , 0.33 liter bottle
Cappuccino

$1.74
$2.44
$3.49
$2.33

Milk (1 liter) 
Loaf of Fresh White Bread
Rice (1kg)
Eggs (12) 
Local Cheese (1kg) 
Apples (1kg) 
Banana (1kg) 

$1.76
$1.72
$0.82
$1.62
$10.09
$2.01
$1.60 

One-way ticket
Monthly Pass 

$0.24
$10.46

Rent for 1 bdr. apt. in center
Rent for 1 bdr. apt. outside the center

$388.03
$209.27
Internet Speed in Bali
Although ultra-fast internet access is not available everywhere, infrastructure, coverage, and service have all vastly improved over time in Bali. If your location isn't too distant, a 4G network is available.
Purchasing a prepaid local SIM card is an affordable alternative. In Bali, SIM cards are quite cheap. For $10, you can have access to the internet for 30 days with a 4 GB bundle. As long as you have an unlocked phone, you can use local SIM cards. The seller will register your new SIM card online.
Most hotels, restaurants, and cafés provide free WiFi, so you may not need to get a prepaid SIM card. Don't expect a super-fast connection but it'll be enough for checking emails or sending messages.
You can also find free WiFi at some mini markets. You can easily spot them as you'll see people sitting by the tables outside and glued to their cell phones. When booking accommodation, ask if they offer free WiFi in your room, as some only do so in public areas such as the lobby or restaurant.
Money and Credit Cards
The Indonesian Rupiah (IDR), also known as Rp, is the official currency of Indonesia. Here's a rough calculation* to make it easy for you to make conversions:
1 AUD – 10,000 IDR
1 USD – 15,000 IDR
1 EUR – 17,000 IDR
*based on rates in January 2022.
In Bali, cash is the most popular method of payment. As a result, make sure you have enough cash with you to pay for your little purchases, transportation, and food and beverages. The 100,000 bills are only appropriate if you want to purchase a high-priced item or spend a significant amount of money in one location. Because most small businesses and street vendors will struggle to make changes, 50,000 and 20,000 Rp notes will be the preferred method of payment.
ATMs are easily found in most populated areas and most of them accept international cards and credit cards for cash withdrawals.
Credit cards are now accepted in an increasing number of restaurants and stores. But, unlike in a Western country, don't rely on your credit card. In many circumstances, cash is the only acceptable form of payment. A credit card will be of little help to you, especially in distant places. In Bali, Visa and MasterCard are the most often accepted credit cards. Amex is accepted by some hotels and restaurants, but Diners Club is accepted by even fewer.
Keep in mind that credit card transactions are frequently subject to a three to five percent surcharge.
Note that Wise is available in Indonesia. You can send and receive money through Wise during your stay in Bali. It's easier and cheaper. You can also receive payments like a local in nine currencies.
Climate in Bali
Bali, as a digital nomad heaven, has a favorable climate all year round, but you'd better be familiar with seasons:
Rainy Season: November to March. Expect a lot of rain and a hot weather
Dry Season: April to October. You can expect less rain accompanied by cool breezes. July and August are the busiest months.
The weather is rather consistent throughout the year, however, the evenings can be refreshingly cool during the dry season. Beaches are normally clean during Bali's dry season, and the island shows off its beautiful side.
Bali is quieter during the wet season. The water is rougher, and winds are stronger along the coast during the rainy season. However, the rain normally stops after a few hours and the sun shines again. Most of the time, it rains at night and the days are fine. Occasionally, you will have a few days when it rains nonstop.
Visa Requirements
Previously, tourists from more than 160 countries were allowed to visit Bali without a visa if they stayed for fewer than 30 days (Free Visa Entry Stamp or Visa Exemption). Now, you'll need to make an online application for e-visa B211A. If you're applying from outside of Indonesia, this visa will give you the right to stay in Bali for 60 days. If you're applying within Indonesia, it'll be valid for 30 days.
We recommend that you check Indonesia's most recent entry requirements before planning your trip.
Coworking and Coliving Spaces in Bali
Coworking and coliving spaces are pretty popular in the digital nomad world. Bali provides its treasured digital nomads with the finest amenities – captivating landscapes, enthralling nature, crystal clear water, spiritual endurance, smooth visa renewals, and, lastly, access to luxuries at an extremely low cost.
Once you are in Bali, you will come across various coworking and coliving spaces where you will not only be provided with a diversified working space but also a community where you can connect with similar-minded digital nomads. See below some of the best coworking and coliving spaces you will find in Bali.
Dojo Bali
Dojo Bali is one of the most well-known coliving and co-working spaces in Bali. Dojo is a fantastic resource for digital nomads since it hosts frequent courses and events for networking.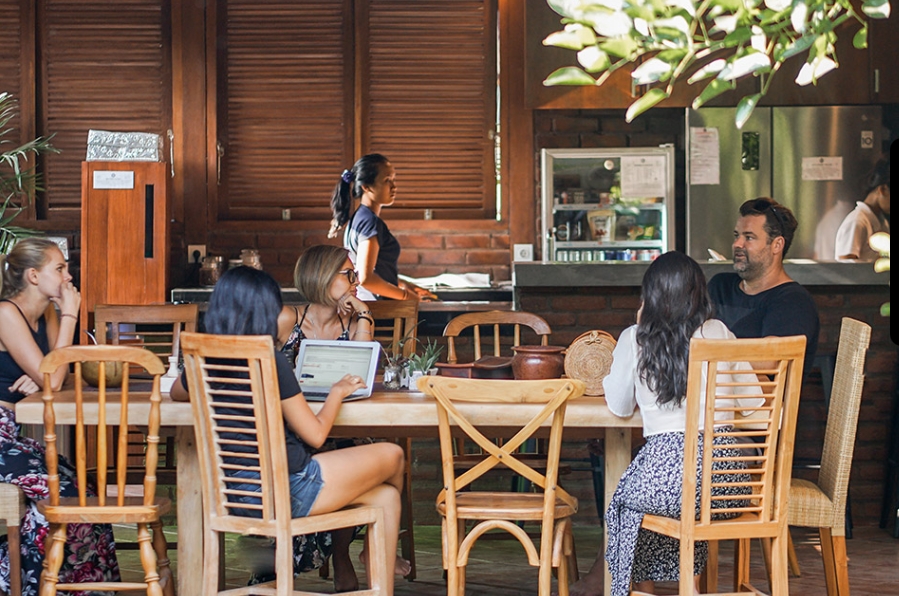 Bali Bustle
Bali Bustle is one of the most popular coworking options on the island. It also offers a coliving space which make it easier to network for digital nomads.
B-Work
B-Work is a cooperative working place in Canggu that is housed in a three-story coworking facility.
Kembali Innovation Hub
Kembali Innovation Hub is a place where anyone can help the digital nomad community ecosystem by using their imagination, tech, and enterprise.
Outpost
With beautiful patios and Bali jungle feelings, Outpost offers coliving options and a coworking place.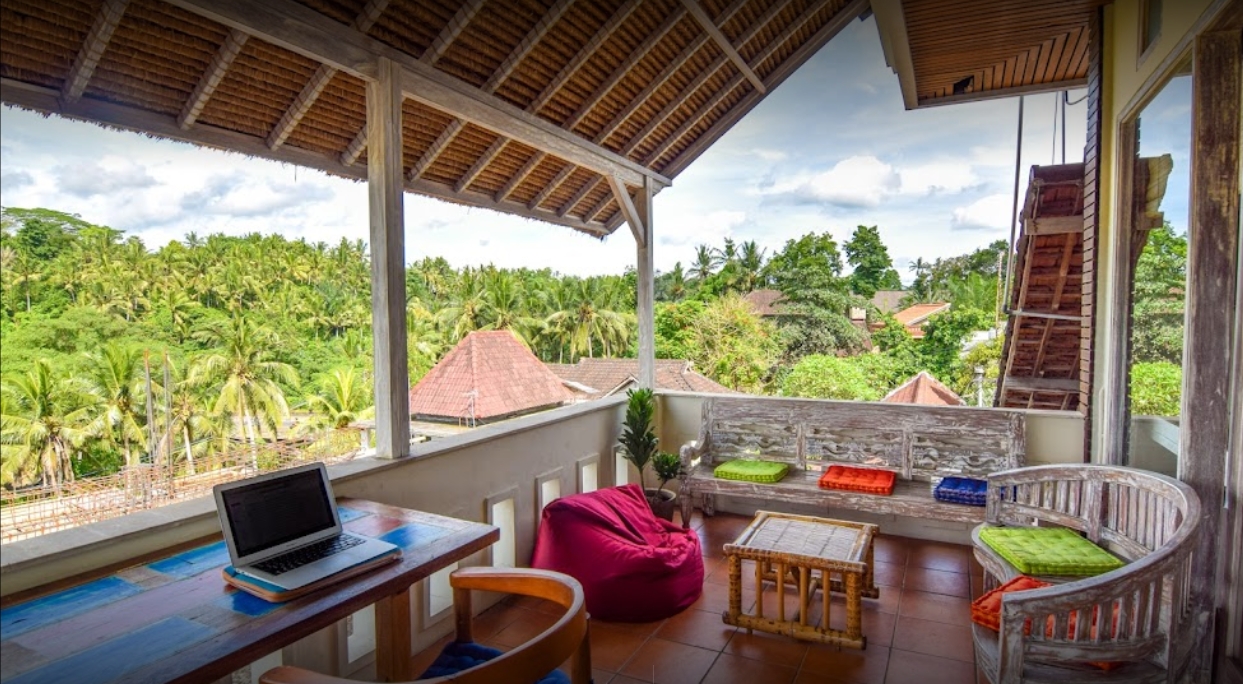 Rumah Sanur Creative Hub
Ruman Sanur Creative Hub is dedicated to sustainable development and environmental awareness in addition to delivering a quality workplace.


Biliq Bali
Biliq Seminyak and Biliq Sunset are two different coworking spaces located in Seminyak district, only 10 minutes away from each other. Both locations provide a variety of price choices.
Bottom Line on Bali Digital Nomad Guide
No matter how much time you spend in Bali, living there as a digital nomad will provide you with extreme happiness and a good digital nomad lifestyle.
We hope you've enjoyed our Bali digital nomad guide. If you have ever been to Bali and have something to add, please feel free to reach out.
Is there a language barrier in Bali for digital nomads?
No, not at all. Almost every Balinese speaks basic English. The expat community is big which has made a positive impact.
Are the medical facilities good in Bali?
We would not say no. However, it would be best if you had medical insurance when traveling to Bali and other places as a digital nomad.
Can I get a job in Bali as a digital nomad?
As a digital nomad in Bali, you'll need a work permit or will need a company to sponsor you.
Is the internet connection good enough in Bali for a digital nomad?
This depends. If you're a digital nomad who needs a powerful connection all the time, it might be difficult. You can opt to get a SIM card if you really need good internet most of the day.
Are there enough co working spaces for digital nomads?
Bali boasts many coworking spaces, that make it ideal for a digital nomad life.
Is Bali safe for a digital nomad?
Yes, Bali is a relatively safe destination. It's one of the safest locations to travel in Southeast Asia. But of course, there will always be something to be wary of.