The Best Coworking Spaces in Bali
If you're heading to Bali, it's time that you become familiar with the coworking spaces this digital nomad haven provides. In this article, we've listed some of the best options you can choose as your work setting during your stay in Bali.
Let's get started!
Outpost – Ubud & Canggu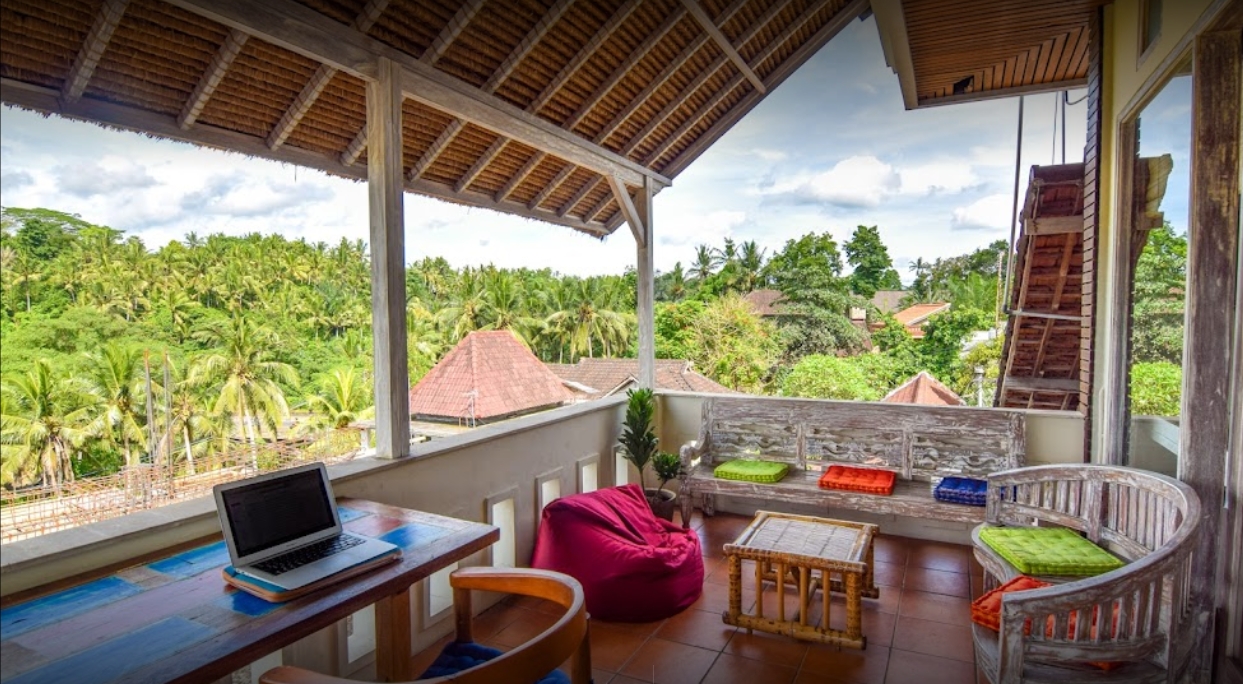 Outpost coworking spaces offer a dynamic and collaborative community. If you want to immerse yourself in developing a new concept or growing existing ideas, Outpost might be ideal for you. Outpost community welcomes visitors who are new and the events inspire and cultivate collaboration.
From parkour and salsa to advanced marketing and geopolitical events, Outpost branches offer something for everyone. Outpost also boasts a reliable internet connection.
Dedicated desk memberships start from $210 per month.
Biliq – Seminyak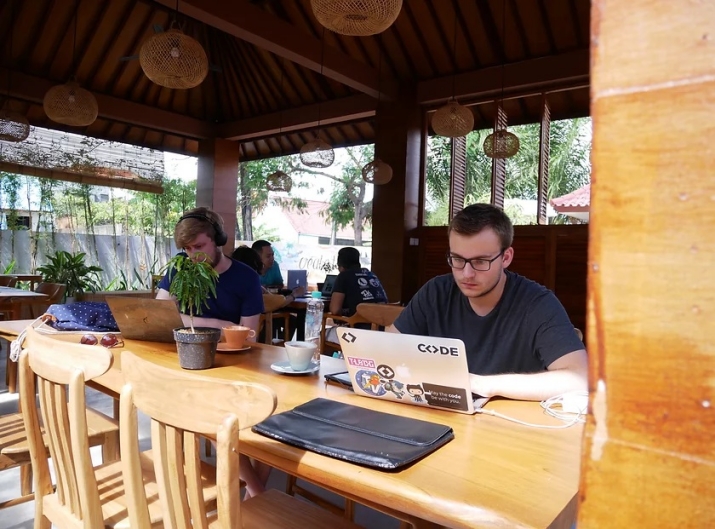 Biliq Bali is the first per-minute coworking space in Bali. It aims to create a comfortable and flexible space for your needs. 
The per-minute rate means that you can come in, spend an hour to work, and leave this place to explore Bali. It's flexible! Biliq was voted for Coworker.com's Member's Choice Award in 2019.
The flexi plan starts from $0.4 per minute.
Livit Hub – Sanur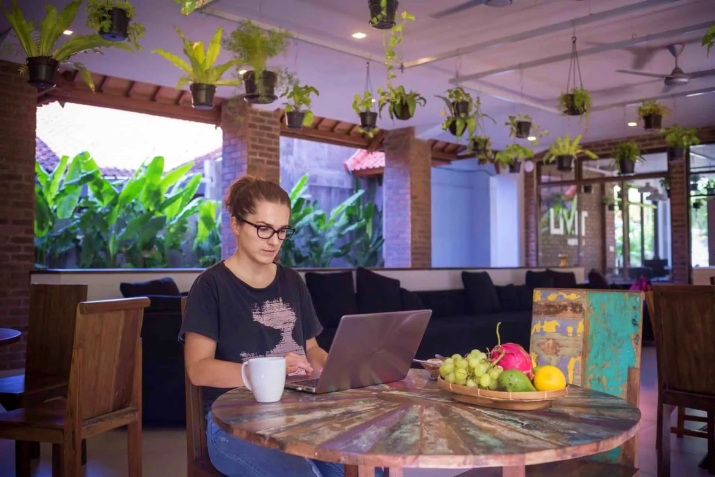 Livit Hub is not just a coworking space but it's also an innovation hub. It's a part of Livit International, a tech startup service provider. It's a dynamic, innovative space where like-minded people can come together to build and grow incredible businesses while maintaining a good work-life balance.
Livit Hub has three internet service providers (ISPs) with a combined speed of 100 Mbps to provide a reliable internet connection. WiFi is available throughout the building, and LAN cables are available in the Skype rooms as a backup.
Monthly membership plans start from $122.
Colabo – Jimbaran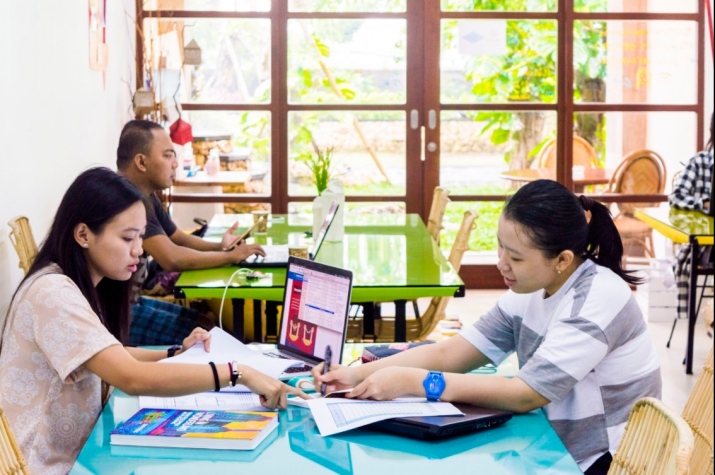 Colabo provides a collaborative and connecting environment for entrepreneurs, freelancers, remote workers, and start-up enthusiasts. It is located in Jimbaran's lush green forest and offers indoor and semi-outdoor working spaces, a meeting room, a Skype booth, and a café.
Colabo aims to offer a productive, creative, and inventive work environment.
Monthly membership plans start at $139.
Uluwatu Hub – Uluwatu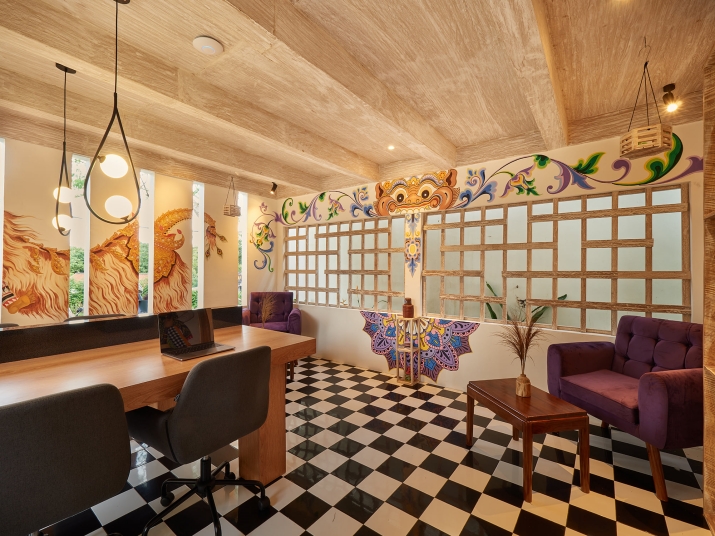 Uluwatu Hub is a brand new coworking space in Bali that boasts an appealing style. This coworking and coliving space is located in the heart of Uluwatu. You can get ahead on your tasks with strong WiFi and delicious coffee before going out to catch the sunset.
Uluwatu Hub is a sophisticated coworking space where you may live, work, dine, and sleep.
For memberships, you can contact them directly.
Dojo – Canggu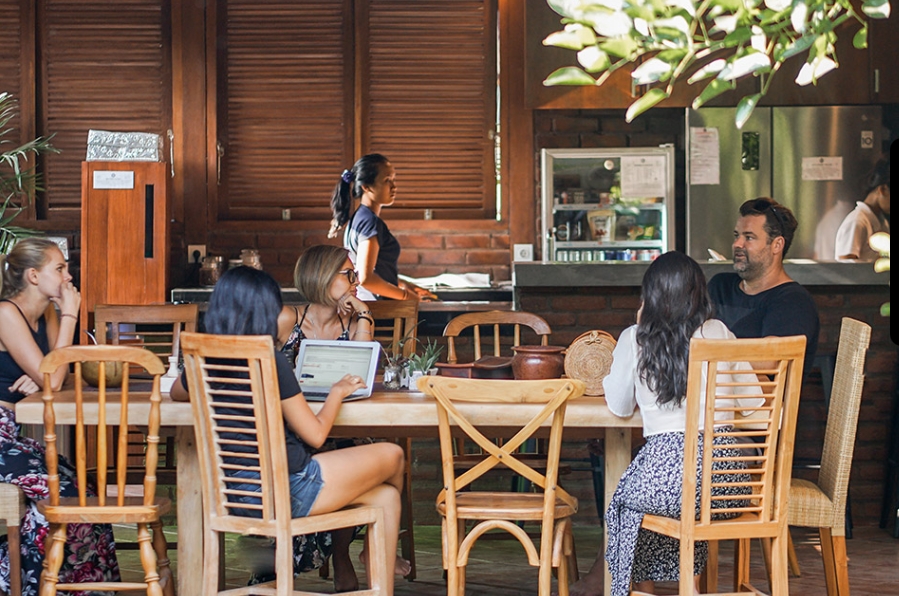 Dojo Coworking and Coliving is located near Echo Beach in the heart of Canggu. It offers comfortable offices, a sparkling swimming pool, air-conditioned conference rooms, a good WiFi connection, and a small cafe.
Not only is Dojo a terrific place to work, but it also has a welcoming atmosphere that keeps people coming back. You may network with successful entrepreneurs, get advice from successful bloggers, and possibly start a new business.
Monthly memberships start from $130.
Kembali Innovation Hub – Seminyak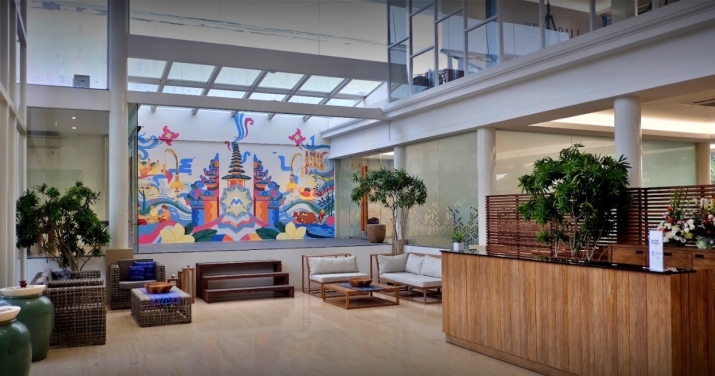 Kembali Innovation Hub is a location where you as a digital nomad can cooperate with prospective clients. Also, large corporations may meet with local contractors, and small businesses can arrange meetings for their remote employees. Kembali frequently initiates projects and initiatives to assist smaller businesses.
Monthly subscriptions start from $160.
Rumah Sanur Creative Hub – Sanur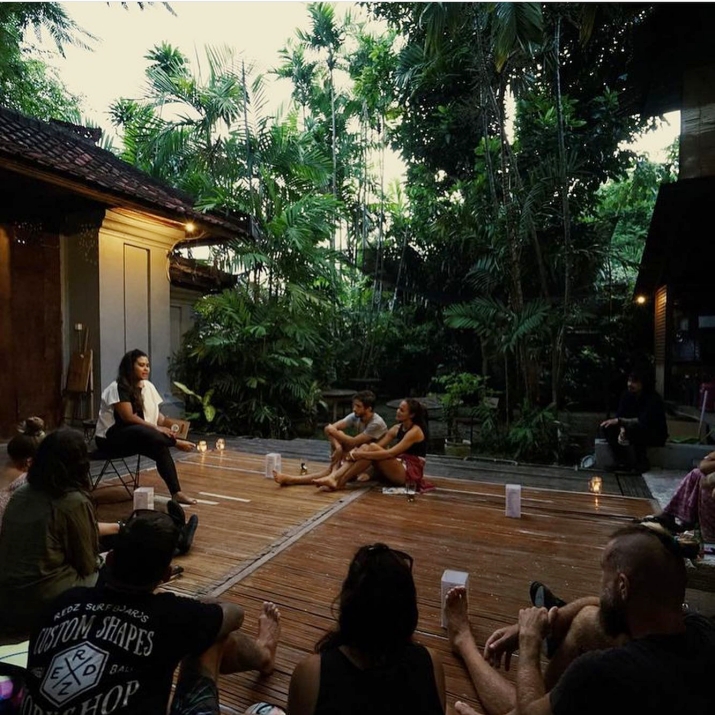 Private offices, social events, meeting spaces, and live music are all available at Rumah Sanur Creative Hub. It's a creative hub where you can collaborate with other creatives, learn from someone in a different sector, and get together to share ideas and discuss.
Rumah Sanur Creative Hub also offers rentable offices for those who miss the structure of an office environment and need a quiet location to work, make calls, and hold meetings. If you plan to rent long-term, you can make it your own, or you can simply get ahead of your deadlines with a weekly rental.
You can contact them directly for pricing.
Tropical Nomad Coworking Space – Canggu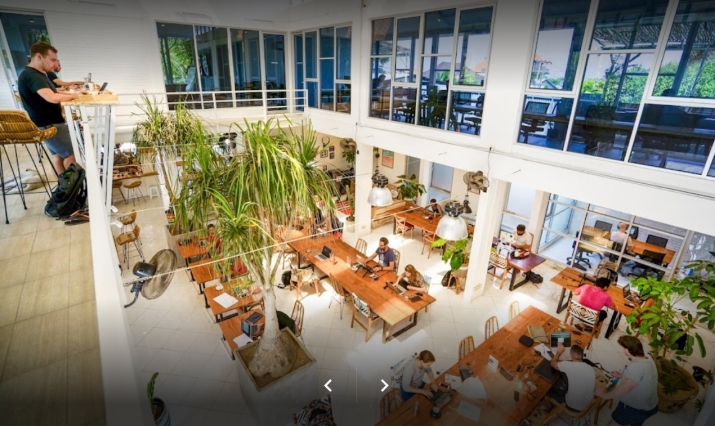 Tropical Nomad is a coworking space where you can get your work done while having fun in Bali and live your best life. It offers high-speed internet, a big open-air area, furnished private desks, air-conditioned rooms, balconies with views of the rice fields, and a garden area.
Motivational speakers and inspiring entrepreneurs share their experiences at the Tropical Nomad Coworking Space. 
Unlimited coworking space membership starts from $189.
Sunset – Seminyak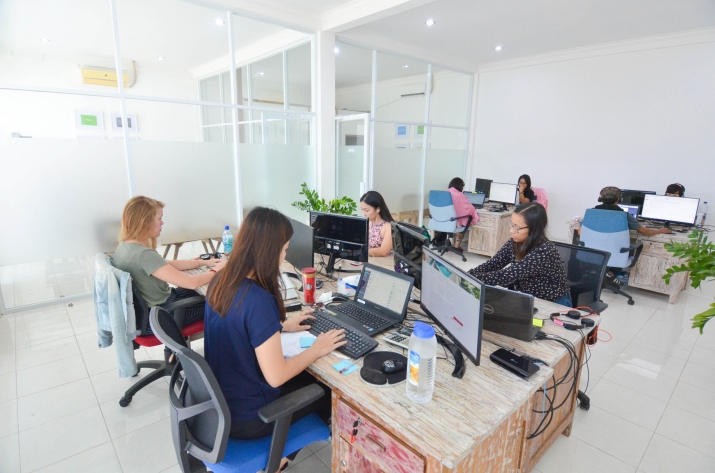 Sunset offers desks that may be rented on a monthly basis. You can rent the entire area for yourself and your coworkers, or just a single desk to share with other digital nomads and remote workers. 
You can also request services that are not included in their standard service offering. For some businesses, a public IP address is insufficient for the service they give to their customers, thus Sunset provides a dedicated IP address for an additional fee.
Dedicated desk memberships start from $104.
Kinship Studio – Canggu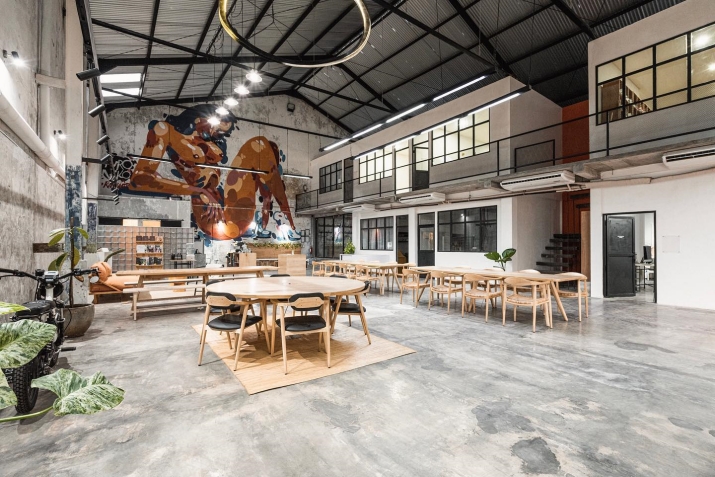 Kinship Studio is a multi-faceted creative venue that houses private studios, co-working spaces, a photographic studio, events, and a cafe. Kinship Studio Bali offers a variety of workshops and events. While you attend their workshops and seminars, you can network with other digital nomads 
You can contact Kinship Studio directly for pricing.
Beluna – Ubud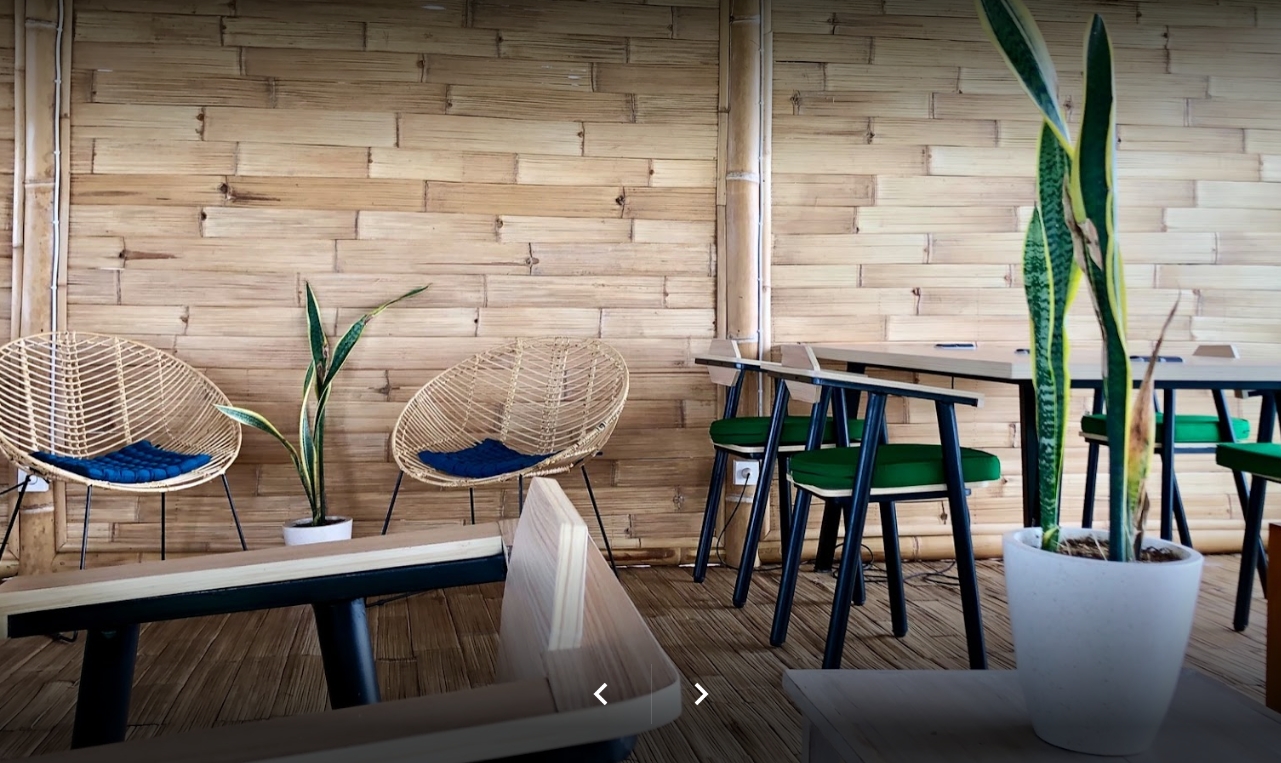 Beluna is a location with an on-site cafe. It's surrounded by lovely rice fields and allows you to choose a shared or private desk, comfy couches, or hammocks.
Beluna was designed as a space for focus, engagement, and connection back to nature. It's a coworking space that allows you to optimize your focus. It offers workspaces flooded with natural light and allows you to expand your mind in nature.
25 hours per month packages start from $40.
Bali Bustle – Seminyak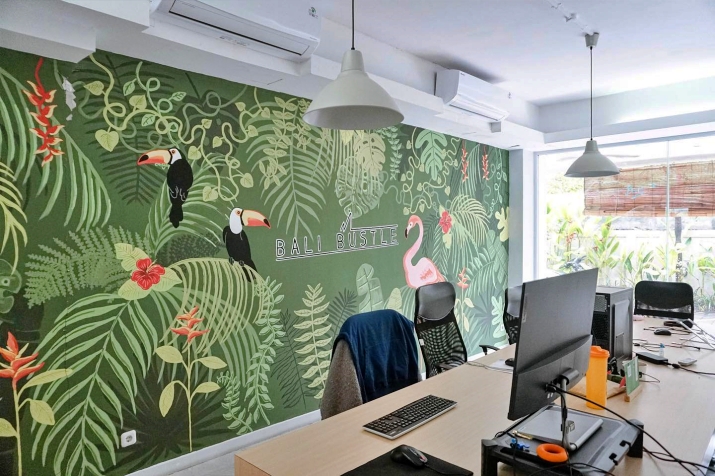 Bali Bustle, allows you to have a productive workday in the middle of town, with spacious shared desks, grand bright windows, and high-speed WiFi.
Meeting spaces, an on-site gym, a rooftop lounge, and a refreshing pool are all available at Bali Bustle. Bali Bustle Coliving is also on-site, which provides efficiency for digital nomads.
Monthly memberships start from $159.
Hub Bali Legain – Seminyak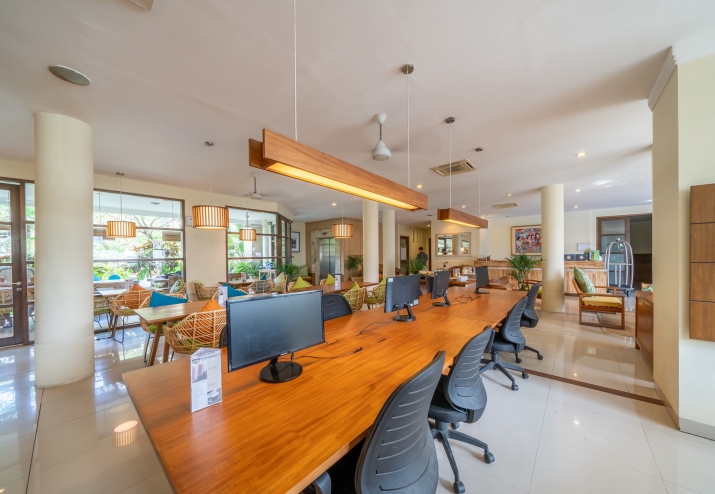 Hub Bali Coworking Legian is located within the Sara Residence Hotel, with huge communal workspaces and grand glass doors that lead out to the swimming pool.
When you sign up, you'll also have access to the hotel's amenities, such as the pool and pool towels. They also offer monthly coliving packages in the residential apartment. 
Monthly subscriptions for coworking spaces start from $70.
The Bottom Line
There you have it. We've given you an introduction to Bali's coworking spaces alternatives. There are many other places that are worth discovering though. Have you ever used a coworking space in Bali? Let us know how your experience was…
Looking for more inspiration? Check out our ultimate guide on Living in Bali.