Living in Bangkok: All You Need to Know From Tuk-Tuks to Temples
Welcome to Bangkok, the vibrant capital city of Thailand! 
With its bustling street markets, delicious street food, and stunning temples, Bangkok is a city that truly has something for everyone. As one of the most visited cities in the world, Bangkok offers a unique blend of tradition and modernity that creates a truly unforgettable experience. 
Whether you're an expat, digital nomad, or just looking to visit for a short while, Bangkok is a city that will capture your heart and leave you wanting more. In this article, we'll take a closer look at what it's like to live in Bangkok, from its unique culture to its affordable cost of living. Let's dive in!
Living in Bangkok Pros and Cons
Living in Bangkok can be an exciting and rewarding experience, but like any city, it has its pros and cons. In this article, we'll take a closer look at the advantages and disadvantages of living in Bangkok.
Pros of Living in Bangkok
Vibrant Culture: Bangkok is a city steeped in tradition and culture. From the stunning temples to the lively street markets, there is always something to explore and discover.
Delicious Food: Bangkok is known for its delicious street food, which is both affordable and tasty. You can find everything from spicy papaya salad to sweet mango sticky rice.
Affordable Cost of Living: Compared to other major cities in the world, Bangkok has a relatively low cost of living. You can enjoy a comfortable lifestyle without breaking the bank.
Modern Amenities: Despite its traditional roots, Bangkok has all the modern amenities you could need, including high-speed internet, shopping malls, and international schools.
Easy Travel: Bangkok's international airport is one of the busiest in the world, making it easy to travel to other parts of Thailand and beyond.
Cons of Living in Bangkok
Traffic Congestion: Bangkok's roads can be incredibly congested, especially during rush hour. This can make commuting a challenge.
Air Pollution: Bangkok's air quality is often poor, especially during the dry season. This can be a concern for people with respiratory issues.
Language Barrier: While many people in Bangkok speak English, there can still be a language barrier for those who don't speak Thai.
Extreme Weather: Bangkok can be incredibly hot and humid, especially during the summer months. This can take some getting used to.
Noise Pollution: Bangkok is a noisy city, with honking horns and loud music often heard throughout the day and night.
Cost of Living in Bangkok
The cost of living can vary widely depending on an individual's lifestyle and preferences. Generally, the cost of living in Bangkok is considered relatively affordable compared to many other major cities in the world. However, living costs can increase in more upscale areas, particularly in terms of accommodation and dining.
Housing costs are one of the biggest expenses in Bangkok, and prices can vary significantly depending on the location, size, and quality of the property. Transportation costs can add up if you use taxis or private cars regularly.
On the other hand, food and entertainment in Bangkok are often relatively inexpensive, with a wide range of street food and affordable restaurants available. Shopping for groceries and everyday items can also be relatively inexpensive, especially if you are willing to shop at local markets and supermarkets. Below is a rough estimate of the cost of living in Bangkok:
Accommodation (1 bedroom apartment in city center)
Transportation (monthly public transportation pass)
Food (average restaurant meal for one)
Groceries (basic weekly food shopping)
Utilities (electricity, water, gas, internet, etc.)
Entertainment (cinema, gym, etc.)
Clothing
฿15,000 – 25,000
฿1,000 – 1,500
฿50 – 150
฿1,500 – 3,000
฿3,000 – 5,000
฿200 – 500
฿500 – 1,500
One of the best ways to experience Bangkok like a local is by taking public transportation. Hop on the Skytrain or riverboat and explore the city like a pro. Take a ride on the iconic tuk-tuks or flag down a motorcycle taxi for a thrilling ride through the city's traffic.
For an authentic local experience, indulge in the delicious street food that Bangkok is famous for. From savory pad thai to sweet mango sticky rice, the possibilities are endless. Join the locals at a street food market and sample a variety of dishes that will tantalize your taste buds.
Bangkok is home to some of the most stunning temples in the world, and visiting these sacred sites is a must-do activity for any traveler. The Grand Palace and Wat Phra Kaew are two of the most popular temples, and they offer a glimpse into the history and culture of Thailand. It's important to dress modestly and remove your shoes before entering the temples.
The location is central for shopping sprees. The Chatuchak Weekend Market is a must-visit destination, with over 15,000 stalls selling everything from clothing and accessories to food and souvenirs. For a more upscale shopping experience, the Siam Paragon and Central World malls offer a range of luxury brands and designer boutiques.
If you're more interested in nightlife; Khao San Road is a popular destination for backpackers, with a variety of bars and clubs offering cheap drinks and a party atmosphere. For a more upscale experience, the rooftop bars at hotels such as the Sky Bar at Lebua offer stunning views of the city skyline
Bangkok is a city that enjoys a tropical climate, making it an ideal destination for those seeking sunshine and warmth. 
The city experiences two distinct seasons: a hot and humid season from March to June, and a rainy season from July to October. Temperatures during the hot season can soar up to 35°C, so it's important to stay hydrated and wear light, breathable clothing. During the rainy season, expect daily downpours that can sometimes last for hours. However, the rain brings a welcome relief from the heat, and the city's lush vegetation bursts into life. 
The coolest and driest time to visit Bangkok is from November to February when temperatures are milder and the skies are blue.
The local culture in Bangkok is a blend of ancient traditions and modern influences. Thai Buddhism is a major part of the city's culture, with stunning temples and shrines found throughout the city. Visitors can witness the daily lives of the locals by exploring the bustling markets, trying out street food, and taking in the lively nightlife.
Bangkok's lifestyle is fast-paced, with a mix of old and new. The city is home to some of the world's best shopping, from high-end malls to sprawling street markets. Foodies will also love Bangkok, as the city is famous for its delicious cuisine, ranging from spicy curries to sweet desserts.
Transport Options in Bangkok
The Skytrain, or BTS, is a fast and convenient way to travel around the city. With air-conditioned carriages and easy-to-use ticketing machines, it's a popular choice for locals and tourists alike. The MRT, or underground train system, is another option for those looking to travel across the city quickly.
For a more adventurous ride, you can try the iconic tuk-tuks or motorcycle taxis. These vehicles weave through the city's traffic and provide a thrilling way to explore the streets of Bangkok. If you prefer a more leisurely pace, take a ride on the riverboat and explore the city's famous canals and waterways.
Finding the perfect accommodation in Bangkok is usually a breeze without much hassle and complication.
For those on a budget, hostels and guesthouses are a great option, offering affordable accommodation in the city's vibrant neighborhoods. Mid-range hotels offer more amenities and comfort, while luxury hotels provide top-of-the-line facilities and services.
For a unique experience, consider staying in a traditional Thai-style hotel or a trendy boutique hotel in one of the city's up-and-coming neighborhoods. With its wide range of accommodation options, Bangkok has something to suit every traveler's needs and preferences.
Bangkok is home to some of the best educational institutions in Thailand, attracting students from all over the world and from Thailand. 
In Bangkok, public schools offer free education for 15 years, which includes preschool, primary, secondary, and vocational education. The Ministry of Education is responsible for managing and overseeing the public education system in Thailand. The curriculum is standardized across all public schools, and instruction is primarily in the Thai language. However, English-language instruction is available in some schools, particularly in urban areas.
Despite being free, public schools in Bangkok face several challenges. The student-teacher ratio can be high, and resources can be limited, especially in rural areas. Additionally, some public schools face issues with overcrowding and underfunding.
Nonetheless, public schools in Bangkok are a great option for families who want to provide their children with a solid education while keeping costs low. Public schools also provide opportunities for children to learn about Thai culture and interact with local students. Some public schools have strong reputations for academic excellence, and admission can be highly competitive.
Families who prefer their children to receive education in an environment where they can receive more special attention can instead opt for private schools, that is if they can afford it.
There are also international schools in Bangkok that offer a world-class education, with programs designed to meet the needs of expat families and international students. The city is also home to prestigious universities and colleges, offering a diverse range of academic programs, from business and engineering to the arts and humanities.
In addition to traditional academic programs, Bangkok also offers language schools and cultural exchange programs, allowing students to immerse themselves in the local culture and learn new languages.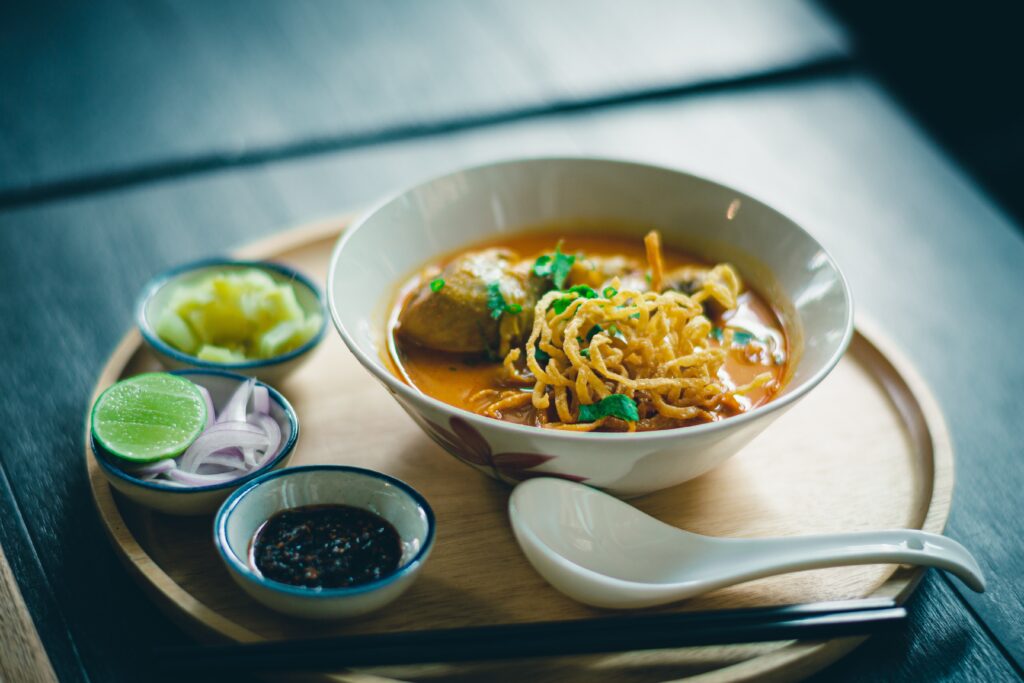 Bangkok's food culture is truly one of a kind, with a dizzying array of flavors and dishes that will tantalize your taste buds. From spicy street food to delicious desserts, Bangkok's food scene is as vibrant and diverse as the city.
One of the best ways to experience Bangkok's food culture is by taking a food tour to sample some of the city's most iconic dishes and learn about their history and cultural significance. Or, if you're feeling adventurous, head to one of the city's many street food vendors and try out some of the unique and quirky snacks on offer, like insect delicacies or the famous durian fruit.
A refreshing drink goes well after eating some delicious Thai food. Make sure you try out some of Bangkok's refreshing drinks, such as Thai iced tea or the famous coconut water. And for those looking for something stronger, the nightlife in Bangkok offers a variety of local beers and creative cocktails.
Bangkok's healthcare system is well-equipped to handle any medical issue from cardiology to oncology, neurology to orthopedics. Not only that, but the city is also a hub for medical tourism, with thousands of patients traveling from around the world to take advantage of the high-quality healthcare available here. Whether you're a resident of Bangkok or a visitor in need of medical care, you'll find everything you need in this city.
There are also private clinic facilities you can benefit from, so long as you have a private health insurance policy or are willing to pay a little extra.
Crime rates are low, and the Thai government has made significant investments in security measures to ensure the safety of both locals and tourists alike. Plus, the city is home to friendly and welcoming people who are always happy to help visitors navigate their way around.
Of course, as with any city, you should take precautions and be aware of your surroundings. But by exercising common sense and following a few simple safety tips, you can enjoy all that Bangkok has to offer without worrying about your well-being.
Airports: The Gateway to Thailand
Looking to explore the wonders of Thailand? Then airports are your gateway to this lovely country. Thailand has several international airports, but the most popular ones are Suvarnabhumi International Airport in Bangkok and Phuket International Airport.
These airports are modern, well-equipped, and have excellent connectivity to destinations across Thailand and the world. Whether you're flying in for business or pleasure, you'll find plenty of facilities to make your travel experience smooth and hassle-free.
Expat Life in Bangkok, Thailand
Thailand's capital is home to a large and diverse expat community. The city's affordability, rich cultural heritage, and warm weather make it a popular destination for expats living and working in Southeast Asia.
Expats in Bangkok can enjoy a high quality of life, with a range of amenities and services available to them. There are plenty of international schools, medical facilities, and recreational options catering to the expat community. In addition, Bangkok's extensive public transportation system makes it easy to navigate the city.
The city's expat community is also known for its social scene, with numerous bars, restaurants, and clubs catering to the international crowd. Most expats in Bangkok find it easy to make friends and build a support network.
However, expat living in Bangkok may also have its own challenges, such as navigating the language barrier and cultural differences. It's important for expats to be aware of the local customs and laws, to try and learn the Thai language, and immerse themselves in the local culture.
Best Places to Live in Bangkok
From trendy neighborhoods to peaceful suburbs, there's something for everyone. Here's a list I created for you about the best places to live in Bangkok:
Sukhumvit – a popular area known for its expat-friendly atmosphere, modern lifestyle, and convenient transportation.
Thonglor – a trendy, upscale neighborhood with plenty of restaurants, bars, and shops. It's also well-connected to other parts of the city via the BTS Skytrain.
Silom – a central business district with a vibrant nightlife scene and an excellent public transport system.
Sathorn – a cosmopolitan area with a mix of residential and commercial spaces, great restaurants, and cafes. It's also well-connected to the BTS Skytrain and MRT subway.
Phra Khanong – a rapidly developing neighborhood with affordable housing options, great street food, and plenty of green spaces.
Ari – a hip and happening residential area with a laid-back vibe, good food options, and excellent cafes.
Chatuchak – home to Bangkok's largest market, the Chatuchak Weekend Market, this area is a great choice for those looking for a lively atmosphere and a diverse range of shopping options.
Bangna – located on the outskirts of the city, this area offers a quieter and more suburban lifestyle, with plenty of green spaces, malls, and entertainment options.
Ratchada – a popular destination for young professionals, with a great selection of restaurants, bars, and clubs.
Old Town (Rattanakosin) – a historic district with plenty of cultural attractions, including the Grand Palace and Wat Phra Kaew. It's a great place to live if you're interested in learning more about Thailand's rich history and culture.
5 Lessons Learned from Living in Bangkok
Living in Bangkok is a unique experience that teaches you valuable life lessons. Here are five lessons I learned from living in this vibrant city:
Embrace the chaos – Bangkok is a city that never sleeps, with traffic, noise, and crowds everywhere. But instead of fighting it, embrace the chaos and learn to enjoy the energy of the city.
Try new things – Bangkok is a melting pot of cultures and cuisines, so be open to trying new things. From street food to exotic fruits, there's always something delicious to discover.
Stay hydrated – With its tropical climate, Bangkok can be hot and humid. So make sure to drink plenty of water and stay hydrated.
Negotiate with a smile – In markets and street vendors, bargaining is a common practice. But remember to do it with a smile and be respectful, as it's part of the local culture.
Connect with the locals – Bangkok is home to some of the friendliest people in the world. Take the time to connect with the locals and learn about their customs and traditions. You'll be surprised at how much you'll learn and how much richer your experience will be.
It looks like you're set for a fun and exciting adventure! Here are some tips to help you make the most of your time in Bangkok:
Learn some basic Thai phrases. Learning the local language will help you connect with Thai people and navigate everyday situations.
Embrace street food culture. Bangkok has some of the best street food in the world, so don't be afraid to try new things!
Use public transportation. Bangkok's traffic can be notoriously bad, so take advantage of the BTS Skytrain or MRT subway to avoid the gridlock.
Get out of the city. Bangkok is surrounded by beautiful countryside and amazing beaches, so take some time to explore the rest of Thailand.
Benefit from the city's parks. Bangkok has some beautiful parks where you can escape the noise and chaos of the city, like Lumphini Park or Benjasiri Park.
Learn how to ride a motorbike. It's a convenient and cost-effective way to get around the city, don't forget to wear a helmet and drive safely.
Living in Bangkok: The Bottom Line
In conclusion, Bangkok is a city that offers a unique and exciting experience to anyone who chooses to live there. You'll have a wide variety of events where you could indulge in delicious street food or have a picnic in one of the beautiful parks. There's never a dull moment in this vibrant city.
It's important to remember that living abroad may not be a bed of roses all the time, though. Living in Bangkok can also come with its own set of challenges. The hot and humid weather can be overwhelming at times, and the language barrier may take some getting used to. Additionally, the city can be crowded and chaotic, with traffic jams and noise pollution a common occurrence. Nevertheless, if you approach living in Bangkok with a sense of adventure, the Thai capital is sure to provide you with a rewarding experience. By following the tips mentioned in this post, you can make the most of your time in the city and fully immerse yourself in Thai culture. So, embrace the energy and excitement of Bangkok, and enjoy all that this amazing city has to offer!
What are some of the challenges of living in Bangkok?
One of the most significant challenges is the heavy traffic and congestion that the city is known for. This can make commuting and getting around the city time-consuming and frustrating. Additionally, air pollution can be a concern, particularly during the dry season. High levels of humidity and heat can also be challenging for some individuals. Other challenges can include a language barrier, cultural differences, and the high cost of living in some areas of the city. 
Is it easy to make friends in Bangkok?
Making friends in Bangkok can be relatively easy as the city has a large expat community, a thriving social scene, and friendly locals. There are numerous social clubs, expat groups, and meetups catering to different interests that can be an excellent way to meet new people. Additionally, Bangkok is a city that values hospitality and socializing, and it is not uncommon for strangers to strike up conversations with one another. 
How easy is it to find work in Bangkok?
Depending on the field of work and the individual's qualifications and experience, finding a job could be a smooth or hard process. There are job opportunities available in hospitality, tourism, education, and finance. However, the competition for jobs can be fierce, and the demand for highly skilled workers is high. Language barriers can also be a significant obstacle, as many companies require employees who speak Thai fluently. It is also essential to have the appropriate work permit and visa, which can be a complicated process. Overall, while finding work in Bangkok can be challenging, it is not impossible, and with the right qualifications and persistence, it is possible to secure a job in the city.
What are the best neighborhoods to live in Bangkok?
Some of the best neighborhoods to live in Bangkok include Sukhumvit, Silom, Sathorn, Thonglor, and Ari. 
What is the cost of living in Bangkok?
The cost of living in Bangkok can vary depending on your lifestyle, accommodation, and personal preferences. However, generally speaking, Bangkok is considered an affordable city compared to many other major cities in the world. Overall, living costs of a single person adds up to around ฿22,000, rent excluded. 
How is the internet connectivity in Bangkok?
Many cafes, restaurants, and co-working spaces also offer free or low-cost Wi-Fi, making it easy to stay connected on the go. If you're looking for a more reliable and faster internet connection, there are several internet service providers to choose from. Local and international companies offer services to residents in Bangkok. Additionally, mobile data plans are widely available and affordable, with several mobile operators offering 4G and 5G services.
What are the job prospects for expats in Bangkok?
Bangkok offers numerous jobs in hospitality, tourism, education, and finance. Many multinational companies have regional offices in Bangkok, creating opportunities for expats with specialized skills and experience. Qualified English language teachers are in high demand in Bangkok. Additionally, the growing tech industry in Thailand has created job opportunities for individuals with expertise in areas such as software development, data analysis, and digital marketing. Being able to speak Thai fluently can be an advantage in certain industries and for certain job positions.
How challenging is the language barrier for expats in Bangkok?
While many locals in Bangkok do speak English, particularly in tourist areas, some expats may find that the language barrier can make it challenging to communicate effectively in certain situations, such as when dealing with government agencies or in more remote areas of the city. However, it is worth noting that there are many language schools and resources available in Bangkok if you wish to learn Thai. Additionally, you may find that immersion in the language and culture can be an effective way to learn and improve language skills over time.
What is the best way for expats to meet locals in Bangkok?
One effective way to meet locals is by joining social clubs, interest groups, or sports teams. These groups can provide opportunities to connect with locals who share similar interests and hobbies and are a great way to build friendships and social networks.
Another way to meet locals is by volunteering. It's an effective way to give back to the community while meeting locals and building relationships. Language exchange programs are also a way to meet locals and practice language skills. Many language schools or organizations offer language exchange programs, which pair individuals who wish to practice a foreign language with locals who want to practice speaking English.
What are the visa options to live in Bangkok?
Tourist Visa: A tourist visa allows visitors to stay in Thailand for up to 60 days. This visa can be extended once for an additional 30 days.

Non-Immigrant Visa: This visa is suitable for those who plan to work, study, or invest in Thailand. It is valid for up to 90 days and can be extended up to one year.

Education Visa: This visa is for students who plan to attend a language school, university, or vocational program in Thailand. It is valid for up to one year and can be extended as long as the student remains enrolled.

Retirement Visa: This visa is for individuals who are 50 years or older and want to retire in Thailand. It is valid for one year and can be renewed as long as the individual continues to meet the visa requirements.

Business Visa: This visa is for individuals who plan to conduct business in Thailand. It is valid for up to 90 days and can be extended up to one year