The Best Greek Islands To Visit
Are you visiting mainland Greece soon? Is Athens your primary destination? Think twice and make sure you add a few days to your itinerary to visit magical Greek islands!
The Greek islands don't require any introduction. They're well-known all around the world for being the ideal summer holiday location. Though Greece is enormous, deciding where to go, especially when it comes to the best Greek islands to visit, can be tough. So here is a list of the best Greek islands you should visit! 
The Nine Best Greek Islands 
Scattered across two major seas, the Aegean and the Ionian, the Greek islands island has their own vibes, so you can rest assured that each of them will offer you new experiences.
Santorini
Santorini, the most famous island of the Cyclades, was formed after a great volcanic eruption that led to unique geography in the world, which has made it one of the best Greek islands.
In addition to the geography, its beautiful towns and white churches with blue roofs, and doors are trademarks of the island. Among the towns, Oia stands out above all, a fairytale town located among the most beautiful in the world that boasts of having the best sunset views on the entire island.
During your visit, visit Oia first thing in the morning, before the cruise passengers and tourists arrive so that you can get lost in its streets and take photos with ease. In the afternoon, all you have to do is to watch the sunset, which is considered to be one of the best.
Coworking Spaces in Santorini
Caveland, which is originally a hostel, also stands out as a good coworking space. Although it may not be a coworking space that digital nomads are used to in Europe or the US, it's a good choice to consider. There are also many cafes and restaurants which offer good internet connection and a nice atmosphere when you need to catch up on your emails.
Corfu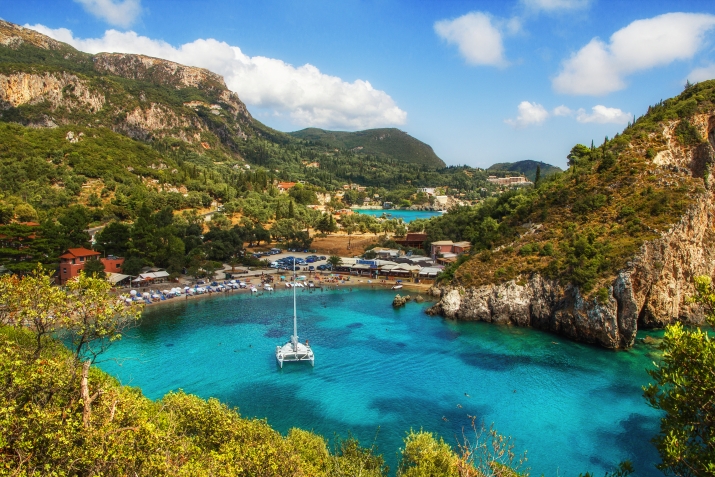 Corfu is one of the most beautiful and charming islands. This island offers everything to suit any type of digital nomad, from beautiful green hills to royal mansions, lovely Corfu beaches to museums.
Corfu boasts a diverse range of activities thanks to the island's strong tourism industry. Corfu is home to several magnificent reefs, underwater caverns, and old shipwrecks, therefore diving is a popular pastime on the island.
Hiking is also highly popular in the island's countryside. Corfu is traversed by numerous ancient footpaths that lead to Venetian castles, mountainous villages, olive orchards, and isolated beaches.
Corfu's Old Town has nothing to do with the Greek archetype of whitewashed houses with blue domes, but rather an architectural reflection of the French, Venetian and British forces that once ruled here. This UNESCO World Heritage Site is a mix of Renaissance and Baroque buildings.
Coworking Spaces in Corfu
There are no coworking spaces in Corfu but cafes and bars usually offer WiFi.
Crete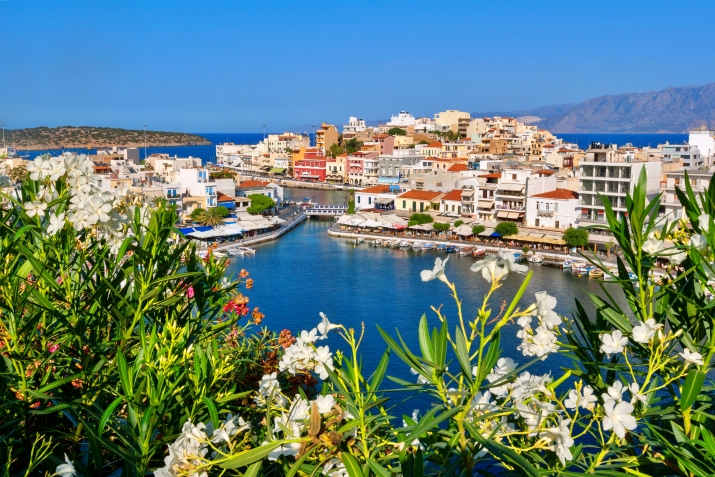 Crete is the largest of the Greek islands, with over 1,000 kilometers of coastline. As you drive along the coast, you will inevitably experience the island's natural beauty, such as its mountains and sea views.
Crete is huge, and it is divided into four administrative regions: Chania and Rethymno on the west, Heraklion and Lassithi on the east. Crete's northern shores are more developed in terms of tourism, while the southern coasts maintain a more secluded atmosphere. Chania and Heraklion are two of Crete's most populous towns with outstanding medieval architecture.
When in Crete, enjoy its famously healthy and balanced diet made up of seasonal fruit and vegetables, fresh fish, olives, homemade bread, and local cheeses. 
Coworking Spaces in Crete
Crete boasts several coworking spaces. Greek Escape is one of them and it also offers a coliving area where you'll be able to meet fellow digital nomads. Pom and FuckUp are the other two popular coworking options in Crete.
Mykonos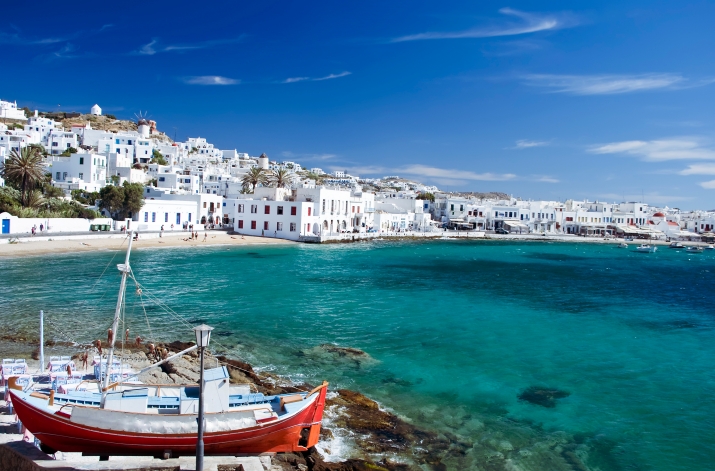 A list of the best Greek islands wouldn't be complete without Mykonos. Mykonos is one of Greece's most popular spots. To get a good picture of what to expect when visiting the island, think of great beaches, and a wild party scene. Also, the classic whitewashed Cycladic villas along the sea and the stone-paved pathways add to the magical atmosphere of Mykonos.
Mykonos has pristine beaches, a variety of activities, and ancient and religious structures. The island is famous for its long, golden beaches, which provide excellent amenities such as busy beach bars. But mind you, it's also known for its luxurious attitude when it comes to accommodation and restaurants. If you're on a budget, staying there for a long time might cost you a fortune.
Coworking Spaces in Mykonos
At the time of writing this guide, there is no designated coworking space on the island. However, the active lifestyle ensures that you will always find a cafe or bar where you can work during the high season.
Lefkada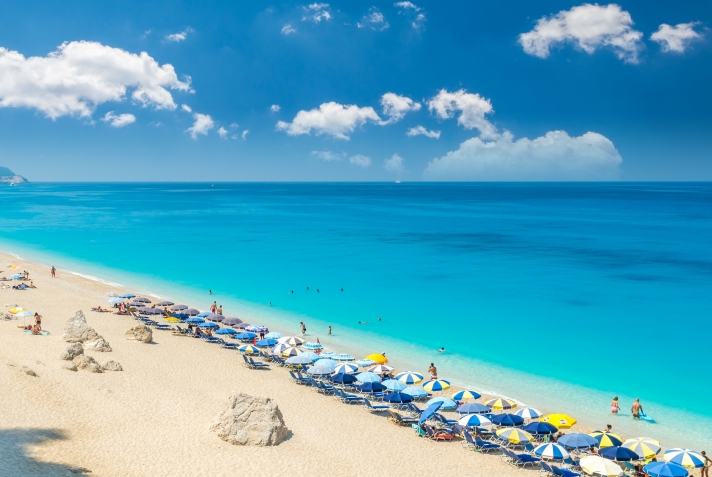 Lefkada is a great option if you're looking to escape the hustle and bustle of Mykonos and Santorini. One advantage of Lefkada over other Greek islands is that you can drive to this beautiful island. A small bridge connects mainland Greece and Lefkada, where you are welcomed by the turquoise bays of the Ionian Sea. 
Porto Katsiki and Egremni beaches are the most famous and among the most beautiful in Europe. Thanks to these iconic views, Lefkada is known as the Caribbean of Greece…
Apart from the beaches, Lefkada also offers seaside towns and waterfalls…In Lefkada, you can enjoy fresh local food and many water sports. Despite being one of Greece's most beautiful and well-known islands, Lefkada has remained relatively undeveloped and authentic.
Coworking Spaces in Lefkada
Greece Islands don't boast many alternatives when it comes to coworking spaces. But, luckily, there is one in Lefkada, called Lefco.work. It's a great place to work and meet fellow nomads.
Rhodes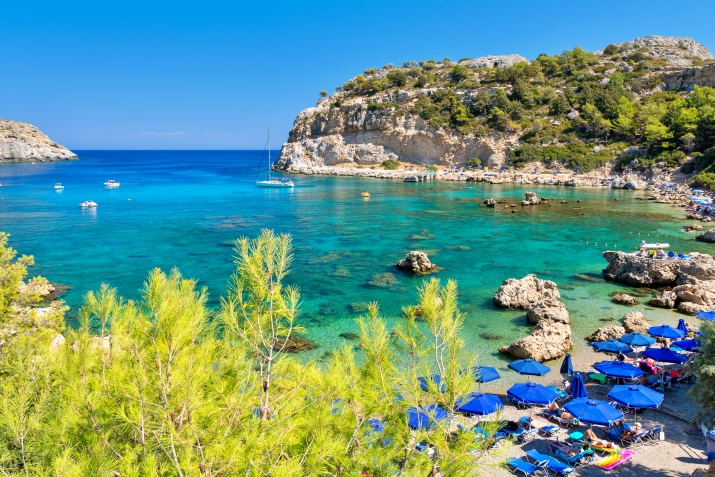 In a unique way, Rhodes combines a cosmopolitan atmosphere with medieval architecture. Amazing beaches, fashion boutiques, top restaurants, and dance clubs meet the natural landscape, ancient towns, and attractive villages. 
Rhodes Old Town is the island's most notable landmark. The Unesco World Heritage Site of Rhodes Old Town is one of the best-preserved medieval towns in Europe. If you're a history buff, stroll along the paved alleys and pay a visit to the Venetian Castle, the Knights' Street, and the Grand Master's Palace for a unique experience.
The beaches of Rhodes are considered to be among the greatest in Greece. There's no way you won't find the perfect beach for you, whether it's secluded or bustling. Some of the nicest beaches on the island are Lindos, Anthony Quinn, Faliraki, Tsambika, Kallithea, and Agathi.
Coworking Spaces in Rhodes
There are no designated coworking spaces in Rhodes as of 2022. However, as Greece is turning into a digital nomad hub, we expect that a lot of coworking spaces will emerge soon. 
Paros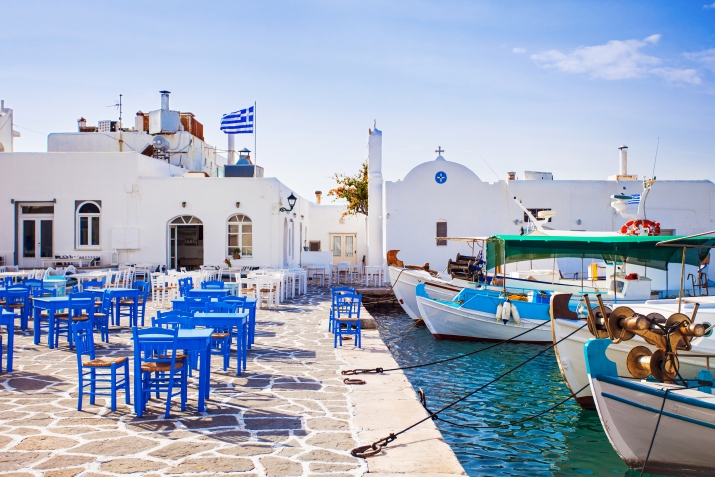 The Cyclades island of Paros is located in the middle of the Aegean Sea. It's one of Greece's most well-known vacation spots. It's a blend of traditional Cycladic architecture, vibrant nightlife, stunning beaches, enchanting rural towns, and historical sites that brings together modern and traditional aspects in a unique way.
Paros offers sand beaches, lush slopes, and cliff-top villages. It features a gorgeous natural setting and 120 kilometers of coastline. Are you a fan of water sports? Then Paros will be your ideal spot! It is a top destination for water sports like windsurfing and kitesurfing because of the favorable wind conditions provided by the "Meltemi" breeze.
Paros's proximity to popular islands such as Mykonos, Santorini, and Naxos makes it an ideal location for island hopping, too.
Coworking Spaces in Paros
We've done an extensive search to find a coworking space in Paros but there seems to be none. Fair enough. Maybe you can use this as an opportunity to relax and unwind by enjoying what Paros has to offer.
Zakynthos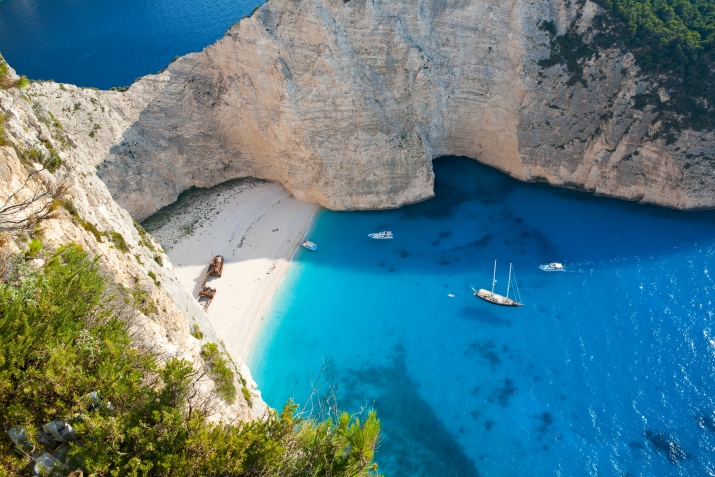 Zakynthos is situated in the heart of the mesmerizing Ionian sea and boasts a wonderful natural landscape and magical beaches. The picturesque Navagio (Shipwreck) beach is the island's trademark. Navagio Beach features magnificent blue waves, white sand, and spectacular towering rocks.
Because Zakynthos is primarily a tourist destination, there are several things to do. In Zakynthos, diving is a popular pastime, and several dive centers have opened on the island.
Apart from Shipwreck Beach, there are a number of other beautiful Zakynthos beaches to visit, including Laganas Zante, Gerakas Beach, Vasilikos Beach, and Spiantza Beach. Every spring and summer, the endangered Caretta-caretta sea turtles lay their eggs on some of these beaches.
During your visit to Zakynthos, you can enjoy partying, scuba diving, island tours, and water sports.
Coworking Spaces in Zakynthos
There is no coworking space in Zakynthos but let's be honest. Working can wait for a few days when you have Zakynthos waiting for you to explore it…
Kos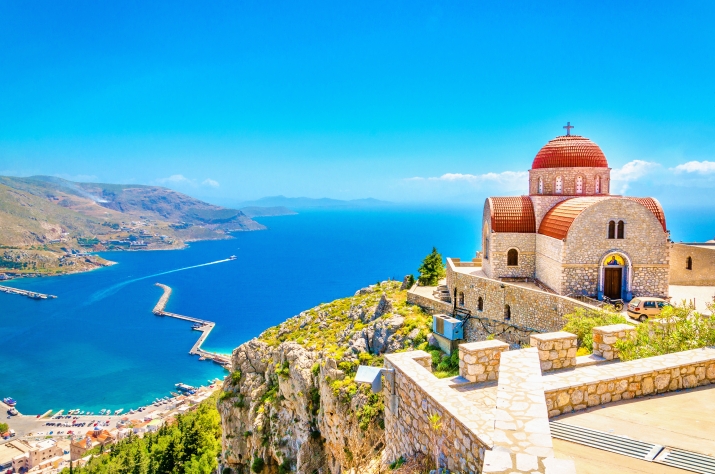 Following Rhodes, Kos is the second most popular Dodecanese island. The island, which is known for its ancient sites, lovely beaches, and lush vegetation, attracts about one million visitors each year.
The island of Kos has a 5,000-year history and has been influenced by a variety of cultures, including the Ancient Greeks, Romans, Venetians, medieval Knights, and Ottomans.
Sightseeing is one of the nicest things to do on the island, thanks to the relics of all these cultures.
It's no surprise that Kos is known as the "Cycling Island," as the bicycle is a common mode of transportation on the island. There's also a 13-kilometer riding path that runs from Faros beach to Psalidi beach, perfect for bike strolls. Aside from the riding road, there are other mountain biking paths that are suitable for cycling in the great outdoors.
Coworking Spaces in Kos
There is no coworking space in Kos but you can easily find WiFi when you need to complete some tasks…
When To Visit the Greek Islands
Officially, the tourist season in Greece runs from April to October, with July and August being the peak months. During these two hot months, the popular Greek islands attract the majority of visitors, but the more remote islands maintain their tranquil environment.
If you want peace, April and June are ideal. It will be easier to find low-cost accommodations and book lower-cost flights during this season.
How To Travel Between the Greek Islands?
Most of the airports in the Greek islands only service domestic flights. This means you'll need to take a connecting flight from Athens to your final destination. Ferry connections are significantly more popular to travel to the islands. All of the islands are connected to at least one mainland port, and ferries are less expensive than flights.
How To Visit Greek Islands: Visas and Requirements
The EU citizens don't need a passport or visa to travel to Greek islands as long as they have a valid ID card. 
The non-EU and other citizens need a valid passport to enter the islands. For some countries, a visa is required too. However, if you're from the US, the UK, Australia, and a few other countries, you don't need a visa as long as your stay in Greece doesn't exceed 90 days.
If you plan to live on a Greek island for more than 90 days, you can consider getting a Greece Digital Nomad Visa which lets you stay in Greece for one year.
Greece Islands for Digital Nomads
There you have it… If you're looking to recharge and get inspiration for a few weeks, go ahead and plan your trip…The Greek Islands will offer you more than what you're looking for. Just a reminder, if you're used to working in dynamic coworking spaces, staying on a Greece island for a long time may not be ideal for you. Still, you can take this opportunity to relax, plan your tasks, and fill up with energy for the rest of the year.
Have you ever been to any of the Greece islands…How was your experience? Let us know…