Best Countries To Retire in 2022
When it comes to retirement, a rising number of people, particularly Americans, are opting to go overseas. The cost of living, quality of life, and cultural accessibility all play a role in how tempting a country is to retire to later in life. 
In this survey by US News & World Report, countries are ranked on seven attributes, based on scores from people 45 years or older who consider themselves "upper class. These attributes are;
Affordability

Favorable tax environment

Hospitality

Is a place I would live

Pleasant climate

Property rights

A well-developed public health system 
The following are the top five on the 2021 Best Countries for a Comfortable Retirement.
1st: Switzerland
In the overall 2021 U.S. News Best Countries list, Switzerland has risen to the top as the best country for a comfortable retirement. Because it is perceived as a country with a favorable tax climate, the European country may appeal to retirees. It also received good marks for economic stability, a well-developed public health system, low corruption, and as a very safe country to live in.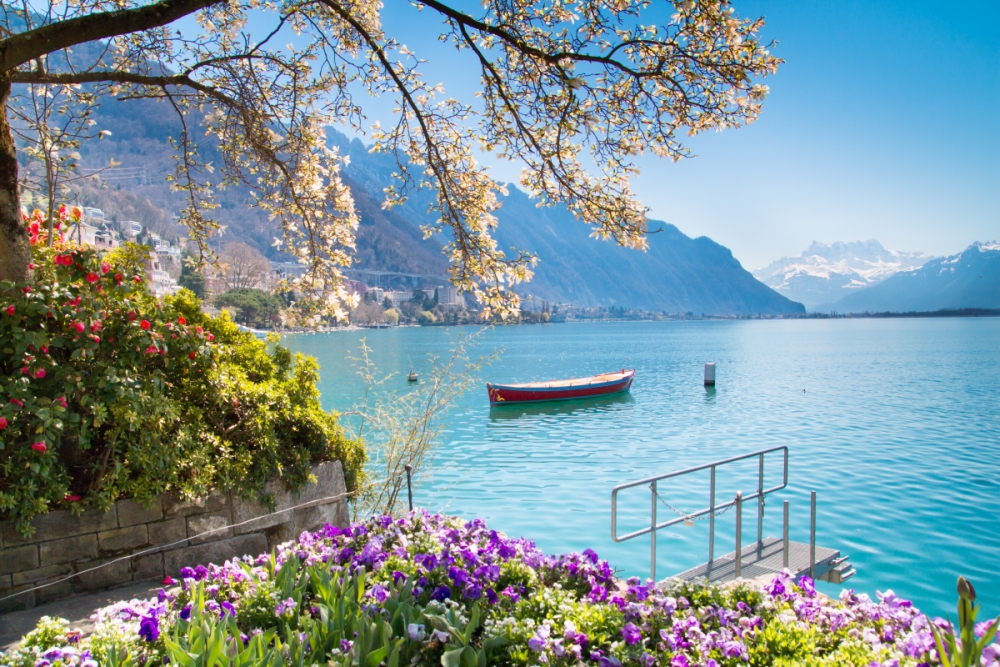 Lake Geneva, Switzerland
How Can I Get Retire in Switzerland?
For retirees desiring to move to Switzerland, the nation offers a reasonably open policy. In order to get Swiss residence, which is required for retirement in Switzerland, foreign persons must satisfy specific conditions. It's crucial to note that these standards vary based on your nationality and the Swiss canton in which you intend to reside. You may apply for a residence permit if you are over 55 and not employed. You must provide evidence of financial independence as well as proof of accident and medical insurance. You must have a connection to Switzerland, whether through blood, property, company, or financial investment. 
Switzerland Healthcare
When applying for a Swiss residency permit, foreign citizens must provide proof of valid health and accident insurance. You have three months from the time your residence application is granted to obtain mandatory health and accident insurance before visiting Switzerland. You will be required to make monthly payments after registering for Swiss health insurance. Your yearly deductible is determined by your insurance policy. A retention charge is also included in Swiss health insurance. This is fixed at CHF 700 per year for adults and CHF 350 for kids.
Best Swiss Cities To Retire
Switzerland has a great deal to offer pensioners having enough money to make use of its facilities. Although being one of the most pricey countries in the world to live in, certain Swiss locations are less costly.
The best Swiss cities for retirees are:
Vaud
Zurich
Zug
Appenzell Ausserrhoden
2nd: New Zealand
After four years as the greatest country for a comfortable retirement, New Zealand has dropped to second place, despite being the most scenic country and the area where poll respondents said they would most like to live. Note that New Zealand is also in the Top 3 of safest countries in the world.
Those considering retiring to New Zealand should make sure they have a good savings account, as both temporary and parent retirement visas have strict financial criteria.
How Can I Get Retire in New Zealand?
For individuals considering retirement in New Zealand, there is a temporary Retirement Visitor visa option available. You can add your partner to the application with it.
To qualify for Temporary Retirement Visitor;
You must be at least 66 years old 
Have a two-year investment of NZ $750,000 (about $524,835) 
Show annual income of at least NZ $60,000 (about $41,987
Another NZ $500,000 (approximately $349,890) to live 
The visa is valid for two years and can be renewed.
It prevents you from working
Allowing you to travel in and out of New Zealand for 2 years.
New Zealand Healthcare
New Zealand people have access to a variety of healthcare choices. Both public and private health care are included. Residents get discounted or free health care since taxes fund national healthcare. In New Zealand, those holding a resident class visa are also able to get free or discounted health care. However, after you have a residency permit, you must enroll with a general practitioner (GP) in order to get public health care.
Best New Zealand Cities To Retire
Because of its numerous benefits, New Zealand is unquestionably one of the most appealing countries for foreign retirement. Mild weather, breathtaking landscape, beautiful beaches and high mountains, financial and political stability, and also English-speaking people are just a few of the benefits.
The best New Zealand cities for retirees are:
Marlborough
Bay of Islands
Central Otago
Kapiti Coast
Auckland
3rd: Australia
According to survey respondents, Australia's safety, health-consciousness, and nice people, all add to the allure of gorgeous landscapes and mild winters in the country.
While the high expense of living in major cities may be a deterrent for some, as a retiree you can pick from a variety of smaller cities and rural towns.
How Can I Get Retire in Australia?
There are two types of visas to retire in Australia;
Standard Retirement Visa
People above the age of 55 are eligible to retire in Australia. You cannot have any children, excluding your spouse, who can be below 55. In the first case, those who file for a regular retirement visa will be granted a four-year temporary visa. The visa could be extended on a two-year rolling basis once this time period has expired. You must show that you will be in excellent health and have no criminal history records in order to be eligible.
Permanent Australian Retirement Visa
To be eligible for this, you must follow more severe rules and restrictions. Permanent Australian visas are regarded as investment visas, and as a result, you would be asked to show that you have assets worth a certain amount. This amount will vary depending on where you want to retire in Australia. However, here's a basic rule of thumb:
Assets worth $750,000 plus an extra $500,000 for any dependents in a high-growth region.
$500,0000 in assets plus an extra $250,000 for any dependents in the Low Growth Region.
Prior to applying for a permanent Australian visa, you must establish that you have possessed these properties for at least two years.
Australia Healthcare
In Australia, the average lifespan is high, and health and social care services are high quality. Retirees must keep in mind that they will not be eligible for any government or medical benefits while living in Australia and will need to obtain their own completely comprehensive insurance coverage from an Australian firm.
Best Australian Cities To Retire
For many over-60s, where their children and grandkids reside, what facilities are accessible, decent transportation links, and inexpensive housing will all play a role in their decision. It also doesn't hurt to have good all-year-round sunlight.
The best Australian cities for retirees are:
Sunshine Coast, Queensland
Coolangatta, NSW
Hunter Valley, NSW
Mornington Peninsula, Victoria
Huon Valley, Tasmania
Kadina, SA
Geraldton, WA
4th: Spain
Spain is regarded as one of the most globally connected countries and one of the most culturally accessible. Expatriates may find it easier to retire in the country than in other countries.
How Can I Get Retire in Spain?
Spain is a wonderful nation to live in, and acquiring a "Residence Visa" makes it easy. All you need is a steady source of income and sufficient savings. Before applying, be sure to read the criteria, but here's what you'll need to bring:
Proof of funds (POF)
Certification of 'absence of criminal history
Travel documents or passport 
Health insurance
A visa application form
Health certificate
Golden Visa Program in Spain
Spain has a "Golden Visa" program that makes residency permits easier to get for anyone who spends at least €500,000 on real estate in the country. So if your overseas retirement includes Spain and you have the funds, you can consider Spain Golden Visa.
Spain Healthcare
There are two types of medical systems in Spain: public and private. People paying into the Spanish security system and their families have access to public treatment. If someone does not want to wait a long period to get treated, they have to choose private healthcare, which offers a variety of possibilities.
Best Spanish Cities To Retire
You must first pick which location is the greatest fit for you before moving to Spain. Spain is the ideal country in which to retire since it has so many wonderful cities. Some include coastlines and mountains, while others include rural areas or bustling metropolitan cores. 
The top cities in Spain for retirees are:
Barcelona
Granada
Madrid
Malaga
Valencia
5th: Portugal
Portugal is among the top five countries for a comfortable retirement in this year's report. The country receives good marks from survey respondents for its pleasant environment, friendly people, and the fact that it is a place where they would want to reside.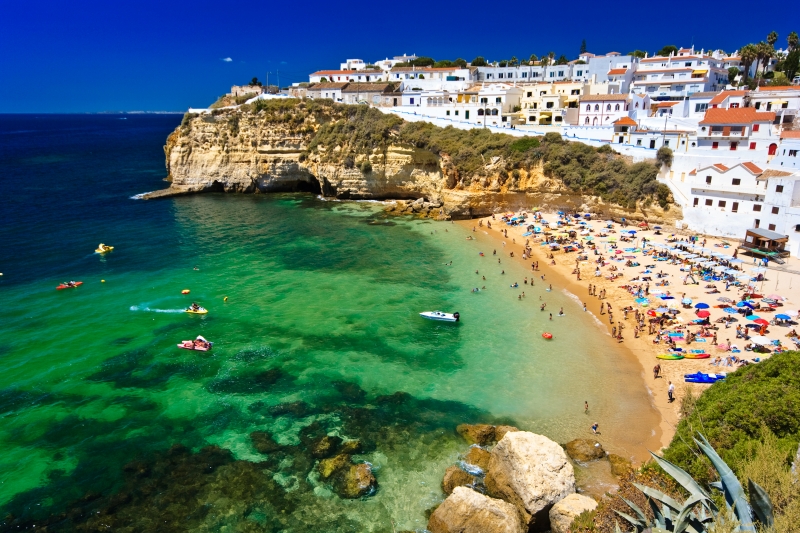 Algarve, Portugal
Interested to learn more? Here are the countries that make up the rest of the top 20.
6. Canada
7.  Ireland
8. Italy
9. Sweden
10. Panama
11. Norway
12. Greece
13. The Netherlands
14. Denmark
15. Costa Rica
16. Austria
17. Finland
18. Belgium
19. The Dominican Republic
20. Thailand
Reference: US News & World Report