Best Freelance Marketplaces in 2023
Freelancing jobs have been quite popular in recent years, and many people are becoming interested in this opportunity. Companies use freelance platforms and marketplaces to find temporary workers for projects or positions that do not require permanent staff. You can build a profile on these platforms, post your work portfolio, communicate with prospective employers, and start making money.
Freelancers who want to make more money now have more options than ever before. If you're a freelance talent who has ever wanted to take a major leap into the world of freelancing, now is the moment to do so.
Top 10 Freelance Marketplaces
There are numerous freelance marketplaces and platforms available, but you must select the best freelance marketplace so that you can avoid scams. We've listed the 10 best freelance marketplaces that you might check out. At the bottom, we've also added some other alternatives worth checking.
Upwork 
Trustpilot score: 4.5/5
G2 Score: 4.6/5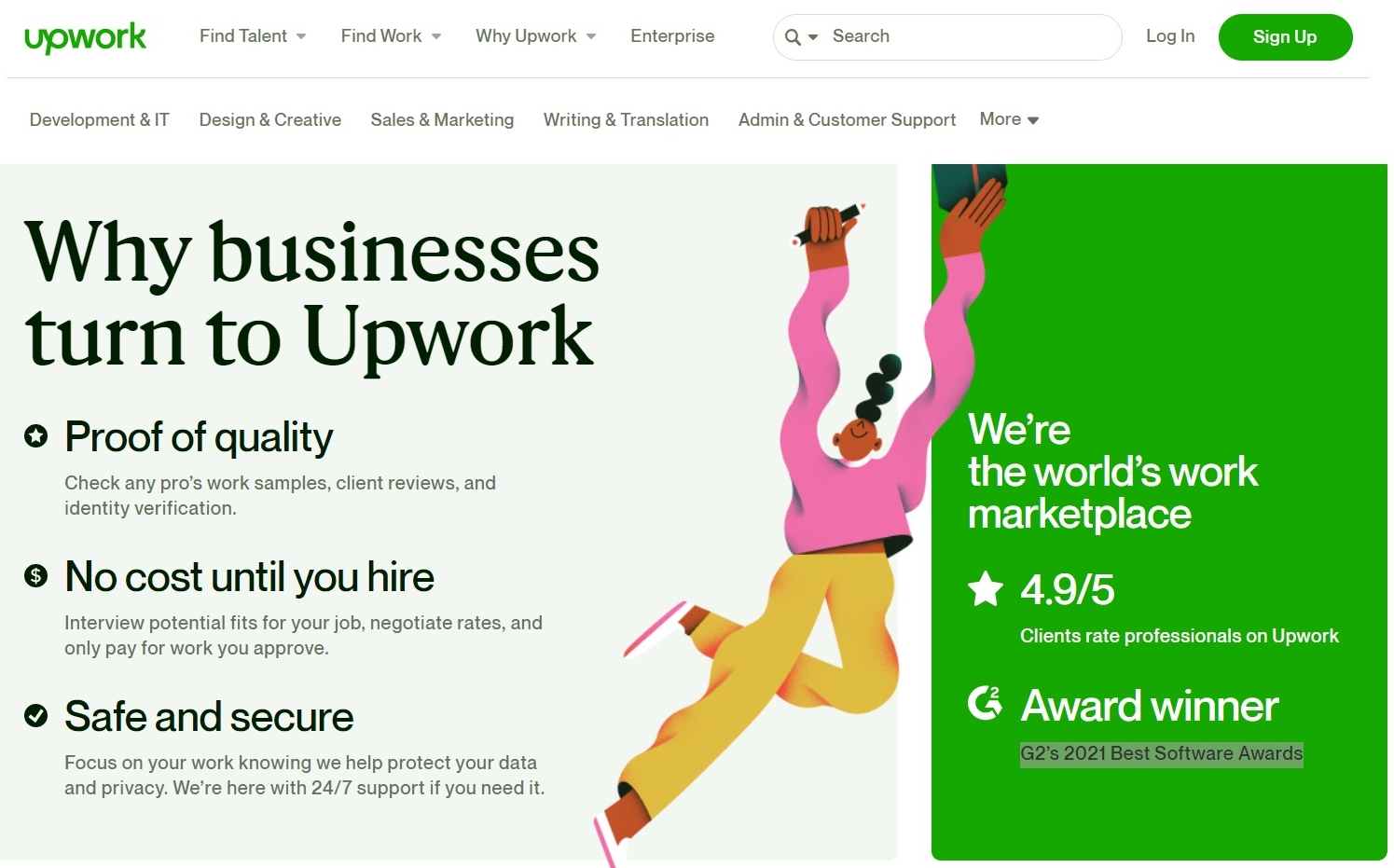 Upwork is a well-known freelance marketplace, and there are a variety of reasons to use it. It focuses on marketing and software development and lists freelancers in every possible career and major business. Upwork validates and reviews freelancers, ensuring that clients are working with a trustworthy one. Before making an offer, they can also look at a freelancer's work samples.
After a company posts a project, you can apply directly. Upwork offers a wide range of short and long-term contracts, and it's simple for freelancers and small businesses to get started.
They charge a 20 percent fee at first, which decreases as you continue working with the same client. If you bill $500 for the same client, the fee drops to 10 percent, and if you bill $10,000 for the same client, they only charge a 5 percent commission.
Fiverr 
Trustpilot score: 4/5
G2 Score: 4.3/5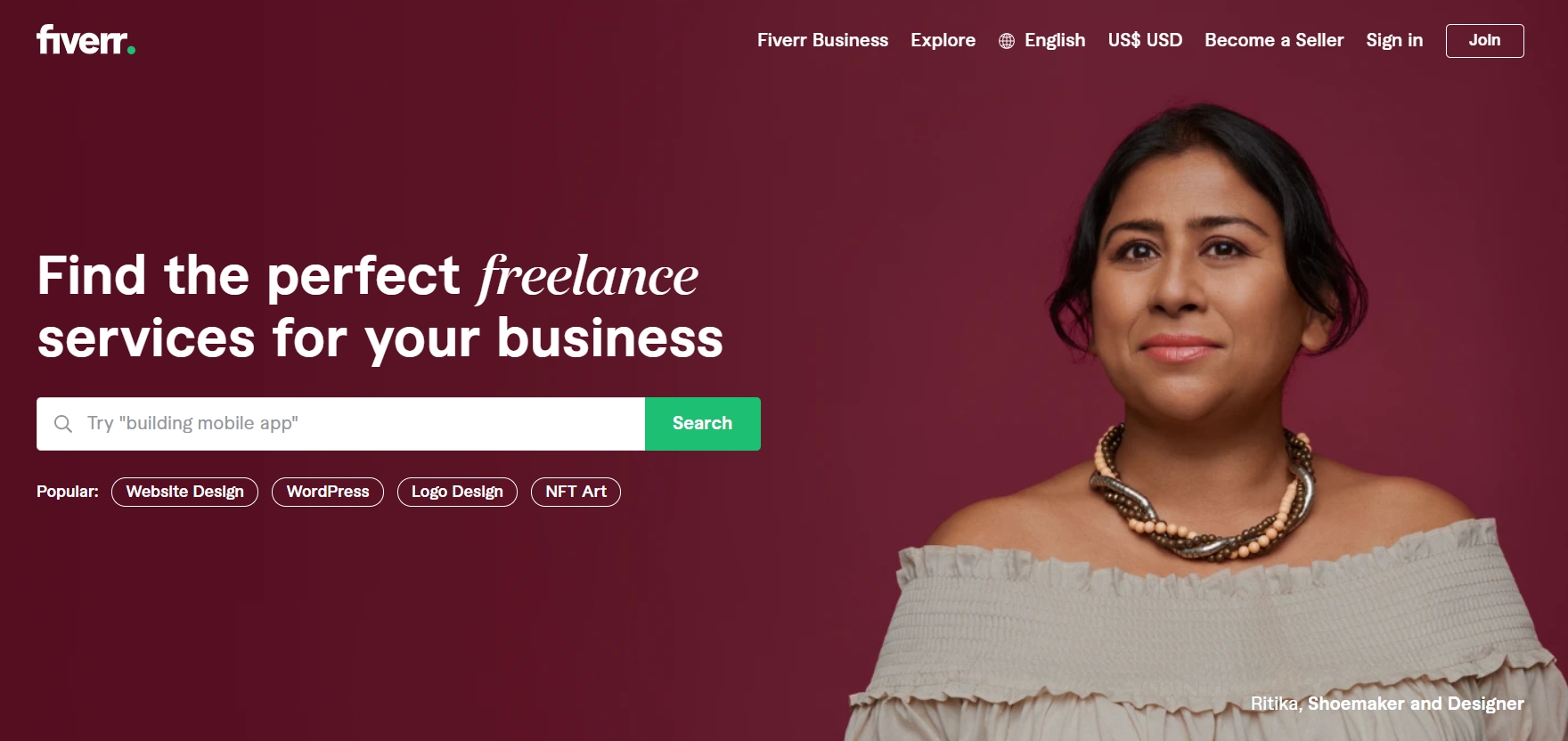 Fiverr is one of the most popular freelance marketplaces. It has been operating since 2010, and it claims to be used by over three million companies, including Netflix and Facebook.
Companies can locate any type of freelancer on the site, and freelancers can find jobs no matter what they do. There are also many low-cost opportunities in Fiverr, thanks to the free listings. But it's worth noting that because of the free listings, Fiverr's transaction fees are a little higher than those of many other sites.
It's free to join the site and free to list gigs on Fiverr, and everyone can take advantage of secure payments. Businesses can also pay for a premium subscription that includes vetted freelancers, hand-picked talent matching, and a project management dashboard.
Freelancer 
Trustpilot Score: 4.6/5
G2 Score: 3.9/5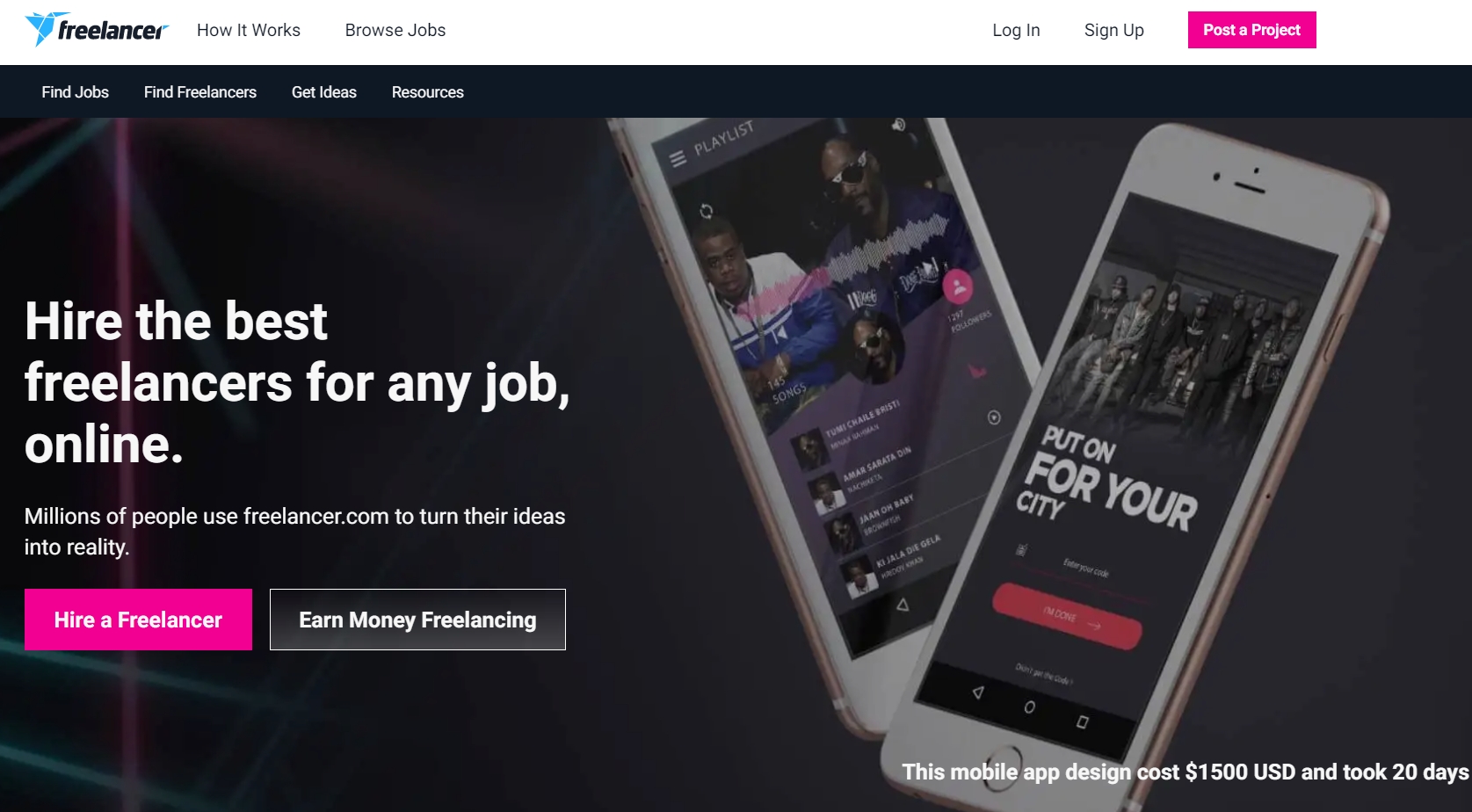 For small and medium-sized enterprises in need of skilled expertise and experience, Freelancer website is a gem. You as a freelancer can 'bid' for work that is available to you, and you will be paid safely and on schedule. The live chat feature also makes it easier for you and your clients to communicate.
Employers can post any size project on the site with any type of payment option, and they only pay when they're happy with the work. The site's live chat and dedicated app make it simple to manage the projects, and freelancers may use the app to communicate with managers and receive job posting alerts.
Because of its large user base, simple job posting, and mobile app, Freelancer.com is an excellent alternative for both freelancers and employers.
PeoplePerHour 
Trustpilot Score 4.2/5
G2 Score: 2.9/5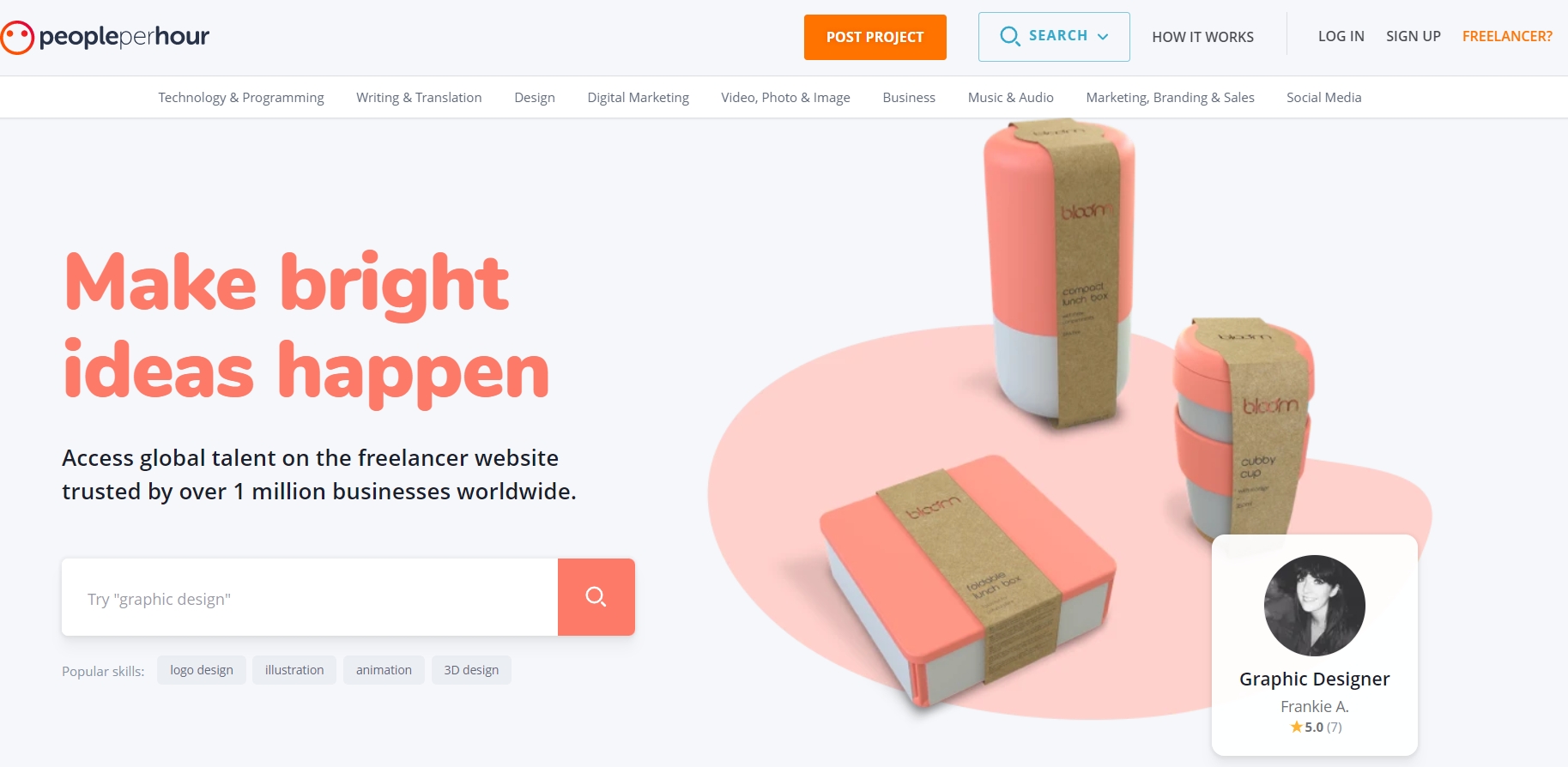 Nearly 1 million enterprises and 2.4 million freelancers use PeoplePerHour around the world. It connects businesses with a global network of freelancers, and every work is vetted and graded. They have a good project authoring tool and cover a lot of topics, such as web development, social media, and web design.
Companies can post any small or large job on this site, and freelancer ratings and evaluations allow them to hire freelancers who are more likely to provide high-quality work.
As a freelance talent, you can apply for certification, which will increase you trustworthiness in the eyes of employers, and you can invest time creating a unique profile to make yourself stand out. The site has AI technology to link freelancers with possible assignments based on their skills and experience.
Toptal 
Trustpilot Score: 4.5/5
G2 Score: 4.1/5

Toptal is a freelance marketplace that was created to assist businesses in locating top-tier independent freelancers, such as developers, designers, financial specialists, and project managers. To be approved into the platform, freelancers go through a detailed screening process, but the tasks available to win can be incredibly profitable.
Toptal doesn't have the largest job or user database, but that's the point. This freelance marketplace only includes world class freelancers. To ensure that only the best applicants are accessible, Toptal employs a thorough screening procedure that includes language and personality assessments, skills tests, live screening, and test projects. Only three percent of Toptal's freelance applications are chosen for projects, according to the company, and each job is hand-picked by industry specialists.
We Work Remotely 
Trustpilot: 3.5/5
G2 Score: 4/5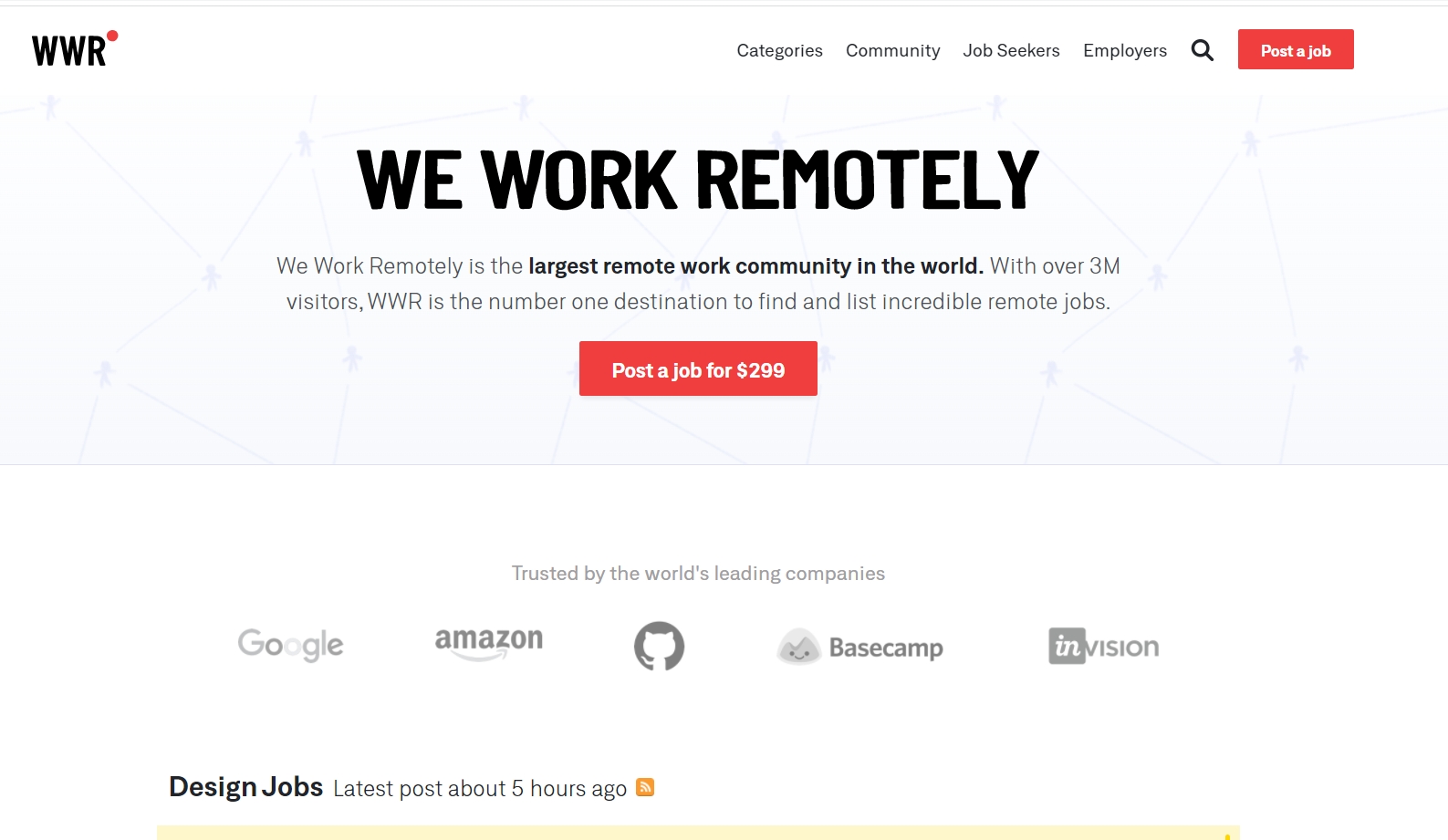 We Work Remotely claims to have about three million monthly users. They have a lot of employment openings with a lot of design-related opportunities.
People and companies looking for designers must pay a one-time fee of $299 to list on We Work Remotely, which serves as a screening process that eliminates low-quality work leads. This is a legitimate site, trusted by Google and Amazon, which have posted jobs on it. What's more, you don't even need to make a profile; all you have to do is click on a job link and you'll be sent straight to it.
FlexJobs 
Trustpilot score: 4.2/5
G2 score: 4.5/5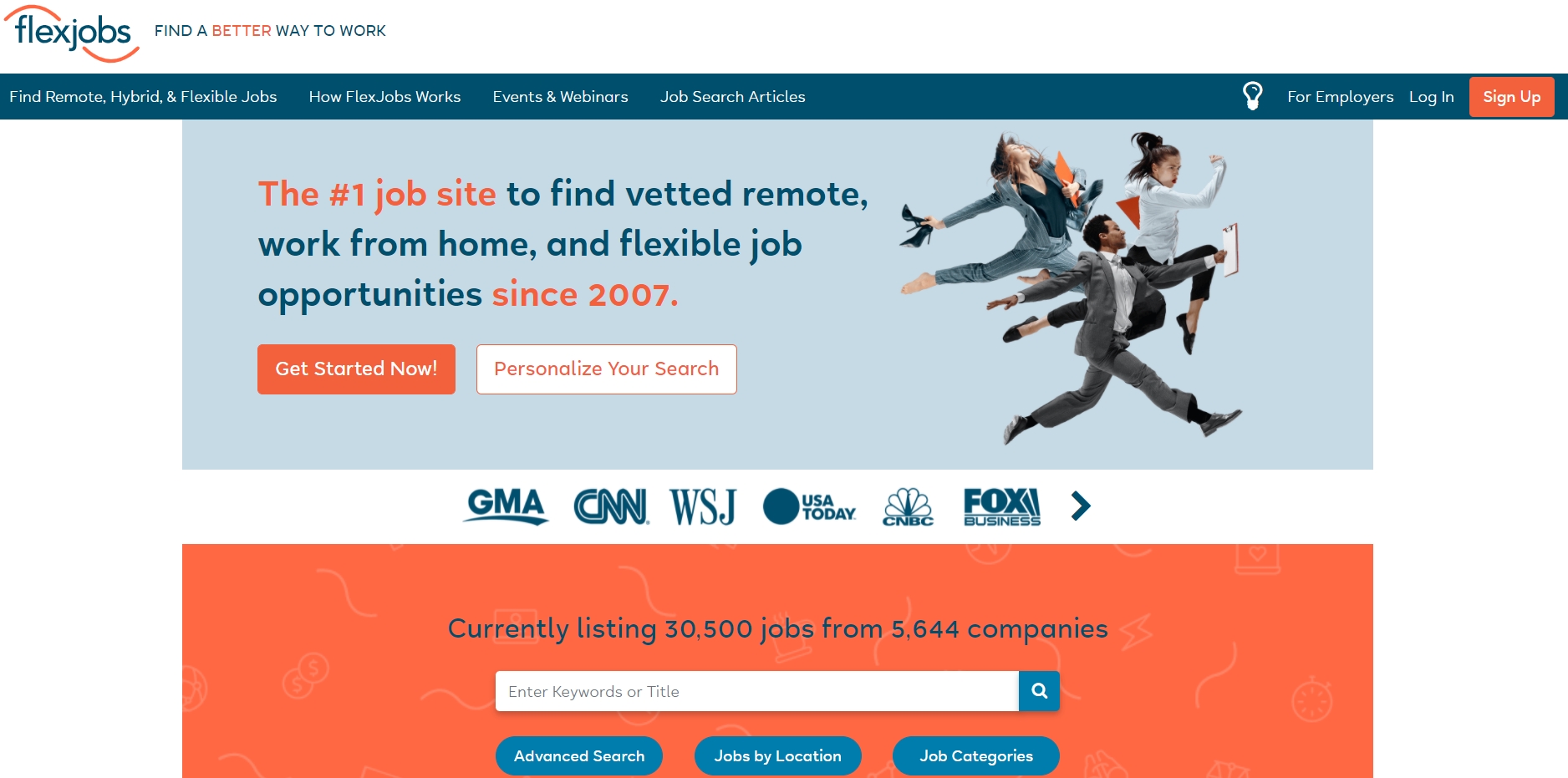 FlexJobs focuses on flexible, remote work options, as the name implies. Project management, content writing, and jobs programming are all available on FlexJobs. Job board filters emphasize flexibility, allowing you to search for jobs based on remote/hybrid/onsite work, work schedule, travel restrictions, and so on.
FlexJobs has a pricing policy for weekly, monthly and annual subscriptions, starting from $9.95.
As most job sites are free, paying for FlexJobs could sound strange. However, the company claims that they are not just a freelancer marketplace, but a premium job search service that offers its members personalized support.
Designhill
Trustpilot Score: 4.9/5
G2 Score: 4/5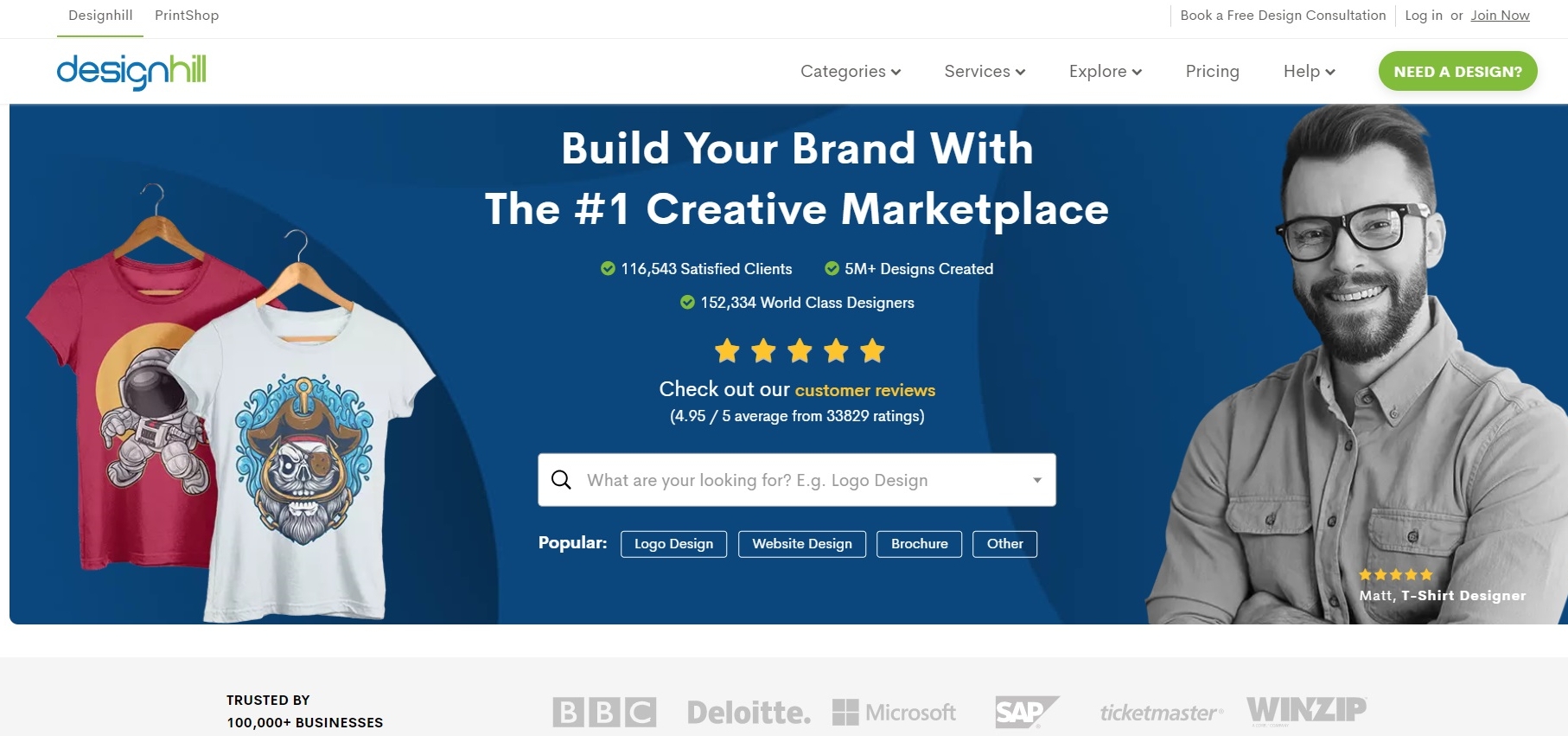 Whether you're a graphic designer, a web designer, or pursuing other sorts of design, Designhill has many opportunities for web design, logo design, and graphic design. Their enrollment process isn't straightforward, resulting in a lack of competitiveness among designers. Because there is less competition, you have a better chance of getting paid more.
BBC, Deloitte, and Microsoft are among the businesses that use Design Hill.
DesignCrowd 
Trustpilot Score: 4.4/5
G2 Score: 3.4/5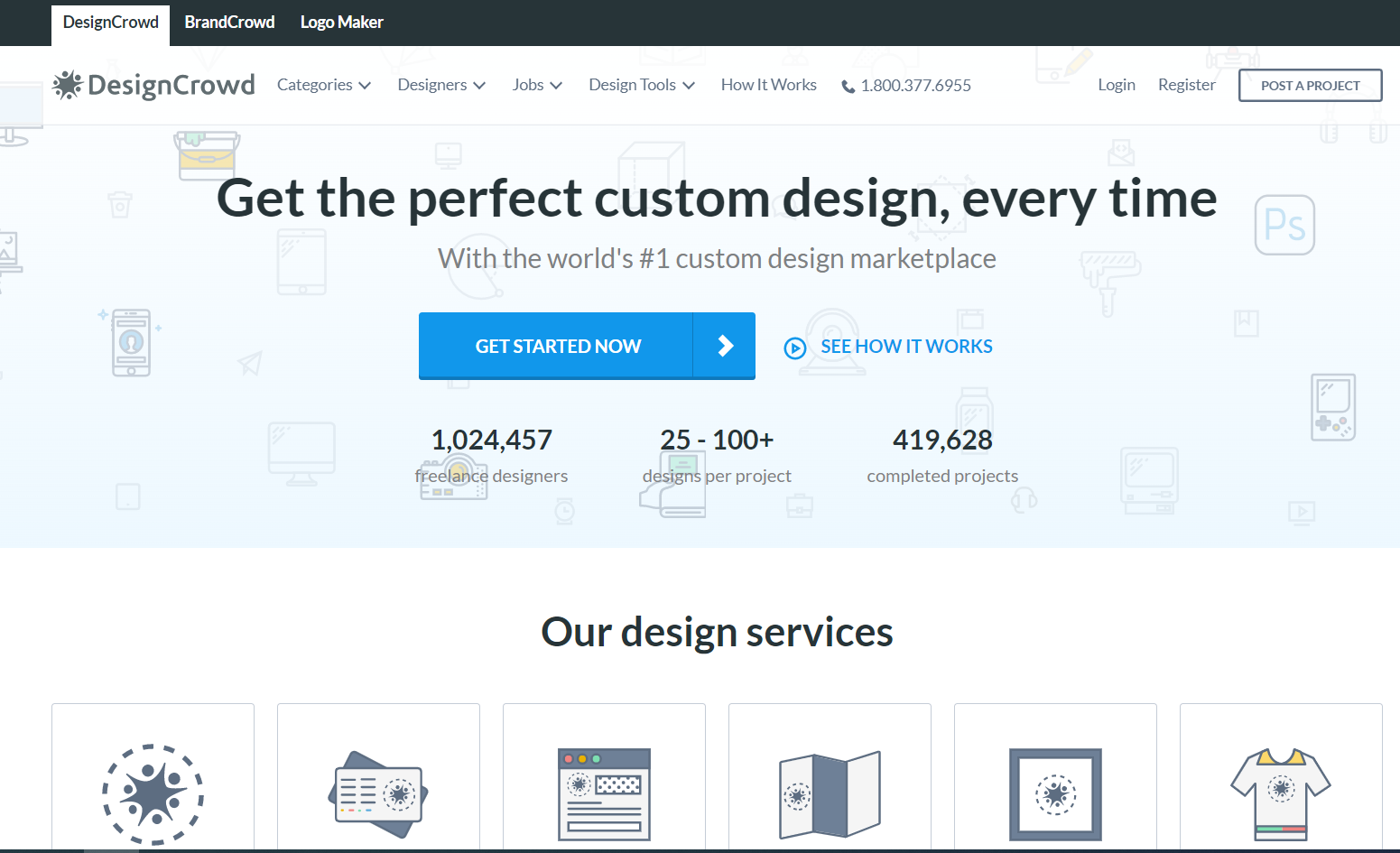 DesignCrowd is a design job board that connects freelance designers with job opportunities all over the world. It's a large freelance marketplace that caters to clients who are after variety.
As a freelance designer, you can create your profile for free and start browsing jobs that match your skills. Apart from gigs, you can also earn money by winning the design contests they organize.
YunoJuno (only for UK-based freelancers)
Trustpilot Score:4.6/5
G2 Score: Not enough insights to get a score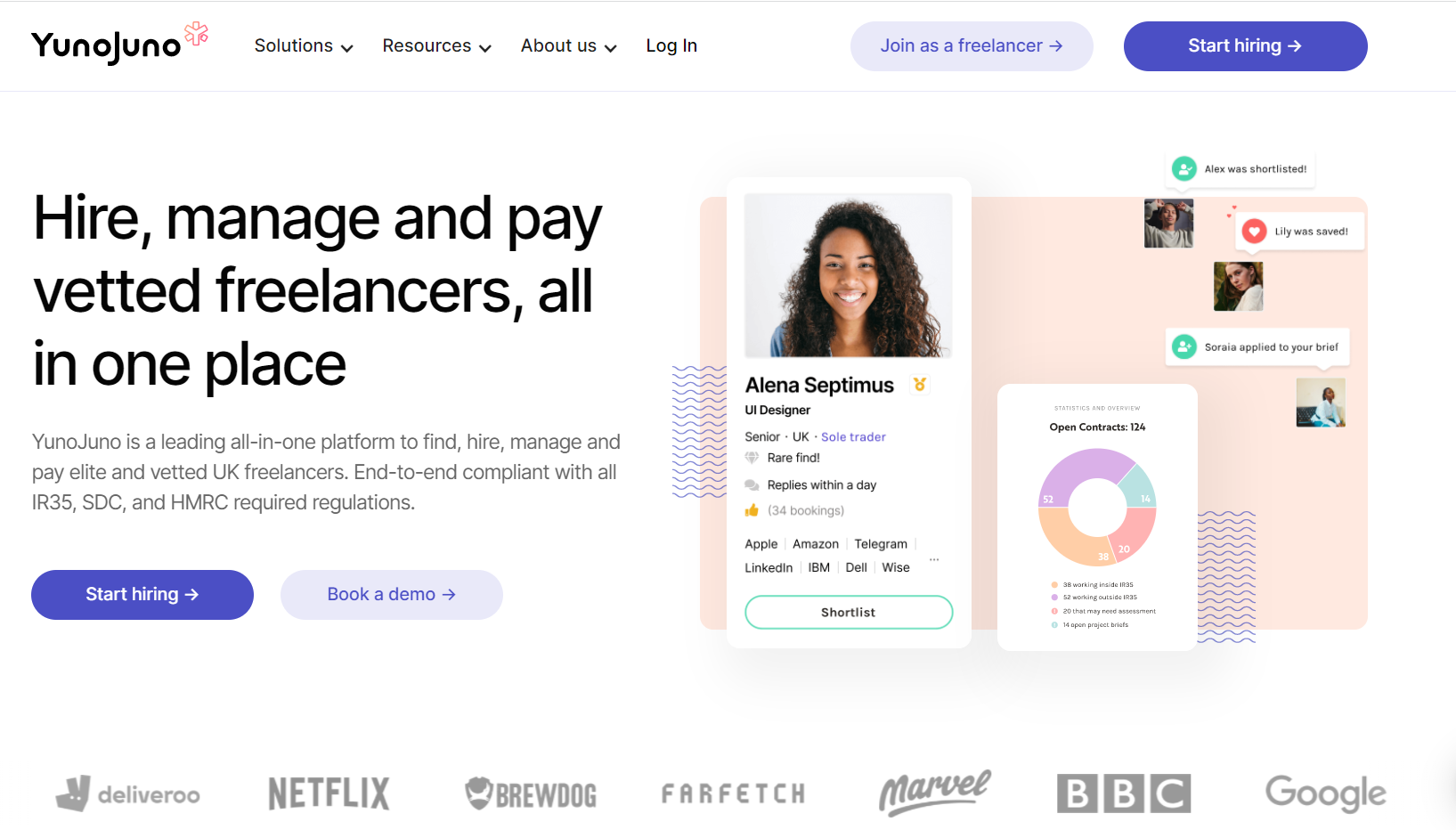 YunoJuno is a freelance marketplace for creative people based in the United Kingdom. They were founded to champion "the future of employment" for innovative businesses and creative individuals.
If invoicing and collecting payments is your least favorite aspect of freelancing, YunoJuno might be a good fit for you. You send your invoice to YunoJuno directly, and they pay you within 14 days, saving you the hassle of dealing with clients.
YunoJuno boasts a database of over 70,000 freelancers and 12,000+ companies. It also has a 98% positive booking rating and the average match time is 24 hours.
If you're based in the UK, YunoJuno might be a good option for you.
Other Freelance Marketplaces Worth Mentioning
There you have it we've given you a quick overview of the best freelance marketplaces where professional freelancers can sign up and start earning money through freelance jobs. Here are some other sites that you should also check out!
Guru
Guru has a vetting process for freelancers that allows them to demonstrate their credentials to potential clients. Invoicing for your services is very straightforward, thanks to the site's integration of numerous payment terms and secure payments.
Aquent
Aquent mostly offers job opportunities in marketing, technology, and creative fields. Because of the high quality of the work provided by the top quality freelancers on the platform, Aquent has won many awards. Aquent prefers applicants with more than two years of experience, but they also encourage fresh graduates to look at their vacant positions.
SolidGigs
SolidGigs's approach to job postings for freelancers. SolidGigs, rather than a standard job board, performs the work for you. You sign up and choose what kind of freelance gigs you're looking for and SolidGigs notifies you when they find a suitable match.
99Designs
When compared to other freelance marketplaces, 99Designs freelance website works a little differently. The clients offer the design brief, and the designers submit their applications; the client chooses the one they want, and the designer is paid for it.
CloudPeeps
Cloudpeeps has been working with companies such as L'Oreal, Airbnb, and Virgin America. You can get services for content writing, SEO, graphic design, and public relations on CloudPeeps. CloudPeeps has been launched by freelancers and entrepreneurs so they know what clients and freelancers want.
Behance 
Behance has a lot of good work to look at, including graphics, animations, web design, and mobile app development, among other things. Behance also serves as a social media platform where you can connect with other designers. Increasing your network of contacts could always lead to new design opportunities.
Bottom Line
There you have it. We've listed the most popular freelance marketplace alternatives. The terms, conditions, and commissions might change from time to time, this is why we recommend that you read the updated terms on the specific website.
If you're new to freelancing, make sure to check out our article on Best Digital Nomad Jobs in 2022.
Good luck with your search!