Best Caribbean Islands for Digital Nomads in 2023
Ever dreamt of living in a land of natural wonders where pristine beaches meet fast Wi-Fi? 
The Caribbean is quickly becoming a hotspot for digital nomads. With all the islands being a perfect blend of sun, sea, and connectivity, selecting the right one for you can be overwhelming. 
In this article, we'll dive into the top Caribbean islands tailored for the modern remote worker, comparing infrastructure, cost of living, and those idyllic relaxation spots. 
 Dive in and let's find your next remote-working paradise!
Factors Making a Place Ideal for Digital Nomads
Reliable Internet Connectivity: Fast and stable Wi-Fi is non-negotiable for remote work.

Affordable Cost of Living: A budget-friendly locale ensures longer stays and more financial freedom.

Safe Environment: Low crime rates and good local healthcare are essential.

Flexible Accommodation Options: From co-living spaces to extended stay apartments, varied lodging is a must.

Co-working Spaces: Offering networking opportunities and an office-like environment.

Cultural and Recreational Activities: Downtime is just as important; the local scene should be rich and engaging.

Good Weather: Favorable climatic conditions enhance productivity and overall well-being.

Easy Transportation: Efficient public transport or walkable cities make daily life easier.

Friendly Visa Policies: Longer stays and hassle-free entry make for a smoother experience.

Community: Presence of other digital nomads or expats can offer support, networking, and camaraderie.
Why Caribbean Islands Stand Out as Digital Nomad Havens
When we turn our gaze to the Caribbean islands, they stand out for a few more reasons that digital nomads should consider:
While renowned for its natural beauty, the Caribbean is also making strides in technological infrastructure and boasting unique cultures. With islands that boast a fusion of languages, cuisines, and festivities, every day feels like a celebration. 
Furthermore, their tropical climate, interspersed with the occasional refreshing rain, guarantees that your work breaks can quickly morph into beach breaks. And let's not forget: the locals, with their warm smiles and embracing nature, make you feel not just as a tourist, but as a part of their expansive family. 
Another undeniable perk of the Caribbean allure for digital nomads is the introduction of digital nomad visas across many of its islands. Recognizing the evolving dynamics of work, these sun-kissed paradises are rolling out the red carpet for remote professionals. These visas not only offer extended stays, usually up to a year, but also simplify bureaucratic hurdles, making it easier than ever to work with a view of the cerulean sea. 
While every island has its distinct terms, the message is unified: the Caribbean is open for digital business, blending tradition with tomorrow's work trends. So, if the idea of sending emails to the rhythm of calypso beats intrigues you, these islands are ready to stamp your passport to paradise.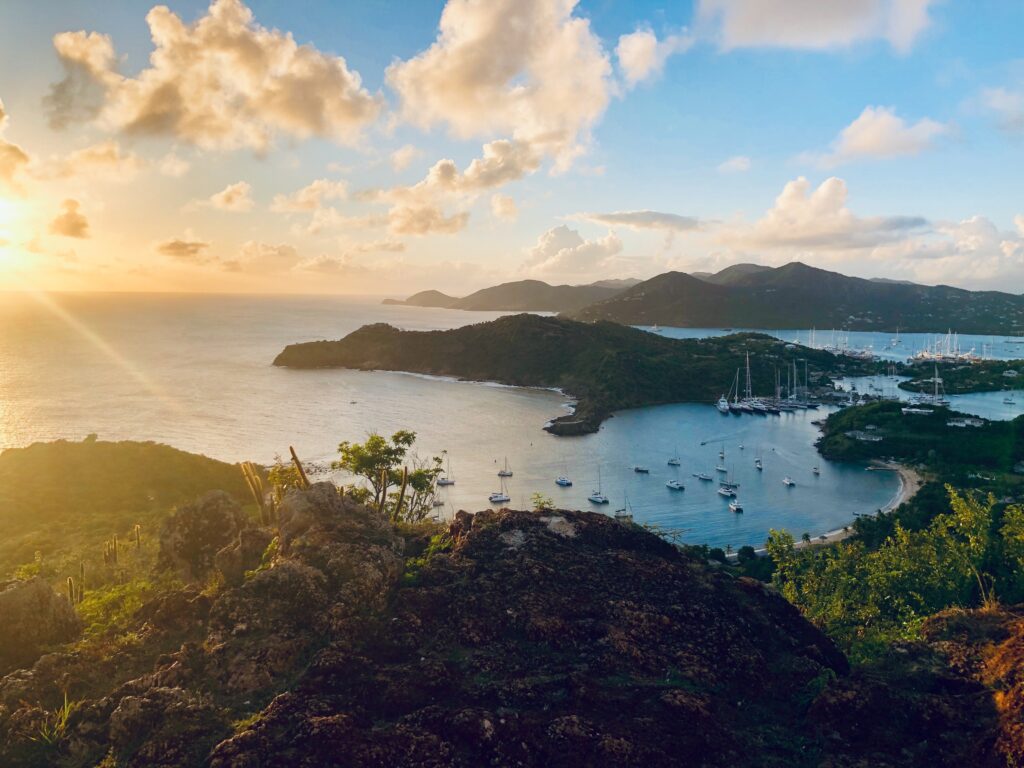 10 Best Caribbean Islands for Digital Nomads
The following are the ten best Caribbean destinations for digital nomads, all offering the best of the island life, digital nomad visas, high internet speed, a vibrant digital nomad community, and countless other perks
Saint Lucia isn't just a honeymooner's paradise; it's a digital nomad's dream come true. Its lush rainforests set against azure waters offer breathtaking views, right from your workstation. Rapidly growing Wi-Fi spots and an embrace of digital innovations make connectivity a breeze. Plus, the island's nomad community organizes regular meetups, promoting networking amid nature.
St Lucia's "Live It Program" beckons digital nomads to merge work with paradise. It offers an immersive experience, allowing remote workers to dive deep into the island's vibrant culture and stunning landscapes while staying connected.
Think white sandy beaches and wind-swept divi-divi trees, Aruba promises more than just picturesque views. Its modern technological infrastructure guarantees swift internet speeds. With a rising influx of remote workers, coworking spaces and digital hubs have sprung up, fostering a budding digital nomad ecosystem. 
Aruba's "One Happy Workation Program" invites remote workers to blend business with tropical pleasure, offering nomads the chance to work from this paradise-like island up to 3 months. 
The Bahamas offers more than 700 islands of inspiration for digital nomads. Beyond its turquoise waters, it boasts a robust internet infrastructure. Downtown Nassau is rapidly becoming a hotspot for co-working spaces. Friendly locals and fellow nomads create a vibrant and supportive community ideal for the remote-working lifestyle.
The Bahamas' BEATS (Bahamas Extended Access Travel Stay) program harmonizes work with relaxation, turning tasks into delightful endeavors. Guests can relish a full year, or 365 days, of serene working conditions. Indeed, it's about cooling off while getting things done in the Bahamas.
Barbados, with its new 'Welcome Stamp' visa, is actively courting the digital nomad tribe. Not only does it offer impeccable beaches, but also lightning-fast internet. Bridgetown brims with innovative co-working spaces. Mix business with the laid-back Bajan vibe, and you have a work-life balance many only dream of.
For a duration of 12 months, visitors can indulge in the Barbadian experience through the Welcome Stamp, designed for both individual digital nomads and their families. With a yearly income prerequisite of $50,000, once greenlit, the Barbadian charm opens its arms to travelers – including their furry companions.
Anguilla's serene beaches are just the start of its nomadic appeal. Its state-of-the-art technological amenities guarantee consistent connectivity. Local cafes double up as impromptu workstations, brimming with nomads keen on blending work with the island's tranquil atmosphere. Anguilla provides the perfect escape from the 9-5 grind. 
Another allure of Anguilla for the remote workers is its Beyond Extraordinary Anguilla program, which allows them to stay on the island for up to a year.
Dominica's allure goes beyond its famed waterfalls and volcanic landscapes. As a hub for geothermal energy, it's an emblem of modernity amidst nature. Reliable internet and a growing community of remote workers make Dominica an emerging favorite among digital nomads.
Digital nomads and their families can benefit from the Work in Nature (WIN) visa, granting them residency on the island for a span of 18 months. A prerequisite is showcasing an earnings threshold of $50,000. . The country thrives on its commitment to eco-tourism, ensuring its natural charm remains untouched. To work in Dominica is to truly savor life's finest offerings.
Curaçao isn't just vibrant in color, but in spirit too. Willemstad teems with digital hubs, offering fast Wi-Fi and vibrant working environments. The island's multicultural vibe is a boon, providing global networking opportunities. Plus, after work, indulge in some world-class snorkeling – a definite perk!
This beautiful Dutch territory of the Caribbean offers a program called @HOME in Curaçao for digital nomads, allowing them to stay on the island for a period up to six months.
Bermuda, with its pastel-colored homes, combines old-world charm with modern digital readiness. Their one-year residential certificate is an invitation for digital nomads to experience consistent high-speed internet, surrounded by paradisiacal landscapes. The local and expat blend here facilitates both cultural immersion and global connections.
Bermuda presents a 'Work From Bermuda' certificate, which allows a pass for the remote workers and digital nomads alike to reside on the island for up to a year.  
Known as the 'Island of Spice', Grenada adds flavor to a nomad's life. St. George's is sprinkled with cozy work cafes that offer more than just a caffeine fix – think super-fast Wi-Fi. The growing digital community here regularly shares tips, be it on the best snorkeling spot or the next tech tool.
The Grenada government offers a digital nomad visa valid for a year, aiming to bolster local enterprises and communities as visitors relish the refreshing coastal winds. With an annual earnings benchmark set at roughly $37,000, it's an appealing choice for the cost-aware remote worker.
Antigua and Barbuda are a dual-island gem for digital nomads. The islands offer a plethora of picturesque work spots combined with top-tier internet facilities. The bustling community of remote workers ensures you're never too far from a fellow digital traveler or an exciting tech seminar.
Antigua and Barbuda offer a two-year-valid Nomad Digital Residence visa which requires the applicants to earn at least US$50,000 annually.
Tips to Live on a Caribbean Island 
🌴 Embrace Island Time: Things might move slower than you're used to. Instead of getting frustrated, align with the laid-back pace.
🌞 Protect Your Tech: Salt air, humidity, and sand are everywhere. Invest in protective cases and screen guards for your devices.
🍹 Stay Hydrated: With tropical heat, it's easy to get dehydrated. Drink plenty of water and coconut water. And yes, occasional island cocktails count too!
📡 Always Have a Backup Internet Plan: While many islands offer great Wi-Fi, storms can disrupt connections. Consider a local SIM card or mobile hotspot.
🏄‍♂️ Breaks are Essential: Dive into activities – snorkeling, hiking, or just beachcombing. Recharge your mind to boost productivity.
💬 Engage with Locals: Locals often have the best recommendations, from hidden beaches to quiet cafés perfect for working.
🍍 Eat Local: Not only is it fresher and tastier, but it also supports local businesses and helps you save.
🔌 Adaptors & Power Banks: Caribbean islands might have different power outlets. Bring adaptors and a reliable power bank.
🎵 Enjoy the Rhythms: Let local music inspire your work. Calypso, reggae, or zouk can be the perfect backdrop for creativity.
🎒 Pack Light & Smart: While the Caribbean is casual, have a couple of smart-casual outfits for nights out or local events. Remember, less is more!
🚖 Learn the Transport: Buses, ferries, or shared taxis might be different than back home. Know the ropes to move around seamlessly.
🌅 Relish the Moment: Remember, you're living in paradise. Even on busy workdays, take a moment to watch the sunset and be grateful.
Internet Speeds by Caribbean Island
The following table showcases the available data on downloading speeds by megabits per second for some of the best Caribbean islands for digital nomads to live on. 
| | |
| --- | --- |
| Country | Broadband Speed |
| Barbados | 109.41 |
| Bahamas | 61.75 |
| Grenada | 57.07 |
| Saint Lucia | 52.3 |
| Dominica | 34.9 |
| Antigua and Barbuda | 21.24 |
The Wrap-Up
To sum up, the Caribbean islands are stepping up as ideal havens for digital nomads in the evolving landscape of remote work. Countries like Barbados, Bahamas, Grenada, Saint Lucia, Dominica, and Antigua and Barbuda are not just stunning travel destinations but are also becoming digital workspaces with their tailored visa programs.
These islands offer an exquisite mix of reliable broadband speeds, picturesque scenery, and a stress-free working environment. From the rhythm of Barbadian life to the tranquil shores of Dominica, each island provides a unique experience, blending work with the joys of island living. 
As the world continues to adapt to the new normal, it's clear that the Caribbean is set to become a hotspot for those seeking a balance between profession and paradise. Whether you're a solo traveler or relocating with family, the Caribbean awaits with open arms and connected shores.
Frequently Asked Questions
What are the best Caribbean islands for digital nomads?
The best Caribbean islands for digital nomads include Barbados, Bermuda, Dominica, and Saint Lucia. Each island offers unique amenities and a welcoming environment for remote work.
How can a digital nomad apply for a Caribbean digital nomad visa?
Most Caribbean nations have dedicated portals or immigration websites where digital nomads can apply for their digital nomad visa. The requirements might vary by country, but typically, proof of income and health insurance coverage are essential.
Do all Caribbean nations offer a digital nomad visa?
Not all, but many Caribbean nations have introduced Caribbean digital nomad visas to attract remote workers. Research is crucial to determine which island nation best suits your needs.
How does the cost of living for a digital nomad in the Caribbean compare to other regions?
The cost of living varies across the Caribbean. While some islands can be more affordable, others, especially the best Caribbean islands for luxury tourism, might have a higher cost. Researching the cost of living for your chosen island is vital before relocation.
As a digital nomad, will I get health insurance coverage on these islands?
Health insurance coverage is a prerequisite for most Caribbean digital nomad visas. Digital nomads must typically provide proof of comprehensive health insurance coverage during their stay.
Are there any Caribbean nations that are British Overseas Territories with a digital nomad visa program?
Yes, Bermuda, a British Overseas Territory, offers a digital nomad visa for remote workers looking to experience life in this picturesque island nation.
What should a digital nomad consider before choosing a Caribbean nation for work?
A digital nomad should consider factors like the cost of living, broadband speed, local amenities, health insurance coverage requirements, and the specifics of the Caribbean digital nomad visas.
How long do Caribbean digital nomad visas typically last?
The duration of Caribbean digital nomad visas varies by country. While some offer it for a year, others might extend it for up to two years.
Is a digital nomad visa different from a tourist visa in Caribbean nations?
Yes, a digital nomad visa is designed specifically for individuals who wish to work remotely from a Caribbean nation. It often has a longer duration and different requirements than a standard tourist visa.
Are there any Caribbean digital nomad visa forums or groups a digital nomad can join?
Absolutely! Many online platforms and social media groups are dedicated to digital nomads in the Caribbean. Joining these can provide insights, reviews, and first-hand experiences about living and working in your chosen island nation.