What Is Ecolodge? The Definition and Top 20 Ecolodges in the World
Over the past ten years, ecotourism has developed significantly, and more people are now willing to spend a little more and stay in an ecolodge. But what is ecolodge? Or, more specifically what is ecotourism?
The guiding principle of ecolodges and ecotourism is to manage a tourism enterprise so that a fair portion of the gains remains in the local community hosting the visitors. It also minimizes the impact on the environment and gives visitors a more fulfilling experience in nature.
Digital nomads and travelers who want to experience nature while promoting ecotourism prefer to stay at an ecolodge. Luckily, you have more options than ever before when it comes to choosing an ecolodge thanks to more and more lodgings adopting environmentally friendly practices.
In this guide, we'll cover the following
Let's get started!
What Is Ecolodge: Criteria of an Ecolodge
All the requirements for these lodgings to qualify as ecolodges are listed in the International Eco-Lodge Guidelines of 1999. 
According to this, the lodging must have the following features:
It is close to a natural area and situated in a rural or natural area that is not significantly impacted by smog, pollution, traffic, noise, or urban development
It employs systems that safeguard the environment against pollution and degradation
It frequently employs energy-saving systems and, in some cases, renewable energy technologies
It employs or has access to nature interpretation guides who have received biology training or who have extensive local knowledge of the natural habitat
In order to inform guests and visitors about the local biology, it offers books, posters, maps, photographs, orientation presentations, and other informational materials
It assists in educating guests, staff, and visitors about the importance and value of a healthy ecosystem, as well as describing how to enjoy the area without negatively impacting it
It benefits the local economy and demonstrates that ecotourism is a more sustainable way to earn money in the long run than destroying or modifying habitats for short-term gain
An eco-lodge is almost always located in remote areas, usually in the heart of an unspoiled natural environment, to allow visitors to truly connect with the surrounding wilderness.
The eco-lodge concept places a strong emphasis on environmental preservation. Its goal is to demonstrate that it is possible to settle in a territory without altering its environment, as well as to set up initiatives to ensure that tourist activity preserves the surrounding fauna and flora.
Benefits of Ecolodge and Ecotourism
Ecotourism has the potential to protect the local flora and fauna

Ecosystems can be preserved in their natural state

Can aid in raising awareness of our environmental issues

People will learn how to reduce their environmental impact

It is beneficial to educate your children

Ecotourism can make you feel good

You can go exploring in unspoiled nature

Locals may also find it exciting

Ecotourism has the potential to preserve ancient knowledge

Ecotourism encourages the use of renewable resources

You can learn about new cultures

Ecotourism can help to improve a region's overall infrastructure

Locals rely heavily on this source of income

Additional funds can be used to protect the environment

Ecotourism can help a region combat unemployment
How To Follow Ecotourism Principles
When the core principles of ecotourism are followed, it has the potential to stimulate financial growth in developing countries while also strengthening the global economy.
Individually, you taking these baby steps toward going green may appear to have little impact. But if we all take small steps to become more conscious of our choices, we can collectively make a huge difference. 
Pack items that can be washed in the sink and dried quickly so you can wear them several times during your trip. Lightening your load also reduces baggage fees and improves plane fuel efficiency

Reduce the length of your showers, turn off the water while shaving and brushing your teeth, and reuse your towels for multiple days

Be sure to turn off the TV, heat/AC, and lights before leaving your hotel room

To avoid having your room cleaned every day by housekeeping, put the "Do Not Disturb" sign on the door

When you're done with them, give brochures and maps back, and save your trash until you can find a recycling facility

Spend some time getting acquainted with the local music, art, and cuisine. Accept the cultural differences that make it unique

Read labels and ask questions about the material of the items you're about to buy. In short, shop smart
Ecolodge vs. Ecoresort vs. Ecohotel
The primary distinction between an eco-resort and an ecolodge is the number of services offered on-site. Eco resorts are typically located on larger properties than ecolodges and may provide additional amenities such as spas, a selection of restaurants, and/or a variety of local tours. Eco resorts and ecolodges are typically located in more remote locations, such as exotic islands, forests, and mountains.
An eco-hotel, which is also known as a "green hotel", is more commonly associated with cities and towns.
How To Find and Choose an Ecolodge
The lack of a universal definition is one of the most difficult challenges that eco-friendly hotels and resorts face. How environmentally friendly must an ecolodge be in order to qualify? And who decides which accommodations are acceptable?
However, there are numerous reputable certification programs that responsible travelers can look for before booking a stay at a specific ecohotel, eco-lodge, or ecoresort.
Global Sustainable Tourism Council
The Global Sustainable Tourism Council Criteria, which are sponsored in part by the United Nations World Tourism Organization, are widely regarded as the gold standard in "green" certification.
Green Globe
Another popular certification program is Green Globe, which provides training and education for hotels/resorts, attractions, organizations, cruise ships, and various tourism industry suppliers.
Green Key
The Green Key award is the industry's gold standard for excellence in environmental responsibility and sustainable tourism operations. This prestigious eco-label represents businesses' commitment to adhering to the Foundation for Environmental Education's criteria.
20 Best Ecolodges in the World
Here is a list of some of the world's best eco stays and luxury ecoresorts. 
1. Daintree Wilderness Lodge, Australia
Daintree Wilderness Lodge is situated in a privileged location in Kuku Yalangi country, between two World Heritage Listed areas, the Daintree National Park and the Great Barrier Reef Marine Park. When you take the ferry across the Daintree River, you enter an environment unlike any other. A Botanical Ark containing ancient plant species as well as rare and unusual wildlife.
Prepare to discover hidden paths and boardwalks, swimming holes, rare birds and wildlife, and snorkel off Cape Tribulation. A destination where you can live and breathe the rainforest…
2. EcoCamp Patagonia, Chile
Explore the award-winning, sustainable dome hotel EcoCamp Patagonia in Torres del Paine National Park. We provide all-inclusive programs for hiking the W, participating in multi-sport excursions, discovering wildlife, and connecting with nature. EcoCamp was founded in 2001.
It is the world's first geodesic hotel room and the region's first fully sustainable accommodation south of the Amazon.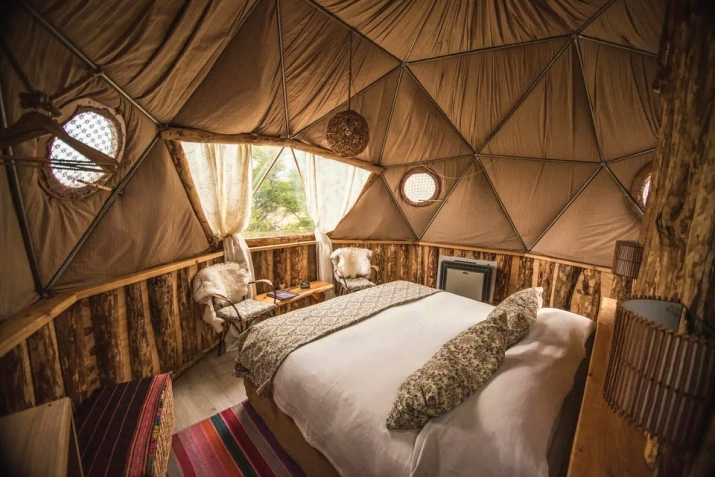 3. Lapa Rios Lodge, Costa Rica
The 17-bungalow lodge protects over 1,000 acres of primary and secondary rainforest and helps to develop the local community. Lapa Rios Lodge has won numerous awards and has been featured in international press since its inception in 1993. You can expect once-in-a-lifetime rainforest adventures, wildlife encounters, and ocean activities in this incredible environment.
While some come with an adventurous spirit in search of adventure and others in search of nature's tranquillity, both will find a plethora of opportunities to connect with this enigmatic ecosystem.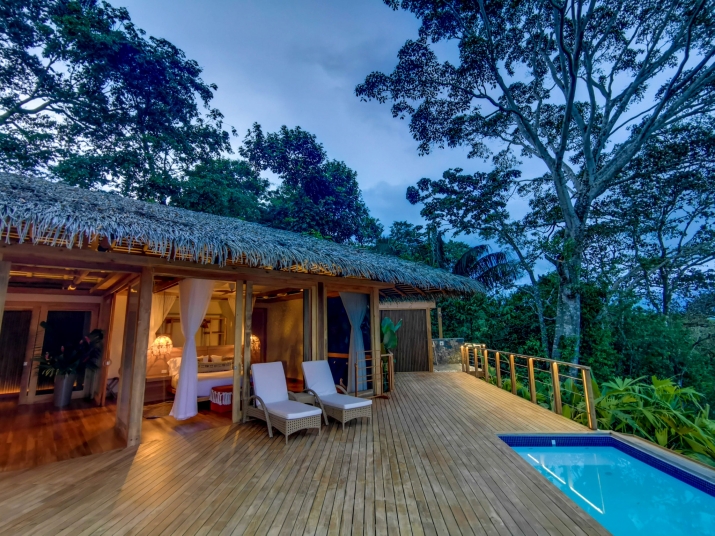 4. Campi Ya Kanzi Eco Lodge, Kenya
Campi ya Kanzi is widely regarded as one of Africa's most inspiring and environmentally friendly safari experiences. It is a luxury camp located at the foot of the legendary Chyulu Hills and offers an unrivaled combination of 5-star luxury, first-class wilderness adventure, incredible wildlife, and authentic immersion in Maasai culture. This is the ultimate African safari experience.
This ecolodge provides luxurious comfort, exhilarating outdoor adventure, unforgettable wildlife encounters, and an authentic connection to the Maasai people.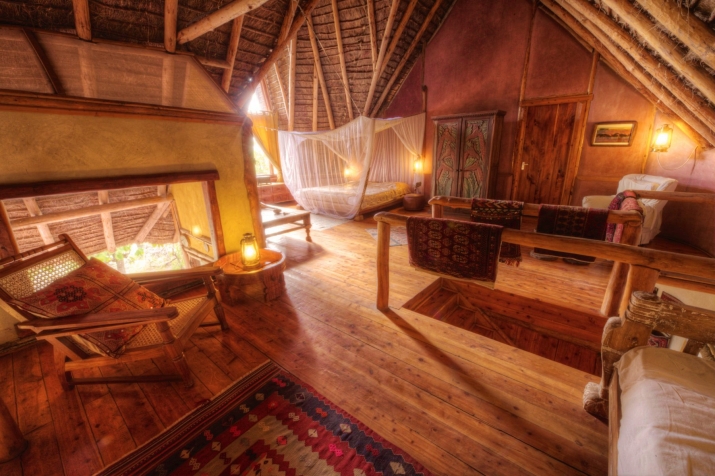 5. Phinda Forest Lodge, South Africa
Phinda Forest Lodge, one of the world's first eco-designed luxury safari lodges, is nestled within 1,000 hectares of Africa's last remaining dry sand forest. The glass walls of Phinda Forest Lodge's 16 air-conditioned suites offer a sweeping view of one of the world's most unique ecosystems, set in a rare and beautiful sand forest.
Floor-to-ceiling windows allow you to see wildlife roaming outside your glass "bubble," fluttering birds nesting in the foliage, and the soft rustle of forest sounds, while a thick canopy offers privacy.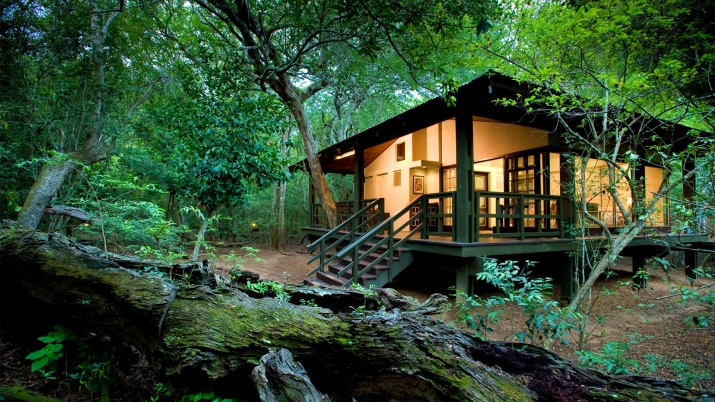 6. Topas Ecolodge, Vietnam
Topas Ecolodge is based on sustainable hotel operation values to ensure minimal environmental impact while providing guests with a unique opportunity to immerse themselves in local communities. It employs approximately 100 people, almost entirely from local villages.
They keep electricity consumption at the lodge to a bare minimum and ask guests to assist them in doing so without compromising the quality of their stay. Furthermore, the bungalows have a limited number of electronic devices and are outfitted with energy-saving bulbs.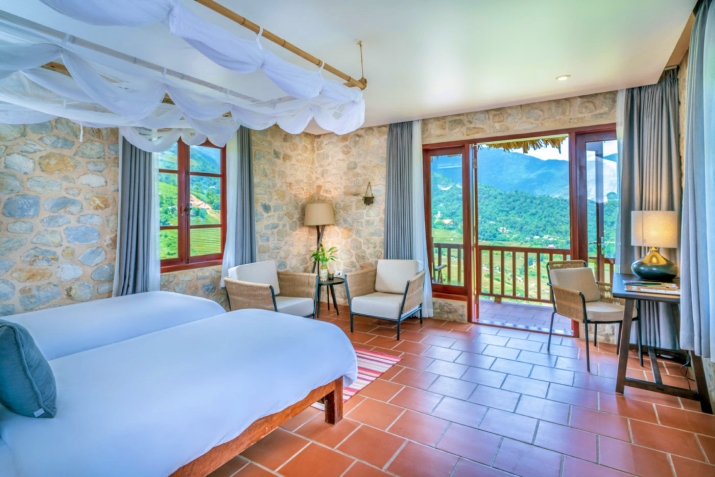 7. Garonga Safari Camp, South Africa
Luxury-tented safari romance meets the wild beauty of the South African bush setting at Garonga Safari Camp. It's a tented camp with only six luxury en-suite units, each with a canvas canopy, rustic-textured walls, and a raised wooden deck overlooking a dry riverbed. Garonga Safari Camp immerses you in nature at all times. Enjoy the view from your four-poster bed or spot wildlife such as a visiting elephant or two while relaxing on the deck lounge, which includes a hammock.
Each tent has an indoor and outdoor shower so you can enjoy nature's sounds while sleeping beneath the African sky.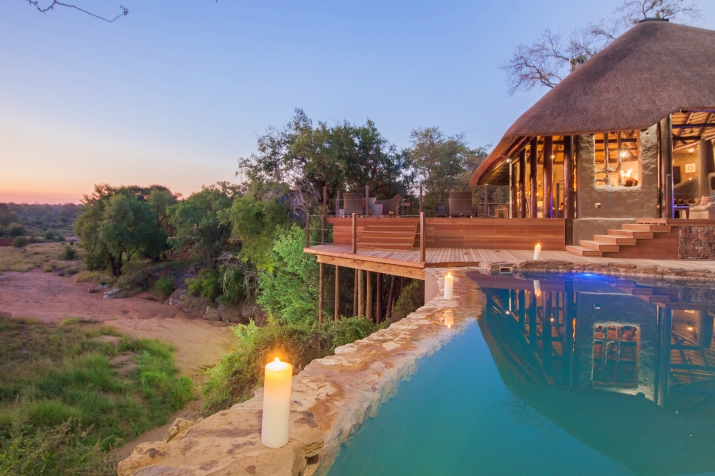 8. Kura Design Villas, Costa Rica
Kura Design Villas invites you to experience an adults-only, upscale getaway in a tropical setting. On-site, they have an organic garden greenhouse where they grow some of the herbs and vegetables that are used in their dishes. They have a garden, which is supported by their Japanese Takakura composting system, which produces microgreens, kale, peppers, basil, spearmint, and other vegetables.
They've used a lot of teak wood throughout the resort, from plush king-sized beds to the restaurant tables. Teak wood grows quickly and is regarded as a sustainable building material.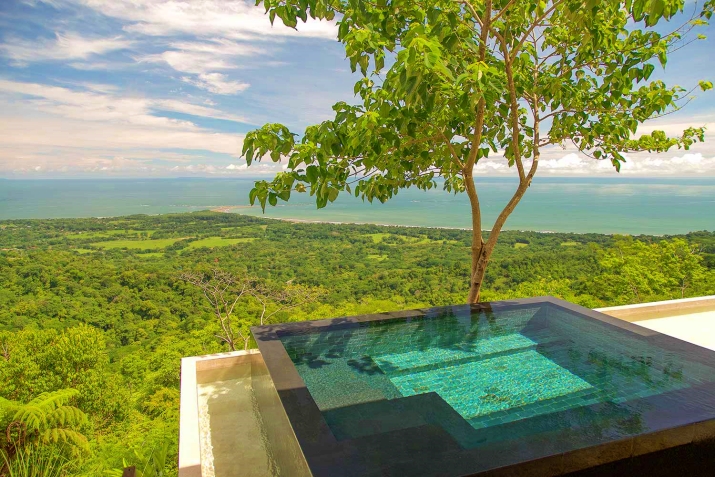 9. Three Camel Lodge, Mongolia
Three Camel Lodge promises authentic experiences that capture the spirit of Mongolia and its nomadic people while preserving the very earth and culture. Through visits with nomadic families, each guest learns about the nomadic way of life, as well as its traditions and customs. The gers and furniture are all handcrafted by Mongolian artisans. The restaurant's gourmet meals use ingredients that are grown and sourced locally.
Most importantly, Three Camel Lodge was built entirely by Mongolians and is still entirely staffed by Mongolians.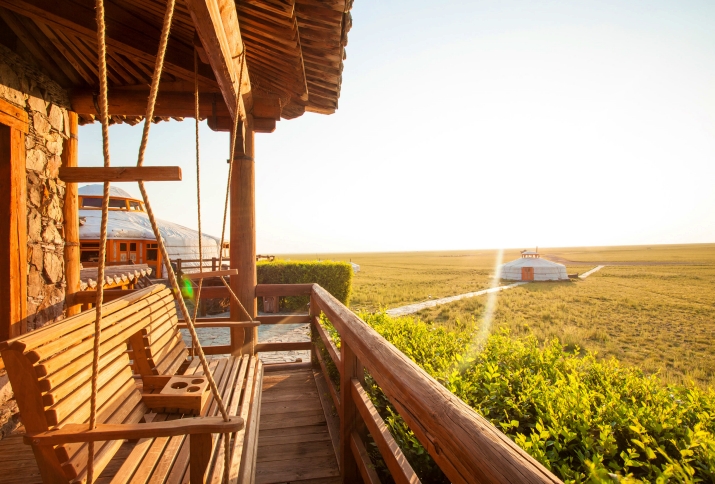 10. Rewa Lodge, Guyana
Rewa village is in the heart of Guyana, a small country in north-eastern South America. Guyana is known around the world for its pristine natural environment and incredible biodiversity. Rewa Lodge is located at the confluence of the Rupununi and Rewa Rivers. The Rewa River is uninhabited and offers a once-in-a-lifetime opportunity to explore its untouched habitat. 
The people of Rewa Village built and run the Rewa Eco-lodge. This enterprise creates jobs for local people while adding value to incredible resources.
11. Mashpi Lodge, Ecuador
This lodge, which is situated on a scenic plateau, offers breathtaking views of the surrounding forested mountains and their distinct ecosystems. Through its floor-to-ceiling panoramic glass windows, the design and style allow for total immersion. Mashpi, like a cathedral to the natural world, is a perfect blend of luxurious comfort and engagement with one of the world's most breathtaking surroundings.
Mashpi Lodge was built using cutting-edge sustainable construction techniques to minimize environmental impact.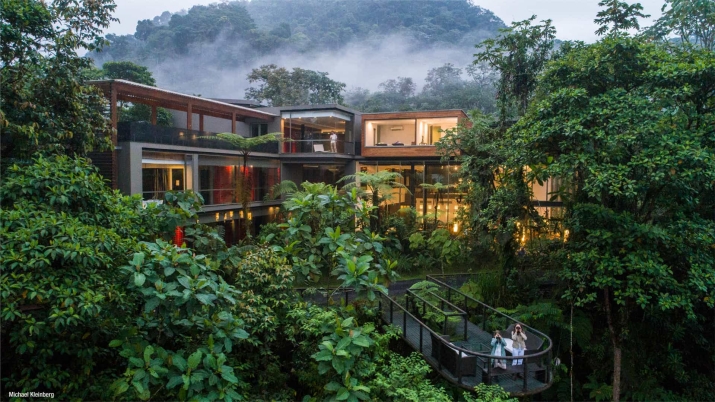 12. Two Seasons Coron Island Resort & Spa, Philippines
Two Seasons Coron Island Resort is a 5-star eco-friendly resort located on the beautiful Malaroyroy Peninsula in Bulalacao Island, Coron, Philippines. Two Seasons Coron is a turtle and giant clam sanctuary, as well as the first eco-friendly luxury island resort in Coron. A sandbar connecting to an islet, a vibrant house reef, lush tropical gardens, a 200-meter west-side beach, and another 200-meter east-side beach with mangroves are among the many attractions.
Its thoughtfully furnished, high-ceiling bungalow accommodations are luxurious, with a distinct contemporary Filipino tropical design.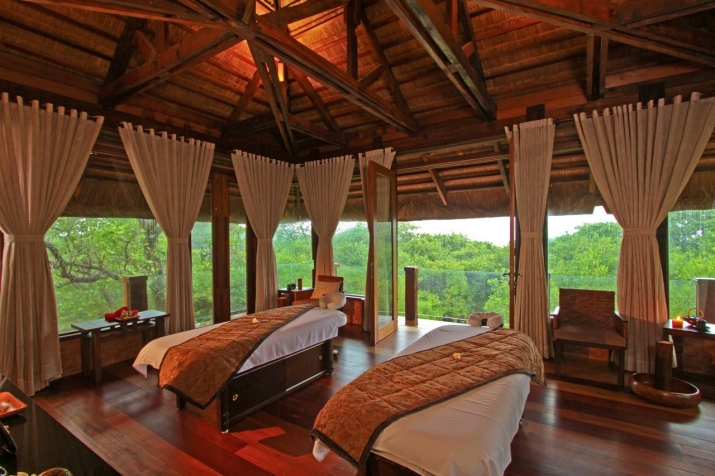 13. Jetwing Surf, Sri Lanka
Jetwing Surf has created a truly sustainable luxury hotel that promotes and preserves the wonders of its surrounding landscapes by combining environmentally friendly materials such as cadjan, coir, iluk grass, and wood. Jetwing Surf has a distinct, open architectural design throughout the rooms, reception, and restaurant, reducing the need for artificial lighting and ventilation.
The open-air bathrooms do not require mechanical ventilation because every cabana at Jetwing Surf has been designed to allow fresh air from the cool ocean breeze to flow naturally through.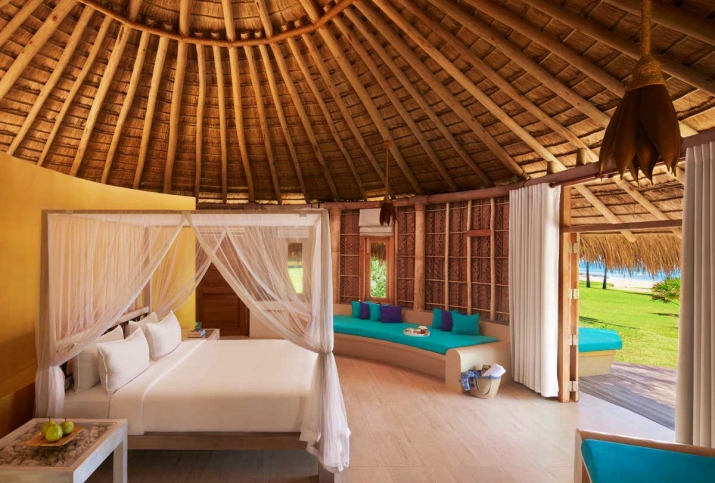 14. Karijini Eco Retreat, Western Australia
Karijini Eco Retreat is one of Australia's most popular eco-tourism destinations. The retreat, located 1,500 kilometers north of Perth in WA's second largest national park, offers safari-style eco tents, cabins, and campsites nestled among native bushland at the edge of Joffre Gorge, as well as an outback restaurant and bar, and access to the park's walks and guided adventure tours.
Stay under the stars in the campground or in comfortable glamping accommodations at the Karijini National Park's first and only glamping facility.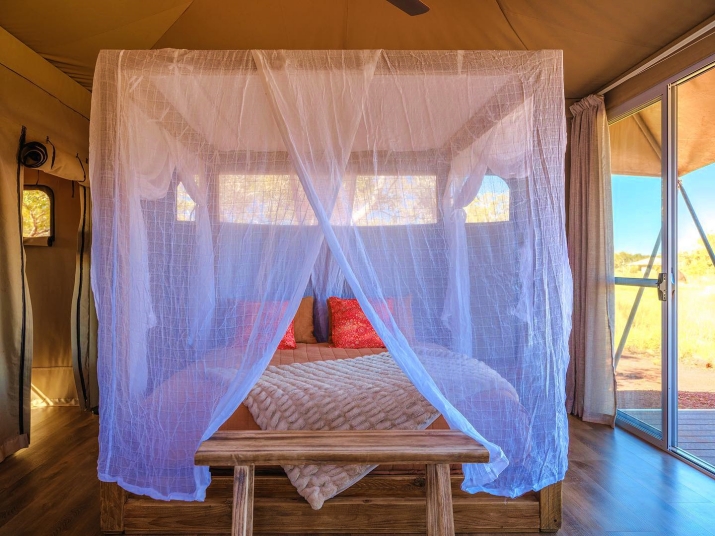 15. Svart Hotel, Norway
The goal of Svart, the first energy-positive off-grid destination in the world, is to encourage discerning travelers to value and care for the preservation of the pristine polar region and the protection of nature.
The idyllic green and blue Svartisen mountains offer the perfect setting for hikers of all skill levels in the summer, offering everything from the steepest paths to walks among the majestic hills, climbing the glacier ice tunnels, sailing the fjords, adrenaline deep-sea fishing, or enjoying the midnight sun on the crystalline glacier lake.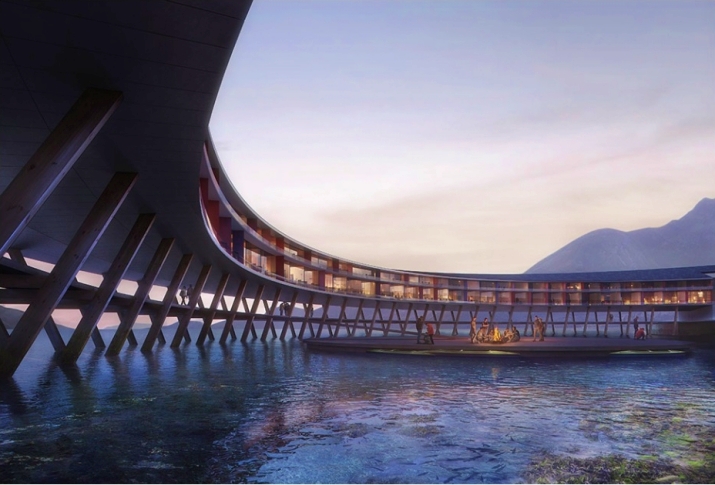 16. Feynan Ecolodge, Jordan
An idyllic lodge with candlelight rests in the magnificent Wadi Feynan, deep within the mountainous Dana Biosphere Reserve and at the end of a rough path…There are 26 distinctive guest rooms at Feynan, each with an ensuite bathroom and they're lit by candlelight at night. There are many different rooms available to fit your preferences and budget, and the majority have stunning views of the untamed countryside.
The award-winning, solar-powered Feynan Ecolodge provides the most advanced eco-experience in Jordan.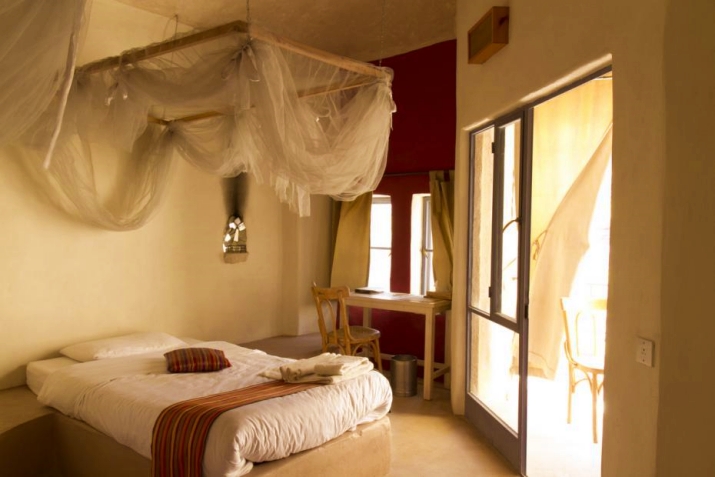 17. Las Nubes de Holbox, México
Las Nubes de Holbox is a small, luxurious, and comfortable hotel with an eco-chic vibe. where one gradually achieves a union with nature. a special location with breathtaking views of the Yum Balam Reserve. Their beaches, birds, and marine life are the main draws. You can take advantage of their many amenities, but you should stay with them because of their beautiful surroundings.
They only use products that are produced locally, and their waste is recycled.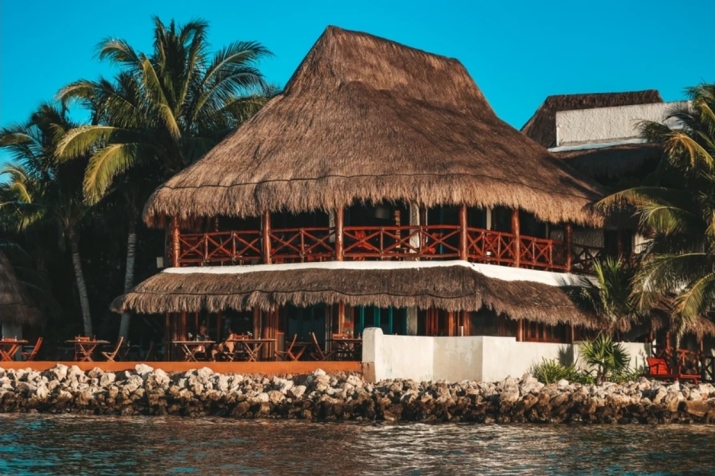 18. The Green Hotel, India
The Charities Advisory Trust, a UK nonprofit organization, established The Green Hotel as a prototype for sustainable travel. In India, charitable and environmental projects receive a portion of all profits. The hotel uses solar energy and recycled water for the garden as energy-saving measures. Wherever possible, they have used Indian crafts, giving traditional artisans—many of whom have won National Awards—work.
The founders have prevented the palace and its historic garden from being demolished and redeveloped by finding a profitable use for them.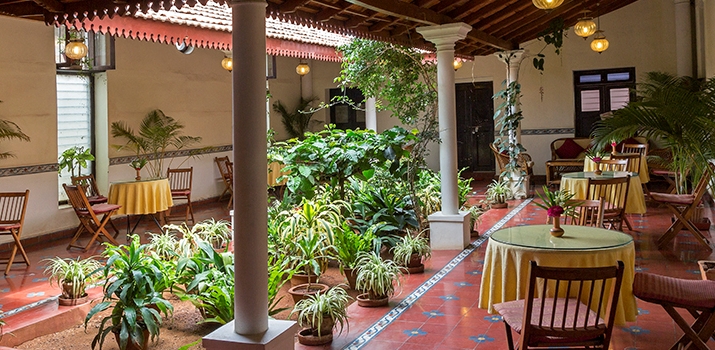 19. Kawilal Hotel, Guatemala
Comfort, relaxation, and sustainability are all part of the experience of staying at the Kawilal Hotel. The Pacaya Volcano's water and fire combine to form the hot springs, which in turn give Guatemala its one-of-a-kind thermal hotel. 18 rooms, a private spa, a restaurant, a pool, and a jacuzzi are all features of the hotel.
You can walk to the hotel from the upper part of the Santa Teresita resort. Santa Teresita, which has thermal pools, water slides, thermal treatments, massages and body treatments, hot saunas, and restaurants, is accessible from the hotel.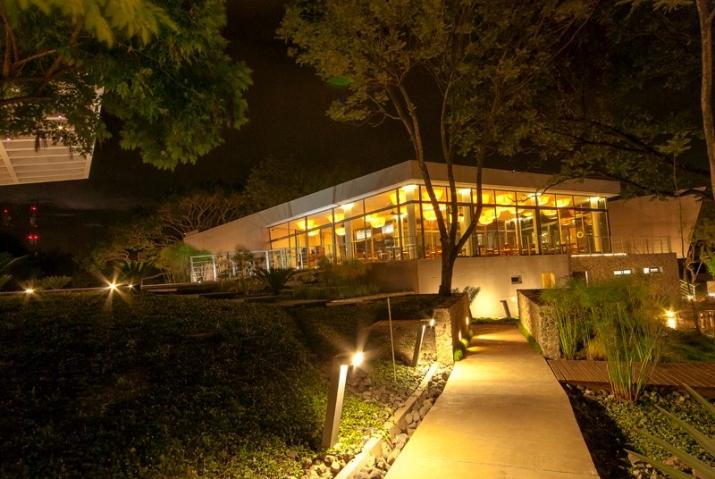 20. Hamanasi Adventure & Dive Resort, Belize
Brimming with tropical flowers, shrubs, orchids, and fruit trees…Hamanasi is a unique location from which to explore the best of Belize on and offshore, nestled between the lush Maya Mountains and the turquoise Caribbean Sea. Hamanasi is a secluded, small-scale resort on Belize's best beach, south of Hopkins. At the beachfront, you will find various beach vines and flowers, such as morning glories and spider lilies, which help minimize beach erosion.
You'll enjoy watching hummingbirds and butterflies darting around among the rainbow of colors.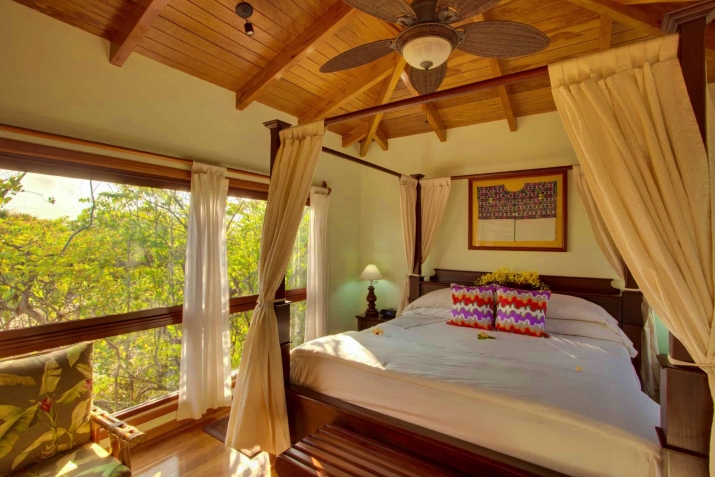 The Bottom Line: Ecolodge and Ecotourism
There you have it. An introduction to the ecolodge concept and how you can be a part of sustainable tourism by staying in an ecolodge, ecohotel, or ecoresort.
Have you ever stayed in an ecolodge? Are you planning to? Let us know…We'd be happy to hear about your experience.
Ecolodges fill a specific niche in the travel industry. They often serve travelers searching for environmentally conscious, nature-focused vacations and are situated in off-the-beaten-path locations. They typically offer more than simply lodging because they are located in remote or wilderness places where there may not be many facilities. Most contain a variety of workshops, tours, and other activities that make use of the local culture and geography, along with a restaurant that serves only locally sourced food. Eco lodges can offer its owner numerous streams of income.
What makes a good eco lodge?
The fundamentals include things like natural cleaning products, eco-friendly toiletries, and energy-efficient lights. Additionally, they can have even more useful components like insulation and solar panels.
An eco lodge will also feature native interior decoration that represents the local tradition and culture, which is also reflected in the menu items, etc. Being an integral part of the community, the eco lodge works hard to hire locally, providing fair salaries and working conditions to the local population while also boosting the local economy and preserving the region's cultural legacy. Promoting ecotourism as the most sustainable economic model that offers genuine benefits to both tourists and the local population is the goal.
How are eco lodges sustainable?
High design or comfort need not be sacrificed in order to provide eco-friendly hospitality. By using sustainable materials, supporting on-site research institutions, and safeguarding vulnerable communities, these chic hotels are actively lowering their carbon footprint while providing their visitors with a more fulfilling and enlightening experience.