Eco Cabins: A Sustainable Accommodation Option
As everything gets costlier and the world is wearing out day by day, we start looking for alternatives to our traveling habits. 
Eco cabins, in this sense, are becoming an in-demand accommodation option for the woke traveler and those who simply prefer more natural environments for their stay instead of luxurious places. If such an accommodation option has entered your mind, read on. In this post, I'll tell you what an eco cabin is and go on to elaborate on the types. I'll also give you a couple of examples of amazing eco-cabins, some of which will probably give you the itch to go and get one. 
Let's get into it!
What's an Eco Cabin?
An eco cabin is a type of accommodation situated in remote locations like mountains, forests, or idyllic beaches. The energy resources used in these housing options are renewable. Eco cabins employ methods of water preservation and energy-conservative lighting. 
For the structure to get along with the purpose of sustainability, eco-cabins are typically small places. They are also eco-friendly in terms of the materials used in their building process. Principally built with logs, eco-cabins are energy efficient because the logs allow them to require spending less electricity and lighting by absorbing the heat during the day. The employment of heavy machinery is avoided while building the eco-cabins and carbon emission is held as low as possible.
Why Stay in an Eco Cabin?
Eco cabins are eco-friendly and sustainable accommodation options that hold many benefits both for the environment and the guest. If you choose to stay at eco cabins throughout your travels, you'll be doing the world a little favor and taking a step toward a healthier life yourself. There's no sleep as peaceful as in a sheltered space amid the secluded nature.
Find below the perks of staying in eco-cabins during your travels:
Cost efficient

Saves water and energy

Requires less maintenance 

Enjoying the fresh air

Healthier lifestyle

Produces less waste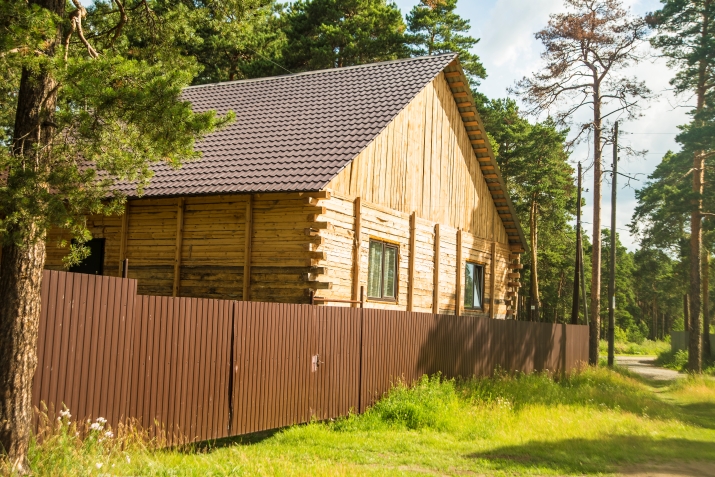 Types of Eco Cabins
Eco cabins are a great accommodation option for not only the frequent traveler but also for digital nomads who prefer to enjoy long-term stays in their destinations. Shifting to this eco-friendly lifestyle will not be such a hard decision to make because there is definitely an option to your liking among the wide selection of eco-cabin types. 
Eco Cottage
Located in rural areas, eco-cottages are the perfect fit, especially for those who are seeking a vacation retreat. Eco cottages are typically narrow but flexible and cozy structures surrounded by vast greenery.
Self-Sustaining Cabin
Self-sustaining cabins are structures that employ solar energy and rainwater, meaning they're quite cost-effective and environment-friendly. 
A Frame Cabin
As their name suggests, the A-frame cabins are A-shaped structures that are resistant to snow and heat due to their angled sides.
Eco Custom Tiny Houses
Eco-custom houses are the ideal option for those who are looking for an eco-friendly space to reside in permanently. These are customizable tiny houses that are made following the eco cabin building guidelines.
Green Cabin Kit
A green cabin kit is a cabin building package that includes structural insulated panels and design plans. Such a kit allows you to build your own house from head to toe.
Prefabricated Eco Cabins
For those who prefer to buy an already-built eco-cabin, prefabricated eco-cabins are an excellent option.
Nature Cabins
Enabling you to cut back on electricity, water, and power expenses, nature cabins will also allow you to enjoy clean air, a secluded space, and peace and quiet. 
Unique Small Cabins
Unique small cabins are incredibly customized cabins that have unmatched designs. Some design ideas for these structures are recyclable cabins, roof gardens, or employing extraordinary forms such as curves.
Sustainable Cabins
Sustainable cabins are minimalistic structures built out of sustainable materials. Hence, they have a very little negative impact on the environment and are cost-effective.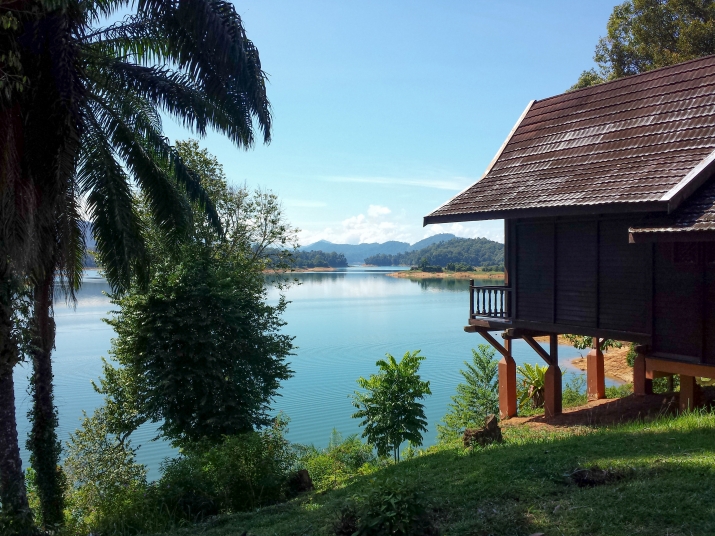 10 Amazing Eco Cabins 
It's the dream of both the traveler and the settled-down to retreat to a small but cozy home where they can connect with nature. Minimizing your carbon footprint is the enormous cherry on top when you choose an eco cabin for your retreat. 
There are stunning eco cabin designs all over the world. Some of these marvelous places are hotels where you can have a much-pleasant stay whereas some are private property you can get inspiration from for your own future eco-friendly cabin.
1. Kolarbyn Eco-lodge – Sweden
Kolarbyn Eco-Lodge is a 12-hut eco-hotel in the Bergslagen Forest of Sweden. The Kolarbyn huts are made of forest materials and offer basic amenities and sheepskin beddings; resembling the shelters of our ancestors.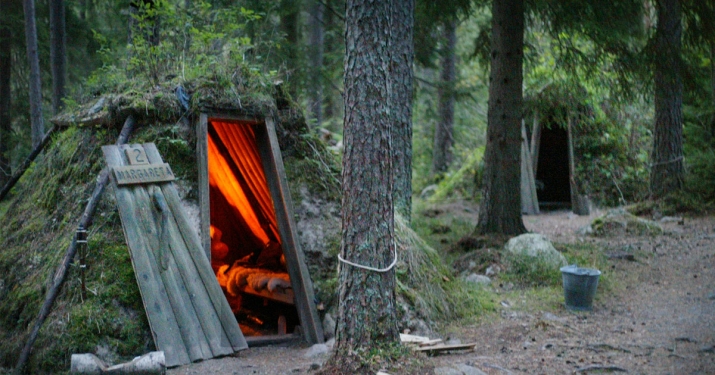 2. Ecolodge Del Lago – Bolivia
Built entirely by using local straws and stones, Ecolodge Del Lago's cabins employ solar water heaters and mud ovens in the kitchen. Offering private gardens and earthy scenery, Ecolodge Del Lago is a great destination to be one with nature.
3. Robin's Nest Hotel – Germany
The hotel which consists of three nest-like structures in the forest of Hesse is a great escape from urban life. Each treehouse cabin has its own specific design, but all three are cozy and mesmerizing.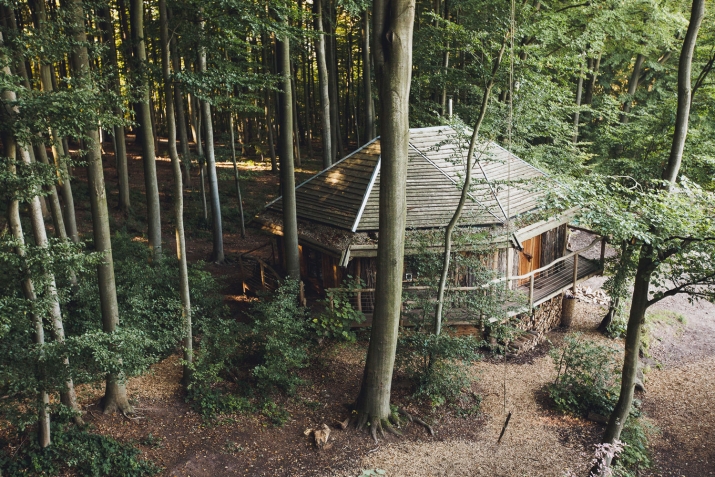 4. Ngorongoro Crater Lodge – Tanzania
Located inside an inactive volcanic crater, the Ngorongoro Crater Lounge offers a unique accommodation experience where you can enjoy luxury and nature simultaneously. The Ngorongoro Crater Lounge is an eco-friendly hotel that aims at minimizing its waste. 
5. Studio Monte Rosa – Switzerland
Studio Monte Rosa is a self-sustaining and self-sufficient mountain lodge in the Swiss Alps. Despite the extreme Alpine conditions and being in the midst of nature, Studio Monte Rosa offers a peerless service.
6. Out of the Valley Cabins – The United Kingdom
These custom cabins that are made out of local materials are a combination of modern green technology and traditional architecture. Out of the Valley Cabins use renewable resources and are decorated with custom furniture. 
7. Shelters by the Sea – Denmark
The design of the Shelters by the Sea cabins takes inspiration from the traditional catch storage used by Danish fishermen. These cabins are pretty basic and an excellent location for those who do water or outdoor sports.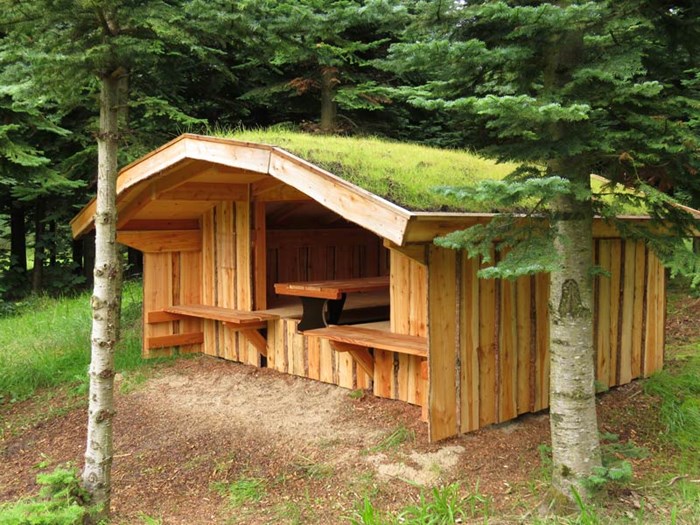 8. Huba Mountain Shelter – Seattle
With its skewed and weird angles, Huba Mountain Shelter is a sight for the sore eye. Since it's built out of fallen tree woods and recycled plastic, this beautiful and uniquely abstract cabin is incredibly eco-friendly. Moreover, it uses solar panels and rainwater and hence is energy-efficient.
9. Thoreau's Cabin – The Netherlands
Called by a name that honors the great Henry David Thoreau, the cabin gets along great with its natural surroundings. It uses water from a nearby well and a wood-burning stove for heating. It has enormous sliding doors that ease the airflow and encourage going outdoors more frequently.
10. V Lodge – Norway
The V Lodge is designed to co-exist perfectly with the topography of the site it's built upon. Situated on a slope, the structure follows the elevation differences of the natural ground, with on-loft bedrooms and lower common areas. 
The Wrap-Up
The world is changing every day, and so is the environment. As digital nomads and travelers, we are a bunch that enjoys the beauties of the earth to the fullest. Now may be just the time to start giving back to the environment by simply choosing more environment-friendly traveling and accommodation options. 
Frequently Asked Questions
What is an eco-cabin?
Ecocabins are accommodation options that can be found in secluded areas like mountains, forests, or beaches. These places make use of renewable energy sources. Eco-cabins use energy-efficient lighting and water conservation techniques. If you're after a minimalist lifestyle and looking for a relaxing getaway, staying in an eco-friendly cabin can be your best option.
Are eco-cabins good places to stay to enjoy nature?
Exactly. That is one of the main reasons why people choose to stay in ecocabins that have a location in places where they can appreciate nature more. Also, these places are made of natural materials which is a very important feature for environmentally friendly people.