Metaverse Real Estate: The Guide to Virtual Real Estate Investment
Real estate has always been a profitable investment. Investors love the "tangible" nature of real estate and its obvious ROI. We know that traditional real estate will always be popular, however,  as the market is changing, it's wise to be familiar with new opportunities to invest that you may not have heard about yet. One of these opportunities is called Virtual Land or Real Estate in Metaverse.
As an entrepreneur, a digital nomad, or an enthusiast, you might be wondering how to invest your money into this exciting new space. This article will provide an introduction to virtual land and Metaverse real estate investment so you can decide if it's right for your portfolio. 
What Is Metaverse?
If you're reading this article, chances are you already have a basic knowledge of the metaverse, but just in case you don't, here's a quick summary: The metaverse is a collection of multi-user platforms that enable real-time interaction between users. They have local economies that allow for the purchase, sale, and trade of in-platform products as well as crypto coin mining.
In this virtual reality world, you can meet new friends, go shopping for clothes, or buy and sell properties…Essentially, it is an alternate digital reality where you host personal identities, participate in leisurely activities and go to work. The possibilities are endless.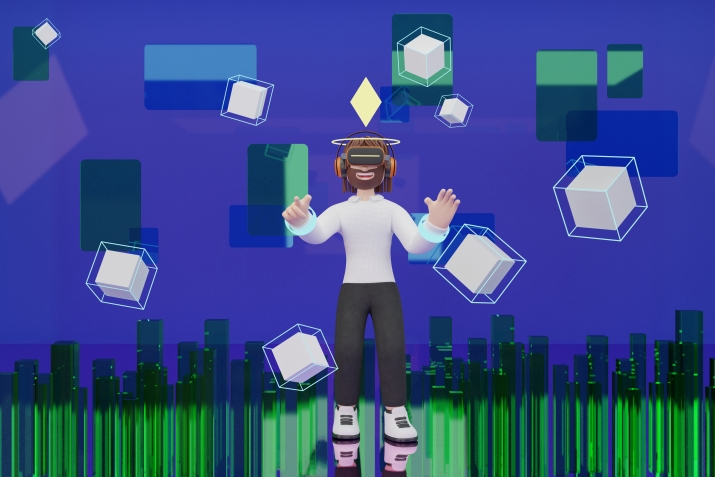 Metaverse aims to provide a cost-effective and highly efficient platform for individuals to organize, conduct business transactions of any sort, or exchange ideas with others. It's one step further than what we currently have on the internet. It is a new vision for the future of the web that has been designed to be interoperable, transparent, and secure.
Metaverse Real Estate Investment
In Metaverse, investors can buy a parcel of metaverse land and develop whatever they want, whether it's a performance facility for hosting music concerts or a co-working space for hosting business meetings. Depending on your intention, you can explore the multitude of opportunities Metaverse offers.
Metaverse real estate investment has come into the spotlight when the rapper Snoop Dogg announced that he would construct his own virtual world in the Metaverse on the Sandbox platform. The platform will be called "Snoopverse" and will look like his real home in California. The fans will have the chance to be a part of this virtual world if they also invest. Even, one fan of the rapper is known to have invested $450,000 just to be his "virtual" neighbor.
Despite its intangibility, metaverse real estate has been very popular. In June 2021, a plot of property in Decentraland, one of the most popular sites for buying digital real estate, sold for more than $900,000. The transaction was carried out in (MANA), an Ethereum sidechain coin.
The chart below shows some statistics for the most active virtual estate platforms as of 17 January 2022.
| | | | | |
| --- | --- | --- | --- | --- |
| Platform | Sales Volume 7 days (USD) | Sales in past 7 days | Volume all time (USD) | All time sales |
| The Sandbox | $21,150,067 | 1,478 | $361,422,965 | 140,434 |
| Decentraland | $7,122,262 | 505 | $162,656,725 | 133,621 |
| CryptoVoxels | $688,421 | 57 | $33,658,202 | 11,040 |
| Somnium Space | $422,789 | 27 | $20,478,588 | 4,433 |
Keep in mind that in the metaverse, location is just as crucial as it is in real life. Landholdings near plazas (green regions) and districts (blue areas) are worth more than plots in Decentraland's periphery. The disadvantage is that they are the most expensive on the map, but there is a chance that they will appreciate the most quickly and provide the highest earnings for their owners.
Another disadvantage to consider is that Sandbox and Decentraland do not provide landowners with passive revenue. Currently, investors make money by purchasing properties, waiting for a rise in value, and then flipping them for a profit.
How To Buy Land in Metaverse
There are three easy steps to follow in order to buy land on Metaverse:
Get a Digital Wallet
In a digital world, you need digital currency. That is, you will need cryptocurrency. Therefore, get a digital wallet that supports the type of cryptocurrency you want it to store. For example, the money of Decentraland is called MANA. The currency on Sandbox, where Snoop's Snoopverse is hosted, is known as SAND. To buy land on Decentraland, you'll need MANA, and to buy land on Sandbox, you'll need SAND. 
Pick a Buying Platform
Next, you need to choose a metaverse platform. The two most popular Metaverse platforms are Sandbox and Decentraland. There is also a third-party platform called OpenSea, which is considered a good option for first-time investors. You can also check Parcel, the first NFT marketplace tailored for virtual real estate users. Each platform has its own buying perk, and they operate using their local currency. Therefore, it is important to understand how these platforms work before you make a decision. Most importantly, it is vital to know the type of real-estate properties offered on these platforms as well as other amenities.
Buy the Property 
Finally, find a property you are interested in buying, click on it and make the transaction. As long as you have made an offer and your wallet is sufficiently funded, you are ready to make the purchase.
Key Takeaways
The metaverse is the growing trend and there are plenty of real estate options to choose from.

Metaverse real estate lacks tangibility and doesn't exist in the physical world. 

It's blockchain-based. As we all know cryptocurrency is extremely volatile. It can, however, be extremely lucrative.

While specific metaverse platforms have set a limit on the number of plots available, new platforms have the potential to emerge at any time, creating a system where users can choose from an infinite number of alternatives.
The Conclusion
The Metaverse is still a new concept, and the majority of its parts haven't been explored yet. So, it is important to do your due diligence in finding a Metaverse platform that interests you. Note that it is a speculative investment and can be risky. Before making an investment, please weigh the pros and cons carefully.