Safest Cities in Europe in 2023
Is Europe on your travel radar? Navigate through Europe's safest cities, a blend of rich history and contemporary security measures.
From effective local police to community-minded residents, we'll take you on a journey to the most secure places in Europe.
With safety tips and recommendations for each city, you'll have all the information you need to plan a worry-free trip. Don't let safety concerns hold you back – let's explore the safest cities in Europe together! 
What Makes a City Safe?
🔍 Low Crime Rates - Cities with lower crime rates are safer. This includes violent crimes like murder and assault, as well as property crimes like theft and burglary.
👮 Effective Law Enforcement - A well-trained police force makes a city safer. Response times, technology use, and community policing contribute to safety.
🏗️ Strong Infrastructure - Cities with well-maintained infrastructure are safer. Good lighting, reliable transportation, and safe roads and sidewalks are essential.
🏥 Access to Healthcare - Cities with good healthcare systems are safer. Hospitals, clinics, and emergency services all play a role in medical access.
🧑‍🤝‍🧑 Social Stability - A stable social environment is key to safety. Safe cities have low social unrest, low income inequality, strong safety nets, and high-quality education.
Top 10 Safest Cities in Europe

#10 Stockholm, Sweden
Stockholm, the capital of Sweden, is a beacon of safety in Europe, with its low crime rate and police force that is proactive in deterring and preventing crime. 
The police in Stockholm focus on working together with the residents to address safety concerns. The city's stability is evident in its well-functioning welfare system and high standard of living.
Stockholm's cultural and social diversity also contributes to its safety since the city looks to establish a sense of inclusivity and respect for all individuals. 
On top of all this, the city's clean and well-maintained public spaces, including parks and waterfront areas, provide a peaceful and secure environment for citizens and visitors. Stockholm's emphasis on sustainability and green initiatives also promotes a healthier and safer lifestyle for its residents.
#9 Amsterdam, Netherlands
Widely regarded as one of the safest cities in Europe, Amsterdam, is an important tourist city, and the capital of the Netherlands.
Amsterdam has a police force known for its proactive approach to community policing and crime prevention, working closely with local organizations and residents to ensure public safety. 
Amsterdam's stability reflects perfectly in its low crime rate. The city's unique culture of tolerance and acceptance contributes to its sense of community, fostering a welcoming atmosphere for everyone. 
The social welfare system of the Netherlands is also noteworthy, providing universal healthcare and education to all residents. 
The much-famous bike-friendly infrastructure in Amsterdam not only contributes to a cleaner environment but also promotes a healthier and safer lifestyle for its citizens. 
Overall, Amsterdam's exceptional dedication to community involvement, social welfare, and innovative policies make it a peerless and desirable destination for those seeking a safe and progressive urban experience.

#8 Munich, Germany
Munich is another European city that ranks high in terms of safety. 
The city's efficient police force utilizes modern technology and strategies to maintain safety and prevent crime. 
Munich is known for its stability, giving weight to community involvement and a low crime rate. The city's social welfare system is impactful, providing its residents with accessible healthcare, education, and other social services. 
Munich's well-maintained public spaces create a welcoming and safe environment, adding to the peaceful atmosphere of the city. 
The Bavarian capital's dedication to safety, social welfare, and community involvement make it one of the best destinations for those seeking a high quality of life in a peaceful and secure urban setting.
#7 Vienna, Austria
Vienna also makes it to the list of the safest capital cities in Europe. The city's low crime rate derives from its efficient policing strategies, such as predictive policing and community policing. The police department of the city works hand in hand with citizens and community groups to build trust and cooperation, creating a sense of safety and inclusivity.
The city also prioritizes social welfare and education, which pave the way for residents to have easy access to essential social services and hence, a high quality of life.
In addition to the effective police force and the positive impact of the social welfare system, Vienna's enchanting architecture, historic buildings, and art galleries make the city incredibly appealing, while its urban planning prioritizes streets where pedestrians can safely walk and public transportation, making it a more accessible and safe environment for everyone.

#6 Copenhagen, Denmark
Copenhagen's safety measures are widely recognized in Europe, as the city actively engages in community policing to establish trust and cooperation between law enforcement and its citizens. 
The low rate of crime in Copenhagen is, again, attributed to its effective social welfare system, well-maintained public spaces, and stringent gun control laws. 
The police force in Copenhagen employs advanced approaches, including predictive policing, to prevent crime and build a secure environment for its residents. 
The city emphasizes inclusivity and encourages relationships among community groups to create a sense of belonging.
Furthermore, Copenhagen's bike-friendly infrastructure and green living ethos contribute to a healthy and peaceful urban environment.
#5 Oslo, Norway
Oslo, the reliable capital of Norway, is famous for its stunning fjords, lively culture, and reputation as one of the safest cities in Europe. Having a low rate of crime, the city is renowned for its progressive policing approach, with close collaboration between the police, residents, and local organizations to prevent crime and establish trust, which altogether creates a safe environment.
Oslo's safety is by and large attributed to its social welfare system and high living standards, providing access to fundamental services like healthcare and education to all residents. Furthermore, Norway's culture of civility and respect also plays a significant role in reducing the risk of violence.

#4 Bern, Switzerland
The Swiss capital Bern, a charming city renowned for its medieval architecture and fascinatingly rich history, is well-reputed as one of the safest cities in Europe. 
With a low rate of crime, community policing and the active involvement of the public in crime prevention, and strict gun control laws, Bern guarantees a safe environment to residents and visitors alike. Moreover, the advanced police forces utilize non-violent conflict resolution methods, minimizing the risk of violence.
As in many other safe European cities, Bern's high standard of living and social welfare system grants residents access to essential services and education and hence, contributes to the sense of safety in the city.

#3 Zurich, Switzerland
Another city among the safest in Europe is Zurich, famous for its stunning breathtaking scenery of the Alps and rich culture. Switzerland has consistently ranked high on the Global Safety Index due to its rate of crime and high standard of living.
The robust policing and justice system in the city contribute greatly to Zurich's safety. The city has a solid police force, with officers trained in community policing and active engagement with residents. Additionally, Switzerland has strict gun control laws and a culture of civic responsibility, ensuring that individuals take responsibility for their actions.
The city's strong economy, social welfare system, and high standard of living ensure that residents have access to all the basic services, education, and healthcare, all of which make Zurich a safe haven.

#2 Helsinki, Finland
Helsinki, the capital and largest city of Finland, is renowned for its stunning architecture, vibrant cultural scene, beautiful landscapes, and reputation as one of the safest cities in Europe. 
The city boasts a low crime rate, a high standard of living, clean streets, and excellent public transportation.
One of the key reasons for Helsinki's safety is the country's well-established social welfare system, which ensures that people have access to healthcare, education, and other social services. Moreover, Finland has a strong sense of social equality, and the city's community policing approach encourages interaction and cooperation between residents and the police.
The proper use of technology and innovation also has helped make Helsinki such a safe city: with CCTV cameras, sensors, and smart traffic systems that monitor the streets, Helsinki ensures quick response in case of emergencies.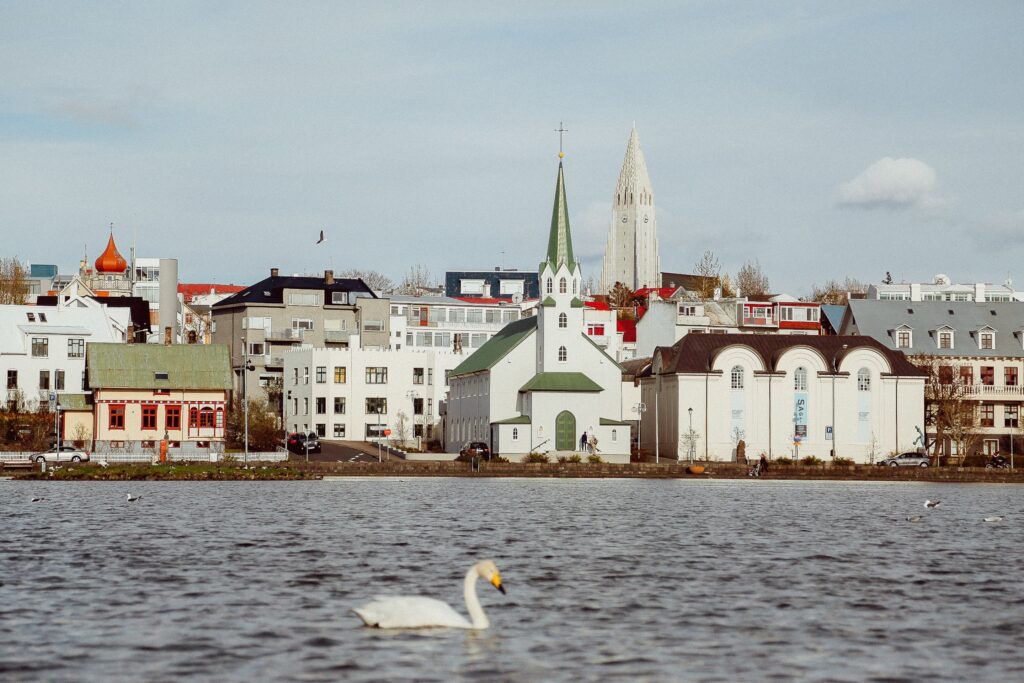 #1 Reykjavik, Iceland
Reykjavik is the capital and largest city of Iceland. It's known for its vibrant cultural scene, geothermal spas, and stunning natural beauty, but more importantly, its high level of safety. Reykjavik has a very low crime rate and a strong sense of community.
One of the main reasons why Reykjavik is so safe is the high level of trust within Icelandic society. This trust is partly due to Iceland's small size and homogenous population, as well as its social welfare system and emphasis on equality and individual rights.
Additionally, the city has a well-funded police force, CCTV cameras in public areas, and a low tolerance for violence. This combination of factors has helped to create a safe and welcoming environment for locals and visitors alike.
Traveling Abroad: Quick Safety Tips
🌎 Get familiarized with your destination, its local customs, and basic etiquette. Learn basic phrases in its language.

📞 Share your travel plans with a friend/family member, update them about your contact info frequently, and keep in touch.

💳 Keep your valuable personal belongings in a secure place. Don't carry everything around.

🏨 Be cautious when choosing accommodation, avoid sketchy isolated areas.

👀 Always be on the lookout. Exercise caution, be aware of your surroundings, and use common sense.

🚖 Use trusted transportation and refrain from solo night travels as much as you can.

🍽️ Pay attention to what you eat/drink, prefer bottled water when possible.

📵 Protect your personal information by using VPN on public Wi-Fi.

🆘 Note down the local emergency numbers wherever you go, and have an emergency plan ready at hand.

🌞 Keep sunscreen and insect repellent handy to protect yourself against the sun/bugs.


🙅‍♀️ Be cautious about scams; think twice about hard-to-believe-level good deals.
10 Safest Countries in Europe
Find below a list of the ten safest European countries and how they ranked in the Global Peace Index prepared and published by the Institute for Economics & Peace:
| | | | | |
| --- | --- | --- | --- | --- |
| Regional Rank | Country | Overall Score | Change in Score | Overall Rank |
| 1 | Iceland | 1.107 | ↓0.039 | 1 |
| 2 | Ireland | 1.288 | ↓0.019 | 3 |
| 3 | Denmark | 1.296 | ↑0.003 | 4 |
| 4 | Austria | 1.3 | ↓0.018 | 5 |
| 5 | Portugal | 1.301 | ↓0.002 | 6 |
| 6 | Slovenia | 1.316 | ↑0.021 | 7 |
| 7 | Czech Republic | 1.318 | ↓0.013 | 8 |
| 8 | Switzerland | 1.357 | ↓0.027 | 11 |
| 9 | Hungary | 1.411 | ↓0.047 | 13 |
| 10 | Finland | 1.439 | ↑0.033 | 14 |
Safest Cities in Europe: The Wrap-Up
Europe is home to some of the safest cities in the world, with low rates of crime, proactive policing, and strong community engagement. 
Each city has some unique factors contributing to its safety and some common ones.  Zurich's well-funded police force, Oslo's progressive law enforcement strategies, and Copenhagen's focus on sustainable living and bike-friendly infrastructure are just a few examples. 
The above cities serve as models for others around the world, seeking to create safe and welcoming environments for their residents and visitors.
If you enjoyed this article, you may want to check out our articles on the safest cities in the world, as well as the safest countries in the world. 
Frequently Asked Questions
What makes a city one of the safest in Europe?
Many factors contribute to a city's safety, such as low rates of crime, the rarity of violent crime, proactive policing, strong community engagement, and a well-funded social welfare system.
Which are the safest cities in Europe?
Europe's safest cities include Oslo, Zurich, Bern, Copenhagen, Stockholm, and Munich.
How do these cities ensure safety for their residents and visitors?
These cities employ various measures, such as community policing, strict gun control laws, well-maintained public spaces, and innovative policing strategies to prevent crime and foster a sense of safety.
Can a city be completely safe?
It's important to note that crime rates and safety measures can vary widely, even within the safest city of them all, between the city center and the periphery.
What can other cities learn from these examples?
Other cities can learn from these examples by adopting similar measures, such as community policing, investing in social welfare systems, and focusing on sustainable living and well-maintained public spaces, to promote safety and reduce crime.
What countries are the safest in Eastern Europe?
The Czech Republic, Slovenia, Hungary, and Latvia are some of the safe countries in Eastern Europe.
What is the safest country in Europe?
Iceland is the safest country in Europe, according to the Global Peace Index of the Institute for Economics & Peace.
What are the safest destinations in Europe for solo female travelers?
The Netherlands, Norway, Finland, Switzerland, Austria, and Iceland are some of the safest destinations for solo female travelers.