NATO Countries in 2023
In an ever-shifting global landscape, one alliance holds the key to unraveling the complexities of international relations: NATO. From the breathtaking fjords of Norway to the sun-drenched shores of Greece, NATO countries offer a captivating glimpse into a world shaped by strategic collaboration and shared objectives.
Delve into the captivating stories of resilience, adaptability, and collective defense that course through the veins of these nations. Witness the technological prowess of the United States, the historic resilience of Belgium, and the cultural tapestry woven throughout NATO's member states.
What Is NATO?
In the aftermath of World War II, a military alliance named the North Atlantic Treaty Organization (NATO) emerged, forging a powerful bond between nations spanning North America and Europe. Its primary aim was to safeguard Europe's hard-earned peace and shield democratic nations from potential aggressions, particularly from the Soviet Union, which now exists as the Russian Federation. 
According to NATO's official website, the alliance's founding treaty binds its members to uphold principles such as democracy, individual liberty, the rule of law, and the peaceful resolution of conflicts.
A pivotal concept enshrined within the treaty is that of collective defense, signifying that an attack on any member nation is tantamount to an attack on the entire alliance. This interdependent approach underpins the solidarity among Allies, emphasizing their commitment to each other's security.
NATO consists of 31 countries today in 2023. Each member brings their own unique perspectives and contributions, collectively reinforcing the alliance's strength. Through collaboration and joint endeavors, NATO continues to adapt to evolving global challenges, steadfastly promoting cooperation, and ensuring the collective well-being of its member states.
NATO Member Countries
NATO was established with twelve founding members, and since then, it has expanded its membership to 31 members. The most recent addition was Finland on April 4, 2023, exactly 74 years after NATO's formation. Sweden's application for membership was accepted in June 2022, and it is expected to become the 32nd member once its Accession Protocol to the North Atlantic Treaty is ratified by the existing members.
Apart from the current members, NATO also recognizes Bosnia and Herzegovina, Georgia, and Ukraine as countries aspiring to become members in the future. However, this expansion has caused tensions with Russia, which is not a member of NATO but participates in the Partnership for Peace program along with twenty other countries. Additionally, nineteen other countries engage in institutionalized dialogue programs with NATO.
Below is a comprehensive list of NATO countries along with their population and the year they joined the alliance:


| | | |
| --- | --- | --- |
| Country | Population (2023) | Year Joined |
| Albania | 2,832,439 | 2009 |
| Belgium | 11,686,140 | 1949 |
| Bulgaria | 6,687,717 | 2004 |
| Canada | 38,781,291 | 1949 |
| Croatia | 4,008,617 | 2009 |
| Czech Republic | 10,495,295 | 1999 |
| Denmark | 5,910,913 | 1949 |
| Estonia | 1,322,765 | 2004 |
| France | 64,756,584 | 1949 |
| Germany | 83,294,633 | 1955 |
| Greece | 10,341,277 | 1952 |
| Hungary | 10,156,239 | 1999 |
| Iceland | 375,318 | 1949 |
| Italy | 58,870,762 | 1949 |
| Latvia | 1,830,211 | 2004 |
| Lithuania | 2,718,352 | 2004 |
| Luxembourg | 654,768 | 1949 |
| Montenegro | 626,485 | 2017 |
| Netherlands | 17,618,299 | 1949 |
| North Macedonia | 2,085,679 | 2020 |
| Norway | 5,474,360 | 1949 |
| Poland | 41,026,067 | 1999 |
| Portugal | 10,247,605 | 1949 |
| Romania | 19,892,812 | 2004 |
| Slovakia | 5,795,199 | 2004 |
| Slovenia | 2,119,675 | 2004 |
| Spain | 47,519,628 | 1982 |
| Turkey | 85,816,199 | 1952 |
| United Kingdom | 67,736,802 | 1949 |
| United States | 339,996,563 | 1949 |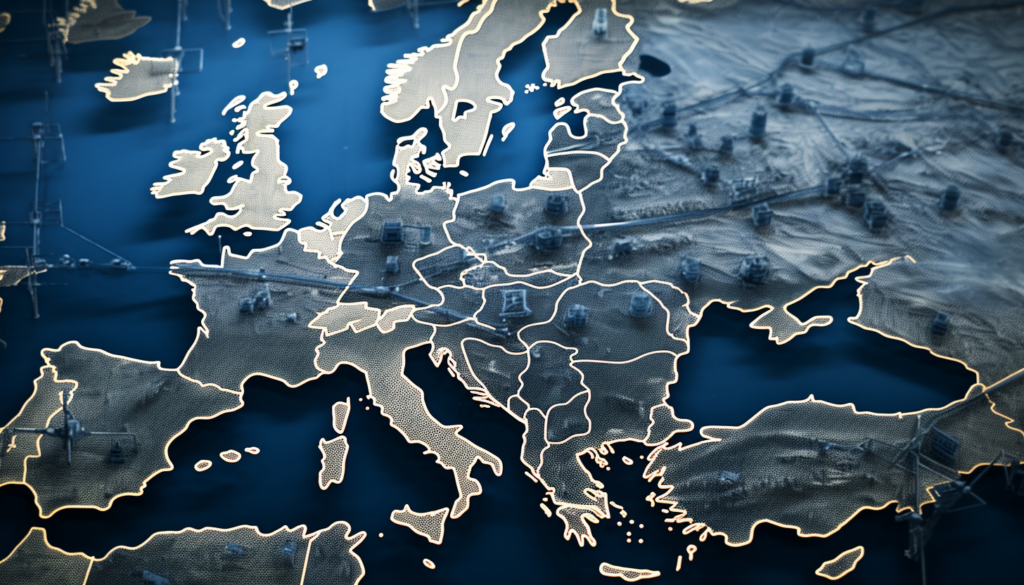 What Being a NATO Member Grants to Countries
Enhanced security and protection against potential threats

Access to a robust collective defense mechanism

Strengthened diplomatic relations and alliances with other member nations

Opportunities for military cooperation, joint exercises, and training programs

Increased defense capabilities and interoperability through shared resources and technologies

Enhanced intelligence sharing and strategic coordination

Promoting democratic values, individual liberty, and the rule of law

A platform for political dialogue and policy coordination on global security issues

Access to NATO's expertise, research, and resources for defense planning and development

Solidifying commitment to international peace, stability, and conflict resolution.
NATO Countries: The Wrap-Up
NATO stands as a vital pillar of collective security, uniting nations across North America and Europe in their pursuit of peace, defense, and democratic values. Since its formation in the aftermath of World War II, the alliance has served as a steadfast guardian, deterring potential threats and fostering cooperation among member countries.
With a commitment to collective defense, NATO ensures that an attack on one is an attack on all, reinforcing the bond of solidarity. As the world continues to evolve, NATO remains a resilient force, adapting to emerging challenges, and preserving the stability and security of its member states while upholding the principles of democracy, liberty, and the rule of law.
Frequently Asked Questions
What is NATO?
NATO, also known as the North Atlantic Treaty Organization, is a significant military alliance comprising countries from North America and Europe. This formidable alliance was established through the North Atlantic Treaty in the aftermath of the Second World War, with the primary goal of ensuring collective defense and preserving peace in the North Atlantic region.
How does NATO function?
NATO operates based on the principle of collective defense, where an attack on any of its member countries is considered an attack on all. This commitment to mutual defense forms the backbone of the alliance and fosters solidarity among NATO allies. Additionally, NATO serves as a platform for political dialogue, military cooperation, and joint decision-making on matters of international security.
What was the role of NATO during the Cold War?
The Cold War, marked by heightened tensions between the Soviet Union and Western powers, saw NATO play a crucial role in maintaining stability. By forming a united front, NATO allies aimed to deter potential aggression from the Soviet Union and protect democratic nations from armed attacks. The alliance served as a symbol of collective strength, ensuring that any act of aggression against NATO member countries would be met with a unified response.
How does NATO ensure its members' security?
NATO provides a range of security measures to its member countries. Through military exercises, intelligence sharing, and strategic planning, NATO enhances the defense capabilities of its allies. Additionally, the alliance facilitates joint defense planning, modernization of armed forces, and the development of advanced technologies, enabling member countries to effectively respond to emerging security challenges.
How does a country become a NATO member?
NATO membership is a voluntary process. A country aspiring to join NATO must meet certain criteria, including a commitment to democratic values, the rule of law, and peaceful resolution of conflicts. The prospective member country needs to demonstrate its ability and willingness to contribute to the alliance's collective defense and adhere to the principles outlined in the North Atlantic Treaty.
How many countries are NATO members?
Currently, there are 31 member countries in NATO. These diverse nations from North America and Europe include both former Cold War adversaries and long-standing allies. Through their membership, these countries share the common goal of promoting security, stability, and cooperation among themselves and with other NATO allies.
What is the significance of NATO membership for a country?
NATO membership offers numerous benefits for a country. It provides enhanced security guarantees, as any armed attack on a NATO member country will trigger a collective defense response from all allies. NATO membership also fosters close diplomatic ties with other member nations, creating opportunities for cooperation, joint military exercises, and intelligence sharing. Additionally, NATO membership signifies a commitment to democratic values, the rule of law, and global peace, solidifying a country's place among like-minded nations in the international community.
What is the significance of the Washington Treaty in relation to NATO?
The Washington Treaty, also known as the North Atlantic Treaty, is the founding document of NATO. Signed in 1949, this pivotal treaty outlines the fundamental principles and objectives of the alliance. It establishes the framework for collective defense, mutual assistance, and the promotion of stability and security in the North Atlantic region. The Washington Treaty forms the bedrock of NATO's operations, guiding its decision-making and ensuring cohesion among member countries.
Who is the Supreme Allied Commander Europe, and what is their role?
The Supreme Allied Commander Europe (SACEUR) is a key position within NATO's command structure. Appointed by the member nations, the SACEUR is responsible for overseeing NATO's military operations and ensuring the readiness of allied forces. The SACEUR plays a critical role in coordinating military strategies, conducting exercises, and providing strategic guidance to NATO's military forces across the European region.
What is the relationship between NATO and the UN Security Council?
NATO and the UN Security Council are distinct entities but share common goals in promoting international peace and security. While NATO is a military alliance, the UN Security Council is a principal organ of the United Nations responsible for maintaining global peace. NATO's actions are not contingent upon UN Security Council approval, but the two entities often coordinate efforts and cooperate in addressing international crises and conflicts. However, NATO's decision-making is independent, allowing for swift responses to emerging security threats.
What role do partner countries play within NATO?
Partner countries play a significant role in NATO's cooperative endeavors. These countries, although not NATO members, engage in various forms of cooperation with the alliance. Partnerships with non-member nations enhance NATO's reach, bolstering collective security and stability in wider geographic regions. Partner countries contribute to joint military exercises, information sharing, and participate in political dialogue, promoting mutual understanding and strengthening collaboration between NATO and non-member states.
Does NATO have its own independent military force?
NATO operates as a collective defense alliance, and as such, it relies on the military forces contributed by its member countries. NATO itself does not possess a standing independent military force. However, the alliance has the ability to coordinate and mobilize forces from member nations to respond to security challenges and conduct NATO-led operations when deemed necessary. The integration and interoperability of member countries' military forces are crucial in enhancing NATO's collective defense capabilities.